July 09, 2004 GMT
The Alaska Highway
Dawson Creek – the beginning of the Alaska Highway. Built in 1942, this road 2,450 km highway through the northern territories of Canada and Alaska was completed in just 8 months and provided an essential transportation link to the northwest of North Armerica during WW II, and has since remained a major transportation artery.

From here it was strictly north. Accommodation and shopping facilities and gas stations tend to become scarce and call for some careful planning. My first major stop was at Watson Lake, probably best known for the local signpost forest. Started by a lonely worker on the Alaskan Highway in 1942, this has grown into arguable the biggest tourist attraction of this location.
Next was Whitehorse in the Yukon. I had intended this to be a sort of "base camp" before going to Alaska. After three enjoyable days at the "Hide-on-Jeckel" hostel
hide-on-jeckell.com
, I set course for Dawson City, made famous by the Yukon Goldrush and the adventure stories of Jack London.
It was not until I arrived at the ferry on the shores of the Yukon in Dawson City, that I learnt that the passage to Fairbanks, Alaska via the Top-of-the-World Highway had been closed due to forest fires shortly after the border. The high pressure weather system was stable (temps of 30 C) and no change was likely for the next few days. This meant a trip back to Whitehorse - some 500 plus kilometres.
This time I stayed at the Beez Kneez Hostel bzkneez.com , before I moved north again, towards Anchorage. The BMW needed new tires and an oil change, and the local BMW dealer had been mentioned and recommended by several people whom I had met.
It took me two days to get there. The ride would probably have been pleasant, I am told, but the large-scale wildfires in Alaska caused a smoke haze which obscured any view. It was like fog in autumn, but smelled burnt. I missed the Manatuska Glacier, but the winding road, especially the last stretch between Glennallen and Palmer was a great ride.
The tow day stay in Anchorage was eventless (another big city) but the staff at the local BMW dealership were helpful, trying to give travellers a special treatment, whenever possible. Equipped with a new set of tires I continued to move north to Fairbanks, the start of the "real" adventure, the Dalton Highway, a 800 kilometre (500 mile) gravel road along the Alaskan gas pipeline, to the oilfields near Prudhoe Bay. To be covered in the next Trip report
It is time for a general observation on "accommodation": I found that quite a number of hostels, motels, campgrounds in Canada are run by fellow countrymen (or women as the case may be). These places tend to be well kept, but I could not avoid a certain element of required "orderly behaviour", in most cases communicated orally and/or by written "orders" (Do not do this, Do that, Such and such is forbidden etc.). Dawson City, River Hostel yukonhostels.com is unrivalled in this respect. Rightfully self-described as "rustic" it was a bit too rustic for me. If management would use a fraction of the cost for "do and don't" sings for sanitary infrastructure, the place would probably receive a star in international hotel rankings. The owner/manager Dieter Reinmuth, in particular struck me as somewhat authoritarian. My roommate for the day, Rolf, was publicly reprimanded misusing a washing basin. This is not something to do with a paying guest, and if really deemeed necessary then there are other, quieter way. – Altogether the Dawson City River Hostel was a depressing experience.

An expample of the "order culture" in the Dawson City River Hostel
Click here for an impression of the rustic setting – the kitchen
People Met On The Road – III
Steve and Charles from Pennsylvania on two BMWs R 1150GS. They are on a 6 week tour through Canada and Alaska. I met them for the first time in Watson Lake. We briefly talked about our resp. trips. Steve and Charles were very helpful in providing info about the BMW dealers in Alaska. Subsequently we met by chance twice in Whitehorse, both times over dinner in a restaurant next to the hostel I was staying in. Steve and Charles were also forced to chance their travel plans due to the wildfires in Alaska, across the border from from Dawson City

Click for picture of Steve and Charles
Lieselotte ("Lotti") Stein-Finder (left) – before leaving on this trip, people had mentioned that they had met their next door neighbours by chance, travelling far from home. Well this happened to me, too. Imagine my surprise, when I realized that I had just met a former colleague of some twenty years ago. I had not met Lotti for some years and we spent a lot of time talking about "the good old times" in the financial community of Frankfurt. Lotti is off an canoeing/rafting tour in northern Canada. – By they way: the halibut filet in mustard sauce she prepared in the hostel kitchen in Whitehorse should have made it into this Food Feature, but I forgot to make a photo. This meal, complemented by a simple, but good Californian Chablis from the local liquor store deserves to be specially mentioned, however.
Click for picture of Lotti Stein-Finder (left)
Rolf from Denmark, travelling Canada by bike. My roommate in the Dawson City River hostel and sufferer of the owner's public "wrath" for misusing a washing basin. See his
homepage.mac.com/rolfsw
Click for picture of Rolf from Denmark
Petra & Arno from Switzerland. I first met them in Watson Lake, where we stayed in the same motel. Petra and Arno are from the western part of Switzerland and have taken a leave of absence from their job to travel Canada for 3 months. We seemed to on the same general route and met coincidentally for several times, either at scenic view points, on the road or at motels. – Thanks for the cold beer in Beaver Creek (!).
Click for picture of Petra and Arno from Switzerland
Renate & John Ferguson, from Victoria, Canada on a trip to the western/northern provinces. First met at the hostel in Whitehorse and later in Dawson City. Renate has a German background and I very much enjoyed our discussion about the Canadian/German cultural differences, based on the examples of how some of the places we stayed in were run.
Click for picture of Renate & John Ferguson
Dave Hinks from Chicago on the way back home coming form Prudoe Bay. I met Dave having breakfast in Whitehorse. He was waiting for his Kawasaki to get new tires and provided a "real time" impression of the condition on the haul road from Fairbanks to Prudoe Bay.
Click for picture of Dave Hinks from Chicago
Food Feature IV:
When in Dawson City, hostel roommate Rolf suggested that I try Klondike Kate's restaurant in downtown Dawson City for breakfast. The "Special" for $4,99 was a classic: has browns, eggs, and a choice of bacon or sausages. It formed a solid basis for a 320 mile (530 km) trip back to Whitehorse.

Click here for a view of the restaurant
July 23, 2004 GMT
Prudhoe Bay and Back
The two-day stay in Anchorage was eventless (another big city). The staff at the local BMW dealership was helpful, trying to give travellers a special treatment, whenever possible. Equipped with a new set of tires I continued to move north towards Fairbanks, the start of the "real" adventure, the Dalton Highway, a 800 kilometre (500 mile) gravel road along the Alaskan gas pipeline, to the oilfields near Prudhoe Bay on the shores of the Arctic ocean ("Beaufort Sea").
The ride from Achorage to Fairbanks, some 600 km, was not too much fun: the air was filled with the smoke from numerous wildfires in Alaska and north-western Canada. - Mount McKinley (highest mountain in North America) was completely hidden by the smoke. The only picture I took in the National Park was that of a sign that said, that –even without the smoke- one should count oneself lucky if one saw Mt. McKinley; it is often hidden in the clouds. Oh well…
Fairbanks is the official end of the Alaskan Highway.

It has some some 30000 inhabitants and is the second largest city after Achorage. There was conflicting information as to whether whether the Dalton Highway (the haulroad to Prudhoe Bay was open). At the visitors center in Fairbanks they gave the thumbs up. However, there would be a lot of smoke for most of the 800 kilometres but otherwise it should be okay.

Smoked-out in Fairbanks
So, the real adventure was about to begin: 1000 miles or 1600 kilometres of mostly gravel road. The beginning war almost a disappointment: perfect blacktop. The Elliot Highway leading out of Fairbanks had some 60 miles or so of the best paved road I have ever seen: it seemed quite new and perfectly smooth. But this was about to change soon.

A little bit after having passed this sign, I met two bikers on BMW R1150GSs – see also below. It was fun riding a small group for a change and I certainly felt much better having some company of the first few miles on the Dalton Highway. After having reached the Arctic Circle, I was on my own again.

I stopped at Wiseman, a small hamlet just north of Coleman, at the beginning of the Brooks Range, to stay for the night.

Introducing Wiseman
The next day began with rain, which added to the dismal atmosphere created by the smoke. I had to cover some 380 kilometres that day, and somehow it did not look as of this would be a fun ride. However, it started out all right. Despite the rain and the smoke I managed to cover some ground. At the center of the Brooks Range, near Atikun Pass conditions became dramatic. There was heavy traffic (trucks passing you at 60 plus mile per hour, and the dust they raised) in combination with the smoke lead to zero visibility. My only option was to stop and way until the dust had settled.
But after a while, the gravel seemed to have lost its dread - I thought. Cruising along at a moderate speed, the bike had grip and even the somewhat thicker gravel sections were cleared without a problem.
That was until I was within reach of Deadhorse/Prudhoe Bay. Just 40 kilometres to go and there seemed time to look around. Well, wrong. The minute I did that, I hit a section of deep gravel. The bike veered violenly. Unable to control this (Idid not want to break hard), the emergency exit was down the shoulders of the road and into the tundra.

Not intended as a gesture of sympathy with Deadhorse (see next pic below)
As seen on the wall of the Deadhorse General Store
The BMW had come to a somewhat abrupt stop. Because of the soft ground and my Dainese protective equipment I was not hurt (my ego perhaps a little bit). The motorcycle itself was not damaged at all, but left pannier (Zega box) had absorbed most of the impact and had taken a beating. It was severely bent but the content (mainly my computer and related stuff) was okay.
A patrol car of the Alaska Pipeline stopped and help me lift the bike – and that was that. I might add that I proceeded very carefully.
Accommodation alternatives in Deadhorse are limited. I spent the night in the Artic Oilfield Hotel. This place is owned by an oil company to have a place for its workforce – there are a limited number of rooms for tourists.
While the left Zega box was still doing its job, the damage was such, that I would have to replace it. I placed an emergengy call to my friends at the "Zubehoershop Frankfurt" zsf.info. Klaus Schrader who runs the place, did indeed solve this problem: the new box would be ordered from Touratech sent to Fairbanks via UPS.
The next day I had to take some photos of "downtown Deadhorse". Unfortunately I did not get my Deadhorse sticker. It was the5 th of July and all businesses were closed. Still, I did get the photo – see above.

This is as scenic as it gets near the Beaufort Sea
The weather had not improved. It rained slightly and somehow I had to fight the thought that I might not make it back to civilization. But I am happy to say that the return trip was eventless and two day later I arrived In Fairbanks again.
Equipped with a new pannier box, the general direction was south. The end of the Alaskan part of the trip was near. Having covered some 14.000 kilometres since I had left Chicago, I wanted to give myself and the motorcycle some rest. I booked a passage on the Alaska Marine Highway ferry form Haines to Bellingham, Washington State. This would same me some 3000 kilometres on the road.
The last stretch of the ride from Fairbanks to Haines (Haines Junction to Haines) was among the nicest rides so far: good pavement, nice winding stretches and a beautiful landscape.

People Met On The Road – IV:
Boyd Hyatt and Scott Robertson from West Colorado on their trip to the arctic circle. Very much BMW-minded and great fun to be with. We met by chance at the beginning of the gravel section of the Dalton Highway to Pruedhoe Bay. – Thanks for the beer to celebrate making it to the arcitic circle.

Click here for a picture of Boyd and Scott
Ines (Bundschuh was her surname– if I remember correctly) has an interesting profession: she is a carpenter from near Stuttgart in southern Germany. She has travelled extensively and has been working in her profession in Sweden and of lately in Edmonton, Canada. She set out to conquer Alaska and the north-western Canadian provinces by bicycle. We met at Billies Backpackers Hostel in Fairbanks.

Click here for a picture of Ines and myself cooling it on the porch of the hostel
Don Corwin, proud owner of a almost new BMW R 1200 C. We met on the road from Tok to Haines Junction. Don was on the way back from Anchorage were he had his BMW serviced. We had a great conversation about motorcycles and the BMW dealerships in Alaska. Don had learnt German in high school and seemed to enjoy a little chat with a "native". Interestingly enough, Don is another carpenter who specializes in renovating historic buildings. He lives in Skagway.

Click here for a picture of Don and his R 1200C
Food Feature V:
This week the food feature covers seafood. I had just made it from Fairbanks along the scenic Haines Highway to Haines and had to wait for the ferry to leave. Situated in the small yacht harbour of the city, right next to the moored boats was the "Lighthouse" restaurant and bar. Their "Seafood Burger" sounded interesting. Filet of halibut on a toasted bun:

Click here for an image of the restaurant
Together with a fresh draught bear, the was the perfect end to my Alaskan experience.
(PS: the espresso, served in a large papercup, however, was not something that I would want to have again)

Enter your email address to receive updates to Heiko Neumann's trip story!
Recent Entries
Archives:
Archives:
Monthly
Archives:
Category
NEW! HU 2015 Motorcycle Adventure Travel Calendar is now available! Get your copy now for some terrific travel inspiration!
HUGE, 11.5 x 16.5 inches, beautifully printed in Germany on top quality stock! Photos are the winning images from over 600 entries in the 9th Annual HU Photo Contest!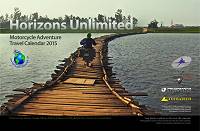 "The calendar is magnificent!"
"I just wanted to say how much I'm loving the new, larger calendar!"
We share the profit with the winning photographers. YOU could be in the HU Calendar too - enter here!
Next HU Events
Canada West: Aug 20-23, 2015
USA California: Sep 24-27, 2015
Aus Queensland: Sep 24-27, 2015
USA North Carolina: Oct 8-11, 2015
Aus Perth: Oct 9-11, 2015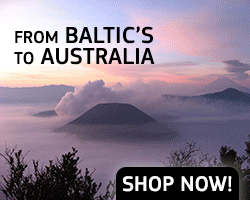 Take 40% off Road Heroes Part 1 until October 31 only!
Road Heroes features tales of adventure, joy and sheer terror by veteran travellers Peter and Kay Forwood (193 countries two-up on a Harley); Dr. Greg Frazier (5 times RTW); Tiffany Coates (RTW solo female); and Rene Cormier (University of Gravel Roads).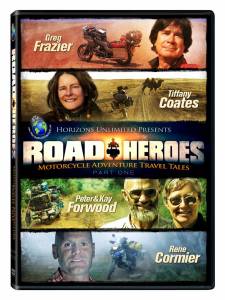 "Inspiring and hilarious!"
"I loved watching this DVD!"
"Lots of amazing stories and even more amazing photographs, it's great fun and very inspirational."
"Wonderful entertainment!"
Check it out at the HU Store! Remember to use Coupon Code 'HEROES' on your order when you checkout.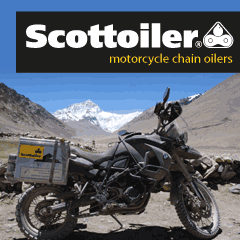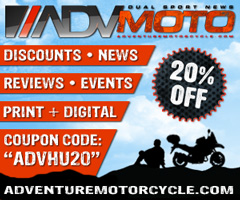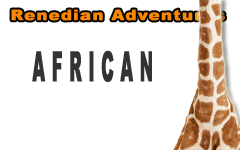 What others say about HU...
"I just wanted to say thanks for doing this and sharing so much with the rest of us." Dave, USA
"Your website is a mecca of valuable information and the DVD series is informative, entertaining, and inspiring! The new look of the website is very impressive, updated and catchy. Thank you so very much!" Jennifer, Canada
"...Great site. Keep up the good work." Murray and Carmen, Australia
"We just finished a 7 month 22,000+ mile scouting trip from Alaska to the bottom of Chile and I can't tell you how many times we referred to your site for help. From how to adjust your valves, to where to stay in the back country of Peru. Horizons Unlimited was a key player in our success. Motorcycle enthusiasts from around the world are in debt to your services." Alaska Riders

10th Annual HU Travellers Photo Contest is on now! This is an opportunity for YOU to show us your best photos and win prizes!
NEW! HU 2014 Adventure Travel T-shirts! are now available in several colors! Be the first kid on your block to have them! New lower prices on synths!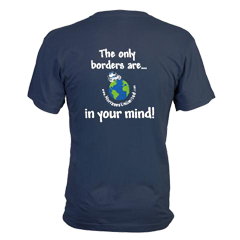 Check out the new Gildan Performance cotton-feel t-shirt - 100% poly, feels like soft cotton!

What turns you on to motorcycle travel?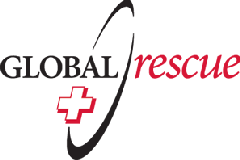 Global Rescue is the premier provider of medical, security and evacuation services worldwide and is the only company that will come to you, wherever you are, and evacuate you to your home hospital of choice. Additionally, Global Rescue places no restrictions on country of citizenship - all nationalities are eligible to sign-up!
New to Horizons Unlimited?
New to motorcycle travelling? New to the HU site? Confused? Too many options? It's really very simple - just 4 easy steps!
Horizons Unlimited was founded in 1997 by Grant and Susan Johnson following their journey around the world on a BMW R80 G/S motorcycle.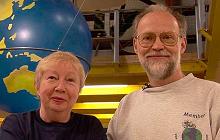 Read more about Grant & Susan's story
Membership - help keep us going!
Horizons Unlimited is not a big multi-national company, just two people who love motorcycle travel and have grown what started as a hobby in 1997 into a full time job (usually 8-10 hours per day and 7 days a week) and a labour of love. To keep it going and a roof over our heads, we run events (22 this year!); we sell inspirational and informative DVDs; we have a few selected advertisers; and we make a small amount from memberships.
You don't have to be a Member to come to an HU meeting, access the website, the HUBB or to receive the e-zine. What you get for your membership contribution is our sincere gratitude, good karma and knowing that you're helping to keep the motorcycle travel dream alive. Contributing Members and Gold Members do get additional features on the HUBB. Here's a list of all the Member benefits on the HUBB.
Books & DVDs

All the best travel books and videos listed and often reviewed on HU's famous Books page. Check it out and get great travel books from all over the world.

MC Air Shipping, (uncrated) USA / Canada / Europe and other areas. Be sure to say "Horizons Unlimited" to get your $25 discount on Shipping!
Insurance - see: For foreigners traveling in US and Canada and for Americans and Canadians traveling in other countries, then mail it to MC Express and get your HU $15 discount!
Story and photos copyright © All Rights Reserved.
Contact the author:
Editors note: We accept no responsibility for any of the above information in any way whatsoever. You are reminded to do your own research. Any commentary is strictly a personal opinion of the person supplying the information and is not to be construed as an endorsement of any kind.
Hosted by: Horizons Unlimited, the motorcycle travellers' website!
You can have your story here too - click for details!