July 01, 2003 GMT
Finland - Part 1
As you may have gathered from my previous remarks about the countries I visited, it had been a very positive experience. So positive in fact, that the boat trip to Helsinki started with a "rude reminder" that I was back in familiar territory: the price of beer had quadrupled. - Just as well - drinking and driving really do not mix.

I arrived in Helsinki without problems (a super fast ferry, 1 1/2 hour for a stretch of approx. 100 km). Here I re-entered the more traditional form of living that I had been so used to before I went on my trip: I received a warm welcome by the Teinilä Family.
"My generous hosts in Helsinki"
"Click for larger version of this picture"
Timo and I had been colleagues a long time ago; more recently, we had some common business contacts and we have mutual friends in Switzerland ("Gruezi" to the Schurr Family in Horgen). When Timo heard about my trip earlier this year, he extended a spontaneous invitation to stop over at his place.
After being on the road for about six weeks, I spent four great days at his family's home just outside of Helsinki. I still do not know what I enjoyed more, the beautiful location of their house just above a small bay of the Helsinki archipelago, the fun of entertaining the two children Ramona and Arn with paper folds (specialty: paper gliders....), the fact that I had access to a fast internet line, or the washing machine... - I am getting carried away, here. It was certainly the warm and generous welcome by the Teinlä's which I totally enjoyed.
I came to Helsinki just in time for the mid-summer celebrations (20th to 22nd of June) - THE national summer holiday with lots of bonfires and even more alcohol (generally speaking - not in our case). We went on tour around the city, but unfortunately the weather was "unsupportive": it was cold, overcast and it was rainy - This is probably the reason that this year only 2 people drowned as a result of inebriation. A widely observed statistic in Finland, as I was told....
"Many such bonfires in celebration of mid-summer"
The next day I explored the city of Helsinki, in particular the area around the harbor. I took a ferry to visit the historic fortress "Suomenlinna": a short ferry ride (15 minutes or so) gets one to four islands which were originally connected and fortified in defense of Helsinki/Finland. The place is very large and I only saw the main island and fortification. Still, a real attraction - worthy of visit - and one also gets a tour of the harbor, a home for many cruise ships.
"The Suomenlinna Fortifications protecting Helsinki Harbor"
"Click for more historic facts about Suomenlinna"
"Helsinki Habor"
After four enjoyable days with the Teinilä family I decided that I was time to move on (I was also running out of ideas for making paper folds for the children.....). At the recommendation of my guests, I went north towards the city of Jyväskylä. A scenic route - carefully planned and stored on the GPS. Well.....I messed up the stored data, took a wrong turn and missed some of the scenic stretches. But, in the end, I still arrived.
I found a very nice very nice campground near the town of Keuruu. What was probable the best aspect about my stay there, was the public library and the free Internet access it provided. I was able to up-load my "Baltic Report" and establish contact with the "horizonsunlimited" community in Kajaani, Finland - namely Heikki Lukkari.
"Keuruu Public Library - beautifully located"
Heikki Lukkari proved to be a valuable contact. He recommended two camping sites and he was especially helpful with regard to interpreting some of the information on the BMW website for Finland. I needed an oil change for the GS and was looking for some dealer that could do it. I had already identified one in Oulu (on the Baltic coast up north) but I was not sure about what the offered etc. Heikki confirmed though that the name I had found before was indeed a proper dealer who should be able to help me.
So I sent two e-mails to see whether and when they would have some time to do the service. There was, however, no response. It was with some kind of uneasy feeling that I rode towards Oulu.
Heikki had provided me with a map of the location of the BMW dealer. It was an excerpt of a larger map and I needed some time and the help of a fellow biker named "Lasse" to find "Euro Motor Center" www.emc.sci.fi.
I approached Lasse in front of a motorcycle equipment shop hoping that he might know about the BMW dealer. Not only did he know it (they had recently move their quarters), he offered to guide me there. Even more so, he introduced me to the mechanics (in Finnish). That turned out to be helpful but the people of EMC spoke perfect English. - Still, I was very impressed with the spontaneous help by a fellow motorcyclist.
I had already resigned myself to an extended waiting period before the service could be done. To my utter surprise, the EMC staff said that they could do the service the next day (which happened to be a Saturday). According to Heikki, garages in Finland typically to not work on Saturdays (same as in Germany) - so EMC must have been doing me a favor. - A big "Thank you" for that.
Spontaneous help in Oulu - Much appreciated!"
With the motorcycle serviced, I felt ready to go on. After looking at the roadmap, the Finnish north-east, the Lapland area, seemed to be the most interesting. Not very densely populated, small roads, not too close to the typical tourist trails. I decided to establish "base camp" in "Kuusamo".
My road map suggested that this should be a somewhat bigger city, hopefully with access to the internet. Kuusamo is about 40km west of Russian border and 100 km south of the arctic circle. It is here that I start preparing for "Part 2" of my Finland trip.
More to follow.

July 22, 2003 GMT
Finland - Part 2
Following the "pit stop" for the BMW in Oulu, my next stop was Kuusamo, some 250 kilometers north-east of Oulu. Kuusamo. I arrived in late afternoon and felt immediately at home. The city has a very nice info center, right at the city limits. Even on a Sunday afternoon it was open to the public, offering advice on accommodation and... free internet access.
I got some information on a camping ground close by. Other than a very nice location it offered another unexpected surprise. I was greeted by the receptionist and campground "impresario" Vesa Kallunki.His very first question surprised me completely: would I have some ball point pen of the cheap give-away type use in advertising?
"The receptionist of the Matkojoki campground near Kuusamo"
"Click here for the background to his question"
I was stunned but the explanation followed immediately: according to Vesa, he has some 15,000 of such pens and his collection is growing. I did not carry such pens with me but if you have an spare ball point pen with of some co /org/group (and a spare stamp) you may consider sending this to
Mr. Vesa Kallunki
c/o Matkajoki Camping
Kemijärventie 57
93600 Kuusamo
Soumi-Finland
As it was time to update my travel report, I went to look for an internet place. The terminal at the info station was available but had no interface to upload data/pictures. I remembered my good experience from earlier and went to the Kuusamo public library. They did have a terminal with upload facility but it was constantly in use during the opening hours. I tried my luck and spoke to person who was in charge: Helena Raunio. I explained about my trip and maintaining a travel log. I may have received a slightly amused look but without hesitation, it was suggested that I come to the library before the official opening time the next day so I could have the internet terminal to myself.
A big "thank you" to Kuusamo Public Library and Helena Raunio for very pragmatic, "cool" way of make it possible for me to complete my trip report.
"The Kuusamo Public Library - full of resources and helpful people"
The next event of my trip north was the crossing of the artic circle at Lat. 66'33''. Of course this had to be celebrated with a stop at road-side inn with coffee and excellent pancakes (!). The big billboard could not be overlooked.
"At restaurant on the arctic circle"
It was about here that reindeer became part of the landscape. There were warnings all over the place. I could not help thinking that these are in fact the "holy cows" of the north. The reindeer just inhabit the road, trot along. They especially seem to like the entries to the numerous tunnels, causing serious traffic jams and long lines of stupefied drivers of camp mobiles:
"The 'holy cows' of the North"
As the reindeer got more common and the average speed on the road came down, I approached lake Inari in the very north-east of Finland. The weather was no too good and I decided to have a household day instead. The local campground had all the facilities:
"Time for a household day"
I sat out the rain for one day and the took at very scenic route along lake Inari towards Kirkenes in Norway.
More to follow.

Norway (Sweden) - Part 1
The reception at Kirkenes was somewhat cold and wet. The city is a gray town with a small industrial harbor. The tourist information says that the area around the city is a melting pot where on can hear people speaking Finnish, Russian, or Sami, the language of the indigenous people.
It was really the proximity to Russia that attracted me to Kirkenes. My travel guide suggested that one could make guided daytrips into Russia by bus. I had really wanted to go to Murmansk, but this particular trip (in the one day version) was no longer available. Hence I decided on the next-best thing, a one day trip to the industrial town "Nikel", just across the border.
Nikel, as the names suggests, in the location of a very large nickel mine and smelter. It is not a very scenic place, but one could get a very good impression of what the day-to-day life in the former Soviet Republic must have been like.
The first impression is that of a busy plant with smoking plants. As we passed the city towards the east, the whole ecological damage became apparent. Since there is no cleaning of the exhaust fumes, nature in the area has been destroyed. Just dead wood and gray soil remain.
"A view from the city center"
"Click for a view of the outskirts"
Despite the somewhat dreary impression, I found this to be a very interesting trip - also because it was my first time in Russia.

The next day I spent a more pleasant environment. I went on a small trip along the Norwegian-Russian border. This involved another short stretch of gravel road towards Jakobselv, as small group of houses close to a rocky beach on the Barents Sea. This is the location of the King Oskar II chapel built in 1869. Since -in those days - Russians where considered to have respect for the church, the chapel was originally intended by the Norwegians to deter Russians from trespassing onto Norwegian territory. In more recent days this was no longer deemed as prudent: the area is also NATO's eastern-most mainland-based radar surveillance of Russia; an electronic eye with the Pentagon as the ultimate end-user.
"Historic defense against trespassing"
The next leg of my trip was to be a, if not the, highlight of my trip: the North Cape. The way there was lined with fantastic views of the fjords and mountains of the Norwegian coast.
"On the way to the North Cape"
To get onto the Mageroya island where the North Cape is located, one has to use a combination of winding roads and tunnels. There where considerable differences in temperature: 25 C in the sun, and somewhat close the low single digits inside of the tunnels. I still admire the people on bicycles who rode through the tunnels. These turned out to be quite long (some as long a 7 km and going uphill, too).
I put up my tent on a campground just below the North Cape plateau. There were some interesting observers of the scene:
"On the northernmost campground"
Having set up the tent, I had to go to go up to the North Cape plateau. The whole site up there had been described to me a being very touristy - which I guess it is. There is a gigantic parking area which is filled with camp mobiles. I was expecting big crowds also within the North Cape center (incl. Museum, shops, restaurants, a bar, post office etc.) but that was not the case. Another pleasant surprise was meeting to fellow travelers: Goetz Stahlschmidt from Germany on an almost vintage Yamaha XJ900 and Pamela Hammond from Australia. Pamela had come to Europe for a 4 months bicycle trip through Norway. Goetz was on a tour which included Scandinavia and the western parts of Russia.
The weather had turned bad, with some rain, fog and unpleasantly low temperatures. Of course we decided on taking the picture of us under the North Cape globe, but the weather did not allow for a photographic masterpiece. For the record, here it is anyway.
"Australian-German Convention in the fog"
The weather changed over night and it turned sunny again. Since the ticket for the plateau was valid for two days, I made a second attemp to have my picture taken.
"All alone - in the sunshine"
The next place on the trip schedule was Hammerfest - the self-proclaimed northernmost city in the world. To get there meant another trip through the tunnels and the differences in temperature. I think that this was the reason for an unpleasant cold that slowed me down. I just about made it to the campground. All the log cabins (which seem to exist everywhere in Scandinavia) where occupied and I had no choice but to put up my tent again. After that I was seriously exhausted and just rolled up in my sleeping bag.
Fortunately, this cold decided to go away within 24 hours and the next day looked somewhat brighter. However, this only applied to my state-of-mind, not so much to the weather. I also met another motorcycle traveler. When I had arrived at the campground, I had already noticed a BMW R 80 GS Basic parked in a corner, but I had seen nobody around. It turned out that it belonged to Piet Schoene from Southern Germany. Piet is a serious fan of Norway and of Hammerfest. He has come here regularly for a number of years and knows the place in an out.
Piet spent the day to show me around the city of Hammerfest. This is yet another rather industrialized place with some 10,000 or so inhabitants (but no public internet availability).
"Hammerfest - view of the city and harbor"

When I spoke to people about my travel plans there was one location which always resulted in the same reaction (certainly with people of about my age): everybody had heard about it geography classes in school: Kiruna, Sweden - the iron ore "home mine" of Europe.
I really do not know what caused this fascination with me. It must have been the location in the far north or something - I can't say, really. Anyway, this was a must on my schedule. The trip there was rather long: some 550 km from Hammerfest, which I decided to make in two days.
I arrived in Kiruna in bright sunshine and found another rather small town which had only been built in the early 1900's in order to exploit the local ore fields. Of course the first thing I did was to book a tour.
"Above ground"
"Click for a view of the underworld"
The interesting thing with this mine tour is that one goes down to a level of 540 m underground in a regular bus. The company which runs the mine, LK AB has used old shafts to set up a information center which includes an auditorium, a museum, a cafeteria and several gigantic machines which have been or are being used in the mine. The whole tour lasted for 2 1/2 hours and is in my opinion a must for everybody with a technical mind or, for that matter, anybody who had heard about the Kiruna iron ore in school..
Next on my schedule was the return to Norway, in order to take the Ferry to Solvaer, the main location on the Lofoten Islands. On the way I was to meet some very interesting people - but I shall write about that in "Norway - Part 2"
More to follow.
Enter your email address to receive updates to Heiko Neumann's trip story!
Recent Entries
Archives:
Archives:
Monthly
Archives:
Category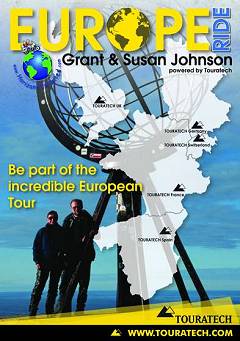 Next HU Events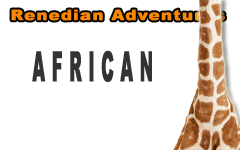 The weather has finally turned, so Gear Up for your motorcycle travel adventure! Take 30% off the Achievable Dream - Gear Up! 2-DVD set until June 30 only.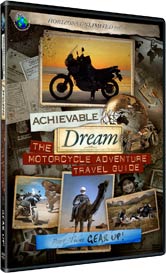 Which bike, how to prepare it, what else to take, how to pack it all in! 6 hours!
"It's another great job, informative and entertaining."
"It's really professional and full of useful information, a must for any traveler."
Check it out at the HU Store! Remember to use Coupon Code 'GEARUP' on your order when you checkout.
What others say about HU...
"I just wanted to say thanks for doing this and sharing so much with the rest of us." Dave, USA
"Your website is a mecca of valuable information and the DVD series is informative, entertaining, and inspiring! The new look of the website is very impressive, updated and catchy. Thank you so very much!" Jennifer, Canada
"...Great site. Keep up the good work." Murray and Carmen, Australia
"We just finished a 7 month 22,000+ mile scouting trip from Alaska to the bottom of Chile and I can't tell you how many times we referred to your site for help. From how to adjust your valves, to where to stay in the back country of Peru. Horizons Unlimited was a key player in our success. Motorcycle enthusiasts from around the world are in debt to your services." Alaska Riders

10th Annual HU Travellers Photo Contest is on now! This is an opportunity for YOU to show us your best photos and win prizes!
NEW! HU 2014 Adventure Travel T-shirts! are now available in several colors! Be the first kid on your block to have them! New lower prices on synths!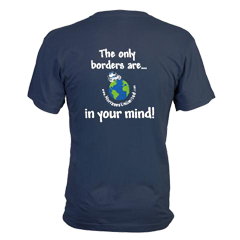 Check out the new Gildan Performance cotton-feel t-shirt - 100% poly, feels like soft cotton!

What turns you on to motorcycle travel?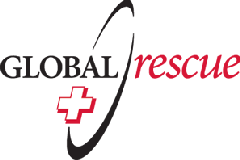 Global Rescue is the premier provider of medical, security and evacuation services worldwide and is the only company that will come to you, wherever you are, and evacuate you to your home hospital of choice. Additionally, Global Rescue places no restrictions on country of citizenship - all nationalities are eligible to sign-up!
New to Horizons Unlimited?
New to motorcycle travelling? New to the HU site? Confused? Too many options? It's really very simple - just 4 easy steps!
Horizons Unlimited was founded in 1997 by Grant and Susan Johnson following their journey around the world on a BMW R80 G/S motorcycle.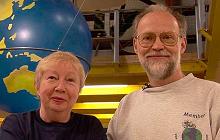 Read more about Grant & Susan's story
Membership - help keep us going!
Horizons Unlimited is not a big multi-national company, just two people who love motorcycle travel and have grown what started as a hobby in 1997 into a full time job (usually 8-10 hours per day and 7 days a week) and a labour of love. To keep it going and a roof over our heads, we run events (22 this year!); we sell inspirational and informative DVDs; we have a few selected advertisers; and we make a small amount from memberships.
You don't have to be a Member to come to an HU meeting, access the website, the HUBB or to receive the e-zine. What you get for your membership contribution is our sincere gratitude, good karma and knowing that you're helping to keep the motorcycle travel dream alive. Contributing Members and Gold Members do get additional features on the HUBB. Here's a list of all the Member benefits on the HUBB.
Books & DVDs

All the best travel books and videos listed and often reviewed on HU's famous Books page. Check it out and get great travel books from all over the world.

MC Air Shipping, (uncrated) USA / Canada / Europe and other areas. Be sure to say "Horizons Unlimited" to get your $25 discount on Shipping!
Insurance - see: For foreigners traveling in US and Canada and for Americans and Canadians traveling in other countries, then mail it to MC Express and get your HU $15 discount!
Story and photos copyright © All Rights Reserved.
Contact the author:
Editors note: We accept no responsibility for any of the above information in any way whatsoever. You are reminded to do your own research. Any commentary is strictly a personal opinion of the person supplying the information and is not to be construed as an endorsement of any kind.
Hosted by: Horizons Unlimited, the motorcycle travellers' website!
You can have your story here too - click for details!