June 06, 2003 GMT
Love At Second Sight
I seemed to have started off on the wrong foot when I crossed the border from Austria into Slovakia near Bratislava. The border guard on the Slovakian side was probably over-worked, under-paid and a couple of other things. - Presumably in the best effort to make sure no stolen vehicles came into his country he beckoned (nay... too nice a word), he ordered me forward a meter or so, in order for him to check the registration number of the bike. Okay, he probably did that in the interest of the owner of the vehicle (i.e. yours truly) but he did so in a manner that would have make any drill sergeant of the marines proud. - Anyway, I did not have to do 30 push-ups and was motioned on.
Okay - I am being over-sensitive here and I am exaggerating a little, but such was the welcome in this country that I would rate it "sub-investment grade" (inside joke for those who knew me in my professional capacity).
The weather was not very helpful either (thunder showers), and I appeared to have entered the country in a region were there is very little in terms on tourist infrastructure. I was driving from one rain shower to another, it was getting late and I could not find a B&B accommodation nor any campgrounds. The response of one or two landlords was perfectly in line with that of the miserable person at the boarding house near the German/Czech border I had mention in my previous report. Flat rejection. So there! My motorcycle gear and the fact that my Slovak language skills (other than pivo = beer) are not existent did not help either.
"Velke pivo = large beer"
So things are being made a little challenging. I check my trusty GPS and find a road going up north to the mountains. The analytic mind is working: mountains equal tourism equals accommodation. Since the major road up north links a couple of towns or villages, I reckon that my chances of finding a roof for the night should be fair.
I cross the city limits of a industrial town of "Novaky" and find a small hotel just by the roadside. I seem to be the only guest and the facial expression of the owner/manager suggests that he thinks he is doing me a favor to even speak to me. Anyway, since I am tired and not very eager to continue on, I accept the situation and the rate of 35 Euros (which is somewhat more than I have budgeted for accommodation).
The next morning (still no facial expression form the owner/manager) I leave early. I have identified a small city, "Martin" further north, near the mountain range which forms the "Mala Fatra National Park". That sounds promising.
"Main road along the scenic Vah river valley"
As I approach the city through the very scenic valley of the Vah river, I see various sign for accommodation/camping. By random choice I find neat camping site which also offers small cabins for rent (I am not very keen on sleeping in a small tent, which I carry for emergencies). I check out the city center of Martin and the decision is made - here I shall stay for a couple of days.
"The wide open pedestrian area of Martin"
The "Turiec" campground proves to be a good base for small excursions into the region of the "Mala Fatra National Park". About 10 km from the campground at an elevation of over 1200 meter is the Martinske Hole ski region. Not very busy at this time but a very interesting ride up on another small, winding road.
"Looking down on the city of Martin from the ski lift station at Martinske Hole"
The next day brings another UNESCO World Heritage place - the village of Vlkolinec. Another - you probably guessed it - small winding road up the hill leads to this rather quaint place. The locals build their housed in log-cabin stile and the structure of the place has be left in the original state. Hence he UNESCO statues. - Oh yes, you have to pay to enter and to take pictures.
"The village of Vlkolinec - UNESCO World Heritage"
I spend some more time in the city of Martin and I am beginning to fin"Vlkolinec - UNESCO World d that there are indeed very nice, helpful people around. I need to mention the staff at the local internet café who go of their way to allow me to upload my picture file for the travel story. And there is the sales person at the local photo shop. I have some problems with my digital camera and the lady who is running the place speak good English and is very informed about the technical aspects to the model I am using. In the end I need to buy a new camera (there goes another blow to the budget) but the new model is fully compatible with the equipment and software I am using. On the positive side - the new model allows for a much easier and faster transfer of the picture files to the laptop.
All in all I stay for five days and on Sunday, June 1st move on. I have identified the city of Levoca at the foot of the Tatra mountain range. It is only a relative short ride of some 100 km but the weather has decided to make in interesting: during the night there has been a thunderstorm and it is still raining hard when I leave the campground at 10:00 am.
After about and hour or so, the skies clear up and it is another bright, sunny day. I decide to stop at gas station on the motorway for a coffea and a snack. As I prepare to leave I suddenly find my motorcycle in the company of about a dozen or so vintage "Jawa" motorcycles.
"Members of the Spissky Veteran Klub from Spisska Nova Ves"
Click for bigger image
Of course you get into contact the owners. The youngest member of the group, Marek, speaks good enough English to explain that they are from the city of Spisska Nova Ves (not far from Levoca, my target for the day). The people are a member of the local vintage vehicle club - Spissky Veteran Klub -
and they are just back from a meeting with other fans of vintage vehicle. I am invited to check out a tricycle and find it hard to resist the humorous offer to trade my GS for this vehicle.
"Tempting - but no trade in for the beemer"
In the early afternoon I arrive at the Levoca campground. I take one of those wooden cabins with electric light and find the facilities somewhat less attractive compared to the place in Martin. I do not to look at the sanitary installations in too much detail. But for the equivalent of just under 6 Euros for the night, I decide not to complain too much.
The city of Levoca is quite interesting because it is encircled by high walls an moat and I would have liked to spend some more time here. But due to my delayed departure from Frankfurt and some more time spent in Martin than originally planned I need to move on.
So on Tuesday, June 3rd, I move on to Poland. I order to get there I have to cross the Tatra mountain range. The first city to visit will be Zakopane.
"All set to cross the Tatra mountains"
I want to be fair say that I need to correct my intitial opinion of Slovakia. The first impressions after crossing the border were really not typical for the whole country. I found the people to be very friendly and helpful. They did the utmost to overcome my lack of Slovak language skills and used whatever English or German words they knew to help me make my stay enjoyable.
In summary: generally very friendly and helpful people, excellent value for money, fantastic beer (throughout the country) and great country roads for relaxed touring - deserves up-grade to "serious investment grade" (in reference to comment in second paragraph above). ;-))
More to follow....
June 17, 2003 GMT
School kids and other reminders of the past.....
After Slovakia, the idea was to move north, to head for the coast of the Baltic Sea. I head no specific plan of what to do or to see along the way. More or less by chance or intuition, I went to Zakopane (famous skiing location in the Tatra Mountains), Czestochowa (location of Jasna Gora, the Polish national sanctum), Warsaw (some very interesting architecture) and Augustow (small town in the northeast of Poland, close to the Lithuanian border).
What looks like an interesting trip through the Tatra Mountains from Slovakia turned out to be less of a challenge. The highest mountains in this range are in excess of 2300m and it looks rather impressive from afar. The whole area is, however, relatively small and rather than crossing it, one goes around it. My expectations of some doing some nice passes are somewhat disappointed. The maximun elevation on this trip over to Poland was about 1250m. Still some nice scenery.
The border gards at a very small crossing point are friendly (to the extent that border guards can be) and I reach Zakopane without problems in the early afternoon.
"Made it to the over side of Tatra Mountains - without problems"

I find another decent campground which offers hostel style accommodation. A big surprise comes in the city center which is crowded with school kids. I am told that it is close to the end of the school year and everybody goes on a bus tour - notably to Zakopane. The city centre bears a striking similarity to Disneyland. Oh well....
In order to avoid the crowds I decide to go on a short hike through a park towards a cable car that would carries you up to about 1900m. Okay .... after about one hour of walking, I reach the base station of the cable car and see --- a long line of school kids in front of the ticket office, all waiting to take the cable car. Progress is slow and I decide turn to other things which are more easily available:
"No long cues to get a snack"

From Zakopane I move north via Krakow towards Czestochowa. I have programmed the GPS using the "shorter distance" (rather then "faster time") option. Well, this leads me right through the city centre of Krakow. Stop and go traffic at way over 25 degrees centigrade do not make this a pleasant experience. - I arrive at Czestochowa in the late afternoon.
The camping ground is easily found and the room (in a small separate building) looks okay - at least it does when I arrive. I hardly notice that some work in being done on the path leading up to the next building. The next morning (and evening, too) I get reminder of my professional past that somehow involved the construction industry. I get a first hand impression of road construction: compact the ground, spread the coarse gravel on the compacted ground, compact the gravel, then pour on the sand, compact the sand then place the concrete tile on top, compact them again.
The construction worker are very busy: they start (compacting the ground) at 6 a.m. and they do not finish until 7 p.m. - By the way: the noise of a small compactor makes the noise on a starting 747 seem, well, rather pleasant.
"Cleverly hidden behind the house"
Oh - I almost forgot to talk about the attraction of Czestochowa - the monastery Jasno Gora. This loacation is something of a national treasure. Reminders of historic battles and modern day events and persons. The image of Pope John Paul II is omnipresent at this location, and in the museum of this place you find among other things the original of Lech Valensa's Nobel peace price (that is the medal and the certificate).
"Jasna Gora - A Polish national treasure"
I leave Czestochowa after two days and I am fully convinced that whatever I had learned about the Polish construction industry is true: it is really very dynamic - I have very direct personal proof....
Anyway - on to Warsaw. I come to Warsaw on the very weekend, that Poland is holding a referendum on whether to join the European Union. Actually, a couple of posters on the street are the only signs that something important is going on. While I do not speak the language, I watch TV that night. On Saturday night (people can vote on the whole weekend) only some 18% of the votes have been placed, but on Sunday evening it is clear: some 58% of the people have voted and there is a majority in the high 70ies for joining the EU in 2004.
"Presidential Palace at the evening of a major decision"
I seem to be increasingly fascinated with the buildings of the places I visit. The one that strikes me the most in Warsaw is without doubt the Cultural Palace - a building from the socialist past of Poland. The proportions of this place are enormous. It includes two theatres and space for exhibitions. Currently on was one of Polish Rock/Pop Stars from the 60ies on. (Do I have to add that I did not know any?). The view from the 30th floor is fantastic, though.
"I my opinion, the most interesting bulding in Warsaw"
"Click for picture of model of the palace"
After Warsaw I move further north towards the border to Lithuania. I visit a place which I have been to with my motorcycle friends Klaus Schrader and Dietger Pudenz (both BMW aficionados) some two years go: Agustow - some 30 km from the border in north-eastern Poland. I had some vague memories of the place: rather dreary not very appealing. Instead, I find an attractive, small town with a nicely renovated town center (small park, restaurants, shops). A much more friendly place than two years ago.
"Augustow - a much nicer place than 2 years ago"
By chance I end up in a small, newly renovated hotel: "Gosciniec Ostoja". Very nicely done rooms, great breakfast, for a very decent price.
With a very positive mindset I set way for the Baltic States.....
More to follow .....
June 24, 2003 GMT
Touring The Baltic States
To be perfectly honest - it was with a strange feeling that I approached the Baltic States. I had not met anybody who had been there and somehow the fact that these countries became independent from the former Soviet Union in 1990/91 had not really registered with me.
Since I want to go to all the capitals, Vilnius (Lithuania), Riga (Latvia) and Tallinn (Estonia), a natural first stop is Vilnius. I cross the border just north of Augustow, Poland and I have to pay an "entrance fees". Before the Lithuanians let a foreign motor vehicle enter their country, the driver is required to show a Lithuanian insurance policy. A sales office is conveniently placed next to the border guard. All other countries thus far have accepted the international motor insurance card issued by my insurance company. But okay - I give some extra points for "creative cash generation".
So, well-covered by the new insurance, I approach Vilnius - and dislike it right away. The city is very busy, a lot of road construction, it is getting late and I have problems finding accommodation. I end up in a motel near one of the major motorways. Not great but....
The next morning I just want to get on and I skip a tour of the city. If there is one idea that I have had about all Baltic States, it is that there should be great coast line. So I am heading off to the beach - and end up in a great seaside resort, Palanga. There is some irritation at the small hotel when I check in: the director does not like motorcycles in front of the hotel and I have to move it to a parking lot close by. The guard at that place in turn is very nice. He seizes the opportunity to practice the German, which he learned at school.
The gigantic (600 m long) board walk on the Palanga beach at sunset"
The next day I pay a visit to a place that I had wanted to see for a long time: the Curonian Spit ("Kurische Nehrung"): a 97 km long, thin peninsula, more than half of it under Lithuanian jurisdiction, which separates the Baltic Sea and the Curonian Lagoon ("Kurisches Haff"). Great landscape and beaches -included in the UNESCO World Heritage as cultural landscape object.
I particularly like the large dune in the middle of the "spit", near the village of Nida:
"Impressions from the Sahara? - No, a beach of the Baltic Sea"
Somehow this visit determines the course for the next couple of days. I decide to follow the coastline into Latvia and on. For a change, the border crossing into Latvia was almost pleasant. Very business-like border guards in a neat, new guard building.
My next stop is Liepaja - but somehow this is another city that does not appeal to me: too busy, I do not feel comfortable and I decide to go on towards Ventspils, further north on the coast. I have to leave the main roads and have to use smaller country roads. No a lot of traffic, but a very poor tarmac, which lowers my "cruising speed" considerably. I find a small campground with direct access to the beach and decide to stay for the night.
With me on the campground is a group of about twenty young people which I believe to be students. One of the group approaches me the next morning as I prepare to leave. As it turns out, the group belongs to the Latvian subsidiary of a major international advertising agency, who have come to this place for some corporate offside, to build the team spirit.
Andris Blaka, a senior member of that group, outs himself a fellow motorcycle aficionado (Kawasaki KLE 500). He knows the coast line and suggests that I follow the coast up north. Just north of the campground, the paved road turns into a gravel road, some 55 km of it. Before talking to Andris, I had already resigned myself to returning to the main road to Riga and wave the idea of following the coast. Andris insists, though, that the quality of the road is such, that it should be unproblematic even for the loaded BMW, and I decide to go for it.
"Following the coastline - on gravel"
The gravel stretch turns out to be manageable. I get to the northernmost point of this Latvian peninsula, a small place called Kolka: two dozen houses and a gas station. I count myself lucky, because by then my gas is running low and I was beginning to get nervous. So, back on paved roads and tank filled up it starts to rain hard. Tough. I start looking for a place to stop and to let the rain clouds pass by.
The next place I see has a KTM LC 640 Adventure parked in front of it. I take it a sign (you do not see very many motorcycles in Latvia), stop and meet Dzintars Baltais in the restaurant. He is on a trip along the coast in the opposite direction - albeit with a difference: he prefers to ride along the beach whenever possible. Sounds interesting, but I do not find it too hard to resist steering the heavy BMW onto the beach.
"Dzintars Baltais and his KTM on the way to the beaches"
After about an hour or so, the rain has stopped and we move on. I head for Riga and spend couple of days enjoying the great scenery of the historic city center:
"Two great sights in the historic part of Riga"
The visit of Riga marks the end of my stay in Lativa and I move on to Estonia. The border crossing is easy and friendly. "Big skies" are the welcoming scenery:
"Big Skies over Estonia"
Before I had left for my trip, I had been advised to got the Estonian island of Saaremaa. On the way there I stop in yet another seaside resort Pärnu. I am staying only for one night but by chance I find a small Bed & Breakfast place. The people are very friendly and even make some room in the family garage for the BMW.
In order to get to Saaremaa, I have to get onto a ferry. It is only a short, 20 minute trip, but very enjoyable. The island is about 90 km in diameter and much larger than I had thought. I have already booked a ferry from Tallinn to Helsinki and I can spend only 2 days on this beautiful island. I stay on a very nice farm that has been converted into a Bed & Breakfast place. I explore the eastern part of the island where one sees many old windmills, but miss out on the city of Kuressaare with its medieval castle.
From here I ride up to Tallinn where the ferry to Helsinki is waiting. I find another historic city center and - this time more importantly - a small traditional coffee shop (super cappuccino and pastry!!!), which, in a quiet corner, has two Internet computers. A true "Internet Café". I go to this place on two days an finish my trip report on Poland.
Day two of my stay in Tallinn, marks the end of my tour through the Baltic States. The ferry for Helsinki is leaving in the afternoon.
"Safely tied up for the passage to Helsinki
After almost two weeks in the Baltic States, I had completely forgotten about my initial reservations. I always felt safe and welcome. I enjoyed being at the coast, the beaches in particular. Everywhere, people were friendly, open and made every effort to speak either German or English. In all Bed & Breakfast places, campgrounds and restaurants you're bound to meet someone who would be able to help you. - In the end it I really wondered why I had waited so long to visit this part of the world......
More to follow.

Enter your email address to receive updates to Heiko Neumann's trip story!
Recent Entries
Archives:
Archives:
Monthly
Archives:
Category
Now that summer is here, get On the Road! Take 30% off the Achievable Dream - On the Road! 2-DVD set until August 31 only.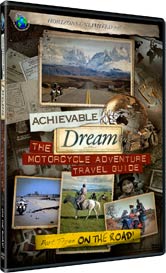 Our veteran travellers share their tips (and great stories) for staying healthy, happy and secure on your motorcycle adventure.
"A fantastic, informative and inspirational DVD."
"It's brilliant - thank you very much!"
Check it out at the HU Store! Remember to use Coupon Code 'ONTHEROAD' on your order when you checkout.
Next HU Events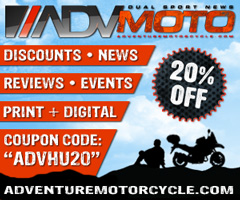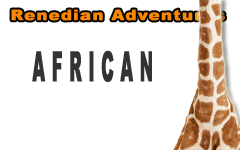 What others say about HU...
"I just wanted to say thanks for doing this and sharing so much with the rest of us." Dave, USA
"Your website is a mecca of valuable information and the DVD series is informative, entertaining, and inspiring! The new look of the website is very impressive, updated and catchy. Thank you so very much!" Jennifer, Canada
"...Great site. Keep up the good work." Murray and Carmen, Australia
"We just finished a 7 month 22,000+ mile scouting trip from Alaska to the bottom of Chile and I can't tell you how many times we referred to your site for help. From how to adjust your valves, to where to stay in the back country of Peru. Horizons Unlimited was a key player in our success. Motorcycle enthusiasts from around the world are in debt to your services." Alaska Riders

10th Annual HU Travellers Photo Contest is on now! This is an opportunity for YOU to show us your best photos and win prizes!
NEW! HU 2014 Adventure Travel T-shirts! are now available in several colors! Be the first kid on your block to have them! New lower prices on synths!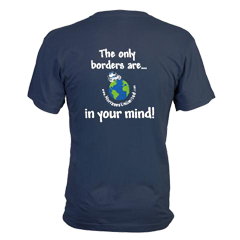 Check out the new Gildan Performance cotton-feel t-shirt - 100% poly, feels like soft cotton!

What turns you on to motorcycle travel?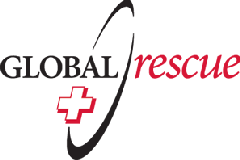 Global Rescue is the premier provider of medical, security and evacuation services worldwide and is the only company that will come to you, wherever you are, and evacuate you to your home hospital of choice. Additionally, Global Rescue places no restrictions on country of citizenship - all nationalities are eligible to sign-up!
New to Horizons Unlimited?
New to motorcycle travelling? New to the HU site? Confused? Too many options? It's really very simple - just 4 easy steps!
Horizons Unlimited was founded in 1997 by Grant and Susan Johnson following their journey around the world on a BMW R80 G/S motorcycle.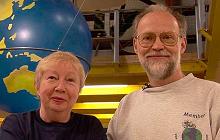 Read more about Grant & Susan's story
Membership - help keep us going!
Horizons Unlimited is not a big multi-national company, just two people who love motorcycle travel and have grown what started as a hobby in 1997 into a full time job (usually 8-10 hours per day and 7 days a week) and a labour of love. To keep it going and a roof over our heads, we run events (22 this year!); we sell inspirational and informative DVDs; we have a few selected advertisers; and we make a small amount from memberships.
You don't have to be a Member to come to an HU meeting, access the website, the HUBB or to receive the e-zine. What you get for your membership contribution is our sincere gratitude, good karma and knowing that you're helping to keep the motorcycle travel dream alive. Contributing Members and Gold Members do get additional features on the HUBB. Here's a list of all the Member benefits on the HUBB.
Books & DVDs

All the best travel books and videos listed and often reviewed on HU's famous Books page. Check it out and get great travel books from all over the world.

MC Air Shipping, (uncrated) USA / Canada / Europe and other areas. Be sure to say "Horizons Unlimited" to get your $25 discount on Shipping!
Insurance - see: For foreigners traveling in US and Canada and for Americans and Canadians traveling in other countries, then mail it to MC Express and get your HU $15 discount!
Story and photos copyright © All Rights Reserved.
Contact the author:
Editors note: We accept no responsibility for any of the above information in any way whatsoever. You are reminded to do your own research. Any commentary is strictly a personal opinion of the person supplying the information and is not to be construed as an endorsement of any kind.
Hosted by: Horizons Unlimited, the motorcycle travellers' website!
You can have your story here too - click for details!