June 18, 2007 GMT
Cappadocia
I know I'm quite a bit behind with my blog. This is why I'll keep this one short. Hopefully...
Waiting in Ankara for the visas was a bit boring. The only thing impressing there were the taxis I thought. So on Monday evening I happily left for Cappadocia.
image
Cappadocia is a very picturesque region, where people since ancient times built their houses into the domes and cliffs of the sandstone rock around. There are even entire underground cities, complete with churches and everything (I didnt find the underground pub though). I cant remember why, when and how the Cappadocians built their "living caves" so if you're interested have a look here http://en.wikipedia.org/wiki/Cappadocia.
I drove and hiked a lot and took many pictures of the place. Soon I got a little tired of all the postcards shots, so I also tried a bit black and white photography.
image
image
image
image
image
image
One day I met two germans, Stefan and Christine, who are cycling the world as part of their project: http://www.radfahren-gegen-krebs.de. I feel really bad, since my trip has no charitable intentions at all. So to salve consciences I ask you for the following:
If, while reading my stories, you are not bored to tears but find my writings interesting or even smile sometimes, you MUST go here and donate a few bucks. Thank you!
image
In Nevsehir, the major town in Cappadocia, I met Azlan at the tourist information. Last year he guided my mom up Mount Ararat. He gave me information about climbing the Erciyes Dag, the biggest mountain of the area. Since it is 3917m high I was happy when Azlan first suggested a tour up the Hasan Mountain, about 3200 m high. This would give me a good opportunity to test my fittness and get acclimatized. An older german couple came along but was out of power after the first hour, so I finished the ascend with Azlan only. It was quite strenous, but rewarding since it's an old volcano with a very interesting crater.
image
When we were coming down the mountain I was again attacked by beetles. This time not as big as the may-beetles in Romania. Also I was less at unease, because they obviously had no sting. I had my bright white T-Shirt on and thought they must like me because of that. Finally I found a rock where they were having their party. The surface of the rock looked like moving because there were so many of them. Doing all kinds of stuff. Just look at these three swingers!
image
I was shocked and stumbled down the rest of the mountain, picking off beetles from all over my body. I wont get specific..
At the bottom I met again the nomads, that already invited us for tea when going up in the morning. Fortunately their dogs had no issue with me, so I sat down and laughed with them for a while. Such kind people! And I really liked that little girl that was blowing bubbles with its gum. Not only because she's so cute, but for the fun she had when the bubble popped and everyone got sprayed with her spit. She couldn't get enough of it.
image
At that time I was actually alone, but the car was only a few hundred meters away. Everybody was waiting there. Not at the car, but with some other people that had invited them for Cay. You cant go 5 minutes without having to drink tea in Turkey. It's horrible!
We sat there for a while longer and everybody was enjoying the rock, the view and the talk. And the cay of course. The guy in the middle of the pic is Azlan.
image
Eventually the woman of the german couple got a bit nervous, because they mainly came to see the remains of some old byzantine city. It was hard to say goodbye even for Azlan. But we managed and drove to the city. It was really big, but mainly only the foundations of the houses were still there. The families from the nearby village used it for their sheep and goats. When we got there they just released the young ones of over 2000 to get to their moms and suckle. That was a a happening, I'm telling ya! The valley was full of cries from the little and the big sheep/goats. But everone finds their mom. The women and girls run around and take care of deseased ones or help with the feeding. Sometimes they even carry them around, looks quite funny. In the end the young ones got separated again until the evening of the next day.
image
image
During all that time the men just sat with us, enjoying the show and talking. But they are the ones that wander around with the flock all day - the herders. This one here, like many others, just came up to me with the warmest smile you can imagine, takes my hand with both his hands and greets me hello. You would not believe it.
But this time we rejected the food and the tea and got going, because a big thunderstorm was about to unload.
image
We drove home with heavy, heavy rain, even hail sometimes. The people in the fields didnt seem to notice. They just keep working.
Back at home Azlan invited us for a yummie dinner, but the german lady did not stop to complain. All day she didnt smile much, I dont know why. Everything was good, we agreed to split up on the mountain a long time before. They saw their city and even got the sheep show. But even though they were in Cappadocia for 6 weeks in total (they have a house there) she couldn't get rid of her everydays life attitude of complaining.
I dont know I dont know. These germans sometimes...
Anyway, we had good food there and I also stayed the night. I talked a lot with Azlans younger son, who was just studying for his final college exams. He did speak English quite well, which is not so common even among young people. I'm sure his father being in the tourist industry stressed the importance of a foreign language and was also happy for me being there and his son getting some practice.
But all of them couldnt quite understand why the hell I want to drive the "moto" to Turkmenistan or China. What do you do there? Why? I tried to explain, but the worlds are different. Just the fact that I travel just by myself. The turkish are way too social to do that I guess.
Before I set off to Kayseri and my next project, the Erciyes Dag, I did another loop through the Cappadocian villages. I wanted to find the point where there is a view of the Erciyes and in the foreground some of the colourful rock formations. I didnt want to walk much and found a rough dirt road going up a mountain. In the beginning it was ok, but later came a very steep and rocky part. When I failed the first time, I went into myself. Is it worth it? Will you give in?
NO, not after the first try!
After the second crash the same question. And the same stubborn answer. I offloaded some of my luggage and went again. Starting faster and thrashing the bike over the rocks hurt a little inside me. But it had to be! Whats a MZ good for?
A lot, I must say, I got it up that fucking hill.
Of course, the view was less then impressiv. The air was very hazy and I could just guess where the Erziyes was. But what the hell, that doesnt mater now. I made this hill, yeah!
On the way down I noticed the back brake not releasing and had the faint glimpse that this might be directly connected to the way I drove up. Back on the tar I stopped and looked. I didnt see what the damage exactly was, but found out that I could release the brake manually. I had a hand brake on the bike now :) For the next few hundred km I used the back brake only in emergency situations, because afterwards I had to stop and release it. That lead to some almost crashes and before I went to Syria I finally got it fixed. In half an hour. Cost 5 Euro.
image
Posted by Andreas Naumann at
01:11 PM
GMT
Verluste beim Bergsteigen
Nach 2-3 Tagen in Kappadokien hatte ich genug von den Backpackern. Eigentlich sind die meisten Touris gar nicht so schlimm, aber das Verhalten der Einheimischen ist in Touristenorten oft vom Kommerz gepraegt, nicht mehr urspruenglich und authentisch. Da helfen dann auf laengere Dauer auch die bizarr-komisch-fantastischen Felsformationen von Kappadokien nicht mehr drueber weg.
image
Es hielt mich also nix mehr, ausserdem hatt ich von Azlan, letztes Jahr Mamas Bergfuehrer am Ararat, mittlerweile eine ganz brauchbare Beschreibung des Normalweges auf den 3.917 m hohen Erciyes Dag. Allerdings auch den Hinweis, das es um diese Jahreszeit ohne Winterausruestung eigentlich unmoeglich ist. Aber solche Aeusserungen haben mich schon immer zusaetzlich angespornt..
So gings also eines Tages nach Kayseri, wo ich noch kurz ein hubb-Mitglied treffen wollte. Unser Treffen war allerdings etwas ungluecklich - ich kam naemlich genau Freitag Mittag an und hab natuerlich verpennt, dass das die heiligste Zeit in der Woche ist, wo alle in die Moschee rennen. Schlussendlich klappt es doch noch, aber der Typ ist irgendwie Chef der Werbeabteilung, brutal hektisch, sieht mir sehr nach Workaholic aus. In seinem Buero zu sitzen erzeugt in mir genau jene klaustrophobischen Gefuehle, wegen denen ich meinen Job geschmissen hab und auf diese Reise gegangen bin. Nach einem schnell runtergewuergten Mittagessen hat er auch schon die naechsten Termine und ich bin froh aus dieser Welt ganz schnell wieder verschwinden zu koennen.
Bevor es die naechsten 20km rauf zum Parkplatz der Liftstationen am Erciyes (im Winter fahren die hier auch Ski) geht, brauch ich noch Spiritus fuer meinen Konservendosenkocher. Ich hab mittlerweile rausbekommen, dass es auf tuerkisch Ispirto heisst und frage mich in der Stadt durch. Bei einem Geschaeft am Markt wird mir erst versucht zu erklaeren wo ich hin muss. Da das aber zu schwierig scheint setzt sich der Besitzer des Ladens kurzerhand auf seinen klapprigen Drahtesel und faehrt selber - ich muss derweil Tee trinken und die restliche Mannschaft unterhalten. Nach 10min kommt er mit 2 Flaschen Spiritus wieder, ich beteuere dass ich nur eine brauche aber bezahlen darf ich nicht. Ist Ehrensache. Ich verabschiede mich mit gebuehrenden Dankesgesten und freu mich wieder in der "richtigen" Tuerkei zu sein.
Beim Anblick des ueberwechteten Grates auf den Erciyes sinken meine Hoffnungen auf den Gipfel ganz gewaltig. So gebe ich bei der Registrierung meines Besteigungsversuches bei den Jandarma an, sowieso nur soweit zu gehen, bis mich der Schnee zum Umkehren zwingt, also wahrscheinlich bis zum Anfang des Grates. Ich moechte nicht, dass sie mir eine Besteigung ausreden wollen, hege naemlich heimlich die Hoffnung, dass der Ruecken auf der Suedseite abgetaut ist und ich wesentlich weiter gehen kann. Ich muss allerdings unterschreiben jede Aenderung meines Ziels oder der Route telefonisch durchzugeben.
image
Jetzt schnell noch mein Zelt, Isomatte, Schlafsack, Essen, Topf, Klamotten usw. zusammengeschmissen und los. Ich muss noch ca. 1000Hm hoch (ohne Lift) und es ist schon um 6. Ich fuehl mich fit wie ein Turnschuh und bin in Nullkommanix auf meinem 3000m hoch liegenden "Basecamp". Unterwegs sammle ich noch einen Zaunpfahl auf, der mir im Schnee als Stock dienen soll; ein Stahlwinkel als Pickelersatz gibt mir evtl. bei einer kurzen kritischen Passage halt. Bei unguenstigen Bedingungen werde ich aber mangels Steigeisen sowieso umdrehen muessen.
Eigentlich will ich frueh schlafen, der Wecker steht auf 4.30 Uhr, aber der Vollmond zusammen mit dem letzten Abendrot auf vereinzelten Wolken und gleichzeitig Sternenhimmel geben mir unglaubliche Fotogelegenheiten und ich finde kein Ende.
image
Zum Fruehstueck am naechsten Morgen befinde ich mich schon gute 500Hm hoeher auf dem Grat. Die Dimensionen des grossen Berges taeuschen mich. Was wie ein Katzensprung aussieht zieht sich ewig. Bewusst wird einem das erst wenn man mal hinunter schaut.
image
Mit der Vermutung vom abgetauten Ruecken lag ich allerdings richtig. In der Tat befinden sich die Waechten nur auf der Westseite, den Grat kann man groesstenteils ohne Schneekontakt begehen. An einer Stelle wird der Weiterweg allerdings von einem grossen Felszacken versperrt. Der Normalweg geht eigentlich recht herum in die ziemliche steile Westflanke hinein, die noch voll mit Schnee ist. Das ist mir zu heikel. Ich entdecke einen evtl. moeglichen Weg links herum mit weniger steilen Schneefeldern, dafuer aber etwas Felskletterei. Da bin ich ja fit, das Wetter ist schoen -> ich werds versuchen. Die Jandarma koennen mich mal, wenn ich jetzt da anruf denken die wahrscheinlich mir ist tatsaechlich was passiert.
image
Der Weg funktioniert genauso wie ichs mir gedacht hab und ich bin auch nicht der erste der diese Variante nimmt. Die Kletterei im 3 Grat macht Spass, die bruechigen Teile sind gut erkennbar. Der Schnee ist gluecklicherweise wenig verharscht, oben etwas aufgeweicht und ich habe guten Halt. Um den Zaunpfahl bin ich trotzdem froh, der verrostete Stahlwinkel bleibt am Rucksack.
Ein grosses Schotterfeld ganz oben will allerdings kein Ende nehmen. Ich muss ganz schoen schnaufen auf knapp 4000m. Die Hoehe bekommt mir mittelgut, ich bin froh mit Azlan die Akklimatisierungstour auf den Hasan Dag gemacht zu haben. Am Schluss gibts noch ein 4er Kletterstueck auf den Gipfelzacken. Es haengt so ein oranges Kunststoffseil rum, welches ich erst nicht benutzten will. Man weiss ja nicht wo das dran haengt. Nach ein paar Klettermetern wickel ich mir es doch ums Handgelenk. Mein Arsch haengt naemlich sehr luftig mehrere 100m ueber der Nordflanke...
image
SO! Ich habs also tatsaechlich geschafft! Mit freudiger Erwartung pack ich das Gipfelbuch aus - es ist ein Koran :-/ ...
Unterhalb des Gipfels gibt es aber eine Hoehle mit diversen Buechern in denen ich mich verewigen kann. Kurz geniese ich das Gipfelglueck, aber mittlerweile hat die erst ganz kleine Wolke den Gipfel komplett eingenebelt. Es ist ziemlich frisch und ich mach mich schnell wieder an den Abstieg. Die Schneefelder und Kletterpassagen ueberwinde ich alle noch bei teils wieder Sonnenschein, aber kaum auf dem Grat angekommen faengt es zu Hageln an. Und zwar richtig. Ich zieh mir meine Motorradjacke an, die ich in Ermangelung einer leichteren Regenjacke mitgeschleppt hab. Beim Hagel fuehlt man sich aber sehr wohl in ihr. Da es mittlerweile auch blitzt und donnert warte ich ewig unterhalb der naechsten Erhebung und gehe irgendwann einen riesen Umweg zur Vermeidung des Grates aussen um den Berg herum. Als ich kurz nach Mittag endlich beim Zelt bin ist die Luft erstmal raus, ich leg mich kurz hin, mach dann Tee und etwas Suppe. Als die naechste dicke Wolke kommt pack ich fix zusammen, wunder mich kurz ueber den Verbleib meiner kleinen Kamera - naja, ich werd sie wohl im Tal gelassen haben. In der Hoehe bin ich eh immer etwas gaga.
image
Etwas ueberhitzt und dehydriert sitz ich bei den Jandarma im Tal noch eine Weile. Sie haken ab, dass ich wieder da bin, alle anderen Details sind ihnen recht unwichtig. Ich setz mich auf mein Mopped und fahr, dem Regen ausweichend, ins Ala Daglar Gebirge, wo ich mich ab heute, 2.Juni, mit dem Emrah von Izmir treffen wollte.
Der Weg dahin fuehrt ueber kleine Doerfer - als ich einmal nach dem Weg frag werde ich auf eine Schotterstrasse geschickt. Die find ich zwar nicht in meiner Karte, aber die grobe Richtung passt und ich fahr. Und fahr. und fahr. Ein Feldweg mit nicht allzuvielen Loechern fuehrt mich ewig durch einsames Huegelland mit gruenen Wiesen und Feldern und vertrockneten Bergen im Hintergrund. In der Ferne seh ich ein paar Zelte von Nomaden. Die Daemmerung setzt langsam ein (daeurt hier immer sehr lang) und ich bin mir eigentlich sicher nicht mehr auf dem richtigen Weg zum Tagesziel Demirkazik sein. Als ich endlich mal wieder Leute sehe frage ich sie nicht, sonder fahr einfach weiter:
Dieser Weg ist einfach zu schoen. Ich will ihn fahren bis zum Ende, egal wo das ist. Ich fuehle mich gut. Ich fliege durch die Landschaft, lehn mich leicht in die weiten Kurven, nach einem Anstieg ein neuer fantastischer Ausblick in die grosse Landschaft. Von meinem Koerper fuehl ich nicht viel. Keinerlei Erschoepfung, eher Schwerelosigkeit. Das physische spielt keine Rolle mehr jetzt, ich bin jetzt mehr ein Zustand. Ein Zustand der Bewegung. Und ich muss nix tun fuer die Bewegung, schalten, gas geben, bremsen, lenken - alles geht automatisch. Es ist total geil und ich will ewig so weiter fahren/fliegen. Der Weg macht auch den Anschein als ob er mir diesen Gefallen tun will. Es wird immer dunkler. Mir ist das egal...
Eine T-Kreuzung markiert dann doch einmal das Ende. Wat nu? Ich finde ein Dorf, man erklaert mir den Weiterweg. Ich finde zurueck zu einer Hauptstrasse. Am Horizont erkenne ich ein Felsengebirge. Hoch. Endlich, das Ala Daglar! Ich hab mich schon gewundert wo die Felsen zum Klettern sind. Wie sich rausstellt sind genuegend da. Bis zu 3700m hoch:
image
Vorfreude auf die naechsten Klettertage macht sich breit. Leider unberechtigterweise. Dazu gleich.
Nach anfaenglichen Orientierungschwierigkeiten finde ich einen Platz zum Zelten. Als ich vom Mopped absteig merk ich wie sehr im Arsch ich eigentlich bin. Alles muss jetzt schnell und ohne Kraftaufwand gehen, sonst penn ich hier noch im Stehen ein. Zelt aufstellen, Suppe kochen - noch kurz die aufmerksam gewordenen Bauern ueber meine Uebernachtungsabsicht aufklaeren - schlafen!
Was heisst schlafen. Sobald ich mich hinleg, faengt die Welt an sich zu drehen. Ich hab Fiebertraeume, waelze mich, bin froh als endlich der Morgen kommt. Aber die Hitze treibt mich aus dem Zelt. Und ich bin muede, will eigentlich schlafen.
Ich hab aber einigermassen Kraft und wander mal ein bisschen in die Schlucht hinter meinem Zeltplatz hinein.
image
Da treffe ich zwei tuerkische Kletterer, Ahmet und Adnan, mit denen ich mich lang unterhalte. Meine Erfahrung nach ist es schon ein Glueck mal Tuerken zu treffen, die des Englischen maechtig sind, sogar wenn sie auf die Uni gehen. Der Grund dafuer ist nicht, dass sie zu wenig Unterricht haben. Es gibt im College oder in der Uni ein ganzes Jahr, in dem 25h/Woche Englisch gelehrt wird, aber NIEMALS eine Pruefung!!! Da taet ich auch nix lernen. Ausserdem teilen wir mit den Tuerken die, meiner Meinung nach, nachteilige Eigenschaft der Fernsehsender und Kinos alles zu synchronisieren.
Die beiden machen mir mal wieder klar wie gluecklich wir in Deutschland doch sind. Zum Klettern haben naemlich hier fast nur die Studenten Zeit. Alle anderen muessen arbeiten! Und zwar auch am Wochenende, Samstag ist eigentlich ein normaler Arbeitstag, viele arbeiten auch am Sonntag. Und fuer einen Tag in ein moeglicherweise mehrere hundert km entferntes Klettergebiet zu fahren ist dann nicht wirklich lohnend. Klettern ist da nur ein Beispiel - zeitintensive Hobbies sind hier eben einfach nicht drin. Man bleibt daheim, schliesslich gibts da die Familie.
Nun denn, zurueck zu meinem desolaten Zustand. Der verschlimmert sich erst mal, nach einer weiteren wirren Nacht steigt am naechsten morgen der Unterhosenverbrauch in ungeahnte Hoehen. Zum Glueck ist ein (eiskalter) Bergbach nur 50m vom Zelt weg. Waschen, meine Isomatte dem Schatten hinterherziehen und ab und zu mal ein paar Kekse essen ist alles was ich zustande bring. Oben seh ich auf der Strasse Autos vorbeifahren, manchmal auch ein paar Wanderer, aber zu mir verirrt sich niemand. Auch Ahmet und Adnan seh ich einmal, bin aber zu faul nach Ihnen zu rufen.
Ausserdem faellt mir wieder ein, dass ich die kleine Kamera immer noch nicht gesehen hab. Ich raff mich auf und schau meine Siebensachen durch. Nix. Nochmal ueberlegen. Nee, weg! Shit. Zurueckfahren? Nee. Gibts nicht. Liegenlassen hab ich sie nicht, da bin ich mir sicher. Ich hab zwar beim Abstieg Spuren einer Person mit Hund gesehen, aber keine Hoffnung den zu finden. Ich versuchs mir nicht zu Herzen zu nehmen, aber es nervt natuerlich jetzt nicht mehr die schnellen Schnappschuesse machen zu koennen.
Also widme ich mich wieder meinem Leiden und frag mich wo eigentlich das zauberhafte Maedchen aus 1001er Nacht bleibt, dass mich aufsammelt und liebevoll hochpaeppelt. Aber alles warten hilft nix. Stattdessen kommt der hier:
image
Ich nenne ihn Montag :)
Montag fand in meinem Abfall einen alten Kaese, der ihm anscheinend noch ganz gut bekommen ist und entscheidet dass das die Grundlage fuer eine enge Beziehung ist. Er bleibt fuer den Rest der Zeit bei mir, bellt wenn die Schaefer mit ihren fiesen Monsterhunden vorbeikommen und bewacht das Zelt wenn ich doch mal ins Dorf tucker und im Laden was kauf. Die meiste Zeit liegen wir aber nebeneinander und stoehnen ab und zu mal wegen der Hitze.
Leider kann ich Emrah, mit dem ich mich ja treffen wollte, nicht erreichen. Er ist wohl in einem Camp des tuerkischen Bersteigerclubs, aber dieses aufzufinden gelingt mir nicht. Naja, kraxeln kann ich ja eh nicht.
Am 4ten Tag gehts mir endlich ein bissl besser und ich geh zu den beiden tuerkischen Kletterern rueber, die ihr Zelt wegen besserer Wasserversorung jetzt an den Dorfrand verlegt haben. Sie kochen mir eine gute Suppe und wir bouldern sogar ein bissl an einer Hausmauer. Nachdem auch das Abendessen fuer laengere Zeit in meinem Koerper verbleibt und ich offensichtlich wieder zu kraeften komm, moechte ich am naechsten Tag wenigstens eine Wanderung in dieser schoenen Gegend zustande bringen. Ansonsten muss ich naemlich bald fahren, wenn ich noch eine reele Chance haben will Tanja und Sigi vor deren Abflug in Israel zu treffen.
image
image
Zufaellig wollen die beiden in dieselbe Richtung wie ich wandern, es ist naemlich Regenwetter angesagt. Ich entscheide mich natuerlich wieder fuer die anspruchsvolle Version, mit Uebernachtung im Gebirge und Ueberschreitung eines Passes, gleich neben dem hoechsten der hiesigen Gipfel, den ich ja jetzt schon 4 Tage lang angeschaut hab. Natuerlich hege ich leichte Gipfelambitionen, aber erst mal muss ich schauen wie fit ich bin.
Ich bin also wieder mit recht ordentlichem Marschgepaeck unterwegs, waehrend die beiden nur einen kleinen Tagesrucksack haben. Der Geschwindigkeitsunterschied wird recht bald offensichtlich, wir trennen uns und ich lauf allein weiter.
image
Ich will hier nicht wieder Superlative bemuehen um die Gegend zu beschreiben. Das langweilt ja auf Dauer. Vielleicht soviel: die Dolomiten sind nicht unaehnlich. Auch diese Bluemchen hier entdecke ich; find ich ganz witzig und hab ich vorher noch nirgends gesehen.
image
Am Nachmittag komm ich also an meinem Zeltplatz an. Er ist an einem kleinen See, direkt unter der Westwand des Demirkazik. Ich aergere mich ein bisschen, dass es hier mit klettern nix geworden ist. Aber wenigsten bin ich hier oben, knapp 3000m, und weiss wo ich hin muss wenn ich in Zukunft noch mal her komm.
image
Ich stell den Wecker auf 4 Uhr, damit ich vielleicht doch noch einen Gipfelversuch wagen kann. Die Morgen waren naemlich immer klar, erst ab Mittag zogen die Wolken auf. Diesmal ist es anders, ich schau in der frueh kurz aus dem Zelt, seh Nebelschwaden wabern und dreh mich um und grunz weiter. Die Passueberschreitung probier ich allerdings und, nun ja was soll ich sagen, das Wetter ist nicht so schlecht, ich glaub einen gehbaren Weg ausgemacht zu haben und so gehts Richtung Gipfel. Der Weg ist tatsaechlich einer, max 2er Kletterei. Meine Kondi ist zwar noch nicht 100%ig, aber schliesslich hab ich Zelt und das ganze Graffl dabei, da darf man schon mal ein bisschen schnaufen. Es dauert gar nicht lang, da bin ich schon am Gipfel. Cool, denk ich mir, Tuerkei, Demirkazik, 3756m.
Den Abstieg ueber den suedlichen Normalweg find ich vom Gipfel nicht einwandfrei und so geh ich wieder den Westgrat zurueck. Das bedeutet zwar einen langen Hadscher (vergl. http://de.wikipedia.org/wiki/Haddsch) aber irgendwann komm ich wieder im Dorf an.
Es ist erst 3 am Nachmittag und ich hab die Hoffnung heut noch ca. 300km bis nach Antakya kurz vor der syrischen Grenze zu fahren. Montag ist immer noch in der Gegend, ahnt aber schon seit ich mein Zelt am Vortag abgebaut hab, das es wohl keinen weiteren Kaese geben wird. Ich verabschiede mich leise von ihm und dem Ala Daglar und bin wieder in the road.
Leider komm ich nicht so weit, denn ich werde wieder mal zum Tee eingeladen und nehm dann eine "Abkuerzung" die eine Durchschnittsgeschwindigkeit von ca. 25kmh bedingt. Mehr von der Strecke gibts im naechsten blog.
Ich zelte auf einem huebschen Huegel, koch mein Bulgur (aehnlich wie Kuskus) und lass den Tag Revue passieren. Er war so voll, es fuehlt sich an als ob 3 Tage zwischen heute morgen und jetzt liegen...
image
Posted by Andreas Naumann at
01:19 PM
GMT
June 28, 2007 GMT
Course: Holy Land
After recovering from whatever made me sick so much I left the now unclimbed Mountains of the Ala Daglar. I guess I have to come back one day!
My new direction was south, heading over Antakya to Syria, stay there for the 3 days my transit visa allows and then cross to Jordan. From there things would get interesting getting into Israel, avoiding the stamp problem and all the others that turned up...
image
But first I had to get out of the Mountains and of course I tried that little "shortcut" on the map (120 instead of 150km). Read on to find out how short it really was.
I got a hint of what's ahhead when I stopped to ask for the right turnoff. The people all shook their head as I insisted to take this little road instead of the highway around. They dont know what an MZ can do, I thought.
First the road went up, giving very good fews over the surrounding countryside and what looks like rice fields to me. I dont know what they grow there.
The road conditions got more and more difficult, the rain lately turned it into a mud piste at times. It slowly wound itself into a gorge with rocks, a river and pine trees around. I was happy to go slow - with the sun pretty low it was a very idyllic sight.
I still used my front brake only, which is pretty hazardous when the ground is slippery. So I slowed down to 20-30 kmh. Or came to a halt to have a closer look before crossing puddles like this one.
image
One turn came after the other, but on my map I was not making any progress. There was suppossed to be a village after 20km but it just didnt come, even after seemingly hourlong driving. There were no turnoffs so this had to be the way. I didnt worry much and it all was a challenge anyway. I only wondered if I had to turn around at some point because of an insurmountable obstacle.
When I saw a digger on the road I though this is it. They are just builing the road an this is the end. But it turned out that they just moved some big rocks that had fallen onto the way. Somehow I squeezed by, but not without kicking some rocks with my orange tubes. They still hang onto the bike, but I'll have to tighten them at some point otherwise I will loose them. Maybe somebody really thinks it's a bomb then.
image
In the midst of the forest there was an intersection leading all 4 ways, all looking possible and a sign with print so faint, that it was not readable anymore. I didnt know where to go and had not seen any houses since I entered that road. So I was pretty happy to find one close to the intersection. There were at least 20 young men there, all curious what the hell I'm doing here. I thought the same, but didnt ask much longer after they set me off in the right direction.
Finally the first village was coming, as was the dark. I camped out, cooked some food cowboy style and couldnt believe it was only this morning that I woke up in 3000m height next to a snow fed lake.
On the next day I finally came out of the long valley, the temperature was much warmer here and the vegetation plentyful. I'm sure my imaginative female pillon enjoyed the ride a lot.
image
The "Rose of Ceyhan" served me the best Kebap I had in Turkey (and the cheapest too). I also waited for some heavy rain to clear. Further south, almost in Antakya, I turn into a highway-like road, accelerate, only to realize that the truck in front of me is braking. As I was going already 60 or so I also brake, still with the front brake only, the wheel blocks and goes sideways as the back lights of the truck comes closer... Shit!
I release the front, use the fucked up back brake and am happy that a rush of adrenalin is the only lasting impression this situation leaves on me. The brake has to be fixed! Now!
I stop on the next roadside garage. It's for tractors, but they sure could do the job. Nobody takes business it doesnt belong to them it seems, so I'm guided through town to the masters of mopped fixing.
I have a different idea of how to fix it, but the master mechanic looks at it for 3 min, while quietly giving one word orders to his armada of helpers. They jump and bring the tools and he quickly makes up his mind. He nods at my proposed solution, but knows it better and the kids carry out his fix. I have no choice but to look how it's fixed much easier and faster than I would have done it. After 30min I pay 10 Lira (5 Euro) and am off with perfect brakes. Should have done that long time ago...
image
Somehow it's taken me from 8 in the morning till 5pm to cover the mere 250km to the Syrian boarder. Reason for this are frequent stops to sit down drink tea and have a chat. The last was one was with the wife and the keeper of a shop where I wanted to buy some bread. He didnt have any, but his wife had some selfmade pita bread. Again, I was not allowed to pay for the three cups of cay, the yummie cookies and the bread they gave me.
But I was set now and could go for the first "real" boarder crossing of my tour! Leaving Turkey was already different from coming in, with lots of people swarming around the little windows of the checkpoints, all trying to get their stamps first. An "agent" takes care of my stuff, of course in exchange for some baksheesh. Not too bad though.
On the Syrians side it's a different game. You park the vehicle and then start running around different offices. Takes ages until you figure out what to do. There are many people around, one doesnt know who belongs to the boarder, who is an "agent", or just people hanging out. Almost none of the officials wears a uniform. In the office, there is one guy sitting on the window dealing with the people, but plenty of other people behind him chatting about this and that. One guy is lying in his underwear on a bed. He turns around, pulls the blanket over his head so he can sleep (later it turns out that this is the boss!). A table is full with used tea glasses, dishes with food half eaten. The place is a mess! I have to learn being assertive to get anywhere.
When talk comes to the carnet the passage, which I dont have because it costs a lot of money I'm faced with the procedure to get a 'triptyk'. I knew it would be costly, in fact I paid 70$ for it. Plus 25$ for one month insurance. Plus baksheesh. And I have to consider myself lucky, because one boarder official took care of me and guided me through the process. He told me that in the 80's every week he read an arabic magazine about east germany and he learned about all the cities, the great socialist system and Erich Honecker. He said Erich Honecker at least a dozen times. His voice sticked to my brain I can still here him. Erich Honecker!
Well, because I was riding a MZ and am born in eastern germany and knew who Erich Honecker was (it was new to him that he doesnt live anymore) he liked me, which is why he helped me out quite a bit. After three hours or so I finally was in Syria.
This is not especcially long I hear, but for me it was the first time I underwent this process. Many more to come...
On accident I did find a secure campsite in a small village and happily paid about 3 Euros for it. I dont know the customs in Syria yet, so wild camping is postponed until I do.
Heading south I got about 30 km when I stopped in a small town to get some food. Immediately I was surrounded by curious people. Nobody speaks English. I understand they want to know where I'm from. My answer "Almanya, Germany" is greeted with the raised arm of the Hitlergruss by one of the guys. I shake my head. He's surprised and shows me that Hitler really was fantastic guy because he wanted to kill all the Jews. I'm very iritated and want to leave the scene when another guy on a little mopped pulls up and starts talking in German to me.
It's Abdo, who in the 80's has studied in eastern germany. He invites me to his shop and we talk for 3 hours straight. The Hitler-guy comes with us, but when he raised his arm again, a few very harsh arabic words of Abdo shut him up.
Talking to Abdo was very interesting. Mainly about how good he lived in Germany when he studied there (in opposition to the german students). He earned 600$ a month (truly a fortune in these times) had a car, a motorcycle (MZ!!!), lots of girlfriends...
He was shocked how much the people of eastern germany feared saying or doing something wrong because of the government spy system (Stasi). I asked him how things are in Syria and he tells me that since Bashar al-Assad has the power (and not his father Hafez anymore) it's really good. Syria would be even a democracy now, since they just had a vote on Assad. He won with some 95%. I ask him about a counter candidate, the reply is 'we dont need that here'...
Before I leave I have to promise him to look for two of his ex-girlfriends when I'm back in germany. He gives me names and the city they used to live in. That should be enough, considering his own address is just his name and the town Idlib. I'll do my best, hoping that there are not so many Konstanze Damm in Chemnitz :)
image
On the road again I feel weak. It's a hot day. After a few km I stop, fall asleep on a stone right next to the road where heavy trucks are rumbling by. A bit later I get up, make it to the next town, dont find the right way. Ask a guy in a shop and cant avoid being invited for dinner. Since I'm so weak that's probably a good idea. The man speaks decent english and I feel better after a while in the cool house. We also talk a little politics and I ask him what he thinks of America. "We love the people from all over the world, everybody is welcome in Syria" he says. "Just the governments we hate, but the people we love." What about Israel? "The same, just the government we dont like." And he means it, he's a good guy as I see it. A family father of nine children. More to come.
image
After a long riding day I finally arrive at the historic site of the crusader castle "Krak de Chevalier". It's too late to go in, but a restaurant nearby has camping spots. I spend the night with an older german couple who have travelled the world for the past ten years in their camper van and a girl and two guys who came from South Africa in their landrover.
While we sit, I hear a sound like a thunder far away. But a thunder is actually more a longish grumbling. This one is a boom only. Nobody says anything, but when I read the news on the internet next day I realize, that the Lebanon town of Tripolis was only about 40km away and it might very well have been the bombs that the army used against the Fatah al-Islam camps. I aint going to Lebanon!
The next morning I again have the turkish bread with turkish Nutella for breakfast. I didn't strike me yet, that the bread being in the hot sun all day might be responsible for my weak moments the day before. When I get up from the table I have Schwammerl in the knees already :). I don't think much about it, want to go look at the castle. Well, to cut a long story short, I didnt enjoy the castle much. After three hours of suppressing my gag reflex I made it back to the restaurant and ask for a bed to rest. Two hours later I still feel no better, but force myself on the bike because my transit visa is actually running out today. Fortunately it's a straight highway to Damascus, but I fight with the strong sidewind (and the ongoing gag reflex) while halfway lying on my tankbag because I'm so tired. Another sleep in a shaded bus station makes me feel a little better. I decide to stay in Damascus, but while searching for the hostel get horribly lost in the wildest souq (arabic market) I have seen so far. But I felt much better at that time, so it was actually kind of fun to ride through passages so narrow, two people cannot walk besides each other.
image
The impressions I got from Damascus where somewhat overwhelming. I cant grasp and describe them yet, so I really want to go back. But first my way lead me over the next boarder to Jordan. The crossing here was similarly chaotic as into Syria, but luckily I only had to pay about 40 Euros for tax and insurance.
Only 10min into Jordan I already get to feel the "Welcome to Jordan" hospitality. People invite me, and this time there's a woman talking English. The rest doesnt understand me, but the woman does not stop talking. And so I learn about the two wifes of the house; the brother that tried to kill himself because his love got married with another man; that girls are married with 15-23 years, if older nobody wants them (I was offered the 18 year old daughter, but, ahem, thankfully declined and argued that a girl in that age is too young for me. They answer with a twinkle in the eye: "She knows everything a woman needs to know...". Huaaa); the men marry older, 28-45 maybe; in the first night of a married couple the parents stand by the door and want to see the blood, if there's none, the girl is as good as dead; if a girl is pregnant without being married -> same fate!
The woman tells me all that and really thinks it has to be that way. Sort of proud, how rough the life is or how strong the people abide to the rules.
I still hang around for some time, get their phone number and promise to stop by when I come back.
image
Originally I wanted to make it to Israel that day, but after the talk I decide that one boarder crossing a day is enough! I go to the historic site of Umm Quais, where Graeco-Romans once build a city. I try to camp there, but have to register with the "tourist police". At night I wander around the ruins and find an old guy who lives there very, very basic. In his room is a bed, a gas stove and a cat. Thats it. No furniture, no bathroom, nothing. I sit with him outside, he makes tea and we quietly enjoy the stars above us, the view down to the sea of Galilee and the town of Tiberias on the israeli side.
When the muezzin calls he gets the prayer rug out and does his praying. I use the time to make this shot. I like it because it really captures the atmosphere of the moment.
image
Tomorrow I'll go down there and I'm a bit nervous how the crossing will work out. Will I be able to avoid the Israeli stamp? Will they demand to see my main passport? What will they do to someone travelling with two passports?
I guess they wont send me flying over the Jordan so I should be alright! Alright?

Posted by Andreas Naumann at
08:01 PM
GMT
Enter your email address to receive updates to Andi Naumann's trip story!
Recent Entries
Archives:
Archives:
Monthly
Archives:
Category
NEW! HU 2015 Motorcycle Adventure Travel Calendar is now available! Get your copy now for some terrific travel inspiration!
HUGE, 11.5 x 16.5 inches, beautifully printed in Germany on top quality stock! Photos are the winning images from over 600 entries in the 9th Annual HU Photo Contest!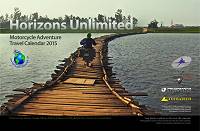 "The calendar is magnificent!"
"I just wanted to say how much I'm loving the new, larger calendar!"
We share the profit with the winning photographers. YOU could be in the HU Calendar too - enter here!
Next HU Events
NEW!

USA Virginia: Apr 9-12, 2015
Canada West: Aug 20-23, 2015
USA California: Sep 24-27, 2015
Aus Queensland: Sep 24-27, 2015
USA North Carolina: Oct 8-11, 2015
Aus Perth: Oct 9-11, 2015
Take 40% off Road Heroes Part 1 until October 31 only!
Road Heroes features tales of adventure, joy and sheer terror by veteran travellers Peter and Kay Forwood (193 countries two-up on a Harley); Dr. Greg Frazier (5 times RTW); Tiffany Coates (RTW solo female); and Rene Cormier (University of Gravel Roads).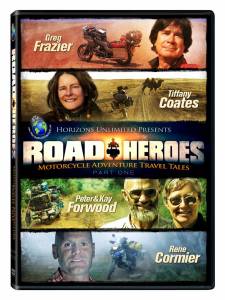 "Inspiring and hilarious!"
"I loved watching this DVD!"
"Lots of amazing stories and even more amazing photographs, it's great fun and very inspirational."
"Wonderful entertainment!"
Check it out at the HU Store! Remember to use Coupon Code 'HEROES' on your order when you checkout.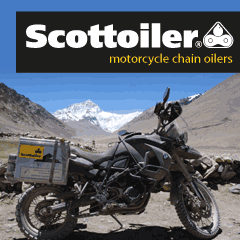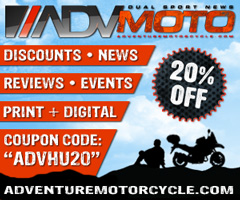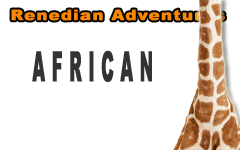 What others say about HU...
"I just wanted to say thanks for doing this and sharing so much with the rest of us." Dave, USA
"Your website is a mecca of valuable information and the DVD series is informative, entertaining, and inspiring! The new look of the website is very impressive, updated and catchy. Thank you so very much!" Jennifer, Canada
"...Great site. Keep up the good work." Murray and Carmen, Australia
"We just finished a 7 month 22,000+ mile scouting trip from Alaska to the bottom of Chile and I can't tell you how many times we referred to your site for help. From how to adjust your valves, to where to stay in the back country of Peru. Horizons Unlimited was a key player in our success. Motorcycle enthusiasts from around the world are in debt to your services." Alaska Riders

10th Annual HU Travellers Photo Contest is on now! This is an opportunity for YOU to show us your best photos and win prizes!
NEW! HU 2014 Adventure Travel T-shirts! are now available in several colors! Be the first kid on your block to have them! New lower prices on synths!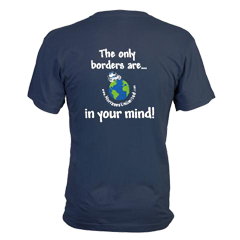 Check out the new Gildan Performance cotton-feel t-shirt - 100% poly, feels like soft cotton!

What turns you on to motorcycle travel?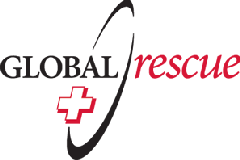 Global Rescue is the premier provider of medical, security and evacuation services worldwide and is the only company that will come to you, wherever you are, and evacuate you to your home hospital of choice. Additionally, Global Rescue places no restrictions on country of citizenship - all nationalities are eligible to sign-up!
New to Horizons Unlimited?
New to motorcycle travelling? New to the HU site? Confused? Too many options? It's really very simple - just 4 easy steps!
Horizons Unlimited was founded in 1997 by Grant and Susan Johnson following their journey around the world on a BMW R80 G/S motorcycle.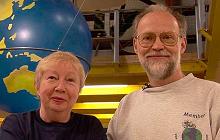 Read more about Grant & Susan's story
Membership - help keep us going!
Horizons Unlimited is not a big multi-national company, just two people who love motorcycle travel and have grown what started as a hobby in 1997 into a full time job (usually 8-10 hours per day and 7 days a week) and a labour of love. To keep it going and a roof over our heads, we run events (22 this year!); we sell inspirational and informative DVDs; we have a few selected advertisers; and we make a small amount from memberships.
You don't have to be a Member to come to an HU meeting, access the website, the HUBB or to receive the e-zine. What you get for your membership contribution is our sincere gratitude, good karma and knowing that you're helping to keep the motorcycle travel dream alive. Contributing Members and Gold Members do get additional features on the HUBB. Here's a list of all the Member benefits on the HUBB.
Books & DVDs

All the best travel books and videos listed and often reviewed on HU's famous Books page. Check it out and get great travel books from all over the world.

MC Air Shipping, (uncrated) USA / Canada / Europe and other areas. Be sure to say "Horizons Unlimited" to get your $25 discount on Shipping!
Insurance - see: For foreigners traveling in US and Canada and for Americans and Canadians traveling in other countries, then mail it to MC Express and get your HU $15 discount!
Story and photos copyright © All Rights Reserved.
Contact the author:
Editors note: We accept no responsibility for any of the above information in any way whatsoever. You are reminded to do your own research. Any commentary is strictly a personal opinion of the person supplying the information and is not to be construed as an endorsement of any kind.
Hosted by: Horizons Unlimited, the motorcycle travellers' website!
You can have your story here too - click for details!