June 28, 2007 GMT
Course: Holy Land
After recovering from whatever made me sick so much I left the now unclimbed Mountains of the Ala Daglar. I guess I have to come back one day!
My new direction was south, heading over Antakya to Syria, stay there for the 3 days my transit visa allows and then cross to Jordan. From there things would get interesting getting into Israel, avoiding the stamp problem and all the others that turned up...
image
But first I had to get out of the Mountains and of course I tried that little "shortcut" on the map (120 instead of 150km). Read on to find out how short it really was.
I got a hint of what's ahhead when I stopped to ask for the right turnoff. The people all shook their head as I insisted to take this little road instead of the highway around. They dont know what an MZ can do, I thought.
First the road went up, giving very good fews over the surrounding countryside and what looks like rice fields to me. I dont know what they grow there.
The road conditions got more and more difficult, the rain lately turned it into a mud piste at times. It slowly wound itself into a gorge with rocks, a river and pine trees around. I was happy to go slow - with the sun pretty low it was a very idyllic sight.
I still used my front brake only, which is pretty hazardous when the ground is slippery. So I slowed down to 20-30 kmh. Or came to a halt to have a closer look before crossing puddles like this one.
image
One turn came after the other, but on my map I was not making any progress. There was suppossed to be a village after 20km but it just didnt come, even after seemingly hourlong driving. There were no turnoffs so this had to be the way. I didnt worry much and it all was a challenge anyway. I only wondered if I had to turn around at some point because of an insurmountable obstacle.
When I saw a digger on the road I though this is it. They are just builing the road an this is the end. But it turned out that they just moved some big rocks that had fallen onto the way. Somehow I squeezed by, but not without kicking some rocks with my orange tubes. They still hang onto the bike, but I'll have to tighten them at some point otherwise I will loose them. Maybe somebody really thinks it's a bomb then.
image
In the midst of the forest there was an intersection leading all 4 ways, all looking possible and a sign with print so faint, that it was not readable anymore. I didnt know where to go and had not seen any houses since I entered that road. So I was pretty happy to find one close to the intersection. There were at least 20 young men there, all curious what the hell I'm doing here. I thought the same, but didnt ask much longer after they set me off in the right direction.
Finally the first village was coming, as was the dark. I camped out, cooked some food cowboy style and couldnt believe it was only this morning that I woke up in 3000m height next to a snow fed lake.
On the next day I finally came out of the long valley, the temperature was much warmer here and the vegetation plentyful. I'm sure my imaginative female pillon enjoyed the ride a lot.
image
The "Rose of Ceyhan" served me the best Kebap I had in Turkey (and the cheapest too). I also waited for some heavy rain to clear. Further south, almost in Antakya, I turn into a highway-like road, accelerate, only to realize that the truck in front of me is braking. As I was going already 60 or so I also brake, still with the front brake only, the wheel blocks and goes sideways as the back lights of the truck comes closer... Shit!
I release the front, use the fucked up back brake and am happy that a rush of adrenalin is the only lasting impression this situation leaves on me. The brake has to be fixed! Now!
I stop on the next roadside garage. It's for tractors, but they sure could do the job. Nobody takes business it doesnt belong to them it seems, so I'm guided through town to the masters of mopped fixing.
I have a different idea of how to fix it, but the master mechanic looks at it for 3 min, while quietly giving one word orders to his armada of helpers. They jump and bring the tools and he quickly makes up his mind. He nods at my proposed solution, but knows it better and the kids carry out his fix. I have no choice but to look how it's fixed much easier and faster than I would have done it. After 30min I pay 10 Lira (5 Euro) and am off with perfect brakes. Should have done that long time ago...
image
Somehow it's taken me from 8 in the morning till 5pm to cover the mere 250km to the Syrian boarder. Reason for this are frequent stops to sit down drink tea and have a chat. The last was one was with the wife and the keeper of a shop where I wanted to buy some bread. He didnt have any, but his wife had some selfmade pita bread. Again, I was not allowed to pay for the three cups of cay, the yummie cookies and the bread they gave me.
But I was set now and could go for the first "real" boarder crossing of my tour! Leaving Turkey was already different from coming in, with lots of people swarming around the little windows of the checkpoints, all trying to get their stamps first. An "agent" takes care of my stuff, of course in exchange for some baksheesh. Not too bad though.
On the Syrians side it's a different game. You park the vehicle and then start running around different offices. Takes ages until you figure out what to do. There are many people around, one doesnt know who belongs to the boarder, who is an "agent", or just people hanging out. Almost none of the officials wears a uniform. In the office, there is one guy sitting on the window dealing with the people, but plenty of other people behind him chatting about this and that. One guy is lying in his underwear on a bed. He turns around, pulls the blanket over his head so he can sleep (later it turns out that this is the boss!). A table is full with used tea glasses, dishes with food half eaten. The place is a mess! I have to learn being assertive to get anywhere.
When talk comes to the carnet the passage, which I dont have because it costs a lot of money I'm faced with the procedure to get a 'triptyk'. I knew it would be costly, in fact I paid 70$ for it. Plus 25$ for one month insurance. Plus baksheesh. And I have to consider myself lucky, because one boarder official took care of me and guided me through the process. He told me that in the 80's every week he read an arabic magazine about east germany and he learned about all the cities, the great socialist system and Erich Honecker. He said Erich Honecker at least a dozen times. His voice sticked to my brain I can still here him. Erich Honecker!
Well, because I was riding a MZ and am born in eastern germany and knew who Erich Honecker was (it was new to him that he doesnt live anymore) he liked me, which is why he helped me out quite a bit. After three hours or so I finally was in Syria.
This is not especcially long I hear, but for me it was the first time I underwent this process. Many more to come...
On accident I did find a secure campsite in a small village and happily paid about 3 Euros for it. I dont know the customs in Syria yet, so wild camping is postponed until I do.
Heading south I got about 30 km when I stopped in a small town to get some food. Immediately I was surrounded by curious people. Nobody speaks English. I understand they want to know where I'm from. My answer "Almanya, Germany" is greeted with the raised arm of the Hitlergruss by one of the guys. I shake my head. He's surprised and shows me that Hitler really was fantastic guy because he wanted to kill all the Jews. I'm very iritated and want to leave the scene when another guy on a little mopped pulls up and starts talking in German to me.
It's Abdo, who in the 80's has studied in eastern germany. He invites me to his shop and we talk for 3 hours straight. The Hitler-guy comes with us, but when he raised his arm again, a few very harsh arabic words of Abdo shut him up.
Talking to Abdo was very interesting. Mainly about how good he lived in Germany when he studied there (in opposition to the german students). He earned 600$ a month (truly a fortune in these times) had a car, a motorcycle (MZ!!!), lots of girlfriends...
He was shocked how much the people of eastern germany feared saying or doing something wrong because of the government spy system (Stasi). I asked him how things are in Syria and he tells me that since Bashar al-Assad has the power (and not his father Hafez anymore) it's really good. Syria would be even a democracy now, since they just had a vote on Assad. He won with some 95%. I ask him about a counter candidate, the reply is 'we dont need that here'...
Before I leave I have to promise him to look for two of his ex-girlfriends when I'm back in germany. He gives me names and the city they used to live in. That should be enough, considering his own address is just his name and the town Idlib. I'll do my best, hoping that there are not so many Konstanze Damm in Chemnitz :)
image
On the road again I feel weak. It's a hot day. After a few km I stop, fall asleep on a stone right next to the road where heavy trucks are rumbling by. A bit later I get up, make it to the next town, dont find the right way. Ask a guy in a shop and cant avoid being invited for dinner. Since I'm so weak that's probably a good idea. The man speaks decent english and I feel better after a while in the cool house. We also talk a little politics and I ask him what he thinks of America. "We love the people from all over the world, everybody is welcome in Syria" he says. "Just the governments we hate, but the people we love." What about Israel? "The same, just the government we dont like." And he means it, he's a good guy as I see it. A family father of nine children. More to come.
image
After a long riding day I finally arrive at the historic site of the crusader castle "Krak de Chevalier". It's too late to go in, but a restaurant nearby has camping spots. I spend the night with an older german couple who have travelled the world for the past ten years in their camper van and a girl and two guys who came from South Africa in their landrover.
While we sit, I hear a sound like a thunder far away. But a thunder is actually more a longish grumbling. This one is a boom only. Nobody says anything, but when I read the news on the internet next day I realize, that the Lebanon town of Tripolis was only about 40km away and it might very well have been the bombs that the army used against the Fatah al-Islam camps. I aint going to Lebanon!
The next morning I again have the turkish bread with turkish Nutella for breakfast. I didn't strike me yet, that the bread being in the hot sun all day might be responsible for my weak moments the day before. When I get up from the table I have Schwammerl in the knees already :). I don't think much about it, want to go look at the castle. Well, to cut a long story short, I didnt enjoy the castle much. After three hours of suppressing my gag reflex I made it back to the restaurant and ask for a bed to rest. Two hours later I still feel no better, but force myself on the bike because my transit visa is actually running out today. Fortunately it's a straight highway to Damascus, but I fight with the strong sidewind (and the ongoing gag reflex) while halfway lying on my tankbag because I'm so tired. Another sleep in a shaded bus station makes me feel a little better. I decide to stay in Damascus, but while searching for the hostel get horribly lost in the wildest souq (arabic market) I have seen so far. But I felt much better at that time, so it was actually kind of fun to ride through passages so narrow, two people cannot walk besides each other.
image
The impressions I got from Damascus where somewhat overwhelming. I cant grasp and describe them yet, so I really want to go back. But first my way lead me over the next boarder to Jordan. The crossing here was similarly chaotic as into Syria, but luckily I only had to pay about 40 Euros for tax and insurance.
Only 10min into Jordan I already get to feel the "Welcome to Jordan" hospitality. People invite me, and this time there's a woman talking English. The rest doesnt understand me, but the woman does not stop talking. And so I learn about the two wifes of the house; the brother that tried to kill himself because his love got married with another man; that girls are married with 15-23 years, if older nobody wants them (I was offered the 18 year old daughter, but, ahem, thankfully declined and argued that a girl in that age is too young for me. They answer with a twinkle in the eye: "She knows everything a woman needs to know...". Huaaa); the men marry older, 28-45 maybe; in the first night of a married couple the parents stand by the door and want to see the blood, if there's none, the girl is as good as dead; if a girl is pregnant without being married -> same fate!
The woman tells me all that and really thinks it has to be that way. Sort of proud, how rough the life is or how strong the people abide to the rules.
I still hang around for some time, get their phone number and promise to stop by when I come back.
image
Originally I wanted to make it to Israel that day, but after the talk I decide that one boarder crossing a day is enough! I go to the historic site of Umm Quais, where Graeco-Romans once build a city. I try to camp there, but have to register with the "tourist police". At night I wander around the ruins and find an old guy who lives there very, very basic. In his room is a bed, a gas stove and a cat. Thats it. No furniture, no bathroom, nothing. I sit with him outside, he makes tea and we quietly enjoy the stars above us, the view down to the sea of Galilee and the town of Tiberias on the israeli side.
When the muezzin calls he gets the prayer rug out and does his praying. I use the time to make this shot. I like it because it really captures the atmosphere of the moment.
image
Tomorrow I'll go down there and I'm a bit nervous how the crossing will work out. Will I be able to avoid the Israeli stamp? Will they demand to see my main passport? What will they do to someone travelling with two passports?
I guess they wont send me flying over the Jordan so I should be alright! Alright?

Posted by Andreas Naumann at June 28, 2007 08:01 PM GMT

Enter your email address to receive updates to Andi Naumann's trip story!
Recent Entries
Archives:
Archives:
Monthly
Archives:
Category
Next HU Events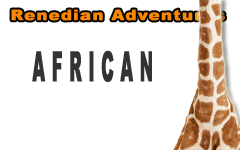 Now that summer is here, get On the Road! Take 30% off the Achievable Dream - On the Road! 2-DVD set until August 31 only.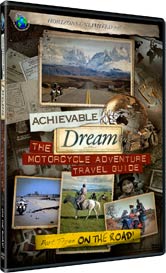 Our veteran travellers share their tips (and great stories) for staying healthy, happy and secure on your motorcycle adventure.
"A fantastic, informative and inspirational DVD."
"It's brilliant - thank you very much!"
Check it out at the HU Store! Remember to use Coupon Code 'ONTHEROAD' on your order when you checkout.
What others say about HU...
"I just wanted to say thanks for doing this and sharing so much with the rest of us." Dave, USA
"Your website is a mecca of valuable information and the DVD series is informative, entertaining, and inspiring! The new look of the website is very impressive, updated and catchy. Thank you so very much!" Jennifer, Canada
"...Great site. Keep up the good work." Murray and Carmen, Australia
"We just finished a 7 month 22,000+ mile scouting trip from Alaska to the bottom of Chile and I can't tell you how many times we referred to your site for help. From how to adjust your valves, to where to stay in the back country of Peru. Horizons Unlimited was a key player in our success. Motorcycle enthusiasts from around the world are in debt to your services." Alaska Riders

10th Annual HU Travellers Photo Contest is on now! This is an opportunity for YOU to show us your best photos and win prizes!
NEW! HU 2014 Adventure Travel T-shirts! are now available in several colors! Be the first kid on your block to have them! New lower prices on synths!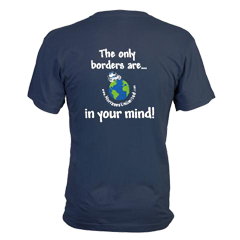 Check out the new Gildan Performance cotton-feel t-shirt - 100% poly, feels like soft cotton!

What turns you on to motorcycle travel?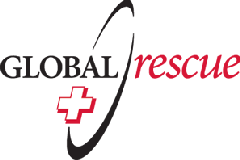 Global Rescue is the premier provider of medical, security and evacuation services worldwide and is the only company that will come to you, wherever you are, and evacuate you to your home hospital of choice. Additionally, Global Rescue places no restrictions on country of citizenship - all nationalities are eligible to sign-up!
New to Horizons Unlimited?
New to motorcycle travelling? New to the HU site? Confused? Too many options? It's really very simple - just 4 easy steps!
Horizons Unlimited was founded in 1997 by Grant and Susan Johnson following their journey around the world on a BMW R80 G/S motorcycle.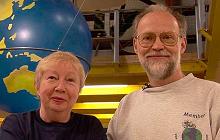 Read more about Grant & Susan's story
Membership - help keep us going!
Horizons Unlimited is not a big multi-national company, just two people who love motorcycle travel and have grown what started as a hobby in 1997 into a full time job (usually 8-10 hours per day and 7 days a week) and a labour of love. To keep it going and a roof over our heads, we run events (22 this year!); we sell inspirational and informative DVDs; we have a few selected advertisers; and we make a small amount from memberships.
You don't have to be a Member to come to an HU meeting, access the website, the HUBB or to receive the e-zine. What you get for your membership contribution is our sincere gratitude, good karma and knowing that you're helping to keep the motorcycle travel dream alive. Contributing Members and Gold Members do get additional features on the HUBB. Here's a list of all the Member benefits on the HUBB.
Books & DVDs

All the best travel books and videos listed and often reviewed on HU's famous Books page. Check it out and get great travel books from all over the world.

MC Air Shipping, (uncrated) USA / Canada / Europe and other areas. Be sure to say "Horizons Unlimited" to get your $25 discount on Shipping!
Insurance - see: For foreigners traveling in US and Canada and for Americans and Canadians traveling in other countries, then mail it to MC Express and get your HU $15 discount!
Story and photos copyright © All Rights Reserved.
Contact the author:
Editors note: We accept no responsibility for any of the above information in any way whatsoever. You are reminded to do your own research. Any commentary is strictly a personal opinion of the person supplying the information and is not to be construed as an endorsement of any kind.
Hosted by: Horizons Unlimited, the motorcycle travellers' website!
You can have your story here too - click for details!