February 09, 2007 GMT
40 Countries in 2006 on my ST1300
2006 marked a big change in my life. I 'took' early-retirement from my job of 29 years in April. I wanted to mark the change in some way, some way that involved me and my bike. I first thought of visiting every country in the EU but that would involve long ferry-crossings to Cyprus and Malta and I don't particularly like ships! I then realised that 2006 also marked 40 years since I started riding motorbikes in 1966 when I was 16, the youngest you could be in those days for a motorcycle licence in the UK. So, I thought, why don't I see if I can visit 40 countries in this, my year of great change. A quick look at the European road atlas made me realise it was eminently possible and I began in April with a quick trip from southern England to Wales, Republic of Ireland, (yes, I know I said I don't do ships but it was only 2 hours!), Northern Ireland and Scotland. Good, 5 down, 35 to go!
Two days, 818 miles, five countries

26th May – 2nd June
France, Monaco, Italy, Republic of San Marino, Croatia, Slovenia, Serbia, Hungary, Slovakia, Czech Republic, Austria, Liechtenstein, Switzerland, Germany, Belgium, Netherlands.
In May I was booked on a long weekend in France with fellow-members of the Essex Advanced Motorcycle Group and I decided to extend my French trip somewhat. We were staying in Burgundy near Beaune so, on the Monday morning when the rest of the group headed north for the Channel ports, I headed south to Grenoble and the RN85, the Route Napoleon. 200 miles of twisty, spectacular road later I was in the Holiday Inn, Cannes, my first overnight stop. Mileage today 415.


Next morning I headed east towards Monaco, became caught up in French rush-hour traffic and only had time for a quick look-see into the Principality. Next stop Florence then to San Marino and up to Trieste, my next over-night destination. The weather was not too kind and it rained on and off all day. Florence was fun, I tried to ride straight through the centre and, at one point, was riding alongside the River Arno in a no-traffic zone past the end of the Ponte Vecchio. The road across the Apennines was fun but time-consuming and I didn't get to San Marino until late afternoon.


It was then a long slog up to Venice and across to Trieste. The road to Venice was badly-surfaced, bumper-to-bumper heavy trucks all doing twice the speed limit, pouring with rain and pitch dark! Venice was reached without incident however and the rain stopped in time for a pleasant blast along the Autostrada to Trieste. Checked into Holiday Inn, Trieste @ 2135. Mileage today 615
Up early the next morning and into Slovenia then into Croatia. I forgot to buy insurance on the Croatian border, an omission I didn't realise until I was safely back in the EU! This trip was a matter of long distances in the shortest possible time so wherever possible I took the motorways and after a few uneventful hours on the Croatian highway I reached the border with Serbia. Insurance on the border was no problem save for having to buy it for a month when I only wanted one day and I don't even know how much it cost because it was priced in Serbian Dinars and I didn't know the exchange rate. Paying by credit-card was no problem (and the cost turned out to be about £40 when I received my credit-card statement).


Rather than hack all the way to Belgrade to take the motorway north to Hungary and Budapest, my next overnight stop, I decided to 'cut the corner' by going through Novi Sad and picking up the Belgrade-Budapest highway there. Great road to Novi Sad, twisty, poorly-surfaced in parts and some of the slowest trucks I have seen but good fun. Crossing the Danube in Novi Sad was an experience, the bridge was a shared rail/road bridge and when I say 'shared' I mean shared. It was a single-track rail bridge which had metal plates laid down on either side of and between the rails. Road traffic queued at a barrier until no trains were coming then crossed alternately, first from one river-bank then the other. Getting on and off the bridge was frightening, there were huge gouges in the road-surface and the rails were sticking up a good few cms. It was a matter of trying to attack the rails as near to 90 degrees as possible and then execute a quick right or left flick to line up with the bridge. It was at times like this, of which I was to experience several more during my travels, that I questioned the wisdom of travelling alone.


Once across the river I lost some time navigating out of Novi Sad but then hit the Belgrade Bucharest highway and headed north. The run up to the Hungarian border was very flat, very straight, very windy and, in parts, very fast although there were one or two speed traps but they were very visible from a long way off, phew! Crossed into Hungary without incident and into the centre of Budapest where I was staying the night. Checked into the Budapest Intercontinental at 1800. Mileage today 584
Up at 0600, fantastic morning, clear blue sky. Had breakfast with a view of the sun rising on the castle and Fishermen's Bastion on the opposite side of the Danube. Left at 0745 onto M1, direction Vienna. About half-way to border realised no toll-booths on motorways unlike previous trips to Hungary so stopped at service station to enquire about vignette. Yes, do need one! Despite having no problems yesterday I decided to get one to avoid any possible trouble at the border. Why didn't the people at the entry-point tell me I needed a vignette? Turned off M1 towards Bratislava and at Slovakian border asked about Slovakian vignette. There was a booth there to buy them and whilst waiting I realised it was unseasonably cold. Soon came to Czech border, asked about Czech vignette and was told bikes don't need them – hooray! Turned towards Breclav and Mikulov and crossed into Austria there. Bought Austrian vignette at border. Managed to avoid huge rainstorm on way to Vienna which took a while to cross. Took A1 direction Linz and between Linz and Salzburg the heavens opened and it poured all the way to Feldkirch, apart from about 20 dry kms around Innsbruck. Around the Arlberg tunnel the rain turned to snow, the road was clear but the fields and woods were completely covered – and this on 1st June! I passed a GB-registered Transalp a couple of times en route and arrived Holiday Inn, Feldkirch at 19.45 – soaked. Mileage today 654
Up at 0715, left Feldkirch at 0830 to Liechtenstein then into Switzerland then back into Austria and into Germany. Took A7 to Ulm & Wurzburg then A3 to Frankfurt am Main then towards Cologne. Took road to Koblenz then A61/A4 to Aachen to avoid Cologne Ring. Traffic to just north of Frankfurt was OK and was able to cruise at 200 kph, about 125 mph, and managed to see 140 mph on speedo a few times – exhilarating! After Frankfurt the traffic slowed and was heavy all the way through Belgium to Calais. The Brussels ring was very heavy and there had been a major RTA on the southbound side of the road towards Oostende involving a tanker which slowed everything down on my side as well. Arrived Calais 2110, had to wait until 2245 for next ferry. Once over Channel was home in Chelmsford in just over an hour.
Mileage today 778.
3770 miles in ten days and sixteen countries. Twenty-one down nineteen to go!!
10th – 18th September – Denmark, Sweden, Norway, Finland, Estonia, Latvia, Lithuania, Poland, Ukraine.
Left Chelmsford 1600 to Channel Tunnel. On Shuttle (vehicle-carrying train through tunnel) 1730, 35 mins later arrived Calais and onto A16 towards Belgium and my overnight stop in the Crowne Plaza, Antwerp. Mileage today 217
Up at 0600, left at 0730 and polished off Belgium and Netherlands by 0850. Crossed into Germany near Krefeld and made good progress via Essen, Hamburg and Lubeck arriving Puttgarden in time to catch 1515 ferry, three hours earlier than planned. There were 7 other bikes on the ferry, Swedes and Danes on, mainly, noisy Harleys. Across Denmark in good time and across the bridge into Sweden. I stopped in Copenhagen to refuel and the filling station was full of bikes of all types and ages. I did ask one of the motorcyclists what was going on but, unusually for Scandinavia, his English wasn't sufficient to tell me, I never did find out, there must have been 200 bikes there.
Arrived at Hotel Ibis, Lund, Sweden at 1845. Mileage today 605
Next day left Lund at 0845 and straight onto E6 for Goteborg and Oslo. Very little traffic and what there was was sticking to the motorway speed limit of 110 kph. First 200 miles were a bit boring but then turned onto single carriageway road to Halden in Norway.


It was spectacular with many sea inlets, lakes and very little traffic. The Swedish/Norwegian border wasn't even marked, I only realised I was in Norway because the white lines down the centre of the road became yellow!


Very Scenic ride then out of Norway and back into Sweden arriving Karlstad 1700 for my overnight stop at the Hotel Ibis, Karlstad. At some time during the day I saw lots of geese flying south, 10 or 12 big V-formations, all at once then no more. Mileage today 409
Next day was short one in distance terms, only 200-odd miles to Stockholm and then onto overnight ferry to Finland so I had a lie-in! Left Karlstad about 0930 and headed for Stockholm. Managed to buy a new connector for my mobile 'phone to link with my Autocom system so I can talk whilst on the move. It's very good to be able to take calls at any time especially when moving across time-zones so that those at home can keep in touch.
Traffic en route Stockholm was light but became heavier as I moved eastwards and there were lots of roadworks. Parked in central Stockholm for a cup of tea and a cake then made my way to the Viking Line terminal to await ferry check-in.


Boarded about 1915, made sure bike well-secured with ratchet tie-down and found my cabin. I had lashed out on a luxury cabin and it was well worth it. It was bigger than some hotel rooms I've been in and had a fabulous view right over the bow of the vessel. I had a 'Viking Buffet' Euro 23 for all you can eat and drink!
I discovered that Finland is in the Euro zone – good, makes life easier not having to change yet more currency, and that Finland is 1 hour ahead of Sweden. Not so good, that means an arrival time of 0730 is actually 0630 for me! Mileage today 221.
Arrived Turku, Finland at 0730, found my way out of the town OK then a fairly uneventful ride to Helsinki where I was to catch the ferry to Tallinn, Estonia. Was not too impressed by Finland or Helsinki, quite different to Sweden and Denmark and had the general air of being a bit run-down. I suppose I only saw a brief slice of the place so don't write it off on my say-so!
Checked in to Viking quay for Estonia ferry at 1100. Was directed to lorry deck and bike wasn't tied down because the sea was very calm. I was a bit apprehensive but it turned out to be correct, absolutely flat. Two hours later arrived Tallinn. When I went to lorry deck found the vehicles so tightly-packed I had a problem getting to the bike, had to scramble beneath the ends of trailers to get to it. Before then I had changed some Euro into Estonian Krowns. Confusingly for us Brits the abbreviation used for these in Estonia is £.
Off into Tallinn and found my hotel relatively easily. Had time for a wander around the Old Town. Mileage today 163


Up next morning at 0630 and on road by 0820. Found the road to Riga, Latvia, OK but it was cold, only 8 degrees and Estonia is very flat, very wooded and the road was very straight, so ho hum! Crossed Estonia/Latvia border OK and ran parallel to the sea – the Gulf of Riga – for quite a way en route to Riga. Long deserted sandy beaches.


Saw two storks' nests on the top of telegraph poles and a stork on the roof of a house. Re-fuelled in Riga and after some rigmarole got onto the road for Vilnius, Lithuania where I was to stop that night. At the Latvia/Lithuania border the border guards wanted to see al my documents including driving licence. In over 20 years of driving outside the UK it's the first time my driving licence has been asked for!


Arrived Vilnius about 1700 and 'phoned hotel for directions. Even though it turned out to be only a few hundred meters from where I was they didn't have a clue and suggested I asked a passer-by! I stopped a bus stop to ask and ended up taking a guy on the back of my bike so he could show me the way. I had seen many other motorcyclists without helmets so I was relaxed about taking him. I don't think he had ever been on a bike before, he was hopeless, leaning the wrong way and all but he did show me to my hotel. He was waving at people as we passed; I think he just wanted a go on the bike! Had a great room at the Crowne Plaza, Vilnius, top floor with a great view over the city. Mileage today 390.
Left Vilnius the next day at 0820 to ride approx 80 miles to the Belarus border. I wasn't very confident about getting into Belarus as I didn't have a visa but hoped I'd be able to buy one on the border. The terrain was very flat and wooded with lots of people out picking mushrooms and selling them by the side of the road. The last 20-odd miles to the border were very quiet and sure enough, the border guard said I could not proceed without a visa. This was the Lithuanian guy but he insisted I could not go through to 'White Russia' as he kept referring to it and said there was no possibility of obtaining even a transit visa for Belarus. Having half-expected this I had an alternative route already planned which involved a detour of only about 30 miles to get to the Polish border. There was a short queue of about 6 cars and I crossed with no difficulty. I gained an hour doing this, Lithuania is on GMT+2, and Poland is on GMT + 1. The Polish roads were surprisingly good, they have improved a huge amount since I was last there in 1999 and I made good time to Augustow, Bialystock and Bilesk Podlaski. Annoyingly, the road-numbering scheme seems to have changed since my map was printed but I managed to find my way with little difficulty. After being shut out of Belarus I was now determined to 'pop into' Ukraine before I got to Warsaw for the night. I approached the border at Chelm at about 1700 and came up to the back of the truck queue with about two miles to go. I sailed past the trucks but pretty soon came up behind a queue of cars and vans. I decided to see if I could poodle past to the front. There was a border guard holding up all the traffic and only allowing vehicles past when a booth became free but he just waved me straight through. At the booths there was one for EU vehicles with only one car waiting; all the other lanes were packed. I got through this and joined a two-lane queue of all vehicles over the river marking the Poland/Ukraine border, the River Bug. As before I filtered through and encountered no hostility. At the end of the bridge an official gave me an immigration form to fill in and he wrote the bike's registration number on a square of white paper which he also gave to me. I then joined and filtered past another queue to the actual Ukrainian border control. People kept asking me about the bike, mostly how much did it cost. Most cars and vans were Ukrainian-registered and had all sorts of second-hand stuff piled in them and on them, tyres, car parts, clothes. Eventually I got to the booths where everything was at a standstill because of a 'computer problem' After about 10 minutes hanging around – how long people further back in the queue had been waiting goodness only knows – I asked if, by crossing the river, I was now in the Ukraine. After some conversations in a mixture of Polish, Russian, German and English the border police said yes, I was in Ukrainia. As it was now about 1800 and I had a hundred and fifty miles to get to Warsaw I decided to go back. The border lady stamped my square of paper and said to give it back to the official on the bridge. I did a u-turn through a gap in the central divider, matey on the bridge looked a bit nonplussed to see me but he took the paper, asked for my passport, asked how to pronounce 'Murphy' and said carry on. Got to the Polish side where there were 3 or 4 lorries waiting at a barrier. There was a gap I could fit through and arrived at the border booth. 30 seconds later I was on my way.


Night fell on my way to Warsaw but the traffic was OK, the roads were good and, apart from a huge number of insects striking my visor the journey was fine. I arrived at the Warsaw Intercontinental at 2100 and quickly relaxed into my huge room on 28th floor. Mileage today 578.
Up at 0630, mega breakfast and on the road to Cologne by 0820. 300 miles to Poland/Germany border, mixture of motorway, good road, bad road and roadworks but traffic generally light and got there at 1320. Slipped past a half-mile queue to the front, no one seems to mind. No problems, only had to show passport then 400 miles to Cologne. Very warm (26 degrees) but made very good progress and arrived Cologne Intercontinental at 1945. Mileage today 711.
Awoke at 0800 to heavy rain but by the time I left about 1030 it was virtually off. I did catch some brisk rain before I got to Belgium but only for about 50 miles and it was dry thereafter. Arrived Channel Tunnel at 1500, on Shuttle 1606. There were several other bikes, most of who had been to the Le Mans 24 hours; they said it had rained constantly for 36 hours! There was guy on a 600 Ducati Monster who had ridden that day from Geneva and he was heading for Nottingham. Uneventful ride up M20, M25 and A12, home at 1700.
Mileage today 348
Nine days, 3,640 miles, nine 'new' countries, 30 down, 10 to go!

2nd – 10th October – Bulgaria, Romania, Turkey, Greece, Macedonia, Bosnia, Kosova, Montenegro, Luxembourg
For this trip I bought a European-wide insurance from Alessie Insurance in Holland. It covers every country in Europe, including Turkey. This would save having to purchase insurance on borders, which I don't think you can do entering Turkey anyway.
Early start at 0550 to Folkestone to catch Shuttle. One other bike on the train, a GSX600 heading for Barcelona.
Arrived Calais 0930, pouring with rain. Headed towards Brussels and the rain stopped after about 10 minutes. Good run to Brussels then to Aachen. Lunch at Aachener-Land services then towards Cologne and Frankfurt. Started to rain after Frankfurt and was horrid for about 2 hours but dried and warmed up by Nurnberg – 19 degrees. Arrived Holiday Inn, Passau at 1900.
Mileage today 732, in just over 12 hours.
Had breakfast at 0630 overlooking the Danube just as dawn was breaking. Left at 0800 heading for Slovak border. Motorway all the way but got stuck in major roadworks near Graz, where I discovered a funny trait to the Austrian character! Whilst all the other nationalities in the line of traffic, Poles, Slovaks, Germans, Italians, etc, etc, pulled over on seeing a bike coming up behind, the Austrians, with one or two exceptions, actually positioned their car to impede one's progress. One could see them looking in their mirrors and turning the steering wheel to block the filtering space – how peculiar!
Went through Slovenian border without even showing passport and then short run of about 30 miles to Croatian border where had to show passport. There was then a fairly boring slog across Croatia for about 250 miles in 30 degrees. Not much to see but traffic was light. Arrived Serbian border where only had to show passport and Green Card. Arrived Belgrade about 1730 and asked guy on a Vespa if he knew where the Hotel Union was. He spoke good English and said he would go with me to show the way, in about 5 minutes we were there. Apart from having the smallest hotel room in the world it was fine €44 a night including breakfast. Dined in the hotel, pork kebabs and three bottles of beer £5.60, not bad. Mileage today 552.

Didn't sleep too well in my tiny shoebox of a room. I had to leave the window open and there was quite a bit of noise outside. Breakfasted at 0700 and on way at 0800, already 20 degrees! Found my way out of Belgrade OK – the road signs are in 'normal' alphabet, not Cyrillic, phew! It took ages to reach the Romanian border, road surface variable and lots of villages to go through. The border post was very ramshackle and they only wanted to see my passport.


I was also told that bikes are exempt from the Romanian road tax vignette. A long slog to Bucharest but very interesting. The first 150 miles were along the east bank of the Danube, past the Iron Gates.


There we many horse-drawn carts, small tractors and field after field of maize. I rode through part of the Romanian oil-field that I remember being of such importance in the Second World War, derricks and nodding-donkeys in abundance.
I was beginning to worry that I might not get to Bucharest before dark – had 'lost' an hour crossing into Romania who are on GMT+2. Lots and lots of major roadworks, very poor road surfaces and loony drivers. The last 60-odd miles into Bucharest were motorway and I made up time there arriving in the city at 1830, still light. I asked a Taxi driver for directions to the Bucharest Intercontinental and checked in about 10 minutes later. Mileage today 390.
The next day was a day of two halves. The first half was pretty good, the second not so. Left hotel about 0800 and did a bit of round the houses finding the road to the Bulgarian border at Giurgiu, about 60 km. I was apprehensive approaching the border because I though border control would be tedious and Bulgarian roads would be very bad. Happily I was wrong on both counts! Crossed the border over a massive stone and iron bridge over the Danube, got through border control very easily and, bonus, bikes don't pay Bulgarian road tax or 'disinfection' tax! Found road I wanted fairly easily and, to my delight was well-surfaced (new) and fast. Made really good time until about 30 kms before the Turkish border then slowed due to roadworks and miles of poor surface.


Still, it was a fabulous run and for the first 100 miles or so good scenery then it got a bit desolate. Reached the Turkish border at 1500, great, knew it was motorway all the way to Istanbul and about 150 miles so should be there about 1800, perfect! That was before I crossed the border. Three hours later as I at last rode into Turkey I was a bit cheesed off. Had to go through three separate document checks, the middle one being where all the time was lost. There were 18 border booths but only one was open and there was a queue of 70-80 cars already. I did my Bits abroad thing of bumbling up to the front but there was no obvious way to barge in to a queue of angry drivers and no EU lane either so I had to join the back of the line. If I was doing it again I would go to the front, stop in one of the unmanned booths and walk over to the open one with my documents. It seemed to work for some people in big flash cars but I don't know if they were 'special' in any way. After three hours in the queue I got to the booth and it was quickly obvious why the line was moving so slowly. I don't object to officials doing their job, sometimes it seems pretty pointless to us ordinary folk but, most of the time, they get on with it. In this case however the sole reason for the queue being so long was that the Turkish guy in the booth was an idiot! He kept asking me if I was Irish because my British passport refers to 'The United Kingdom of Great Britain and Northern Ireland'. It took three separate explanations to get him to accept I had given him a British passport. Then he had to enter mine and the bike's details on his computer and each and every letter or number was a voyage of exploration for his index finger around the keyboard. At last, I was through, not forgetting the necessary stamp from the Customs man who was just wandering about. Without that stamp you would be turned back at the third control about another mile down the road! The road to Istanbul was excellent but the last half-hour was in darkness, not great, then I had to find the hotel. I thought I would follow signs to 'Centre' or something like that but Istanbul doesn't go in for them. After a few false starts and 'phone calls to the hotel I made it, Istanbul Intercontinental, fabulous room with view of the Bosporus and the Golden Horn. Unfortunately I didn't arrive until 2030 so not much time to relish it. I have to be up early the next morning and find out if it's as bad getting out of Turkey as it is getting in. Better hadn't be! Mileage today 420.


Up ay 0600, somewhat reluctantly, & breakfast at 0700. Not looking forward to today, am staying in Skopje, Macedonia tonight and thinking a border delay like yesterday will really jeopardise getting there before dark even with gaining an hour from Greece to Macedonia. Got out of Istanbul OK onto same motorway I came in on then turned of towards Greece and Thessaloniki. This road was OK but not motorway and plenty of speed limits in towns and villages. Then, three Turkish-registered bikes came past two BMWs, one the new 1200R, and a Ducati monster, and I tagged along behind thinking they would know where it was safe to go fast. They were really pressing on and turned off just before the Greek border which I reached in good time. Complete contrast to yesterday, no queue, no delay, through both controls – Turkish and Greek – in five minutes then onto good motorway towards Thessaloniki. Warm & dry but misty so no nice sea views. Stopped just off the motorway at a patisserie for lunch, fabulous breads and cakes and they gave me some free, I don't know why. By-passed Thessaloniki and reached the Macedonian border at 1530 (1430 Macedonian time).


Crossed with no difficulty and arrived Skopje 1630. Found Holiday Inn, Skopje, checked in and had time for a walk around the town and a beer. Saw the stone bridge which was the only bit of the town to survive the devastating 1960s earthquake. Many nice restaurants and bars near the hotel and passed some very interesting Roman ruins on the way into town – might be worth another visit some time. Mileage today 434.


My destination the next day was Sarajevo, Bosnia. A trip of 360 miles which turned out to be considerably more than that for interesting reasons.
I left Skopje about 0730 and got to the 'Serbian' border in about half an hour. The border guard told me my insurance was not valid because I was entering Kosova. When I pointed out that the insurance included Serbia of which Kosova was a part he replied that that was a very contentious issue. Although historically part of Serbia, Kosova is actually under UN administration, a fact the Serbs are very cross about. I had to buy special UN insurance at the border, only €20, so no big deal but at least I was able to add Kosova to my list of 'countries'. It has its own borders, I need special insurance, and as far as I am concerned it's a separate country for the purposes of my 40-countries-in-a year marathon. My game, my rules!

I crossed Kosova with no difficulty, soldiers, police and UN troops everywhere. I passed a large UK barracks. It reminded me of Northern Ireland when the Troubles were at their height, you never knew when you would be confronted by an armoured troop-carrier or an armed check-point. My route to Sarajevo was to take into Serbia proper then into Montenegro then to Bosnia but I hadn't factored in the Serbia/Kosova question. When I arrived at the Kosova/Serbia border the UN border guy told me that Serbia would not let me in because I had the UN Kosova stamp in my passport. I would have to go back to Mitrovica, then to Pec and then cross into Montenegro where the UN Kosova stamp was no problem. This was a diversion of about 90 miles. I did try the Serbian border but, as the UN guy had predicted, I was turned back. So, back to Mitrovica and thence to Pec. The road was very good and very scenic but I could have done without it. Into Montenegro no problem then to Podgorica and then north towards Sarajevo.

Podgorica was formerly known as Titograd according to some old road signs. Between Podgorica and Bosnia I was stopped by police for speeding. There is a blanket speed limit outside towns in Montenegro of 80 kph and I was clocked at 136 kph on a long, straight, virtually traffic-free road. He said that if I was Montenegrin they would have taken my licence but, because I was a foreigner I would have to attend a 'Tribunal' in Podgorica where I would be fined €150. He then went on to say that he could fine me on the spot €50 but he 'didn't have any paperwork with him' – ahem! Needless to say €50 changed hands and I was on my way. Whilst I was there his colleague stopped a French car so it was probably a fund-raising from foreigners exercise. What with this delay and the earlier diversion in Kosova I was heading towards doing precisely what I didn't want to, riding through Bosnia in the dark. I reached the border at 1730 and crossed with no problems. Immediately, the road deteriorated and for the next 10-15 miles I was not out of 1st or second gear. I had about 100 miles to Sarajevo, at this rate it would be midnight before I got there. Suddenly, the road improved and I was able to make good progress but all the signs were in Cyrillic text and it was getting dark. There were many unlit tunnels and as I approached one I could see a red light, similar to a temporary road works traffic light. I sat for a minute or two and then reasoned that as I had hardly seen any traffic recently I would go past the red light and if anything came the other way I would pull over. As soon as I entered the tunnel I could see I was in trouble. This was no minor roadworks, the tunnel was actually closed, the road surface was totally ripped up and there were scaffolding towers and temporary work lights strung along the walls. Oh dear. I carried on slowly and came up to two men working. They signalled for me to stop and, despite them speaking no English, German or French and me speaking no Serbo-Croat, they were able to tell me that the tunnel was closed and that I had to retrace my steps and follow a diversion route to Sarajevo. I was alarmed at this, especially as I had lost so much time earlier that day on another diversion, also it was by now pitch dark and the chances of following a diversion route, in the dark, in Bosnia, were not too great. I started to get out my map for them to show me exactly where the diversion went and at that point they signalled for me to carry on in the direction I was travelling but to go slowly. I didn't need much persuading and crawled through the tunnel, around works machinery to the end. Here I found the mouth blocked by a metre-high mound of building rubble! Oh no, what do I do now? I then noticed a path over the mound where barrows had been wheeled over so I went for it. Pans are not noted for off-road capability but I fairly flew over this obstacle only to find a chain across the roadway. Fortunately, the centre of the chain was sagging down to within a couple of centimetres of the surface so with a bit of help from my foot holding the chain down I was across. I then had a perfectly surfaced, traffic-free road all the way to Sarajevo where I gratefully checked into the Holiday inn at 2030! Mileage today 430 – should have been 360!


After yesterday's experience of Bosnian back roads I decided not to follow the Michelin route across the middle of Bosnia on a number of small roads but to take the main road to the coast via Mostar, enter Croatia and head up the coast to Split where I could pick up the A1 motorway to Rijeka and then on to Trieste in Italy. Even the main road through Mostar and along the coast was very slow. Not because it was in poor condition, far from it, but because of the stupid speed limits and many speed traps.


I left Sarajevo at 0830, saw a few buildings with war damage and all the way to the coast and the Croatian border saw buildings with shell and bullet holes. The coast road was very scenic and near Split I picked up the A1.


At the Croatian/Slovenian border there was quite a queue (Sunday afternoon) but an Italian bike went down the outside and I followed him to the front where we bunked in no problem. At the Slovenia/Italy border there was no queue and I reached the Holiday Inn, Trieste about 1945. Mileage today 526
Left hotel at 0820 and headed for Frankfurt via Udine, Villach, Salzburg, Munich and Nurnberg. Only 10 degrees when left hotel and went down to 5 degrees in the mountains. Spectacular road as far as Salzburg (220 miles) then it flattened out and warmed up, 20 degrees by Nurnberg. Uneventful ride, made good time on the unrestricted
MORE...
Enter your email address to receive updates to John Murphy's trip story!
Recent Entries
Archives:
Archives:
Monthly
Archives:
Category
NEW! HU 2015 Motorcycle Adventure Travel Calendar is now available! Get your copy now for some terrific travel inspiration!
HUGE, 11.5 x 16.5 inches, beautifully printed in Germany on top quality stock! Photos are the winning images from over 600 entries in the 9th Annual HU Photo Contest!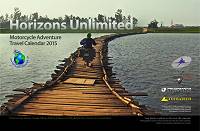 "The calendar is magnificent!"
"I just wanted to say how much I'm loving the new, larger calendar!"
We share the profit with the winning photographers. YOU could be in the HU Calendar too - enter here!
Next HU Events
Germany: May 14-17
Canada Ontario: Jun 18-21
Ireland: June 26-28
Colorado: July 17-19 TBC
Canada West: Aug 20-23
USA California: Sep 24-27
Aus Queensland: Sep 24-27
USA North Carolina: Oct 8-11
Aus Perth: Oct 9-11
Germany: Oct 22-25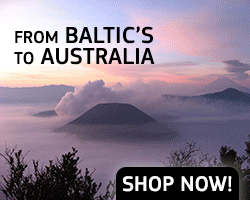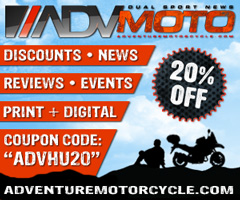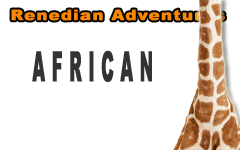 What others say about HU...
"I just wanted to say thanks for doing this and sharing so much with the rest of us." Dave, USA
"Your website is a mecca of valuable information and the DVD series is informative, entertaining, and inspiring! The new look of the website is very impressive, updated and catchy. Thank you so very much!" Jennifer, Canada
"...Great site. Keep up the good work." Murray and Carmen, Australia
"We just finished a 7 month 22,000+ mile scouting trip from Alaska to the bottom of Chile and I can't tell you how many times we referred to your site for help. From how to adjust your valves, to where to stay in the back country of Peru. Horizons Unlimited was a key player in our success. Motorcycle enthusiasts from around the world are in debt to your services." Alaska Riders

10th Annual HU Travellers Photo Contest is on now! This is an opportunity for YOU to show us your best photos and win prizes!
NEW! HU 2014 Adventure Travel T-shirts! are now available in several colors! Be the first kid on your block to have them! New lower prices on synths!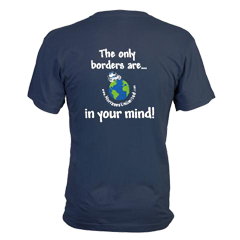 Check out the new Gildan Performance cotton-feel t-shirt - 100% poly, feels like soft cotton!

What turns you on to motorcycle travel?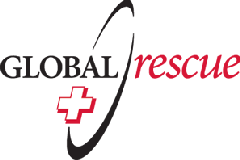 Global Rescue is the premier provider of medical, security and evacuation services worldwide and is the only company that will come to you, wherever you are, and evacuate you to your home hospital of choice. Additionally, Global Rescue places no restrictions on country of citizenship - all nationalities are eligible to sign-up!
New to Horizons Unlimited?
New to motorcycle travelling? New to the HU site? Confused? Too many options? It's really very simple - just 4 easy steps!
Horizons Unlimited was founded in 1997 by Grant and Susan Johnson following their journey around the world on a BMW R80 G/S motorcycle.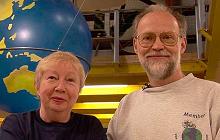 Read more about Grant & Susan's story
Membership - help keep us going!
Horizons Unlimited is not a big multi-national company, just two people who love motorcycle travel and have grown what started as a hobby in 1997 into a full time job (usually 8-10 hours per day and 7 days a week) and a labour of love. To keep it going and a roof over our heads, we run events (22 this year!); we sell inspirational and informative DVDs; we have a few selected advertisers; and we make a small amount from memberships.
You don't have to be a Member to come to an HU meeting, access the website, the HUBB or to receive the e-zine. What you get for your membership contribution is our sincere gratitude, good karma and knowing that you're helping to keep the motorcycle travel dream alive. Contributing Members and Gold Members do get additional features on the HUBB. Here's a list of all the Member benefits on the HUBB.
Books & DVDs

All the best travel books and videos listed and often reviewed on HU's famous Books page. Check it out and get great travel books from all over the world.

MC Air Shipping, (uncrated) USA / Canada / Europe and other areas. Be sure to say "Horizons Unlimited" to get your $25 discount on Shipping!
Insurance - see: For foreigners traveling in US and Canada and for Americans and Canadians traveling in other countries, then mail it to MC Express and get your HU $15 discount!
Story and photos copyright © All Rights Reserved.
Contact the author:
Editors note: We accept no responsibility for any of the above information in any way whatsoever. You are reminded to do your own research. Any commentary is strictly a personal opinion of the person supplying the information and is not to be construed as an endorsement of any kind.
Hosted by: Horizons Unlimited, the motorcycle travellers' website!
You can have your story here too - click for details!