September 03, 2012 GMT
Paraguay & Iguazu Falls
Heading north from Resistencia in Argentina towards Iguazu Falls I was undecided whether to stop in the town of Formosa or continue to the Paraguayan border and then on to the capital city of AsunciÚn. As I arrived in Formosa shortly before midday and didnít see anything compelling enough to make me want to explore further (sorry Formosa) I rode northwards towards the border after a short stop for petrol and a coffee.



Resistencia - Formosa Road, Argentina

As the more recent border crossings had been well managed, efficient and civilised; I was surprised to be greeted by touts and street money changers at the Argentina - Paraguay border. The Argentinean Immigration and Customs offices were clearly identifiable but a tout walked just in front of me pointing them out and then telling me which documents I needed to present. After all the border crossings I have been through in Latin America I have a fair idea of what documents are required and as the tout only spoke Spanish all he was doing was echoing or pre-empting what the border official said. I tried to ignore him without being blatantly rude although Iím unsure why I was avoiding being rude as it was obvious he was trying to pull a scam. We went through the same charade at the Paraguayan Immigration Office then continued towards Paraguayan Customs. The tout pointed to a window and said it was the customs office, I did no more than turn my head as an automatic reaction to his pointing but the touts partner in crime was waiting for me. The window was the Paraguayan Police Office and the policeman had been waiting to catch my eye. I now knew the scam was about to commence but because I have eye contact with the perpetrator and he is in a police uniform; walk freely into the trap. The policeman asks for my documents one at a time with the tout repeating what he said as if he was translating although they are both speaking Spanish which I understood. Iím then asked for my motorcycle insurance which I donít have. I explain that I have been to numerous insurance offices in Chile and Argentina and non of them have been able to supply me with insurance. Either they donít insure motorcycles at all or they canít insure vehicles of any kind unless they have local registration plates and my bike has a very non-local; UK registration plate. I had heard of this scam, the police know that insurance is difficult, or on some stretches of road impossible to buy so you are stopped, asked for your insurance certificate which you donít have and this leads on to the financial negotiations. I was told I would have to return to Formosa in Argentina around ninety miles (144km) away to buy insurance. As this involves explaining to the Argentinean border control staff why I need to re-enter Argentina and as insurance is probably unavailable in Formosa anyway itís a no-win situation. Iím then told by the policeman and this is repeated by the tout that Ďas a special favourí I can pay the policeman to pretend he hasnít seen me. There is no pretence of an Ďon the spot fineí etc. After paying the policeman not to see me I went to the real Paraguayan Customs Office, got my temporary motorcycle import document without any hassle and continued into AsunciÚn.

I mentioned in an earlier blog update that I was surprised how difficult it was to buy compulsory insurance in the more Ďwesternisedí countries of Chile and Argentina. I continue the quest by visiting any insurance office I see although with less enthusiasm than I did initially. Iím not unduly worried about not having third party insurance. The likelihood of having an accident which injures someone other than myself or causing damage to property other than mine is remote (says he; looking for a piece of wood to touch). I would though, really like a bit of paper that allows me to legally ride on the roads and not have to worry at the police checkpoints.



Presidential Palace, AsunciÚn

Seven weeks prior to my arrival in AsunciÚn there was a change of the Paraguayan leader. President Fernando Lugo was impeached in what many reports claim was a hastily arranged hearing. Fernando Lugoís lawyers where given twenty four hours to prepare his defence and two hours to present it. The legal team did ask for additional time to prepare the defence but this was denied. The hearings verdict was guilty and the Vice President, Federico Franco was sworn in as the new president. As a result of this leadership change Paraguay has been suspended from Mercosur, the South American equivalent of the European Common Market and a number of countries have refused to recognise the new government.



AsunciÚn National Pantheon of Heroes

AsunciÚn reminded me of Mexico with its numerous plazas and free concerts. Most evenings while I was there a concert was taking place at one plaza or another. The biggest concert was to celebrate the 475th anniversary of the founding of AsunciÚn, which makes it one of the oldest Latin American cities. I stumbled across the gathering crowd as I was walking around town after dinner and grabbed a chair. Some of the star performers I had seen on previous evenings were part of the opening acts. Twenty minutes into the concert the compere interrupted the performance to announce the arrival of the president. At the time I was unsure who had arrived and what he was president of. I thought maybe it was the president of the AsunciÚn Music Society or some similar organisation but later someone made a welcoming speech and whilst I couldnít understand most of what was being said I realised it was the new President of Paraguay, Federico Franco that was sitting thirty rows in front of me, close enough that I got the occasional glimpse of the back of his head. There had been demonstrations against the impeachment in AsunciÚn when it was first announced. Federico Franco was greeted with no more than muted polite applause when he was introduced.



The President And I Attend The AsunciÚn 475th Anniversary Concert

One thing that bugged me at the concert was traders walking amongst the audience selling food, drink, cigarettes etc. They were shouting out in the middle of the acts with no regard to the performer on the stage. During a guitar solo the traders were almost louder than the performer. Nobody else seemed to object, it was obviously normal, acceptable and desirable that the audience could buy a coke or whatever during the performance. To me it appeared rude and disrespectful to the performer and distracting to the audience. An interesting cultural difference. I remember reading once that in Shakespeareís time; people would walk in and out of the theatre during performances and traders would be wandering through the audience much as I was witnessing in AsunciÚn. It all depends on what you are used to I guess.



AsunciÚn 475th Anniversary Concert

I had bought a new Chinese rear tyre, a make I had never heard of but the only tyre available at the time in La Paz, Bolivia. I carried it around for a while, maximising the use out of the old tyre and finally got the new tyre fitted in San Pedro de Atacama, Chile. Crossing Paraguay, heading east from AsunciÚn to Iguazu Falls I had the first opportunity to test it in the rain and found it very exciting. Doing a steady 70kph (44mph) in a straight line on a paved road the rear wheel would suddenly spin up and sometimes kick the bike off course. It was raining fairly heavily which left pools of standing water on the road so I guess the tyre was aquaplaning in puddles. Iím going to have to be very careful in the wet while I have this tyre fitted.

I had hoped to ride from AsunciÚn and get across the border, back into Argentina at Puerto Iguazu in one day but some of the heavy rain had found its way inside my motorcycle clothing so rather than stand around at customs and immigration in wet gear I opted to stay on the Paraguayan side of the border in Ciudad del Este. Ciudad del Este has a renowned black market economy and large scale smuggling organisation into neighbouring Argentina and Brazil in electrical goods and just about everything else you can think of.

Taking the ferry from Paraguay across the Paranŗ river and into the Iguazu river to Puerto Iguazu, Argentina was a pleasant change from all the land borders. Thereís something very relaxing and traditional about arriving at a new country by boat.



Ferry From Paraguay, Across The Paranŗ River And Into The Iguazu River To Puerto Iguazu, Argentina

I didnít realise it was a three day weekend when I went to the Argentinean side of Iguazu Falls so it was unbelievably busy. There is a narrow gauge railway to take visitors from the entrance to the start of a walk to the top of the falls. I waited in a long snaking queue and when the train pulled into the station it filled up before I could get on and I had to wait for the next one. This meant that when I got off there was in excess of two trainloads of visitors on the path to the falls. All we could do was shuffle along and if someone stopped to take a photograph two hundred people behind had to stop as well. It was as crowded as Fenwickís Christmas Toy Fair and if you havenít heard of Fenwickís Christmas Toy Fair and you are over the age of twelve your life has been truly blessed.



Bank Holiday Weekend Crowds At Iguazu Falls National Park

The train stopped at the start of the path leading to the top of the ĎDevils Throatí, a huge U shaped fall with water pouring over an 82 metre (269 feet) drop and mist rising up to 150 metres (490 feet) high. The Devils Throat forms the border between Brazil and Argentina which puts 80% of the falls in Argentina and 20% within Brazilian territory. Fortunately the walks to other viewpoints of the falls werenít quite as busy.



Iguazu Falls

Iguazu Falls are ranked amongst the widest in the world and have one of the greatest flow rates.



Iguazu Falls



Iguazu Falls
Posted by ianmoor@tiscali.co.uk at
11:45 PM
GMT
September 17, 2012 GMT
Brazil
I hadnít specifically included Brazil in my itinerary of South American countries for what I accept is a bizarre reason but it made sense to me. Having, after two years of travelling in Latin America finally gained a precarious grasp of Spanish; I figured that going to Portuguese speaking Brazil would confuse my Spanish rather than assist my Portuguese. However, as it was the easiest way of getting to Uruguay, I did ride†through the small south eastern corner of Brazil, which is remarkably large, while Uruguay turned out to be remarkably small.



My First Glimpse Of Brazil On The Opposite Side Of Iguazu Falls Through The Bank Holiday Weekend Crowds

My first thoughts when I think of Brazil are the Amazon river and rainforest, this vast area isnít blessed with many roads so a motorcycle isnít the best mode of transport. I have occasionally nudged at the edge of the Amazon basin on various excursions to the east side of the Andes on this trip and am happy to report that the concerns about the depletion of the Amazon rainforest seem to be exaggerated, I counted literally dozens of dozens of trees so I donít think we are in imminent danger of running out of timber just yet.

It was a long way to the coast from Iguazu Falls so once again I headed off with no particular destination in mind. I intended to start looking out for accommodation from mid afternoon onwards and as usual become less and less particular as the sun sets lower in the sky. I had been advised that motorcycles have to pay tolls for the use of the roads in Brazil so made a point of getting some local currency as soon as I was on the Brazilian side of the border at Foz Do IguaÁu. Nick, my adviser had arrived at his first Brazilian tollbooth before changing any money and had to turn around again as the operator would only accept Brazilian Reales. The smooth road ran through rolling green agricultural scenery which I was unable to concentrate on as much as I would have liked due to all the slow moving trucks competing for my attention as I headed east towards my first glimpse of the South Atlantic.

The only large town on the way was Curitiba which I hoped to avoid. I had the addresses of a couple of hostels and a campsite in Curitiba saved on the GPS as a backup but wanted to find accommodation somewhere enroute rather than having to negotiate the traffic of a town with two million inhabitants. I started looking out for places to stay 60km (37 miles) from Curitiba but didnít see anywhere until I was on the ring road skirting the town. Motels were advertising rooms from $80 to $100 (£52 - £65) so I headed for a hostel near the centre which cost a more affordable $12 (£8).

From low expectations; Curitiba surprisingly turned out to be the best place in Brazil but donĎt tell anyone as the character of the place would change if it was swamped with international tourists. It had a perfect climate during my visit, good city parks, numerous plazas and a range of interesting buildings spanning eras from Colonial Portuguese to the 1970s. Good architecture and the 1970s donít appear in the same sentence very often for very obvious; good reasons but all decades produce some good buildings and Curitiba managed to get more than its fair share of the best of the 1970s. Jaime Lerner, the Mayor of the time may have been responsible, he was an architect and urban planner himself and commissioned an internationally renowned city bus system which is still functioning well.



Bus Stop On The Internationally Renowned Curitiba Public Transport System

Volvo were commissioned to build large articulated buses capable of carrying 270 passengers (or 300 Brazilians joked Lerner) to reduce the operating costs. The tubular bus shelters are raised to the level of the bus to reduce the time it takes to load and unload passengers. The single price tickets are purchased in the bus shelter and cover any transfers that are required for the journey. The whole system was designed to be accessible by the handicapped. The buses are operated by private companies although the city controls the routes and fares to provide a citywide integrated transport system.



Curitiba Museu Oscar Niemeyer

Curitiba is surrounded by floodplains which are traditionally managed with expensive to build and expensive to maintain dykes and embankments. Jaime Lernerís approach was for the city to buy the land and convert it into parks which can absorb the floodwater. Rather than use environment damaging tractors and fuel to cut the grass in these parks Curitiba employs Ďmunicipal sheepí with the municipal wool being used to fund childrenís projects.



Curitiba Mosque

In hindsight I wish I had spent more time in Curitiba, there was more of the city I would have liked to see but I was keen to keep nudging south as long as the weather remained warm and dry. As winter comes to a close and spring draws ever nearer I am keeping a close eye on the weather forecasts trying to plan my advance south at the same pace as the warmer weather. The†weather is very confusing, the further south you travel; the colder it gets, northerly winds are warm, southerly winds†are cold, it's like the whole world has been tipped upside down.



Curitiba Opera de Arame

I arrived at the South Atlantic coast at Baneario Camboriu, a very modern town which appeared to be in the midst of a property boom. High rise apartment blocks were going up all over the place and estate agents offices were on every corner. A malecÚn (promenade) ran the full length of the long sweeping bay with the central portion littered with unaffordable restaurants. The place was hot, posh and chic. I absorbed the heat but remained totally unaffected by the poshness and chicness.



Balneario Camboriu - Hot, Posh And Chic

The bike was due for another service and as I had covered secure parking I intended to do the work myself. I started with the air filter which involves removing one of the additional Touratech fuel tanks to gain access. I had done a fair bit of dusty riding on dirt roads in Bolivia and expected the air filter to be pretty dirty but it was impressively so, I didnít think an air filter was capable of holding such a large proportion of desert. I reached into the air box to check that it was clean and my hand sank beneath a pool of oil. Oil that had been displaced by my hand slopped out of the air box and ran over the bike, dripping onto the ground. My first reaction naturally enough, was to go into a blind panic but this didnít seem to help a great deal so under a state of carefully controlled panic I tried a bit of rational thinking. Oil can only get into the air box from the top of the engine which means piston, piston rings or valve problems all of which have other systems including loss of power and smoking exhaust which I didnít have. This thought reduced the panic level another notch. I had a broken piston ring replaced in Cusco, Peru and it is possible the oil has been sloshing around in the air box since then. Itís easy to imagine the mechanic not checking the air box when he rebuilt the engine. I decide to clean the oil out and recheck the air box after running the bike for a while. Later, after checking on the internet I learn that these days the crankcase breather vents into the air box and the most common cause of getting oil in there is by over filling the oil tank. What was wrong with venting the breather onto the road as they did when I was a lad?



Balneario Camboriu Sunset

Leaving Balneario Camboriu in bright sunshine the traffic was heavy on the main highway south. I was filtering through stationary traffic at one point with truck drivers out of their cabs obviously settled in for a long wait. Eventually I was brought to a standstill, trapped in a total gridlock of vehicles, after twenty minutes or so I was able to continue slowly weaving up to what turned out to be lane closures due to roadworks. The sky clouded over, it got much cooler and there was an occasional shower during the afternoon. I eventually pulled into a motel in the middle of nowhere as it was starting to get dark. The bike was securely locked in the garage and I was securely locked in the motel, unable to get out without finding the proprietor. There was nowhere nearby to go to anyway and fortunately I had enough food with me to see me through the evening. The following morning was grey with steady rainfall and I would normally have stayed where I was for another night in the hope of having better travelling weather. However, with no food, no shops nearby and only four dreary motel walls to stare at, I donned the waterproofs and continued southward.

Following a second night in a soulless motel room I continued the journey towards the Uruguay border in drier weather although it was still cool and the sky was overcast. The heavy traffic all but disappeared at Rio Grande and I was once again riding on an almost deserted road through low lying fields of cattle. Riding alongside what looked like a canal I came across a group of a dozen or so capybara basking on the embankment. Capybara are the largest rodents in the world with the heaviest weighing about the same as I do. They can be over four feet (1.25 metres long) and two feet (0.6 metres) high. A short distance further on I saw another similarly sized group but they were all just out of range of my camera.



Capybara (Photo by†lorentey†via Flickr)
Posted by ianmoor@tiscali.co.uk at
08:55 PM
GMT
September 28, 2012 GMT
Uruguay
The town of Chui / Chuy lies in no mans land between the Brazilian customs and immigration offices to the north and the Uruguayan border controls to the south. One side of the main street is in Brazil (Chui); while the other side is in Uruguay (Chuy). You can freely cross from one side to the other, pay in shops and restaurants in Brazilian Reales or Uruguayan Pesos, although the banks are less flexible. None of the cash point machines (ATMs) were working in the Uruguayan side of town so I crossed the street to the Brazilian side where I could get cash from the bank machines but only in Brazilian currency. I then had to change the Brazilian Reales at one of the numerous money changing offices back on the Uruguayan side.



Punta del Diablo (Devil's Point) Harbour

The first destination in Uruguay was Punta del Diablo (Devilís Point) which turned out to be an exceptionally quiet, sleepy fishing village and out of season tourist resort. Most of the businesses were closed until the summer but there was a good supermarket to cater for the eight hundred permanent residents. One restaurant was open every day and another opened at weekends when a few Uruguayan tourists would appear. In the short peak holiday season of December and January the population swells to over twenty five thousand. The village and the beaches are then crowded with holiday makers enjoying the short summer.



One Of The First Fisherman's Cottages That Established Punta del Diablo in the 1930s

The weather had been getting colder and wetter as I made my way south so I hoped to find somewhere to stay for a while and wait for the sun to ícatch me upí. It was raining and cold the day I arrived in Punta del Diablo, I never fully warmed up and ended up going to bed fully dressed. A couple of days later there was a noticeable rise in temperature and it didnít rain again for the rest of the time I stayed in Punta del Diablo. Night time temperatures in the hostel were cosy with a large log fire burning and it was only necessary to put extra layers of clothing on for walks along the beach where; invariably there would be a cold wind blowing.



Camera Shy Seal Pup Sprints For The Sea

Punta del Diablo reminded me a lot of the Northumberland coast near where I live in England. Long deserted sandy beaches partially sheltered by a range of sand dunes. The winter weather of Uruguay was very much like Northumberland summers, warm if you can only find shelter from the cold wind. There were some differences though. I have seen seals on the beaches in Northumberland and Punta del Diablo but I have never seen a vulture (or vulture like bird) chewing on a dead seal on a Northumberland beach.



Nothing This Gruesome Happens On The Beaches Of Northumberand

One morning while having breakfast on the sheltered hostel terrace gazing out to sea a whale was sighted. Sue, a teacher working on the Islas Malvinas (Falkland Islands) and presumably used to seeing them regularly out of her kitchen window spotted it first. We watched it for fifteen minutes, coming up to the surface to blow a spout of water in the air as it exhaled and its long dark back arching above the water as it dived again. On my daily walks along the beach or through the forest I saw dolphins, seals and giant rabbits. I never properly identified the giant rabbits but they were huge things, many times bigger than I have ever seen before.



View Of The South Atlantic From My New Home

Within walking distance north along the beach from Punta del Diablo; lies Santa Teresa National Park which includes miles of beaches and sand dunes, a forest and the historic fort that the park is named after. Santa Teresa fort was built by the Portuguese in 1762 and was modified and rebuilt several times as it changed hands between the Portuguese and Spanish. Nearby is Lugana Negra (Black Lake) which is large enough to make the far shore only just visible.



Santa Teresa Fort

Riding towards the Uruguayan capital of Montevideo I stopped for lunch beside the Monumento al Ahogado (Monument of the Drowned) in Punta del Este. The sculpture, by the Chilean artist, Mario Irarrŗzabal of a large hand almost buried in the sand was created in 1982. Ten years later the same artist created a similar giant hand sculpture, Mano de Desierto (Hand of the Desert) on the Pacific side of South America in the Chilean Atacama Desert. Although the sculptures are of a left and a right hand Iím not sure that they were intended to be a pair although I like the symbology of a pair of hands clasping the continent.



Monumento al Ahogado (Monument of the Drowned), Punta del Este

My hostel in Montevideo was only a kilometre from the BMW dealer so once I had booked in and changed I walked there to see if they had the spares I wanted for my F650GS. On arrival I was told they needed the vin number to check the part numbers which I didnít have with me. Returning with the bike the following day at 9am I was told to come back in an hour while they checked for the parts. I located an optician, had an eye test and ordered new glasses so it was about 10:30am before I got back to the BMW dealership. They hadnít started to check for the parts but once I was there I was told to take a seat and was given a coffee while the staff disappeared. At 11:45am I was finally told that they had the sprockets but not the chain. This didnít seem to be a major problem as the chain is standard (presumably) across all similarly sized bikes but when I asked how long it would take to get a chain I was told ďtwenty days, it has to come from GermanyĒ. It seemed ridiculous that a motorcycle dealership, even if most models have a shaft drive would be out of stock of chain and unable to get any quickly from a local supplier. When I mentioned that I was heading towards Argentina I was warned by the man who had said it would take twenty days to obtain a motorcycle chain that parts were difficult to get in Argentina! I took the sprockets and rode a short distance to a Ducati dealer I had noticed on my way to the opticians. They could get a chain and a new front tyre and have them and the new sprockets fitted within a day. I picked the bike up the following morning and shouldnít need another tyre or chain in South America.



Constitution Plaza, Montevideo

I was interested in looking up some of the history of the Graf Spee, a German WWII Ďpocket battleshipí while in Montevideo. Most naval battles take place well out to sea where no one can see what is going on but the second phase of the Battle Of The River Plate which resulted in the sinking of the Graf Spee took place in Montevideo harbour in front of 20,000 spectators. The Graf Spee had sunk nine allied ships without any loss of life on either side. The allied navies were patrolling the South Atlantic looking for the Graf Spee and she was eventually sighted and attacked by two British and one New Zealand ship.



Graf Spee Anchor

The Graf Spee had bigger guns with a longer range and damage was inflicted on both sides. One of the allied ships had to withdraw; too badly damaged to continue the battle. Eventually the Graf Spee broke off with damage to the bow and the fuel supply system and headed for Uruguayís Montevideo harbour. The Graf Spee couldnít be attacked in neutral Uruguayan territorial waters but she was only allowed to remain in a neutral port for a limited time to carry out essential repairs to make her sea worthy again. The fuel supply system couldnít be repaired so it was impossible for the Graf Spee to return to Germany. Meanwhile the remaining allied ships were patrolling the 120 mile (192 kilometres) wide estuary of the river Plate ready to resume the battle when the Graf Spee left port. Radio messages were broadcast by the British knowing that they would be picked up by the Germans untruthfully saying that additional allied warships had arrived to await the departure of the Graf Spee. Hans Langsdorff, the Graf Spee captain didnít want to endanger his crew in what he believed would be a battle he couldnít win if he sailed out of the river Plate and only he knew he was unable to carry enough fuel to return to Germany. He had received orders from Berlin not to allow the ship to be interned for the duration of the war by Uruguay which was the penalty for overstaying in the port. A skeleton crew took the Graf Spee away from the harbour, once it was three miles from the port a launch came alongside and took the remaining crew and the captain off. A series of explosions sank the Graf Spee and destroyed much of the equipment. Langsdorff had scuttled the ship.

Many of the Graf Spee crew never returned to Germany and settled in Uruguay and Argentina, 130 of them in the village of Villa General Belgrano, Argentina. Crewmembers who had been killed in the battle were buried with full military honours and controversially Captain Langsdorff gave a naval salute at the funeral while everyone else gave a Nazi salute. A few days later Captain Lansdorff committed suicide in Buenos Aires. He had wanted to Ďgo down with his shipí but had been persuaded that he was needed to negotiate the crews fate in the hands of Uruguayan government.

I visited the Graf Spee graves and discovered that Otto Bethge, the youngest sailor killed was only eighteen years old; and when he died, he was six weeks younger than my nephew Reuben is now. Reuben is about to head off on his gap year adventures which, if he chooses his destinations wisely; wonít include being shot at. If Reuben had been born eighty years earlier he could have been on board one of the British navy ships with him and Otto firing at each other. If Otto had been born eighty years later he might have met Reuben during their gap year travels and spent a happy evening taking about whatever eighteen year olds talk about.



Otto, Eighteen Years Old When He Died

I then went to the Naval Museum which has a gun salvaged from the Graf Spee mounted outside and a number of artefacts inside including Langsdorffís ceremonial sword. While I was inside the museum a staff member asked if I wanted to see a documentary about the Graf Spee. This turned out to be a film about divers exploring the wreck and salvaging the gun now mounted outside the museum. The film included historic footage of the Graf Spee being launched and the burial ceremony of the crew who died in the battle of the River Plate which was particularly poignant as I had just come from the graveside.



Salvaged Graf Spee Gun At The Naval Museum In Montevideo

Colonia del Sacramento was quiet through the week and got busier at the weekend with most of the visitors coming across the river from Buenos Aires. I picked a warm dry day to travel from Montevideo but for most of my stay in Colonia it was cold and windy with some heavy rain causing local flooding. My main achievement; was to finally be able to buy compulsory third party SOAT insurance. Previous insurance offices in Chile and Argentina were unable to sell me insurance because of my foreign registered motorbike. In Colonia, following four visits over three days to the insurance office I am finally legal on the roads of Uruguay and Argentina. I asked for Chile to be included but it isnít mentioned on the certificate so Iím unsure of my legal status there. Iím also legal in Paraguay and Brazil but I have already been and wonít be returning to those countries.

The historic quarter of Colonia was laid out by the Portuguese, the first settlers to the area in 1680. The town changed hands between Portugal and Spain numerous times and was occupied by Brazil twice but fortunately; through all the changes the old town survived. In the historic quarter, the original cobbled streets are now decorated with old cars, the area has numerous gift shops and restaurants to cater for the tourists. By contrast the new Spanish part of town is laid out in the usual regular grid pattern of streets.



Colonia del Sacramento Flowerpot



Colonia del Sacramento Street Decoration

The River Plate (Rio de Plata) is 31 miles (Fifty kilometres) wide between Colonia and Buenos Aires so you canít see the far shore. When the wind was blowing it would whip up like the sea with waves crashing over the riverbanks.



The River Plate On A Peaceful Day



The Same Benches In A Storm But I Was Unable To Get Into The Position Used For The First Photo Without Drowning
Posted by ianmoor@tiscali.co.uk at
05:45 PM
GMT
Enter your email address to receive updates to Ian Moor's trip story!
Recent Entries
Archives:
Archives:
Monthly
Archives:
Category
NEW! HU 2015 Motorcycle Adventure Travel Calendar is now available! Get your copy now for some terrific travel inspiration!
HUGE, 11.5 x 16.5 inches, beautifully printed in Germany on top quality stock! Photos are the winning images from over 600 entries in the 9th Annual HU Photo Contest!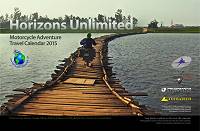 "The calendar is magnificent!"
"I just wanted to say how much I'm loving the new, larger calendar!"
We share the profit with the winning photographers. YOU could be in the HU Calendar too - enter here!
Next HU Events
NEW!

USA Virginia: Apr 9-12, 2015
Canada West: Aug 20-23, 2015
USA California: Sep 24-27, 2015
Aus Queensland: Sep 24-27, 2015
USA North Carolina: Oct 8-11, 2015
Aus Perth: Oct 9-11, 2015
Take 40% off Road Heroes Part 1 until October 31 only!
Road Heroes features tales of adventure, joy and sheer terror by veteran travellers Peter and Kay Forwood (193 countries two-up on a Harley); Dr. Greg Frazier (5 times RTW); Tiffany Coates (RTW solo female); and Rene Cormier (University of Gravel Roads).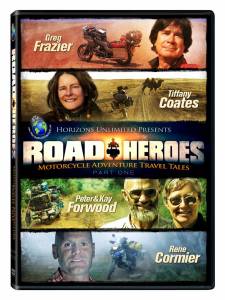 "Inspiring and hilarious!"
"I loved watching this DVD!"
"Lots of amazing stories and even more amazing photographs, it's great fun and very inspirational."
"Wonderful entertainment!"
Check it out at the HU Store! Remember to use Coupon Code 'HEROES' on your order when you checkout.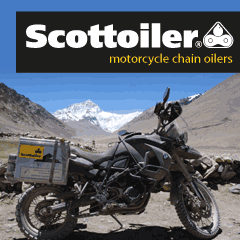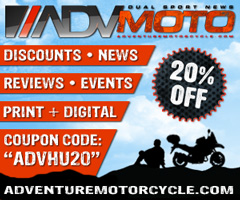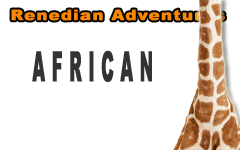 What others say about HU...
"I just wanted to say thanks for doing this and sharing so much with the rest of us." Dave, USA
"Your website is a mecca of valuable information and the DVD series is informative, entertaining, and inspiring! The new look of the website is very impressive, updated and catchy. Thank you so very much!" Jennifer, Canada
"...Great site. Keep up the good work." Murray and Carmen, Australia
"We just finished a 7 month 22,000+ mile scouting trip from Alaska to the bottom of Chile and I can't tell you how many times we referred to your site for help. From how to adjust your valves, to where to stay in the back country of Peru. Horizons Unlimited was a key player in our success. Motorcycle enthusiasts from around the world are in debt to your services." Alaska Riders

10th Annual HU Travellers Photo Contest is on now! This is an opportunity for YOU to show us your best photos and win prizes!
NEW! HU 2014 Adventure Travel T-shirts! are now available in several colors! Be the first kid on your block to have them! New lower prices on synths!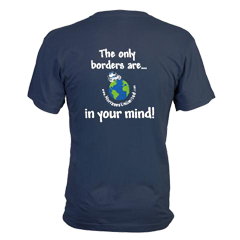 Check out the new Gildan Performance cotton-feel t-shirt - 100% poly, feels like soft cotton!

What turns you on to motorcycle travel?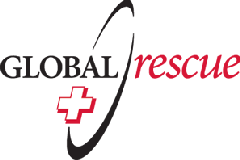 Global Rescue is the premier provider of medical, security and evacuation services worldwide and is the only company that will come to you, wherever you are, and evacuate you to your home hospital of choice. Additionally, Global Rescue places no restrictions on country of citizenship - all nationalities are eligible to sign-up!
New to Horizons Unlimited?
New to motorcycle travelling? New to the HU site? Confused? Too many options? It's really very simple - just 4 easy steps!
Horizons Unlimited was founded in 1997 by Grant and Susan Johnson following their journey around the world on a BMW R80 G/S motorcycle.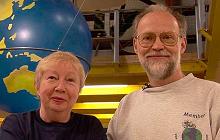 Read more about Grant & Susan's story
Membership - help keep us going!
Horizons Unlimited is not a big multi-national company, just two people who love motorcycle travel and have grown what started as a hobby in 1997 into a full time job (usually 8-10 hours per day and 7 days a week) and a labour of love. To keep it going and a roof over our heads, we run events (22 this year!); we sell inspirational and informative DVDs; we have a few selected advertisers; and we make a small amount from memberships.
You don't have to be a Member to come to an HU meeting, access the website, the HUBB or to receive the e-zine. What you get for your membership contribution is our sincere gratitude, good karma and knowing that you're helping to keep the motorcycle travel dream alive. Contributing Members and Gold Members do get additional features on the HUBB. Here's a list of all the Member benefits on the HUBB.
Books & DVDs

All the best travel books and videos listed and often reviewed on HU's famous Books page. Check it out and get great travel books from all over the world.

MC Air Shipping, (uncrated) USA / Canada / Europe and other areas. Be sure to say "Horizons Unlimited" to get your $25 discount on Shipping!
Insurance - see: For foreigners traveling in US and Canada and for Americans and Canadians traveling in other countries, then mail it to MC Express and get your HU $15 discount!
Story and photos copyright © All Rights Reserved.
Contact the author:
Editors note: We accept no responsibility for any of the above information in any way whatsoever. You are reminded to do your own research. Any commentary is strictly a personal opinion of the person supplying the information and is not to be construed as an endorsement of any kind.
Hosted by: Horizons Unlimited, the motorcycle travellers' website!
You can have your story here too - click for details!