August 15, 2012 GMT
Chile (North)
I hadn't done much research into my route from Bolivia to Arica on the Chilean coast due to the lack of WiFi and not meeting any travellers coming in the opposite direction. I knew the route was paved which is why I chose it but beyond that I only had my maps to rely on and maps for this part of the world tend to have various inaccuracies for one reason or another. I was planning on heading north on the Pan Americana Highway from Oruro to Patacamaya then turning west onto highway 108 which becomes highway 11 at the Chilean border. I hoped to stay in one of the villages along highway 108 that were shown on my map ready to tackle the border the following morning.



Nick and I In Oruru On The First Visit (Photo By Fletch)

It was bitterly cold through the night in Oruro so the following morning I took my time packing up the bike to allow the day to warm up somewhat. I was ready to leave at 10am but the hotel owner had gone out carrying the door keys with him so I couldn't get the bike out of the courtyard. I had stayed at the hotel before and the middle aged couple running it were very helpful. This time the woman was absent and the man was concentrating on his drinking more than running the hotel. There was nothing I could do but sit in an unheated draughty room and wait. The owner returned at 11am and without any apology for delaying me unlocked the door. Unusually it was still cold as I threaded my way through the city traffic, by late morning it was normally quite warm. Turning west towards the Pacific coast at Patacamaya I was looking forward to going downhill to some warmer weather but the road stayed at around 4000 metres then started climbing up towards the snowline which became closer with every kilometre.



The Day Got Colder And The Snowline Got Closer

The villages where I hoped to find accommodation either didn't exist or were down dirt side roads so I pushed on expecting to start heading downhill to warmer weather over the crest of every hill. At 4pm I arrived at the border post which was in the middle of nowhere at 4660 metres (15,145 feet), no wonder it was cold! For the next two and a half hours I was shuffled from one freezing outdoor queue to another while my paperwork was being processed. There were pink flamingos, the first wild ones I had ever seen, in a half frozen lake and some stunning snow capped mountain scenery but I was too cold to admire them or think about pausing to take photographs. The Chilean customs staff were asking about my trip and how far I intended to travel that day. I said it was now too late to get to Arica so I would be stopping at the next hotel. They didn't tell me that the next hotel would be in Arica, 200km (125 miles) away!



A Bitterly Cold Bolivia / Chile Border At 4660 Metres (15,145 Feet)

It was starting to get dark as I left the border and as luck would have it there were some roadworks which meant delays for one way traffic leaving me sitting on a stationary motorcycle in sub zero temperatures then riding slippery dirt sections of road in the fading light. Eventually I was clear of the roadworks and with the luxury of having reflective markers identifying the edges and centre of the Chilean road I pushed on in the dark. At last the road started going downhill, the temperature gradually got warmer and I finally arrived at an Arica hotel at 9:30pm having ridden 347 miles (555 kilometres) from Oruro.



Arica, Northern Chile

Chile brought on the first attack of culture shock on the trip. Travellers had said that Chile and Argentina were more like western countries and I had been looking forward to the contrast although not the increase in prices. Throughout Latin America the vast majority of motorbikes had been small machines used to take produce to and from the market, delivering bottles of gas and just about anything else you could think of through the week. At weekends they would be used to take the family (of up to five although the fifth had to be a newborn baby to fit) out visiting. In Chile I only saw larger bikes owned by enthusiasts as you do in Europe and North America. There was no continuous unnecessary beeping of car horns, no triple parked buses or buses stopping in the middle of junctions to pick up or let off passengers. The most disturbing thing was vehicles stopping at pedestrian crossings, totally unexpected and somewhat unnerving. Why? Is the driver trying to lure unsuspecting pedestrians off the kerb before accelerating towards them? It took awhile before I got used to the courteous behaviour of the Chilean drivers.

I expected the Chilean coast to be hot as I was still in the tropics but as it was midwinter and a coastal sea fog partially screened the sun it was necessary to wear two or sometimes three layers of clothing even in the afternoons. Certainly not cold but a long way from tropical. Iquique my next stop a bit further south was a few degrees cooler still.



Coastal Sea Fog Helped To Keep The Temperature Down

I was looking for a warm place with enough entertainment to keep me occupied while I waited for the temperature to increase on the passes to northern Argentina. Both the Jama and Sico passes east of San Pedro de Atacama were closed by snow while I was on the coast although the Jama pass that I intended to take was quickly reopened.

If it wasn't hot at least it wasn't raining, the Atacama Desert is the driest place on earth. Some weather stations have never recorded a drop of rain since they were opened and some of the river beds have been dry for at least 120,000 years. NASA used the Atacama Desert to test and develop instruments for the Viking Mars missions and subsequently found the soil of Mars and the Atacama Desert to be very similar.

One of the 'adventure sports' on offer in Iquique is throwing yourself off a cliff top with a parachutist strapped to your back. If everything works as it should, and fortunately it did on the dozen or saw times I was watching you gently float down onto the beach still connected to your parachutist.



Another Safe Landing

I had arranged to meet my Australian nephew, Jamie in Iquique. He had been skiing in Portillo, not far from Santiago, Chile with a bunch of his mates and was then backpacking towards Cusco in Peru to hike the Inca Trail. I hadn't seen him since he was about ten years old and he had changed considerably in the intervening years. Most alarmingly, he had shot up from coming up to my waist to towering above me all in the space of a mere fifteen years or so.

When we met; he was undecided whether to spend several more months backpacking around South America after hiking the Inca Trail or heading back to work in Australia and putting the money saved towards buying a motorbike to replace the one he sold to finance his South American trip. A difficult decision.



Jamie and Myself (Jamie Is The One On The Right Just In Case There Was Any Confusion)



If A Big Wave Comes You Must Run In Which Direction?

It was a good scenic ride along the coast from Iquique to Tocopilla then headed inland to Calama. Once I left the coast and gained some altitude the daytime temperatures increased although it would hover either side of freezing through the night. I camped in Calama, wearing as many layers of clothes I could get on while I slept and managed to stay warm.

I had been trying to get motorcycle third party insurance for Argentina, Paraguay, Brazil and Uruguay at each city I came to but was always told the same thing, they can only supply insurance for vehicles with Chilean registration plates. I guess this is because of the introduction of a computer system used to validate the vehicle and its owner which doesn't recognise foreign licence plates. In Calama I went to the same office where someone I knew had got motorcycle insurance a few months previously but was told they could only insure Chilean bikes now. I had read about other travellers not finding insurance in some of the Latin American countries to the north of Chile and Argentina but I never had a problem the general rule being if insurance is compulsory it will be available at the border. I never anticipated problems in the more westernised countries of Chile, Argentina etc.



Calama To San Pedro de Atacama

My final destination in northern Chile was San Pedro de Atacama which is at a slightly higher elevation than Calama and as there was a strong cold wind blowing for most of the journey I was undecided whether to camp or stay in a hostel. I expected it to be colder than Calama at night and wasn't sure how well I would sleep. I went to the campsite first and as I got off the bike someone came over to see if he could help. This turned out to be 'Hutch' a seventy two year old Californian who has spent the last seven years cycling around the world. He was camping so I decided to join him. Hutch plans on cycling for another year and his tales were truly inspirational.



Hutch On The Right On Year Seven Of Cycling Around The World
Posted by ianmoor@tiscali.co.uk at
04:10 AM
GMT
August 24, 2012 GMT
Argentina (North)
The previous Andes Pass that I had crossed, the Paso Chungara–Tambo Quemado between Bolivia and Chile had been very cold. I could have worn extra layers if I had realised that the road climbed up to 4660 metres but the lack of internet had prevented me from researching the route. In preparation for the Jama Pass from San Pedro de Atacama, Chile to Argentina I did plenty of research and was expecting a long, tough cold day. The Jama Pass is higher than Paso Chungara–Tambo Quemado at 4825 metres (15,681 feet) and further south which in the southern hemisphere means colder, something I'm still coming to terms with.



Jama or Sico, Choice Of Two Roads To Argentina

Although I had a long ride ahead of me, I followed the border officials advice and got to the Chilean customs and immigration offices on the outskirts of San Pedro de Atacama an hour or so after they opened when the early morning queues had died down. This had the additional advantage of allowing the temperature to rise from below freezing to pleasantly warm. It took twenty minutes or so to officially exit Chile followed by several hours riding east to the Argentinean border post before actually leaving Chilean soil. The climb up to Jama Pass and the Argentinean border was a bit cold but with my full compliment of layers, not uncomfortable. I was able to enjoy the mountain scenery of snow capped mountains and frozen lakes as the road swept up to the alto plano. The wind was strong enough to make it necessary to slow down when passing trucks in either direction to avoid veering off course in the lee of the truck.



200km (125 Miles) More To Go To Get To Purmamarca, The First Argentinean Town

At the head of the pass and the Argentinean border post the strong cold wind continued but fortunately customs and immigration were inside heated buildings. The bike was rocking in the wind when I parked which was a bit unnerving but it didn't look like it would actually blow over. From the border post it was a long ride on the alto plano. Although any ponds, lakes and streams at the side of the road were frozen; the afternoon temperature and my multiple clothing layers kept me warm. The Salinas Grande salt flats provided a change of scenery and an excuse to stop for a quick sandwich lunch.



The Salinas Grande Salt Flats

As I started my descent I could see clouds below me, the first I had seen in a while as the Atacama Desert had produced nothing but clear blue skies. The dampness in the air as I passed through the cloud made it cold but once I was in clear air again it warmed up. Jama Pass turned out to be a breeze, Not as cold as the Chungara–Tambo Quemado Pass, Argentinean immigration and customs paperwork was carried out in a heated building, the road was good and the scenery even better.



Salinas Grande, Argentina

I hadn't selected a particular destination for the day's ride as I didn't know how long it would take to get over the Andes. I arrived at the first town along the road, Purmamarca at 4pm and started to look out for accommodation and typical of me found fault, usually looking too expensive; with each place I saw. The high altitude still made camping a last resort option as it would be cold at night but the road continued to descend through Tumbaya and Volcan where I again rejected each hotel I saw. I decided I would definitely go no further than San Salvador de Jujuy but as I approached from above I could see it was a large town. I didn't have any addresses of hostels or campsites in S. S. Jujuy and in my experience the larger a place is the longer it takes to find what your looking for. Salta wasn't much further south and I had a campsite and several hostels in Salta saved on my GPS. I thought I could just make it to Salta before it got dark and decided to press on.

There are two roads between S. S. Jujuy and Salta, the main road makes a long loop to the east and back again or there is the much shorter Ruta 9 which on my map looked like a direct straight line between the two cities. I opted for the shorter Ruta 9. I was curious as to why the shorter, direct route wasn't shown as the main road and thought I had taken a wrong turning when I discovered the reason why. The paved road was barely wider than a two lane cycleway and wound its way through parkland and forest. The trees and greenery were a refreshing change from the dry dusty Atacama Desert and despite coming to the end of a long days ride and wanting to find accommodation before it got dark I still enjoyed the final leg of the journey.



Ruta 9 From S.S. Jujuy To Salta

A couple of days later, after exploring Salta I went for a day ride without luggage back through the Ruta 9 parkland as far as a reservoir with picnic tables. The first time through the park I had been trying to get to Salta before dark and didn't have time to stop for photographs so it was nice to enjoy the scenery at a more leisurely pace.



Ruta 9, North Of Salta, Too Narrow For The Speed Limit Sign

I arrived at the GPS location for the Salta Campground at 7pm after ten hours of riding the bike a total of 361 miles (578km), crossing the Chilean - Argentine border and various short stops for photographs. It was almost dark, there was no sign of a campground and if it was somewhere close by it wasn't an area I wanted to spend time in, still urban but a long way from the city centre. I eventually found a hostel within walking distance of the centre after dark but it didn't have motorbike parking. I ended up having to pay almost as much to park the bike as I did to stay in the hostel myself. Tired, hungry and grubby I opted for a quick shower followed by a visit to the nearest restaurant where I was delighted to discover that the rumours are true, the best steaks do come from Argentina.



Salta Plaza

I thought I might catch up with Nick in Cafayate, a tourist town in one of the Argentinean wine regions. We are following similar routes and timescales so run into each other now and again. Nick had given me details of the campsite he was staying in and warned that the weather was similar to the Atacama Desert, dry and warm during the day but cold at night. Once out of the seemingly never ending suburban traffic of Salta the scenery improved as the road ran through sculptured red rock country similar to the national parks of Utah that I had visited earlier in my trip. I also saw a snake warming itself on the road, turned around and rode back, not sure if it was alive or dead at the time but it had disappeared and therefore presumably alive.



Red Rock Country North Of Cafayate, Argentina

Nick had moved on when I arrived at the Cafayate campground and as he had advised, it was cold through the night although ok if you dressed rather than undressed before going to bed. The following day there was a wind blowing from the north which was strong enough to pick up and carry dust into every nook and cranny. Where I come from a northerly wind brings the cold but in the weird and wonderful world of the southern hemisphere everything is the wrong way round. That night, instead of putting clothes on before wriggling into my sleeping bag as I had done the previous night I ended up sleeping on top of my bedding in a state of near nakedness (not a pleasant image and I urge and advise you not to dwell on it). And that was it, the end of cold nights, an amazingly quick turn around of the weather within twenty four hours. For the rest of my stay in Cafayate and for weeks afterwards it was either warm or hot day and night.



Cafayate Vineyard

Ruta 40 is the famous Argentinean road that runs from its northern border with Bolivia to Cabo Virgenes, near the Straits of Magellan, about as far south as you can go by road. It is one of the longest roads in the world at over 5000km (3107 miles). I came across it for the first time at kilometre marker 4364 just north of Cafayate. I haven't worked out my route south yet but I expect to be crossing and travelling along Ruta 40 from time to time.



My First Encounter With The Famous Ruta 40

Argentinean street names are often named after town, cities or places within Argentina and a not uncommon one is the Islas de Malvinas (Falkland Islands). They also have road signs proclaiming that the islands belong to Argentina. A few people have raised the issue of the Malvinas with me but the only heated discussion I have had was with an Argentinean living in Ecuador who got very irate and excited; swearing that; 'Argentina would get The Malvinas back one day'.



Islas Malvinas (Falkland Islands) Avenue



The Malvinas (Falkland Islands) Are Argentinean

My next destination was Iguazu Falls on the Argentine, Brazilian, Paraguay border which; by the route I took was over 1200 miles (1920 km) to the east. The roads were straight and flat running through dusty agricultural land. The villages were quiet sleepy places with the usual collection of small corner shops, all selling the same supplies but little else in the way of amenities. They didn't even have internet cafes which was unusual. Further north all the villages would have at least one internet café which is usually the centre of activity for the teenagers.



The Long Straight Road To Iguazu Falls
Posted by ianmoor@tiscali.co.uk at
06:32 PM
GMT
Enter your email address to receive updates to Ian Moor's trip story!
Recent Entries
Archives:
Archives:
Monthly
Archives:
Category
Next HU Events
NEW!

UK - Haggs Bank: Sept. 19-21

NEW!

South Africa: Nov 14-16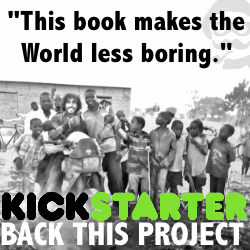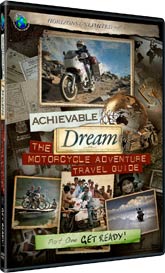 Northerners! The weather outside is frightful, so what better time to start planning your next adventure! To help you get started, for February we're taking 30% off the Get Ready! DVD in the HU Store! Remember to use Coupon Code 'GETREADY' on your order when you checkout.

10th Annual HU Travellers Photo Contest is on now! This is an opportunity for YOU to show us your best photos and win prizes!
NEW! HU 2014 Adventure Travel T-shirts! are now available in several colors! Be the first kid on your block to have them! New lower prices on synths!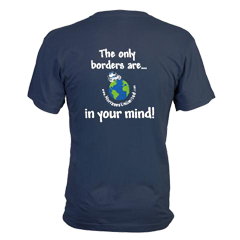 Check out the new Gildan Performance cotton-feel t-shirt - 100% poly, feels like soft cotton!

New to Horizons Unlimited?
New to motorcycle travelling? New to the HU site? Confused? Too many options? It's really very simple - just 4 easy steps!
Horizons Unlimited was founded in 1997 by Grant and Susan Johnson following their journey around the world on a BMW R80 G/S motorcycle.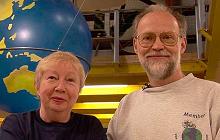 Read more about Grant & Susan's story
What turns you on to motorcycle travel?
Announcements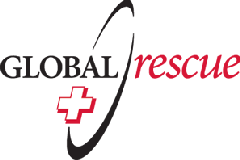 Global Rescue is the premier provider of medical, security and evacuation services worldwide and is the only company that will come to you, wherever you are, and evacuate you to your home hospital of choice. Additionally, Global Rescue places no restrictions on country of citizenship - all nationalities are eligible to sign-up!
Books & DVDs

All the best travel books and videos listed and often reviewed on HU's famous Books page. Check it out and get great travel books from all over the world.
Membership - Show you're proud to be a Horizons Unlimited Traveller!
Horizons Unlimited is not a big multi-national company, just two people who love motorcycle travel and have grown what started as a hobby in 1997 into a full time job (usually 8-10 hours per day and 7 days a week) and a labour of love. To keep it going and a roof over our heads, we run events such as this one (18 this year!); we sell inspirational and informative DVDs; we have a few selected advertisers; and we make a small amount from memberships.
You don't have to be a Member to come to an HU meeting, access the website, the HUBB or to receive the e-zine. What you get for your membership contribution is our sincere gratitude, good karma and knowing that you're helping to keep the motorcycle travel dream alive. Contributing Members and Gold Members do get additional features on the HUBB. Here's a list of all the Member benefits on the HUBB.

MC Air Shipping, (uncrated) USA / Canada / Europe and other areas. Be sure to say "Horizons Unlimited" to get your $25 discount on Shipping!
Insurance - see: For foreigners traveling in US and Canada and for Americans and Canadians traveling in other countries, then mail it to MC Express and get your HU $15 discount!
Story and photos copyright © All Rights Reserved.
Contact the author:
Editors note: We accept no responsibility for any of the above information in any way whatsoever. You are reminded to do your own research. Any commentary is strictly a personal opinion of the person supplying the information and is not to be construed as an endorsement of any kind.
Hosted by: Horizons Unlimited, the motorcycle travellers' website!
You can have your story here too - click for details!