July 07, 2011 GMT
Costa Rica (North)
"Nicaragua Invades Costa Rica" the news headline screamed. The last thing I wanted to read as I was researching my next border crossing. The story however wasn't quite as dramatic as the headline suggested. The Nicaraguan army were on maneuvers close to the border and using a Google map discovered a Costa Rican flag flying inside Nicaragua, they advanced; took down the flag and replaced it with a Nicaraguan one only to find out later that the map was wrong and they had inadvertently invaded Costa Rica and stolen their flag! Google quickly amended the map, the flag was presumably returned and I was reassured to learn that even the professionals get lost sometimes!



Seeking The Shade At The Las Manos Border Wondering If My 'Guide' Will Return With My Documents

The research I did on the Nicaragua / Costa Rica border crossing at Las Manos on the Pan American Highway didn't sound good. Lots of unofficial 'helpers' crowding around, no signs and difficulty locating the offices you need to go to. Reports of it taking four or five hours to get through were commonplace. As I slowed down approaching the border I was mobbed by the unofficial helpers or 'guides' as they called themselves. The road forked into two and there were no signs to indicate which road I should take to even get into the border area (It's the left fork). As there was no one else to ask directions from apart from the 'guides' I made a spontaneous decision to temporarily ignore my principles and selected a guide from the sea of faces surrounding me because he asked in English.

A few signs on the office buildings and getting rid of all the unofficial touts within the so called security area would make life a lot easier. If it hadn't been for the bad karma of going against my principles and hiring a 'guide' it would have been worth the $20 I paid as I was through the border in just over an hour, it definitely would have taken four or five frustrating hours if I had done it on my own. Still the idea of handing over my passport and vehicle documents to a stranger and seeing him disappear goes against the grain even if he does return with the necessary stamps a few minutes later.



Bananas, Papaya, Mangoes, Star Fruit & Other Tropical Fruits Fall At Your Feet In San Jose Gardens

I rode on the Pan Americana Highway to San Jose and the same hostel I stayed in last year when I flew to Costa Rica from the USA in order to renew my American visa. I knew it had secure parking for the bike and I found it a nice change to arrive in a familiar place. Rather than use house numbers to identify properties, a system that I have always thought works pretty well the Costa Ricans use directions from local landmarks. My hostels official address is "250 metres west of Spoon", Spoon being the name of a restaurant. What happens if Spoon moves or closes down? What is the Address of "Spoon", 250 metres east of Hostel Casa Yoses? It's all very confusing to both me and Garmin GPS.



Public Art Abounds In San Jose

It is raining so hard that it is exciting; sitting in the dry looking out through the floor to ceiling windows in the San Jose hostel. Water is overflowing the gutters creating a sheet of running water across the road and visibility is down to 75 metres. The lightning reflects off the polished floor followed a fraction of a second later by an ear splitting clash of thunder that rattles and vibrates the windows. I'm glad I'm not riding the bike; there would be no way of being safe or remaining dry. The wet season has started but fortunately it is fairly predictable so far; raining from 2pm to 5pm almost every day and fine the rest of the time.

The BMW top box that came with the motorbike has always leaked with up to a couple of spoonfuls of water slopping around inside after a normal downpour. This has never been a major problem as I normally ride with the top box empty for storing my helmet once I stop. The Costa Rican tropical storms however were leaving at least half a pint of water in the top box each day, time for action. I removed the hinges and refitted with plenty of silicone as they looked the most likely cause of the leak but it didn't make any difference. Not being able to stop the water leaking in I opted for the next best solution and drilled a hole in the base so that the water could run back out again!



Road Closed For Tango In The Park

I was getting spare parts for my camping stove sent to me in San Jose so stayed longer than I would have done otherwise while waiting for the parcel to arrive. I went out on a number of day rides to volcanoes and lakes in the Central Valley area of Costa Rica, always trying to get back before the afternoon rain started. I was a bit late one day and covered the last fifteen miles in a downpour and had to get a hostel staff member out in the rain to open the locked gate for me. Water was running off my oversuit but I had managed to stay almost dry on the inside.



Poas Volcano Bubbling Away

One trip took me to Poas Volcano National Park. A short walk leads to a mirador (view point) overlooking the crater of the active Poas Volcano at 8900 feet (2708 metres) above sea level. The park is frequently closed due to sulphuric gas emissions and geysers and lava flows are common although the last major eruption was in 1954. A longer walk back to the car park goes through lush cloud forest to Botos Lake in an extinct volcanic crater. I took an extended scenic route back to San Jose; taking highway 9 north on a rough section of road that wound through the mountains past the La Paz Waterfall Gardens. The road surface soon improved as I continued riding through stunning rain and cloud forest conservation areas and the Braulio Carrillo National Park back to San Jose.



Lake Botos, Poas Volcano National Park

Once the camping stove parts arrived I headed to La Fortuna and Lake Arenal. The town of La Fortuna nestles below another active volcano although the best views of the lava flows are at night and from the opposite; lake side of the volcano. I attempted to ride around Lake Arenal with my map and Garmin GPS showing a mix of paved and dirt roads going all the way around but chickened out at a wide boulder strewn river crossing. Whilst on my almost circumnavigation of Lake Arenal I rode directly underneath a monkey balanced on overhead power or phone cables calmly eating a mango.



Arenal Lake And Volcano

I have been looking at maps and studying the seasons for each country to the south of me in Central and South America trying to avoid the worst of the various wet seasons and to hopefully arrive in the extreme south of South America at the only sensible time of year, midsummer which is December / January. I hate planning that far ahead and normally don't have any time schedule to stick to other than the duration of the visas for each country. The choices are aiming to get to Tierra del Fuego at the end of this year or the end of 2012. To get there this year would mean increasing my pace whilst getting there next year would mean slowing down my already leisurely pace. Slowing down has the drawback of being in each of the tropical countries during its wet season which I had wanted to avoid but as it is unlikely that I will be here again it seems a shame to hurry through countries and miss some of the sights. Today I favour taking my time and coping with the wet seasons but I may yet change my mind.



I Chickened Out Of This River Crossing At Lake Arenal
Posted by ianmoor@tiscali.co.uk at
12:27 AM
GMT
July 18, 2011 GMT
Costa Rica (South)
Santa Maria de Dota is a small Tico (Costa Rican) village in a valley below the Talamanca Mountain Range fifty miles (80 Km) south of San Jose. I had booked a night in a bed and breakfast hotel in the cloud forest above the village and was to meet the owners in front of the church in the main plaza so that they could lead me to the B&B which they had said was difficult to find. I followed their four wheel drive out of town as we wound our way up the mountainside on rougher and rougher tracks. It started to drizzle as we entered the clouds but fortunately it wasn't much further to go.



My Talamanca Mountain Home


After exploring the forest I settled into a bamboo chair on the veranda reading my book and watching the ever changing scenery as the cloud drifted down then cleared for a while. I was surprised at how cold it got as the sun went down and had to put a shirt and jumper on over my tee shirt. Despite having two blankets on the bed it was so cold that I kept my clothes on when I went to bed. It has been well over six months since I have worn more than a single layer of clothing or felt the slightest bit cold so it made a refreshing change.



They Don't Call It Cloud Forest For Nothing



The Cloud Continuously Drifted In Then Cleared Again

It had rained through the night and the ground was decidedly soggy so I took my time over the enormous breakfast to allow the track to dry out a bit before riding back into Santa Maria de Dota and onto the Pacific coast. The mountain scenery south along the Pan American Highway was stunning as usual and the traffic was light enough to enjoy the view which isn't always the case on the Pan American. I was going to ride into San Isidro de El General to have a look at the town and possibly stay the night but the traffic was at a standstill so I backtracked a short way to highway 243 which wound its way down to the coast at Dominical and then followed the coast south to Uvita and the Marino Ballena National Park (Marine Whale N.P.). It still felt comfortable riding the bike but as soon as I stopped the heat and humidity swept over me as if I had opened an oven door. The difference from the previous day in the mountains a short ride away was expected but nevertheless intense.



Cover For Me And The Bike At The Tucan Hotel & Hostel, Uvita

I stayed in the Tucan Hostel in Uvita, a great place to chill out and relax which was just as well as I didn't have the energy to do much more than that as I reacclimatized to the heat and humidity. My front tyre was soft when I stopped so I pumped it up hoping I didn't have a puncture but it slowly deflated over three days. Luckily there were a number of tyre repair places in Uvita and I had a spare tube so I re-inflated the tyre, rode to one of the repairers and paid $7 (£4.50) to have the new tube fitted, much better than wrestling with the tyre myself. I've been fortunate with punctures on this trip, this is only the second one I have had in 41,500 miles (66000 km), the first was just outside San Francisco which I changed myself but I had to get a bus into town to buy a new tube as the old one had a two inch split in it that I couldn't patch. I bought spare tubes in San Francisco wondering what I would have done if I had a punctured tube that couldn't be repaired in the middle of nowhere, particularly if the weather was intensely hot, cold or wet. I have repaired the punctured tube to carry as a spare for now but will get a new one at the next opportunity.



Exploring The Tracks Around Uvita

Marino Ballena National Park (Marine Whale N.P.) at Uvita is named after the humpback whales that migrate here between December and April to breed before returning to the icy cold northern waters of Alaska. Unfortunately I am here at the wrong time of the year to see the whales; however I was lucky enough to see a humpbacked whale leaping out of the water and doing vertical dives on the Gaspe Peninsular in Quebec Province in 2009 during the first summer of this trip. The national park incorporates four beaches covering six miles (ten km) of coastline. There are signs warning of crocodiles at the small river outlets. A number of adventurous visitors were ignoring these signs and wading waist deep across one of the river mouths without any discernible blood loss.



Spanish For 'I'm Hungry Please Swim Here'?

I saw my first scorpion in Uvita calmly walking down the centre of a footpath. It was bigger than I expected; about two inches long (5cm); longer if you were silly enough to straighten its tail out! It was a good reminder to watch where you put your feet; especially if wearing sandals, I also started shaking out my boots again before putting them on, something that is recommended as numerous exotic creepy crawlies find the inside of footwear an attractive place to visit for some bizarre reason.



Uvita River

After a couple of weeks in the heat and humidity of the coast I was looking forward to getting back into the mountains, I prefer the roads, scenery and the cooler weather of the mountains although the downside is all the rain at this time of year. It had rained a few times in Uvita but it was dry most days. I was heading for San Vito near the Panamanian border where the forecast was for rain every day, I was hoping it would be similar to San Jose where it rained most afternoons but was normally fine until about 2pm.



Track Through A Bamboo Grove Inland From Uvita

The road took me south along the coast until I joined the Pan American Highway once again and headed inland alongside the Terraba river. This was another quiet stretch of road although possibly the trucks had found an alternative route as there were a number of landslides which had washed up to half the road down the embankment towards the river. At least makeshift barriers had been put up to make the missing road sections more visible. Once I left the Pan American Highway and continued south the potholes got bigger and more frequent the higher I climbed and the closer I got to San Vito. It started to rain towards the end of the journey, the first time I had ridden in the rain with the panniers on the bike since they were repaired in Honduras. I suspect the panniers may not be 100% waterproof anymore in a prolonged downpour but I was pleased to find everything dry after half an hour of steady rain.



San Vito Central Plaza Or Park

Parking the bike beside the small San Vito central plaza I found a hotel on foot, the easiest way with the one way system and town traffic. I picked a place on the main street, primarily because it had covered off street parking for the bike and I was anticipating plenty of rain. The volume of traffic using the steep main street was surprising, because of the one way system all the traffic coming into or leaving town had to pass down it. Large trucks regularly passed the hotel using their noisy Jake's compression engine brakes. I had never heard of these in Europe but most trucks in the Americas are fitted with them. In the USA there are signs stating that the use of these brakes is illegal in towns due to the noise pollution. In addition to the traffic noise road works involving pneumatic drills and mechanical diggers started up at 10:30pm and continued through the night for the first three nights. They do the work at night so that they don't disrupt the daytime traffic which is a great idea unless you happen to live in the street.



Rainy San Vito Main Street With Overnight Roadworks

San Vito was established by Italian immigrants in 1952, the first tree was felled to start clearing the ground on February 28th making the town six days older than me. Settled by farmers, they cleared land for a runway to get supplies in then set about creating the town and the surrounding coffee plantations, coffee is still the main industry. It is the only place in Costa Rica where Italian is taught in the schools and the town has a reputation for keeping to its Italian roots. I can't say that I was aware of it, maybe they have always had pizza restaurants in San Vito but now every town in the Americas (and Europe) has them!

The rain in San Vito is pretty much continuous apart from early morning which may be dry. I found a weather web site which breaks each day up into eight hour periods. In the week that I was there the driest period was Thursday morning with 4mm of rain and the wettest was Sunday afternoon with 50mm of rain. The total rainfall for the week was 355mm (14 inches). At least it is warm with temperatures in the low 20s centigrade (around 72F) but all the rain restricts riding the bike and walking.



The Road Above San Vito On The Only Day The Roads Were Dry

On the morning when the least rain was due to fall I rode the short distance to the Las Cruces Biological Station which is home to the Wilson Botanical Garden in light drizzle. The gardens have an estimated 2,000 species of plants, more than 400 bird and 113 mammal species and has the second largest collection of palms in the world.



Wilson Botanical Garden

Footpaths, very muddy footpaths when I was there take you to the different sections of the gardens. The drizzle eventually eased then stopped which brought out lots of butterflies, some bigger than the hummingbirds flitting about. I'm still fascinated by hummingbirds which I have seen regularly from southern Texas and on through Latin America. For instance, how do they breed? Clearly a hummingbird would fit inside an egg but there can't be enough room inside a hummingbird for an egg.



One Of The 2000 Plant Species In The Wilson Botanical Garden

I walked around the grounds wearing my (almost) waterproof motorcycle oversuit until the forecast heavy rain started at lunchtime making the slippery muddy footpaths even more slippery and misting up my glasses so that I couldn't see. I cut my visit short and slithered back to the bike, motorcycle boots aren't designed for these conditions. Riding slowly back to San Vito in the rain I was wiping my visor almost continuously in an attempt to get an occasional glimpse at the road.



A Rain Filled Sky Above The Wilson Botanical Garden

I originally planned to ride from San Vito through Ciudad Neily to the main Panama border crossing at Paso Canoas on the Pan Americana Highway. This crossing has a reputation for being a chaotically frustrating experience but there are few alternatives. There is a border crossing at Sabalito / Rio Sereno only five miles (eight km) from San Vito which isn't shown on my fairly detailed map. I had read that there was no customs office on the Costa Rican side so it wasn't possible to enter or leave with a vehicle which is probably the reason the map publishers don't show the border crossing. A blog entry from three or four years ago said that the roads on the Panama side of the border to Volcan, the first proper town were a series of unmarked dirt tracks which at this time of year could be awash with mud or washed away completely. I had dismissed trying this border as I didn't think I would be allowed to take the bike through if there wasn't a customs office and if I did get into Panama I could then be stranded by impassable dirt roads and not be allowed back into Costa Rica as you are supposed to stay out of the country for at least three days before being allowed back in. This rule is apparently aimed to make life a little tougher for the foreigners who live permanently in Costa Rica with tourist visas and have to exit and re-enter the country to renew their visas. It doesn't seem much of a hardship to me; having to spend a long weekend in Panama or Nicaragua once every three months.

All the rain meant I spent more time than usual in my hotel room so I utilised some of it to further investigate the Rio Sereno border and came across an 18 month old blog entry on the Adventure Rider website. The rider had crossed the border from Panama to Costa Rica without a problem and said there was a new paved road from Volcan to Dolega on the Panama side of the border that rivals the famous 'Tail Of The Dragon' road in the USA with mountain scenery comparable to Switzerland and New Zealand. This got my juices flowing and further research suggested that there was now a Costa Rican Customs office for clearing the bike and that the new road has been extended right up to the border on the Panamanian side so it's Panamanian 'Tail Of The Dragon' time.

I had to ask directions at a junction between San Vito and the border and the last few miles were on a dirt road which was easily passable despite all the recent rain. The border offices were close together in Rio Sereno although not particularly well signposted but it wasn't a problem as there were officials around to get directions from. There were no queues and I was invited to sit in the various offices while the paperwork was processed by friendly staff.



Rio Sereno Border, Costa Rican Immigration

There was an insurance office on the Panamanian side of the border for purchasing the compulsory motor insurance but not one on the Costa Rican side. Riders entering Costa Rica from Panama have to leave their bikes at the border and get the bus into town, purchase insurance then return to the border to collect their bikes.



The Final Procedure, The Panama Quarantine Station Where The Wheels Are Disinfected

The road and scenery from Rio Sereno to Volcan turned out to be excellent although there were no road signs and I had to get directions to find the right road out of Rio Sereno. If the Paso Canoas border crossing is anything like its reputation I would recommend taking the detour north to Rio Sereno through the coffee plantations and mountain scenery if travelling south. Coming north into Costa Rica is a bit more of a hassle because there is no insurance available although I did read that if a group of riders turn up one of them is allowed to ride into town and get insurance for the group but this would be at the discretion of the officer on duty. I'm now looking forward to finding the new Volcan to Dolega road, hopefully when it isn't raining.



In Panama, The Road From The Border To Volcan
Posted by ianmoor@tiscali.co.uk at
05:28 AM
GMT
Enter your email address to receive updates to Ian Moor's trip story!
Recent Entries
Archives:
Archives:
Monthly
Archives:
Category
NEW! HU 2015 Motorcycle Adventure Travel Calendar is now available! Get your copy now for some terrific travel inspiration!
HUGE, 11.5 x 16.5 inches, beautifully printed in Germany on top quality stock! Photos are the winning images from over 600 entries in the 9th Annual HU Photo Contest!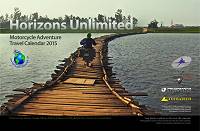 "The calendar is magnificent!"
"I just wanted to say how much I'm loving the new, larger calendar!"
We share the profit with the winning photographers. YOU could be in the HU Calendar too - enter here!
Next HU Events
NEW!

USA Virginia: Apr 9-12, 2015
Take 40% off Road Heroes Part 1 until October 31 only!
Road Heroes features tales of adventure, joy and sheer terror by veteran travellers Peter and Kay Forwood (193 countries two-up on a Harley); Dr. Greg Frazier (5 times RTW); Tiffany Coates (RTW solo female); and Rene Cormier (University of Gravel Roads).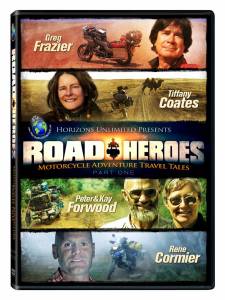 "Inspiring and hilarious!"
"I loved watching this DVD!"
"Lots of amazing stories and even more amazing photographs, it's great fun and very inspirational."
"Wonderful entertainment!"
Check it out at the HU Store! Remember to use Coupon Code 'HEROES' on your order when you checkout.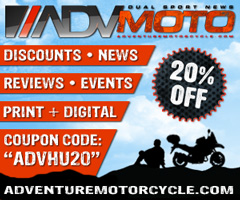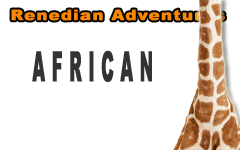 What others say about HU...
"I just wanted to say thanks for doing this and sharing so much with the rest of us." Dave, USA
"Your website is a mecca of valuable information and the DVD series is informative, entertaining, and inspiring! The new look of the website is very impressive, updated and catchy. Thank you so very much!" Jennifer, Canada
"...Great site. Keep up the good work." Murray and Carmen, Australia
"We just finished a 7 month 22,000+ mile scouting trip from Alaska to the bottom of Chile and I can't tell you how many times we referred to your site for help. From how to adjust your valves, to where to stay in the back country of Peru. Horizons Unlimited was a key player in our success. Motorcycle enthusiasts from around the world are in debt to your services." Alaska Riders

10th Annual HU Travellers Photo Contest is on now! This is an opportunity for YOU to show us your best photos and win prizes!
NEW! HU 2014 Adventure Travel T-shirts! are now available in several colors! Be the first kid on your block to have them! New lower prices on synths!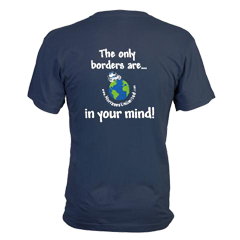 Check out the new Gildan Performance cotton-feel t-shirt - 100% poly, feels like soft cotton!

What turns you on to motorcycle travel?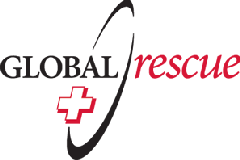 Global Rescue is the premier provider of medical, security and evacuation services worldwide and is the only company that will come to you, wherever you are, and evacuate you to your home hospital of choice. Additionally, Global Rescue places no restrictions on country of citizenship - all nationalities are eligible to sign-up!
New to Horizons Unlimited?
New to motorcycle travelling? New to the HU site? Confused? Too many options? It's really very simple - just 4 easy steps!
Horizons Unlimited was founded in 1997 by Grant and Susan Johnson following their journey around the world on a BMW R80 G/S motorcycle.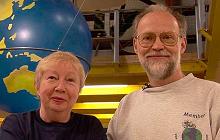 Read more about Grant & Susan's story
Membership - help keep us going!
Horizons Unlimited is not a big multi-national company, just two people who love motorcycle travel and have grown what started as a hobby in 1997 into a full time job (usually 8-10 hours per day and 7 days a week) and a labour of love. To keep it going and a roof over our heads, we run events (22 this year!); we sell inspirational and informative DVDs; we have a few selected advertisers; and we make a small amount from memberships.
You don't have to be a Member to come to an HU meeting, access the website, the HUBB or to receive the e-zine. What you get for your membership contribution is our sincere gratitude, good karma and knowing that you're helping to keep the motorcycle travel dream alive. Contributing Members and Gold Members do get additional features on the HUBB. Here's a list of all the Member benefits on the HUBB.
Books & DVDs

All the best travel books and videos listed and often reviewed on HU's famous Books page. Check it out and get great travel books from all over the world.

MC Air Shipping, (uncrated) USA / Canada / Europe and other areas. Be sure to say "Horizons Unlimited" to get your $25 discount on Shipping!
Insurance - see: For foreigners traveling in US and Canada and for Americans and Canadians traveling in other countries, then mail it to MC Express and get your HU $15 discount!
Story and photos copyright © All Rights Reserved.
Contact the author:
Editors note: We accept no responsibility for any of the above information in any way whatsoever. You are reminded to do your own research. Any commentary is strictly a personal opinion of the person supplying the information and is not to be construed as an endorsement of any kind.
Hosted by: Horizons Unlimited, the motorcycle travellers' website!
You can have your story here too - click for details!