May 13, 2011 GMT
Antigua To Honduras
I treated myself to breakfast at the Valhalla macadamia nut farm open air restaurant before setting off in the direction of Honduras. Valhalla was the third and final place I stayed in Antigua thanks to the Lent and Easter Festival filling all the available accommodation although living in a bamboo cabin amidst the rows of nut trees was worth the effort of moving. A very tranquil setting after the hustle, bustle and noise of central Antigua in festival time.



Valhalla Restaurant In A Tropical Garden

I had plotted a route on secondary roads and wasn't sure what to expect, they tend to be a mix of paved and reasonable dirt roads with the more difficult dirt roads marked as 'other roads or tracks' Some of these rough dirt tracks can be a bit too rough for me as I remind myself I'm now too old to bounce when I hit the deck. However I had a good first day riding to Pacaya volcano on a paved road which then turned to an average grade dirt road as it wound its way down to Laguna de Calderas (A lake inside a dormant volcano) and on to Amatitlan lake that I had visited via a different route on a day trip from Antigua.



Laguna de Calderas Near Pacaya Volcano

More sections of paved and dirt road followed as I climbed up into the cooler mountains then dropped back into the searing heat of the valley bottoms. By mid afternoon I started to look out for somewhere to stay and finally found a motel on the outskirts of Jalapa at 5pm for six pounds ($9US). It was another of the so called 'Love Motels' with high walls and a private garage beneath each room to offer the maximum privacy for the cliental. As far as I'm concerned I have secure parking for the bike and a bed and hot shower for me. The only drawback is that they are on the outskirts of towns and often don't have any shops or restaurants nearby. As I'm usually carrying some food and water on the bike it isn't a major inconvenience.



Lago de Amatitlan

The following day was another good mix of dirt and paved roads travelling through the mountain scenery as I headed for the Honduran border then on to Copan Ruinas, another Mayan archaeological site.

In Antigua I had swapped my Garmin GPS map of the United States and Canada for what I was told was 'open source' GPS maps of Central and South America. I had bought the official Garmin map of the area which only shows the major roads and international borders and these aren't very accurate and not a great deal of help with navigation. The 'open source' maps are better and include street level mapping of some towns and cities although some roads are missing and others appear as unconnected sections of roads that you have to assume will be connected in the real world. I was told these 'open source' maps are created by enthusiasts driving or riding around recording their routes on their GPS units then downloading them into some mapping software. This would explain why roads are broken up into unconnected sections if different journeys are taken that don't quite overlap.

The border crossing was relatively straight forward. Having cleared Guatemalan immigration and customs I changed my remaining Guatemalan currency into Honduran Lempiras with the private money changers that have free access to the border security area. Honduran immigration was straight forward but clearing the bike at the Honduran customs was a bit slow and tedious. I had stocked up on photocopies of my documents beforehand but customs wanted three copies of my driving licence with a different page showing than the Spanish translation I had photocopied. The photocopy office was just outside the security barrier in Guatemala, the first or last building in the country so I had to walk back into Guatemala, melting in my bike suit. On returning to Honduran customs I had to wait while a DHL driver was processed then the form filling and stamping for my bike continued. I then had to return to Guatemala for triplicate photocopies of the stamps that had just been put in my passport.



Copan Ruins Mayan Site

Once the formalities were completed I rode the short distance to Copan Ruinas, my first stop in Honduras.

Posted by ianmoor@tiscali.co.uk at
01:04 AM
GMT
May 16, 2011 GMT
Honduras
Arriving at Copan Ruinas I went searching for a phone to call a couple of contacts for camping outside of town. The first, a friend of Lorenzo, the owner of Valhalla macadamia nut farm where I had stayed near Antigua, Guatemala was out and I needed to get my accommodation sorted out quickly. The second contact was a Finca (farm) that advertised various tourist activities including camping but when I found their agent in town they said they didn't offer camping after all. Fortunately I had passed a hostel during my searching for a phone so I stayed there as second best to camping.



Copan Ruinas Town Park

The Copan Mayan archaeological site is a short walk from the town, I went early one morning before it got too hot. The entrance fee was a bit steep at ten pounds ($15US) particularly as Hondurans are admitted for 65 pence ($1US), however it was interesting to look around and marvel at the sophisticated lifestyle the pre Columbian Mayans had created for themselves. No one knows for sure why the Mayan civilisation collapsed although the most popular theory is that the cities become overpopulated, all the trees were felled for firewood and land clearance which resulted in soil erosion and poor harvests until the agricultural system could no longer support the population and they dispersed to new smaller, simpler villages.



Copan Mayan Ruins

There was a nature walk through the trees on the archaeological site that lead to what is believed to be a practise Mayan ball court. The ball courts were used for a ball game although as some of the participants were sacrificed to the Mayan gods at the end of the match it was a serious game. The experts are still unsure whether it was the winners or the losers that were sacrificed. Was it an honour to win and be sacrificed where a better afterlife awaits or were the losers dragged kicking and screaming to the sacrificial altar? They must have been high pressure games either way. There were lots of colourful tropical birds and butterflies amongst the trees but none would stay still long enough to be photographed.



Copan Ruins Mayan Ballcourt. Players Were Sacrificed To The Gods After A Game

I had plotted my route from Copan Ruinas on secondary roads as I usually do. These secondary roads tend to be a mix of paved and dirt with little traffic. My map didn't distinguish between the paved and unpaved sections but I hadn't, so far encountered any secondary roads that were too rough for me or the bike. The day started out well with some good mountain scenery, riding on the usual mix of paved and unpaved roads to Corquin. Although it was only late morning I thought about stopping for the day as I had enjoyed the ride and didn't want to spoil the day by doing too much, particularly in the tropical heat of the afternoon. However it was an unpaved section of road leading out of Corquin which made me think I might be able to find somewhere to camp so continued on.



The Road From Corquin

You always think you will be able to turn round and head back if the road gets too bad but this time I ended up going down hill on a steep rocky track that was too narrow and slippery to turn around. When I eventually came to a place where I could turn around I knew I would have trouble retracing my steps back up the hill so kept going on into the unknown. The unknown turned out to be worse than the known but of course I couldn't know that at the time. I dropped the bike eight times, all at slower than walking pace mainly as I was trying to gently inch down rough, rocky, steep descents. There's something very sobering about being at the top of a steep incline and counting three spots where you are almost certain to come off but there is no alternative but to head down anyway. It reminded me of my Motorcycle Enduro days except that my bike was lighter and I was younger and fitter back then.



My Highway From Hell

Exhausted, battered and bruised I found a rare level spot beside a stream and asked a farmer if it would be ok to camp there. He said that it would be and I put the tent up looking forward to voluntarily being horizontal as opposed to falling into that position from the bike. A second farmer came along and pointed to a hole four feet from the tent and showed me some faint tracks coming from the hole that I hadn't noticed. He said (mainly through mime) that it was a snake as thick as an arm and that its jaw was big enough to bite across a thigh and that it could be attracted by the tent. And he was talking about his farmers muscular arm and thigh not my puny specimens. Flat areas for a tent were hard to find in these steep hills and I was far too tired to seriously think about moving. I asked, again mainly through mime if it was a good idea to block the hole up with rocks, he agreed and helped fill up the entrance then found me a stout stick to arm myself with. Thankfully I never got to see this monstrous serpent.



My Campsite Next To A Giant Serpent

The next day, feeling rested although a bit stiff and sore, I did a further couple of km on the rough track and managed to stay on the bike this time. I was still riding on dirt but the route was now thankfully a regular unpaved road. I was undecided about chancing doing more dirt roads or sticking to paved roads but the unpaved road continued to improved and I regained some confidence. My original route via La Esperanza would take me onto another eighty km or so section of unpaved road while the alternate paved route involved a big loop that added over 300 km to the journey. According to my map the paved road should have started again at San Manuel Colohete but although it was a reasonable dirt road it continued for a further 65 km to Gracias. As the map was wrong about the type of road on this section and having decided that paved roads were at least for now the best invention man or god ever made I took the longer paved loop. Both panniers were damaged by the repeated dropping of the bike and I was bruised and stiff. Initially I considered stopping at the first hostel or hotel I came to in order to lick my wounds but once I was on tarmac the riding was easy so kept going until mid afternoon.



Damaged Panniers On The Highway From Hell

I stopped in Zambrano for a couple of days to get the panniers repaired. The mechanic did a reasonable job and only charged 9 pounds ($14US) although I haven't tested them to see if they are still waterproof and suspect that they may not be. The Zambrano hotel I stayed in, the only one I could find, was on the main road (Pan Americana Highway) which was undergoing repairs and had a contra flow system in operation. The noise of trucks stopping with their engine brakes and pulling away again continued through the night and in the early hours the cockerels added to the racket with their pre dawn chorus.



The Sleepy Town Of Zambrano Once Away From The Pan American Highway

The next stop was Santa Lucia in the Valle de Angeles a short distance from the capital city, Tegucigalpa. Santa Lucia is a picturesque hill town originally built in the colonial era to mine the silver ore deposits discovered in the mountains. With views down the valley to Tegucigalpa it has steep cobbled streets, a lakeside park and bougainvillea trees with flame red flowers in the parks and gardens.



The Hill Town Of Santa Lucia

From Santa Lucia my route took me back to the Pan American highway and on to the Las Manos border crossing to Nicaragua. My first border crossing on a main road so I expected delays and chaos.



Colourful Hedge In Santa Lucia
Posted by ianmoor@tiscali.co.uk at
12:13 AM
GMT
May 27, 2011 GMT
Nicaragua
I thought the Honduran / Nicaraguan border at Las Manos on the Pan Americana Highway would be busy but I was through in an efficient hour, the quickest border crossing yet. The main time saver was not having to find the photocopy office and get documents copied as none were required, wonderful. I had been told I would need to find a guy selling the compulsory vehicle insurance who didn't have an office and mingled with all the money changers and unofficial 'helpers' on the street inside the security barriers however he found me and 'guided' me to the super efficient Honduran immigration and customs. My normal routine at border crossings is to find the first office, then ask the official there and at each subsequent office where the next office I need is until I eventually emerge from the bureaucracy in the new country without engaging the dubious assistance of the unofficial 'helpers'. This time I seem to have been adopted by one of the officials which is harder to get rid of and 'help' was completely unnecessary as it wasn't difficult to locate each office in turn. He took my documents to complete the insurance certificate, charged $16US and keeping hold of all the documents led me to the Nicaraguan customs who needed to see the insurance certificate before processing the bike. He said I needed to pay $12US to customs which I gave him but don't know whether this was legitimate or if the insurance guy pocketed the cash, I didn't see him hand it over and suspect customs is supposed to be free. We then went to Nicaraguan immigration which was swift and genuinely costs C270 ($12US) although I handed over C300 and never got any change. Having completed all the formalities I finally got my insurance certificate, when I examined it later the official price of $12US was on the certificate so he overcharged me $4US and possibly took $12US for Nicaraguan Customs that didn't need to be paid. He then had the cheek to ask for money for 'helping' me, I used my tried and tested routine of pretending I didn't understand him, shook his hand and thanked him as I got on the bike to head off into Nicaragua.



Pan American Highway
My first thoughts when thinking about Nicaragua were of the 'Iran Contra Affair', an inglorious period in the history of the USA. In the late 1980's. Under President Ronald Reagan the U.S. government secretly sold weapons including over 15,000 missiles to Iran contravening their own arms embargo in an attempt to secure the release of American hostages held in Iran. Profits from the illegal arms sales were then used to support the Nicaraguan Contras despite the fact that Congress had passed a bill making the supply of funds to the Contras illegal. The Contra rebels were fighting against the Nicaraguan Somoza government with both sides accused of indiscriminate killing and torture. When the affair became public knowledge a number of US government officials were prosecuted and given jail sentences while others were awaiting trial but they were pardoned in 1992 by President George Bush and some were given new government jobs.



Granada Central Park

The road to Granada, predominately on the Pan Americana Highway was good quality paved road the whole way and I was pleasantly surprised to be able to ride straight into the city centre without any heavy traffic to get caught up in. I located a street near the main central park (plaza) that I knew from an internet search had two hostels then spent an hour walking around until I found a hostel with free secure parking for the bike. I had the place to myself for the duration of my stay.



Horse Drawn Carriages Awaiting Customers

Granada was hot and humid although once it rained heavily for twelve hours through the night bringing the temperature down sufficiently to get a better nights sleep. I awoke to a flooded room when rain had leaked through and run down a wall. This is the start of the wet season and I'm hoping it won't interrupt my travelling too much.

Granada is reputed to be the oldest Spanish colonial city in the Americas having been founded in 1524 by the Spanish conqueror Francisco Hernandez de Cordoba who named Granada after his home town in Spain. As my hostel WiFi wasn't working I occasionally treated myself to a meal in a restaurant with balcony tables on the first floor looking out over the colonial main square, the Plaza de la Independencia where I could also use the internet. From the main square it was a pleasant 25 minute stroll to Lake Nicaragua where there was a slightly run down park leading to a sandy beach.



Granada Cathedral

Lake Nicaragua is the second largest lake in Latin America after Lake Titicaca which sits on the Peru / Bolivian border. The lake is connected to the Caribbean via the navigable San Juan River. Before the construction of the Panama canal ships would sail from the Caribbean into Lake Nicaragua where a stagecoach line would carry goods and passengers across the 20km (12.5 miles) strip of land to the Pacific Ocean where they could continue their voyage by ship. There was talk of building a canal here but Panama was eventually chosen although the subject of a Nicaraguan canal to compete with Panama arises from time to time.



Black Sandy Beach, Lake Nicaragua

I looked into riding around the east side of lake Nicaragua on dirt roads to the small border crossing into Costa Rica at Los Chiles. This border crossing is normally only used by local foot passengers and involves a boat trip to the border. The boat is apparently big enough to take a motorbike but I was eventually dissuaded when I learnt that there is no vehicle insurance available at the border and you have to get a bus into town, get the insurance then return to the border to complete the paperwork and collect your motorbike. The only other border crossing into Costa Rica is on the busy Pan Americana Highway with reports that it is one of the slowest and most confusing borders in Central America, something I'm not looking forward to.

The ride south on the Pan Americana Highway brought me alongside Lake Nicaragua for a while where I got a glimpse through the mist of Ometepe, a volcanic island rising out of the lake. Ometepe is formed by two volcanoes joined by a low isthmus. The symmetrical cone shaped Concepción volcano which forms the north of Ometepe last erupted in March 2010. This eruption was extremely violent with an ash cloud rising to 3000m (10,000ft); however few of the island's inhabitants heeded the order from the government in Managua to evacuate and as it turned out, no one was injured,



Lake Nicaragua With Ometepe Lost In The Mist
Posted by ianmoor@tiscali.co.uk at
06:12 PM
GMT
Enter your email address to receive updates to Ian Moor's trip story!
Recent Entries
Archives:
Archives:
Monthly
Archives:
Category
NEW! HU 2015 Motorcycle Adventure Travel Calendar is now available! Get your copy now for some terrific travel inspiration!
HUGE, 11.5 x 16.5 inches, beautifully printed in Germany on top quality stock! Photos are the winning images from over 600 entries in the 9th Annual HU Photo Contest!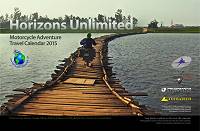 "The calendar is magnificent!"
"I just wanted to say how much I'm loving the new, larger calendar!"
We share the profit with the winning photographers. YOU could be in the HU Calendar too - enter here!
Next HU Events
NEW!

USA Virginia: Apr 9-12, 2015
Take 40% off Road Heroes Part 1 until October 31 only!
Road Heroes features tales of adventure, joy and sheer terror by veteran travellers Peter and Kay Forwood (193 countries two-up on a Harley); Dr. Greg Frazier (5 times RTW); Tiffany Coates (RTW solo female); and Rene Cormier (University of Gravel Roads).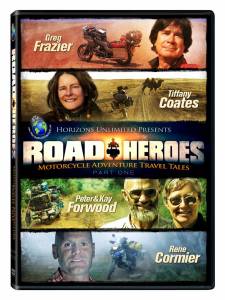 "Inspiring and hilarious!"
"I loved watching this DVD!"
"Lots of amazing stories and even more amazing photographs, it's great fun and very inspirational."
"Wonderful entertainment!"
Check it out at the HU Store! Remember to use Coupon Code 'HEROES' on your order when you checkout.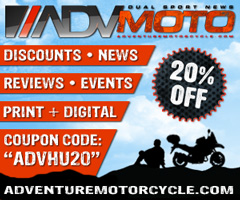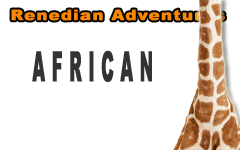 What others say about HU...
"I just wanted to say thanks for doing this and sharing so much with the rest of us." Dave, USA
"Your website is a mecca of valuable information and the DVD series is informative, entertaining, and inspiring! The new look of the website is very impressive, updated and catchy. Thank you so very much!" Jennifer, Canada
"...Great site. Keep up the good work." Murray and Carmen, Australia
"We just finished a 7 month 22,000+ mile scouting trip from Alaska to the bottom of Chile and I can't tell you how many times we referred to your site for help. From how to adjust your valves, to where to stay in the back country of Peru. Horizons Unlimited was a key player in our success. Motorcycle enthusiasts from around the world are in debt to your services." Alaska Riders

10th Annual HU Travellers Photo Contest is on now! This is an opportunity for YOU to show us your best photos and win prizes!
NEW! HU 2014 Adventure Travel T-shirts! are now available in several colors! Be the first kid on your block to have them! New lower prices on synths!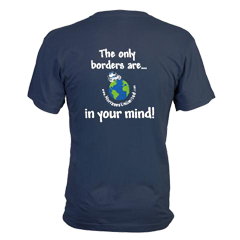 Check out the new Gildan Performance cotton-feel t-shirt - 100% poly, feels like soft cotton!

What turns you on to motorcycle travel?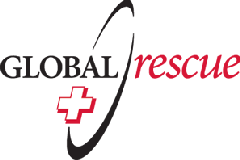 Global Rescue is the premier provider of medical, security and evacuation services worldwide and is the only company that will come to you, wherever you are, and evacuate you to your home hospital of choice. Additionally, Global Rescue places no restrictions on country of citizenship - all nationalities are eligible to sign-up!
New to Horizons Unlimited?
New to motorcycle travelling? New to the HU site? Confused? Too many options? It's really very simple - just 4 easy steps!
Horizons Unlimited was founded in 1997 by Grant and Susan Johnson following their journey around the world on a BMW R80 G/S motorcycle.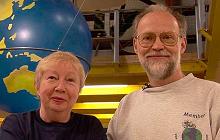 Read more about Grant & Susan's story
Membership - help keep us going!
Horizons Unlimited is not a big multi-national company, just two people who love motorcycle travel and have grown what started as a hobby in 1997 into a full time job (usually 8-10 hours per day and 7 days a week) and a labour of love. To keep it going and a roof over our heads, we run events (22 this year!); we sell inspirational and informative DVDs; we have a few selected advertisers; and we make a small amount from memberships.
You don't have to be a Member to come to an HU meeting, access the website, the HUBB or to receive the e-zine. What you get for your membership contribution is our sincere gratitude, good karma and knowing that you're helping to keep the motorcycle travel dream alive. Contributing Members and Gold Members do get additional features on the HUBB. Here's a list of all the Member benefits on the HUBB.
Books & DVDs

All the best travel books and videos listed and often reviewed on HU's famous Books page. Check it out and get great travel books from all over the world.

MC Air Shipping, (uncrated) USA / Canada / Europe and other areas. Be sure to say "Horizons Unlimited" to get your $25 discount on Shipping!
Insurance - see: For foreigners traveling in US and Canada and for Americans and Canadians traveling in other countries, then mail it to MC Express and get your HU $15 discount!
Story and photos copyright © All Rights Reserved.
Contact the author:
Editors note: We accept no responsibility for any of the above information in any way whatsoever. You are reminded to do your own research. Any commentary is strictly a personal opinion of the person supplying the information and is not to be construed as an endorsement of any kind.
Hosted by: Horizons Unlimited, the motorcycle travellers' website!
You can have your story here too - click for details!