August 12, 2010 GMT
Montana, Wyoming And South Dakota

Montana Ranch

It was nice to get back to the Montana ranch I stayed at over the winter and meet up with the friends I had made. I carried out a number of little jobs on the bike including making fork seal guards and extending the hand guards by cutting up a flexible chopping board. A set of tyres had been ordered but only one had arrived so I decided to do a side trip to South Dakota then return to the ranch to change tyres and carry out another service. I should have everything with me to carry out the work but it's reassuring to have a workshop full of tools just in case.


I got my first opportunity to try canoeing when I was invited to 'float' down the Yellowstone River one hot afternoon. Always one for continuing round the next bend or over the next hill I wanted to keep going when we arrived at our destination although I gather it is quite a long way to the ocean.

I did a number of the walks I used to do on the ranch in the winter. It all looks so different now that everything is green rather than covered in snow. Also the distances seemed shorter now that I don't have to wade through deep snow.



Montana Ranch

I left the ranch later than intended as my laptop was still showing USA Pacific time and it was an hour later than I thought. The first destination was Pompey's Pillar in Montana where the only physical evidence of the Lewis and Clark expedition across the USA, the signature of William Clark carved onto a sandstone butte (isolated hill with steep or vertical sides and a small flat top) and dated July 25th 1806 when he was returning from the Pacific. It was a hot afternoon so I spent more time than I would normally have in the cool visitors centre. I hope I'm more acclimatised to the heat before I get to the really hot stuff as I travel south.



Pompey's Pillar, Montana

From Pompey's Pillar I rode to the site of the battle of the Little Big Horn where General Custer and the 7th Cavalry were defeated by the Northern Cheyenne, and Lakota Native Americans on the 25th and 26th June 1876. The first book I remember owning and reading as a child was about Custer and this battle which I read at the time as an exciting 'Cowboy and Indian' story. Thankfully, myself and the USA Government are more enlightened now. In recent years a memorial to the Native Americans who lost their lives in the battle has been erected and marker stones indicating the location where Native Americans died have started to be placed alongside the soldiers marker stones. Most of the Native American dead were removed by their families shortly after the battle so research is on-going to identify exactly where they died to add further marker stones.



Cheyenne Marker Stone, Little Bighorn Battle Site, Montana



Part Of The Native American Memorial, Little Bighorn Battle Site, Montana

It was 7:30pm when I left the battlefield in search of a campsite. I was heading east on Highway 212 and intended stopping at the first campsite I came to which wasn't until 9pm in semi darkness when I pulled into a Custer National Forest campground. As far as I could tell in the increasing darkness I was the only one in the campground which was free and consequently classed as primitive. While unpacking the camping gear, all alone in the darkening woods I spotted something on a low fence marking the end of the campsite parking bay. Investigating with my head torch I saw an eerie image of Marilyn Manson staring back at me on a book cover. Very creepy. I recovered my composure sufficiently to start reading the book once I was tucked up in my sleeping bag inside the tent although it wasn't really my kind of reading material.



Devil's Tower, Wyoming

The following morning I continued east to Devil's Tower, Wyoming, an enormous butte or rock outcrop that was used in the Steven Spielberg film 'Close Encounters Of The Third Kind'. I was told that sixteen minutes of the finished film was shot at Devil's Tower and further scenes used a model of the tower in a Hollywood studio.



Sturgis, South Dakota

I arrived at Sturgis, South Dakota, home of one of the largest motorcycle gatherings in the world four or five days before the rally officially started although there were a lot of bikes around and vendors marquees going up on every available bit of land. It looked like rain so I sought shelter just before the sky really darkened and very heavy rain started to fall. This kept up most of the day and when I checked the weather forecast on the internet there was a travel warning saying that ping pong ball sized hailstone could fall causing damage to property. By late afternoon the skies brightened and the rain stopped so I headed into the black hills towards Mount Rushmore where the roadside had an inch or two of what looked like snow but was obviously ice from the hailstones.



Mount Rushmore, South Dakota

Mount Rushmore was impressive, I walked a short footpath which gave different viewing points of the carvings and passed a display area showing how the carving was carried out. Fortunately the sky clouded over as I was about to leave making the afternoon a bit cooler as I rode through Custer State Park and saw buffalo, deer, prong horn antelope and a herd of donkeys.



Custer State Park, South Dakota

I left Custer State Park on Highway 87 which sweeps up through a range of needle point peaks, passing through a number of single lane tunnels through the mountains. A Sturgis Motorcycling Road Guide said that this road required the "Highest Skill Level" which I thought an odd way of rating the local roads however on turning a corner I saw a biker and his pillion picking up his Harley Davidson having dropped it at low speed approaching the following bend. Passenger and rider looked fine although I suspect the minor chrome and paint damage to the bike would cost a fair bit to put right.



Needles Highway (Hwy 87) Is Well Worth Doing, South Dakota

The Crazy Horse Memorial, an ongoing mountain carving on similar lines to Mount Rushmore but on a much larger scale is an amazing project. Sculptor Korczak Ziolkowski was invited to design and commence the carving by Lakota Chief Henry Standing Bear after winning an award for some previous work. After designing the carving of Chief Crazy Horse sitting astride a horse pointing to the Lakota land where his dead lie buried he spent the next fifty years and the rest of his life carving Crazy Horse's face. The face was completed in 1998. Seven of his children are continuing work on the carving and although they won't speculate on how long it will take, based on what has been completed and what is left to do it must be well over a hundred years worth of work left to do. I think there is something highly commendable in working on a project like this knowing that you will only see a small portion completed in your own lifetime.



Crazy Horse Memorial, The Finished Model With The Real Work In Progress Behind



Crazy Horse Memorial, South Dakota

I Stopped for breakfast at Newcastle, Wyoming as I am from Newcastle upon Tyne, England. Seven miles from Newcastle there was a coal mining camp where alcohol was forbidden. The miners would travel into Newcastle to party which reminds me of my younger days working in a coal mine and going into Newcastle on a Friday night to celebrate the start of the weekend.



Newcastle, Wyoming

I returned to the ranch via the Big Horn Mountains and stopped at the summit on Powder River Pass at 9666 feet. Climbing a nearby rocky hill must have taken me over the 10,000 feet level.



Looking Down On Powder River Pass In The Bighorn Mountains, Wyoming

I got back to the ranch in Montana by mid afternoon and set about changing the tyres. I wanted to do the job using only the tools I carry on the bike but couldn't break the bead of the tyres with the tyre levers I was carrying and couldn't use the bike side stand when I had a wheel off. I ended up using a leg of the heavy workbench in the ranch workshop which did the job straight away. I carried out the service the following day which went ok but there is a lot of stuff to remove to gain access to the rocker cover to check the valve clearance.



Before The Haircut ...

I got a severe haircut before a second farewell party to say goodbye to the friends I made in Montana. After two farewell parties it would be embarrassing to turn up again on this trip but it would be nice to get back one day.



... And After The Haircut. I'm Concerned About What The Man Through The Window Is Up To
Posted by ianmoor@tiscali.co.uk at
07:58 PM
GMT
August 21, 2010 GMT
Wyoming

'My' Montana Ranch

I left 'my' Montana Ranch heading south to Lewis Lake in the southern part of Yellowstone National Park, Wyoming. I had been to the north of Yellowstone National Park twice but on both occasions the roads to the south of the park were blocked by snow. On the first occasion in the autumn of last year one road was blocked by snow and the other by a wild fire which made me think some greater power didn't want me to get to the south of the park!


Lewis Lake, Yellowstone N.P.

I hoped to camp at Lewis Lake which is a 'first come, first served' campground. Being peak season I thought the chances were slim but I was lucky enough to get one of the last sites. The popularity of camping in Yellowstone may have taken a dive as the previous month one person was killed and two others injured when a grizzly bear with yearling cubs dragged them from their tents through the night from a Yellowstone campground. When I first heard of this attack I hoped to hear that there was food in the tents or they had broken the camping in bear country rules in some way but it appears they did everything correctly, as I have always done and were just unlucky. Bear attacks like this are extremely rare but grizzlies are unpredictable. I was glad that I only had a few more nights of camping in grizzly bear territory.



Yellowstone Lake, Yellowstone National Park, Wyoming

The following day a biker from Arizona was riding round the campground unable to find a vacant site so I invited him to share mine. Each site is big enough for several tents and you pay the same whether there is one person with a small tent or half a dozen with a number of tents and a large mobile home. He was heading north to Glacier National Park, Montana on the Canadian border.



Grand Teton, National Park, Wyoming

The park roads were very busy going from Yellowstone to Grand Teton National Park, this being the peak holiday season. Each campground I passed was full including Jenny Lake where I had hoped to camp. Not only was the campground full, the car park was overflowing and vehicles were parking on the side of the road leaving plenty of space for me to get through but a motor home (R.V.) of which there were plenty would have had difficulty.



Grand Teton National Park, Wyoming

Grand Teton Mountain at 13,770 feet (4197 metres) towers 7000 feet (2134 metres) above the surrounding plateau, the greatest plateau to summit rise in any mountain range between Canada and Mexico.



Grand Teton Mountain



Grand Teton National Park, Wyoming

I continued on through the Wind River "Indian' or First Nation Reserve to Boysen State Park near Riverton, Wyoming. The campsite was by a lake and I was the only one there the first night. The following day I met a local who said I should have gone to Sinks Canyon State Park near Lander which is much better. Sinks Canyon has a river that disappears underground and emerges again quarter of a mile away. I thought about detouring via Sinks Canyon when I left Boysen S.P. but I had already booked a hostel in Rocky Mountain National Park, Colorado which was over three hundred miles away and decided there wasn't time. I'm still keeping to a schedule that gets me to Mexico before my USA visa expires which means sticking to a reasonable pace.



Boysen State Park, Lakeside Campsite

I had a large motor home (R.V.) join me at the campsite for the second night. They kept a generator running until after dark then their dogs woke me early the following morning. At least this gave me an early start from Boysen State Park as I packed up and headed towards my Rocky Mountain National Park hostel. The route crossed the continental divide three times and was as usual scenic with little traffic apart from twenty miles on the I80 interstate after a breakfast stop at Rawlins, Wyoming.

Posted by ianmoor@tiscali.co.uk at
04:57 AM
GMT
August 22, 2010 GMT
Colorado


Having crossed the continental divide (again) at Willow Creek Pass (9683 feet - 2970 metres) I continued on towards Rocky Mountain National Park, Colorado. I was in Colorado in April but it wasn't possible to get up to Rocky Mountain National Park that early in the year due to the snow and low temperatures. I had only been in the south west corner of Colorado to Mesa Verde National Park and coincidently Silverton and the San Juan Mountains where Horizons Unlimited are hosting a meeting towards the end of August (26th - 29th). As I have an invitation from the Department Of Homeland Security to leave the USA on or before the 9th September 2010 I am unfortunately unable to attend the Silverton meeting but I'm sure all that do will have a good time.


Crossing The Continental Divide Again

I was staying at Shadowlands Hostel overlooking the lake and town of Grand Lake and stopped at Windy Gap just outside Granby to relax in the sunshine before the last leg of the journey.



Windy Gap, Colorado

The hostel is a traditionally built log building with a veranda on two sides giving views of the lake and town. It was a great, relaxing base to explore the Rocky Mountain National Park. At 8367 feet (2550 metres) it must be one of the highest hostels I have stayed in. The town of Grand Lake was picturesque with parks along the main street and at the lake shore. A bit too touristy for me perhaps but not completely over the top.



View From Shadowland Hostel, Grand Lake, Colorado

The Trail Ridge Road running through Rocky Mountain National Park climbs to 12,183 feet (3713 metres) and even in August rises above patches of snow lying in sheltered pockets on the mountain sides. The scenery is naturally stunning and I saw a couple of elk on my way to Estes Park and Bear Lake. As it is so mountainous there are few passes so the only viable option was to return to Grand Lake via the Trail Ridge Road but that wasn't much of a hardship.



Bear Lake, Rocky Mountain National Park



Bear Lake, Rocky Mountain National Park

Heading south once more I stopped at Leadville, Colorado the highest city in the USA at 10,152 Feet (3094 metres). I had travelled up Fremont Pass with a few drops of rain occasionally falling but on reaching the summit at 11,318 feet (3450 metres) the descent was dark grey, shrouded in swirling clouds emitting thunder and lightning with rain hard enough to leave water pouring across the road. This continued for over an hour but eventually eased off as I left the mountains behind.



Leadville, Colorado, The Highest City In The USA

My next stop was at another friend of a friends in Salida, Colorado. Karin runs an Estate Agency (Real Estate Business) and is actively involved in local politics. I was kindly invited to tag along to the business and political meetings meeting the great and the good of Salida. Visiting some of the properties from upmarket homes to traditional mountain cabins was interesting and enabled me to see a lot of the local countryside as we toured round. We were at one large property to discuss water rights with the property owner and the county water commissioner which seems to be a very complicated subject to almost everyone.



View From 'My' Salida Home

I was introduced to Don Adams, a famous motorcycle and car racer in the USA. He has competed in the Paris - Dakar Rally in a works car and has an impressive collection of race bikes and cars. The bikes were mainly British Nortons and Triumphs.



Traditional Log Cabin In Colorado Mountains

My last destination in Colorado was Great Sand Dunes National Park in the rugged Sangre de Cristo Mountains. The dunes are the highest in America with the tallest, Star Dune rising to 750 feet (229 metres). The sand can reach 140F (60C) on summer afternoons.



Great Sand Dunes National Park, Colorado

Posted by ianmoor@tiscali.co.uk at
07:23 AM
GMT
Enter your email address to receive updates to Ian Moor's trip story!
Recent Entries
Archives:
Archives:
Monthly
Archives:
Category
NEW! HU 2015 Motorcycle Adventure Travel Calendar is now available! Get your copy now for some terrific travel inspiration!
HUGE, 11.5 x 16.5 inches, beautifully printed in Germany on top quality stock! Photos are the winning images from over 600 entries in the 9th Annual HU Photo Contest!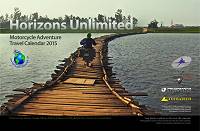 "The calendar is magnificent!"
"I just wanted to say how much I'm loving the new, larger calendar!"
We share the profit with the winning photographers. YOU could be in the HU Calendar too - enter here!
Next HU Events
NEW!

USA Virginia: Apr 9-12, 2015
Canada West: Aug 20-23, 2015
USA California: Sep 24-27, 2015
Aus Queensland: Sep 24-27, 2015
USA North Carolina: Oct 8-11, 2015
Aus Perth: Oct 9-11, 2015
Take 40% off Road Heroes Part 1 until October 31 only!
Road Heroes features tales of adventure, joy and sheer terror by veteran travellers Peter and Kay Forwood (193 countries two-up on a Harley); Dr. Greg Frazier (5 times RTW); Tiffany Coates (RTW solo female); and Rene Cormier (University of Gravel Roads).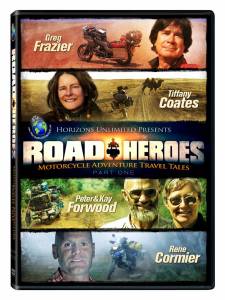 "Inspiring and hilarious!"
"I loved watching this DVD!"
"Lots of amazing stories and even more amazing photographs, it's great fun and very inspirational."
"Wonderful entertainment!"
Check it out at the HU Store! Remember to use Coupon Code 'HEROES' on your order when you checkout.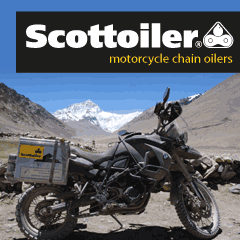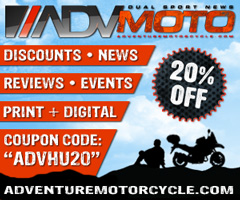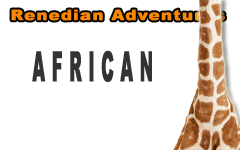 What others say about HU...
"I just wanted to say thanks for doing this and sharing so much with the rest of us." Dave, USA
"Your website is a mecca of valuable information and the DVD series is informative, entertaining, and inspiring! The new look of the website is very impressive, updated and catchy. Thank you so very much!" Jennifer, Canada
"...Great site. Keep up the good work." Murray and Carmen, Australia
"We just finished a 7 month 22,000+ mile scouting trip from Alaska to the bottom of Chile and I can't tell you how many times we referred to your site for help. From how to adjust your valves, to where to stay in the back country of Peru. Horizons Unlimited was a key player in our success. Motorcycle enthusiasts from around the world are in debt to your services." Alaska Riders

10th Annual HU Travellers Photo Contest is on now! This is an opportunity for YOU to show us your best photos and win prizes!
NEW! HU 2014 Adventure Travel T-shirts! are now available in several colors! Be the first kid on your block to have them! New lower prices on synths!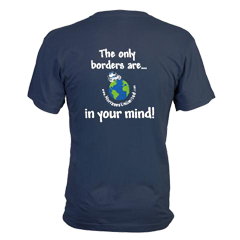 Check out the new Gildan Performance cotton-feel t-shirt - 100% poly, feels like soft cotton!

What turns you on to motorcycle travel?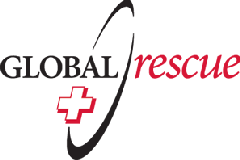 Global Rescue is the premier provider of medical, security and evacuation services worldwide and is the only company that will come to you, wherever you are, and evacuate you to your home hospital of choice. Additionally, Global Rescue places no restrictions on country of citizenship - all nationalities are eligible to sign-up!
New to Horizons Unlimited?
New to motorcycle travelling? New to the HU site? Confused? Too many options? It's really very simple - just 4 easy steps!
Horizons Unlimited was founded in 1997 by Grant and Susan Johnson following their journey around the world on a BMW R80 G/S motorcycle.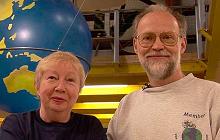 Read more about Grant & Susan's story
Membership - help keep us going!
Horizons Unlimited is not a big multi-national company, just two people who love motorcycle travel and have grown what started as a hobby in 1997 into a full time job (usually 8-10 hours per day and 7 days a week) and a labour of love. To keep it going and a roof over our heads, we run events (22 this year!); we sell inspirational and informative DVDs; we have a few selected advertisers; and we make a small amount from memberships.
You don't have to be a Member to come to an HU meeting, access the website, the HUBB or to receive the e-zine. What you get for your membership contribution is our sincere gratitude, good karma and knowing that you're helping to keep the motorcycle travel dream alive. Contributing Members and Gold Members do get additional features on the HUBB. Here's a list of all the Member benefits on the HUBB.
Books & DVDs

All the best travel books and videos listed and often reviewed on HU's famous Books page. Check it out and get great travel books from all over the world.

MC Air Shipping, (uncrated) USA / Canada / Europe and other areas. Be sure to say "Horizons Unlimited" to get your $25 discount on Shipping!
Insurance - see: For foreigners traveling in US and Canada and for Americans and Canadians traveling in other countries, then mail it to MC Express and get your HU $15 discount!
Story and photos copyright © All Rights Reserved.
Contact the author:
Editors note: We accept no responsibility for any of the above information in any way whatsoever. You are reminded to do your own research. Any commentary is strictly a personal opinion of the person supplying the information and is not to be construed as an endorsement of any kind.
Hosted by: Horizons Unlimited, the motorcycle travellers' website!
You can have your story here too - click for details!