September 06, 2009 GMT
Alberta
Leaving Meadow Lake Provincial Park, Saskatchewan on a 70 mile stretch of dirt road I saw five deer, a common sight in these parts. The Moose, Elk and Bears are much harder to spot. It was a warm day but the tent and tarpaulin were damp from the morning dew so I stopped to dry them off on the grass by a side road after a couple of hours riding.



Alberta Agricultural Scenery

Stopping for lunch at a good local diner and the first hot food in several days since the camping stove packed in, I met a farmer. She was complaining of the drought and the resulting high price and scarcity of hay which she had to buy to feed horses. Drought I thought, what drought. I have experienced more than my fair share of rain crossing Canada and it had been raining only two days previously a 100 miles or so to the east. But no, Alberta has been in a long damaging drought and is desperate for some rain. I thought, YIPPEE, DRY WARM WEATHER. I then felt a little guilty for these selfish thoughts and commiserated with the farmer although I'm not sure if the sincerity came across.



Alberta Agricultural Scenery And Little Traffic

The scenery changed from forest to agricultural shortly before the Alberta border. Cattle, horses, grain of some kind and oil seed rape. I had thought a lot of central Canada would be growing grain but this was the first I had come across.



Edmonton Parliament Building

Arriving in Edmonton via highways 55 and 28 I found the hostel, or at least my GPS did and settled in for a weekend of big city life. The Edmonton Fringe Theatre Festival, the biggest in North America they boast was a short walk away.



Edmonton Fringe Festival



A Hideous Scary Monster Lures Another Innocent Bystander Into Her Lair By Playing The Violin

I located an MSR stove dealer on the local high street and walked there with my faulty stove hoping to get the spare part for the pump. They took the pump into a back room, repaired it and wouldn't accept any payment. Fantastic service.



Edmonton Skyline From Chinese Garden

At the opposite side of town the Annual Edmonton Dragon Boat Races were being run from a Chinese Park.



Edmonton Dragon Boat Race

Travelling across Canada I have heard tales about the cold temperatures of a Canadian winter. Temperatures I cannot imagine, -30, -40 centigrade. One guy said the coldest he had been in 'up north' was -72 centigrade. I don't particularly like cold weather but have decided that I ought to experience a Canadian winter if possible. I hope to find a winter base where I can stay through the winter then continue the motorcycle journey in the spring.



Approaching Jasper From Edmonton

Heading towards Jasper I stopped at each small town looking for winter accommodation possibilities. Shortly after leaving Edson the Rocky Mountains appeared on the horizon. The first mountains that rise above the tree line I have seen on this trip.



With Views Like This Behind It's Hard To Focus Ahead

On arriving in Jasper I checked the accommodation adverts and went to view a couple of places. Rents are unsurprisingly a lot more expensive than in the centre of Canada.



Harley Sidecar Outfit In Jasper

The next day I had to find a fax machine to send the motorcycle insurance renewal form in. I had tried to do it over the internet or phone but the insurance company said I would have to download the application form from their website, print it out, fill it in then fax or scan and email the completed document back. I had my original application form with me so I bypassed a few steps and tippexed (white out I think it is called in America) the dates out and entered the new dates. The new policy was emailed to me a few days later and I got it printed out in a library. It seems an antiquated system compared to Europe.



>b>Jasper From Whistlers Mountain Treeline

After finally getting the insurance form faxed I was ready for some exercise so headed up The Whistlers mountains behind Jasper Hostel. There wasn't time to get to the top but I made it to just above the tree line before heading back.



Canadian Rockies From Highway 93

Moving on, I decided to head back out of Jasper National Park thinking I would have a better chance of finding winter accommodation outside the park. I headed for Nordegg, down highway 93, a scenic route running through the National Park.



Snow In August, Canadian Rockies

Stopping at Columbia Icefield I saw my first glacier. I was a bit disappointed that the glacier was roped off. To walk on the glacier you had to hire crampons and join a guided tour. Health and Safety was the reason for the rope fence. There is running water underneath the glacier and it is possible to fall into a crevasse into the freezing water.



Columbia Icefield Just Off Highway 93

The leading edge of the glacier had picked up mud, rocks and debris making it a dirty brown colour. Further back it was whiter but there were a few open crevasses revealing sparkling blue ice. I guess if the fence hadn't been there I would have been tempted to climb up to a crevasse and peer inside it. Leaning over to capture the blue ice on camera I would probably fall in and meet a frozen watery grave and be unable to finish my motorbike trip. Just as well the fence is there really!



Columbia Icefield Glacier

Marker stones showed how far the glacier has receded over the last 100 years. It has shrunk about quarter of a mile thanks to global warming.



Columbia Icefield Glacier, Marker Shows How Much It Has Receded

Nordegg is a small ex coal mining community. The coal mine closed in 1957 I was told by a couple of local retired miners. These miners were taking a four wheel drive jeep up a rugged trail to check out the area in preparation for the hunting season that was due to start.



Nordegg Hostel

I was tempted to head back into Jasper National Park and continue south on scenic route 93 to Banff but took highway 11 and 22 via Rocky Mountain House and Cochrane to Calgary. This route offered better chances for finding some winter accommodation. The bike was booked into the BMW dealership for its 18,000 mile service and a new rear tyre. When I pulled up outside Calgary hostel I had done exactly 12,000 miles since starting this trip in Miami.



Cochrane With Rockies On The Horizon

Whilst the bike was being serviced I walked round Calgary city centre then into a number of parks on my way to collect the bike. The service had been completed but the rear tyre I had ordered to match the front was out of stock. The tyre suppliers computer said there was one in stock but when they went to get it on the morning of the service it wasn't there. I had the choice of continuing with my by now illegal rear tyre, fitting two matching tyres (The dealerships choice) or fitting a different rear tyre. I opted for the different rear tyre and chose one with a reasonably close tread pattern to the original. Once fitted the profile was different and the handling felt a bit light and less stable. This could be that the tyre needs running in or that it mismatches the front. Either way it is legal again and I will fit a new front tyre to match the rear in about 3000 miles time.



Calgary Skyline

From Calgary I headed west again to Canmore and Banff, both touristy towns in the Rockies.



Canmore Park

I had an interesting 'Catch 22' scenario with my debit card and credit cards which put my travels on hold for a few days. I have had continuous problems with my UK bank debit and credit cards since starting this trip.



Canmore Hostel Terrace. At Least I Had A View Whilst Trying To Persuade My Bank To Let Me Spend My Money

Experiencing more problems I had to phone Tmobile to top up my phone credit before yet more lengthy, expensive trans-continental calls to the bank. Both my debit card and credit card were rejected. Living outside of America I cannot top up the phone on the internet and in Canada nobody could tell me any shops where Tmobile top up cards could be bought.



Canmore From Hostel

So my debit and credit cards weren't working and I couldn't phone the bank to resolve the issue because Tmobile wouldn't accept my debit and credit cards! So if you were thinking that riding a motorcycle round the world is all a bed of roses think again. There are the occasional thorns in that bed of roses!



Canmore Hostel

All the winter accommodation places I viewed wanted someone to move in straight away and I was hoping to find somewhere that I could arrange to move into mid October so that I could 'pop down' to California for the Horizons Unlimited gathering between 24th and 27th September. In addition I still haven't been able to top my phone up so can't use it to book viewing appointments etc. I have decided to go to the Horizons Unlimited weekend then head back to Alberta and hope plenty of immediate occupancy places are available as it could be getting chilly by then.



Banff Park



Banff Park

My last stop in Alberta was Waterton Lake National Park on the Montana border. I headed there as it had a hostel but on arrival it was closed. There was a campsite near by and I got booked in there instead.



Waterton National Park



Deer In Waterton

Deer were walking through Waterton town an the campsite continuously. I was thinking of extending my stay and doing some more walking in the area but on the last day a strong wind picked up. The tent next to mine was flattened and my tarpaulin pole had blown down. The wind continued through the night and one of my tent poles bent in a strong gust. Fearing that the tent could be damaged I decided to leave as planned and head for Glacier National Park and the "Road To The Sun" in Montana.



Cloudy East And Sunny West Side Of Rockies On The Way To Montana
Posted by ianmoor@tiscali.co.uk at
10:24 PM
GMT
September 16, 2009 GMT
Montana To HU Meeting, California (Or Is It?)
Having decided to head to Petrolia, California for the Horizons Unlimited gathering on 24th to 27th September 2009 and postpone winter accommodation hunting in Alberta I headed south from Waterton Lake National Park in Alberta for Montana.



If David Attenborough Were Here There Would Be Bears Trying To Catch Leaping Salmon As Their Cubs played On The Riverbank

The nights have been cooler since arriving in the Rockies and I was heading for East Glacier Hostel just outside Glacier National Park rather than camping. I hadn't found any other hostels on my route to California other than one near the Redwood National Park in California. However the temperature should rise as I get further south.



East Glacier Hostel, I Finally Get To Live Above An Ice Cream Shop

Montana
I arrived at East Glacier at the start of the Labour Day Weekend which traditionally denotes the end of summer. Most of the local footpaths started at Two Medicine Campsite inside Glacier National Park and about 12 miles from East Glacier.



Two Medicine Lake, Glacier National Park, Montana

I did one walk to Old Man Lake which some would say was appropriate. The footpath continued over the Continental Divide to make an 18 mile circular walk but I wasn't carrying enough provisions and returned the way I came.



Old Man lake, Glacier National Park, Montana

There were Grizzly Bears in the area although I, as usual didn't see any. I chatted to a number of people who had seen Grizzlies and there had been a number of sightings of a mother with triplet cubs.



Beware Of Grizzly Bears

Grizzly Bears don't seem to obey the rule of most wildlife - "If you leave them alone they will leave you alone". Still the chances of seeing one are fairly remote and the likelihood of one attacking is even slimmer. In England we ensure there is a fence between us and anything that can eat us. This reduces the excitement but does wonders for our peace of mind.



Rocky Mountains, Glacier National Park, Montana

A couple of days later I set out to do the 18 mile round walk over the Continental Divide. A few drops of rain fell as I rode to the starting point at Two Medicine Campground and it got heavier as I arrived. Putting on the wet weather hiking gear I thought the cooler temperatures might be better than the heat of previous days for a long walk.



The First Snow Fell As I Was Halfway Up A Mountain

Snow had been forecast for higher ground for the last three or four days but hadn't materialised and it seemed far too hot for snow. However halfway up the rain turned to snow, the first to fall in this part of the Rockies this 'winter'. I later learned that Glacier National Park holds the USA record for the largest drop in temperature, 70 degrees Fahrenheit (39 degrees Centigrade) in four hours.



East Side Of The Continental Divide In Freezing Strong Wind Making It Difficult To Stand Up

There was a Park Ranger coming back down the path having checked that nobody was in trouble as conditions worsened at the Continental Divide. By the time I got to the top and the Continental Divide, a climb of 2500 feet, there was three inch deep patches of snow. The wind was strong enough to making standing difficult and was bitterly cold. The path disappeared a short distance on the west side of the Continental Divide in the scree and snow. I spent ten to fifteen minutes looking for the path and in that time my gloved hands went numb with the wind chilled cold, Being the coward that I am I decided to head back down the way I had come rather than continue to search for the path.



West Side Of The Continental Divide Was Colder Than The East

My fingers were hurting as they thawed out on the way back down. The only other times, and there has been many of them that I have experienced this is from riding motorcycles through the winter in England.

The weather improved for the return walk as I descended and I was fully warm again by the time I got to the bike.



Road To The Sun, Glacier National Park, Montana

Leaving East Glacier via the 'Road To The Sun' the mountain scenery was stunning. Unfortunately roadworks bunched the traffic up which meant I had to concentrate on the road a bit more.



Road To The Sun, Glacier National Park, Montana

Idaho
There was an excellent stretch of road from St. Regis Montana to St. Maries, Idaho which included the 'St. Joe River Scenic Byway'. The first stretch was on a dirt road but most of the route was paved and followed the St. Joe River. It might be a bit too narrow and twisty for travelling fast but it suited my pace perfectly.



St. Joe River Scenic Byway, Idaho



St. Joe River Scenic Byway, Idaho

Another good stretch of sweeping banked curves was discovered by accident. Approaching Lewiston, Idaho I took a wrong turn and ended up on Interstate 95 North. The GPS told me to make a U turn at a scenic lookout and when I pulled in I was at the top of Lewiston Hill overlooking the town. A 10 mile stretch of smooth banked turns had been built down to Lewiston as a demonstration of good road building. A great idea that Britain should take up.



Lewiston Hill, Idaho



Lewiston Hill, Idaho

Continuing South West the temperature increased and the grass turned yellow. Wild fire warning signs were set to high or extreme rather than the low I was used to seeing. After the rain in central Canada I was fully prepared to take the risk of being involved in a wild fire in exchange for being warm and dry!



Wild Fire Danger



Idaho Dry Landscape

Washington State (Or More Truthfully A Tiny Corner Of It)
I just cut into the South East corner of Washington State on the way from Idaho to Oregon. Stopping At Fields Spring State Park for a couple of days to reacclimatise to warm weather was a pleasant break.



Fields Spring State Park Camp, Washington State



Fields Spring State Park, Washington State

Oregon
One leg of the journey from my campsite near Anatone, Washington to Elgin and La Grande, Oregon was a planned 110 miles with most of this on dirt roads in the Umatilla National Forest.



Troy, Oregon, The Start Of A Dirt Road Adventure

Plotting the route in the GPS had been difficult as what looked like a single road on the map was a maze of criss-crossing tracks. When I set off the GPS was wanting me to take tracks that were closed to vehicles either physically with logs or signs. Once I started recognising bits of track and realised I was going round in circles I picked a track using the GPS compass that was heading in the right direction. However this turned through 180 degrees in the direction I had came from so I admitted defeat, retraced my route back to the tarmac and came the longer route of highways 3 and 82.



GPS Screen In Umatilla Forest. Purple Line Shows The Plotted Route. No Wonder The GPS And I Got Lost!

The journey ended up being 182 miles instead of the planned 110. At least I didn't have any deadlines to meet or places I had to be so I didn't mind too much getting lost in the forest. The tracks were fun to ride but maybe I need to brush up on my navigation.



Umatilla National Forest, Oregon (Is This The Way To California?)

The road I ended up on instead formed part of the 'Hells Canyon Scenic Byway'. The weather was hot and the roads, as always good so I don't have too much to complain about.



Hells Canyon, Oregon

On the way to Bend, Oregon on highways 244, 395, 19 and 26 I passed through Picture Gorge. The dark basalt rock was formed by lava flooding through cracks in the earths surface. Subsequent movements of the earth have tilted and broken up the layers and erosion has reshaped the landscape.



Picture Gorge, Oregon

Just like the old days of the wild west most of the land is used for cattle ranches.



Oregon Ranch Entrance

I was staying at Umalo State Park near Bend, Oregon when I had an email from friends Jack and Mary about a position on a cattle ranch in Montana. I would be looking after two cabins, some out buildings and fences in return for free accommodation. A flurry of emails and phone calls later and I had to make a choice. I could go to Montana for an interview or continue to California for the Horizons Unlimited meeting. I was only 400 miles from Petrolia, California and the ranch in Montana was 885 miles in the opposite direction. There wasn't time to go for the interview then go to California without covering ridiculously high mileage for several days which wouldn't be fun and would leave me too drained to enjoy the meeting.



Umalo State Park Near Bend Oregon

I had been looking forward to the Horizons Unlimited weekend particularly as Ted Simon, the author of Jupiter's Travels and Dreaming of Jupiter among other books was going to be there. I saw Ted Simon's Triumph in Adelaide, Australia when he was on his first journey round the world although I didn't know who he was at the time. A few years later I received a copy of Jupiter's Travels for Christmas and recognised the bike immediately. This book and the later Dreaming of Jupiter sowed the seeds for my trip.



Bend, Oregon - I Had To Visit In Case I Was Accused Of Going Round

When I first had the idea of spending the winter 'up north' I envisaged a log cabin on a hillside in the middle of nowhere. Dismissing this notion as unrealistic I had spent time looking at more achievable options in Alberta and intended to return to Alberta after the HU meeting. I now had the chance of that cabin on a remote hillside for free and had to go for it.

During this trip I have set off most days with no particular destination in mind, taking my time and rarely covering more than 200 miles each day using smaller minor roads almost exclusively. Now I decided to get an early start on the fastest available route and cover as many miles as possible. Whilst I would definitely choose to travel at my normal leisurely pace and see the sights on the way there was an excitement in just 'eating the miles' for a change. I covered 760 miles from Bend, Oregon to Big Sky, Montana leaving a comfortable 125 miles or so the next day to the ranch.

The cabin and the summer pasture it is on look amazing. Stunning views and lots of wildlife. An hour from the nearest town when the road isn't blocked by snow and 2.5 miles to the nearest neighbour. I was delighted when I was offered the position. I am now learning my way round the ranch by checking the fences on foot and A.T.V. I'm also doing trips to town to stock up on books and food to sustain mind and body during the weeks when I'm snowed in. If I survive the winter with sanity intact I will continue the travels by heading north to the Yukon and Alaska. I aim to keep up the blog through the winter although I won't be travelling far and will be storing the bike away for the winter at the end of October. I'm off to Yellowstone National Park next week which may be the last bike trip of 2009.



My Winter Home

I have done 15,000 miles since leaving Miami in April and had a fantastic summer. I'm looking forward to winter on the ranch and continuing the travels in the spring of 2010.



The Nearest Neighbour Is 2.5 Miles Away
Posted by ianmoor@tiscali.co.uk at
12:58 AM
GMT
Enter your email address to receive updates to Ian Moor's trip story!
Recent Entries
Archives:
Archives:
Monthly
Archives:
Category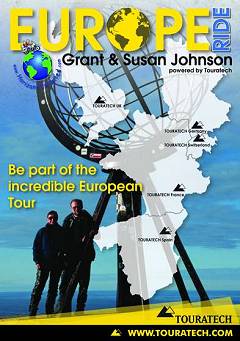 Next HU Events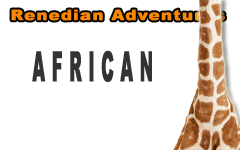 The weather has finally turned, so Gear Up for your motorcycle travel adventure! Take 30% off the Achievable Dream - Gear Up! 2-DVD set until June 30 only.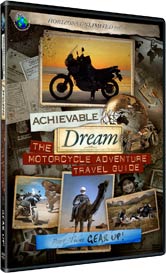 Which bike, how to prepare it, what else to take, how to pack it all in! 6 hours!
"It's another great job, informative and entertaining."
"It's really professional and full of useful information, a must for any traveler."
Check it out at the HU Store! Remember to use Coupon Code 'GEARUP' on your order when you checkout.
What others say about HU...
"I just wanted to say thanks for doing this and sharing so much with the rest of us." Dave, USA
"Your website is a mecca of valuable information and the DVD series is informative, entertaining, and inspiring! The new look of the website is very impressive, updated and catchy. Thank you so very much!" Jennifer, Canada
"...Great site. Keep up the good work." Murray and Carmen, Australia
"We just finished a 7 month 22,000+ mile scouting trip from Alaska to the bottom of Chile and I can't tell you how many times we referred to your site for help. From how to adjust your valves, to where to stay in the back country of Peru. Horizons Unlimited was a key player in our success. Motorcycle enthusiasts from around the world are in debt to your services." Alaska Riders

10th Annual HU Travellers Photo Contest is on now! This is an opportunity for YOU to show us your best photos and win prizes!
NEW! HU 2014 Adventure Travel T-shirts! are now available in several colors! Be the first kid on your block to have them! New lower prices on synths!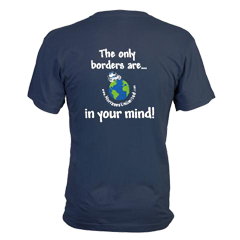 Check out the new Gildan Performance cotton-feel t-shirt - 100% poly, feels like soft cotton!

What turns you on to motorcycle travel?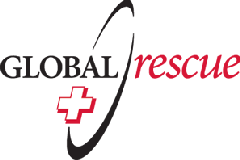 Global Rescue is the premier provider of medical, security and evacuation services worldwide and is the only company that will come to you, wherever you are, and evacuate you to your home hospital of choice. Additionally, Global Rescue places no restrictions on country of citizenship - all nationalities are eligible to sign-up!
New to Horizons Unlimited?
New to motorcycle travelling? New to the HU site? Confused? Too many options? It's really very simple - just 4 easy steps!
Horizons Unlimited was founded in 1997 by Grant and Susan Johnson following their journey around the world on a BMW R80 G/S motorcycle.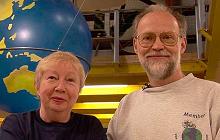 Read more about Grant & Susan's story
Membership - help keep us going!
Horizons Unlimited is not a big multi-national company, just two people who love motorcycle travel and have grown what started as a hobby in 1997 into a full time job (usually 8-10 hours per day and 7 days a week) and a labour of love. To keep it going and a roof over our heads, we run events (22 this year!); we sell inspirational and informative DVDs; we have a few selected advertisers; and we make a small amount from memberships.
You don't have to be a Member to come to an HU meeting, access the website, the HUBB or to receive the e-zine. What you get for your membership contribution is our sincere gratitude, good karma and knowing that you're helping to keep the motorcycle travel dream alive. Contributing Members and Gold Members do get additional features on the HUBB. Here's a list of all the Member benefits on the HUBB.
Books & DVDs

All the best travel books and videos listed and often reviewed on HU's famous Books page. Check it out and get great travel books from all over the world.

MC Air Shipping, (uncrated) USA / Canada / Europe and other areas. Be sure to say "Horizons Unlimited" to get your $25 discount on Shipping!
Insurance - see: For foreigners traveling in US and Canada and for Americans and Canadians traveling in other countries, then mail it to MC Express and get your HU $15 discount!
Story and photos copyright © All Rights Reserved.
Contact the author:
Editors note: We accept no responsibility for any of the above information in any way whatsoever. You are reminded to do your own research. Any commentary is strictly a personal opinion of the person supplying the information and is not to be construed as an endorsement of any kind.
Hosted by: Horizons Unlimited, the motorcycle travellers' website!
You can have your story here too - click for details!