Georgia
July 31, 2005 GMT
Georgia
Road Poems for Georgia
1. Tblisi
when going to the capital
you don't need a map-at-all
simply take the asphalt road
the only paved one, so we're told
2. Telavi
"secondary road" the map says
quite a scenic 40 miles
"no no no no NO" our E says
bouncing over rocky piles
"potholed dirt's my thing", now D says
with one of his manic smiles
half an hour hence we've conquered
all of two and one half miles
3. Batumi Haiku
Motorbike on street
Is asking to be taken
Put that thing away
4. Kutaisi Haiku
In front of the church
The moto will be stolen
Bring it inside now!
5. Telavi Haiku
I am tough and drunk
Twist your throttle if I want
That bike could be mine
We make the mistake of telling the surly bureaucrat at the sixth border stop that our stay in Georgia will be ten to fourteen days. Outside, a guy wearing a black t-shirt puffing on a cigarette leans proprietarily on the motorcycle windshield. It's always a good idea to get a visa for longer than you plan on staying, in case of mysterious unforseen problems or pleasures. But once the surly bureaucrat writes "10" on the paperwork, he clearly isn't in the mood to change it. Ten days in Georgia it is.
The climate has been muggy and tropical in the far northeast corner of Turkey, with rolling hills covered with tea bushes and palm trees. Things look the same across the border but feel remarkably, strangely different. First come actual stretches of rocky beach under the hazy sky, spiked with bright umbrellas and a smattering of vacationers. Then the hills recede from the road, leaving a wide expanse of largely dry river inlet banked with huge eucalyptus trees and actual flowers (where had all the flowers gone?). A remarkable un-signed fort might be a major tourist attraction with its well-preserved stretch of walls but there's no time to check it out. Small towns of spindly houses are interspersed with the most hideous dark concrete apartment blocks yet. While the earth flanking the sea side of the road is grassy and lined with trees, no use has been made of this prime real estate beyond acting as a graveyard for abandoned Soviet hotels. Cows stolidly cross the road with no mind to passing cars (cows are not generally known to have a mind for much besides cud-chewing).
We take the wrong road off the roundabout approaching Batumi and are cruising down a dingy stretch of ugly apartment blocks. Each unit is equipped with a balcony, to which people have haphazardly tacked on tin siding or tattered blue plastic sheets. Others are patched with dingy wood or rusting metal. Some of the balconies have been blocked in to create a small extra room. You wonder what lives are unfolding behind these jumbled patchwork beehives.
Here's a market, overhung with dreary pine trees that should be scenic but feel almost sinister. Plastic toys and polyester clothes are selling out of small shacks. Cars bustle to get closer to the merchandise.
No one's conservative here: women are wearing long skirts and flowery skimpy sleeveless dresses. The humidity is stifling. In a week we'll probably feel quite comfortable. It's always disorienting to enter a new country.
Gradually it becomes clear that this is not the main street. Heading inland, we stop off at a budget hostel listed in the guidebook. The woman seems to have no idea about prices or availability and gestures to come back in a few hours. The place looks kind of like a train car made of corrugated iron, doors askew and curtains flapping out of splintered window frames. A few hours from now we'll have found some other place. The waterfront is only a few blocks up, with really large colorful tanker ships and some seaside cafes.
Closer to the water we dismount the bike in front of another lodging and head upstairs to negotiate the price. Within minutes, a woman and man gesture wildly to come back. Move your bike, they seem to be saying. It isn't safe to leave it unattended. But we're right across from the police station! Nonetheless much effort is made to get it locked inside some barred gates. After this avid warning Dave feels only slightly reassured, knowing the bike is under its cover, locked to the gate, behind locked doors, across from the police station.
The architecture in this part of town is almost Carribean--enclosed balconies protrude from two story homes built directly against each other, wrought iron curlicues lending fading ornamental embellishment to various metallic sidings.
Some of the streets are lined with similar would-be-grand pine trees--most likely they look finer outside the weighty damp dusty summer heat. A few places have been renovated to house small shops with brand-name shoes and clothing. It's an odd blend of wanna-be trendy vacation town, low-key Midwestern suburb, Jamaican tropical village, and Russian marketplace and tourists. Who knew, Russians in Jamaica.
We need to buy a map of Georgia, which was nowhere to be found in Turkey. Four bookstores and a tourist office later it seems that Georgia's not so big on Georgia maps either. A guy at a hotel offering help shuffles us into a van with three befuddled Dutch tourists on the way out of town for a swim and drives us to the same bookstores we'd already visited. One of the tourists says he'd tried to get a map also and had to settle on "the grade-school version". We have to settle on the grade school version as well; it's only about the size of a chalkboard.
One of the seaside restaurants should be nice for dinner. They have a lengthy menu in Georgian (as unreadable as Cyrillic but different) and Russian. No matter: all they seem to be offering us is shashlyk (skewered roasted meat). Erika gets one of those while Dave orders the sibling of a pizza he spots floating by. The shashlyk is rubbery and salty and not very satisfying. How do you order food when you can't read the menu or speak the language? It seems particularly challenging, even though we've done it in other places before.
The next day we head out of weird Batumi and on to Kutaisi. Georgia is largely Orthodox Christian and has numerous historical churches of distinct style scattered throughout the countryside.
People cross themselves three times not only upon entering or exiting but upon passing a church, though this is apparently often more from habit than devout belief. Riding through the countryside past a graveyard, Erika does a double take. Although travelling always brings new sights, it seems that nothing's really new in the world. If you haven't read about it somewhere, you've seen photos in National Geographic or seen it on TV. But she's never heard of this. Like a small contingent of two dimensional family members converging at a picnic, dozens of LIFE SIZED PHOTOS OF THE DECEASED stand vertical, encased in glass door-sized tombstones. This is truly a bizarre sight.
The unusual road to Kutaisi leads through dingy apartment block outskirts to some type of town square with more big dusty trees. Across the river is a cobbled street where the bike strains up the steep wind-y hill to the Bagrati Cathedral. Dave swerves to avoid riding into an open manhole.
The bike draws only the vaguest wisp of interest from a departing busload of high school kids. Shirtless men pop out of a gate across from the church and beckon us to pull the motorcycle inside. They seem friendly, but what's up here? Are they being helpful, or are they trying to steal the bike and kidnap us? We're not normally suspicious of fellow human beings, but there's something about the atmosphere here that makes you a little unsure.
It turns out their place is an archaeology center where students work during the summer digging up ancient finds beneath the church. They say it's a bad idea to leave the bike unattended. Even in front of the church. (Even in front of the police station.) One of the guys speaks enough English to take us on a tour of the renovated cathedral and surrounding ruins. After, we retreat into the coolness of the archaelogy room, where we hold a fragile ancient ceramic pitcher and Erika is allowed to put on a beaded necklace that is 2300 years old. They've really enhanced what would have been merely a quick tourist-in-and-out experience.
Can't find the local guesthouse--streets are not labelled and homes have no numbers. Police spot the bewildered motorcyclists and lead us around the corner to a place behind a large imposing metal gate. There we will spend the muggy night in a room with no windows, breathing in fumes of shellac and cigarette smoke, waiting 45 minutes to use the shower which the arrogant (son of the owner, maybe?) refuses to leave despite at least 3 futile yellings by the haggard worker to get out so the English guests can go in. We take a before-dinner stroll to an alleged Jewish quarter we can't find, or at least can't identify as a Jewish quarter. The streets feel heavy and still, with a few men staring as we walk by conspicuously and walk by conspicuously again coming back. Once in a while someone responds to our "hello".
Having no water in the guesthouse next morning inspires an early start. Along the road, small entrepreneurs peddle their similar wares a few hundred meters apart. First it's a dozen stands of big rounds of bread; then big rounds of something that looks like bread but is shiny and yellow. In other places fruit vendors sell pears and plums stacked in neat triangular piles in silver buckets. There are stretches of watermelon and peaches, in trucks and on the ground.
One small area displays potted plants. Another exhibits rows of hammocks. Outside Tblisi we'll spot batches of children's backyard pools and water toys. And just in case you're feeling homesick, here are some roadside reminders of folks back in the U.S.
President Bush visited Georgia earlier in the year and this is one rare country where people bring up his name in a positive way.
What we want right now is breakfast. There's a pink roadside cafe to get a bite of something. The workers eye us tentatively as we order kachapuri (cheese bread), but warm up after a while. Soon Erika's taking photos of the women and drawing pictures for their cute shy 11 year old girl. When it's time to pay they say, "No, no!" with hands on their hearts. Some really nice people here in Georgia.


Next stop: Gori, and the Stalin museum. Though Stalin was born in Georgia, he did not spare his countrypeople the wrath of his purges. Despite this, he is commemorated by statues and plaques throughout the country. The road passes a bustling market beneath a fort which climbs up the hill above town. Some tricky negotiation with the security guard who doesn't want the motorcycle parked on museum grounds until another security guard comes along who says it's fine. Four eager 12-year olds practicing their English provide translation services to the cops. An English speaking tour guide costs $1.50 and the right to take four photos another $1. Our guide is well spoken; while giving a predictably glossy summary of Stalin's accomplishments, she also acknowledges that he was a controversial man whose purges killed her grandparents. She has chosen to work in the museum for 15 years because she finds him "such an interesting historical figure". Hm. We see photos of Stalin in his early years, learn that his son was killed as a prisoner of war when Stalin refused to exchange him for another soldier, and see one of thirteen eerie masks made the day after his death.
The train car used by Stalin and his entourage during his reign is preserved next to the museum. Dave is thrilled to sit in Stalin's train chair.
In Tblisi we meet up with Kevin, another Horizons Unlimited motorcycle contact. He meets us on his BMW R1150GS Adventure at one of a string of gas stations lining the outskirts of Georgia's capital. Kevin works for a large European Union banking organization and has lived on and off in Georgia for 10 years with his Georgian wife Meka and their toddler Hugo. He helps get us settled in a hotel a few blocks from their home. The approach through an alleyway looks like an industrial apocalypse but the air-conditioned room is pleasant and there's a secure garage to lock the bike.
There's also a laundry nearby where we get our three-months'-nonstoppedly-drenched-in-filth-and-sweat-worn motorcycle gear cleaned spotlessly for $5 each.
Sunday things are quiet as we take the metro (10 cents!) towards the central area downtown. It's pretty clean with older cars and the steepest longest escalators we've ever seen.
But things are puzzling when we get off near the train station, with its fun lively marketplace.
Can't seem to get our bearings; Dave is sure the river is in that direction and therefore we should head that way; Erika senses something's not right and we should be heading somewhere else. Various helpful bystanders seem to be saying take the metro somewhere and we're sure it's close enough to walk. Finally someone speaking English figures out that this is not the stop we thought it was (but it's all written in GEORGIAN!).
That explains everything. Two metro stops later we're at Rustafelli, the intended destination. It's Sunday and the main street is closed to cars. Shops and cafes are mostly closed as well, lending Tblisi a rather abandoned air. The bookstore is open, so Dave can spend some time thinking about the next trip.
Our guidebook recommends a 5 kilometer walk around the city, which goes slowly in the heat. The old part of town is interesting with its crumbling buildings reminiscent of Batumi but with older wobbling walls and ornate balconies.
Erika wonders whether she should have brought a headscarf to enter what looks like a mosque.
We enter tentatively, to the disinterest of a woman who oddly looks like she's selling tickets. Small rooms and neon lighting let us in on the fact that this is no mosque, but the city's public sulfur baths.
At a dark quiet church overlooking the river, the priest is talking to some students outside and a small string of not-poorly-off-looking women beg for change. Once again we seem to miss the local synagogue. The route skirts the river for a while, where we run into the tourists from Holland again, before returning to Point A and taking a cab (what? no metro?) back to our neighborhood.
Dinner is grilled burgers at Kevin's place. Walking all afternoon in the city, we hadn't realized until trying to get on the metro home that the power has been out in the entire city since around 2:30. Tblisi and Georgia in general have suffered from an inadequate supply of electricity since the end of Soviet control in 1991. This is due to some combination of corruption, lack of supply, lack of equipment, lack of coordination, and lack of people paying their bills, among other things. Kevin apologizes for the lack of air conditioning as he says "we haven't had a power outage in a while now...maybe a week".
As tourists it's fun dining outdoors on Kevin's spacious balcony with city views, with no hardship involved as we quaff beers and gaze at the sunset view. Who needs light for this?
How much more frustrating to experience the unpredictable yet routine power failures as a resident, in summer heat and winter freeze. Georgia has apparently been fraught with chaos in the last 10 or so years, with civil war and secession of the regions of Abhkazia and South Ossetia. Refugees have flooded the cities and certain areas of the country remain unsafe. Erika is reading a book called "Stories I Stole", by an American journalist in the country, which summarizes: "The last time Georgia had been an independent, administratively coherent nation was under David the Builder in the twelfth century, and the experiment had been brief."
Water comes back on in the early evening, but electricity itself is unavailable til almost midnight. It's a little unnerving to walk back to the hotel in the pitch black, people milling about, not entirely certain of the route. Of course for the local people it's nothing new to pass by your neighbors, known and unknown, in the pitch black of an unlit night.
The next morning we venture off to the Chinese embassy to apply for a visa. Keti, the young Georgian woman there, speaks fluent English and is very helpful. Just fill out the form and come back in 3 days to pay and pick it up. How easy is that! We walk down the street suffused with the glow of having applied for a visa without having to deal with some bizarre complicating factor. An hour later Dave gets a call. Very sorry, but since we are on a motorcycle and not entering by plane or bus we need a letter of introduction. To get a letter of introduction involves complex arrangements with a travel agency and more money. The American Embassy, we learned through previous experience in Ankara, will not provide letters of introduction as it says other countries should simply respect The American Passport as the government's letter of introduction. Back up to the embassy. Keti is at lunch; come back at 1:00. Back up at 1:00. Keti and her boss are gone until 2:00. At 2:00 Keti says her boss will be back at 3:30. At 3:30 Keti's pleasant Chinese boss apologizes but confirms we must have a letter of introduction. It can be faxed to the embassy which will issue the visa on the spot.
Back downtown in a big dank communist building that looks like it has not been used or cleaned in forty years in a small cubbyhole with 4 smoking men, Dave calls the travel guy at Caravan Cafe. He'll see what he can do but isn't sure how quickly he can get the letter. He calls us back the next day with the info that it will take at least a week. So much for Chinese visas in Tblisi. The day is not lost, however; Kevin has offered his computer so we can upload some pictures. We appreciate this and manage to finish up the Bulgaria blog, only 5 weeks behind schedule. Thanks for your hospitality; Kevin, Meka and Hugo!
We want to visit Mtskheta, considered the "spiritual home" of Georgia, then head for the mountain beauty of Kazbegi. Plans are delayed a bit when the motorcycle's horn, for unknown reasons, is suddenly reduced from its normal macho blare to a whining feeble bleat. A taxi driver leads us to a local auto shop, where the able mechanic is able to diagnose water on the mechanism and suction it off with flimsy pipe. He doesn't want any money and only eventually accepts Dave's offer of a few dollars.
Horn restored, we go back into Mtskheta to view the lovely 11th century Sveti-Tskhoveli Cathedral. Much restoration work is being and has been done here, and the frescos inside are striking. There is a huge face of Christ looming over the nave, and well-worn marble tombstones of Georgian kings set into the stone floors. When is the last time YOU walked over the graves of Georgian kings.
Up into the mountains, there's no food to be found. It's been a bit tricky outside the big city to feel well-fed, whether due to our ongoing lack of ordering ability or to an actual shortage of variety and restaurants. Finally we spot a hole-in-the-wall where a big country guy with belly and apron indicates he has shashlyk and khinkali (meat dumplings). Khinkali is infamous for being huge and filling so we order 3 each. Sounds of boiling and frying accompany our long wait until 6 heavy duty raviolis are brought out. Mmm, could've eaten 6 more of those.
It's cloudy (as it so often is in the mountains) as we wind by chaparral-covered hills, a turquoise blue reservoir, and a beautiful fortress which doesn't seem to have an entrance.
A few roadside stalls sell bright knit socks and shaggy wool hats that look like mutant dandelions. The helmets are probably enough.
Further along are small towns along broad dry riverbeds, then the road begins to climb.
Hills are bare of trees but green with grassy cover. Cows seem to have taken over two large bridges, as evidenced by the cows themselves and their calling cards of droppings generously deposited on the road's entire left side.
That's the good part of the road. Further into the Georgia Military Highway things get progressively worse. This is supposedly one of the major roads in the country but clearly maintenance hasn't been a priority. The asphalt is broken up, leaving big potholes in places; this rapidly deteriorates into rutted gravel.
Kazbegi is named for the high mountain that looms over the city, apparently snow covered between the grassy hills but cloud covered at this time. The city itself straggles up both sides of the river.
The country houses are old, netted with the ubiquitous web of wires seemingly rigged up by every Georgian in an effort to create alternatives to the lousy power supply.
Certain styles of houses seem characterized by these wires, spindly looking: spindly balconies, tin roofs, stripey tin siding, spindly wrought iron, spindly curlicue gate decorations, bunches of wire, clotheslines, grapevines, spindle everywhere. Then there are the blocky places that just look crumbly.
We run into Vano, a young guy who runs a guesthouse on the other side of the river. He is very nice and helpful and leads us to his neighbor's place when we decline his remaining available room with only one twin bed. The neighbor has a nice room in a country atmosphere but just a spigot in the yard for water and a grim outhouse.
Vano sends us back to the main street where Nona, a pleasant woman in her late 30's opens her gate and ushers us into her family home. There is a toilet and cold water indoors, which is good enough. We're happy that she breaks out fresh bread, cheese and a big soup before bed as there are no restaurants in town. The Brazilian soap operas that accompany our meal are not even dubbed, simply given a voice-over in Georgian which competes with the original language track. During the night a massive rainstorm hits, complete with loud and vivid thunder and lightning show.
Nona's boys, age 7 and 11, accompany us and the soap operas at a potato, tomato, bread and cheese breakfast the next day. Her husband is kind of surly but fun with his kids. We need to mail some letters, so it's off to the post office. This large building has a small barred window and a room filled with old ladies in black waiting to use the town telephone. Where do you get assistance? Finally Erika gets someone's attention, waving her letters around. Stamps? the lady seems to be saying. Erika tries to convey that she wants to buy stamps. The lady seems to be saying that Erika needs to have her own stamps to mail the letters. But isn't this a POST OFFICE? I wanted to BUY...oh, never mind.
Well-fueled by breakfast, with relatively sunny skies and thoroughly unmailed letters, it's off to climb to Tsminda Sameba Church which towers above the town. The book says it will take 30-45 minutes: how misleading is THAT. We pick our way beyond the very un-modern village's rocky passageways into wildflower-brightened meadows.
Someone put in more switchbacks than anticipated, however, and it's a full two hours before we reach the top.
A stern priest glares when we approach and try to look inside his sanctuary. Best enjoy the views from outdoors.
On the way back we run into two Israeli tourists who are staying at Vano's, who invite us over later for socializing with other travellers. Dave has a nice time there drinking local wine and cognac and chatting with other tourists from Germany and England. Erika is too pooped and really likes sleeping.
Maybe it isn't that the mountain is always cloudy; maybe it's just that lazy tourists don't wake up early enough to see it before the clouds come in. Today we're ready to go by 8:30, and Mt. Kazbeghi rewards us by flaunting her snowy-gloried self.
It's a fabulous morning; the bare grassy hillsides that previously looked bleak and uninviting offer a better explanation why generations of villagers chose to set up under their looming heights.
We stop for kinkhali and kachapuri breakfast at a nice ski-resort restaurant as well as at a circular monument with colorful folk illustrations of Georgian history
and great views.
Some really sweet old ladies offer us plums and a free package of cookies when we stop to buy water.
The map seems to indicate a "short cut" to our next destination, Telavi. Kindly refer to "Road Poems to Georgia #2, Telavi. Picture us turning around and heading back to the lengthier but unquestionably more reliable main drag.
The long way round goes via Tblisi, where coincidentally Kevin is out riding his motorcycle back from lunch. It's many hours before we arrive pretty late to Telavi, in the southeastern wine-producing region. Just enough time to locate the nice guesthouse across from the intimidating group of young drunk guys whose joviality has an edge you don't want to cross. If someone reached over and revved up your bike while you were sitting on it in the US, they'd get their ass kicked. Not much Dave can do except smile blandly and turn around, as Erika grimaces, "let's get OUT of here". Luckily they're gone when we leave to get some pizza and pelmeni (meat ravioli) later.
The guesthouse is set around a gated patio where grape vines create welcome shade; rooms in the large family home boast shiny wood floors and airy high ceilings. The beds are so comfortable that it's tempting to stay another day. We tell the slightly haggard yet attractive hostess that she looks like Michelle Pfeiffer. She says she's been told that before and rattles off her favorite Michelle Pfeiffer movies. This summer her mother will visit her from the Ukraine for the first time in 13 years. Since the fall of the Soviet Union travel has been difficult. She feels, as do some others with whom we've spoken, that life has gotten more difficult since the end of communism. At least you could count on the power supply back then.
But we won't stay another day. Perhaps we'll stop for the night in Sighnaghi, an Italian style town with fortress walls that's a must-see in the region. It's overcast-yellow and muggy, yesterday's Caucasus mountain views shrouded in haze. The "wave at people from the bike to see if they're friendly" strategy is not getting many responses. Everything looks brown and gray.
This is tough-guy hour, with lots of small groups of guys in black wife-beater shirts hanging around the street. It would be exceptionally un-cool for them to be seen waving at passing tourists. Erika wants to take a photo of the morning drinking cluster or the gang of dudes striding towards the bike, but then they'd probably have to kill her. That was supposed to be funny.
The back road to Signaghi is rutted and potholed but brings surprising views of a hilltop lined for kilometers in fortress wall. Riding into town people are staring again in a not particularly nice way. We've met some really warm and generous people, and also encountered some indifferent-to-suspicious looks reminiscent of our time in the Ex-Yugoslavia. There is a restaurant at the base of the walled town with what one could argue would be great views, if they were visible.
After some tea and a bowl of beef stew, we decide maybe it's a good day to head to Azerbaijan.
Enter your email address to receive updates to David McMillan and Erika Tunick's trip story!
Recent Entries
Archives:
Archives:
Monthly
Archives:
Category
NEW! HU 2015 Motorcycle Adventure Travel Calendar is now available! Get your copy now for some terrific travel inspiration!
HUGE, 11.5 x 16.5 inches, beautifully printed in Germany on top quality stock! Photos are the winning images from over 600 entries in the 9th Annual HU Photo Contest!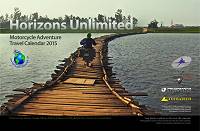 "The calendar is magnificent!"
"I just wanted to say how much I'm loving the new, larger calendar!"
We share the profit with the winning photographers. YOU could be in the HU Calendar too - enter here!
Next HU Events
NEW!

USA Virginia: Apr 9-12, 2015
Take 40% off Road Heroes Part 1 until October 31 only!
Road Heroes features tales of adventure, joy and sheer terror by veteran travellers Peter and Kay Forwood (193 countries two-up on a Harley); Dr. Greg Frazier (5 times RTW); Tiffany Coates (RTW solo female); and Rene Cormier (University of Gravel Roads).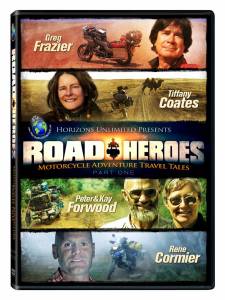 "Inspiring and hilarious!"
"I loved watching this DVD!"
"Lots of amazing stories and even more amazing photographs, it's great fun and very inspirational."
"Wonderful entertainment!"
Check it out at the HU Store! Remember to use Coupon Code 'HEROES' on your order when you checkout.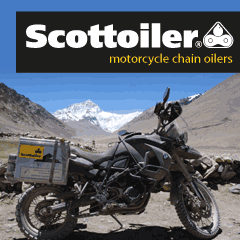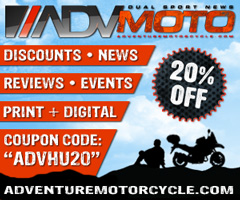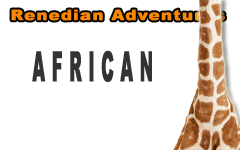 What others say about HU...
"I just wanted to say thanks for doing this and sharing so much with the rest of us." Dave, USA
"Your website is a mecca of valuable information and the DVD series is informative, entertaining, and inspiring! The new look of the website is very impressive, updated and catchy. Thank you so very much!" Jennifer, Canada
"...Great site. Keep up the good work." Murray and Carmen, Australia
"We just finished a 7 month 22,000+ mile scouting trip from Alaska to the bottom of Chile and I can't tell you how many times we referred to your site for help. From how to adjust your valves, to where to stay in the back country of Peru. Horizons Unlimited was a key player in our success. Motorcycle enthusiasts from around the world are in debt to your services." Alaska Riders

10th Annual HU Travellers Photo Contest is on now! This is an opportunity for YOU to show us your best photos and win prizes!
NEW! HU 2014 Adventure Travel T-shirts! are now available in several colors! Be the first kid on your block to have them! New lower prices on synths!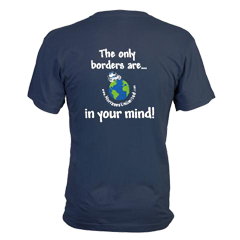 Check out the new Gildan Performance cotton-feel t-shirt - 100% poly, feels like soft cotton!

What turns you on to motorcycle travel?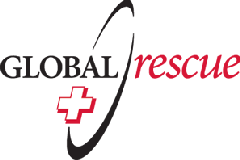 Global Rescue is the premier provider of medical, security and evacuation services worldwide and is the only company that will come to you, wherever you are, and evacuate you to your home hospital of choice. Additionally, Global Rescue places no restrictions on country of citizenship - all nationalities are eligible to sign-up!
New to Horizons Unlimited?
New to motorcycle travelling? New to the HU site? Confused? Too many options? It's really very simple - just 4 easy steps!
Horizons Unlimited was founded in 1997 by Grant and Susan Johnson following their journey around the world on a BMW R80 G/S motorcycle.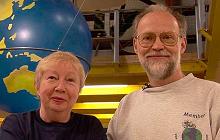 Read more about Grant & Susan's story
Membership - help keep us going!
Horizons Unlimited is not a big multi-national company, just two people who love motorcycle travel and have grown what started as a hobby in 1997 into a full time job (usually 8-10 hours per day and 7 days a week) and a labour of love. To keep it going and a roof over our heads, we run events (22 this year!); we sell inspirational and informative DVDs; we have a few selected advertisers; and we make a small amount from memberships.
You don't have to be a Member to come to an HU meeting, access the website, the HUBB or to receive the e-zine. What you get for your membership contribution is our sincere gratitude, good karma and knowing that you're helping to keep the motorcycle travel dream alive. Contributing Members and Gold Members do get additional features on the HUBB. Here's a list of all the Member benefits on the HUBB.
Books & DVDs

All the best travel books and videos listed and often reviewed on HU's famous Books page. Check it out and get great travel books from all over the world.

MC Air Shipping, (uncrated) USA / Canada / Europe and other areas. Be sure to say "Horizons Unlimited" to get your $25 discount on Shipping!
Insurance - see: For foreigners traveling in US and Canada and for Americans and Canadians traveling in other countries, then mail it to MC Express and get your HU $15 discount!
Story and photos copyright © All Rights Reserved.
Contact the author:
Editors note: We accept no responsibility for any of the above information in any way whatsoever. You are reminded to do your own research. Any commentary is strictly a personal opinion of the person supplying the information and is not to be construed as an endorsement of any kind.
Hosted by: Horizons Unlimited, the motorcycle travellers' website!
You can have your story here too - click for details!