Azerbaijan
August 07, 2005 GMT
Azerbaijan
No surprise that rain in Georgia before the Azerbaijan border would mean rain in Azerbaijan across the Azerbaijan border. Inhabitants of dozens of cars stalled in a long line are draped in various stages of soggy boredom over their cars' open doors. Tentatively we cruise to the head of the line to jump through the usual bureaucratic hoops. Though each of us has obtained a 30 day visa, the motorcycle apparently only qualifies for a 3-day transit permit. Why is this? Really now, only in our dreams could we possibly expect anything like a logical explanation. No problem if you overstay the visa, guarantees the bureaucrat who will not however manifest this guarantee in writing, you will just pay a $15 fine when you exit the country. No problem. Famous last words...
The officials use every technique at their disposal to determine whether we have visited neighboring Armenia, which won the recent war over the disputed territory of Nagorno-Karabakh.
Bureaucratic official: "Have you been to Armenia?"
Dave and Erika: "No."
Bureaucratic official: "Which countries did you travel in before Azerbaijan?"
D & E: "Georgia and Turkey."
Bureaucratic official: "You didn't go to Armenia?"
D & E: "No."
Bureaucratic official: "So, you went to Georgia, Turkey, and Armenia?"
D & E: "No, we didn't go to Armenia".
Bureaucratic official: "List the countries you went to before Azerbaijan."
And so on. Eventually insurance is bought, paperwork is issued, and the motorcycle is sent on through the dense mass of Azeri-side cars and trucks moving as nonexistently as their Georgian-side counterparts on the other side. Not that there is an actual LANE for cars driving INTO Azerbaijan. Numerous cars must reconfigure their bumper-to-bumper positions for the bike to squeeze through.
The small towns here appear newer and more solid than in Georgia, with less ornate but seemingly more solid homes surfaced in stones from the wide dry riverbeds we'll cross later. Semi-modern small markets adorn semi-modern town centers. Stopping for money at a bank-o-mat, a crowd immediately surrounds the bike. Unlike in Georgia where onlookers proprietarily draped themselves over the handlebars, everyone stands at a three-foot distance. A small boy gets his hand slapped when he reaches over to touch the back wheel. An English speaking Azeri man comes over to us and apologizes for what he calls his countrymens' "ignorance", saying they've just never seen a big bike like this before. He chattily bids us welcome and offers his phone number in case of any problems. People wave as we ride through towns and countryside. It's pretty cool. This is the first place where actually Erika agrees that we are getting more attention because of the motorcycle.
The medium-sized town of Zaquatala has neatly walled stone compounds that leave home interiors to the imagination. Our destination is a small resort nestled in the hills 6 kilometers outside of town, up a road lined with trees, neat country homes, farms and orchards. The quirky lodging has small cabins, relatively bug-free. You can choose to have tea or meals in the treehouse or in one of the other private open-air accomodations. Festive groups of Azeri families do not mute their excitement over the games of backgammon or whatever they're playing right outside our window until 2 in the morning. One guy has an insinuating repetitious laugh, a high wind-up rat-a-tat like gay machine gun fire. Everyone is friendly and hospitable. It's relaxing and feels like a vacation place, not just an overnight stop.
The northwest corner of Azerbaijan is lined with mountains descending into a flat valley which will eventually morph into desert and the industrial peninsula near the capital Baku.
Big trees provide shade as we head back down the mountain, then are directed back up, then back down the next shady stretch.
Dave is getting impatient behind this slow police car and starts to accelerate (....Dave!) Of course the cop flashes his siren and directs us to follow him. Great. Mile after mile we go, unclear on whether tonite's lodging will be of the cellular sort. Reaching the station, the cop asks us if we want mineral water or flat water. At least we won't be thirsty in the slammer. A woman comes out the back of the station and the cop tells Erika to go help her cook. Um, okay. Next thing we're being offered melon, yogurt, and a buttery rice and bean casserole upon which another policeman dumps tablespoons of sugar. It is weirdly delicious. Everyone has a lot of gold teeth. They give us a huge melon (exactly WHERE are we supposed to put this?) as a send-off. We've just been escorted to the police station and fed lunch.
Lap full of melon, we approach Seki ("e" written upside down in Azeri).
There is an exotic hotel converted from a traditional caravanserei--travellers' lodgings in the 16th-17th centuries.
Not sure where it is, we ask a local guy who tells us to follow his car there. Instead of the hotel, he takes us to the striking Khan's Palace. Erika, Dave and melon take a tour of the beautiful interior.
The caravansarei isn't far, but there's no room available as it is Saturday night. The only other option is the typical Soviet Intourist hotel. No one there speaks English, but along to translate comes Fuad, a young local guy who spent a year in Colorado as an exchange student. Dave is lingeringly paranoid after Georgia about leaving the motorcycle outside, though Fuad has grown up in Seki and guarantees that no one will touch the bike. Still he helps accomodate Dave's request to find an indoor motorcycle bed. The hotel guys put a plank over the STEEP set of stairs up to the lobby and insist that the bike can be brought up.
Five hefty guys and a few heart palpations later, the bike is safely up the ramp and into the lobby.
Everything's settled, stuff out of bike, moved into room. There certainly is a lot of dirty laundry. Sometimes you can get it done very inexpensively by the hotel, but most of the time it's a sink job. We pop into the market to pick up some soap. This brand inspires our confidence for clean, fresh and sweet-smelling clothes.
Meanwhile, Fuad has invited us for tea and dinner at his family's house. He's a well-spoken intelligent young man, one of 50 chosen out of 2000 who applied in Azerbaijan to study in the United States. In his application essay, Fuad stated that he should be chosen for education abroad as he would use his time making connections that could some day be used to create bonds between the two countries. Fuad shares some interesting observations and opinions:
On communism (Azerbaijan obtained independence in 1991): It was better in some ways under communism but now we are free.
On teahouses: the reason that teahouses are customarily used by men and not women is that though no law forbids a woman from entering if she wants, it would be against the Moslem religion which says a woman should spend her time only with her husband. A woman who respects herself will not go to the teahouses. Men would not want their sisters and mothers sitting at the same place with other men as women are held in the highest regard. In Azerbaijan men and women have equal rights under the law.
On education: Bribery is rampant. Teachers make such small salaries that "supplements" are expected in order for a student to make good grades.
On relations with Armenia: Young men must do one year compulsory military service. People want their land back in Nagorno-Karabakh. They expect a war at some point and are willing to fight and die for this cause.
On family: Azeri families are strong. Young people in the US who either receive allowances or hold jobs can access alcohol and drugs because they have their own money to spend; whereas Azeri youth are better off because they live longer with their families and are compelled to ask their parents for money. When you must ask a parent for money they can determine how it will be spent; kids in Azerbaijan think more seriously about the kind of life they choose.
Fuad is the oldest kid, with a younger brother and sister. His dad was a teacher for many years but was laid off and now makes pastry to support the family. His mom and grandma bring out yummy french fries, bread, meat patties and salad with fresh herbs. We contribute The Police Melon, though it's unfortunate if not unexpected to hear that our law-enforcement experience is completely atypical of the kind of treatment an Azeri would expect in a similar situation.
Though Fuad guesses unemployment in his country to be about 70%, he's been able to access some opportunities not available to young people in many of the countries we've passed through so far. There is every hope that he'll be successful in his plans to obtain a masters degree working with computers.
Gas stations in Azerbaijan are not necessarily the high-tech sort to which we are accustomed. (just WHAT type of salad dressing did you say you were putting in there?) But as petrol is a moderate $1.50 a gallon, topping off and hitting the road the next day isn't a painful experience.
There are frequent roadside reststops in the woodsy area en route to the traditional mountain village of Lahic, each with private dining cabins or expansively spread-out tables. It's relaxing to stop in the shade for tea and snacks.
The apparently obscure narrow rutted dirt road to the town is surprisingly well-travelled in both directions.
The town is set along one of those broad, dry river beds and is bordered by currently dry brown mountains under a gray sky. A short stroll leads through a very well-kept historic town.
Another young man leads us to the local museum. Probably due to the excellent local education, a disproportionate number of the town's citizens became prominent literary or political figures.
Dinner at the rustic guesthouse consists of the usual gristly meat shashlyk and bread, but eating in the orchard near haystacks with views of the surrounding hills makes up for the limited culinary selection.
In the morning we want to hike to a nearby waterfall, but the route is unclear and the surroundings not very inspiring. Instead, a detour up the hill leads to a great view of the area.
We return to a unique bathing experience in the guesthouse's hammam (historic baths). Just step down the dark, slippery passageway into the dark, slippery cavelike steamroom where hot and cold water are piped into buckets to be dumped on your dark, wet, invisible self. After breakfast we meet a really nice German couple, Kolja and Nadya, three weeks into their honeymoon. It's fun to compare travel notes as we're headed in opposite directions. They've just come from camping in the mountains of Azerbaijan, where they received many offers of food and lodging from the local people. Speaking Russian has contributed to the richness of their experiences. Maybe we can meet up again some time, if we happen to be passing through Berlin.
All we need to do now is get some fresh water from the nearby spring, where the town and people on through-buses stop for replenishment. A super-friendly family group asks to have their picture taken, which (de)volves into a raucous photo-shoot with everyone clowning it up for the camera.
Properly steam-cleaned, chatted up and watered, we continue east through the increasingly dry landscape towards the capital city of Baku.
Clouds breeze across a dry desert studded with electrical towers.
There are at least 3 police stops on the way; largely, it seems, so that the police can check out the motorcycle. The third cop speaks English. "You know America and Azerbaijan have a great friendship?" he asks, asking if there is anything he can do to help. America does indeed like Azerbaijan's oil, and some Azeris have the impression that America will back them in a conflict against Armenia. We aren't sure if this would be true or not.
The approach to Baku is remarkably ugly. Homes are beige, hills are beige, clouds are drab, power lines are gray. Drilling rigs cluster over broken up rock clods being transformed into drab new beige homes. Eventually the outskirts make way for more modern towering apartments and hotels. We find ours right in the center of town, a more inviting area.
Turkish doner kebab is on every corner, Azerbaijan apparently having a large Turkish population and good relations with that country.
Now all we have to do is figure out who is actually running the Soviet-block-style hotel. Is it the half dozen guys sitting on the front step? the two guys in the small glass case in front? the guy behind the broad dark desk in the dark on the first floor? the friendly woman in the flowery dress sitting in the 2nd floor lobby? the two surly women in the small room smoking and drinking tea? the sleazy big-bellied guy with the wad of bills who ushers the motorcycle into the lobby? the guys in blue police uniforms sitting in front of the computers in that room over there? etc. etc. etc. If you guessed, "the two surly women in the small room sitting at the table smoking and drinking tea", you MIGHT be right!! Though we pay them a couple of times, the guy behind the broad dark desk also seems to want money, as does the sleazy big-bellied guy with the wad of bills. The sleazy guy collects 10,000 manat for the assistance he has provided with situating the motorcycle in a garage around the corner. Who knows if this is legitimate or not.
In any case, somehow we get settled into what appears to be a decent enough room except for the bugs crawling out of the bathroom floor drain. And the toilet with no seat which flushes with a bucket you have to fill up. And the mildewed black pipes protruding from the wall where the sheetrock is nonexistent over half the surface. And the bugs eating us alive all night long. Okay, so it isn't a perfect room. Although the "renovated" rooms are almost twice as much as this room, it's still the cheapest show in town and we aren't planning to go through another night like THAT one. One of the floor ladies helps us the next day to move our stuff to another room. Although the occupants of THAT room aren't moving until later so we'll have to put our stuff in storage since we have to move out of OUR room EARLIER in the day. For this privilege the sleazy guy collects 10,000 more manat. Later we move all our stuff back into the new, air-conditioned suite. The air conditioner is spewing hot air into the room. One more try and one of the floor ladies settles us into a totally satisfactory room, where we'll spend the next 4 nights.
Dave: "She doesn't speak English, but she knows 'room exchange.' "
Baku is a nice place to rest up and take advantage of some Western-type amenities. Of course there's Internet, easy-to-access beer, and food besides gristly shashlyk. A stroll along the waterfront is okay, though there's not a whole lot going on and oil rigs play an over-prominent part of the horizon.
We succumb to the siren call of Pizza Hat, where it's a small miracle to note over 25 kinds of pizza and 20 kinds of salad after weeks subsisting largely on bread and shashlyk. Pizza Hat also has the best Chinese and Indian food either of us has eaten anywhere outside of San Francisco. Next day at the Pakistan Embassy (which will be the second after the one in Turkey to decline our application on the grounds that we needed to apply in our home country--but the visa would have expired before we got to Pakistan if we'd applied in our home country!) we meet an interesting Azeri guy who works for the oil company BP and encourages us to check the American Embassy for jobs as they are very easy for foreigners to get here. We consider it: a job in Baku would after all allow for regular dining experiences at Pizza Hat.
Cheap Things In Baku: The metro, a nickel
Expensive Things In Baku: Phone calls to the Pakistan Embassy in Washington D.C., twenty dollars for four minutes
Weird Things In Baku: Horns on regular cars that sound like police sirens
Of course none of these things are as weird as anything in Turkmenistan. But that's another story...
It's Friday, time to meet up with Oliver, a German guy living in New York who will be on the same required-by-the-state-led guided tour of Turkemenistan in a few days and who has arrived in Baku to entwine his destiny with ours (poor Oliver) for the next week or two. He's staying at a hotel in the quiet Old Town area,
where yesterday we'd explored the cool-ly empty Palace of the Shirvan Shahs.
A short stroll takes us to a coffee shop in a nice part of town.
Oliver is a well-travelled professor of genetics at Columbia University whose company is really interesting and fun. His trip has started off infamously with his bags not arriving with his plane. They'll finally arrive in time to be taken on to Turkmenistan, but it's not a real auspicious beginning. Oliver remains cheerful and energized despite no bags and next-to-no sleep for 3 nights.
After lunch at a below-ground cafeteria-style Azeri cafe, we head over to the port to arrange our tickets for the ferry on Sunday.
Come back Saturday, says the port guy. We come back Saturday. You can't take the Sunday morning ferry, says the port guy, your Turkmenistan visas don't start til Monday and if you take the 10am Sunday morning ferry you will arrive at 10:00PM and it will not yet be Monday and it is not possible. Come back Sunday at 5:00, says the port guy.
a) ferries do not leave at 10AM, they leave at 2PM or whenever they want to;
b) ferries do not take 12 hours, they take 14 hours, or however long they take;
c) therefore there is very little possibility we'd arrive before the visas begin Monday
d) and even if we did couldn't we just stay on the ferry til midnight, then get off?
Of course none of this logic holds any water with the port guy. He writes up 3 tickets on the same piece of paper (poor Oliver) and collects $100 per ticket a piece. "Foreigner price", says the port guy, writing up receipts (in a room with no other official witnesses) showing payment of $45 a piece.
KIDS, TAKE THIS FUN QUIZ:
Where do YOU think the extra $55 each is going?
a) into the government's coffers to provide food for the elderly
b) it will be refunded to us shortly when the port guy realizes he made a boo-boo
c) a) or b) only; where else could the extra money actually be going? stop being so gosh-darned suspicious.
In the interim before launching off to unknown shores, Dave and Erika take a day trip Saturday to find The Mud Volcanoes. We pass a vast salt flat mingled with oily rust-colored oozings from the damaged ground.
Of course we can't locate the mud volcanoes anywhere and no one has heard of them in the village nearby.
Everything seems to be sprung from and returning to dirt. Chameleon houses wear coats of gold-gray brick, sheared off the back of the wild animal desert.
Stopping at a small encampment in the desert, we meet a trailer-ful of young geologists working not-too-happily for a Chinese company. They break out a hearty soup lunch upon hearing of our plight. We all watch Bollywood movies. Overall it's almost as appealing as Pizza Hat. One of the geologists pipes up with the requisite warning about the people in Turkmenistan: in each country, like clockwork, someone inevitably provides a cautionary warning about the scarier or less trustworthy people of the neighboring country.
Ultimately we do find the mud volcanoes, a group of small mounds covered with cracked lattices of the dried clay oozing up and over their peaks.
They are worth a half hour of studious pondering and wandering.
Not far away is a small museum
and big rock overhangs carved with 14,000 year old cave art which we check out as well.
The coast-hugging ride back to Baku boasts a splendid array of off-shore oil rigs which from a distance would almost be aesthetically pleasing if they weren't so ugly. Environmental damage from the oil industry is rampant here and apparently even worse in the northern and western parts of the peninsula.
Five o'clock, sunday, port. Five o'clock, sunday, no boat. Come back at 7:00. We walk down the road with Oliver to a bright pink restaurant. We have some tea. At 7:00 Dave goes back to port: come back at 9:00. At 9:00 Dave goes back to port. Customs guy gestures to come into office. Customs guy looks at papers. Speaks one word of English: "Problem." Other customs guy speaks a few words of English: "Your bike is late."
Ohhhhhhh, it's the 3-Day-Motorcycle-Visa-No-Problem-Problem. No one around to deal with Problem as it is Sunday night--must come back Monday morning to deal with Problem. But we're supposed to be in Turkmenistan Monday morning to start our tour. Dave exhausts every fathomable plea to discover ANY possible way to resolve the situation and get us on the boat that night. Must come back Monday morning to deal with Problem. Two hours later Dave returns to Oliver and Erika with news. Dave and Erika are stuck with Problem, as it is Their Problem, but maybe at least Oliver can get on the boat tonight. Back to port. Oliver to Port Guys: I am not with the motorcycle. Can I go tonight? Port Guys: No. You are on same ticket. Must all go in morning. But it isn't Oliver's fault that someone wrote all our names on the same ticket. Oliver negotiates and begs until almost 2AM when the boat's captain arrives. The captain is a surprisingly young guy dressed in street clothes; he is somewhat sympathetic to Oliver's plight but states that this particular boat is limited to 12 passengers as it is carrying hazardous material, and it is already full. Oliver is stuck with us and our Problem.
Back to The Pink Hotel, which based on the attire of the numerous scantily clad young ladies passing through we suspect is actually a brothel. Somewhat classy, however; looks like in Azerbaijan when "Couples" are on "a Date" their "Courtship Ritual" includes dinner in the breezy garden patio. Kinda sweet. The room is $50, the most expensive on this trip, includes a family-style dining room set with crystal glassware, a fishtank with three turtles, scenic mountain vista paintings, and bathroom with excellent plumbing. It's probably also the classiest place we've stayed anywhere, except for the extra $10 the night guys try to extract for "security and administration fees". No one is in the mood to be dishing out extra cash to the night staff after a long unsatisfying day like this one, and eventually they settle for $2.00.
Morning rolls around too soon. It's time to deal with Problem; but now we are at the wrong building. Visions of $500 fines lumber menacingly through our heads as we set off for the central port. We're escorted upstairs by white-shirted workers to the "Anti-Smuggling Department". This is not looking good. The workers engage in surprisingly pleasant chitchat. After all that, the friendly port bureaucrats hand down a surprisingly light sentence: take $7.00 to the lady at that window over there, bring your receipt to Set O' Bureaucrats #1, and Problem Will Be Gone! Happily we hand over seven bucks. Back to the port with the magic receipt. Duly noted by Set O'Bureaucrats #1. Shortly after, the three of us along with the motorcycle are allowed to board the ferry to Turkemenistan.
Enter your email address to receive updates to David McMillan and Erika Tunick's trip story!
Recent Entries
Archives:
Archives:
Monthly
Archives:
Category
Now that summer is here, get On the Road! Take 30% off the Achievable Dream - On the Road! 2-DVD set until August 31 only.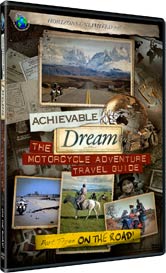 Our veteran travellers share their tips (and great stories) for staying healthy, happy and secure on your motorcycle adventure.
"A fantastic, informative and inspirational DVD."
"It's brilliant - thank you very much!"
Check it out at the HU Store! Remember to use Coupon Code 'ONTHEROAD' on your order when you checkout.
Next HU Events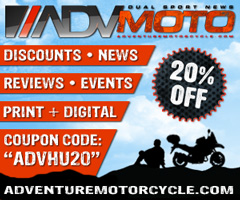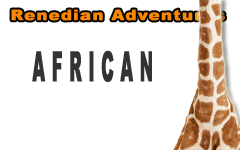 What others say about HU...
"I just wanted to say thanks for doing this and sharing so much with the rest of us." Dave, USA
"Your website is a mecca of valuable information and the DVD series is informative, entertaining, and inspiring! The new look of the website is very impressive, updated and catchy. Thank you so very much!" Jennifer, Canada
"...Great site. Keep up the good work." Murray and Carmen, Australia
"We just finished a 7 month 22,000+ mile scouting trip from Alaska to the bottom of Chile and I can't tell you how many times we referred to your site for help. From how to adjust your valves, to where to stay in the back country of Peru. Horizons Unlimited was a key player in our success. Motorcycle enthusiasts from around the world are in debt to your services." Alaska Riders

10th Annual HU Travellers Photo Contest is on now! This is an opportunity for YOU to show us your best photos and win prizes!
NEW! HU 2014 Adventure Travel T-shirts! are now available in several colors! Be the first kid on your block to have them! New lower prices on synths!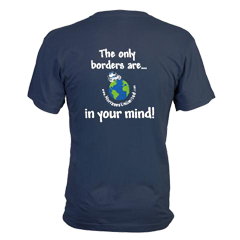 Check out the new Gildan Performance cotton-feel t-shirt - 100% poly, feels like soft cotton!

What turns you on to motorcycle travel?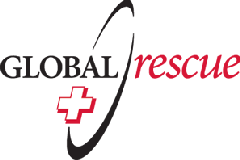 Global Rescue is the premier provider of medical, security and evacuation services worldwide and is the only company that will come to you, wherever you are, and evacuate you to your home hospital of choice. Additionally, Global Rescue places no restrictions on country of citizenship - all nationalities are eligible to sign-up!
New to Horizons Unlimited?
New to motorcycle travelling? New to the HU site? Confused? Too many options? It's really very simple - just 4 easy steps!
Horizons Unlimited was founded in 1997 by Grant and Susan Johnson following their journey around the world on a BMW R80 G/S motorcycle.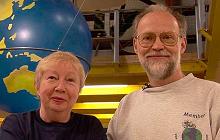 Read more about Grant & Susan's story
Membership - help keep us going!
Horizons Unlimited is not a big multi-national company, just two people who love motorcycle travel and have grown what started as a hobby in 1997 into a full time job (usually 8-10 hours per day and 7 days a week) and a labour of love. To keep it going and a roof over our heads, we run events (22 this year!); we sell inspirational and informative DVDs; we have a few selected advertisers; and we make a small amount from memberships.
You don't have to be a Member to come to an HU meeting, access the website, the HUBB or to receive the e-zine. What you get for your membership contribution is our sincere gratitude, good karma and knowing that you're helping to keep the motorcycle travel dream alive. Contributing Members and Gold Members do get additional features on the HUBB. Here's a list of all the Member benefits on the HUBB.
Books & DVDs

All the best travel books and videos listed and often reviewed on HU's famous Books page. Check it out and get great travel books from all over the world.

MC Air Shipping, (uncrated) USA / Canada / Europe and other areas. Be sure to say "Horizons Unlimited" to get your $25 discount on Shipping!
Insurance - see: For foreigners traveling in US and Canada and for Americans and Canadians traveling in other countries, then mail it to MC Express and get your HU $15 discount!
Story and photos copyright © All Rights Reserved.
Contact the author:
Editors note: We accept no responsibility for any of the above information in any way whatsoever. You are reminded to do your own research. Any commentary is strictly a personal opinion of the person supplying the information and is not to be construed as an endorsement of any kind.
Hosted by: Horizons Unlimited, the motorcycle travellers' website!
You can have your story here too - click for details!