September 05, 2005 GMT
Uzbekistan
You don't want to sneeze funny in Turkmenistan because you'll probably be fined $582 and prohibited from returning to the country for thirty-five years. With this mindset hovering over the day, 5 year ban stamps blazing in passports, we tiptoe the bike towards Uzbekistan. Funny how hanging out in countries with repressive governments makes you feel simultaneously rebellious and just a little bit well-behaved. You think about how a lifetime under such regimes creates a population innately no different than ours, barring having been indoctrinated from an early age that police presence on every block is normal. And that a book written by the omniscient president is the Gospel Truth. And that you'd better not stray from the party line. We feel somehow cowed, as if we'd better be good, as the next country's border approaches.
Uzbekistan is 200 meters beyond the Land of the Red Stamp. We park the bike and cram into a small passageway along with a young woman, her 2 children and an old lady with a shopping bag full of round flat bread. We're busy behaving well when the old lady starts pantomiming some cross-cultural conversation. She is wondering why we don't have any kids. She is making unabashedly vivid gesticulations of what she thinks we should be doing more in order to get us some kids. Mom is cracking up, kids are cracking up, even the customs guy is cracking up. Eyes all a-twinkling, the old lady thrusts a round of bread into Erika's bag as she hobbles out the door. Toto, we have a feeling we're not in Turkmenistan any more.

The rest of customs takes about 20 minutes and is constituted of officials poking perfunctorily through the bike's side cases, primarily interested in checking out the pictures in the Central Asia book and trying on Dave's motorcycle jacket. They want their picture taken in front of the bike. Guess we can drop that "good behavior" thing now. Oleg, our guide in Turkmenistan, was cool; but it's great to be independent again. Riding off into the afternoon light, you can practically breathe in a sense of freedom. It's corny but we're just starting to realize how significant a lack of "freedom" really is and what it actually means to people in their day-to-day life. We can simply pick up and take off for another country, where feisty old ladies indicate proper conjugal behavior in front of border officials. The people of Turkmenistan are stuck back at home, passports always in hand, reading state-approved books and being fearful of speaking openly with tourists.
Uzbekistan is apparently the second largest producer of cotton in the world; cotton and corn fields spread out to the horizon. Homes are reminiscent of rustic Santa Fe adobes, with flat roofs and mud walls.
There is a vast sparkling river to cross, over a narrow lumpy bridge whose pedestrian traffic vastly outweighs that of motorized vehicles.
Eventually we reach the outskirts of Khiva, the first of 3 historical silk road cities to be visited on this trip. The old town walls are unusual with their rounded straight and pot-bellied citadels.
The main gates open over flat cobblestoned pathways, passing a few souvenir stands and just a few people. The Ichon-Qala, or old city, appears barely inhabited but is perfectly renovated and preserved.
Dinner is the hugest array of food in a long time: bread, tea, dried fruits and nuts, 4 kinds of salads, fresh fruit and melon, some delicious main course and some other stuff we can't remember any more. The restaurant is run by our guesthouse owner and well worth eating at for the next 3 nights. After dinner we head for the more upscale Hotel Khiva, a converted medressa (center of learning) where Oliver is staying. He's trying to get an early night's sleep, but we'd rather make him hang out on the balcony catching up on the Turkmenistan fiasco as kids from the street below send up giggles and chants of "Mister, Pen".
Sunday market is a visual treat. Sellers sprawl along the old city walls.
Everything is available: figs, fabrics, shoe soles, shashlyk, souvenirs, auto parts, plastics, benzine, backpacks, bananas.
This must be peak shopping time, so our pace is dictated by that of the throngs picking their way through creaking tables above and piled-up blankets below. Every inch of space is being used, from floor to ceiling.
Salespeople call out to passers by, their voices lost in the hubbub, or sit silently waiting for an interested customer to approach.
Inside the looming arcades is more elaborate merchandise. It's unlikely the original medressa's founders suspected their halls of study would some day house mannequins outfitted with wedding attire.
Much beautiful tilework embellishes the Kukhna Ark, which was built in the 12th Century as a palace for the khans (rulers) of the time. Dave enjoys gawking at the reconstructed jail and its grizzly drawings of 12th century state-of-the-art torture techniques. Erika prefers to sit on one of the throne-like wall niches, fancying herself Queen of the World.
Both of us like the great rooftop scenery.
Every step in Khiva reveals something historical. The once-crumbling old city was restored through a large Soviet renovation project around 35 years ago.
At a mausoleum/medressa with a small courtyard, you still have to pay a fee to enter even though the interior is closed off for a double wedding.
On the flip side, the wedding couples don't have a whole lot of control over who is wandering through their ceremony. You can spot the Western tourists a mile away. Isn't anyone embarassed about their personal attire in such a conservative place?
Outside the wedding, Erika strikes up a conversation with some young women with a cute new baby. It's encouraging to notice that despite the language barrier women here seem quite outgoing and easy to engage. They don't seem to take a passive role next to the men who control the interactions. It has been discouragingly challenging to interact with women in many countries.
Another medressa has been converted into a crafts center. Some young women and an older man are cooking fresh flat bread stamped with regionally characteristic flower patterns in a deep round kiln.
The master weaver is tinkering around at a loom in another room and offers to show Dave a trick or two. This skill will provide a good alternative to Dave's engineering career once he gets back to San Francisco.
Gotta get some money. That should be easy. Here we are at the bank. The bank has no money. The bank has no money? Second bank. Much fussing takes place. Big vault is unlocked. Largest bill available is worth 20 cents. There you go, 100 Euros in 20 cent bills. We think it's time for a new wallet.
At the Natural History Museum, many display rooms have been created from the small dark cells where students must have studied hundreds of years ago. The rooms are still exceptionally small and dark. The taxidermist probably did a fine job 20 years ago but there are no high-tech temperature controls at this funky little hole in the wall; the region's 110 degree summers and -20 winters haven't done a whole lot to keep these animals fresh and lively looking.
Some dried-up looking plants are stapled to the wall in the next room. Another cubicle unexpectedly and unexplainedly reveals a fetus in a jar. Kind of weird.
The neighboring museum consists primarily of hundreds of photos by an old town documentarian. We're taken by the hand and led through by a spry 12 year old with pretty good English who proceeds to explain in detail each and every shot. How do you extricate yourself from a young historian who also wants to sell you something when she's through? The kids here have clearly seen plenty of tourists and are pretty savvy in trying to charm them. Smaller kids chant, "photo, photo" and want to see the digital screen after the shot is taken. A few young people ask to have their picture taken then want a copy mailed to them as soon as possible. Erika isn't pulling out the camera quite so conspicuously at this point.
En route to Bukhara, the next historic city, the desert provides 8 hours of 105 degree heat. It's windy enough, however, to blow sand into our tea and pelmeni (dumpling) soup at a chaykhana lunch in the middle of nowhere. Out of nowhere a flock of German tourists tumble out of a tour bus for tea. Uzbekistan--or at least its famous silk road cities--is the most touristy place we've been since Dubrovnik.
It takes an hour and a half for our room to become ready at the next guesthouse. The hostess provides nuts and raisins with tea during our wait in the still-drenching 7:00 PM heat. At least the room is air conditioned. Erika has previously proclaimed vigorous opposition to air conditioning in principal, but this trip is causing some serious reconsideration of her views. Dinner later is shashlyk and beers with Oliver and two Irish women at Lyabi-Haus. This is a central pool built hundreds of years ago into a plaza now surrounded by outdoor cafes. It's touristy and kind of overpriced but pleasant as the night brings a slight drop in the heat.
Fatima, the bed & breakfast's hefty owner, starts our day with the largest breakfast ever to provide fuel for a walk through town. The streets are narrow, with homes walled side-by-side providing no peek into the imagined lush courtyards within. Occasional ancient tiled facades pop up between dry gray outside walls. The overall feeling is of age, dust, and renovation.
Where do people find their energy in the blistering heat? These guys have the right idea:
Since Dave now has a personal investment in all things hand-crafted, we take a tour of the dye works at a UNESCO-supported carpet weaving school and meet the some of the young women sitting for hours on end creating silk carpets for sale in the small shop.
The guide, an expert weaver and teacher herself, has been to an international crafts convention in Santa Fe and remarks that she was quite taken with the architectural similarities of Santa Fe to Uzbekistan!
One of the town's main attractions is its Ark, a very large imposing structure which is rather costly to enter. It's kind of frustrating to find many souvenirs and fabrics for sale within the walls but all the museums closed.
Indeed, souvenirs and general merchandise are for sale all around town. When the weather is this hot, and your whole town is a historic playground, there would be no point in keeping your products indoors. And what a view from the couch.
At the Ark, we meet Justin, who is riding an old car from London to Mongolia to raise money for Save the Children, Mongolia. He is also fresh from Turkmenistan, where he received a mere one-year ban for overstaying his visa by one day. We also run into Thiago, a Brazilian bicyclist whose trip began in Portugal. Thiago is covering 160 kilometers a DAY, which means at our leisurely stop-a-while-here-and-there pace, he is keeping apace with us on his bicycle!! For more on Thiago's travels, check out www.planetbybike.com.
Bukhara is many travellers' favorite Uzbek silk road city, but Erika can barely muster the energy to get herself to the Internet place. Dave happily washes the bike. Sunset seems like a better time to explore and brings the reward of a full moon-rise near the walls of the Ark.
Another long stretch of desert brings us to Samarkand, possibly the most famous of the Silk Road cities. It is also significantly larger than Khiva or Bukhara, with its impressive monuments surrounded by large avenues and Soviet-style buildings.
We continue to meet up for sightseeing and dinners with Oliver, who is taking public transportation along the same route (although he will be heading off next week for Kyrgyzstan.) At the next guesthouse, we have a pleasant rest on a classic "tea bed", a low-to-the ground structure akin to a king-sized bed frame on sawed-off legs. (it probably IS a king-sized bed frame on sawed-off legs.) Throughout Central Asia people take off their shoes and sip tea and sit a while. Sometimes the weather is warm and you can sleep on the teabed under the stars.
Samarkand's piece-de-resistance is its own Registan. It is the single most impressive structure we have seen, despite the irritating web of guards who are preventing us for some reason from going inside. A fair amount of construction is being done nearby but there seems to be something else going on as well.
Turns out the entire front courtyard has been commandeered as practice space for song and dance groups scheduled to perform at some upcoming public event. That's all good and fine, but you aren't allowed to get close enough to see anything. And what about the REGISTAN?? Oh, okay, we'll kill some time at the marketplace and hope we can get in tomorrow. Some people here are quietly pleased to have their picture taken
while others are perhaps not quite so sure.
There are plenty of other sights to see. The mausoleum of Timur, a.k.a. Tamarlane, holds the remains of this venerated 14th century warrior (hero or barbarian, depending what side of his army you were on.)
Timur's wife had a grand present built for him (the Bibi-Khanym Mosque) while he was off conquering people, but legend has it that the architect fell in love with her. This led to his subsequent execution and Timur's decree that women should henceforth wear veils to prevent other men from temptation. Many Uzbek women wear scarves over their hair but in the cities modern young women are mostly free of head coverings.
Sunday from 12:00 to 3:00 tourists will finally be allowed inside the Registan.
The tilework is stunning, though once again festooned with an array of souvenir shops. They are colorful and interesting in their own way but there is something uncomfortable about being solicited to buy products in an ancient monument once you've already paid your money to go inside for a presumably awestruck moment communing quietly with history. By the way, it would be a lot easier to take advantage of the souvenir opportunities (if we were buying souvenirs, which due to lack of room we're not) if we could only find some MONEY. We go to 2 more banks in Samarkand which state they have none before locating an amenable exchange office in some obscure place.
Our last night in Samarkand we eat variations on noodle soup with Oliver and head back to the Registan to see how it looks in the neon glow of its very own designer light bath. The stage has been cleared, and plenty of tourists are back around for one more chance at a close-up photo.
It's been a full week wandering through the mazes of old Uzbek streets and soaking in the atmosphere of some of the Silk Road's finest monuments. Tashkent, Uzbekistan's capital, will be a more modern place, lacking in eye-popping mosques and medressas but winning points for good restaurants and faster internet connections. And then there are those visas to chase after. Back through the desert and a string of dusty small towns. This meal stop consists of more bread, tea, and noodle soup. The family who runs the hole-in-the-wall is reserved initially but warms us up more than the soup by the end of what they insist will be a free lunch. Grandma is particularly thrilled by the opportunity to be a motorcycle (grand)mama.
Tashkent is all wide wide streets flanked by big broad trees, impressions of homogenous mid-sized soviet apartments peeping through the shade and concrete. It's pleasant enough, in a bland sort of way. Erika loves to walk everywhere but distances sprawl so vastly through the dull-ish scenery that it's hardly worth the effort.
To compensate, Tashkent hosts a gorgeous metro with each station ornamented more elaborately than the next. Don't try to take any photos, though, as the guards stationed everywhere can confiscate your camera. ("Lonely Planet" warns against photography inside the metro, and indeed we witness a heated exchange between a guard and a young man who has apparently taken a video). Everything is spotlessly clean. Everyone dresses nicely; there's no graffiti or litter; and you certainly can't imagine anyone taking a leak inside a subway tunnel. (Got that, Dave?)
We're supposed to meet up with Oliver for dinner at the Timur statue, but no Oliver; turns out we got the date wrong. Instead, we stroll near the circular park down a small strip known as "Broadway", where outdoor cafes sell plov (kind of like a greasy central Asian paella), kids play at small arcades, teenagers buy balloons, and dancing girls entertain from netted rooms adjacent to the restaurants.
Next day Erika feels sick but we need to go to the Pakistan Embassy for the 3rd try at obtaining a visa. In Turkey and Azerbaijan, our applications were declined on the basis that you are supposed to apply in your home country. But if we'd applied in our home country, the visa would have expired before our arrival in Pakistan! With bated breath and fingers crossed, we prepare to plead our case to the (hopefully) sympathetic Tashkent Pakistani official. Looks like it might work this time, for $120 each and a trip back to the Embassy on Wednesday....
We're kinda sad that it's Oliver's last night on our route, although happy that he'll have lots of good times continuing on to Kyrgyzstan, China and Pakistan before heading back to New York. We'll miss his vast historical knowledge, not to mention his sense of humor and general good company. One last dinner together and he'll be off in the morning. Howzit going now, Oliver?
The money search continues. Bank's not located where it's supposed to be located, so we go to a hotel referred as a likely place to change Euros. Hotel can't exchange Euros and says to go to another bank. Bank's tellers are busy counting money and barely look up from their piles to firmly state, "No". We give up and go do Internet. Next day there are two more banks to try, which don't change Euros to som either. Third bank: Your Money Is Too Old. Erika tries to change travellers checks but they are not on her customs declaration (the customs guy told her it wasn't necessary to declare travellers checks). We have to be at the Pakistan Embassy at 3:30, which according to the map is about 3 miles away on two direct roads. There isn't time to walk, so we ask EIGHT taxi drivers who are either unable to read the map or just don't feel like taking us to the embassy. Finally a guy in an auto repair shop says he'll drive us there. It isn't complicated. Talk to Embassy guy. Embassy guy: come back Thursday. Argh.
Very hungry, we meet a talkative young guy over a late lunch.
Moshrab attends the Islamic College in Tashkent, where some of his family lives; he also has family in Kazakhstan, which he feels is a freer country. He speaks openly about the tragic situation in Andijan last May when the government opened fire on protesters and killed minimally hundreds of people. (The situation caused international protest and request for further civil rights investigations by the United States among others. At the demand of the Uzbek government, the U.S. is currently pulling its military out of Uzbekistan). Moshrab feels that most people are too caught up with living their daily lives and getting food on the table to truly concern themselves with politics. Even the youth, he says, are hopeless and don't bother to try to protest because they'll just wind up in jail. Apparently all internet was shut down throughout the country for two weeks after the Andijan massacres. He feels his best hope is to get out of Uzbekistan to study and live elsewhere, and would like nothing better than to do just that.
The free Art Museum of Uzbekistan provides a temporary aesthetic escape from the discouraging stories of government restrictions. The museum is situated in a more landscaped part of downtown with some scenic fountains and gardens.


Once again it's time to embark on mind-numbingly fruitless attempts to exchange money. At Uzbek National Bank It's Too Late To Exchange Money. Two more fancy hotels unsurprisingly do not exchange Euros. All of a sudden the streets are totally empty and police line every corner. No one seems concerned or even particularly interested. It turns out the President will be passing through in his government cavalcade, a regular daily occurrence. The police presence is not as strong as in Turkmenistan, but it becomes more noticeable with each passing day. Police in the Metro. No photos in the museum. Someone tells us that motorcycles are actually illegal in central Tashkent as a suicide bomber used one to get to his destination. One time a cop asks to see Dave's passport, which feels more invasive than one might anticipate. This country is not so free either.
Friday is the Chinese Embassy, a relative miracle of ease and efficiency. Show up at 10:00, pay $80 each, come back at 5:00, pick up visa. This gives plenty of time for yet ANOTHER try at Uzbekistan National Bank. Two and a half hours of various windows and tellers and paperwork later, THE EUROS ARE FINALLY EXCHANGED. Although two of the Euro notes must be exchanged, for 5% commission, for NEWER Euro notes, before being exchanged for som, as they each have a very small tear on one edge. Never has it been so difficult to exchange money as here in Uzbekistan. (to be noted, however: apparently dollars would not have been quite so difficult to exchange, as long as they were in pristine condition.)
At a last-night splurge at the Dervish Art Cafe, we meet the former Ambassador to the Korean Embassy in Tashkent, now golf mogul/founder of the city's only Lakeside Golf Club.
It will be great to get out of town for a retreat into one of the few mountain landscapes in Uzbekistan, a few hours outside Tashkent. There's a pretty mountain town called Chimgan but no lodging to be found there. Another hotel lies ahead somewhere by the reservoir. Hills are dry and brown but the water is blue and the air at this higher elevation has a pleasant chill. What's this weird modern complex down there? Is this Uzbekistan? This could be anywhere. Is THAT where we're going to stay? Guess so.
The resort is a modern and pricey place with very comfortable rooms and a huge buffet dinner. Our dinner companions are a group of 5 young men who have won their weekend at the resort by entering some kind of cell phone lottery. Dave shoots some pool with them after and everything seems fine, until the middle of the night when both of our stomachs start rebelling. Dave is in something beyond normal discomfort.
In the morning Erika staggers downstairs to see if the desk clerks can arrange medical care. A nurse offers some pills or a shot without finding out much about what's going on. Dave would rather go back to Tashkent and get some real medical advice. Luckily it's only about 2 hours away, though quite a long 2 hours when you feel like crap. The helpful staff back at Hotel Orzu contact a medical service which makes house (or hotel) calls. The service arrives shortly and performs a remarkably thorough exam on Dave, including blood test and some kind of cardiogram. This time he does accept the ol' shot-in-the-butt, along with a written note to follow up at the "MDS" medical clinic the next day.
MDS clinic proves to be a remarkable experience of diagnostic skill and efficiency. Dave has had some stomach issues for years but has never gotten much in the way of diagnosis or treatment. In seven hours, with the help of a translator, Dave gets a sonogram, x-rays, and a rather gruesome (better not go into it here but it does provide a diognosis); he is also seen multiple times by 2 specialists (gastroenterologist and urologist). Turns out our Dave has an ulcer as well as a kidney stone which is in no imminent danger of causing harm. The entire bill, including the previous day's house call and 5 types of medicine, is under $100. Treatment for the kidney stone isn't a current option as he has to complete a 1 month course of antibiotics for the ulcer; but if the ulcer were not an issue, MDS could have scheduled laser treatment on the stone the next day for $300. Imagine how long it would have taken to receive all this medical care in the U.S., not to mention how much it would have cost.
(Incidentally, while talking to the nurse/translator, Erika discovers a few interesting facts about employment and salaries. Olga is an RN who has been at the clinic since it opened 8 years ago. She is employed six days a week, eleven hours a day. For her palty 264 hours of work a month, Olga rakes in an astonishing $120 a month. This is apparently a good salary for Uzbekistan. So Dave's bargain bill would have been a bit less affordable for a typical local citizen...)
Though Tashkent is kind of dull, it's not a bad place to rest up and recuperate. Erika's stomach is better by now, and both of us benefit from the mild non-greasy food options available at a string of little restaurants with English menus right near the hotel. A week passes quietly as Dave gets some strength back. We poke around more local markets
and discover Dave's relatives have set up a bookstore in the area:
Erika decides Dave has enough strength to come out and see the Uzbekistan's Independence Day festivities on September 1 (achieved from Russia as of 1991). Downtown, moderate numbers of well-dressed people are calmly strolling through Independence Square but there doesn't seem to be any particular event taking place.
Back at the hotel, TV proves that something WAS going on, at a DIFFERENT square. A large crowd at a darkened coliseum seems to be enjoying the military parades and national song and dance performances. Erika tries to tell herself that taking photos of the event on TV is just as good as being there.
Another week has passed, and Dave is feeling well enough to start thinking about the next country. Bidding a somewhat fond yet relieved good-bye to Tashkent, we set off to figure out which of the three border crossings is actually going to lead us into Tajikistan.
September 20, 2005 GMT
Tajikistan
Border crossing? WHAT border crossing? According to our map, three purport to cross from Uzbekistan into Tajikistan. However not a soul, from travel agents to police, seems to have the slightest knowledge as to whether any are in fact open. So what can you do but pick the one that appears closest to your destination and head for it. Then what can you do when told at the guard post that this one is inaccessible but head for the NEXT border crossing. And what's to be done when told at the guard post that THIS border crossing is for pedestrians only except head for the NEXT border crossing.
Four hours from starting, a young wanna-be-tough-somehow-militarily-connected guy commands us to stop, fork over our passports, open up the sidecases, and pull out the contents. We stand there thinking, "NOW what". Importantly he dials up someone on his mobile phone. We must wait for the head of police to arrive. We stand there thinking "NOW what" some more. Not too much later the head of police arrives. He checks the passports, shakes his head disapprovingly at the arrogant young military guy, and shoos us off. Amazingly the last border crossing is both operational and open to vehicular traffic. However, the customs officials are a bit perplexed as they have no idea how to process a foreign motorcycle. After the officials exclaim "problem", they consult their tattered, dusty book of regulations. A mere two hours of bureaucracy and a $30 fee later, as the sun's glowing descent tints golden wheatfields pink, we're in Tajikistan.
Night driving is never a preference, but Khojand is hours away and the only place around with lodging. Tourist infrastructure in most of the " 'Stans " is but a dream, though Uzbekistan had quite a number of both tourists and comfortable accomodations. Villages are almost completely unlit here; even the brilliant starry skies aren't quite adequate to illuminate the road. (Then again there are the motorcycle headlights.) Around 9:00 we reach one of the odder lodgings on the trip. Its round blue heights reach up a dozen stories, with semicircular mustard-colored windows protruding petal-like layer upon layer all around. Apparently this building was originally an apartment complex now converted to Soviet-style hotel. A teeny bundle of aging goldtoothed headscarfed housekeeper takes us up on the second elevator, the first one inoperable except for 2 of the 12 floors. On the second elevator we are able to get off at the 11th floor, from whence a 5 level descent down dark dank stairwell leads to the 7th floor, from whence we are led down a dark hall, out a doorless doorway onto a rickety balcony, back into a darkened hallway around the corner, down that hall, and into a three-room "suite" complete with empty round "living room" with mustard curtains billowing out the open windows into the hot humid night. Will we actually be able to find our way back? The bathroom is equipped with ancient wet dingy mildewed towels absorbing the plumbing's dripping tears of neglect. The kitchen sink hasn't been drained in years and is emitting rank odors of history's sewage in protest. But the bed area is spacious and clean and has actual air conditioning! Fair enough.
Khojand is in the northeast corner of Tajikistan and shares the Ferghana Valley with Uzbekistan. Landscape and architecture in this region are not surprisingly quite similar to the latter country, a blend of farmland, mud compounds and Russian apartment blocks. Khojand inhabits the wealthiest area of the country outside the capitol of Dushanbe and is a pleasant town to be in if you must run around dealing with banking and bureaucracy. Cashing travellers' checks will entail redirection to 3 different banks and an eventual 2 hour wait while the correct bank waits to receive official authorization from the head office. Next, travellers are supposed to register at OVIR, the government's official agency for keeping track of foreigners. Their convoluted rules require that payment of something like $35 in dollars along with $12 in somani, to be deposited at a bank completely somewhere else, proof of payment to be returned to OVIR. We locate the bank and are told to return at 5:00. Upon returning at 5:00 they say it's too late to take our deposit and to return the next morning. Argh.
Next morning the plumbing has shed its last tear--no water is to be had at the hotel. We take care of the rest of the OVIR registration runaround and head off to Istvaravshan, also known as Uroteppa. Many towns have dual names reflecting past Russian colonization and more recent Tajik liberation. The farm countryside is pleasant, with kids on lunch break walking home on poplar-lined roads near neat dirt compounds and cotton fields.
After some tasty kebabs and tea at a shady chaykhana, the local market lures us onto a narrow road thronged with people, which soon gets even narrower and more congested.
Somehow we arrive at Mug Teppe, a mosque up on the hill overlooking town.
A wedding party approaches and young guys hop out of cars to come gawk at the bike. The approaching bride, surrounded by groom and family, looks notably grim. Erika surmises it's because she's not thrilled to be sharing her big moment with a big foreign motorcycle. Later we learn that it is custom for the wedding party to maintain serious expressions in the solemnity of the moment.
The old part of town is reminiscent of Uzbekistan also, with mud-walled homes and narrow stone streets. Uroteppa warms with its friendliness. At the blue-domed 15th century Abdullatif Sultan Medressa, the head teacher of the young mens' religious school hospitably shows us around.
It's good to see a historic monument put to use in modern life as opposed to being converted to a tourist attraction. Outside the mosque, 3 elderly men and a posse of children are fun and lively.
One bearded gentleman has a sock tied over and around his hand, presumably to mask an injury. A bit of a surprise, then, when he peels it off to reveal a baby bird nestled underneath.
Tonight's lodging boasts more petrified plumbing with the added bonus of a door that neither locks nor closes. We are allotted 6 slim bottles of water for bathing and flushing purposes. The avaricious landlady charges equal fees for Dave, Erika and the bike and guarantees she'll keep an eye on everything. Early next morning the housekeeper barges in as Erika is getting dressed; shortly after the landlady flings open the door to collect the unused water and poke around our belongings. Finally after paying plenty for bike "security", the fuel cannister has been filched. The landlady defiantly refuses to take any responsibility. Erika has had just about enough of this woman and uncharacteristically glares at her as the bike is packed up. Overall Uroteppe has been great, with lots to see and great people, but no sorrow's wasted leaving that hotel.
Fortunately the Fan Mountains await. Small poplar-shaded towns with mud brick homes dot the golden valleys. There's a feeling of exhilarating freedom as the bike climbs steeply upward for the first time in months. The route is the "National Highway" which links the wealthy northwest to Dushanbe. Indeed as far as main highways go it is like a cardboard shack being designated upscale housing. But Dave loves the narrow gravelly rutted challenge, hairpin turn after hairpin turn. Good views at the top of Ayni Pass at over 11,000 feet.
The descent is even worse than the ascent as s-turn corners are swimming in slippery sand. Somewhere far below, a line of trucks is parked in the middle of the road. Eventually the cause becomes apparent: an onion truck has tipped over, spilling its contents high and low. The accident must have taken place many hours ago as much of the onions have been repackaged into sacks. Eventually we're allowed to pass the truck but not before the driver rushes towards us grasping armfuls of onions. He's disappointed that we only have room for a few.
The road continues through a narrow valley that descends through eroded crags. Closer observation reveals mud homes nestled around the crags.
Through a scenic town perched over the river, Dave discovers the speedometer has gone out. We stop at a gas station in a high remote town where a bunch of young boys are thrilled to meet. 1 1/2 hours later the speedometer still doesn't work but it's been fun to hang out with the kids.
The scenery continues to change and amaze. Shambly stone houses masquerade as orderly landslides stopped mid-fall. Flat roofs host piles of winter hay practically larger than the homes themselves.
Some time later the green dries up, voluptuousness displaced by craggy starving rock. A few industrial projects are evident, though it isn't clear whether their rusty shells are currently used. A small road branches off which will lead 16 kilometers later to Iskander-Kul, a small lake with a funkety deserted ex-Russian holiday resort. The route becomes more rocky and dramatic.
A small cabin here sets us back about $1.50 each. The only people around are a few young caretakers who help figure out dinner and arrange a hot sauna in a crumbling hut at the old farmhouse next door. The "restaurant" offers a package of spaghetti with canned fish. Spaghetti with canned fish it will be. To our dismay the bill includes an $8 charge for the can of fish. This is expensive even for the U.S., not to mention in a place where lodging is $1.50. The cook says the fish is a special import from Russia but later we'll spot the same can in the market for about $1. Negotiation gets the fish down to $5, not a penny less. Shoulda taken up the invitation from the men outside preparing grilled mutton.
The weather's gray and chilly but we walk halfway around the lake to check out the views. On the far side is supposedly the President's "dacha" (vacation home), but it is uninhabited save an elderly guard with his young family.
Despite fish fiascos, Dave has time to work more on the bike and make friends with the guys. It's relaxing and pleasant beneath the oakish trees, their falling leaves an endless project for the caretakers.
Back en route to Dushanbe, the wide river belt hugs broad flat bellies of farmland where the green and golden harvest awaits.
We stop for a friendly chat with some local road workers.
check out the latest trucker styles
and admire one more view.
Dushanbe has the usual Soviet-style wide tree-lined streets and big city amenities. It was Uzbekistan's Independence Day a week before, and now Tajikistan is celebrating its own independence from Russia. Except this time we don't just watch it on TV. A multitude has gathered in the main square to watch national singers and dancers; after passing many street cops and metal detectors we join the crowds a great distance from the performance.
Signs proclaim "9 Years Independence". Everything's still in Cyrillic.
A trip to the museum intriguingly demonstrates a blending of the cultures.
Fairly recently the city was considered dangerous as after the country's liberation it fell into civil war, which ended only in 1996. It's hard to imagine now as the placid streets are so...placid. You'd expect to find police stationed around a large gathering at the independence day celebration of a new nation. Bigger surprise the next morning when all the way down the main street's green parkway a cop stands at each corner of every block.
Some interesting people are wandering around Dushanbe, including a man stationed in Kabul, Afghanistan working for USAID and waiting for a transfer to Libya. He is highly optimistic about the future of Afghanistan. Later we have dinner with Neil from England who is travelling long-term on his Yamaha Tenere.
Dushanbe also provides opportunities to eat Chinese, Iranian, Ecuadorian and Georgian food (much better than what we had in Georgia!); along with the museum, some interesting pastel architecture, and a repair place for the motorcycle's broken front wheel stud, which Dave accidentally overtightened...easy next time Dave!
Leaving the big city again, the road heads off into dry hills spliced with a vast churning gray river.
Occasional patches of green signal distant small towns. Avalanche or weather has eroded the road at the point where it's supposed to cross that churning river. Dave has to scope out the river's depth by walking over the rocky bottom without the bike first. It's if-fy but seems doable. In order to get the bike's bulk safely through the boulders and heavy current, however, the river gods demand partial sacrifice of the clutch as Dave gets stuck several times in the large, slippery rocks which remain hidden at the bottom.
In the small town of Tavil Dara we ask the woman at a small chaykhana the location of the guesthouse. She doesn't know but offers the floor of a plain concrete room at her place. Her daughters bring Erika down to their small home a few hundred yards off the main road, where she meets Grandma and Grandpa and numerous girlfriends. Everyone wants to dress up; oldest daughter gets a thrill from showing off in drag, while grandma clasps Erika's hand and insists E is really Tajik after seeing her put into local attire.
The family all share this one room for sleeping and general living. The room is carpeted and boasts a cabinet filled with prized glass and tableware; there is no other decoration save rugs on the floor and walls. Each girl has one plastic bag containing her prized posessions tucked away in the cabinet. When one brings out photos Grandma bursts into tears at a picture of a man who seems to be her son and who presumably died somehow. Not a common word of language is shared between any of us, but Grandma takes a hug as she tells the mysterious story of her son.
After a night back on the concrete, some scarey midnight trips to the outhouse perched precariously on the ledge of a dark river later, and withstanding the sound of TV on full blast all night long, we have some bread and tea and head for Khorog. At a very small roadside tea shop some truckers we met the previous night are having watery soup and bread lunch. The scenery is barren and striking here in the rugged mountains along the highway.
Everyone is remarkably friendly; kids and adults all wave as we pass by.
Afghanistan lies just across the river, its infrequent small green villages linked only by the smallest pathways for hundreds of kilometers.
No car could possibly make its way over these rocky cliffside paths. The villages are backed by towering peaks over which their residents could scarcely easily pass in summer, much less winter. Passage across the river to Tajikistan is not only illegal but seemingly impossible in the broad current. Occasionally a lone soul, perhaps with a donkey or some goats, can be spotted in a barren region which appears to be 50 miles from the nearest hovel. We wonder if many of the local people have ever seen life outside their small community.
As we enter Khorog, the largest town in Tajikistan's economically limited Gorno-Badakshan district, there are many signs of aid projects: poultry projects, water projects, food projects. The Agha Khan Foundation features prominently in the notices. This region is predominantly Ismaeli Muslim, a sect which worships the Swiss-born Agha Khan. The more we learn of the Agha Khan and his work, the more impressed we are. Schools and hospitals provide excellent care not only to Ismaelis but any others needing help. Later in Pakistan we'll also meet many good people and projects connected to this group.
Since this area is at such high elevation (the Pamir Highway extends across a 12,000 foot plateau with some passes topping 15,000 feet) greenery is scarce, food is scarcer, and electricity is erratic. Even at the end of summer, little fresh food is available in Khorog's main marketplace. We get tired of eating almost nothing but bread and tea for a few weeks, but people here subsist on this limited diet year-round. The primary focus of the Agha Khan projects seems to be empowering people and communities to become self-sufficient. The Ismaeli Muslims we talk to speak of educating women and children and having peace between all the sects of Islam.
Next, registration with the KGB in Khorog. A copy of our permit to visit the region obtained from a travel company off the internet isn't enough: KGB needs the original. Many phone calls ensue to determine that the original is in Dushanbe. It must be flown to Khorog and picked up tomorrow. The process is made easier with the help of a young woman who speaks very good English at the travel agency (which consists of a very small room with a desk located in a run-down youth center.) Her co-worker seeks funding to continue her project teaching handiwork skills to young women. When she hears Erika is a social worker she asks for resources for funding. Everyone is surprised to hear that even in America social service projects have difficulty maintaining funding.
We leave Khorog on the legendary Pamir Highway. This barren, remote stretch of road begins in Khorog and reaches the town of Sary-Tash in Kyrgyzstan hundreds of kilometers later after crossing one of the highest plateaus on earth. It's high and barren en route to Alichur, the next small dry mountain town situated amidst rolling treeless hills.
Here we stay in the simple home of the town's English teacher Rahima. Alichur has a Tajik settlement as well as one comprised of ethnic Kyrgyz. Rahima and her sister take Erika to a compound nearby to milk the cows as sun sets. Another friend brings E to her house for bread and mutton broth.
It happens to be Rahima's older daughter's 15th birthday so a lot of friends and family drop by. A huge vat of plov is being prepared by Rahima's brother. We surmise that plov consists basically of one part rice to one part mutton fat; Dave has had unfortunate intestinal reactions to it in the past. But considering the region's deprivation we are lucky to be sharing in this family's feast.
After dinner we sleep under heavy quilts on the main room floor. The town's outhouse is a block away, roofless and enclosed by 4 concrete walls. On one side an entrance indicates "men"; on the other side another indicates "women". This is curious as entering from either side leads to the same dozen holes in the floorboards.
Erika's morning walk leads to interesting views of the stark town and a herd of baby yaks.
After many thanks and big good-byes, we're back on the Pamir Highway. It continues to be similarly rocky and rutted, if not quite as challenging, as the National Highway. More wide vistas of barren craggy mountains meet the eye.
Passing vehicles are as infrequent as one every few hours; those that make it up this high tend to be trucks from China hauling their wares very very slowly over the unpaved passes. Others are stopped by the roadside while their driver fixes tires or tinkers with the engine. We take a roadside stop to check the guidebook.
Karakul Lake is the one of the highest in the world at 13,000 feet, so high that no fish can make their home in its frosty depths.
The small community of whitewashed dirt homes overlooking the chilly blue lake feels truly remote. We've never been anywhere quite like this.
Neither have the 16 Swiss tourists leaving the guesthouse, apparently. What are THEY doing here?? As soon as they leave 3 (coincidentally) Swiss bicyclists show up. We chat over fried potatoes. The guesthouse is clean and welcoming, providing the coldest room yet to offer up a floor. It's probably in the 40s outside, a puff of warmth to soothe the skin after a night in the refrigerator.
It's amazing that Fernande, Dominic and Christine are tackling the Pamir Highway on bicycles. Christine has been living in Kyrgyzstan for the last 4 months and speaks fluent Russian. In this language she holds a conversation with our Kyrgyz hostess which she translates after. The young hostess' marriage apparently occurred 7 years ago through the questionable tradition of "kidnapping". As she was walking along the street of her native city Murgab, her present husband (whom she did not know) drove by in his car full of friends and dragged her inside. From there she was taken to the home of his family, where his mother and grandmother talked to her until she agreed to marry their son. When asked why he had chosen his wife, the husband replied (jokingly?) that "she was tall and looked like she'd be a good worker." When asked if she was happy now, she replied "Well, I have 2 sons." We'll talk to others later in Kyrgyzstan who confirm that this practice still exists. Apparently it's not unusual for college women to fear for their education: country men may drive by at any time to kidnap them back to their village where the woman will face a life of farmwork. There are still families who still consider "kidnapping" a tradition to be honored. It's almost unbelievable.
Next chilly day we take a lakeside walk over dry marsh and salt-encrusted flats. Snow-topped peaks float in the distance above the lake.
Donkeys wander about; A strange abandoned building now looks to be a donkey hotel.
Back at the hostel, Erika plays with the two small children who look to be about 2 or 3. It's a little shocking to be told by the hostess that they are actually 4 and 5.
There's been no hot water for a long time and little running water; only more substantial homes boast a table with basin and faucet fed by water poured through a bowl behind it. The last treat of Tajikistan will be the piping hot sauna fired up by our host. Women go first and debate whether the men deserve to have any hot water saved for them. Dave and Dominic are lucky they're feeling nice. We'll enter Kyrgyzstan clean and well rested tomorrow, riding almost close enough to China to be able to reach out and touch the barbed wire border fence.
Enter your email address to receive updates to David McMillan and Erika Tunick's trip story!
Recent Entries
Archives:
Archives:
Monthly
Archives:
Category
NEW! HU 2015 Motorcycle Adventure Travel Calendar is now available! Get your copy now for some terrific travel inspiration!
HUGE, 11.5 x 16.5 inches, beautifully printed in Germany on top quality stock! Photos are the winning images from over 600 entries in the 9th Annual HU Photo Contest!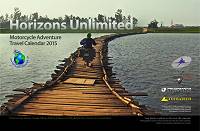 "The calendar is magnificent!"
"I just wanted to say how much I'm loving the new, larger calendar!"
We share the profit with the winning photographers. YOU could be in the HU Calendar too - enter here!
Next HU Events
Canada West: Aug 20-23, 2015
USA California: Sep 24-27, 2015
Aus Queensland: Sep 24-27, 2015
USA North Carolina: Oct 8-11, 2015
Aus Perth: Oct 9-11, 2015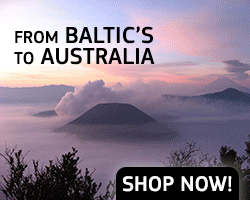 Take 40% off Road Heroes Part 1 until October 31 only!
Road Heroes features tales of adventure, joy and sheer terror by veteran travellers Peter and Kay Forwood (193 countries two-up on a Harley); Dr. Greg Frazier (5 times RTW); Tiffany Coates (RTW solo female); and Rene Cormier (University of Gravel Roads).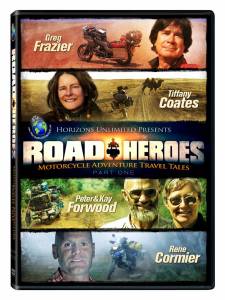 "Inspiring and hilarious!"
"I loved watching this DVD!"
"Lots of amazing stories and even more amazing photographs, it's great fun and very inspirational."
"Wonderful entertainment!"
Check it out at the HU Store! Remember to use Coupon Code 'HEROES' on your order when you checkout.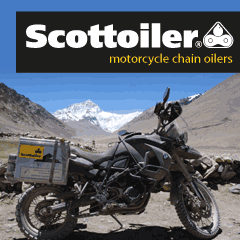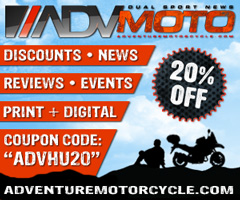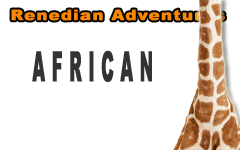 What others say about HU...
"I just wanted to say thanks for doing this and sharing so much with the rest of us." Dave, USA
"Your website is a mecca of valuable information and the DVD series is informative, entertaining, and inspiring! The new look of the website is very impressive, updated and catchy. Thank you so very much!" Jennifer, Canada
"...Great site. Keep up the good work." Murray and Carmen, Australia
"We just finished a 7 month 22,000+ mile scouting trip from Alaska to the bottom of Chile and I can't tell you how many times we referred to your site for help. From how to adjust your valves, to where to stay in the back country of Peru. Horizons Unlimited was a key player in our success. Motorcycle enthusiasts from around the world are in debt to your services." Alaska Riders

10th Annual HU Travellers Photo Contest is on now! This is an opportunity for YOU to show us your best photos and win prizes!
NEW! HU 2014 Adventure Travel T-shirts! are now available in several colors! Be the first kid on your block to have them! New lower prices on synths!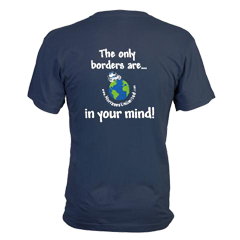 Check out the new Gildan Performance cotton-feel t-shirt - 100% poly, feels like soft cotton!

What turns you on to motorcycle travel?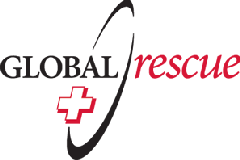 Global Rescue is the premier provider of medical, security and evacuation services worldwide and is the only company that will come to you, wherever you are, and evacuate you to your home hospital of choice. Additionally, Global Rescue places no restrictions on country of citizenship - all nationalities are eligible to sign-up!
New to Horizons Unlimited?
New to motorcycle travelling? New to the HU site? Confused? Too many options? It's really very simple - just 4 easy steps!
Horizons Unlimited was founded in 1997 by Grant and Susan Johnson following their journey around the world on a BMW R80 G/S motorcycle.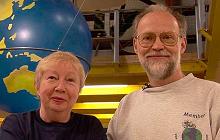 Read more about Grant & Susan's story
Membership - help keep us going!
Horizons Unlimited is not a big multi-national company, just two people who love motorcycle travel and have grown what started as a hobby in 1997 into a full time job (usually 8-10 hours per day and 7 days a week) and a labour of love. To keep it going and a roof over our heads, we run events (22 this year!); we sell inspirational and informative DVDs; we have a few selected advertisers; and we make a small amount from memberships.
You don't have to be a Member to come to an HU meeting, access the website, the HUBB or to receive the e-zine. What you get for your membership contribution is our sincere gratitude, good karma and knowing that you're helping to keep the motorcycle travel dream alive. Contributing Members and Gold Members do get additional features on the HUBB. Here's a list of all the Member benefits on the HUBB.
Books & DVDs

All the best travel books and videos listed and often reviewed on HU's famous Books page. Check it out and get great travel books from all over the world.

MC Air Shipping, (uncrated) USA / Canada / Europe and other areas. Be sure to say "Horizons Unlimited" to get your $25 discount on Shipping!
Insurance - see: For foreigners traveling in US and Canada and for Americans and Canadians traveling in other countries, then mail it to MC Express and get your HU $15 discount!
Story and photos copyright © All Rights Reserved.
Contact the author:
Editors note: We accept no responsibility for any of the above information in any way whatsoever. You are reminded to do your own research. Any commentary is strictly a personal opinion of the person supplying the information and is not to be construed as an endorsement of any kind.
Hosted by: Horizons Unlimited, the motorcycle travellers' website!
You can have your story here too - click for details!