February 12, 2008 GMT
Two Old Guys on Funny Looking Motorcycles.
ďTomís thinking of taking a motorcycle trip to Alaska this summer.Ē Elvey said as we were taking a well deserved break in the bowels of the orange themed home improvement prison we call our employer.
ďMaybe he could use some company.Ē I said before thinking about it very long.
I had never even met Tom, Elveyís husband, much less rode with him but talking with Elvey about trips I have taken and places Tom had gone, she played matchmaker and figured weíd get along; A motorcycle equivalent of a blind date. Iím sure she also reckoned that having her husband go with somebody else would ease her mind somewhat about him taking off for the great white north by himself. At least Iíd be there to pick up the scraps left after a Grizzly Bear attack. Besides, Iíd been there before and could act as a guide.
After 6 years of indentured servitude at the same company, I was entitled to 3 weeks of paid vacation plus some excess sick time I could use too. Tom was planning to take the whole month but I figured I could always come back early and he could take his time returning home.
I knew about Tom from Elvey of course, but also from his articles he wrote in the Minnesota Motorcycle Monthly under the moniker; Geezer with a Grudge (I often called Elvey, Mrs. Geezer.). He had purchased a slightly used Suzuki V-Strom 650 and was equipping it to do the whole adventure-touring thing; GPS, hard bags, engine guard, etcÖ He was a very experienced rider racing motocross in his younger days and was a motorcycle safety instructor. He was also 60 years old and hadnít had a lot of miles piloting a 600 pound motorcycle over roads that would challenge your average Jeep.
I ride a 1999 Triumph Tiger 900 bought used in July of 2004. Itís really no more than a street bike dressed up as a dirt bike but itís comfortable and fits my 6í2Ē frame very well. In August of 2005 I went to the Sturgis rally for the first time in my 49 years. From there I continued up to Alaska. My original plan was to go up the Alaska Highway to Whitehorse and then north to Dawson and then up the Dempster Highway to Inuvik. The Dempster Highway is 476 miles of gravel (or rock, dirt and sand) that leads up to a settlement on the Mackenzie River delta just south of the Arctic Ocean. The Canadian Government built the town of Inuvik in the late 1950ís just to get some people up in the Northwest Territories and they later built the road to supply the village. I had read about it in The Milepost, an annual guidebook full of information about traveling the north, and it sounded like a great destination. It sounded better than riding the Dalton Highway, a road that runs between Fairbanks and Prudhoe Bay. That road has a lot more traffic on it and didnít have the variety of terrain that the Dempster has.
Of course what you plan and what actually transpires arenít necessarily the same. I ended going up the Cassier Highway and catching the Alaska Highway at Watson Lake. By that point in the trip my rear tire was wearing out fast. It wouldnít make it up the Dempster and back. I had to go to Anchorage to get a tire mounted. I went down to Homer where I slept on the beach. I also took a side trip to the town of McCarthy and the Kennicott Mine National Park. That was really cool. I ended up doing about 8000 miles in 16 days including about 200 miles of unpaved roads, enough for my limited dirt skills.
I had outfitted my bike for the journey 2 years earlier for the first Alaska trip so I didnít need to buy anything major this go round. The bike had engine guards, saddlebags, tall shield, tankbag, center stand etcÖ The stock seat was a sore point (literally) on the first trip but that had been taken care of with the fitting of a Harley police seat in 2006 and tested on a quick 3600 mile jaunt out west.
I checked the bike over. I replaced the front brake pads. The rear pads looked Ĺ worn so I left them in. The chain and sprockets looked great even though they had 12000 miles on them. I was using the top of the line D.I.D. chain that they recommended for Hyabusas, ZX-14 and bikes of their ilk. It was definitely under stressed in my application.
The tires were another matter. I had on a pair of Ĺ worn Metzler Tourances. I knew that they wouldnít make the whole trip but from the way they were worn I could foresee getting 10000 miles from the back tire, more than enough for the whole trip, but I also like to experiment with tires. I logged onto the HUBB, an open forum for Horizons Unlimited; an adventure touring website. I posted an inquiry and received many responses. Most said that the Metzlers would be the best choice or go with the Metzler rear with a Michlen Anakee front. One person suggested a touring type tire on the back with a dual purpose one out front. I decided to go with a set of Anakees. They had a more aggressive tread than the Tourances and I figured with my limited dirt skills they would give me some more traction in loose dirt. I got a pair off the web and installed them myself. It also didnít hurt that they were about $50 cheaper per pair than the Metzlers.
A June 1st departure meant to me a cold and rainy trip. I already was pretty well equipped with an Aerostich suit and a Gerbing electric jacket liner along with a rain suit for those all day downpours. I thought a set of heated gloves would be nice to have. I bid on about 6 or 7 pairs on E-bay but ended up getting sniped every time so I never did get a pair. I did compromise and purchased a set of 3-fingered rain gloves from Aerostich in a subtle shade of florescent orange. They reminded me of Barney the Dinosaurís hands.
Surfing the web also got me thinking that my riding boots might need to be upgraded. A set of 25 year old Bates street boots probably wouldnít cut in the dirt and gravel we were sure to encounter. I wanted a Vibram type sole and something lighter than a full bore motocross boot. After some research I found that ATV boots have a waffle tread and are shorter and less rigid than a race boot. I found a pair of Four brand boots for under $100. When I got them they were stiff as hell. I must have looked pretty strange walking my dog around the neighborhood in shorts and a pair of off-road motorcycle boots. I did it mostly at night to reduce the odd looks I got. They loosened up enough to shift and brake at the start of the trip.
Things were coming together nicely when I got another idea; how about a GPS unit? I know the ones specifically made for motorcycles like the Garmin Zumos cost around $800 which is way out of my range but a more basic one like the C330 would be the right size and fit my budget. There were lots of them for sale on e-bay for about $250. I kept a close eye on the ones ending their auction time and snagged one for $185. I couldnít use the mount that came with it so I spent the next 2 weeks coming up with something that would be sturdy and be in a spot thatís easy to see. After 3 versions I came up with a version that fit the criteria well though I was worried about the water resistance and shock loads of a unit not built to be mounted outside. I managed a short ride through some suburban streets and it was great. I could see which of the winding streets were dead ends and which ones were connected. Now I wouldnít miss those turnoffs I always seem to pass by.
The only thing left that I needed was a pair of shoes to wear after the riding was done for the day. I usually used my regular walking shoes but I had tossed them out a few weeks earlier. I had read that Crocs were great to use around the campground. You could use them in the shower, they didnít get wet and they packed up light. I tried them on about 50 times in stores leading up to the trip but I just felt they seemed too strange to pull the trigger and buy a pair. I ended up buying a pair of Skeechers slip-ons from the clearance rack at JC Pennys but man were they ugly. They were a 2-tone beige with a square toe and Velcro straps but after seeing Tomís casual shoes I didnít feel so bad.
Tom and I met a couple of times leading up to the departure date. I went over to his place in March. He was still getting his bike together but I could see he was getting the stuff he needed on it. He still had the stock tires on it but hadnít decided on what direction he wanted to go yet. He mentioned he was worried about mileage and was leaning toward a set of street touring tires like some Metzler Marathons. The V-Strom felt a lot bigger than a 650 when I sat on it which surprised me. I was more familiar with the 1000 V-Strom as it was what I originally wanted before I bought the Tiger. I read about the 650 in many publications and I knew it had a great reputation so I felt that we shouldnít have any mechanical problems with his ride.
We went inside and talked about where he wanted to go to. He brought out a map of North America with a route highlighted in green from AAA. A quick perusal showed me that a lot of 4 laners were included. Iíd rather set my hair on fire than ride on a freeway, give me a bumpy 12 foot wide blacktop country road and Iím happier than a pig in shit. I could also see that he wanted to go to Prudhoe Bay and not Inuvik. I mentioned Iíd like to go up the Dempster. We figured we could maybe do both and not stick so close to the mapped route. He was also flexible about the route getting up there. He didnít have anyplace he wanted to hit on the portion of the trip where I was with him. So far so good. He also said heíd like to camp most of the time which is how I like to travel anyway. This is going to be fun.
He also told me that he was going to video tape and shoot a lot of photos during our trip in order to write a book and/or make a travel video. He was also writing reviews on some equipment he was trying on his bike. I guess we were on a working vacation. Who knows, you might see me in a DVD coming soon.
We met for lunch about a week before leaving. Tom has a more flexible work schedule than me so I knew he had a chance to do some shakedown rides to see if the new stuff on his bike was going to work. We decided to meet at my house June 1st at 9AM. He said he didnít care how we got there so I could pick the route and heíd follow. I was getting excited about going now, things looked pretty good so it was full steam ahead; Alaska or bust! (OOPS, I shouldnít have said that!)
Friday, June 1st, arrived bright and sunny. I had packed up the night before and was ready to go. I wasnít as apprehensive before the trip as I usually am. Maybe itís because I was going with someone as I usually ride solo or maybe Iím getting to the point now that I realize that I probably wonít be making trips like this much longer because of my age.
Tom got there right at 9am. We talked a little bit and I said why donít we head out on Minnesota Hwy. 55. I hadnít been on it in years and I knew it was more scenic than some other alternatives such as Interstate 94. He said it was OK with him and I was appointed road captain.
We headed out north from my house. Tom said he needed to pick up some cash at the US Bank about a half mile from my house. When we left the bank I decided to turn on my GPS. It went on about 5 seconds and went blank. Great, less than a mile from home and already I have an equipment failure. I tried fooling around with it as I was riding but nothing worked. Oh well, Iíll look at it tonight. We took some back roads to Buffalo and caught 55 heading northwest. We filled up in Paynesville and proceeded to Lake Minnewaska near Glenwood. The lake sits in a valley and Iíve always thought it was one of the prettiest spots in the state. We went through Kennsington and saw advertisements for the Viking Museum in Alexandria with the Kennsington Runestone. Tom is not a Minnesota native and had never heard of it. His son-in-law is a History major so I told Tom to ask him about it. We also went through Brooten. I seem to recall that they claimed to strike oil there back in the 1970ís. I didnít see any oil wells.
We crossed the Red River and then turned north on ND 127 to Wahpeton. We decided to grab some lunch across the street from where we filled up at a place called The Fryin Pan. I swear we were the only two people in there that didnít have a walker. It must have been senior citizen day or something. When we left we saw a cop give an old lady in a minivan a ticket for doing something stupid and was giving her a really hard time. I almost felt sorry for her.
It stated to rain lightly as we headed west on ND 13 to the town of Lisbon. Iíd seen on the map that there was an unpaved road heading north and it was marked as a Scenic Byway. We decided dirt it is, good practice for later in the trip. We caught the road just north of town. It followed the east side of the Sheyenne River. It was raining slightly harder and the road was a little slick but was in good condition otherwise. Tom was having GPS problems too. He had picked up a Garmin 2610 from a pawnshop but it was the unit itself with no peripherals. He found the rest of the stuff from a guy in his sport-touring chat room. The day before we left he tried to download the fully detailed maps off the internet but it wouldnít get them to take. He would play cyber tag with Garmin the whole first week of the trip. With just a very basic map program he said that his unit showed the river but not the road we were on. We got to a point where we could continue on with the gravel or we could hit the pavement and get to Jamestown. Since it was still raining we decided to get to town. I hadnít fallen down and Tom didnít smoke me so why push our luck on the first day.
Like I said before I donít have a lot of dirt riding experience. I bought my first bike, a 1973 Yamaha DT250 when I was 16. The mechanic at the dealership had to ride it home for me because I didnít know how. I lived in South St. Paul and they were constructing Hwy 52 behind my house. About 4 miles of it was torn up between Concord Street and Hwy 110. Before the highway came through it was mostly open land. Every kid my age had a mini-bike; Rupp Roadsters, Herters, Speedways, Chibis, Kawi 100ís or 125ís, Honda Mini-Trails etcÖOf course my parents were against my brother or me getting one so we watched everyone else have fun while we rode our Schwinn Sting-Rays. By the time I got my 250, most of the kids had outgrown the mini-bikes and were into drugs, cars and/or girls leaving me pretty much by myself on the trails. I fell down a few times, never did a lot of jumps or wheelies, but I did get used to having a bike float around under you while you were trying to keep it going in the general direction you were pointing it in. It must have been good training because years later I was taking an advanced rider course on my then new 1982 Honda CBX. I was did some basic maneuvers when the instructor came up to me and asked if Iíd ridden in the dirt before. I said I had. He told me that he could usually tell when someone did because of how they handled their motorcycles. I sold the DT after the road was completed and had nothing but street bikes until I got my Tiger. I guess you could sum up my dirt prowess this way; Iím probably better than I think I am but not as good as I should be.
We got into Jamestown around 6pm. We drove the 94 Business Loop looking for a motel or campground. I remember staying at a KOA campground near town on a trip way back in 1983. There was no listing for it in the phone book. The clerk in a convenience store we stopped at said there was a Firemanís convention going on and most of the motels were booked up. Outside the store we met a guy with a remodeling business and asked him about accommodations. He told us where to look for cheaper motels. I asked him about campgrounds and he said he lived next door to one just outside of town. He gave us good directions and we headed over there. He did warn us that there was a 2 mile long gravel road you had to take to get there. The first Ĺ mile was the worst because of the rain and a trucking company that used the road also. It was pretty gooey but we handled it pretty well, good thing we got some practice in earlier. It was the same campground Iíd stayed at before, I recognized the A-framed KOA office building but it wasnít a KOA anymore. They had Kampiní Cabins available for $32 a night. They had heat, electricity and Wi-Fi for Tomís laptop. We unloaded our stuff and got settled in. It started to rain again so we decided not to ride back into town on that sloppy road. The campground was not crowded. The camp store didnít have much to choose from for food, I got some popcorn and that was my supper. I worked on my bike for a while and took a walk around the grounds. Tom checked his e-mail to see if Garmin got back to him. He plugged my GPS into his computer to charge it up just in case I had a dead battery. The clouds got thicker and we started to loose the Wi-Fi so we ended going to bed around 10:30pm. Tom didnít snore and I didnít get anything thrown at me while I was sleeping so I assumed I didnít snore either. It was a very comfortable night.
The next day was overcast and cool but it wasnít raining. We headed north on US 52 and filled up in Carrington. We kept going northwest on 52 until ND 3 and headed straight north to Rugby, ND which according to the map was the geographical center of North America. What better place to start a trip to the far north than from the center. We saw quite a few herds of buffalo on this stretch of road. I observed, that at any given moment, about 1/3 of the herd are crapping. The Dakota Sioux must have had to watch their step when walking on the prairie. The weather had cleared off and everything was lush and green. We got to Rugby and took our picture by the monument and then had breakfast in the cafť next door. We then headed west on US 2 to ND 14. We headed northwest to a stretch of gravel road going west in order to cut over to US 83. That road was memorable because I almost got into a real tank-slapper going about 50mph. It started fishtailing but I was able to slow down enough to bring it back under control. I donít know if Tom saw it but he didnít say anything about it. It would have made some good video.
We got to 83 and headed north to ND 5 and then headed west. We stopped for gas in Mohall, ND. I filled up and went in to pay. When I came out I was standing by my bike admiring some of the local talent when I heard a crash and Tom swearing. Looking back I saw Tomís bike leaned over and pinning him against the gas pump. I rushed over and helped him put the bike upright. He had tried to put it on the centerstand but had stepped in some oil and his foot slipped off the lever and fell over. He wasnít hurt but he broke off his right mirror so that headed to the trash bin.
We headed west on ND 5. I mentioned to Tom that Iíd like to go through Opheim, Montana. My younger brother was stationed 2 years there at an Air Force radar site in 1978. I never visited him while he was there so I was curious about the town and the military site (now decommissioned). It seemed as good as place as any to cross into Canada and he hadnít been in that area of the country either.
The weather was perfect, mid-70ís and not a cloud in the sky. Bowbells, Crosby, Fortuna, Plentywood, the towns clicked on by. We were doing around 65-70 mph. Tom was stopping and taking pictures so Iíd get ahead of him by a couple of miles. I could look back and see his headlight so Iíd slow down some and let him get closer. I donít know if we saw 10 cars the whole day.
We filled up in Plentywood, MT and continued west toward Scobey. There were 2 railroad tracks on the south side of the highway. Outside of Scobey there were hundreds of rail cars parked on one of the tracks. They seemed to go on for miles and miles. They were all the same type, a flat car meant to haul 2 semi-trailers. I donít know why anybody would leave these cars out here in the middle of nowhere unless they were hiding them to keep them from being used. Who would think of looking in Scobey, MT for these things? I donít have any other logical explanation.
Fifteen miles before Opheim we had our 2nd incident of the day. I was ahead of Tom a ľ mile or so. When I crested a hill I saw a Pronghorn antelope on my right about 150ft ahead. She was about 20 ft off the road so I wasnít as worried about her as I was the 2 baby Pronghorns on the right shoulder another 20 ft ahead of her. I hit the brakes hard and drifted over to the edge of the road. I spooked them a little bit and they were running parallel to my bike. I was afraid theyíd dart out in front of me. They finally took off towards the ditch and turned back to their mother. I had come to a complete stop on the right edge of the pavement and was watching for Tom in my mirrors. The Pronghorns were at the top of the hill when I saw Tomís headlight. It looked like he saw them and was slowing down. I took my eyes off my right mirror and started to ease back on to the road. I was just about to check my left mirror to look for Tom when the next thing I knew something flashed by my left side followed by a loud bang. Tom had just sideswiped me going about 20 mph. The front of his right side saddlebag had hit the rear of my left semi-rigid bag. The plastic Givi literally exploded littering County Rd. 248 with its contents. I sat there stunned for a moment. I put down the sidestand , got off my bike and started picking up Tomís stuff. Tom stopped and came back to assess the damage. The saddlebag was in 3 pieces. Luckily that bag didnít have the expensive stuff in it.
I was apprehensive about Tomís reaction to what just happened. I had never ridden with him before so I had no idea if he was a hothead. From what I could gather he was video taping the antelope on the bike and when he turned around I was right there. I guess we realized that we both could have handled the situation better so there was nothing to be gained by yelling at each other.
We gathered up the various pieces in order to patch the bag back together. Tom had some duct tape and I had some super-sticky repair tape from REI. Tom had put some Armor-All or something on his bags before the trip and his tape wasnít sticking all that well. My tape stuck better but I didnít have much of it. We managed to cobb it together and for good measure we put a bungee net over it. A couple of things didnít survive the accident; his shampoo and his chain oiler lube were leaking and had to be discarded. It took us around a half hour or so but we finally got back on the road with Tom giving me an extra large margin as we pulled into Opheim.
There wasnít much there. The whole town was a ľ mile long and 1 building deep on each side. My parents said that the base was on a paved road 2 miles straight west from town. There was a road going west but it wasnít paved so I went south. I soon realized that this road wasnít the correct one so we turned around and went back to the dirt road. The site closed in 1979 so I figured they probably hadnít maintained the pavement so it deteriorated back to gravel. We went west about 2 miles and saw a clump of trees off to our right. We took the short road leading to the area. We pulled in and got off our bikes. You could see the radar dome bases and the concrete footings for the barracks. My brother said that about 90 people lived on base when it was open, most of them single men. The married guys lived in Glasgow about 50 miles south. I could see why there were 3 bars in town then.
We went back to town and pulled into the gas station. It had closed 20minutes earlier. I wasnít too worried as my tank held close to 6.5 gallons but Tomís was closer to 4.5. We went into The Mint Bar and had a beer to calm our nerves. It was classic dive bar, I felt right at home. I bought a cap for my brother as a souvenir. As we were saddling up to leave we talked to the locals and some Canadians who came down to get drunk on the cheap. They were pretty wasted already and it was only about 5pm.
We headed north out of town on MT 25. The border was only 11 miles away. The gal at the checkpoint asked us the usual questions; Where from? Where to? How long? She seemed especially worried about knives. Tom and I both had one on our multitools but that was it for contraband. We inquired about where the next place we could get gas. She said either Mankota or Assiniboia each one 60 miles away. We had about 120 miles since the last fill up. I shouldnít have any trouble but it was probably max range on the V-Strom. There were some small towns between the border and Assiniboia and it was still light out so someone would sell us a gallon of gas if we ran out. We drove conservatively keeping it under 60mph and kept an eye out for anything open.
While I was riding I kept thinking what a beautiful day it had been riding (except for the accident). You wouldnít think just looking at a map that there would be that much to see but every thing was green with nice roads following the lay of the land. Of course if it was mid-August at 110 degrees with everything burnt to a nice crispy brown my perception probably would be different.
My gas gauge was plummeting faster than I expected but we just kept going slower, plugging away at it. We got to Assiniboia at about 8:30pm. Tom wasnít in a good mood, his low fuel light had been flashing at him for the last 15 miles. He mentioned that his flexibility was pretty much gone. I wasnít sure what he meant by that but he seemed in a better mood with a full tank of gas.
I noticed a campground sign as we were coming into town so we went back there after we filled up. It was the townís recreation complex with a curling / hockey rink, pool and playground. There were about 10 campsites on a wooded semicircular road in front of the pool building. We parked at a site and I went to the pool office and paid $20 for the night. There were showers and bathrooms open for us all night.
We set up our tents and headed back downtown to get something to eat. It was 10pm already. Tom wanted some ribs but that place was closed. We headed back toward the gas station. There was a restaurant on the main drag but we werenít sure it was open; there were no cars out front. There were a few lights on so we went inside and there were a couple of people playing cards. They said they were still open so we sat down and ordered. We were sitting there after our meal talking waiting for the check. It never came. Finally one of the people working there came over and told us they were waiting for us to leave so they could go home. For the rest of the trip, when you were done with a meal, you go up to the counter and they get your bill there. After dinner I went back to the gas station and called home. I was going to bring a cell phone with me but my wife wanted my daughter to have it for a soccer camp she was going to during my trip. The ironic thing is that they canceled the camp so she didnít need it at all. I have Sprint and I didnít know whether it would have worked anyway. Tom brought one from AT&T and that hadnít worked since we left the Twin Cities. I suppose it could have been packed next to my GPS in my tankbag. Two modern electronic devices and neither one functioned. I headed back to the tent and went to sleep.
I awakened around 7am. Tom was already up sitting at the picnic table typing on his laptop. I went over to the washroom, showered and shaved, and started to pack up. I wasnít in a particular hurry but I still got done before Tom. He was a bit pokey in the morning; I must have waited about 20 minutes for him to get going. He was trying out a gear bag for Aerostich. The bag wasnít a problem but the raincover for it was a pain in the ass. It wasnít sewed to conform to the bag and was just a flat sheet of material with a draw string around the perimeter. With all the stuff he had it just would not fit. If he got the cover on somehow, then he would tie it down with 2 straps with buckles. I think I could have lived another lifetime watching him fuss with those straps on the trip. I think a large bungee net over the whole thing would have worked much better.
While Iím nit-picking I should bring up Tomís helmet liner. He wore a nylon skull cap which fell off his head onto the ground every time he took off his helmet. He must have picked that thing up at least 100 times. CSI analysis could have gotten soil samples from all of northwestern North America from that cap. I should also mention his automatic chain oiler; he must have looked at that 10 times a day trying to adjust it just right. Now if you have to look at it that often itís not really automatic is it?
We headed out finally in a west and north zig-zag over province and county 2 laners. Most of the landscape was agricultural and flat. We were kept entertained by the gophers. They were mostly light brown in color and about twice as large as our gophers from Minnesota. There were thousands of them. There was one every 25 feet it seemed. They amused themselves by playing chicken with the traffic, waiting beside the road until a car or bike came by and then scurrying across the road right in front of us. To paraphrase an old saying, ďThere are old gophers and there are bold gophers but there are no old, bold gophers.Ē There were carcasses everywhere. There are probably a lot of fat crows and hawks around there. We stopped one time and saw where they had even burrowed under the pavement.
We got to Swift Current and stopped at a coffee shop for a bite to eat. Tom thought it had Wi-Fi, which most do, but this one was an exception. After we ate we went across the street to a Canadian Tire store to get some more duct tape, gorilla glue and some hypoid oil to replace his chain lube that was a casualty of our crash. Then we went across the freeway to fill up at the Canadian Tire filling station. When I attempted to pay for my gas at the pump with my check card it was declined. I tried again inside but the clerk said it wasnít accepted. I paid with my credit card instead. I didnít have any idea what was wrong. I would have to call on it tonight after we stop.
We decided we could make it to Calgary that night. We could either 4 lane it on Hwy. 1, which didnít appeal to me at all, or we could take Saskatchewan 32. It headed northwest about 110 miles then we could take some roads to Alberta 555 which heads to Calgary. We headed west on Hwy 1 and then caught 32 going northwest. It seemed like a decent road. I was about a mile ahead of Tom checking for his headlight in my mirror. About 20 miles in his light disappeared and I doubled back 2 miles or so. Tom was off his bike looking for something along the shoulder. I pulled up and he said his GPS jumped ship. He felt something hit his thigh and then noticed that his unit was gone. He didnít see it bounce behind him so he only a vague idea where it was. We both started riding the shoulders scanning the ditches. We probably searched a 2 mile stretch on both sides at least twice. I went another mile south of where Tom left off. I was mentally composing an E-bay ad as I was coming back: ďFor Sale- Garmin 2610 peripherals. Main unit FREE but is located somewhere in a ditch on SK 32 about 20 miles north of Swift Current.Ē
When I got back to Tom he had the unit in his hand. He had found it about 2 feet into the grass sitting on a mound of black tar. He said he literally stumbled over it, otherwise it was camouflaged. Except for a few abrasions it wasnít any worse for wear and still functioned. A liberal helping of duct tape now secured the unit to itísí mount. Tom said Andy Goldfine of Aerostich told him that the 2610 was the toughest GPS that he had sold. Iíll have to believe him now.
Back on the road we stopped and took some pix of the sign for the town of Success. If ever a town was misnamed this was it (Though the town of Scenic, South Dakota comes close).
The weather started to take a turn for the worst. Up until now it had been sunny with scattered clouds but those puffy Cumulus clouds were now getting bigger and darker. The road was changing too. We started hitting gravel patches. We coined the word ďGrasphaltĒ because it was hard to tell if it was a hard gravel road or a gravelly tar road. We finally hit some of the little pop-up thunderstorms that we had been monitoring off to our northwest. Between the wind, rain and crappy road we had our hands full keeping our bikes on the highway. We did about 50 miles of that stuff before we got into Leader.
We pulled into an ESSO station to fill up just as a vicious cloudburst closed in. As we waited it out inside the stationís owner told us that 32 was infamous for how bad it was. In fact, a local politician used his free mailing privileges to send pieces of the broken up pavement to the provincial highway commission. It got the government to take action; by revoking the politicianís mailing privileges and lowering the roadís tonnage limit resulting in less traffic. It sounds like something that MNDOT would do. Tom even bought an ďI survived Saskatchewan 32Ē bumper sticker.
As we were mounting up to head out a RCMP (A Mounty) pulled up and started talking to us. He also questioned our sanity about taking 32. We were headed out north on SK 21 about 2 miles out of town we saw the Mountyís truck behind us with lights flashing and siren blaring. We pulled over and asked what was wrong. He told us that the road north of town was torn up and if we thought 32 was bad we werenít going to be prepared for what this road would be especially after the big rain storm. We turned around and followed him back to the RCMP headquarters. He gave us a map and told us to go south on SK 21 to Liebenthal then west on SK 321 to Alberta 41then go north to Alberta 555 which takes us west to Calgary.
He told usĒYeah, itís a good Alberta road. They have a lot more money than us. (Saskatchewan)Ē
He was also interested in Tomís bike as he had a V-Strom 1000. He also told us how he broke his leg unloading his new bike out of his new pick-up truck, a very nice guy.
Directions were followed and soon we were heading west on AB 555. At the beginning we were struck by a sign that said;ĒWatch for Snakes on Road.Ē I didnít see any snakes on the highway. I didnít see any gophers either. I was thinking, if they captured some of those endangered snakes and released them in the area with all those gophers were Iím sure those snakes would do very well. Maybe I should write Canadaís DNR.
The road and the weather were great. We started getting into some foothills; it reminded me of western South Dakota. We got back to Hwy 1 and filled up in Gleichen. I donít remember when it happened but it was decided weíd motel it tonight. We took Hwy 1 right into Calgary proper. Canada doesnít have a true Interstate road system, our 4 lane Trans Canada Highway turned into a 4 lane city street and we were in heavy traffic. We stopped and I told Tom to pick out a motel and Iíd follow him. We turned around and turned left north on a street with about 6 motels in a row. I figured heíd pick one and we could stop and check it out but he shot right past all of them and we ended up on a road going northwest away from the city. There was a lot of new housing and suburban strip malls, not much in the way of motels. I shot ahead and we stopped. I told Tom we had to get back to Hwy 1in order to find a place to stay. We got on a newer freeway heading south and traveled about 4 miles. I remember staying at a KOA in Calgary back in 1983. I didnít recall were it was but I knew it was on a hill off Hwy 1. There was some construction work going on up ahead; they were building an overpass to replace an intersection. As we were coming down the hill to Hwy 1 I could see some campers parked on the side of a hill on the other side of some stoplights. We proceeded through the intersection and up a hill a little ways. There it was, an A-framed KOA office building except it wasnít a KOA any more. The weather was decent so we decided to camp out again for under $30. We picked out 2 sites and set up. I checked over my bike, lubed my chain and checked the oil, everything looked OK. I took a shower and called home.
I called on my check card. The representative told me that 2 charges were attempted in Swift Current; one for $13 and one for $94. I told her that neither was mine. She said that she couldnít unlock it and Iíd have to get a hold of the Fraud Department but they werenít open until tomorrow morning.
Tom had brought a camp stove and was going to cook some freeze dried stew. It didnít sound good to me so I got back on my motorcycle and headed back toward town to see if I could find something open. It was around 10:30pm and a sign on the front gate said the campground was closed at 11pm. Some of the other campers said it was loosely enforced but I didnít want to take any chances so I planned to be back quickly.
Heading back toward town on Hwy 1 I saw a little strip mall. I was hoping to pick up a beer or 2 but the liquor store was closed. There were 2 gas station/convenience stores there. Station #1 didnít have much of a selection of groceries so I went over to station #2. I bought a beef/cheese sandwich, some chips, a piece of carrot cake and some chocolate milk. It wasnít a gourmet meal but it would do (except for the cake which was inedible).
The employees in the stores were a veritable United Nations of clerks. One guy looked like a young Osama Bin Laden with a Native American helper. The other store had a Turkish guy with Arab music playing loudly over the intercom.
Monday dawned bright and clear. I woke up around 7am. In what was becoming a pattern, Tom was already up typing on his laptop. I went up to the bathhouse to brush my teeth and call on my check card. The guy in fraud told me about the attempted charges. He thought that a clerk might have tried to use my card to fill up another vehicle like a RV. I mainly needed my card so I could get cash at the ATM. I told him Iíd be traveling for the next 2 weeks and where I was going. He said heíd unfreeze my card and flag any unusually big charges.
I got back to the tent and started to load up. I was done before Tom and had to wait for him to finish packing. We got on the road at about 9am and rode to Canmore to fill up. We had a bite to eat at a Tim Hortonís next to the gas station. Theyíre a chain of restaurants in Canada kind of a cross between a Starbucks and Bruegger Bagel.
Tom mentioned he needed a screw to tighten something on his video camera mount he had attached to his fairing. We went over to a Home Hardware about a Ĺ mile from the restaurant but they didnít have the correct thread size. They directed us to a NAPA store. They didnít have it either but they pointed us toward a small engine repair shop across the street. We walked over and he gave us one out of his private supply. We put it on so Tom was hopeful that the camera would stay put now and he could get some good shots of the Canadian Rockies.
We got back on the road heading for the Banff Park entrance. At the toll booth they charged me the same rate as an automobile but let us both go through. I paid but I got the only copy of the receipt. Back on the road I got ahead of Tom. I wanted to take the old road that bypasses the town of Banff and takes you to Lake Louise. I pulled off the road just before the exit and waited for Tom to catch up. I must have waited 20 minutes and still no Tom. In order to turn around Iíd have to take the exit, go back under the freeway and take the entrance ramp going in the other direction. I didnít want to be under the road when he whizzed by but I got tired of waiting and chanced it. I backtracked back to the park entrance but didnít see him anywhere. We had previously talked about staying in Hinton that night so I figured Iíd see him somewhere along the way. I got back going toward Banff again and took the bypass road to where it rejoined the main highway at Lake Louise. There I stopped at a gas station to fill up and have a drink. As I was sitting outside, Tom came down from the main road to the intersection by the station. I was on the left side of the intersection but he turned right, made a U-turn and headed back up to the main road. I was waving my arms to get his attention but he didnít see me. I felt relieved because he was now ahead of me and I knew he was stopping often for picture and video taking.
Getting back on the road headed to Jasper, there was another park entrance. When I stopped to show my receipt the ranger told me my friend on the black bike was up ahead. Tom told him to watch for a guy on a yellow bike and that he had the paperwork. Iíve always have liked yellow bikes, theyíre very distinctive.
About 20 miles into the park I saw Tom along the side of the road taking some pictures. He said he pulled off the road before Banff to see a waterfall. All his attempts to get my attention proved futile so he figured weíd eventually run into each other. I could tell he was awestruck by the parkís scenery so I told him Iíd go up ahead and stop at the ice field center and we could look at the glacier together.
This was my 4th time to Banff and Jasper but itís still awesome. The mountains in this area are relatively young geologic wise making them very rugged and steep. Their lack of vegetation puts all their glory on display. A must see destination for everybody.
The road up to Athabasca Glacier is very twisty and very fun. I got to the visitorís center around 3:30pm. I wandered through the displays at the museum and had a soda. I went back outside and tried to catch a few zís on a picnic table by the parking lot. Tom showed up around 4:15pm. We decided to go down to the base of the glacier and walk up to the edge. It was a good Ĺ mile hike one way uphill. It was rocky and pretty steep. We managed to get up it though we were puffing pretty hard at the end; age and altitude conspired against us. After a brief discussion of global warming at the top we decided we couldnít make Hinton tonight so we decided to camp at Jasper. I showed Tom on a map which campground was closest to town. I told him Iíd set up and he could just look for my tent.
I got back on the road heading north when I saw a sign for the Athabasca Waterfall. I figured Tom would be way behind me so I decided to stop and take a look at it. It was a 75 foot drop inside a deep rock chasm, very impressive. I decided to take the old park road to the campground. It was a narrow, rough asphalt road; much more interesting than the main highway. I also saw some critters.
I looped back to 93 and went to the campground. When I pulled up to the booth the ranger said that my friend with the black bike was here already looking for me. Tom then pulled up beside me and told me that he thought he knew what my tent looked like but when there are lots to choose from they all start looking the same. We had to get 2 tent sites (park rules). They were pretty primitive; just some hard gravel edged by some planks. It was also our first experience with the north woods mosquitoes; they hastened our camp set up time. We cleaned up and went the 3 miles into town.
We picked out a sports bar/coffee shop to get something to eat. The bar was full of hockey fans watching game 3 of the Stanley Cup finals. They were all cheering on the Ottawa Senators. During the end of our meal the bar went dead silent, the Senators lost in sudden death overtime. There were a lot of heads hanging low after that. Tom caught up on his e-mail and I sent one to my wife instead of calling her. We walked around town after dinner and then headed back to camp.
As we were heading back to our tents, I noticed a couple of newer BMW GSís parked outside a motel in town. They were spotlessly clean like they havenít seen dirt at all and here they are staying in a fancy motel while weíre sleeping with the bugs on the hard ground. I had no reason to feel that way, we chose to camp out. I just have a hard time understanding why someone would but an off-road capable bike like the GS and not use them like they were designed to do. Itís similar to people buying those big 4x4 trucks and never getting closer to dirt than a mud puddle in a Wal-Mart parking lot. I used to work at a motorcycle dealership that sold BMWs. I wanted to buy a K75RT when they came out and was in the market for a R1100RT a few years ago. The GSís are great for the type of traveling weíre doing on this trip but they are big, heavy and expensive to maintain. I guess I should be happy that my Tiger hadnít let me down so far and be satisfied with the choices we make as we make this trip.
We left early the next morning to have breakfast in town. We heard from the reports on the TV that there was extensive flooding in central and western British Columbia so we ruled out taking the Yellowhead and Cassiar Highways to Watson Lake. Weíd instead head northeast to Hinton and then northwest through Grand Cache and up to Grand Prairie. It was cool and overcast leaving Jasper. When we pulled into Hinton we filled up and put on our rainsuits because the drizzle was turning to rain and it looked worse in the direction we were heading. Lucky we suited up because the clouds opened up us. I should have put on my bootcovers; my new boots hadnít leaked in the rain so far but now I could feel some wetness creep onto my feet. With the heated liner my feet were uncomfortable but not cold and numb. Other than that it wasnít too bad for me with an electric jacket liner and the rain gloves. Tom on the other hand had his Darien suit on with his rainsuit but didnít have heated clothing and he told me afterward he was getting cold.
He told me later that Aerostich offered him a heated vest but he decided against it. I feel that the heated clothing is the most important piece of equipment you have. Riding cold is not only uncomfortable but dangerous as well. Hypothermia can set in quickly and you donít make good decisions on a motorcycle when youíre shivering.
I saw my first bear on the trip or at least part of a bear; his rear end as he was running into woods. The bikeís noise seems to spook them every time.
We stopped in Grand Cache to fill up. I pulled into the first station I saw. It had a canopy over the pumps but the driveway and aprons were dirt. The 2 Beemers we saw in Jasper pulled in right behind us. They were a couple of older guys (older than us?) from Texas. Ha-ha, their bikes were dirty now. I felt kind of dumb pulling into a station without a concrete driveway. I saw 3 more stations as we passed through town that had cement aprons but they didnít have canopies. Better to have mud on our boots than water in our gas.
The terrain flattened out before we hit Grand Prairie (Duh!). We stopped to eat and warm up at a Boston Pizza. We saw a lot of them in Canada. They were nice sit down places similar to an Applebeeís. We continued on to Dawson Creek and went to Milepost zero of the Alaskan Highway. I snapped a few pictures of Tom in front of the marker. The rain had gone away temporarily so we decided to ride to Fort St. Johns about 50 miles down the road and stop for the night. I knew there wasnít a lot to choose from in Fort Nelson, the next town after that, and it would be getting too late anyway. We decided to motel it for sure tonight.
When we got to Fort St. John we stopped into the Tourist Information Office. A very attractive young lady helped us (If only I was single and 25 years younger!). We asked her for our options for reasonably priced (CHEAP) motels. She called a couple for us and found one for $85 a night. We told her to tell him weíd be right over. We saw The Caravan Motel along the highway as we were coming into town. It looked semi-dumpy but it was good enough for tonight. Tom had asked the woman about whirlpool baths in the motels. We would be lucky if The Caravan had running water much less a jet tub. She gave us 2 passes to the community center which was right behind the office. It had a pool and a hot tub. Between the cold of today and the miles we were doing Tom needed to soak out a few kinks and loosen up.
We pulled in front the Caravanís office. The owner was a little Chinese guy. We asked for a room on the lower level but he said the only one he had left there had not been cleaned yet and the housekeeper had gone home for the evening. I said weíd clean it ourselves for a $20 discount. For a moment Iíd thought heíd go for it but he just smiled and said no. He had a very dry (arid) sense of humor. He used to be an airline pilot and bought the motel 4 years ago. He wanted to sell us the place so he could move to Florida, not as cold. When we walked out of the office he saw Tomís bike. Heíd been looking at a V-Strom 650 but it was too tall for him so he was going to get a cruiser. Then he said that we could wash up our bikes by the office. He went inside, got a couple of rags and started running the hose for us. I got some of the bigger chunks off. He said I wasnít getting my bike clean enough. I told him I wanted my bike to look like it has been someplace.
We unpacked our bikes and headed over to the pool. There was a hockey arena next door and a gym. We got some lockers and went to the hot tub. It was in the middle of a small water park with a full size pool, a kiddy pool and a small water slide. It was pretty busy. We soaked in the whirlpool; I swam a little bit and went down the slide (short and not impressive). I showered and got dressed. I asked the teenaged clerk how to get to the nearest liquor store. She gave me great directions. When I was getting on my bike I could see a squall line bearing down on me. I rushed over to the store and got to the door right as the heavens opened up. Inside the store there was a small space with a lot of hard liquor and some wine but no beer coolers. I asked the clerk where the beer was. He pointed to an opening on the left wall. I still didnít see any coolers until I went through the doorway. The passageway led to 20íx20í room with beer stacked about 6í high. The whole area was refrigerated. I picked out a 6 pack of a local red lager and headed back to the motel room. I did some laundry, drank some beer and went for a walk before I went to sleep.
We hit the road rather early the next day. Not having to pack up a tent sure saves time in the morning. We talked to a guy earlier in the trip who told us to check out Llaird Hots Springs and check out the pools of spring water. He said it was a fun place to camp and hang out. Itís only about 300 miles from where we were now but the Alaska Highway between Fort Nelson and Watson Lake is the best stretch of the road of the whole route. The road is more challenging and there are always lots of animals to see. There was no need to rush.
We rode about an hour or so and stopped at a small cafť/gas station at Buckinghorse for some breakfast. There was a sign on the lone gas pump saying it was for emergency use only. We didnít know whether we could fill up or not. The owner came out and told us to go ahead, the sign was mainly to keep monster RVs from sucking him dry. We went inside to get something to eat. Tom ordered a large breakfast. I got a couple of eggs and some toast. The guy kept asking me if thatís all I wanted. He said,Ē Are you sure you donít want some hash browns or some bacon?Ē
There was another motorcyclist eating there. He was a guy from Vermont riding a Harley Heritage Springer. He told us heíd been on the road since May 1st and now was heading home. He told us that he had just got back from going up to Fort Liard. He was telling us about the 27 miles of dirt road he had to traverse to get up there. I couldnít imagine taking a bike like his up the Dempster. Iím also sure he couldnít imagine us riding close to 1000 miles of gravel.
After eating we hit the road. Tom needed some waterproofing fluid for his gloves so we stopped at Fort Nelson. We had to look around at a couple of places but we found it at a work wear store. The weather was perfect as we pulled out of town and headed up to Summit Lake, the highest point on the Alaska Highway. At the top I had to stop for some Mountain goats on the road. There was some Mountain sheep a little further down the hill. There are always animals on this part of the road. I had gotten ahead of Tom again because he was taking video of the wildlife.
My odometer was reading 150 miles since the last fill up so I pulled over at the Poplars Resort and Campground just before Lake Muncho. I filled my tank and went in to get something to drink. There was an older woman along with a younger girl behind a counter that was in front of a kitchen. I asked the woman about a resort up the road that I had stopped at 2 years ago. The lady back then had told me that the resort was up for sale because she had heart problems and the closest hospital to go for specialized emergency care was Edmonton, about 1200 miles away. If she had an episode they had to air lift her there. The woman at the Poplars said that the owners had moved but the resort was still for sale. She said that it takes a special person to live here. A lot of people move up here but find out they canít take the isolation and the long cold winters.
Both the women were busy baking something. She told me that they had some cinnamon rolls in the oven. They smelled wonderful so I told her to put my name on one. When I went outside to wait for my roll a wiry older gentleman and a young boy I assumed was his grandson were standing by my bike. He was pointing out to the boy why the bike was set up the way it was. We started talking about where we were headed, the motorcycle etcÖ By then Tom had pulled up. The man introduced himself as Michael A-P-something (I tried Googleing him had no luck). He spelled it out but I wasnít paying attention enough to catch it. He was Austrian and had a thick accent. He had raced motocross professionally in the early 1960ís for Maico. He had hurt his kidney in a 125cc race. Once he healed up he started racing on mountain courses. He won the Gold Ribbon in 1964 which meant he was the best rider in all of Austria. He really liked talking about his exploits. I suppose nobody asks him about them anymore, anyway we were an appreciative audience. Nowadays he runs a resort for Austrian tourists; hunting, fishing, horseback riding and trail riding. He said the last few years had been tough; a $240,000 divorce and a bout with colon cancer. He was due to fly to Europe the next week for follow up care. He could tell that his boy was getting bored with Grandpaís stories so he excused himself and said goodbye. We both wished him good luck on his prognosis. After he drove off Tom was kicking himself for not getting some video of our conversation. By then my roll was done and it was as delicious as it smelled. Tom had one also.
The road gets pretty tight and twisty around Muncho Lake. Tom later told me that he had the bike-mounted camera on while he was following me. He said I was screwing him up because he looking for my braking points but my brake light wasnít coming on and he was overcooking on the curves. I told him that I usually use the engine braking to slow down and barely touch the brakes. I donít know if thatís good or bad, itís just how I roll.
We pulled into Liard Hot Springs around 6pm. On the north side of the road there was a provincial campground next to the springs. On the other side there was a private campground with a hotel, gas station and cafť. We got a campsite there. Both of us called home, set up our tents and got on our swim suits. We walked across the road to the park and paid $5 to use the springs. (The clerk at the campground said that you could get into the springs for free if we waited until 10pm after the rangers went home but we didnít want to wait that long). It was a good Ĺ mile walk on a raised wooden walkway over a swamp. The ďpoolĒ was actually a dammed stream about 15í wide and 100í long and about 5í deep. At one end, the hot water came out of some rocks and mixed with the water from the creek flowing by. There was a wooden deck on one side of the pool with some benches and some steps leading down into the water. About 10 people were in the water and they looked really warm. I headed down into the water and man was it HOT (Someone said it was 120 degrees)! My skin was on fire. It seemed like the hottest water was on the surface and it got cooler the deeper you went. Once I found a rock to sit on and fully immersed myself it got tolerable. The warmth wasnít the only di-STINK-tive feature; it smelled like rotten eggs. With all the sulphur it burned my nostrils. The water wasnít all that relaxing and Tom said the only 2 attractive women had left just as we got there so we only stayed in 20 minutes.
Another guy there said we should go up to the other pool another ľ mile away. It was more of a small pond than a stream. The water was cooler but still stunk. It was 6-9 feet deep so we could at least swim a little bit. That got boring fast so we headed back to camp. I took a long shower to wash the smell off me but my suit wasnít so lucky, I could smell it in my tent all night.
We didnít spend much time around our tents due to the mosquitoes being pretty thick. There was a group of motorcyclists camped on the other side of the campground. Most of them had BMW GSís. I was going to go over and talk to them but they all went to sleep at 9pm. I walked by their site before we walked over to the cafť but nobody was outside. The grill was about to close but we got our order in on time. The place was really crowded but the mood was somber; the Ottawa Senators had just been swept by the Anaheim Ducks in the Stanley Cup finals. We had a good meal and went to sleep.
Early the next morning it started to rain. I hate packing up wet; itís always a hassle trying not to get wet things mixed with dry things all the while trying to stay dry yourself. We went over for breakfast hoping it would let up; it didnít. My tent had sprung a couple of leaks from some fabric tabs holding the rain fly down. Iíll have to put some seam sealer on it next time itís dry. We screwed around trying to avoid breaking camp in the rain but it continued to come down. We finally got going around 10:30am. It started to clear up as we were pulling out.
I stopped in Watson Lake at the Signpost Forest. There are 100 or so telephone pole stuck in the ground about 5 feet apart with signs nailed to them from top to bottom; road signs, mailbox signs, street signs, town signs, homemade and commercially made signs. There were a lot of people milling about taking in the spectacle. I wandered around taking some pictures until Tom pulled up about 20 minutes later. We gassed up again, took a small break and headed out again. We stayed pretty close to each other until Teslin when we stopped coming down toward the river where Tom took some video. We gassed up again before heading out to Whitehorse.
Tom had a phone number of a woman who was his neighborís sister. He had contacted her by e-mail prior to us leaving and she told him to call her when we got there. He was somewhat concerned that she hadnít replied back recently so we didnít know what to expect. I was hoping sheíd let us crash at her place or let us camp in her back yard but if she didnít there were a lot of options for lodging so we had nothing to lose.
I had gotten ahead of Tom again so I pulled off on to a wayside rest just before the city. He pulled in about 15 minutes later. She supposedly lived close to the airport so we followed the road signs to it and went to a motel/restaurant we saw across the road. We went in and Tom gave her a call but she wasnít home and he left her a message to call the motel. We went to the lounge and had a beer. About 10 minutes later we got a page for Tom and it was her, sheíd be there in 5 minutes.
The bar wasnít crowded so it wasnít hard for her to spot us. We ordered a round of Yukon Golds (local brew) and sat down to talk about life in the great white north. Julie was recently retired after working 20 years at an interpretive center at the Tombstone Mountain Campground 50 miles up the Dempster Highway. She pretty much spent her whole summer there all those years. Her 2 daughters were raised there and now work at the camp. One of them just had a baby and it and her boyfriend were going to stay in a wall tent all season. She also told us about their cabin on the Dempster not far from the main road to Dawson. Tom was thinking about dumping some of his gear there so he wouldnít have to haul it all the way to Inuvik. We asked her about the road itself and Inuvik. She said the road was just that; a road. It got you where you needed to get to. She had been to Inuvik only once and that was in an airplane. She told us that she was leaving early in the morning to go up to the campground to help her daughters with a bird watchers gathering that was going on this weekend. (So much for staying with her tonight). She was very talkative, she told us about traveling to the lower 48 to see relatives and she usually took the ferry along the coast to Bellingham. It was much less stressful than driving all the way. She mentioned that it was usually warmer in Whitehorse than Dawson. Winters werenít too bad because they had a ďdry coldĒ. Now Iíve heard of ďdry heatĒ and I could see some logic in that but ďdry coldĒ? I would think that would be the worst kind. I think these people are just rationalizing to themselves why they live there.
We asked Julie about where to stay tonight. She recommended the Provincial campground on the east side of town. Looking out the window of the bar toward the airport you could see an airplane, an old DC3, mounted on a pole and it could move back and forth like a weather vane. The wind had picked up some and it looked like it was getting colder so we decided to motel it tonight. We said our goodbyes and told her weíd probably be staying at Tombstone Mountain the next night and weíd see her there.
The motel at the airport looked expensive and besides, we wanted to walk around downtown. We had seen some billboards for The American Motel on the way in so we went into town to check it out. It was $99 a night and it was getting late so we decided to stay there and unpacked our bikes.
We parked right out in front of the entrance so the clerk could watch them. Iíd been lubing my chain pretty regularly so I was spraying it down when I happened to look at my rear brake disc. The rear pads were worn down to the metal. Great, the nearest Triumph dealer is probably in Anchorage and weíre headed up the Dempster tomorrow. I remembered that on the EBC package that they listed other motorcycles that these particular pads fit. I went up to the room and looked up EBCís application catalog on the internet. It said that the pads I needed, part #FA196 was used in some late model Hondas and also the Buell Blast. There was a Honda and a Harley dealer in Whitehorse so weíd check in the morning.
There was a Laundromat attached to the motel so I did a couple of loads of Tomís and my clothes. We hung up our tents in the room to dry out. While the dryer was going I went over to a convenience store across the street to get something to munch on. If they ever need to look for a cast for the next Clerks movie Iíd start there. There were 4 kids in there working that looked like the biggest misfits in Canada. They all looked like they were 12 years old. I left without buying anything and went back to watching The History Channel on the TV in the laundry.
Tom was also busy. He went over to Canadian Tire and got some wire and some nylon cord. He snaked the wire around the loop sewed into the perimeter of the rain cover for his rear seat bag. He then attached the cord to it and pulled it through. Now he had enough slack to tie it off better and it wouldnít flap so much saving us much prep time in the morning.
The drying always takes longer than you think but Tom had a hooded sweatshirt made out of a synthetic material that always felt like it was still damp even when it wasnít. Iím not a big synthetic clothing guy. Thatís probably due to some polyester pants I had back in the 70ís. You know the ones that stretched and caught your leg hair. The ones that felt like you were wearing Saran Wrap on a hot summerís day. I did bring along some manmade fabric items with me on the trip but I havenít made up my mind one way or the other whether they perform that much better than cotton and wool.
By the time the clothes were done it was around 9pm. Tom and I walked toward downtown to find something to eat but it seemed most of the restaurants were closed. There wasnít much going on even as we got closer to the river. We went over one block north and found the Roadhouse Inn. It looked like it was trying to be a Biker bar but there were no bikes (or cars) parked out front. There were only 2 other people in the place as we sat down at the bar. We asked the bartender about some food but said that the kitchen had closed. We asked him about appetizers and he said he could make those so we ordered some BBQ chicken wings and some potato skins. We had a couple of Yukon Golds and talked with the help. One of the workers had lived in the Twin Cities. We ate our food and headed back to the motel around 11pm.
We woke up fairly early the next morning and got the bikes loaded up. There was a Suzuki dealer just down the street from the motel. We went over there to see if they might have some brake pads for me and a mirror for Tomís V-Strom. They didnít have a mirror for anything in the whole place. We got back on our bikes and rode over to Yukon Honda. They sold Honda cars, motorcycles and ATVís along with KTM motorcycles. It was a nice, newer place, more of a car dealership than a bike shop. I went up to the parts counter and explained my situation. The parts guy looked through his catalogs to see if he could cross reference any thing he had to my bike. He told me he had no brake pads for Honda street bikes in stock which didnít make any sense to me at all. I would think ST1100ís and GL1500 Gold Wings would be a popular bike for the roads around here. He did remember that he had some assorted pads for some other makes in a box behind the service counter. He went back and dug around and found 3 sets with Triumph written on them with a marker. Two were the front sets for the earlier 1996-1998 Tigers but the other was EBC FA196X which were my pads in a sintered metal composition. YEAH!!! I didnít have to tackle the Dempster without rear brakes. They charged me $50 (Theyíd go for $35 back in Minneapolis). I gathered them up and went outside by the front door and installed them.
We asked them about a mirror for Tomís bike but again they didnít have any. Nobody in the Yukon must look behind them when theyíre riding, too busy watching for moose in the road I guess. I did notice a stack of dual sport tires behind the counter. I mentally filed that away as a place to go in case my Anakee got thin on the way home.
There was a Yamaha dealer down the street so we rode down there after my brakes were working. They didnít have any mirrors either. We were thinking about going to the Harley dealer when the parts guy suggest a place just west of town, a welding shop that had some salvaged motorcycles. We got directions and went about 6 miles from Whitehorse to kind of a dumpy industrial park area. We found the shop but nobody was there. It was around 11am so the owner might have taken off for lunch. We decided to give up for now and headed up HWY 2, the Klondike Highway.
The road was very well maintained and scenic. It was sunny and was getting warmer, somewhere around the mid 60ís. We stopped at Carmacks to fill up and have a snack. They had a small grocery store and a cafeteria inside. I commented to Tom that if I moved up to the Yukon Iíd have to give up bananas. In every store, big and small, weíd been in the bananas were awful; brown, slimy and overripe. I suppose they just canít get them up there fast enough.
I went another 120 miles up the road and stopped at Stewarts Crossing, filled up and waited for Tom. He pulled up about 5 minutes later. A couple of guys on BMWís pulled up. One was from Anchorage and the other guy was from Washington. He was riding the Alaska guyís spare bike. They were going to ride the Top of the World Highway but not the Dempster. There was a casino on the river behind the gas station and the Beemer guys said they were go over there to check it out. Neither Tom nor I are gamblers so we passed on by.
Further up the road there was a turnout with a point of interest sign. I needed to take a leak so I pulled in and relieved myself in the woods. I then wandered over to a plaque which stated that there was a 1000 mile long fault line bisecting the southern Yukon northwest to southeast resulting in a rift valley. It was a good vantage point and you could clearly see the depression with the steep sides. It said that the fault had shifted over 600 miles over the last few million years. I didnít think that that area would be that tectonically active this far inland but you learn something new every day.
I was about to leave when a Princess Cruise Line tour bus pulled up behind me. The doors opened and a mass of humanity flowed out. I was standing about 10 feet in front of the sign as they all started to stand around me because it was the right distance to read the words and take a picture of the plaque. They were giving me dirty looks because I guess I wasnít moving out of the way fast enough for them. I walked back to my bike to gear up when 2 older gentlemen made a beeline for me. They started asking questions about where I was from, where I was going etc... Iím sure they got dragged along on the trip by their wives and they were bored out of their gourd. Iíll probably be in their shoes next year as my wife, kids and me are going on a family cruise to guess where? Alaska.
We got to the gas station/lodge at the start of the Dempster around 4:30pm. I had read in some forums that motorcyclists left spare gas cans at either end of the highway. You used them and left them there for the next guy to use. The lady at the counter didnít know anything about that so I ended up buying a 2.5 gallon plastic gas can for $15. I should have picked one up at Canadian Tire in Whitehorse at probably half the price. The next gas on the Dempster would be at Eagle Plain, 225 miles up the road. I wasnít sure how fast weíd be going but I figured if we did between 40-50mph Iíd get 50-60mpg and not need the spare gas. I know I got 60 mpg going through Yellowstone Park last year when I was going those speeds. It was probably better to be safe than sorry. Tom had 3 aluminum bottles that he filled for his V-Strom. Weíd been getting close to the same mileage the whole trip but with his tank being smaller he had less margin for error. I figured I had enough for both of us in case he ran out. I paid for everything and she managed to overcharge me $7.25 which she gave back to me in cash. I originally planned to bring some food and water with me to the campsite but I just wanted to get out of there after all the hassle.
We took some pictures at the sign documenting the beginning of the Dempster Highway and headed out into the wilderness. I was both excited and apprehensive about the journey ahead. Iíd never done that much dirt riding before and never in as remote a place but Iíd also read lots of peopleís accounts of doing the Dempster on bicycles so how hard could it be? In fact, Tomís good friend Jim Wittener conquered the Dempster on a Yamaha SR500; an early 80ís 500cc single street bike. It did take him 4 days where we were planning to do it in 2 but many people had done it so why not us?
The road was fairly smooth with some loose gravel in spots. We were taking it easy; about 45-50 mph. We found the marker that showed where Julieís cabin driveway started. It was about a ľ mile off the road down a 2 rut path in the sand. There were 3 building in a small clearing; the cabin that was currently occupied and 2 that were abandoned. Nobody was there so we stopped and snooped around. There was various junk rusting away around the property just like it seemed every other homestead in the North Country. I heard running water nearby and went on a path downhill about 150 feet. There I saw a small river. I could picture them coming down here fishing or netting some trout or salmon for dinner. I walked back up to the cabins where Tom was taking some pictures. He couldnít believe that they would let their cabins deteriorate so badly. I suppose that it was easier to build new than to remodel an old one.
We got back on the road and went about 45 miles to the Tombstone Mountain Campground. We got there around 5:30pm. It was $12 for a campsite which we left in an envelope and put it in a box. Most of the sites were taken but there were no trailers or RVs. No other motorcyclists were there either. The tent sites were pretty primitive; I just picked out a spot that had the least amount of rocks and pitched my tent there. There was no store, no vending machines, not even electricity. There was a place where you could get water but it wasnít working. Tom had a bottle of water and I took a few swigs but that was it for the night.
At 7pm there was a lecture on ďThe Birds of TombstoneĒ. Iíve never been a big fan of bird watching but I like lectures and there wasnít anything else to do. There were about 30 people gathered in a screened pavilion. Iím sorry to say the people kind of fit the stereotype of birdwatchers; pretty nerdy. The lecturer had a small gas generator so he could power up a laptop and do a PowerPoint presentation. He would put a picture of a bird on the screen and would quiz the audience about what kind it was. He also tried to imitate their calls; some more successfully than others. One woman in the audience had a book similar to a See & Say book that kids have. You open the page to the bird you want and press a button on the side and the call would play. He got into a lot more detail than I needed to know but it was a big hit with the birders. Tom whispered to me that his wife would love to be here right now. The lecturer talked about Ruffled Grouse and mentioned they were very tasty. I was expecting him to get lynched but nothing was said about it. The whole thing lasted about an hour and half. I was hoping there would be some refreshments and goodies afterwards but no one brought anything to share.
We went back to the tents and started a fire to help with the mosquitoes. They werenít too bad; Julie said that the bugs would be out in force in a week or so. I walked around the campground but there wasnít a lot of partying going on. I guess the lecture was enough excitement for 1 night. I went back to the tent to try to go to sleep. It was still fairly light out so I put on my sleep mask for the first time. It took me a while to get used to it. What was harder was going to bed thirsty and hungry.
I woke up the next morning early. It was hard to tell because it was twilight all night. I started to pack up. Tom must have been bored too because he almost beat me getting ready to hit the road. The weather was cool and overcast but it didnít feel like it was going to rain. The campground is on the edge of the Olgilvie Mountains. They arenít very high or steep but they are rocky. We went through a couple of passes but you could tell we werenít in the Canadian Rockies. There werenít a lot of trees; most of the mountains were barren. We didnít start seeing trees until we passed the Olgilvies.
The road itself was a mixed bag; it would change every 5 miles or so. It could be loose gravel, thin gravel, hard packed dirt with rocks sticking up or sand. We were doing 45-55mph in the good sections and 20-30mph in the poorer one. There was hardly any traffic; one every Ĺ hour or so. The weather was improving. The clouds burned off when the sun came out and it was warming into the mid 60ís.
At the speeds we were going I wasnít worried about my fuel. I was more worried about a flat tire. I could hear the hollow sound of the tires as they throw a rock it has hit off to the side. Some of the sections with smooth dirt had sharp rocks jutting up from the road bed. I didnít want to hit those things at speed and pinch my tube or bend a rim. I know dirt guys lower their tire pressures when off-road to get some more traction. I left my pressures high to minimize getting a flat. Iíd rather deal with slower speeds and more skittish handling than having to deal with changing a tube on the side of the road. I told myself just donít go crazy and youíll be alright.
I was ahead of Tom. Iíd stop every 20 minutes or so and look behind me for his dust plume. Iíd wait until he was a mile behind and Iíd take off unless there was something interesting to see and Iíd wait for Tom to tell him about it.
We got to Eagle Plain around 2pm. My reserve light had just come on. Tom said he emptied his bottles into his tank about 50 miles back but he didnít know if he had to. We filled our bikes up and went into the restaurant. It was a big room but there were only about 6 people in the whole place. We drank a lot of water and had a big meal. We were stuffed.
There were a couple of guys sitting at the next table finishing their meal and we started talking. They were pretty tough looking with sunburn and dirty clothes. We found out they were mineral drillers. A helicopter would carry them and a drilling rig (about the size of a small car) to the middle of nowhere and drop them there. They would then drive a shaft between 200-400 feet down, put the rocks they dug up in a bag and wait to get everything picked up. They would work for 12 days straight then the exploratory company would fly them home for 4. We asked them what they were looking for but they said they didnít know, their job was just to get the samples. Both of them had had motorcycles at one time so they were asking us about our trip. They had only flown over the area not driven it so they couldnít give us much info about the road ahead.
As we were heading out we saw a Mounty coming in. We asked him about the weather. He said there wasnít anything major coming in for the next few days. He said we should have a good trip to Inuvik.
We got going around 2:30pm and headed north. As we were leaving the motel we saw the helicopter that was picking up the drillers tied to the drilling rig. Eagle Plain is located on a flat plateau with these stunted spruce trees off into the horizon. The majority was 10-20 feet tall but their branches only stuck out about 2 feet. They werenít green either but almost black. There isnít much soil so their root system is weak and they were all tilting over in different directions. Iíve never seen anything like it before.
The terrain started to change. The trees disappeared and it stared getting hillier. There wasnít any vegetation taller than 12Ē. It reminded me of the desert sans cactus. We stopped at the monument marking the Arctic Circle, read the info, took some pictures and video and kept pressing on.
We were in some rolling hills but we saw the Richardson Mountains up ahead of us. The wind was picking up now. It didnít seem to be much of a problem until we got about 25 miles north of the Arctic Circle. The road looked like it had been worked on recently; there was a thick (3-4Ē) layer of small crushed rock. There was 2 tire ruts in the left lane about 6Ē deep with a hard berm between them. It would have been simple enough to stay in one of the ruts but the wind was now whipping around 40mph and you couldnít keep the bike in a straight line. I was coming down a small hill fighting with all my might to keep the bike upright against a left to right crosswind when within 50í the wind changed from right to left. I did my best Jay Springsteen power slide impersonation and managed to keep the rubber side down. That episode got the old heart rate zinging past my redline so I stopped up ahead on a straight section to compose myself and take a leak. The road surface is built 4-5í above the ground in order to insulate the permafrost from heat which would thaw the ground and sink the road into the muck. I walked down the side of the road and onto the tundra. It was like a bog but not as wet, I bet my boots sunk down 3Ē. I walked back up to my bike and waited for Tom.
I looked back and saw Tomís dust cloud coming down the same hill that almost got me. He got through that and disappeared behind a rise on the straightaway behind me. I waited for him for a few minutes and no Tom. I got on my bike and headed back about a Ĺ mile. As I crested the rise I saw Tom standing up bent over next to his bike parked sideways in the middle of the road. I thought he might have dropped something but then I saw red duct tape on his fairing; he had fallen over on his right side. I parked my bike and ran over to him, tapped him on his shoulder and asked if he was alright. He mumbled that he had hurt his ribs. He later told me that he didnít remember anything between crashing and me touching him so he must have went down hard. He also said his left shoulder and right hand were messed up.
Duct tape now held on the right turn signal. His windshield and right cowling were gouged up but still in one piece. The whole fairing had shifted to the left but didnít interfere with anything. The bars were tweaked some but not too bad. The right saddlebag had taken another body shot but it wasnít any worse than before.
Tom was pretty mad at crashing. He said the rear end of the bike swung around and swapped ends with the front. He must have hit the berm and kicked up the rear end which got caught by the wind and whipped it around on him.
His helmet shield was scratched up and the pivot screw was broken. He dug out a spare and installed it all the while cussing under his breath. I could see he was upset so I didnít want to push anything on him but I still wanted to continue on to Inuvik.
A tanker truck pulled up and asked if we needed help. He said the road got better about 4 miles ahead. We told him we were OK and he took off heading north. Tom said that he might have broken some ribs. Heís had them before and knew the pain. If he was right, he figured that he had about 8 hours before he couldnít move any more. He didnít want to be in Inuvik and not be able to ride back to civilization. I thought to myself that itís crazy to ride 300 miles all the way back to Dawson especially with the way the road was. I said maybe we could go back to Eagle Plain and stay overnight and see how he feels in the morning and decide then what to do next. Either way it was back to Eagle Plain.
The gnarly section sure was easier with a tailwind rather than a headwind. I could tell Tom was riding slower, whether he was being more cautious or because he was injured I couldnít tell and didnít want to ask. We seemed to get to Eagle Plain real quick. We filled up and I tried to argue it was now 5:30pm and it would take us a good 5 hours to get to Dawson. What if everything was closed up and the hotels filled? The guy at the gas station said that things stay open late in Dawson especially on a Saturday night. I didnít want to hear that but the decision had been made to go back to Dawson. I didnít want to go but that is the reason you ride with somebody else in case something like this happens. If I had fallen or broken down I would have hoped Tom would have stuck around.
I donít know why but the return trip was pretty uneventful. I donít know if we just werenít constantly surprised by the road conditions of if the fear of the unknown was gone. I started thinking about all the stories Iíve heard of people crashing; nearly all happen going on trip to the destination and not on the way back.
I was sticking close behind Tom not letting him out of my sight. I didnít want to be eating a lot of his dust but I didnít want to pass him and if I tried to fall back some I just caught back up right away. We maintained a steady pace, he wasnít stopping for pictures. I got ahead of him and stopped to take a picture of a sign at a road aggregate storage area for the Yukon Highway Dept. It specified the size of rocks kept there for road repair. The sizes listed reminded me of your average river rock used in landscaping only with sharp edges. I suppose thatís why the road surface changes so often; the crews use whatever is available in that section as it would be costly to transport better material over so long a distances. When Tom stopped there I told him to pull into Engineer Creek Campground and I would empty my gas can. We could use that so I wouldnít have to carry it to Dawson. Weíd stop at Tombstone Mountain and donate it to Julieís daughters to use at the campground.
We got to Engineer Creek and stopped. I gave Tom about 1 Ĺ gallons and I used the rest. He was feeling beat up but was hanging in there. The weather had changed; it got overcast and looked like it could start to rain at any moment.
Between there and Tombstone we passed 3 motorcycles going north; a newer Tiger (the first one Iíd seen all trip), a BMW GS and a KTM. We waved at them. I thought to myself that it was rather late to be riding to Inuvik unless they were stopping at Engineer Creek or Eagle Plain.
When we got to Tombstone Mountain I went in and Tom waited out on the road. I knocked on the door of the caretakerís trailer. One of Julieís daughters answered the door. I explained the situation and asked if she would want the gas can? She said that they could use it. She also said that when she saw me at the door with the can that she hoped it wasnít some clown wanting to borrow some gas from them.
It started to sprinkle some rain as we left but it was light enough not to slow us down and besides it kept the dust down.
We got back to the main road around 10pm and stopped at the gas station where we filled up last night. My gas was good and I didnít want to give them any more of my money. Tom then asked if Iíd seen the bears. There were a couple in a stream just off the road and another further on scratching his back on a pine tree. I donít know how I missed them. Tom probably couldnít point them out to me because of his bum arm.
We cruised the last 30 miles to Dawson. There were a few motels and campgrounds on the outskirts but Tom flew past them and went right into the downtown area. The old part of Dawson looks pretty much the same as it did back in the Gold Rush days of the early 1900ís. All the buildings look like a western movie set with dirt streets and wooden sidewalks. We drove around aimlessly for a bit and then we got separated for a few minutes. I found his bike parked in front of The Midnight Sun Hotel. I parked next to his bike as he walked out and said that he had gotten a room with a bathtub for $115.
We unpacked and took some stuff up to the room. I got there first and asked Tom if he was planning to spoon with me tonight? He must have forgotten in his haste to get to a tub to ask for 2 beds. He was going to go down to see if they had another room but I saw there was enough room on the floor for me. The only condition would be that he gives me his Thermarest so Iíd have 2. Ohhh what luxury.
We got into our civvies as fast as possible to check on any restaurants that were still open. We walked a few blocks but they were all closed. We went back to the hotel and asked the manager what was still open. He pointed to down the hall to the back of the building and said that the hotel restaurant was open until midnight. It was a Chinese place so we ordered and partook of some adult beverages to wash down the dust. After we ate Tom wanted to go up to the room to soak in a hot tub but I was too wired to sleep. I canít explain why I was so geeked up, after all I just rode 600 miles of bad ass highway. It must be that it was close to 12pm and it was still light out.
The bar in the hotel had a rock band playing. There were only about 5 people listening so I went outside and wandered around. I heard that the Provincial Governor was in town for a celebration held today. The native Dawsonians must have had an early start partying because every one of them was drunk on their asses, 3 or 4 of them came up to me while I was walking around and shook my hand thanking me for visiting. They could barely stand up.
About a block away from the hotel there were 4 bikes parked in front of a casino. As I got closer I could see that they were the most beat up group of Suzuki V-Strom 650ís Iíve ever seen. They were identical and they all had sponsor stickers on them. One had no front cowling but instead had an automotive headlight zip-tied to a hunk of foam rubber. Another one looked like it had been dragged behind a truck for a couple of miles. They were all dirty with bald tires and broken plastic.
There was a younger guy there looking at the bikes and I asked him if they were his. He said they werenít but was as curious as I was about them. He told me that he had just graduated in May with an engineering degree from the University of Wisconsin. He had a job lined up starting in August with Halliburton in Oklahoma. Yes, the same one connected to Dick Cheney. He was riding a bare BMW R75/5 all across the west and up to Alaska until then. He told me about Montana and I mentioned Hwy 200 from Circle to Missoula. He said he loved that road because he could just go as fast as he wanted to, though I donít know how fast you can go on a bare bones R75/5. His steering head bearings let go in Idaho over Memorial Day and he was stuck in Clarkston, Idaho for 5 days until they could get parts.
Another younger guy came out of the casino and walked over toward us and we asked him about the V-Stroms. He said that his 2 brothers and a friend were riding to break a Ripleyís record for the fastest motorcycle trip from the southernmost tip of South America to Prudhoe Bay. They were returning from doing 32000 miles in 32 days in which they broke the record by a day. They all hail from Red Deer, Alberta which is south of Edmonton. They usually did some kind of X-treme adventure every year; rock climbing, shooting rapids, skiing etc... One of them saw the press release last year about a couple setting the record on a BMW and thought it would be fun to do. They got the local Suzuki dealer to get them some bikes. Amzoil helped them out and got them a few other sponsors. They also got a Charity involved and got pledges for miles driven. The bike with the auto headlight had T-boned a Caribou just south of Deadhorse. The crash killed the animal but the guy kept it upright though his whole front end plastic was gone. They just ripped it off on the side of the road and got to town where an auto parts guy rigged up the light. The other one crashed in Chile after it passed a truck going about 80mph. A sudden gust of wind sent it into a speed wobble. The bike crashed hard but the rider got by with a few scrapes and bumps and kept going. They were all heading home now but there was disagreement over how fast to get there. One of the riders had an infant daughter who he hadnít seen in 5 weeks and wanted to blitz home. The other guys wanted to take a more leisurely pace. Who could blame them; after all, they had averaged over 1000 miles a day for a month.
I checked my watch and it was 1:30am or 3:30am our time. I decided I better get to bed even if it was light out yet. Looking in the mirror at the motel room I could see dark circles under my eyes. I definitely had a case of Alaska Insomnia. I should have rented the film Insomnia with Al Pacino and Robin Williams which the long daylight hours were a subplot running through the movie. Tom was sleeping. I hope he felt better in the morning.
We both woke up around 8:30am and went down and got some breakfast at the hotel restaurant. After eating we went out to the parking lot and closely checked over Tomís bike. There were a few pieces out of whack so we decided to disassemble the front cowling and see if we could straighten it out some. Tom had some Gorilla Glue with him but for it to work the parts had to be clean and wet. They were covered with mud and dust there was no water in the lot so Tom took them upstairs to clean them and wet them down. We ended up with about 6 or 7 pieces glued up with them drying on a log used as a tire stop.
Tom had bought the V-Strom off the internet from a guy in Ohio. He had bought it crashed and fixed it up so it had a salvage title. We could tell what parts he replaced and what ones he didnít that were damaged from an earlier accident. While we were waiting for the glue to cure I packed up the Tiger. We reassembled the Suzuki which was a little better than it was before. Tom looked at me and said goodbye which surprised the hell out of me. I was under the impression that we were going to Glennallen, Alaska today to meet up with Tomís son-in lawís cousin. Tom had been in contact with him and had sent a new set of GIVI saddlebags to the Post Office there. I argued that if he had serious injuries it would be better if he was there incase his friend had to take care of him for a few days than staying here in Dawson. I had tried to get to go to the clinic in Dawson earlier but he didnít want to. I said Glennallen wasnít really that far away; about 300 miles and most of it should be paved. He came around to my line of reasoning and said his ribs felt good enough for the ride.
I hauled his stuff down the stairs because his shoulder hurt bad and helped him pack up. It was close to 11am before we left the hotel. We went out of town some to fill up and then had to wait 20 minutes to take the ferry across the river to the Top of the World Highway.
People had told us that the road gets rough once you cross into Alaska but it sure seemed nice starting out (dťjŗ vu). We started climbing up into the mountains. Though we werenít real high elevation wise you felt you literally were on the top of the world. It was like riding over the peaks instead of between them. Of course our sunny day soon turned to rain and we started hitting more grasphalt. I started feeling guilty because I had told Tom that this should be an easy ride.
We got to the border at Poker Creek and the rain now turned to fog and mist. As we were waiting to pass the checkpoint we looked at a crashed Harley dresser with Kentucky license plates loaded on a trailer. The border agent said that the rider hit a mud puddle a ľ mile down the road and wiped out bad enough that he had to be Med-i-vacíd out. The grasphalt gave way to dirt that had turned to mud. Luckily there was only 40 miles of it. I got ahead of Tom and tried to keep an eye out for him behind me. The road changed just like the Dempster except there was more gravel and sand than crushed rock. There was one steep uphill section after crossing a bridge, all the gravel had washed away and all that was left was rocks sticking out of the roadbed. They were really slippery and rough. I surprised myself on how easily my bike and/or I handled the situation. Experience is a good teacher.
I got to the town of Chicken and stopped to wait for Tom. There was a newer gas station/convenience store that had a lot of souvenirs and sporting goods. I bought an ďI got laid in Chicken, Alaska.Ē bumper sticker. Tom showed up about 15 minutes later. He filled up and got something to drink. He bought one of those white oval decals that you see on cars with an AK on it; he had made it. I asked him about his ribs. He said they were sore but tolerable but his left arm was really weak.
The sun came out and it cleared off. The few miles of dirt out of Chicken were pretty slick but we got through it OK and hit good pavement. We made good time to Tok. I saw another rear end of a bear heading into the woods
We got to Tok and pulled into a gas station to fill up. A bunch of bikes pulled in right behind us. We saw a couple of them on the road to Chicken. They were from Texas and most of them were on BMW GSís except one guy that had a GL1800 and he was pulling a trailer. He had fallen down outside of Chicken in the mud. The bike slid down to the shoulder but the trailer held it from going over the edge. They flagged down a pick up truck which hitched up and dragged the bike to the center of the road so they could get it upright. It wasnít in too bad of shape; a few scratches on the left side but he must have kicked the windshield when he fell off and busted it clean off. I donít know what possesses guys that ride those land yachts to take them on roads like that. That guy must have been a good rider just to get to Chicken in the shape that road was in. The group was heading to Fairbanks for the night. They hoped that a dealer there would have a new shield.
We got on the Tok Cutoff road for the final 130 miles into Glennallen. I was on this road twice the last trip; all I could remember about it was that most of it was under construction. Those parts are finished now and were really nice. The rest of it however was very dipped from frost heaves. We were doing 65-70mph and I bottomed my suspension a dozen times. We saw a trailer off to the side with its tongue ripped off probably from hitting one of those dips. It started raining again but at this point it didnít seem to bother us all that much. The road was very scenic too which I didnít remember from last time.
We got to Glennallen and went straight to the campground I stayed at in 2005. Along with the tent and RV sites there were also had about 8 small wooden cabins. I thought these would work well for Tom to recover if he needed to hole up for a few days. The cabins were still standing but the campground building was now a NAPA store and the campground was no more. The Caribou Motel that was next to the campground was still there and still in business. We stopped into the office and asked how much for a room. They said $143 a night. We were both stunned; we werenít paying that much. We asked if there was anything more reasonable in the area. He told us that we could stay in the ďAnnexĒ for $85. The ďCaribou AnnexĒ was ATCO buildings; essentially double wide mobile home trailers used to house pipeline workers during its construction. There were around 60 rooms total. They must have auctioned them off after the pipeline was completed. We saw them everywhere we went. We went and looked at 4 or 5 rooms to find one with a functioning window and screen. The rooms were about 7í x 12í with 2 single beds, 2 dressers and a locker to hang our clothes. It was good enough for us so we took it.
Again we got in late and the restaurant was closed but the Pizzeria was open. I had a pizza last time through and it was damn tasty for Alaska. We went over and ordered a large one with the toppings I love; Tom can go out for pizza with me anytime. We stuffed ourselves again.
After dinner I went out for a walk while Tom went over to the motel lobby to use their computer to check on his e-mails. While he was sitting there he noted that 5 or 6 cars pulled up to the motel and got out to ask how much it was to stay there. When they were told the rate they just turned around and left. You would think the desk manager would try to fill up his motel for the night even though it might be for less than the going rate. Itís probably owned by some jerk in Indiana and wonít let anybody else make a decision on their own, micromanaging it into the ground. There was only one other room in the Annex occupied. The regular motel looked like it was Ĺ full.
The next morning we were up fairly early. We had breakfast and went over to the Post Office to pick up a set of larger GIVI bags that Elvey sent him. After we got those mounted up Tom said he was going to call Mike, the guy he knew in Glennallen and arrange to meet him. He was also going to look for a massage therapist or chiropractor to see if they could move things around to ease his pain. I didnít have anything planned for today so I decided to do the Denali Highway; a 138 mile east-west road between Paxson and Cantwell. Most of it was unpaved. I had met a KLR650 rider on the road to McCarthy 2 years ago. I was complaining to him about the condition of that road when he said that the Denali was a poorer road than this one. I couldnít imagine any road being worse so I kind of shrugged it off. I guess you can say that I hadnít been warned.
I suited up and took off around 10am. My bike had been acting up lately. It had been hard starting, not turning over as fast as usual and then when fired up would run as if it was missing on 1 cylinder especially when cold. About 2 miles outside of town I pulled over and checked to see if my battery was dying or a problem with the charging system. I checked it out with my voltmeter; the battery read 14 volts and the charging rate was fine. So much for that theory, Iíd have to check out other things later.
I got to Paxson and filled up and headed out on the Denali. The first 30 miles were paved and very nice. It was getting colder as I climbed in elevation. I was in the Aerostich and had the electric liner so I was feeling warm and comfy. I got above the tree line and the ponds were still frozen. Up on the plateau I saw my first moose, a cow and her calf, 100í off the road running away from me. I descended off the barren high plain and into forested mountains. It had been overcast on the plateau but I could see darker clouds over the road ahead, definitely rain was coming down. The road was rough, rocky and narrow but I kept up a good pace until I hit the rain. A little moisture turned the road into a real bear cat. The rocky parts were slick but you could transverse them but there were ľ-1/2 mile stretches of 2-3Ē thick sandy mud. There had been enough vehicles driven through there that ruts were formed and it was slopped up real good. It was difficult keeping the bike going in a straight line. I had no idea how this small amount of rain could turn the road into a quagmire (I later found out that there had been close to 3 inches of rain the previous night). These stretches just kept coming and coming. If I had been smart I would have turned around when I started hitting them but I guess not being able to get up to Inuvik gave me more determination to finish something I started. You could call me stubborn or stupid and you probably wouldnít get an argument from me. I stopped every 10 miles or so to take a break and mentally kick myself for being in this situation. One of the times I stopped 2 bicyclists going in the opposite direction asked me how the road was where Iíd been. I thought I had it bad but these 2 women werenít even on mountain bikes just skinny tired road bikes. I told them it was really sloppy. They said the road got rockier and less muddy after you crossed the Sustina River about 5 miles up the road. I wished them good luck and continued on. I could see their bicycle tracks and how they had wandered from shoulder to shoulder in order to stay upright. Just after the bridge the road did get better but I was still hitting slick patches.
Just past the river I saw the rarest of all Alaska creatures; a road grader. There were 3 of them near the top of a hill. I donít think they were doing much good, there wasnít much gravel left. They were pushing around rocks the size of Idaho baking potatoes.
About 20 miles from the end of the road I saw another bike heading the opposite direction. It was a newer Tiger with the hard bags. The driver had a passenger on the back. I waved them down and asked them if they knew what they were getting into. He asked me if there were any muddy stretches up ahead. I told him that the whole 60 miles of road was mud and it was probably worse now because it hadnít stopped raining. We talked about our Tigers. He had just bought his that spring and this was his first trip on this road. He was from Anchorage but all his previous bikes had been street models. Again I discouraged him from trying to ride through especially with his 13 year old daughter on the back. I donít think Malcolm Smith would want to do the Denali today. He finally agreed with me not to chance it today and turned around and followed me to Cantwell. He was a good rider because we hit another slick spot and he kept up with me even though I was riding solo. I almost lost it on the last mud stretch before we hit pavement but I did my Jay Springsteen power slide maneuver and barely saved it.
We got to the Parks Highway in one piece. Originally I was going to turn around and go back to Paxson but that plan was scrapped. I decided to head south to Wasilla, cut over to Palmer and back up to Glennallen, about 260 miles. The other guy decided to go up to Fairbanks. We talked briefly at the intersection and said our good byes. I was waiting to turn left when I happened to look in my rear view mirror. Mr. Tiger was stopped to turn north when suddenly I saw his bike just fall over on its right side. I put down my kickstand, got off my bike and ran over to help him out. We picked up the bike, it had minimal damage. He said he felt the bike tipping and he couldnít stop it so he just let it go. He told me that he thinks his daughter fell asleep. Thatís what 2 guys talking about motorcycles do to 13 year old girls.
There was a gas station at the intersection in Cantwell. I had about 140 miles on the odometer but my gauge showed 2/3 full. I figured there must be lots of gas stations between Anchorage and the Denali Park entrance; Iíll just fill up later. There was a lot of traffic on the road; RVs and trucks mostly. I was looking off to the west to see if I could see Denali. It had quit raining but the clouds were thick with patches of rolling fog. I could see the base of something big but Iím not sure what it was.
My fuel gauge was plummeting precipitately. I had passed a couple of park entrances and still no gas. There was a pick up pulled over at a wayside with a couple of yellow plastic gas cans strapped on his rear bumper. I stopped and asked him if I could buy a gallon of gas from him. He said he would if he had any but all he had was diesel fuel. He was heading south and if he saw me out of gas on the side of the road heíd stop and help me. I thanked him and got back on the road. My reserve light had been on about 30 miles now and I started to get nervous. I saw a Highway Department garage on the right side. It was about 4:30 pm so I pulled up and went into the office. I asked the fellow in there where the next gas was and he said about 7 miles further down the road. I figured I should have enough to get there and sure enough I did. The bike took about 6.3 gallons which is damn close to empty. I went in to pay and get something to drink. The woman behind the counter told me that itís 102 miles between Cantwell and her station. People come in here running on fumes all the time. Hmmm, sounds like a business opportunity 50 miles south of Cantwell.
The guy on the Tiger suggested I take the Hatcher Pass Road to Palmer but it was still closed from the winter season. I passed that road and rode into Wasilla. Wasilla is about 30 miles northwest of Anchorage. Itís the booming suburb of Alaska, think Eagan. There are all kinds of commercial development on the highway with your Targets, Wal-Martís, etcÖ I missed the shortcut to Palmer; I guess a road called the Palmer-Wasilla Highway is way too subtle a reference for me. I got to the Glenn Highway and turned northeast to Palmer where I filled up and took a break.
Heading out just outside Palmer there were a couple of portable Highway Department message flasher signs saying something about the Glenn Highway being closed from 12-9 at milepost 98. I didnít see if it was 12am or 12pm. I assumed that there would be more information as I got closer. It seems Iíve been making a lot of assumptions lately and most of them have turned out wrong.
Back to the road; the Glenn Highway, north from Palmer 100 miles, is a great motorcycle road. Narrow with tight curves and great scenery, it keeps 2 Ducati dealerships viable in Anchorage with a population of 100,000 or so. From the other paved roads Iíve been on, itís the only one that challenges a sport bike. Youíll pass dozens of them on a weekend blitzing up and down the road.
When I got to milepost 93 there was another sign finally that said that the highway would be closed from 12am-9am for blasting. It was only 8:30pm so I was going to get through even though I had to wait in line for 20 minutes. I could see in the construction zone that they were putting the road further up the hill and straightening it out some. Theyíve been ďimprovingĒ the road a section at a time. Needless to say they have been making the road safer and more boring. There wonít be much left of it in 10 years or so; a damn shame.
Getting close to Glennallen I noticed some campgrounds southwest of town. They probably were cheaper than where we were staying but are too far out of town to be convenient. I like being in or close to town.
About 5 miles before town I saw a liquor store in a small house by the road. After what I went through today a couple of brewskis would taste good. I stopped and walked up to the front door; the sign said OPEN but the door was locked. There was a doorbell button with a small sign that said; RING BELL ONCE. I HEARD YOU. DONĒT RING AGAIN! Through the window I saw an elderly lady, in hers 80s, come out of a back room. She opened the door and let me in. I could hear the TV on in the background. She said she had been watching CSI repeats on cable all evening. I told her that I sit down to watch 1 and end up watching 4 in a row. She said that she liked the original not the New York or Miami versions. I agreed with her and confessed to being a Law and Order junkie too. I picked out a 6 pack of a local red lager for $12.50. I gave her $20; she gave me back a 10, a very nice lady.
I got back to the motel around 9:30. Tom was back in the room. He had called his friend that morning and had spent most of the day at his house with his wife and 2 teenaged sons. Mike and his wife had lived in Alomosa, Colorado when they came up here for a vacation. When they got back they quit their jobs, sold everything they owned and moved 10 miles out of Glennallen. He landed a job up on the North Slope as an electrician in the oilfields. Heíd take the ferry from Valdez to Whittier then drive up to Anchorage. Theyíd fly him up to Prudhoe Bay where he would stay 14 days putting in about 100 hours per week. Then theyíd fly him back to Anchorage and take the ferry home and heíd be off the next 2 weeks.
They have a modest homestead. The boys take the bus to school in Glennallen. They can hunt and fish to provide themselves with food. An Alaska resident can get a subsistence license to take game off public land. All you have to prove is that you donít live within a city. Mike told Tom that they can keep 500 pounds of salmon per year. You need to document your catch and keep it on record. The most heís ever caught was 300 pounds. He smokes it and they use it year round. They lived next to a river and had a fish wheel. Most of them are homemade contraptions. First you build a floating platform approximately 8í wide by 16í long. The center is open to hold the wheel which reminds me of a river paddle boat except the paddles are 3 bucket shaped nets centered on the axle. You anchor the unit in the water with the open side of the nets facing upstream. The force of the current turns the wheel slowly. If a fish happens to swim into the net, the net turns out of the water and the fish canít swim out. When the wheel turns to the top of its arc the fish flops into a tilted trough and slides out of the net to the side into a bucket or other container. You check your unit every day or so and youíll have 2-3 fish. Mike said heís never seen a fish caught in his but he always had fish when he checked it. Some of the rivers have hundreds of these things on them.
I didnít have anything to eat but I did start drinking my beer. There were some guys working on a drilling crew that were now staying at the Annex. We sat by the front door of the building talking and drinking beer with them about an hour or so. I think I drank 4 of the 6 pack to Tomís one. I was revved up a little bit and suggested to Tom that tomorrow we could both ride over to McCarthy, look at Kennicott Mine and come back here for one more night before I start heading home. Tom said that though his ribs were feeling better his shoulder was making funny noises when he extended his arm backwards. Mike was going to take him into Valdez and have it checked out. I was disappointed. There was no point of me going to Valdez; the ferry only headed west from there not east. I guess tomorrow I start heading home.
Tuesday dawned clear and sunny. I got up fairly early and packed up my bike. Tom and I had breakfast and walked back to the Annex. We had talked about swapping bikes at sometime during the trip but hadnít gotten around to it. I asked if I could take his for a ride before I left. He said OK and got the key. I took it out for only 10 minutes. It was surprisingly powerful for a 650. You could defiantly feel it was a twin cylinder bike but it wasnít a buzzy vibration but more of a thud-thud feel to it. It kind of reminded me of riding a Honda Pacific Coast that I put a few miles on some years back. I would definitely put it into the mix next time Iím in the market for a bike.
I said my goodbye to Tom and headed out. I needed to fill up and check my tire pressures. The bike was again hesitant to start and ran crappy the 2 miles to the filling station. When I pulled in and stopped at the pump I heard a gravely sound from my brakes. I hadnít washed the bike since being on the Denali Highway and thought it might be dirt in the caliper area. I pulled around back to access the air hose, when I checked the front tire I noticed that the front pads were worn down to the metal and were starting to score the disc rotors. Great, one more thing to work around. My rear tire was iffy; I either had to change it in Whitehorse or wait until the next town that would have a larger dealership; Fort St. Johns another 800 miles further. I avoided using my front brake to Tok where I filled up again and used their coin operated pressure washer to wash the bike as best I could. I gave a fleeting thought about going up to Fairbanks which had a few motorcycle shops and getting some parts but that was a 400 mile round trip that would take almost a whole day. Iíll get by on my wiles and save some time I hope.
I got back on the road and with the weather being so nice the miles just clicked on by. On my last Alaska trip I ran out of gas trying to get to Tok from Haines Junction so I started looking for a station at around the 75 mile mark. I stopped at the first one I saw but they were out of gasoline. The clerk said that the next gas was at the border around 40 miles away which was no problem. When I returned to my bike I noticed a motorcycle next to a picnic table in front of the station next to the road with woman preparing some food. The bike looked like a Kawasaki KLR 650 but as I walked closer I could see it was a V-twin and it said Honda on it. It was a Tans Alp 650 which they only sell in Europe. It had an Italian license plate on it. I asked the woman some questions but she apologized about not speaking English very well. She said her husband, who was just coming out of the store, was more fluent. He walked over and I asked him about the bike. He said that heíd been looking at a 650 BMW but the dealer recommended this one over the Beemer. He had the bike shipped over to Canada and they were riding 150-250 miles a day. He asked me how far I was going to ride today. I told him I wasnít sure but I was averaging around 500 miles. They wondered how I could ride so far. I thought to myself Iíd probably ride less if an attractive wife was cutting up apples for me for lunch.
I got to the station at the border and topped off. The owner had an older beat up Honda XL250 out front. He asked me where Iíd been and I told him about some of the places. He said heíd like to go to some of the places to see in northern Alaska. He told me he closes the place up in the winter and lives in Wasilla. It just gets too cold for him here. I had been thinking about going down to Haines, Alaska, catching the ferry over to Skagway and maybe skipping going to Whitehorse altogether. I asked him about the ferries; if there were any that ran every day. He said yes, there was a daily service. I assumed (there I go again) that he meant passengers and vehicles too.
I got to the border and got through quickly. I heard that the Alaska Highway between the border and Whitehorse was really bad with a lot of construction. Well, they were correct. I started hitting grasphalt on a regular basis. Some stretches were worse than others with the parts being worked on the worst. They were keeping it wet to keep the dust down but that just made it slick. I got through it though having no front brakes made me plan my moves much earlier than normal.
I got to Kluane Lake and Destuction Bay. They were working on that stretch last time I went through in 2005. The guy from Wisconsin in Dawson said that the area had an earthquake and set the whole project back a couple of years. The road was still tore up bad however there wasnít any machinery working that day so I got through it fairly fast. With the short summer these road projects drag on for years.
I got to Haines Junction at about 5pm. I stopped at a Shell station to fill up and make a decision; stay on the Alaska Highway and get to Whitehorse or go down to Haines. The weather had cleared up and it was warming up. While I was waiting 2 guys on Honda GL1800s pulled in. They were from Kentucky and were heading to Whitehorse. We started talking about where theyíd been. They were in Fairbanks and went north on the Dalton Highway to the Arctic Circle and came back. They said the road had a lot of truck traffic on it. There were several bikes they passed with flat tires from the sharp rocks. I mentioned something about my lack of brakes. One of the guys said he had a spare set with him. He dug them out of his bag but they were completely different from what I had. I bet the GL1500 might have had the same pad set.
I made the decision to go to Haines. Itís the closest it was going to be and who knows when Iíll be up here again. The road and the weather were great the first 40 miles but then I started climbing into the mountains. The temperature stared dropping and the clouds got darker and closer to the ground. Soon there was snow piled up on the sides of the road. The clouds ahead sure looked like it was raining or more likely snowing. I was really questioning my decision to go to Haines and trying to decide if to turn around. At about the 90 mile mark I flagged down a pick up going in the opposite direction. The woman stopped and I asked her if it had been snowing further up. She said no, a stray raindrop or two, but no snow. She also said it was much warmer in Haines even though itís been foggy. I decided to press onward and passed through some beautiful scenery. The mountains were spectacular, snow covered and rugged. I had my electric liner on full blast and was OK; it was probably around 45 degrees up in the passes.
I started to descend and it started to warm up. I got to the border crossing and asked how the weather has been. He said itís been overcast but has been pleasant temperature wise with little if any rain. I asked him about campgrounds and he pointed a few out for me on a town map. The road got narrower and curvier as it followed the Chilkot River to the ocean. I saw a couple of fish wheels along the road so I stopped at one to check it out more thoroughly. Itís a lazy manís way of fishing thatís for sure.
I got to Haines around 8pm though I wasnít sure because of all the Time Zone changes. There was a free campground for hikers and bicyclists but had no facilities. There was a RV park on the highway but I didnít see any tents set up. The sky still looked like rain to my Midwestern eye so I found the Thunderbird Motel just off the main street. There was a For Sale sign out front but it was still open. It was $85 a night and not too bad of a place. I unpacked my bike and gave it a quick check over. The chain was a little loose so I broke out my tools to adjust it. While I was spinning it around I noticed a tight spot and closer examination showed some kinked links. Add another item on my list of mechanical defects; no front brakes, bald tire; erratic running and now a bad chain. I could get a chain anyplace but I wasnít going to put on a new one just to ruin it because the sprockets are worn also and the closest place I could get them would be Edmonton; 1500 miles away. Needless to say I didnít know if Iíd make it home on my bike or in a U-Haul. I adjusted the chain at its tightest part and lubed the hell out of it. Weíll see how it goes tomorrow.
I cleaned up some and walked down to the waterfront. It was twilight but there wasnít anyone around; almost like a ghost town. There was even a cruise ship docked, youíd think the place would be packed solid. I went back to the motel and asked the owner about getting to Skagway. She said there were passenger ferries departing every couple of hours but if you wanted to get your vehicle there youíd have to wait for the main ferry which wasnít due in until Thursday afternoon, a day and a half away. That put me in a pickle; Iíd have to stay another night in Haines and get to Whitehorse late Thursday and have to stay again. I mulled over my options and decided to go back up the highway to Haines Junction and over to Whitehorse and get a new tire at Yukon Honda in the morning. At least I could cross 1 item off my worry list.
I walked back to downtown and tried to find something to eat. There was a bar open with a cafť on the side. I went inside but the cafť was closed. I sat down at the bar and ordered a glass of local brew and ate free popcorn, so much for dinner. There were about 6 people at the bar. The bartender was smashed; he was talking about prospecting for gold in some of the run out mines up towards Skagway with a guy and his cute girlfriend. I got a free beer when one of them bought a round. I donít think any of them had any money; they talked about ďget rich quickĒ schemes. I suppose times are tough and this is a tough place to make a living. A lot of people come up here but canít make it economic wise and end up going back home.
I went back to the motel to watch some TV. I saw that the Cleveland Cavaliers were in the NBA finals. What the hell happened to the Pistons? I thought they were up 3 games to 1, how do you lose that series? I didnít sleep well that night.
I got up around 6:30am the next morning and packed up the bike. I walked over to the cafť to have some breakfast but the place was full, no seats available. I turned around and got going on my bike. I rode north of town and checked out the ferry terminal. There were some RVs lined up already waiting to get on. On the way back to town I stopped at an automated Tesoro station for some gas. It was $4.00 a gallon. I didnít know what was open yet so I filled up. I had some trouble with my credit card again. It took 2 times before it went through. I suppose the place gets a lot of late night business from people getting off the ferries and gouge them accordingly.
I headed back up the Haines Highway, crossed into Canada and got back into the mountains. The cloud cover was breaking up some so I could see most of the summits. On a clear day the scenery would be awesome. I got to Haines Junction, filled up again at the Shell station and headed to Whitehorse. I got to Yukon Honda around 9:30am. He said the only replacement tire he had was another Anakee. I said Iíd take it and parked outside the front door to pull my wheel off. The guy in service got cracking at it right away. He said that many riders have their dual sport tires switched over to knobbies to do the Dempster and the Dalton and then change back when they head home.
While he was working I called the Harley dealer to see if they had any Buell Blast brake pads that would fit on my Tiger. No luck, they didnít have anything for a Blast. I really doubt thereís a Buell Blast in the whole Yukon Territory.
While I was waiting outside 2 bikes came up and parked beside me. One guy was on a newer Tiger the other on a BMW 1150GS. The guy on the Tiger pointed at me and said,Ē Youíre the guy we passed on the Dempster last Saturday!Ē
I said I was and told him about Tom wiping out above the Arctic Circle. He said he knew exactly where it happened because he almost got blown right off the road there. I asked him about the KTM guy and he told me that he had crashed just out of Fort McPherson. He dislocated his shoulder bad enough that they had to helicopter him into Inuvik. A guy with a truck hauled the bike here to the dealership and they arranged to have it shipped back to Vancouver where theyíre from.
We talked about our Tigers. He had a 2005 with the cast wheels and the hard bags. I told him about my problems. He told me that he had brought some spare parts but he didnít have any pads. He told me that I could call Triumph of Canada and they would overnight ship parts to me but I didnít know how that would work when I had no idea where Iíd be the next day.
They finished the tire mounting and I put it back on. I went and looked at the old tire; it was really cut up from all the rock. There was no way that tire would have gone another 500 miles. I went to pay the bill; $349 for a tire and mounting. I thought $200 for a Metzler Tourance in Anchorage in 2005 was bad enough but this? Unbelievable! I had paid $125 for that exact tire before the trip. The mounting was only $15 so the tire was the bulk of it. I complained but what good would it do, you pay what they tell you to pay. The dealership sells cars so thereís probably a list price policy for parts but nobody pays list price for tires. Everybody is real competitive on them. I should have asked first but what could I do? I could have run it down to the cords and blow it out or get caught in a heavy rain and slide around; neither one great options. I paid up and got back on my bike. I wasnít sure I could sit down after getting reamed like that.
It wasnít raining for once and I made good time. I stopped at Teslin to fill up and my credit card didnít work again. I called up on a pay phone and talked to them 15 minutes. Something happened at that Tesoro station in Haines. I got it straightened out but I felt bad because there was a guy waiting for me to finish so he could use the phone. Future note to self: Get money at ATMs and pay cash for gas and food.
Outside the gas station there was a woman sitting on the back of a dresser Harley with Iowa license plates. They had ridden up and were heading north. I told them that they could probably head down to Skagway and catch the morning ferry to Haines and head north from there. I said the Haines Highway was cold but worth it. She said that she didnít know if they packed the heated clothing (Duh!). She was complaining about her beanie helmet wobbling around on her head. I should have suggested she get a good quality full face helmet that fit her properly and she wouldnít have that problem. Harley people, Sheeesh!
I was stopping every 50 miles or so to lube and check my chain. I could feel the vibration getting bad when it started to dry out. It didnít seem to be stretching much just kinking.
Being on the highway those long hours gave me time to think. I should have some kind of front brake for the road between Watson Lake and Fort Nelson because of the tight curves and animals. When I examined my brake pads closely I saw that the piston side of both pad sets was completely gone but the other 2 pads had some material left on them. If I could put the pads that were still good on one disc and put the worn out ones on the other and then put some kind of spacer between the bad ones with the caliper mounted so it engage the disc at least Iíd have one brake. I had it down in theory but I had to wait until tonight to implement it.
I got into Watson Lake around 7pm. I stopped at the tourist information office and asked about motels. They said the cheapest was the Air Force Inn at $55. It was just a room with a bathroom down the hall but it sounded good to me. I rushed right over there but they were full already. Most of the other places were over $100 so I suppose itís the one that fills up first. I wasnít interested in spending more money especially after this morning so I went to the east end of town and got a tent site for $10. I set up camp and tore into my brake calipers. I hadnít scored up the discs so I was OK there. I put the 2 good pads on the left caliper because it had 2 lines and the speedo sensor was on that side. I mounted the bad ones on the other caliper and determined that a 1x2 piece of wood would work as a spacer. There were some older buildings next to the gas station/garage connected to the campground. I found some appropriate scraps of wood and went to the station to ask for a saw. The kid there, he was probably 14, said that theyíd been working on a deck inside the garage and there was a power mitre saw back there. He let me use it to cut up 4 or 5 pieces of varying lengths. I then went over to the camp store and bought some duct tape and a soda. When I got back to my bike I picked out the piece of board that fit best and duct taped it so it wouldnít fall out. When I bolted my caliper back on my first thought was to only use the upper mounting bolt and swing it up out of the way of the disc. When I tried that it hit the tire. Plan B was to mount the caliper on the outside of the fork slider mounting tabs instead of the inside. The top bolt was no problem even though the surfaces didnít meet up squarely. The bottom bolt would only screw in if I removed the front wheel which I didnít want to do. Instead I tightened the top bolt snugly and threaded the bottom bolt from the outside going in. It went through the caliper bracket and bottomed out the threads which left about a ĹĒ into the fork tab to keep the whole assembly from rotating. I tested the brake, it was mushy but it did work. Make that 1 and Ĺ things crossed off my mechanical gremlins list today.
The skeeters were eating me alive during this whole process. After I was done I went and tried to get something to eat. The bike was running especially crappy so I didnít want to go far. Most everything was closed. I went into a bar and had a beer. The 2 bartenders there had some of the nastiest teeth Iíve seen in awhile. The beer was expensive and the place reeked of smoke so I left and went back to camp. The only thing I had to eat that day was a small bag of dill pickle potato chips. I sure eat better with a traveling companion.
I walked around the camp to work off some nervous energy. An older couple parked next door to me in a nice Mercedes-Benz RV came over and asked if I needed any tools. Wolfgang and Ursula were from Germany and they were traveling throughout Canada. Wolfgang said he had a BMW 1100GS back home but they travel with a Vespa scooter that was parked in the back of the camper. I thanked him for offering but I was done wrenching for the night.
There was some huge ass RVs at the camp. There must have been some that cost over $250,000. There were these 2 that came in together; Dutch American brand. The drivers up in the cockpit looked like pilots in a Boeing 757 the RV just dwarfs them so much itís comical.
By the camp entrance there was a concrete pad with a coin operated pressure washer. A guy in a Toyota pick up truck drove up and the whole rig was covered in fresh mud. He was washing off the dirt when I noticed he had 3 dogs in the back and they were muddy too. I asked him how he got them clean. He said he pressure washed them along with the truck. I stood there and watched him train the hose on the dogs and they just stood there while the water blasted away at them. They even seemed to enjoy it.
Thursday morning I got up and left early. I was about 30 miles out of town when I saw 2 cars parked on the opposite shoulder up ahead of me; a sure sign of wildlife. I slowed the bike way down and as I drove past saw a Grizzly bear and her 2 cubs about 75í off the road. I didnít scare them away this time. I didnít stop but I got a real good long look at them. About a Ĺ mile further down the road I saw a guy on a BMW heading this way. I flagged him down and told him about the bears up ahead. He thanked me and got out his camera. On this stretch of road I saw the usual assortment of other wildlife too; bison, caribou, mountain goats, sheep, elk and deer.
I tried to avoid using my front brake but I needed it twice. Coming into Muncho Lake I came over a little rise and saw 2 behemoth RVs occupying both lanes coming my way. I had to grab a handful to slow down before the one in my lane pulled into a turnout on my side of the road. We hadnít seen many RVs heading up but there was a steady stream of them coming back, especially today. Then just outside of Fort St. Johns a moose and her calf ran right in front of me. I was glad I fixed it enough to get me by.
Coming into Fort Nelson off of Summit Lake it really started to pour. The chain tightened up again and started to snatch. I stopped in town at a power equipment dealer and got 3 spark plugs and a big can of chain lube. He charged me $6 and some change each for the spark plugs. I should have gone over to the NAPA next door. They probably would have been cheaper. I filled up again and soaked the chain down extra heavy.
The rain let up and kept riding. I stopped at Buckinghorse to get gas but I went across the road from the place we ate at earlier in the trip. They had premium and I filled up. I went inside to pay and get something to drink but was stopped in my tracks by a sign stating that you had to take your shoes off before you could go into the part of the store where the food is. I wasnít about to disassemble my boots. Though they were worth having on this trip they are a pain getting them on and off. I paid my tab and got back on my bike headed out of there. I did notice that their floor was spotlessly clean though.
I went through some rain again at Ft. St. Johns. My chain was really making a lot of noise. I read in Motorcycle Consumer News one time about a guy taking out his transmission countershaft bearing from having a tight chain. I thought I might be making the rest of the trip in a truck. I got out my tools and adjusted the chain looser than normal then really lubed it up again. The rain must have flushed the chain lube off and started it kinking up. After I did both those things the chain quieted down again and I headed to Dawson Creek.
Before I got into town I took a little detour. They left a 10 mile loop of the first Alaska Highway intact. Thereís an original bridge thatís curved which was unique at the time. I took some pictures and headed to town.
I wanted to try to put some new plugs in the bike and also check all the connections to the stepper motor and any other sensors that might affect my idle. I decided to motel it tonight so Iíd be comfortable (no mosquitoes) while I worked on the Tiger.
Coming in from the west I saw a motel right across the street from a Home Hardware store. I checked out a few more on the Alaska Highway and then went south on the road to Prince George. I was looking for one where the parking was right outside the room in order to make unpacking and working on the bike as easy as possible. I went back to the first one I saw when I got into town. At the office I asked the woman if they had a vacancy; yes, If they had any rooms on the ground floor; yes, If they were non-smoking; no. Two outa three ainít bad as Meatloaf sang a long time ago. I had my choice of 2 rooms so I checked them out and chose the least stinky one.
I unpacked and decided to have some dinner before I started tearing into my bike so I walked over to a Boston Pizza right down the road. It wasnít crowded so I got my food right away. There was a guy sitting alone at the next table. We stared talking. He owns a towing service company in Chetwynd, on Highway 97 50 miles south of Dawson Creek. He had brought up a car and with his wife out of town had ordered a pizza so he could eat tonight and take some home for tomorrow. I asked him about shipping a motorcycle to the states (worst case scenario). He said there are a couple of freight companies in town that could probably do that. He had towed some bikes that had ended up heading home that way. I told him where Iíd traveled to on this trip. He said the farthest north he had been was Whitehorse and that was for a tow. He said heíd like to take a RV to Alaska. It doesnít sound like much fun to me but to each his own.
The motel clerk put an ionizer in my room to lessen the smoke smell and told me it would take about an hour. I was done with dinner and it was about 60 minutes so I headed back to my room. I got out all my tools, got a doormat to put my parts on and started tearing into it.
Taking the fuel tank off my Tiger is a complicated process which I donít like doing unless I have to. You have to remove the sidecovers, battery and battery box, front turnsignals, etcÖ with what seems like 500 screws that hold everything together. Iíve done it enough where itís not scary but it is tedious. I didnít have all the ideal tools needed to do the job but I improvised some and got it off fairly quickly. I got the plugs out and replaced them. They all were clean but the middle one had a bit more color to it like it had been running richer than the other 2. I checked the connections to the stepper motor and the throttle position sensor along with everything else I could see. Everything looked OK which is not what I wanted to find.
I set the tank back on the frame and started hooking everything back up. The fuel lines, there are 2 of them because the bike is fuel injected, are connected to the tank with these quick release fittings. You press a metal spring loaded tab up on the female part of the fitting which is on the tank and is plastic and insert the male part of the fitting on the lines and it locks into place. The male parts of the lines were replaced a few years back under a recall where they swapped out the plastic fittings and replaced them with metal ones. The dealership used a solid metal band that was crimped on the hoses to seal the connection. One of the lines was slightly skewed to one side and didnít go in straight so there was always a little side tension on that connection. It had always gone in and I never did anything about it. I inserted the lower line which was lined up and was no problem. I then grabbed the upper line and twisted it slightly to line it up and inserted it. When I released it the female part of the connection just fell off cracked in 2 pieces. Half of it was on the line and the other part was broken off flush to the fitting on the fuel pump mounting plate. I screamedĒ I am F@#KEDĒ
I was pretty pissed off but that wouldnít do me any good at this point. I didnít know how these fittings were held in or even if they were replaceable at all. Whatever the case Iíd have to get the tank back off the bike and remove the fuel pump mounting plate assembly. With the tank off the plate is held on by 15 of these 6mm headed hex bolts. Of course I didnít have a nut driver to take them off so I used my pliers to loosen them some and spin them out with my fingers. They arenít all that tight but there are a lot of them. When I got a closer look at the assembly I could see there was about a ĹĒ of the coupler still in there. The motel lobby had a computer in the office. I went and looked up the microfiche parts diagram on Bikebandit.com. The picture showed them being sold separately and though a little fuzzy it looked like they threaded in. Now I had to find out if it was a standard pipe thread or some funky European size. My first thought was to drill out the plastic left in the fitting to the proper size to accommodate a 1/8Ē pipe threaded nipple and put the line directly on that. I could probably get the stuff at Home Hardware tomorrow morning. I should mention some irony in the whole situation; the fitting upon closer examination that was keeping me from getting home was stamped: Coldwell Industries Minneapolis.
Now it was time to clean up and put the stuff away for the night. I put all the parts I could into the room, no problem. There was a problem with what to do with my fuel tank. I had run the fuel level down before I stopped for the night to minimize spillage but mainly because 6.5 gallons of gas is damn heavy. There was about 2 gallons of fuel left in the tank but I had a 6Ē x 5Ē opening where the fuel pump plate came off. I didnít want to put the plate back on (16 screws) and I wanted to be able to work on it if the mood strikes me. I also knew the motel management wouldnít want me to have 2 gallons of gasoline in an open container sitting in one of their rooms.
Next to my ground floor room was a stairway leading down to a floor under my room. At the bottom of the step there was 100í of garden hose coiled up on the landing. I had used the hose earlier to wash about an inch of mud off my parking spot before I started tearing apart the bike. I took the tank down there and set it on its right side cradled by the hose coil. I then covered the opening with a piece of carpet I had for a liner in my extra tool box and put the fuel pump assembly on top of that to keep it in place. It was out of harms way at least for tonight. It was time to get some sleep.
I tried to get some shut eye but I kept thinking what was I going to do in the morning? How was I going to get a nipple in if the plastic didnít thread? What if it leaked? Was I going to be stuck in Dawson Creek for days like that Beemer guy was stuck in Idaho? I woke up around 3am with the mindset to get all the remaining plastic out of the pump assembly fitting. I went down the stairs and retrieved the pump assembly. I put it on a table in my room with a good overhead light I thought if I jammed a straight blade screwdriver in the center I might have enough bite on it to turn it out. My tool kit screwdriver didnít have a sharp edge to it but my Leatherman multi-tool had a small file that seemed to be the right size to get the job done. I inserted it snuggly into the fitting and gave it a turn to the left. The plastic just disintegrated as soon as I put any pressure on it. It was too old and brittle and besides there probably was some kind of thread sealant applied further gluing it into place.
It was time to implement Plan B. I had a knife on the Leatherman so I thought if I could scrape out the center of the plastic until I got to the top of the metal threads then I could take it out similar to unwinding a Heli-Coil out of a hole. I started scraping around the inside of the plastic until I saw the tops of the threads poking through. The female fitting in the pump assembly was steel so I wasnít too worried about buggering them up but I took my time and didnít get too aggressive. I got to a point where the tops were all showing through but I had no way of getting inside the fitting in order to fish out the remainder of the plastic down in the valleys of the threads. Then I remembered that I had been carrying around a dental pick in my shaving kit for many years. I didnít remember when it was put in there or why but I wasnít worried about that now, I needed it. I started picking at the remainder of the fitting, sometimes I got a bigger chunk and sometimes I got just a little bit. I had to scrape down some spots a little bit more. I had about Ĺ of it out when the remainder came out in one piece. It sure looked like ľĒ pipe thread, at least I should have a decent selection of fittings to choose from. All this had taken about 45 minutes so I went back to bed and slept much better.
I woke up Friday at 6:30am. Home Hardware wouldnít open until 8am. There was a Ford dealership next to the motel so I went over to see when they opened. I thought I could borrow a pipe tap from a mechanic if I made my story sad enough but they werenít opening until 7:30am. There wasnít anything else to do but wait so I started looking at vehicles on the lot. I was around the back of the motel when I saw some buildings on a side street. I walked to the road and saw 5 or 6 white buildings with the same company name on them but with different business in each one. One was a uniform store, another was a drilling supply and the one directly across the street from me was an Industrial Supply. I peeked in the window and all I could see was hardware. They opened at 7:30am so that would be the first place Iíd go to.
I walked back to my bike and got the fuel pump assembly and cut off a little bit of hose in order to get the right size. I was waiting outside when they opened. I asked the woman there where the hose fitting were. She told me to head toward the back. The store was nothing but hardware; nuts, bolts, chain, cable, tools, etcÖ a real treat for a hardware junkie like me. A guy around 60 years old asked me what I needed so I told him my whole sob story. I told him that the fitting looked like a standard ľĒ pipe thread but he thought it was something different. I asked him if he had a pipe tap so I could clean out any plastic in the threads before we tried anything. He went over to the shelf and pulled one out of the package, and gave it to me with pliers. I put the tap in and turned it and it went right in, I hadnít dinged up the threads. I had enough extra hose and clearance so I just needed a straight 3/8Ē hose nipple along with a couple of hose clamps, Teflon tape and a small funnel. I didnít know if the fuel would drain out of the fittings so I figured that Ií have to drain the gas out of the tank into something and then pour it back after the hoses were reconnected.
When I got back to the motel I realized that I didnít have a ĹĒ wrench to install the fitting. I went to the office and borrowed a 10Ē crescent wrench, a little clumsy but it would do. He didnít have a bucket for my fuel so I went back to my room and looked around and found a waste basket big enough to hold my gas. I took it outside and poured most of my tankís contents into it. I put the fuel pump back on tightening all the 16 bolts again. I put the tank back on to make sure the top hose would go on without kinking or rubbing on something. Everything looked good so I screwed on the fitting by hand and started tightening it up with the wrench. It was getting tight but I wanted one more swing when the wrench slipped a little bit and nudged the lower quick connect and snapped it right off. Of all the freaking things to go wrong, what could happen next? Off came the tank and then the 16 bolts for the pump. I scraped out the plastic and ran back to the industrial supply. I got another straight fitting, a 90 degree elbow and a close nipple. I also got a bigger funnel because I was afraid of spilling gas from the waste basket. Back I ran to the motel. I saw the nipple was too big for the hose so back I went to the store to exchange it. I got back to the bike and installed the pieces and remounted the fuel pump with those 16 screws again. I set the tank in position but didnít bolt it down. Then I hooked up the hoses and battery to start the bike and check for leaks. Sure enough the bottom one seeped gas. Out came the battery and the tank. The top fitting had to be taken off so I could get 1 more turn on the lower one. I reinstalled the top fitting, hoses and battery to start it up. This time there was no leak. I removed the battery and started bolting everything back on. I emptied the contents of the waste basket and wiped it out with a rag the motel clerk gave me. I returned the wrench and gave him the small funnel. There was a truck that had some maintenance equipment in it next to my room. The guy that owned it came out and I asked him if he could use a big funnel. He said he would take it so I gave it to him. I didnít want to haul it all the way home.
It was getting late in the morning and I was anxious to get going. I packed up and was ready to leave. When I checked in there were 2 motorcycles parked in the lot of the motel. One was a BMW 650 Funduro with foreign plates and the other was a BMW GS with a Tennessee license. I didnít see either one of those guys out of their rooms all last night or this morning until I was about to leave. You would of thought one of them would have come over when I was working on my bike to offer a hand or at least talk. I wasnít in a good mood anyway but it made me madder that it was pretty obvious (like parts scattered all over the sidewalk) that I might have needed some assistance. I thought we were all brothers on the road and all that bullshit. I guess I didnít have that BMW sticker on my bike so I wasnít one of the ďChosen FewĒ. I had my helmet on and was about to pull out when the guy from Tennessee came over. I was still pretty steamed about the hassles this morning so I wasnít in the mood to talk. We chatted briefly but I said I had to get going, it was almost 11am when I said goodbye.
When I was on the internet the night before, I looked for the nearest Triumph dealer which was in Edmonton. I decided to see if I could have the bike looked at to see if it could be made to run better. The chain was a goner but I could nurse that home. The Yellow Pages in the room showed a Honda dealer in Beaverlodge, right on the way. They might have some brake pads in stock
Edmonton was only 350 miles away so I didnít have to hurry but with such a late start I couldnít fart around either. I went through Pouce Coupe and got to Beaverlodge around noon. About halfway through town I saw the Honda sign and pulled in. Finally a real motorcycle dealership with bikes on the floor for sale and everything! I asked the guys at the counter if they had any EBC FA196s. One of them looked in back and came out with 2 sets. I only got 1 for $32 (Theyíre $21 back home) and went back outside to install them. Last night I had put the tools I needed to install them in my tankbag so I wouldnít have to completely unpack the bike to get to them. They went on real easy and I had front brakes again though now I could feel the brake rotors pulsating. They had been warped slightly before the trip but now after the abuse theyíve gone through they are pretty much toast and will have to be replaced when I get back home.
The weather was warm and sunny as I rode through Grand Prairie and east to Valleyview. East of town where you caught Highway 43 south to Edmonton I stopped at an ESSO station to fill up. It was clouding up fast and looked stormy up ahead. A couple on a Yamaha cruiser stopped while I was drinking a soda outside. They had their full raingear on. They told me that the road was under construction and they went through a cloudburst so intense that he couldnít see. They were going to lunch and invited me to join them but I had to turn them down so I could get on to Edmonton. The rainsuit was donned and I headed out to the southeast. I soon hit the construction but I only caught the tail end of the thunderstorms. The soil there was a rich prairie gumbo and the rain had made it like glue. Even the construction equipment had a hard time getting around. I got dirtier on that road than I had all trip. Further on the road got better and the sun came out again.
Most of 43 was 4 lane until it got to Canada Hwy 16 which is the Interstate heading into the city. I had no idea where the Triumph dealer was located. I had to make a quick decision because 16 split into 16 which headed to downtown and 16A which went north of it. I took 16 and got within 5 or 6 miles from city center. I pulled into a gas station, filled up and asked for a phone book. The internet site listed the dealer as Motorparts Service. I couldnít find that listed in the book but I did see an ad for Echo Cycle on 118th Avenue. There was a guy standing next to me and I asked him if he knew where the shop would be. He happened to be an ex-Triumph owner and he knew exactly where it was located. He gave me great directions back to 16A and east to the right exit. He said they were a great bunch to deal with. I knew on Friday night that they wouldnít be open. Most bike shops close early so they can hit the Happy Hours (Thatís my theory anyway) but I wanted to find it tonight. I could then find a motel near there so I could be there first thing in the morning. The directions were spot on and I was pulling up to the place at 7:45pm. It was in an older commercial part of town, not trendy at all. To my surprise the place was still open; until 8pm on Friday. I told the guys up front my predicament and they directed me out back to the service area. The service manager was working on a new bike prepping it for delivery. I told him about my problems and that I thought the stepper motor might not be working right. He said that he couldnít look on it tonight but if I was here at 9am tomorrow it would be the first thing he worked on.
I went back up front and asked about any cheap motels in the area. They all said the Yellowhead Inn was the closest place. There was some camping about 15 miles away but there were still some thunderstorms around. I rode around a little bit looking for other places but couldnít find anything so I headed to the Yellowhead.
The Yellowhead Inn was a big place with a 6 story block of rooms, a large restaurant and a big lounge. It was right on 16A and catered to truckers. I parked right out front and went into the lobby. Rooms were $70 a night. I checked in and hauled my stuff up to my 2nd floor room. The decor of the place reminded me of one of those Soviet Bloc apartment buildings. It was pretty austere inside. The room was nice, a little dated but big enough for 3 beds.
I unpacked, cleaned up and went down to the restaurant. The waitress came over to take my order. She was a woman in her 50ís but she looked like she had been ridden hard and put away wet for like the last 20 years. I ordered a steak sandwich with a salad. The salad came first; some lettuce leaves swimming a ľĒ of water with a pink tomato slice and a sealed plastic cup of Kraft French dressing on the side. The sandwich came soon after. It looked good and the cook did all he could with it but the cow didnít hold up his end of the bargain. Along with that I got a large serving of overcooked canned Veg-All. Those truckers must be tough if they can eat this stuff all the time. I paid my bill and got out of there before they closed up.
I didnít want to go to bed yet but the lounge didnít seem interesting to me. I walked around outside and saw a liquor store about a block down so I sauntered over there. It was a little place, probably an old gas station. I went in, got a large bottle of beer and went to the register. There was an obviously intoxicated guy talking to the cashier and bought a small bottle of schnapps and a 6-pack. I turned to her to give her my money as he walked away. The next thing you know he had tripped over a display and fell flat on his face. Luckily he didnít break any of his purchases. Iím glad he said he was walking home instead of driving. I took my bottle up to my room, called home and watch cable TV until midnight. I hoped they could get the bike running better without spending a fortune.
I woke up on Saturday at 8am. I loaded my stuff on the baggage cart and checked out. I arrived at Echo Cycle at 5 minutes to 9am. There were 6 or 7 people out front looking like they were going for a ride. One of the owners leads a group out for a couple of hours on the storeís demo bikes every weekend. I took my bike back to get it written up. He said heíd start working on it right away.
I wandered back up front and started talking to one of the salesmen, Fred. He was about 60 and had been working for a big company but got tired of the politics. Heíd been selling bikes there about 3 years now. We started talking about the area for riding and how things have been going this year. He said Alberta was booming right now especially with the oil industry. He said that a lot of people are buying bikes that arenít motorcyclists. He said itís frustrating selling something to someone that doesnít have the same love or enthusiasm for the product; theyíre just buying it because they have the money to buy it.
I walked out back again and saw the service manager working on my bike. He had it running and it was sounding better. Outside the service office there was a guy with a Triumph Rocket 3 bitching to one of the service guys about a scratch on some obscure part that he thought one of the mechanics did. The bike looked spotless like it hadnít been ridden at all. The guy looked and sounded like one of the assholes that Fred had been talking about. Iíd hate to think what that guy would have said about the condition of my bike. He probably would have fainted.
My bike was done; as far as he could tell everything checked out OK. The coils, injectors and sensors were within tolerances and he reset the TPS voltage and idle speed. He did ask me about valve adjustment and I told him that it was going on 10,000 miles. It did get me thinking that it was possible I might be getting a tight valve or 2 seeing how everything else wore out prematurely. He told me in the future that if youíre not by a dealer that a Nissan car dealership has a scanner that would work to reset the fuel injection computer and as a last resort starting the bike cold and letting it idle through 2 cooling fan cycles resets the computer to the default settings. He only charged me a half hour labor for $55. I thanked him for his prompt service and took off. I got about 4 blocks away and it started acting up again so I turned around and went back. I told him that it was running bad again but at least I know whatís wrong and it wonít hurt the bike any worse than it is now.
I got back on 16A heading east. Thereís a lot of industry around Edmonton; I must have passed 5 refineries before I got out of town. I 4-laned it a while before I got bored. I stopped in Vegreville and went to a 7-11 to fill up and grab a donut for breakfast. While I was eating a guy parked a beat up conversion van next to me. His passenger got out and went into the store. He asked me where Iíd been and I told him Alaska. We started talking and I asked him about Vegreville being such a small town near a big city. He said the town is actually booming; the oil money had trickled down to the farmers and ranchers. Things were looking up for the merchants in town. We talked until his passenger came back. He wished me a good trip and said goodbye.
Like I said, the 4-lane was getting boring. The roads in eastern Alberta and most of Saskatchewan are strange; most of the north-south roads run straight but the east-west ones run more northwest-southeast in direction. So I just head south and turn left and Iím headed in the right direction to Minnesota. I took Alberta 857 south to Alberta 14 east to Wainwright; the self-proclaimed Buffalo Capital of Alberta though I didnít see any there. I took Alberta 41 south to Alberta 13 east and stopped just outside of Macklin to fill up and take a break.
While I was standing there 3 Saskatchewan Bubbas pulled up to the station in a beat up pick station wagon to get some fishing supplies. They might have had 10 teeth between them. Two of them went in but the 3rd guy made a beeline toward me. He started asking me all kinds of questions about where Iíd been and about my bike. He must have been the scapegoat of the group because his buddies started calling him all kinds of names when they got in the car and he didnít get there fast enough. What a fun group of guys.
I wanted to get a Saskatchewan map (though I had one on the back of my Alberta one) but the station didnít have any. The owner said to check across the road at the ďboneĒ. I saw it coming into town but there was this 25í tall white building in the shape of the top half of a thigh bone. I was thinking there must have been some dinosaur fossil discovery in the area. I went across the road and checked the door but it was locked. There was a bronze plaque that explained that the monument was erected in the honor of the game of Bunnock. Bunnock is a game brought over by German settlers. The rules appeared complicated but appeared to me to be a cross between Horseshoes and Boche Ball except it was played with horse bones. The building was actually a horse leg bone. The world championship of Bunnock was held every August in Macklin. Iíd like to see it played but Iím not going to make a special trip.
I headed out on Saskatchewan 31southeast to Kerrobert. Just before town, there was a barn near the road where the graduating class of that year paints their names on the roof graffiti style. I had seen a barn like it on my trip in 2005 or maybe itís the same barn and Iím on the same road. I then turn south on Saskatchewan 21to Kindersley. Now I know Iím on the same road because I recognize the oil derrick monument at an intersection. I head east on Hwy.7 and stopped at a 7-11 to buy a map. I wanted to accomplish 2 goals on todayís ride: 1) Not to take the same roads Iíd been on before and 2) To be close enough to home that I didnít have to kill myself on the last day. Before I got the map I was thinking of taking 21 south for a while longer. Looking at the map, that would have put me in Leader; back on Sask. 32; not a good idea.
On the last trip I stayed in Outlook, Saskatchewan and it was an 872 mile ride to get home (A new record for me by one mile). Iíd like to be at least 100 miles closer than that. Glancing at the map I figured that my destination tonight should be Moose Jaw or Regina. I downed a couple of very good egg rolls and headed east a bit before dropping south on some county roads to Sask.44 east then south again on Sask. 342 until I hit Sask.4.
I needed gas so I stopped in Kyle. When I went inside to pay the owner asked me where Iíd been traveling. I told him about Alaska and taking the Dempster. Heíd heard of it and asked me about the condition of the road. I told him about the rocks, gravel and mud. He seemed impressed by my accomplishment until I told him that Iíd also ridden Sask. 32. He looked at me dumbfounded and said,Ē Why did you do that?Ē
I headed south on Sask.4 to Swift Current and caught Canada 1 going east. Just before that exit I saw a phenomenon unique to Canada. Like the rest of the world, Wal-Martís are springing up like dandelions in May. In Canada when a Wal-Mart goes up so does a Canadian Tire store right next to it. I saw it in many towns including Swift Current and Wainwright today. I donít know if the companies are connected or if Canadian Tire management has decided the only way to compete with the ďEvil EmpireĒ is head on. Weíll see who wins.
I headed east 4- laneing it on 1. It was getting late but I kept going even though I saw some campgrounds and motels that looked interesting. I saw a billboard for The Prairie Oasis Campground in Moose Jaw. It seemed as good a place as any and I was getting bored droning along the Interstate. I found the Oasis on the highway just east of town. The motel was full but there were plenty of tent sites for $12. It sounded like a bargain so I paid and pulled into the tenting area. It was just a big open area adjacent to a stream. There was honest to god green grass to pitch my nylon abode on. I set up camp and looked over my bike. The chain had quieted down after I had adjusted it on the loose side. My front sprocket must be really hooked to catch the chain that bad. I got back on the bike and road a Ĺ mile to a gas station to fill up for tomorrowís ride. When I got back I strolled around the grounds. Most of the camper spots were filled. There was a building that looked like a church without a steeple. I went inside and there was a water park crammed in there with slides and waterfalls. It was full of rug rats so I got out of there. I went back to the tent and got my stuff to take a shower. The cubicle was about 30Ēx 30Ē; no fat guys in here. I could barely turn around much less bend over. Afterward I called home; I told my wife Iíd be home Sunday night. There was a guy waiting for the phone. I only talked 5 minutes but apologized to him anyway. He said it was OK; he had to call home too.
I went across the road from the Oasis and poked around a visitor center. There were a few outdoor displays and a large statue of a moose. I donít think there are any moose around Moose Jaw. I then went next door to a Tim Hortonís to get something to eat. There must have been an event in town because the place was packed for 10pm. Everyone in there was dressed nice and having coffee and dessert.
I ate and went back to the tent. There were some kids, Iím sure they were underage, partying close to my site. I was thirsty for a beer. I started thinking that itís against the law to buy beer for a minor but is it OK to buy beer from a minor? Before I could ask for one they all left and started walking toward town.
The guy, who had waited for me to get off the phone, walked by my campsite. I commented that I was glad to get the phone before he did if heíd been talking that long. He said he was checking up on his ranch in Minnesota. His name was Mark and he had a place between Brainerd and Mille Lac Lake. He mainly raised feeder cattle. He and his 12 year old miniature poodle were up here scouting around for some land to buy. We started talking and we went over to his pick up truck when he started to cook some dinner. He had an older Ford truck and the back of it was full of stuff. He pulled out his camp stove and grilled up a steak for himself. It was getting dark and I wanted to get going early so I excused myself and crawled into the sleeping bag. I slept soundly on the soft grass and because I was close enough to home that I could come back and get my motorcycle if it broke down.
I woke up Sunday around 5am. It was overcast but it wasnít raining. I was packed up and on the road by 6am. I got back on Hwy.1 and went through Regina and caught Sask. 48 heading southeast. Because it was so early in the morning and being Sunday I decided to gas up anytime I saw a station open after I hit 100 miles on the tank. I topped off in Kipling. When I went to start the bike to leave it ran perfectly; no missing or loading up. It seemed rather strange why all of a sudden it snapped out of its funk but weíll see how long it lasts.
The clouds started breaking up some by 8am but you could still see areas where it was raining. I did the old south some and then east some routine until I got to Manitoba 34 which headed south to Sarles, North Dakota.
I think I found a weak spot for terrorists to invade the U.S. The 2 women at the border station looked like they should be serving the scalloped potatoes at a Lutheran Church dinner than protecting our Northern Frontier. They let me through with minimum hassle. I headed south on ND 20 until I got to Devilís Lake.
I wanted to go through there because of all Iíve heard about the lake almost doubling in size in the last 10 years or so. I stopped in town and grabbed something to eat at Micky Dís and filled up. The road south goes right through the middle of the lake. You could defiantly see where the lake has risen. There were vast areas where the lake had flooded the woods on itsí shoreline by all the dead trees sticking out of the water. It was rather windy but there were a sizable number of boats fishing. There are many resorts and parks along itísí banks though if I lived there I wouldnít nail anything down because you might have to move it quickly.
ND 20 followed the south shore of the lake. I took it until I hit ND 15 which headed east to Interstate 29. The weather cleared up and started getting hot and humid. Going south toward Fargo I started seeing a lot of standing water. The ditches, pond and fields were all full to the brim. When I stopped in Fargo to fill up the clerk said they had close to 4Ē of rain last night. Thatís a lot of rain for such flat country. I could see why they flooded so easily.
I hit my last leg of the journey when I got on Interstate 94 going east droning the last 250 miles home. I hit the ďcoming home from the lake crowdĒ so it was bumper to bumper from Monticello south. I arrived home around 8:30pm. My dog remembered me I think but she ďattacksĒ anybody that comes to the door, jumping all over them. My wife was home, she said I was welcome to stay. Thatís always a good sign. My 2 kids were down in Rochester with Grandma for the week so theyíd have to wait to see me. It felt strange not to have to set up a tent that night but sleeping in my own bed was the best feeling of all. Final tally of the trip: 8300 miles.

POST MORTEM:
I didnít have to work the next day so the first thing in the morning I went out in the garage and assessed the damages. The bike was filthy with dirt in places that had never seen the light of day. I disassembled it as much as I needed to get to the valve adjustment. I got out the scrub brush and washed everything thoroughly. There was a layer of mud a ĹĒ deep under my bike afterward. I went to A-1 Cycle and ordered a new chain and sprockets along with 1 set of brake pads. The front sprocket looked like one of the illustrations showing you what a hooked sprocket looks like. It always says that the picture is exaggerated but in my case it really looked that bad. I planned to adjust the valves before taking the bike to the dealer to see if I could squeeze a free TPS adjustment out of them. When I checked the clearances I was shocked by how many needed attention. 5 out of the 6 exhausts were loose and 5 out of 6 intakes were tight; and not just next size down tight but 3 or 4 sizes down tight. The left one in the center cylinder was really bad; Iím sure that it wasnít touching its seat at all. I hoped I hadnít burned it. I didnít have enough of the right size shims so the bike sat for a week until I could get some. In the meantime I changed oil and filter, checked over nuts and bolts and changed the coolant.
After I got the right shims and got the valves to spec I could now synch the throttle bodies. Before with the quick disconnects I couldnít do it without a special (expensive) set of longer hoses and an electrical harness. Now I could lay the tank crossways on the frame and not need to extend anything. The bike ran much better after synching it. I thought I had dodged a bullet and had caught everything in the nick of time.
I found out later I hadnít. The bike ran great out to Sturgis in August but it started to act up again, like it did in Alaska, at the tail end of the trip. The real tight valve had tightened up again. I was also noticing some puffs of oil smoke at high rpm. A compression test in late fall showed that my left cylinder had low compression compared to the other 2. In November I pulled the head and sent it to a shop to get checked over. They replaced all 6 of my intake valves. I really donít think that the trip itself did them in but rather they were junk material to begin with and the bad gas and hard running just made them fail a little faster than they would have otherwise. I havenít seen the pistons or rings yet and Iím hoping that theyíre OK. I still need new brake rotors and maybe new clutch plates. Itís going to be an expensive off-season.
I donít know about keeping the Tiger. It seems like Iíve done a lot of maintenance on it for only 38,000 miles. Iím leaning toward an older BMW GS 1100 or 1150. Maybe if you canít beat them you join them. A V-Strom 1000 or 650 might also be an option along with a newer Tiger. I just donít know if I trust the Kitty on a long trip any more and thatís a hard psychological hurdle to get over.
Physically I got through the whole trip unscathed. The seat mod really worked and with it being on the cool side the dreaded Monkey Butt was avoided. My shoulders and upper back would tighten up some after 7 or 8 hours in the saddle but that went away after I got off the bike. I didnít get a cold or food poisoning so it was a good trip.
Tomís trip to the doctor in Valdez confirmed his suspicions. He had a separated left shoulder, a couple of cracked ribs, a bruised kidney and a sprained thumb. Since it was 3 days after it happened there wasnít much they could do for him except some pain medication if he wanted it. He took the ferry to Whittier and went up to Fairbanks. He said he paused at the starting point of the Dalton Highway and gave a passing thought of going on it but the lingering pain changed his mind. He went back down the Alaska Highway to Watson Lake and headed south on the Cassiar Highway. The gravel section on the north end was almost impassable with the mud similar to my Denali Highway adventure. He made it through and got to Prince Rupert just before a landslide closed the highway leading into town. He took the ferry to Bellingham, Washington and headed east from there. He had to get his chain, rear tire and brake pads changed in Seattle before he could continue his trip. He got back home about 10 days after I did.
With all the difficulties experienced on this trip there would be some things Iíd do differently next time up there. I would replace every high wear item on the bike: chain, sprockets, tires, brake pads, cables, driveshafts (for you Beemer guys Ha-Ha)etcÖ even if you think they look OK before the trip; have spares either with you or at a place up there waiting for you. Even if you didnít need them during the trip youíd need them afterward. I would definitely chose the Tourances next time or even switch to the Continental knobbies someplace up there and swap back on the way home.
Find anybody up there you have a connection with; a distant relative or friend of a friend and see if you could use them as a base of operations to regroup for a day or 2. Most people up there donít get many visitors and would probably be glad to help out and hear about how things are going back home. It wouldnít be a bad idea to send some tools up there in case you have to do some maintenance, you can always send them back after youíre done.
Tom got trip insurance for any medical expenses. I donít know how much it cost him to get checked out in Valdez but it would seem to be a wise investment. It would probably be easier dealing with those people than your own medical insurance folks especially in a foreign country.
Donít get any new equipment without first giving it a good shakedown period. My GPS should have stayed at home along with Tomís phone.
Make sure your clothing can handle all the extreme conditions possible including snow. Heated gear is a must have especially going in June like we did.
Practice your dirt riding techniques. Even paved roads present a challenge when theyíre under construction.
I wouldnít mind going back up there again. I still havenít been to Inuvik and Iíd like to take the Dalton Highway too. Iíd take the ferry to cut down on the miles. Hopefully with good health and good luck I can write another one of these journals in the future.
I have one last thing to say about this trip and my Sturgis journey I took in August. Iím worried of the graying of the motorcycle crowd. I didnít see many younger guys, under 30, on either one of those trips. The vast majority were gray haired guys like me. I have a theory that the Adventure-Touring rider probably has been through the sport bikes and the touring bikes and that riding for them in general had gotten stale. Doing a trip on a pretend dirt bike revitalizes his interest in the sport and presents him with new experiences; which is why most of us do it anyway. Donít get me started on the Harley crowd but they also could use some fresh blood. Playing dress-up for a week in South Dakota gets old and the numbers prove that this year for the rally. Iíll probably still be riding at 80 if Iím physically able to even if itís a fuel cell moped because I like to ride not because it gives me a self-image boost. Our sport in general could use some more passion and less posing. Enough ranting; Iím turning into Geezer II.
Posted by Michael Mathews at
04:46 AM
GMT
Enter your email address to receive updates to Michael Mathews's trip story!
Recent Entries
Archives:
Archives:
Monthly
Archives:
Category
NEW! HU 2015 Motorcycle Adventure Travel Calendar is now available! Get your copy now for some terrific travel inspiration!
HUGE, 11.5 x 16.5 inches, beautifully printed in Germany on top quality stock! Photos are the winning images from over 600 entries in the 9th Annual HU Photo Contest!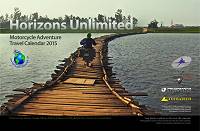 "The calendar is magnificent!"
"I just wanted to say how much I'm loving the new, larger calendar!"
We share the profit with the winning photographers. YOU could be in the HU Calendar too - enter here!
Next HU Events
Germany: May 14-17
Canada Ontario: Jun 18-21
Ireland: June 26-28
Colorado: July 17-19 TBC
Canada West: Aug 20-23
USA California: Sep 24-27
Aus Queensland: Sep 24-27
USA North Carolina: Oct 8-11
Aus Perth: Oct 9-11
Germany: Oct 22-25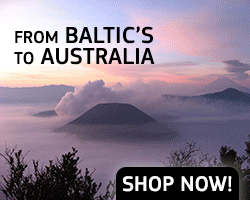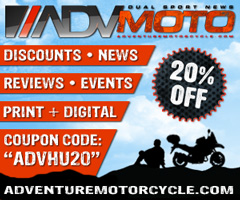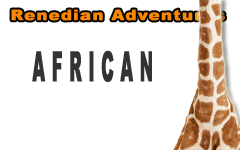 What others say about HU...
"I just wanted to say thanks for doing this and sharing so much with the rest of us." Dave, USA
"Your website is a mecca of valuable information and the DVD series is informative, entertaining, and inspiring! The new look of the website is very impressive, updated and catchy. Thank you so very much!" Jennifer, Canada
"...Great site. Keep up the good work." Murray and Carmen, Australia
"We just finished a 7 month 22,000+ mile scouting trip from Alaska to the bottom of Chile and I can't tell you how many times we referred to your site for help. From how to adjust your valves, to where to stay in the back country of Peru. Horizons Unlimited was a key player in our success. Motorcycle enthusiasts from around the world are in debt to your services." Alaska Riders

10th Annual HU Travellers Photo Contest is on now! This is an opportunity for YOU to show us your best photos and win prizes!
NEW! HU 2014 Adventure Travel T-shirts! are now available in several colors! Be the first kid on your block to have them! New lower prices on synths!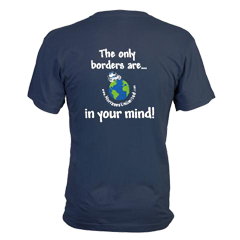 Check out the new Gildan Performance cotton-feel t-shirt - 100% poly, feels like soft cotton!

What turns you on to motorcycle travel?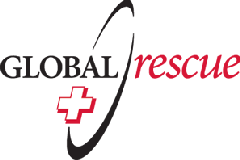 Global Rescue is the premier provider of medical, security and evacuation services worldwide and is the only company that will come to you, wherever you are, and evacuate you to your home hospital of choice. Additionally, Global Rescue places no restrictions on country of citizenship - all nationalities are eligible to sign-up!
New to Horizons Unlimited?
New to motorcycle travelling? New to the HU site? Confused? Too many options? It's really very simple - just 4 easy steps!
Horizons Unlimited was founded in 1997 by Grant and Susan Johnson following their journey around the world on a BMW R80 G/S motorcycle.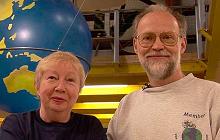 Read more about Grant & Susan's story
Membership - help keep us going!
Horizons Unlimited is not a big multi-national company, just two people who love motorcycle travel and have grown what started as a hobby in 1997 into a full time job (usually 8-10 hours per day and 7 days a week) and a labour of love. To keep it going and a roof over our heads, we run events (22 this year!); we sell inspirational and informative DVDs; we have a few selected advertisers; and we make a small amount from memberships.
You don't have to be a Member to come to an HU meeting, access the website, the HUBB or to receive the e-zine. What you get for your membership contribution is our sincere gratitude, good karma and knowing that you're helping to keep the motorcycle travel dream alive. Contributing Members and Gold Members do get additional features on the HUBB. Here's a list of all the Member benefits on the HUBB.
Books & DVDs

All the best travel books and videos listed and often reviewed on HU's famous Books page. Check it out and get great travel books from all over the world.

MC Air Shipping, (uncrated) USA / Canada / Europe and other areas. Be sure to say "Horizons Unlimited" to get your $25 discount on Shipping!
Insurance - see: For foreigners traveling in US and Canada and for Americans and Canadians traveling in other countries, then mail it to MC Express and get your HU $15 discount!
Story and photos copyright © All Rights Reserved.
Contact the author:
Editors note: We accept no responsibility for any of the above information in any way whatsoever. You are reminded to do your own research. Any commentary is strictly a personal opinion of the person supplying the information and is not to be construed as an endorsement of any kind.
Hosted by: Horizons Unlimited, the motorcycle travellers' website!
You can have your story here too - click for details!