June 30, 2006 GMT
Australia 2
Colin and Judy's house is absoltely idyllic- set in 6 acres of woodland and is virtually like having your own nature reserve. The kangaroos will come up to the edge of the decking to feed nightly and when you drive down the gravel road to get to the house, you must look out for them on the side. The swimming pool is in the front and at the back is the wide river where you can walk along the shore.

Kookaburrows, parrokeets and loads ofother birds abound and at dawn, you get a lovely dawn chorus. In the summer, this is apparantly at 4am (!)- a little later now.
Water is the biggest worry here.The under ground tanks are filled with rain water and if you run low, water must be bought by the tank load. It makes you realise just how much water we waste in the UK.Whilst waiting for the shower to get to temperature ,you can save nearly 1/2 bucket and use it for other things.
Noosa is surrounded by water- either sea or rivers. A tourist area for the Aussies as well, of course and you see loads of caravans / motor homes with Victoria plates on them. They have come up for the sun from South, where I am assured ,it is cold at present .
So we recovered in wonderful relaxed surroundings and started to do day trips out and about. -
"The Ettamuga Pub" at Aussie world, of course (which is spacious and full of cartoons on the walls and sells delicious bar meals !), Underwater World and saw the sharks,otters and seals and had a steam train ride on 'The valley Rattler' that took you through undulating countryside and introduced you to quiet rural towns.
.
The road signs are great- 'Please drive carefully, we live here too' and a picture of a koala and a roo underneath or 'Koalas for next 3 k'.
We sorted out the Medicare and RAC cards, who both have a reciprocal agreement with UK for health and breakdown of the bike . It's nice to know that you have got back up and there was no charge for either. I am very impressed with the Medical facilities here. Most major areas have a walk-in service and you can see a Doctor immediately during the day.
So by the 7th June we were ready for the 'off' again. We planned to ride nearly the length of The Bruce highway from Noosa to Cairns. The Bruce starts at Brisbane (100 K from Noosa ) and is 2000K in length.(1250 miles ). It takes you through major towns of Hervey Bay, Bundanberg, Rockhampton, Mackay, Townsville, Innisfail to Cairns and is tarmac the whole way with very little traffic. It does reduce to one lane fairly quicklyand the locals reckon on travelling 100k(62 miles) per hour. Mostly it is an hour between towns that can vary in size from bustling with all amenities to a place that has one shop and a bar.
The nice thing was that we were able to leave the thermal gear behind and packing the panniers was so much easier.
Hervey Bay is famous for the whale sightings, who come to let the calves rest in the warm waters before going onto the Antarctic. Sadly, they were not in sight when we were there.
9th and we were at 1770- a VERY quiet coastal resort with a restaurant and a pub combined. This is where captain Cook did his second landing in Australia and subsequently ,the founding of Queensland. As at Noosa, here the house prices are going up fast and soon it will be another tourist area. The coast line is spectacular- as good as the south of France.
Here we had a boat trip out to the Great Barrier reef for the day. It was rough going out and took about 1 3/4 hours. They were on the border line for going that day, as the swells were 2.5 metre in height with a 25/30 knot wind! Alot were sea sick but I excelled myself by taking a Kwell, put my wrist bands on - and slept he whole way . When you got to the lagoon it was totally calm, of course and we were able to snorkel, have a walk on Lady Musgrove island ( so named after a Diplomats wife who gave wonderful tea parties in Sydney years ago ) and go out on the glass bottom boat to see the coral, turtles and exotic fish.
The island is coral of 300 acres set within a deep water lagoon. Sadly it was too rough for the fishing part of the trip . Fishing within the lagoon is banned.
There is no light pollution here and the stars show up so well ( different near a big city, I suspect ). It gets dark at 5.30pm quite suddenly, it seems. Everyone eats early in the evening and the bars are closed by 8.30pm as everyone has gone home. In most rural places you see no one out at night and only the odd truck on the highway. You do not buy beer from the Supermarket but from a Licquer shop and these are, more often than not, a drive through. Colin was impressed with that !
10 th and we were on the way to Yeppoon and it deluged with rain ( temp was still 22 degrees ). We had our wet gear on but i was still wet through to my knickers (good job they are the quick drying type !) and when Colin got off the bike the water was pouring out from the INSIDE of his helmet !
We found a nice chalet just across the road from the beach and took 2 days to dry out. Every thing was hanging over the shower to dry. The facilities in the motels and chalets is great- all have kettle, toaster , fridge ,microwave, hob and utensils. Alot have iron and board in the room - or at least one in the laundry area where the commercial washers and dryers are quick and cheap to use. The cost per night is around 29 GBP. Most have a restaurant on site with a bar but if you want to have alchol with your meal you take your own.The car park is directly outside your room and you can order breakfast to be delivered to your room.
From there we went to the Capricorn Caves, which are above ground but as you get deeper inside you can see the tree roots going from the top of the caves to the bottom in order to find water- huge , wide roots. We stayed in a 2 bedroom apartment chalet there that was in the woods and was so quiet at night. It was also cold (got no sun during the day) and we were in bed at 9pm- in order to keep warm !
From hereon in we were passing through sugar cane country.It is a vast business with it's own railway line weaving in and out of the roads. It is harvested between July and december, the contractcutting machines work night and day. Each farmer is allocated his slot for the harvest so that the cane delivery to the refinery is spread out. It is then processed and sent out by ship. The longest jetty in the world is at a place called Lucinda. The cane has to be replanted each year and they allow a paddock to lay fallow about every 3 years.
Up North the cane was badly damaged by the cyclone that went through in March. It has righted itself to the upright position but as then cane has been snapped the sugar will ooze out and they only expect to get 30% of it's worth. The banana prices here are astronomical also due to the cyclone that devastated the crop.
13 th and we stayed in a very secluded beach chalet at Serena beach. The veranda doors opened out to a grass area that had coconut palm trees growing ( complete with a plastic guard at the top of the trunk that caught the coconuts - before they fell on your head !). From the grass area you were able to walk directly onto the very fine sandy beach and the volcanic rocks further up. A really serene place ( hence the name ).
Then onto Lucinda where i paddled in the sea and then found a large notice saying 'Crocodiles and Jellyfish live in these waters- do not paddle or swim'. On the first aid points along the coast up here they have bottles of vinegar for putting on to jelly fish stings and huge notices with first Aid instructions.
Up here there are alot of creeks ( all dry at present ) and they are all named.Some names are poignant- like 'Gentle Annie's Creek'- it gets you to thinking who gentle annie was and the history behind the naming. Some are more forthright: 'Alligator or Crocodile creek'.
Here we met a guy that used to drive the Road trains 20 years ago. At that time they had no restriction on the length, there were 2 drivers and they changed drivers on the go. It took 6 miles to get up to speed and 22 miles to stop on the gravel. No wonder they had the reputation for stopping for noone or anything.
Now the road trains are restricted to the length and weight of each container they are pulling but average 3/4 containers. They have 'Road train' written in bold letters on the front and the back. They still weigh 150 tons.
The long distance lorry drivers here can legally drive 12 hours at a time - but as it takes 13 1/2 hours to drive from Brisbane to Sydney the Government brought in a 'Fatigue Managment course' that lasts 2 hours and if you do this and get the piece of paper you are then allowed to drive 14 hours legally. Basically it tells yopu to open the window if you are tired and stop and have a break !
16th and we arrived in Cairns through Innisfail and the area that was hit by the cyclone. Alot of roofs still covered by tarpauline, banana crops broken and they have had 70 days contiuous rain since the cyclone, which has made it hard to dry stuff out and to replace roofs. One girl we were talking too said they had 3 days notice to prepare.It started to get windy at 4am and ended at 9am.They sat in the hall with mattresses over their heads, opened up the windows at the end that the wind was coming and then reversed it after the eye had been through. She said it sounded like a jet plane.
We found a motel and arranged the trip to Kuranda village the next day. You go up by train (into the hills) and down by Skyrail ( like a cable car). Kuranda was an amazing place- various 'zoos' you could visit and I cuddled a Koala. They are much heavier than you anticipate and really cuddly. These are reared when they leave the mother's pouch to be handled by humans.They are only allowed to have 1/2 hour cuddle per day. Saw crocodiles, hand fed kangaroos and wallabees, went into the dangerous species zoo where they are doing alot of research into medicines to help arthtitis, glaucoma and trying to make a bullet proof vest from the spiders web. The bird place was so colourful- parrots etc that were so used to humans that they would sit on your shoulder and be really inquisitive. the noise in there was just 'something else'.
So you had the cultural bit and then there was plenty for the tourist to buy and browse around. the Aboriginal history and musical show was good and colin got to throw a spear and boomerang. My efforts were extemely poor- I'd obviously starve !
19 th we drove up the Captain Cook highway via port douglas to Danetree where the tarmac road runs out- then you are into 4 wheel drive country. so, we turned around and started back through the inland route of Mareba, Atherton and Yungaburrow to get through to the Tablelands. This area is rain forest and mangrove swamps , Colin saw crocdiles on the edge of a river. The coastal road isstunning with therain forest literally going down to the edge of the sea and so then to the climb up to the Tablelands and huge termite mounds- some 6 foot tall. Rolling vast fields and alot of cattle here. Had a walk through the Rain forest on the walkways and saw the Fig tree that is 800 years old and has eaten away the host tree and is now free-standing.
For some unknown reason we had the first row of the trip here- don't know what started it- something very trivial, no doubt. we spent a couple of hours sulking and then decided 'this is ridiculous' and made up !
At Yungaburrow we stayed at an old Colonial hotel with wide verandas, huge sitting areas upstairs and rooms with louvred slats for windows and no glass. All this to attract as much wind flow as possible. In the summer here it can get up to 40 degrees.The house was made of Eucalytus and mahogony and had a really long bar. This is a heritage site and alot of old Queensland buildings that are built on stilts, are one storey ( to allow the flow of air ) and are very spacious. the stilts also allow for any flooding that may occur. Nearly every road has signs telling you that it is prone to flooding and will give markers as to the height- some up to 3 metres.
We then went on to the old Bruce highway that in parts is one car width only and found a place called Paronella park. This was built by a Spanish guy and his dream had been to have a castle- so he built one with tennis courts made from termite hills and peaceful walks called 'Lovers lane' leading to the Tunnel of Love that is now home to bats. i never thought that i would call bats 'sweet' but when you see them asleep on the roof- they are. You could swim in the pool under the waterfall and the changing rooms are still there. You could hand feed the fish and eels here. The fish would leap out of the water and fight for the food.
Back through Mission beach and Prosperine and Serena beach , having got a new back tyre in Mackay. you drive through some areas of volcanic rock here and it is an area rich in coal. Good money to be earnt in the mines apparantly. they do a 4 day 12 hour shift and then have 4 days off.

From here you have a long drive through the hinterland mainly following the railway. They have a double header pulling and then 2 engines in the middle of the train. The road is dead straight with undulating parts at which you think' this has got to be the end'- and still it goes on dead straight.
On to Rubyvale on the 24th where we went down the mine for sapphires and were able to fossic. we actually managed to fossic a sapphire big enough to mount in a ring- so whose a lucky girl then !
This is on the Tropic of Capricorn with one small sign to mark it. Rubyvale got piped water 4 years ago and electricity a few years before that. Out here there is one shop only in the towns and we were the lowest on petrol that we have ever been on the whole of the trip- when we filled up there was 3 litres in the tank !
On through Monto and at a place called Dingo we stopped in a 24 hour roadhouse- they sold everything that you could possibly want, served food and had accomodation. The area marked 'laundromat' was a washing machine and tumble dryer that were under the awning at the back in the open air.We saw wild camels in this area as well. Most of the cafes offer free' driver reviver'- ie tea and coffee.

Back to Noosa on 26th. Since being in Oz we have increased our mileage per day- you can easily travel 400 K without getting too tired.
It has been a lovely trip and a real eye opener . The old adage of 'no worries, mate' really holds true. The stress levels appears to be non existant, the rural towns definitely make ther own fun- play cards, arrange competions, make local crafts for sale and many areas have the feel of the 1960's and I am not being detremental when I say that. Music is country and Western. We have not heard any 'pop' music.The shops close saturday afternoon till Monday.

Colin is now doing a service on the bike having got all the bits from the BMW dealer here and these have worked out well expensive- but hey ho, what can you do? When you are in your own country you know where to go for cheaper deals and I am sure there are some here too- but it's finding them. The back tyre had not done badly at 8210 miles travel.
This trip from Noosa to just above Cairns and back has been 3066 miles which is equivalent of driving from UK to Pammukale , in the middle of Turkey. it gives you some idea of how vast the country is.
Our total miles for the whole trip is :11,450. More later------
Posted by Dee Masters at June 30, 2006 01:12 AM GMT

Enter your email address to receive updates to Colin and Dee Masters's trip story!
Recent Entries
Archives:
Archives:
Monthly
Archives:
Category
NEW! HU 2015 Motorcycle Adventure Travel Calendar is now available! Get your copy now for some terrific travel inspiration!
HUGE, 11.5 x 16.5 inches, beautifully printed in Germany on top quality stock! Photos are the winning images from over 600 entries in the 9th Annual HU Photo Contest!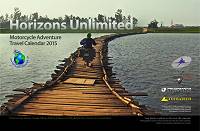 "The calendar is magnificent!"
"I just wanted to say how much I'm loving the new, larger calendar!"
We share the profit with the winning photographers. YOU could be in the HU Calendar too - enter here!
Next HU Events
NEW!

USA Virginia: Apr 9-12, 2015
Canada West: Aug 20-23, 2015
USA California: Sep 24-27, 2015
Aus Queensland: Sep 24-27, 2015
USA North Carolina: Oct 8-11, 2015
Aus Perth: Oct 9-11, 2015
Take 40% off Road Heroes Part 1 until October 31 only!
Road Heroes features tales of adventure, joy and sheer terror by veteran travellers Peter and Kay Forwood (193 countries two-up on a Harley); Dr. Greg Frazier (5 times RTW); Tiffany Coates (RTW solo female); and Rene Cormier (University of Gravel Roads).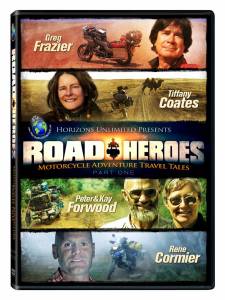 "Inspiring and hilarious!"
"I loved watching this DVD!"
"Lots of amazing stories and even more amazing photographs, it's great fun and very inspirational."
"Wonderful entertainment!"
Check it out at the HU Store! Remember to use Coupon Code 'HEROES' on your order when you checkout.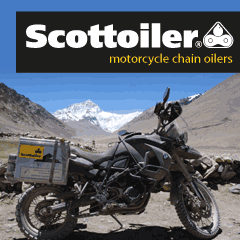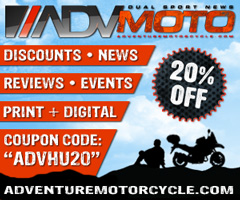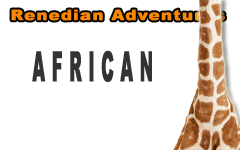 What others say about HU...
"I just wanted to say thanks for doing this and sharing so much with the rest of us." Dave, USA
"Your website is a mecca of valuable information and the DVD series is informative, entertaining, and inspiring! The new look of the website is very impressive, updated and catchy. Thank you so very much!" Jennifer, Canada
"...Great site. Keep up the good work." Murray and Carmen, Australia
"We just finished a 7 month 22,000+ mile scouting trip from Alaska to the bottom of Chile and I can't tell you how many times we referred to your site for help. From how to adjust your valves, to where to stay in the back country of Peru. Horizons Unlimited was a key player in our success. Motorcycle enthusiasts from around the world are in debt to your services." Alaska Riders

10th Annual HU Travellers Photo Contest is on now! This is an opportunity for YOU to show us your best photos and win prizes!
NEW! HU 2014 Adventure Travel T-shirts! are now available in several colors! Be the first kid on your block to have them! New lower prices on synths!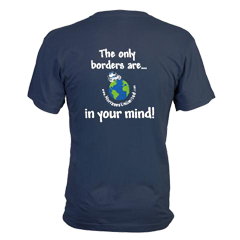 Check out the new Gildan Performance cotton-feel t-shirt - 100% poly, feels like soft cotton!

What turns you on to motorcycle travel?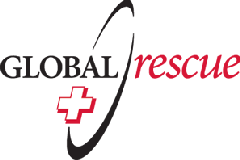 Global Rescue is the premier provider of medical, security and evacuation services worldwide and is the only company that will come to you, wherever you are, and evacuate you to your home hospital of choice. Additionally, Global Rescue places no restrictions on country of citizenship - all nationalities are eligible to sign-up!
New to Horizons Unlimited?
New to motorcycle travelling? New to the HU site? Confused? Too many options? It's really very simple - just 4 easy steps!
Horizons Unlimited was founded in 1997 by Grant and Susan Johnson following their journey around the world on a BMW R80 G/S motorcycle.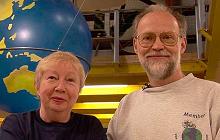 Read more about Grant & Susan's story
Membership - help keep us going!
Horizons Unlimited is not a big multi-national company, just two people who love motorcycle travel and have grown what started as a hobby in 1997 into a full time job (usually 8-10 hours per day and 7 days a week) and a labour of love. To keep it going and a roof over our heads, we run events (22 this year!); we sell inspirational and informative DVDs; we have a few selected advertisers; and we make a small amount from memberships.
You don't have to be a Member to come to an HU meeting, access the website, the HUBB or to receive the e-zine. What you get for your membership contribution is our sincere gratitude, good karma and knowing that you're helping to keep the motorcycle travel dream alive. Contributing Members and Gold Members do get additional features on the HUBB. Here's a list of all the Member benefits on the HUBB.
Books & DVDs

All the best travel books and videos listed and often reviewed on HU's famous Books page. Check it out and get great travel books from all over the world.

MC Air Shipping, (uncrated) USA / Canada / Europe and other areas. Be sure to say "Horizons Unlimited" to get your $25 discount on Shipping!
Insurance - see: For foreigners traveling in US and Canada and for Americans and Canadians traveling in other countries, then mail it to MC Express and get your HU $15 discount!
Story and photos copyright © All Rights Reserved.
Contact the author:
Editors note: We accept no responsibility for any of the above information in any way whatsoever. You are reminded to do your own research. Any commentary is strictly a personal opinion of the person supplying the information and is not to be construed as an endorsement of any kind.
Hosted by: Horizons Unlimited, the motorcycle travellers' website!
You can have your story here too - click for details!