Ian Lock - Around Australia, a father and son adventure (part 6)
Next morning we awoke with no noticeable side effects of our gluttonous behaviour, and rode back through the now receding waters to Tamworth, via Walgett, Wee Waa (honest!), Narrabri and Gunnedah, where we located a YHA Youth Hostel to stay. The roads had improved dramatically. Good surfaces and plenty of fast sweepers. Such a shame that the cop cars with their radar guns were out in force. We stopped along the way to explore 'Burning Mountain" on foot. This was a walk of several kilometres through the bush, in the hills. Eventually it led us to the top of a hill that was indeed burning. There are huge coal seams under the ground that having been ignited have continued to smoulder for thousands of years. Close to the area that smoke was pouring from, was evidence of other seams having collapsed after their contents had burned out. It was a pleasant but strenuous walk with wonderful views. Part way back to where we had parked the bike, Fergus and I split up, with me taking what I believed to be a short cut. An hour later I, covered in burrs, grass seeds and scratches from blackberry bushes, found Ferg waiting by the bike. He'd been there for 1/2 an hour, and had watched my slow progress down the hill. He was keen to highlight my mistake, but I guess I deserved it!
After the previous night, I felt that we should eat properly, and sourced the ingredients for what turned out to be a most delicious curry (Lamb Rogan Josh) at a large supermarket. The Youth Hostel was very well equipped, so cooking was a pleasure.
Tamworth is known as the country music capital of Australia and each year thousands flock to their annual Country Music Festival either just to listen, or to try to make it into the big time. Everywhere we went there was country music bric-a-brac, but thankfully we didn't actually have to listen to any of the music! On the way out of town the next day we pulled up alongside the towns renowned Golden Guitar. This is Tamworth's answer to that peculiar Australian obsession of building 'BIG' things (eg. The big prawn, the big pineapple, the big merino etc etc). I probably should have photographed it with the bike parked in front of it. But it seemed so tacky, that I decided not to.
We rode on eastward, back to the coast, intending to stay in Newcastle for the night. At one place (Scone I think) we'd stopped for lunch, and were standing by the bike when a large number of bikies, all wearing 'colours' roared through town on their Harleys. Some of the townsfolk muttered a little anxiously together as the 'outlaws' passed through, but Ferg waved, and they all waved back. Looking back in Ferg's direction, I could have sworn, just for an instant, that he'd suddenly become six foot tall!
Just before Newcastle, we pulled off the road for a 'bumsaver' and a cigarette. We found ourselves beside the Hunter River, where a couple of fisherman were gutting and cleaning their days catch. As they threw the unwanted parts of the fish into the water, pelicans would race, and fight to get to the tasty morsels first. We sat for a while in the late afternoon sun, water lapping close to our feet, watching these ungainly looking birds make skilful movements on and above the water.
Newcastle once was a big industrial town, but now showed evidence of neglect and unemployment. We didn't find anywhere where I could ensure the bike was parked safely overnight, so continued down the coast, stopping at a little place, only because of its name, which was Redhead. I thought this amusing in relation to Ferg's hair colour. We scored an overnight cabin, alongside extensive sand dunes, and after adjusting the bikes rear chain, strolled through the dunes to the beach. After checking with some fishermen regarding currents and rips, Ferg swam and bodysurfed, whilst I sheltered from the wind in the dunes. On the way back, we once again practised our artform of getting lost. One dune looks much the same as the next, but as usual we did eventually find our way!
The following morning, we packed up again and headed to Katoomba in the Blue Mountains. Friends had previously told us of the magnificence of this part of the Great Dividing Range (that runs along virtually the whole length of the country's East Coast), and we were keen to see them for ourselves, as well as avoiding the frantic metropolis of Sydney, immediately east of the mountains. Our route deliberately included the popular roads loved by the Sydney motorcycling fraternity. Various articles in bike magazines over the years had recommended the Wisemans Ferry Road and the Bells Line of Road, so I was keen to try them out. For kilometres the narrow bitumen wound and snaked along the banks of the Hawkesbury river, fun, but requiring caution as there were many 'hidden' junctions and driveways leading on to the road, plus many cars travelling more slowly than us. Other bikes were out in abundance, it being the weekend. On more than one occasion I was taken by surprise by one or more 'race replicas' appearing 'out of nowhere' from behind me at breakneck speeds, hammering past me at 10/10th's. I fully expected to come across carnage resulting from over enthusiasm as we wound our way to the ferry, but thankfully did not. From the way some of the riders were 'gunning it' along this road, I can only imagine that it is just a matter of time before tragedy strikes. The ferry itself provided a short interlude. It is a boat drawn by steel cables back and forth across the river, every 15 or 20 minutes, and set in the beautiful surroundings of a steeply tree lined valley. We stopped on the far side, and procured ice creams from a handy little kiosk, before continuing on to the Bells Line of Road which swoops and snakes up and down through the Blue Mountains, into Katoomba. We stopped on several occasions along this road, to walk to various lookouts, which did indeed provide us with views that were sheer magnificence.
Katoomba itself is probably the 'steepest' town I've ever visited. Its streets are long and frequently drop away at alarming rates. As we rode around looking for accommodation, it was a real pain, just trying to find level parking spots, and I also noticed my first and only mechanical problem of the trip.
Whilst not a trip stopping problem, the front brake had started to feel a little 'grabby'. On the steep hills of Katoomba, braking at low speed, on downhill sections, resulted in an uncomfortable and jerky halt. At 'normal' road speeds I could feel a mild pulsating through the front brake lever when I applied it. I thought that perhaps that the braking on the long downhill sections of the Bells Line of Road might have caused the front disc to overheat and warp. However there was no evidence of discolouration on the disc, which would have been indicative of excessive heat. I couldn't find any other cause of the mystery, and decided to live with the problem, monitoring it as we progressed. It later turned out to be (after we had arrived back home) a faulty disc. The hardened 'skin' of the disc had 'broken down' giving a variation in its friction coefficients at different points of the disc. Triumph were very good about it, replacing the faulty disc free of charge, under their 2 year unlimited mileage warranty. I thought that getting a new disc like this, after 25,000 kilometres of riding was pretty good!
We had planned to stay a couple of nights in Katoomba, so that we could experience the famous Mountain Railway, but luck was against us, accommodation being heavily booked out and finding a bed was difficult. We eventually got the last two beds at the YHA hostel, but these were only available for one night. Consequently the following morning we set off for the nation's capital, Canberra.
After the previous nights shenanigans trying to find a bed, we booked ahead for our stay at the Canberra YHA. This felt strange to us, as having paid in advance at the Katoomba YHA, we were now 'locked into' our next destination. Up until now, we had generally only had vague plans as to our destination each day, a flexibility we had enjoyed. However now that we were back amongst 'civilisation' and heading for a popular tourist spot, it seemed the prudent course of action. Of course we could have still changed plans, but the principle of committing ourselves did feel odd nonetheless.
Canberra surprised us. It seemed so bloody hot and despite the ambient temperatures being lower than we'd experienced further north, the heat seemed far more draining. Canberra, we were told, has a reputation for extremes, either bloody hot or bloody cold. Rarely anything in between. Our capital has a lot to see, so we spent several days wandering around taking in the sights and exhibitions. Lake Burley-Griffin, National Science Museum, National Art Gallery, High Court of Australia, the Australian Royal Mint, the National War Memorial (a full days visit in itself) and of course Parliament House, plus the old Parliament House.
Canberra was built where it is, as a compromise to placate those who wanted either Sydney or Melbourne to become the nation's capital. It is half way between both and is populated mainly by public servants and politicians and has a rather dry and clinical feel to it. Here you don't find graffiti on walls, or dog shit on the pavements. It is a city that has been planned from the outset, rather than having evolved, and whilst containing many impressive buildings, still manages to feel somewhat sterile.
At the Youth hostel, we met Dave, a long distance motorcycle tourer on a BMW twin. This was only his first night away from Melbourne, and he was 'buzzing', as we had done almost seven weeks earlier on our departure from home. He was planning on circumnavigating the continent over the next 3 months. We shared stories over several coffees late into the night, and I think his plans may have changed somewhat after we told him about the 'Wet' that we had just missed up north, which according to TV weather reports was now in full swing. Unbelievably he hadn't even considered weather conditions, and were he to have stuck to his original plans, would, I'm sure, have found himself cut off by floods, waiting for weeks for the waters to drop. Certainly his 3-month timeframe was on the optimistic side in late December.
The road from Canberra to Cooma was fast and fun, the lack of police presence seeing our average speed increased to 140 -150kph. Arriving at Cooma saw us back into the familiar territory of the Snowy Mountains. This is Gods own motorcycling country. Top roads, top scenery. In fact I reckon the best biking roads in Australia, if not the world! We swooped up hills and down dales to Jindabyne, where we turned off and headed up to Charlottes Pass. The road is a dead end, but takes you up to Australia's highest public Road. Towards the top, the wind increased in strength to near gale force, making staying on the bike a bit dodgy at times. At the top we were rewarded with panoramic alpine views, complete with large patches of snow still lying on the ground! (This was the middle of summer!) Despite being cold enough to freeze the balls off a brass monkey, Ferg decided that he had to trek to the nearest snow. I huddled in the meagre shelter provided by one of the many knarled and stunted snowgums, and watched Ferg become a tiny speck in the distance. It was a fair trek, but eventually he reached the snow. Suprisingly he was able to 'ski' down the slopes, despite having no skis. An hour or so later, (it felt much longer, I was turning blue by the time he returned all red and puffed), we climbed back onto the bike, and returned to lower altitudes and relative warmth.
A few kilometres after passing through Jindabyne again, we reached Thredbo, our destination for the night. Thredbo is probably Australia's premier alpine ski resort. A collection of lodges huddled together on the steep hillsides where in recent years one of Australia's worst tragedies occurred. It was here that many were killed when the hillside above the lodges partially collapsed, avalanching over some of the lodges, burying and killing most of their sleeping occupants. Nevertheless it is still a very pretty place, with no evidence of the disaster to see. During the summer months the chair-lift takes walkers and downhill mountain bike riders up to Mount Kosciusko. We took a ride up the chairlift, just for fun, and found some more snow. As we swung our way up, we could look down and see mountain bike daredevils hurtling down dirt tracks, under our feet.
As one would expect, the youth hostel was warm and cosy, a purpose built alpine lodge. It was good to warm the old bones again. Now that we getting so much closer to home, the ambivalence of wanting to get home, but not wanting to finish the trip became apparent to both of us. We reminisced about the comforts of home, and reviewed some of the stories we would have to tell Julie. One more night 'on the road' and we would be home on the pre-determined date of Christmas Eve. It was strangely odd to be amongst others, who had just arrived at Thredbo to spend their Christmas in the high country.
From Thredbo we took the 'Alpine Way' across to Corryong, stopping to take a tour around Tumut1, one of the power stations built as part of the famed Snowy Mountains Hydro-electric scheme. From there we continued almost as far as Albury, but then turned southward to Bright, over the top of Mount Beauty. Part way up the mountain, rain and fog closed in on us, reducing our speed on the twisty mountain road (goat track!?) to that suggested by the advisory road signs. Visibility was poor and we swung left to right, and right to left at less than 40kph all the way to Bright. Arrived at Bright backpackers feeling colder than a snowman and wetter than a fish. A doner kebab with plenty of chilli sauce soon got us up and running again though, and we took a taxi out to the Wandiligong pub (10kms), for an evening of blues, Christmas carols and plenty of beer.
Morning dawned clear, bright and crisp for our final leg. Up over Mount Hotham (where in previous years we got stuck when the handbrake of our car had frozen on). The road to Hotham is a constant uphill switchback for maybe 30 or 40 kms, usually a great deal of fun, on a bike ridden solo and without luggage. Today however it was hard work, and once again bloody freezing. By the time we stopped in Hotham itself, my knees were aching badly and my thumbs felt as though I'd placed them on a bench and whacked them with a hammer. We drank strong hot coffee, and tried to mentally prepare ourselves for the final leg. We managed to reach Bairnsdale (on the coast), via Omeo, without losing any body parts to frostbite, and now found that we were back into warm sunshine, having dropped in altitude considerably.
As we approached Sale, on the Princes Highway, crosswinds once again began to blow with increasing strength. An hour and a half later we were riding up the long hill, that leads to home. The winds were so strong, it appeared that all the trees lining the last few kilometres were waving to us in welcome. We waved back to them and laughed. The whole trip had been fantastic, but our arrival home was even more so. As we entered our driveway the sight of the many balloons that Julie had put up reduced me to tears, before I'd even stopped the bike, and the hugs and kisses commenced!
As father and son, we had covered close to 14,000 kms in 7 weeks, and each had experiences we will continue to share for many years to come. Ferg's descriptions, to Julie, of the some of our experiences together gave me all the reassurance that I needed in regards to the journey having been all I hoped it would be for him (Phew :)).
As for the bike, it still doesn't miss a beat, and still leaves a grin across my face every time I ride it.
---
Member login
Are you an Overland Adventure Traveller?
Does the smell of spices wafting through the air make you think of Zanzibar, a cacophony of honking horns is Cairo, or a swirl of brilliantly patterned clothing Guatemala? Then this is the site for you!
Hosted by Grant and Susan Johnson, RTW 1987-1998
NEW! HU 2015 Motorcycle Adventure Travel Calendar is now available! Get your copy now for some terrific travel inspiration!
HUGE, 11.5 x 16.5 inches, beautifully printed in Germany on top quality stock! Photos are the winning images from over 600 entries in the 9th Annual HU Photo Contest!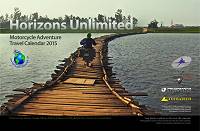 "The calendar is magnificent!"
"I just wanted to say how much I'm loving the new, larger calendar!"
We share the profit with the winning photographers. YOU could be in the HU Calendar too - enter here!
Next HU Events
Canada West: Aug 20-23, 2015
USA California: Sep 24-27, 2015
Aus Queensland: Sep 24-27, 2015
USA North Carolina: Oct 8-11, 2015
Aus Perth: Oct 9-11, 2015
Take 40% off Road Heroes Part 1 until October 31 only!
Road Heroes features tales of adventure, joy and sheer terror by veteran travellers Peter and Kay Forwood (193 countries two-up on a Harley); Dr. Greg Frazier (5 times RTW); Tiffany Coates (RTW solo female); and Rene Cormier (University of Gravel Roads).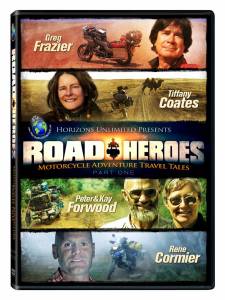 "Inspiring and hilarious!"
"I loved watching this DVD!"
"Lots of amazing stories and even more amazing photographs, it's great fun and very inspirational."
"Wonderful entertainment!"
Check it out at the HU Store! Remember to use Coupon Code 'HEROES' on your order when you checkout.

10th Annual HU Travellers Photo Contest is on now! This is an opportunity for YOU to show us your best photos and win prizes!
Books

All the best travel books and videos listed and often reviewed on HU's famous Books page. Check it out and get great travel books from all over the world.