Ian Lock - Around Australia, a father and son adventure (part 5)
Following our cruise, we headed out of Kakadu and back to the Stuart Highway, planning to stop at the Daley Waters pub for another night. However by the time we reached Mataranka, we decided to spend the night there. The lure of the crystal pools was too hard to resist. Next day we stopped at Daley Waters for breakfast and Renner Springs Roadhouse for another world beating steak sanga late lunch. I preferred not to backtrack over roads we had already travelled, but basically there is no other option.
Arrived back at Belly's in Tennant Creek late in the afternoon, and were once again made very much at home. We planned on staying for a couple of nights, but ended up staying four. Tennant Creek, whilst not having much, seemed like a difficult place to leave. I'm sure that this is something that many of its residents have found over the years. It's a rough town where politically correct city attitudes and expectations are a basis for amusement and derision. We were blown away by the generosity of Belly and his family. Not only were they prepared to offer their accommodation to a couple of strangers whom they'd never met, but also handed me the keys to their vehicles, without a second thought. This included Belly's pride and joy, his pristine Toyota 4wd, which he was still paying for. "Treat our house as your own" Belly said. And I had no doubt that he meant this literally.
We visited various friends of theirs around the town, went out to the local beauty spot for a barbie, were invited to a party for a mate and his family who were escaping the clutches of the town to move south and plied with beer and more beer. Every mention of us moving on was met with further offers of activities hard to resist. On our final day there, I did manage to resist an offer to try our hands at bull riding, but didn't mention this to Fergus until after we'd left. Predictably Fergus whinged about missing out.
On one day I took Belly for a ride on the bike, the first time he'd been on a bike for over 12 years. He asked me to take it steady, which I did, except for one quick burst up to 160kph. Afterwards he raved on about having to get himself another bike. The following day, after a number of beers, we headed bush in his 4wd. Once off road, it became apparent that Belly had not previously done much off road driving, and several times I thought we were going to get lost or bogged. Neither happened, and Belly's optimism continued with each beer he finished. On the road back, he set the cruise control to 160kph, driving one handed (second hand needed to hold the beer!). I knew I was being paid back and tried not to let my white knuckles show!
Before leaving Tennant Creek, we bought a 5-litre lawn mower fuel can, as the distances between fuel stops on the long drag over to the Queensland border were the largest we would experience. We left Tennant with a full tank, the jerry in the tankbag, and the lawn mower can sitting on Ferg's lap.
Between Tennant Creek and the Queensland border there is only one place to stop, this being the Barkly Homestead. We ate and refuelled there, and continued on to Camooweal, the first town in about 600kms. We had been told that there was a good possibility that the Georgina River, just our side of Cammoweal, would be flooded, making it impossible to get through. We approached the border prepared to camp for potentially a week or two, if we couldn't get through. We passed several roadtrains, so knew if we had to camp that we wouldn't be alone. As it was, the waters had dropped, and we able to ride into Camooweal without difficulty.
Camooweal was an odd little place, with a population of just 14, right on the border. It's campground had no space left, having been filled with a party of roadworkers. But we found accommodation elsewhere in town at a quaint little place called the Rainbow Hostel. This was run by Marg, an eccentric little old lady, in her 60's, who had lived in Camooweal for all of her life. She lived on the premises, had a permanent 'moustache' formed of the last thing she drank and we were her only paying guests. For $15 each we had a room with two comfy double beds, a fridge and a TV. The beds all had matching new Doonas and sheets, and towels were provided. The shower and toilet facilities were all new, decorated with pinks and blues in a rather frilly style that no doubt suited her tastes. The towels were warmed, and fluffy. I asked her about getting a meal, to which she immediately told me that she didn't do meals. "Not to worry" I said, "we'll get something at the pub over the road". A few moments later She said "Well I s'pose I could put on a few extra beans and you could share some silverside with me." She asked if a price of $10 each would be acceptable. I hesitated in answering, and before I said anything, she reduced the price to $7.50 each, which I agreed to. Later I had pangs of guilt about this, as the meal we received was top quality, and more than we could manage. Included were as many drinks as we cared to make throughout our stay, a toast breakfast the following morning, and large dishes of tinned peaches with ice cream during the evening. "Just help yourself, the fridge is over there" she offered." We sat on our beds, watching 'Hornblower' on the TV, scoffing our desserts during the later evening. There was one other guest, who was sleeping on the verandah in his swag. He'd been there for two nights and was doing some gardening work for the old lady (She was a hard taskmaster) in return for board and lodging.
He had a huge un-healed wound on his tattooed forearm that he told us was from a knife fight, sustained over on the coast at Rockhampton. It seemed that he'd left in a hurry and wouldn't be returning to 'Rocky' for a while.
When we left at 6am the following morning the old lady was already in her garden, giving her morning's work instructions to the wounded man.
"You'll know when you cross the border, even if you don't see the signs" was something that we'd heard on several occasions, "Queensland roads are crap".
Both statements proved to be true. The road had deteriorated by the time we left the confines of the town. Without doubt the road between Camooweal and the mining town of Mount Isa, was the worst we travelled on. Despite being covered in bitumen, it was badly corrugated, with many deep potholes and only one lane wide. What a shame that the Queensland road makers and repairers can't learn something from their neighbours to the west. As I dodged yet another hole capable of finishing our journey for us, I wondered if it were the men at Camooweal campground that were responsible for this so-called road. "BASTARDS" I yelled into my helmet.
Being only a single lane wide also caused a few hairy moments. Oncoming roadtrains showed a distinct reluctance to slow down, at all, despite taking up 95% of the roadwidth. There were wide dirt strips along each side of the road, where the ragged edge of the bitumen finished, each double the width of the road. In the dry I have no doubt that these sides would be rock solid, but following recent rains, they had turned soft, resulting in the bikes wheels immediately sinking almost to the axles. And we're talking a lot of heaving and grunting in the heat, to get back on the road.
So we ended up stopping, whenever we saw an oncoming truck, and pulling as close to the edge as possible, at times even leaning the bike over to avoid the clutches of the monsters as they roared by. However, having dealt with kilometres of corrugations (corrugated bitumen for gods sake! Where did they learn their craft?), potholes. monster trucks and sinky mud, the worst was yet to come.
I reckon that the road builders must have had a class at nightschool where the topic was 'Cruelty to road users'. Here they will have brainstormed devious ways to upset, maim and injure innocent road users, laughing and cackling, like witches around a cauldron. Then one bright spark would have piped up, "Hey, yah know how bad we've made all the potholes, corrugations an' stuff? Well why don't we make a really good section, with a great surface, but only for a short distance? That'd be real funny. Just when they think they're back on to a decent bit of road, we'll finish the section and let it go back to the holes, corrugations an' stuff". When the initial hoots of laughter died back, another bright spark takes the idea and expands it. "Yeah great, lets do it lots of times on the same road. Plan it so every time a roaduser thinks they've come to the end of the potholes an' stuff, they're wrong. To be foolproof we'll have to make each length of 'good' road slightly longer than the last." More excited cackling. The result is exactly to their plan.
BASTARDS! When the revolution comes.............. (Insert favourite form of torture/capital punishment). [At which point you the reader, becomes complicit in my dastardly plan to overthrow the Queensland Roads Authority and achieve World domination.] :)
Despite the best efforts of Queensland's Road Terrorist Authority, we made it through to Mount Isa, as I'm sure many in the future will too. :)
'The Isa" is basically a large town in the middle of a desert and exists only to service the humungous mine, from which they take copper, silver, lead and zinc in quantities that make it the largest individual producer in the world. I'd seen movies of giant tip trucks as tall as a house, inside deep mineshafts, and Ferg agreed that one of the conducted tours down the mines might be worthwhile. Bummer. Ferg wasn't allowed to go down, by virtue of his age. It appeared that the mine's insurance would not cover anyone under the age of 16, inside a working mine. Instead we commiserated over some Macdonald's Hotcakes.
Yep. Even 'the Isa' has been afflicted by the Golden Arch blight. (The best thing about MacDonalds is that they always have hot air blowers instead of towels in their toilets. These can be great for drying out wet riding gear and warming up). After a brief ride up to the towns 'lookout' for a panoramic view of the mine and town, we rode on to Winton via Cloncurry. Strong winds made for a tough and pretty shitty days riding. The land around us was changing again as we travelled eastward. The low scrubby trees and red dirt became a never-ending carpet of green downs. As far as the horizon and well beyond. We stopped for the night in the Tattersall Hotel, a typical old Queensland Outback pub, with a large second floor verandah overlooking Winton's main street. Our room had doors opening on to the verandah, which was a very pleasant place to spend a quiet evening before an early retirement.
As the landlord was showing us to our room, he commented upon the town's water supply. Apparently all of Winton's water is from a deep bore somewhere in town. The water comes out of the ground at a temperature of 84deg.C and has a high sulphur content. As a result every home in the town has their own 'cooling tank'. "Don't worry about its odour," he said, "it's quite safe to drink". Later we discovered that perhaps the Tattersall Hotel didn't have a cooling tank. Fergus went off for a shower, returning a short while later, whingeing about smelly water. I dismissed this as unimportant and thought nothing more of it until later in the evening. I had just been along the corridor to the toilet, and was in the act of flushing it, when I was virtually overcome by the foulest stench. No exaggeration, it was so bad, that within moments I was dry reaching. How Fergus had been able to shower in it I can't understand. For most of the townsfolk who had cooling tanks, this was not a problem, as the smell subsided as the water-cooled, but the water in the hotel, at least to the showers, toilets, as well as the handbasin in our room, must have been supplied direct without cooling. I decided not to shower, and we cleaned our teeth, sharing the last few drops of water we had left in our drink bottle.
Winton is home to two exhibitions, both of which we visited the next morning, and both of which were well worthwhile. The town is the place where Banjo Patterson first penned and performed the now unofficial Aussie national anthem 'Waltzing Matilda'.
In the main street, in front of the open air swimming pool, is a bronze statue of a 'jolly swagman', the subject of the song. Over the road is the Waltzing Matilda Exhibition centre and museum, which we spent a couple of hours exploring. It was fascinating exhibition, which incorporated tasteful high-tech sound and light presentations as well as extensive collections of outback memorabilia. It provided a history of the Depression and a 'biography' of swagmen (and women) in what was a tough time to survive for many. As far as the song goes, I think we listened to at least 20 different versions that have been recorded over the years, ranging from big band swing to heavy metal!
Further along the main street was a large windowed shop front, that looked much the same as all the rest. Its worn, uncoated timber flooring, in the entrance suggested that the shop still retained the character with which it had been built. It could have been a milliner's or a grocer's shop. Stepping inside revealed something quite different. Upon entry our eyes were immediately drawn to a huge, life-size model of a carnivorous dinosaur. Winton is the closest town to the famous 'Larkspur Quarry' where it is still possible to see the fossilised footprints created by the stampede of a large number of small vegetarian dinosaurs, being chased by the larger beast, the one whose recreation we were looking at. Larkspur Quarry is unique, and continues to be a drawcard for many archaeologists. We would have liked to visit the site ourselves, but it was over 150kms away from Winton, and required 4wd to reach it, so we settled for looking at the plaster of paris recreation instead. Surrounding this man-made stampede was an extensive display of minerals and gemstones, one of the largest of its type in Australia. The area surrounding Winton is also rich in geological intrigue. Inside, the shop was indeed still in much of its original guise, adding a feel of a bygone era. Another worthwhile visit.
It was mid-day before we left Winton, heading southeastward to Longreach, famed for its 'Stockmans Hall of Fame'. This museum is a national icon, dedicated to preserving the history of the pioneers, and life and development of the Outback, and is a 'must see' attraction when in this part of the World. Somewhere along the route we stopped in at a town that consisted of just one building, a pub, to temporarily escape the heat, and the wind that was once again making progress hard work. It turned out that this was the pub used in the filming of the movie 'Crocodile Dundee' and had various photos hung on the walls to prove it.
We looked around the Stockman's Hall of Fame for several hours, before retiring back to the town and finding an overnight caravan for accommodation. Nothing memorable about the campground other than the theft of my watch, which I'd accidentally left in the shower block. I'd only been gone from the mozzie infested shower for 15 minutes, before I realised that I'd left my watch there. Upon returning it had gone. Instead in its place was a small bright green tree frog, with suckers on its toes, which helped it climb walls like Spiderman. We named him (her?) Fred.
After leaving Longreach, a short ride of around 100kms brought us to Barcaldine, site of a famous shearers strike that led to the formation of the Australian Labour Party. A tree standing in the main street, alongside the railway station carried a plaque denoting it as the tree under which the ALP was conceived. I tipped my hat to the men of courage who had gathered here in days gone by, before finding a shop in which to buy myself a new watch. We then spent an hour or two visiting the Australian Workers Heritage Centre, something I felt obliged to do, out of respect for all the trade unions have done for working men and women over the years. To be honest though, the exhibition was only slightly more interesting than watching paint dry! We did however meet a retired couple who were travelling north. They suggested a different route than we had planned to take to Brisbane. The road sounded more interesting (more bends!), and after checking that fuel supplies would be adequate along the way, we decided to follow their advice.
We left Barcaldine, heading east toward Rockhampton, and then swung southward at Emerald, down through the Buckland Tablelands, reaching the small cattle town of Springsure, as the late afternoon shadows grew longer. I think we rode around Springsure at least half a dozen times, before we eventually located the campground. Whoever puts up the roadsigns here must have affiliations to the mob who built the Camooweal-Mt.Isa road! Having located the campground we were met by a lady who would have done well in a 'Grumpiest Old Cow of the Year' competition! No amount of politeness on our parts could induce her to smile or be pleasant. I thought maybe she's just having a bad day, but next morning she was no different. Her long suffering husband's friendliness did help to redress the balance a little. Having settled in to an overnight caravan, we were about to jump on the bike to ride back into town for a 'counter attack' (pub meal) when a short freckled and stocky man with rich red hair and beard approached to make our acquaintance.
Terry it turned out was a modern day Swagman, having lived and travelled as an itinerant labourer for the past 15 years, and currently travelling with a new sidekick 'Young Luke' who had dropped out of university education just weeks earlier. They had vague plans of heading to one of the many fruit picking areas for work, but currently were just 'kicking back'. Terry wanted to invite us to play cards. Initially I was a little suspicious, wondering if we were being set up to provide a hustler with a little additional income. He must have read my body language, as he quickly reassured us that he wanted to play '500', a card game not involving any betting. ('500 being a similar game to 'Bridge'). We accepted the invitation, for later in the evening, after we had eaten. Upon our return from the pub, we found Terry and Luke lounging on their swags alongside their beaten up old car. "Come on Lukey" Terry said to Luke in a fatherly manner, and we adjourned to the comfort of our caravan. Ferg had never played 500 before, but Terry was a good teacher, and Ferg soon picked up the basics. Luke had also recently been taught by Terry, who it appeared had become his mentor in many ways over the past few weeks. Terry indeed was experienced in the art of living cheaply and liked to pass his knowledge on to anyone interested. We played into the early hours of the morning, enjoying the game and each others company.
The following morning, we bid farewell to them, both still snuggled into their swags, and the road out through the hills. It made a nice change to be riding on a bendy road, with a good mix of fast sweepers and tight corners, but the usual poor standard of Queensland's road surfaces combined with more gusty sidewinds, kept us on our toes. As the day progressed the wind dropped, and the fun factor rose. We briefly stopped in Injune and Roma, before continuing to Brisbane. In Roma, we walked through a park, where we happened upon a giant easel holding an equally giant painting of Van Gogh's sunflowers. There was nothing explaining the reason for this surreal sculpture's existence. It just sat there alone, huge and unexplained.
We passed extensive sunlit fields of sugar cane as we approached Brisbane. Once onto the highway that snakes into the city, the blacktop became perfectly smooth, and we noticed a lot more bikes on the road. Some riders even waved back to us!
For sometime prior to leaving home, I had been corresponding, via the Internet, with a group of Hinkley Triumph Owners spread around the world. One of these had been Andy, who lived in Brisbane, rode a Triumph Trident, and had invited us to stay with him and his family when we reached his 'neck of the woods'. I had phoned Andy from Longreach, initially getting Marian, his wife. She had known nothing of Andy's invitation, but was very nice about it. As we spoke, I had a vision of a woman struggling between her trust in her husband's judgement and the thought that a couple of smelly, leather-clad and potentially murderous bikies, were about to descend onto her home.
We too knew very little about Andy, our correspondence having been mainly in a public forum, and limited to our common passion of motorcycles and riding them.
Having ridden a fair way into Brisbane, I stopped and phoned Andy for final directions. We'd actually managed to get fairly close, and Andy knew our location and gave us directions to his shop. If we'd managed to follow these directions instead of taking a wrong turning and getting completely lost, we would have been at the shop in a few minutes. As it turned out, it was getting on for 3/4 hour before Andy finally got to wave us down at the side of the road. How embarrassing, I could navigate successfully all round Australia, but now couldn't follow simple directions across town. However Andy was very welcoming to us both and he andI quickly reached common ground, admiring and commenting upon each others bikes, and smoking cigarettes. He led us into his shop, an emporium packed to the roof with keyboards, guitars and other musical instruments, and led us up the stairs to the office where he introduced us to Marian. Marian was polite but understandably, somewhat reserved. Andy explained that she had taken some antihistamine tablets, and was not feeling the best. Whether she realised that we weren't going to murder her in her bed, or the effects of the antihistamine simply wore off, I'm not sure, but in the following days, I think we grew on her and I grew to like the whole family very much. In particular I enjoyed the evenings just sitting chatting with Andy on his verandah. Andy is a self- confessed observer of others, like me. He has the warmth and interest of a therapist, making him very easy to talk with. At times his insights into the human condition surprised me. Not because they were revelatory, but more because he used language and concepts familiar to me from my background as a therapist, but in his case having been arrived at through a background in the performing music business! We met their adult children, Amy and Ben, who took Ferg under their wing, whisking him off to a cinema for the evening.
On one day Andy and Marian took us out for a ride to one of the 'local' beauty spots, Mount Tamborine. Real twisty roads, and fantastic views across the whole of the Gold Coast from the top. The next day Andy took the morning off work to lead us to the Triumph dealers where the Thunderbird was to receive its 20,000km service. Just as well as Brisbane seemed like a real rabbit warren to us. We dropped off the bike, and asked for the now almost square rear tyre to be replaced. The shop lent us another bike for the day, so Ferg and I went into Brisbane city centre to check out the sights. The bike was a little red 4 cylinder 400cc Honda. What a difference. This bike screamed, revved to some ridiculously high limit, but seemed gutless and cramped after the Thunderbird. Nevertheless it got us into the city and back again, despite the fact that that we got hopelessly lost again on the way back. The city centre was bustling busy, colourful and hot. Much of our time was spent swimming in a man made swimming lake, complete with beaches, in the city centre.
On our final day there, Ferg and I visited one of the theme parks on the Gold Coast. Andy again rode out with us to show us the way, but then he visited some friends nearby, (a man with sense!) whilst we spent the day trying out a variety of man made contraptions designed to thrill, disorient and induce nausea. One ride in particular involved a freefall drop from about 36 stories high! I only went on it at Ferg's insistence. His increasingly loud attempts to persuade me were deliberately drawing a crowd, and I gave in against my better judgement. Just let me say.............."Never Again". Ferg didn't stop at just one go though!
The previous night Andy and Marion's shop had been burgled, and they had been up late talking to the police and security firms. I think Andy was pleased to have a day away from the scene of the crime. The next day we were leaving, and Andy had hoped to ride down to Byron Bay with us, but didn't, feeling he should be at the shop after leaving Marian there the day before. Nevertheless he did ride out to the city limits with us, to prevent us getting lost again. We bid our farewells at a petrol servo alongside the freeway. The farewell lingered, I was sorry to be leaving a newly acquired friend and kindred soul, and I think he felt similarly. Looking back to my journal I find that I had written 'Andy is a man who has really made his life work well'. I left hoping that it might not be too long before we met again.
Back on the road again. Now we had to keep a careful watch on our speed. The Coastal road is busy, and has a high number of speed cameras to catch the unwary. In many places though the cameras are a permanent fixture, and have signs warning of their presence, and shortly after to inform you that you've been photographed. As I write this some four months later I have not as yet received any infringement notices in the mail, so touch wood, we should be right.
Somewhere up around that part of the country, I suspect that there must have been another night school. This time for 'Traffic cop comedians'. We rounded a corner and saw a cop standing by the side of the road waving a placard bearing the legend "SLOW DOWN". Moments later we almost fell off the bike. This was no ordinary cop, but rather a life size cardboard cut-out, with a little battery operated motor to make him wave. I just exploded into laughter, almost wetting myself. Ferg hit me on the back of my helmet, obviously wondering about my mirth induced movements. Then he noticed the 'cop' and joined the laughter. It was so funny. We had to stop before we lost control of the machine. I do regret not getting the camera out to record it.
Byron bay is town with great beaches (even for a non beach lover like myself). Unfortunately they were crowded. Byron Bay is a magnet for young people, who flock there at various times during the year. It was obviously one of these times when we arrived, the town was packed. There were at least 10 backpackers hostels dotted around the town, and we visited all of them. Not one had a spare bed, so we ended up having to rent an overnight cabin in a rather salubrious campground at the extortionate price of $99 for the night. (the most expensive accommodation during the whole trip). We enjoyed walks along the beach, and a ride up to the lighthouse, situated on Australia's most easterly point. The town, whilst very busy, was interesting to observe. Byron Bay has been an 'alternative town' for many years, and many businesses are owned and run by old hippies who never left. Consequently the shops reflect this, and the needs of the newest generation of hippies (or whatever they call themselves these days). If you want a tarot reading, or simply to suck a ginseng drink through a piece of raw sugar cane, then this is the place for you. A very bright and vibrant centre. There must be an association in the minds of some, between bikers and drugs, because within moments of parking the bike in the main street, I was accosted by three different people inquiring if I wanted to score some marijuana. Or maybe every new arrival in town is treated in this manner? 'Byron' is also a major whale-watching venue, but not at the time of year that we were there. We did spend time looking over the cliffs, and whilst not seeing any whales, were able to spot a number of large but unidentifiable fish swimming just below the surface at the base of the cliffs. On one of the beaches was a man who made his living out of building sandcastles. Each day he would build a new one, taking all day to so, and at night placing candles within it to give an added perspective. His hat lay on the ground to receive donations, and he sold photographs of previous constructions. A mellow hour or two were spent sitting around the sandcastle after dark, with a dozen or so others, who chatted and played guitars.
In fact Byron Bay is not the only 'alternative' town in the area. The whole region was changed by the famous Aquarius Festival in the 1970's at Nimbin (Aquarius was Australia's Woodstock). This eastern corner of northern New South Wales is now a hotbed for old hippies who never left and those seeking self-sufficiency in the lush and productive hills. We decided that we should see "where it had all started" and headed for Nimbin. The narrow twisty roads up through the green hills reminded me of England, except of course it was much warmer! Nimbin was a place I'd heard much about and had wanted to visit for years, but upon our arrival I was really very disappointed. We parked the bike and wandered off down the street. In the first 100 metres five different people had approached me to ask if I wanted to buy drugs, and two had similarly approached Fergus. In the public toilets used syringes laid on the floor. We had arrived at a dilapidated little village that reminded me of the seedier aspects of Amsterdam. Most of the shops had posters in their windows calling for the legalisation of marijuana, and several advertised legal alternatives. Now don't get me wrong, I'm not averse to the occasional joint, but really this was a grubby, seedy little place, that seemed to have lost it's once held reputation as the vibrant 'alternative capital'. I was later informed that most of the 'old hippies' and 'serious self-sufficiency seekers of truth' have now deserted the village, leaving only the newer 'young ferals' who are drawn by the drug reputation, and have no understanding of the peace and love values that once were strong. A few 'die-hards' still maintain the community infrastructure, but I fear they are fighting a losing battle to keep the dreams of Aquarius alive.
A couple of hours in Nimbin was enough, so we continued westward, en route to Lightning Ridge, to find an opal for Julie. We had intended to reach the little town of Bonshaw that evening, but upon our arrival there, found that it was indeed 'little'. In fact it only consisted of one general store, in the middle of nowhere, and nothing else. Certainly no accommodation. We pressed on to Ashford, another 40kms further. This town was slightly larger and had a pub with overnight accommodation. Near to the town a huge dam is being constructed, and all the rooms were taken by the dam workers. Our only alternative was to continue for another 60kms to the town of Inverell, a large regional centre. At Inverell we had the choice of several pubs to stay at, and rode up and down the main street a couple of times trying to choose. It's probably just as well that I failed to record the name of the pub that we stayed in, as I certainly wouldn't recommend it to anyone. After an exploratory wander around the town, and a period of getting to know a few friendly but slightly inebriated patrons in the bar, we headed for bed. A couple of hours later, I was well awake again, feeling itchy and uncomfortable. I had never before experienced bed bugs, but Inverell changed that! Ferg was lucky, guess I must have picked the wrong bed.
We were now well into the area of New South Wales, that a couple of weeks earlier had been declared a National disaster area by the Government, due to extensive floods. We had heard about these whilst in Darwin, and were unsure if we would be able to get through to Lightning Ridge, because many roads and towns had been cut off over a very large area. Whilst trying to overcome the bed bugs (I eventually used my sleeping bag on the floor), the sound of heavy rain on the roof began. Several hours later as we packed up the bike to leave, it had not lessened in intensity at all. After donning our full wet weather gear, we felt like Egyptian mummies, and rode out into the chilly wet morning. Visibility was poor, so our speed was greatly reduced. The rain continued for a little over 200kms, by which time the cold had entered our bones. So it was with some relief that we stopped at Moree to refuel and to take advantage of the Macdonald's hot air blowers. We must have looked a sight wrapped in all our layers, and leaving a trail of water through the restaurant as we walked. The girl still bid us to "Have a nice day" though! A few kilometres after Moree the rain stopped, although the skies remained dark and threatening for some time after this.
As we rode along, we could see evidence of the floods everywhere. Several bridges were down, with temporary 'tracks' built around them, usually on slippery mud and old railway sleepers that demanded we take extra care. Kilometres of fences were damaged, along the roadsides, still holding the debris that they had caught in the flows. In places water still lapped at the edges of the bitumen, and occasionally covered most of the road. At times it appeared that we were making a seacrossing rather than an outback desert crossing. On the approach to Lightning Ridge we rode for perhaps 60 kilometres along a six-inch narrow strip of dry bitumen, up the centre of the road, with water either side of us for as far as the eye could see. If we got any more rain, it would mean an indefinite stay in Lightning Ridge, until the waters receded. Thankfully no more rain came, and we arrived in Lightning Ridge without problem.
Lightning Ridge is the only place in Australia where dark opals are found. The town is smaller than Coober Pedy, and the gem fields are less obvious. Nevertheless it is a rough and ready town, where its battling population eke a living in the dirt, isolated from the rest of the country by virtue of its remoteness. From my observations of many heavily wrinkled faces, knarled hands and dirty fingernails, I concluded that this was a town of characters. To be honest you'd have to be a real character to survive there, and would need to be prepared to work bloody hard. Although the town seemed less geared to the tourist trade than Coober Pedy had been, there were still a few outlets for those passing through to purchase opals. After half a day looking around I found a stone that took my fancy, and one that I hoped would be acceptable to Julie. The price was $750, but after several visits to the seller, combined with some hard haggling, I eventually left with the opal in my pocket, having paid $450. As yet I haven't had the stone valued, but will do so after Julie has it set into a ring. As it was the seller didn't appear too dismayed at the price he received. We found accommodation at the 'Tramotel'. This consisted of a number of old Melbourne trams, transported to Lightning Ridge, and converted for accommodation purposes. We had a comfortable night, helped by a late chocolate craving that was satisfied after I managed to persuade the local petrol servo to open up to serve me. After persuading him to open, I felt guilty about only buying a couple of chocolate bars, so instead, to Ferg's delight, returned to the tram loaded with enough chocolates and lollies to keep a primary school happy. Of course we had little room to pack such things on the bike, and they would have melted anyway, so we both fell into chocolate induced comas, having overdosed to the max.
---
Member login
Are you an Overland Adventure Traveller?
Does the smell of spices wafting through the air make you think of Zanzibar, a cacophony of honking horns is Cairo, or a swirl of brilliantly patterned clothing Guatemala? Then this is the site for you!
Hosted by Grant and Susan Johnson, RTW 1987-1998
NEW! HU 2015 Motorcycle Adventure Travel Calendar is now available! Get your copy now for some terrific travel inspiration!
HUGE, 11.5 x 16.5 inches, beautifully printed in Germany on top quality stock! Photos are the winning images from over 600 entries in the 9th Annual HU Photo Contest!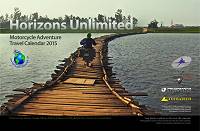 "The calendar is magnificent!"
"I just wanted to say how much I'm loving the new, larger calendar!"
We share the profit with the winning photographers. YOU could be in the HU Calendar too - enter here!
Next HU Events
NEW!

USA Virginia: Apr 9-12, 2015
Take 40% off Road Heroes Part 1 until October 31 only!
Road Heroes features tales of adventure, joy and sheer terror by veteran travellers Peter and Kay Forwood (193 countries two-up on a Harley); Dr. Greg Frazier (5 times RTW); Tiffany Coates (RTW solo female); and Rene Cormier (University of Gravel Roads).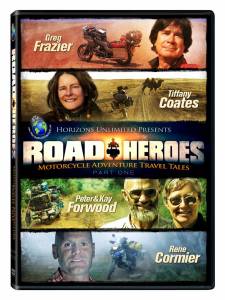 "Inspiring and hilarious!"
"I loved watching this DVD!"
"Lots of amazing stories and even more amazing photographs, it's great fun and very inspirational."
"Wonderful entertainment!"
Check it out at the HU Store! Remember to use Coupon Code 'HEROES' on your order when you checkout.

10th Annual HU Travellers Photo Contest is on now! This is an opportunity for YOU to show us your best photos and win prizes!
Books

All the best travel books and videos listed and often reviewed on HU's famous Books page. Check it out and get great travel books from all over the world.