Ian Lock - Around Australia, a father and son adventure (part 4)
The ride to Katherine was uneventful, with the exception of the heat, which was bloody hot. We had found that on most days we were able to remain relatively comfortable, by wearing a moistened 'T' shirt under our riding jackets, with the jackets partially open, allowing air to circulate. Today the temperature must have been higher as we both felt like we were melting. We parked up the bike, and headed straight for the local supermarket to get supplies. It was like walking into another world. As we entered through the self-opening glass doors, a wave of cold air hit us, initially making us both shiver, but within moments we were revelling in the cool temperature. As we left, loaded up with food, it was just as much a shock to be hit with a wall of solid heat as we stepped back out into the street. Despite having lived in Australia for 14+ years, I still experience shock upon leaving air-con premises on hot days. My English upbringing has taught me to always expect the outside temperatures to be cooler than the indoor temperature. It must be a well ingrained sub-conscious thing, old habits die hard! Before mounting the bike to ride to the Katherine Gorge campsite, I cooled the seat and tank down, by pouring cold water over them.
The campsite at Katherine Gorge was a disappointment. Poor facilities, little shade and lots of ants and other creepy crawlies, which took a liking to any packets of food that weren't sealed. Nevertheless, we set up the tent, dressed only in our 'jocks' (to the obvious amusement of several fellow campers), and booked a cruise up the Katherine Gorge for the following morning. Following a lunch of pate and ants on bread, we headed for the best shade we could find, alongside the Katherine river, in amongst a stand of palms and next to a series of small rapids, where a group of half a dozen or so young aboriginal boys were playing excitedly in the water. They would take it turns to dive into a fast moving current, between tree roots and semi-submerged branches, in what appeared to be acts of bravery and heroism. Often the divers would disappear under the fast flowing water, appearing further downstream just at the point when I was becoming genuinely concerned for their well being. I sat and dangled my legs over the bank, whilst Fergus joined the boys in the water, albeit somewhat more cautiously than they. I would have liked to talk with the boys a little, but the loudness of the fast flowing water drowned out our voices. They acknowledged our presence instead with beaming grins, waves and yells of delight.
The cruise was quite pleasant, on a canopy-covered boat, carrying 20 or 30 tourists. On several occasions we had to walk along the shore, and change boats, as water levels prevented the boats navigating between the 13 connected gorges. We were advised not to walk on the areas of sandbanks, as these were crocodile nesting sites. Of course Katherine Gorge was magnificent, I just wish I could have appreciated it more, but instead I think I had become 'gorged out'.
Things improved when we were able to jump overboard for a swim, followed by a morning tea. We had initially intended to spend a second night at Katherine, but by the time we returned from the cruise, we had decided to move on. A young woman on the boat had told us of a good camping spot just 60km further north, at Edith Falls, so we decided to check it out. We stopped for lunch (and another quick dose of air conditioning) in Katherine (about 30kms from the Gorge). We chose a little café in the main street. As we sat awaiting our order in the empty café, an elderly aboriginal man entered and sat at one of the tables. Moments later, the previously welcoming lady owner of the café approached the old gent with an obvious scowl upon her face. She rudely told him to leave, and before he even had a chance to move or to say anything, she grabbed his collar, and began to try to drag him from his seat. A brief struggle ensued, resulting on them both falling to the floor, before she grabbed him again, dragged him to the door and pushed him out, immediately locking the door after him. As she brushed her hair back with her hand, in what appeared to be a gesture of defiance, she turned to us and apologised. Unfortunately her apology was not for her own behaviour, but instead for us having to have our meal "spoiled by a dirty stinking coon". She then began a nausea inducing justification of her beliefs and actions. We ate up and left feeling like the impotent outsiders that we were.
The last 30kms or so, between the Stuart Highway and Edith Falls, were a delight to ride. A series of bends and corners combined with a good bitumen surface made it an unusual but most welcome change, in country dominated by roads that are mostly straight as an arrow. The Thunderbird seemed to recognise the change, and begged me to adopt a more sporting approach to our progress, which of course I complied with! Arriving at Edith falls with big grins stretching across our faces, we found that the recommendation had not been at all exaggerated. In comparison to Katherine Gorge, Edith Falls was heaven. Lush soft grass, no ants, no mozzies and the most beautiful place to swim that I've ever experienced! A small lake of warm, crystal clear water, perhaps 150 metres in diameter with a waterfall at the far side encouraged us to get wet several times. Half way across the lake was a sandbar, which allowed us to stand and take a breather, before continuing to the waterfall. Clinging onto rocks, under the icy cascading water of the fall was refreshing, before pushing back into the warmer waters of the lake's body. Occasionally whilst swimming, fish approximately 12 inches long, could be seen swimming, unperturbed by our presence. Later we were told that freshwater crocodiles inhabit the waterside flora, but we didn't spot them. Probably just as well, as I might have been less inclined to swim if I'd known, despite the fact that the 'freshies' are not considered to be dangerous to humans! We had the lake to ourselves. It's hard to communicate how special an experience such as this can be, but certainly the sense of remoteness and isolation combined with the area's natural beauty promotes a feeling of temporary 'ownership' and pleasure that is hard to beat.
In the cooler morning, after a night under the stars without our tent shelter, we walked to the Edith Falls 'Top Pool'. Here a smaller pool feeds the waterfall that flows into the main lake. The water rushes through a series of channels and holes, providing a number of 'natural spas, where we sat and laid under more waterfalls. Fergus discovered a deep pool with rock ledges above, from where he could display his bravery, jumping from great heights, whilst I swam in a more sedate manner.
Having enjoyed the road back to the monotonous Stuart Highway once again, we headed for another recommended overnight stop at the Douglas Daley Waters. We passed by the Douglas Hot Springs without stopping, having been informed of the risk provided by waterborne organisms in the 60deg.C waters. Tourist brochures we had perused about Douglas Daley Waters seemed to be somewhat optimistic when compared with the reality of the place, but it was too late in the day to consider changing plans, so we stopped for the night, did a little fishing and swimming and enjoyed a barramundi feed.
Next morning, again at first light (to avoid the heat) we packed up and headed for Batchelor, the 'gateway' to Litchfield National Park. Stopping en-route at Adelaide river for fuel and brekkie, we had a pleasant interlude, sitting next to an enclosure containing a water buffalo and a couple of 'roos, whilst eating egg and bacon sangers. The woman at the servo was very chatty, asking us about our trip. When she realised where we were from, she animatedly told us she had friends who live close to our home. This connection between us resulted in our breakfast becoming free of charge!
Batchelor was a small, but very lush, green and pretty tropical town. A civilised ornamental jungle. We located the town's campground, owned by a member of the Ulysses motorcycle club. (Ulysses Club is a national motorcycle club for riders over 40 years old. At 40 one can join as an associate member, at 50 one can obtain full membership. I've never been an active club member, but rather joined in order to take advantage of the discounted insurance rates that membership allows. ) Club membership got us a discount at the campsite, where we pitched our tent in a purpose built covered area. Just as well, as the weather turned very rapidly a short time later. We had walked into the town centre, where we were amused by a sign that read 'Town Centre'. It took us several minutes to realise that the sign was not directing us toward the town centre, but rather was informing us that we were there. The one shop and petrol bowser would not have been sufficient by themselves to signify that we were in the middle of the Batchelor metropolis, so just as well some thoughtful local resident had seen fit to erect the sign! Whilst inside the shop we were startled by an incredibly loud crash of thunder, followed immediately by what could genuinely be described as a deafening roar of rain falling onto the corrugated tin roof of the shop. The heavens had opened giving us our first experience of a tropical monsoonal downpour. Within minutes the road outside became a torrent of water. Local children excitedly pulled off clothing and jumped onto their pushbikes, riding manically around and around the petrol bowser. Adults sat, like us, in shorts and T-shirts, under the shop's verandah, revelling in the excitement that the season's first rain had brought to the town. An hour later the skies cleared, two hours later it was difficult to see any evidence of the foot deep water that had been all pervasive.
Back at the campground, more excitement followed as we spotted our first Frill Necked Lizard. These spectacular animals, which are common to these parts, had until now eluded us. The lizard stood upright on it's back legs, it's neck frill clearly visible, and ran through the grass to a tree which it quickly scampered up. I tried to take a reverential tone, when pointing it out to Fergus, feeling that we were honoured by it's visit alongside our tent. However my tone was quickly replaced by laughter as we both watched it's progress, it looking like a little leprechaun running in an almost human manner.
The road out to Litchfield National Park was another trip highlight. Earlier we had met some other bikers, who had described the road as the Northern Territories version of Victoria's 'Great Ocean Road' (The G.O.R. is widely regarded by motorcyclists as one of Australia's, if not the world's best motorcycling experiences, a claim I cannot dispute). Whilst not having the views of the G.O.R, we were not disappointed by the Litchfield road. 50 or 60 kilometres of snaking blacktop, where at times the 60kmh advisory speed signs could easily be doubled. Having left our entire luggage behind at the campsite, had significantly lessened our load, and allowed the bike to feel much more agile.
What a ball!
Litchfield National Park is considered by many to be the equal of, or better than, the better known Kakadu National Park. From the road, it is only possible to see dense forest, with the now ubiquitous termite mounds dotted everywhere. Not that we were travelling slow enough to notice! Signposts indicate where the park's natural attractions are, which mainly consist of beautiful waterholes and natural formations. Amongst the best were Wangi Falls, Florence Falls, and Buley Rockholes. Of course we swam in each one, the heat of the day drying us quickly before jumping back onto the bike. Towels were superfluous. Wangi was very similar to Edith falls, but with more people. We arrived at the same time as a coachload of retired English tourists, some of whom we reminisced with. When one of the old ladies convened an impromptu gathering of the clans to tell them loudly about our exploits, we were made to feel very special, as they compared our adventure to their own coachbound exploits. They were good people, but I was left wondering if their narrow perspectives' were a function of age, mode of travel, or simply being English!
Buley Rockholes were, as their name implies, a series of rockholes, one above the other. Again the water was warm and crystal clear, as it rushed and bubbled downhill through and across natural water slides, deep holes and sandy bedded cul de sacs. On several occasions large goanna's swimming close by, or just sunbaking on the rocks surprised us. We enjoyed a fast paced game of 'tag' in the water with group of young aboriginal boys and a couple of young Japanese couples, who spoke no English, before leaving. They, like the boys at Katherine Gorge, seemed to have mastered the art of getting the most fun possible, out of their activities. Our smiles and laughter matched theirs.
The 'Magnetic' termite mounds, were our final stop, before returning to Batchelor. These huge termite reach a height of up to around six metres, and are characterised by their flat profile, which runs in a north/south direction (hence their name). Once reaching a certain height, the tiny termites' lives are then occupied in keeping up the maintenance of the structure they have built. If a part becomes damaged or broken, they will repair it in exactly the same manner as the original. Apparently the design of the mounds allows for much better cooling, than in the 'normal' termite mounds that abound everywhere. I think that someone told us that the 'Magnetic' mounds are only found in a handful of locations around the world.
After leaving Batchelor, we rode to Darwin, stopping at one of the few government approved crocodile farms in the 'territory'. These places provide a sanctuary of sorts for wild crocs that have established a reputation for being man-eaters. Some of them were gigantic, and it was easy to imagine them having eaten a human or two for a mid-morning snack. Despite, in some cases, years, of captivity, they had not lost their cunning and aggression. As we walked along the paths, behind safety fences, we were aware of being 'stalked' by these pre-historic creatures, some of whom then showed their rapid speed and aggression by attacking the fence close to us. Believe me if I were going to die, I could think of far better ways than being eaten by a croc.
As there were very few other visitors at the farm whilst we were there, we were offered the opportunity to have a personalised tour of the facility, with Ferg being given the chance to feed several crocs with dead chickens. These came from the chicken farm next door, handy eh? Both of us enjoyed this, despite the dead chickens being covered in a particularly aggressive breed of ant, which quickly made their presence known, causing us to run wildly around shaking our limbs and loudly instructing the tenacious little critters to leave immediately! No doubt much to the amusement of all the watching crocs, as well as their keepers! Before we left, we were taken to the kitchens and shown a baby python of some sort, which had been found slithering around the pots and pans. Ferg had his photo taken holding it, but seemed relieved to pass it back, as soon as he could.
Darwin. City. Population of around 80,000. Civilisation once again. We're riding down a divided highway and instead of trees and termite mounds, we seeing buildings, car yards, and billboards. Things very familiar, and yet unfamiliar at the same time. In between glances at the speedo to check my speed (also strangely unfamiliar) I wondered if we would appear grubby to the city dwellers, dressed as we were in our dusty and stained riding gear. Our clothes washing had been kept to the bare minimum of sock and jocks, and everything else was 'recycled', by which I mean we selected the 'cleanest' item each time we changed clothes. We both wore shirts much of the time whilst we were swimming and Ferg claimed that this was as good as washing them and I had chosen to be convinced by his statement. I needn't have worried. Darwin seemed packed with young backpackers; many similarly attired to us, after sitting for days the 'Around Oz Experience' mini-buses. No one paid us a second glance or fell to the ground asphyxiated by our desert odours! Our first stop was the Indian Ocean (Timor Sea). We wandered down to the water line, looked out across the water toward Timor and ritually splashed our feet. We'd made it from one end of the country to the other! 6000 kms I think we'd ridden. All we had to do now was to ride back again, albeit by a slightly longer route!
We were unable to contact Mick and Nat, so opted to stay at Elkes Backpackers, one of the many. It was a couple of old houses (that survived Cyclone Tracey in 1973) surrounded with overhanging mango trees and palms and a swimming pool in the space between them, where once another house had stood. We decided to base ourselves there for a couple of days and possibly more if we were unable to contact Mick and Nat. A bit of sightseeing and bit of just kicking back. Oh and the bike was overdue for its 15,000km service. It was running as well as when we left home, the fuel consumption had magically returned to normal somewhere between Alice Springs and Tennant Creek. It hadn't used any oil and the drive chain hadn't needed any adjustment. Nothing had vibrated itself loose and all the electrics still functioned. I savoured this thought as I cast my mind back to my previous Triumphs! I rang the Darwin Triumph dealers and explained how we were only in town for a couple of nights, having ridden the Thunderbird up from Gippsland (hoping that he might be a little impressed and that this might help in getting the bike booked in a.s.ap.) He asked, "Where's Gippsland?" Having to explain wasn't quite the 'edge' that I'd hoped my boasting would achieve. Nevertheless he booked the bike in for the following morning.
We kicked back around the pool for the rest of the day, until evening when we took the bike for a cruise out along the beaches at sunset. After riding through the opulent end of town, where the million dollar plus houses are built on 'reclaimed' mangrove swamp, which is sinking at an apparently alarming rate, we stopped at the amusingly named Fannie Bay which was bathed in a pink and mauve sunset. As Ferg and I walked along the beach, we could hear the 40 or so aboriginal people, who were seated under a tree near to where we'd parked the bike. The sounds of their guitars and voices wafted in and out with the waves at our feet. I wished Julie were there.
Later we ate at a pub that do special deals for backpackers. A good hearty and healthy meal for $2. A bargain we thought until we met others staying at other hostels which gave out vouchers, making the meals free if you had one. Nevertheless the food was good, and the bars were doing a roaring trade. We made the acquaintance of three young men from England, who talked of their Australian experiences. It seemed such a shame to me that their 3-month experience was limited to sitting in cramped mini-buses for long periods and partying in the cities. Somehow, despite enjoying their time here, they had essentially missed the spirit of the country, and could just as easily spent their time partying back in the UK and saved themselves the bother of travelling.
After dropping off the bike at the workshop, which was in a suburb, several kilometres from the city centre, we returned by bus, after it became apparent that our attempts to hitch-hike back into town were futile. We spent the rest of the morning exploring the city on foot and the afternoon fishing off a jetty with handlines and bait donated by a couple of other fisherman who took pity on us and our meagre frozen supply. Overall, Darwin was a very laid back town, but not as I had expected. I had feared, knowing that virtually the whole city was rebuilt after 1973, that it might have been done in a crass and glitzy manner, but was pleasantly surprised that this was not the case. It didn't lack soul in the way that so many large-scale modern developments often do. That evening, after we'd collected the bike and following a meal of fresh fish and seafood from a fish and chip shop at the end of a jetty, we sat on the jetty. We watched lightning split the sunset, and threw our scraps to enormous fish (moonfish I think) that swarmed around the pillars of the jetty. A floodlight lit the clear water allowing a good view of the scavengers. Many had different techniques in retrieving the food. For a short while I was lost in a world where fried potato was the oceanic delicacy equivalent of caviar and all that mattered was the angle at which I approached the next chip from. Fergus throwing a larger half lemon in with a splash brought me back to the jetty. The fish attacked the lemon with similar gusto they showed for the chips. No class I thought.
After returning to Elkes, I was able to contact Mick and Nat, who explained they'd been having problems with the phone, and assured me that their offer of hospitality was still very much open. We arranged to see them the following day.
They live in a satellite suburb of Darwin, which described thus, may cause offence to some (none intended). Palmerston, 25 or so kilometres inland, has recently gained status as a city in it's own right, and there is a sense of pride amongst its inhabitants. Something that is less obvious in many places have been established over many years, where such things are far more likely to be taken for granted, rather than thought about. The roundabouts in the city streets were heavily manicured, and we enjoyed the water from the sprinklers on our faces, as we deliberately rode around each one several times, whilst we called out to each other, trying to remember landmarks given in directions to us over the phone. The welcome was very warm. I'm never sure if casual invitations are really meant, and I wondered if perhaps Mick and Nat whilst genuine with their offer, made late at night, many miles away, influenced by a few cans of beer, hadn't expected us to take it up. Our meeting therefore was probably tinged with a sense of mutual relief, that our first meeting had indeed been the pleasurable experience, we remembered it as. Oh the comfort of a home. This was acutely exquisite after weeks of dongas, hostels and campgrounds. Luxury. We showered, used the washing machine (!) and sat around feeling fresh and clean and shared our lives and loves, getting to know each other a little better. Lena, their toddler daughter, was a tiny delight with just the right balance of playfulness and shyness.
Later Mick took us on an extensive tour of the Darwin area in their car, which helped bring the shape on the map to life, and locate it in a larger context. Something that often takes longer than is possible when simply passing through. We talked about Barra fishing, and phoned to hire a boat for the next day, going halves on the cost. ($100). Mick explained that all the boats had canopies and depth sounders (to locate fish), and that we'd be out all day, so Nat would make up packed lunches. Sounded good. The reality was a little different, which was unfortunate for all of us, as there was no canopy, and no depth sounders. We were going to be out on the water all day in 35-degree heat, with no shade! "Oh well" I thought, "we've got plenty of sunblock and we can get shade on the river banks, and after all we've plenty to drink". Mick was apologetic, but keen to still go. To not go now, wasn't even a consideration for Fergus. We put the gear into the little aluminium dingy, fired up it's outboard, and motored off into a huge estuary, lined only with mangroves that marked the boundary between dense tropical eucalypt forest and the ever changing waters of the estuary. Mick explained that the tides can rise and fall a phenomenal seven metres, and that we were going out at high water level, and would follow one of the minor tributaries upstream, trying to locate a deep waterhole, where we hoped a 'barra' or two might be trapped when the water level dropped. "Once the tide goes out we'll be stuck where we are" he said. Even so when the water level started dropping, it's speed still took me by surprise, and we had a last minute rush trying to get to where we wanted to be. We caught a few little fish, that were thrown back, and Mick hooked something big, that got away, but the 'barra either weren't there or were too smart to be deceived by our amateur attempts to lure them to their death.
One packet of hooks were labelled 'suicide' hooks. Consensus had it that they were called this having been so well designed that the fish felt obligated to end their existence by attaching themselves to them. I thought that it may be to lessen the guilt of fishermen, who could place the responsibility of the fishes death onto the fish! The towels over our heads kept the worst of the sun off, even if they were wet with fishy stinky bilgewater from the bottom of the boat. Getting to a riverbank wasn't an option, once the tide was out. We were surrounded by thousands of acres of mud flats, which hid various estuarine nasties that you wouldn't want to tread on in bare feet. And each step would see your feet sink up to your knees in places. Getting trapped on the mud would be a very dangerous thing. No way of summoning help and by the time anyone can reach you the tide will have probably drowned you. Remarkably Fergus and I survived the heat without getting burnt, unlike Mick whose gung ho approach saw his back like a beetroot by the end of the day.
When the Tide came in, boy did it come back and how. As the levels rose above the mud we decided to call it a day, and headed back. Within minutes the river changed from a mildly flowing to an almost raging watercourse. At times full throttle on the outboard saw us only managing to 'hold our ground', but mostly we just inched forward against the flow. At times rips would swirl us off course and regaining direction was a nerve-wracking attempt to steer the boat back into facing the flow, without letting the force of the water capsize us. I don't know about the others, but I was feeling very vulnerable, and I was the one controlling the boat. It was with relief that we 'hove to' and moored the boat, combined with a feeling of envy as we spotted the days catch of some other fisherman. They sure weren't going to go hungry. I was glad that we'd gone out though. It had been a different sort of outback experience, enhanced by the sight of a dolphin swimming by in the early morning, calm, and still high water, the small ripples from its movements stretching across the gloss surface of the water.
Later Mick and Nat took us to renowned local freshwater swimming spot, where had a barbie and a swim. Barra (large ones, over 3 foot long) shared the water with us, in what for them is a protected environment. They didn't seem to concern Lena and her parents, so I stopped worrying about leaving the water with fewer toes than I entered with and swam with the Barra!
After several days, it was with some regret that we parted from Mick, Nat and Lena. As we rode eastward toward Kakadu National Park, I reflected on how valuable the 'oasis' they had provided for us had been. Time to relax and kick back had been 'just what the doctor ordered' and had allowed our minds and bodies to regenerate in preparation for the next leg of the trip. I felt a similar excitement to that experienced as we had departed from home, the bike felt good, and the long road was stretching out in front of us again.
Kakadu, Mick had told us, was over-rated. But of course after coming this far, we weren't going to miss the opportunity of seeing it. Before leaving home, Fergus and I had promised ourselves the luxury of taking a helicopter flight over Kakadu. I hoped that this would allow us a perspective on the world heritage area equal to that I had seen on TV nature documentaries many years back (in England, when such places had appeared very exotic). I recalled camera shots from a chopper swooping low along riverbeds, of huge flocks of unusual birds and stampeding herds of water buffalo. Although expensive ($500 for a one hour flight!) we felt that we should go up for as long as we could afford, given that neither of us had been in a chopper before. We reasoned that a shorter flight would be dominated by the excitement of the flight, and we wanted to time to appreciate the country we were flying over. We booked a one-hour flight at Jabiru, for the next day, and then sought accommodation for the night. We had been told on several occasions that accommodation in Kakadu was unreasonably expensive, but found the 'Kakadu Hostel' at the Border Store, close to Ubirr Rock (one of the several large aboriginal art sites in the park). The hostel was great and very reasonable at $22 per night each. For this price we had a choice between a twin share room with ceiling fan, or dormitory with air-con. We chose the air-con. After unpacking the bike we walked along the banks of the South Alligator River, under the canopy of the rain forest, listening to the alien sounds of strange birds and animals. The steep banks down to the river level helped us to feel a little safer from the crocodiles that we knew were there, but couldn't see. Above us, in the canopy, hung thousands of Flying Foxes (bats) awaiting evening before they swarmed off en-masse to feed once again. Later we viewed the rock art at Ubirr and sat on top of the rock, overlooking extensive plains and wetlands, to experience another spectacular sunset.
During the short ride back from Ubirr, the bike didn't feel right. It seemed that I had to sit on it, with a weight bias to one side in order for it to 'feel right'. On checking the bike over, back at the hostel, I discovered that the front wheel had somehow twisted in the forks, so that when the handlebars were facing directly forward, the wheel was pointing off at a fair angle. A two-hour saga followed as I attempted to rectify this situation, utilising my few tools, a borrowed hammer and a block of timber borrowed from the nearby bush. I was working under a yellow fluoro strip light, the yellow is supposed to be less attractive to the millions of flying, buzzy things that are unable to help themselves being attracted to light. Well maybe I only experienced half a million, but this combined with the sweat that constantly poured down my face as a result of the heat and humidity, proved to be a rather trying experience. Nevertheless I eventually succeeded in rectifying the problem. It must have resulted from hitting a pothole or bump somewhere, but for the life of me I couldn't recall any such incident, nor could Ferg. Kakadu mystery eh?
Next day we excitedly rode back to Jabiru, anticipation of the chopper flight feeding both our imaginations. After locating the airstrip we found our pilot with whom we shared our hopes and expectations of the flight. It quickly became apparent that we would only get to see a small part of the National Park, and that regulations prevented tourist flights flying lower than 400 feet. This was a disappointment, but we'd come this far so climbed aboard to have the operation of the choppers communication systems explained to us. The chopper was a 3 seater (including the pilot), and had no doors. The only thing holding us in was a lap belt, similar to those found the middle back seat of many cars!
During the flight, which to be honest was far less exciting than riding the bike, we took many photos, which when developed had a washed out appearance. Later we were told that the photos would have been much better if we'd had them developed locally. Such is life. The chopper had a top speed of just 110kph, but was fun on the few occasions that we banked steeply to turn around to get a second look at various landmarks. The views were fantastic, and we did indeed see large flocks of birds (which looked like blurred white blobs in our developed photos), however water buffalo have been eradicated from the park in recent years, being seen as feral pests. We flew up over the Arnhemland escarpment, saw waterfalls impossible to reach on the ground, and followed the South Alligator River. In what seemed like just 10 minutes after take off, the hour was up and we were landing again. We would have regretted a decision not to take a chopper flight, but afterwards agreed that whilst it had been worthwhile, it would have had to have cost one fifth of what it did, to have seemed like good value.
After landing, we rode to Cooinda, via the park's information centre and Nourlangie Rock (another ancient rock art site). Unlike Kakadu Hostel, accommodation at Cooinda was an expensive rip off, geared toward profit, whilst providing poor amenities, and low quality food. Supplies of food to cook oneself were so limited that self-catering wasn't worthwhile. Or so we thought until we ate the appalling food from the expensive bistro. I was still feeling that we'd 'wasted' our limited financial resources on the chopper flight, and the Cooinda experience took me to a trip lowlight. A monsoonal downpour didn't help. Within minutes the campsite's dry ground was running with red water 18 inches deep, everything was wet and my spirits were low. These raised a little when Fergus returned to our 'donga' to tell me how he had swum in the pool, throughout the downpour, dressed only in his Mickey Mouse boxer shorts, to apparent 'dirty' looks from the management of the complex. We booked an early morning cruise on the well-known Yellow Waters for the next day. How quickly things can change. The cruise, which lasted for a couple of hours, turned out to be one of our trip's major highlights. It was fantastic. As we cruised the vivid green and lush wetlands, we watched huge numbers of birds I'd never heard of, as well as those I had, including the majestic Jabiru. On two occasions we spied a croc silently swimming past out boat, just feet away. When Ferg spotted the first one, he quickly drew the hand he'd been trailing in the water back into the boat! We watched as diving birds fished and then preened themselves in the sunlight, and motored slowly through a variety of wetland environments, from open river, to submerged paperbark forests. Such a pristine environment was a privilege to see. As with such places it is constantly under threat from man made disaster, despite being list as a World Heritage area. I just hope that ways and means can be found to preserve this unique wonder. But I believe it's only a matter of time before such things as the introduced menace of the Cane Toad takes over. These toads, that have no natural predator, have already spread from Queensland and currently have reached the edge of Kakadu.
---
Member login
Are you an Overland Adventure Traveller?
Does the smell of spices wafting through the air make you think of Zanzibar, a cacophony of honking horns is Cairo, or a swirl of brilliantly patterned clothing Guatemala? Then this is the site for you!
Hosted by Grant and Susan Johnson, RTW 1987-1998
NEW! HU 2015 Motorcycle Adventure Travel Calendar is now available! Get your copy now for some terrific travel inspiration!
HUGE, 11.5 x 16.5 inches, beautifully printed in Germany on top quality stock! Photos are the winning images from over 600 entries in the 9th Annual HU Photo Contest!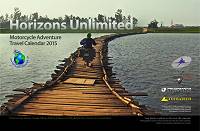 "The calendar is magnificent!"
"I just wanted to say how much I'm loving the new, larger calendar!"
We share the profit with the winning photographers. YOU could be in the HU Calendar too - enter here!
Take 40% off Road Heroes Part 1 until October 31 only!
Road Heroes features tales of adventure, joy and sheer terror by veteran travellers Peter and Kay Forwood (193 countries two-up on a Harley); Dr. Greg Frazier (5 times RTW); Tiffany Coates (RTW solo female); and Rene Cormier (University of Gravel Roads).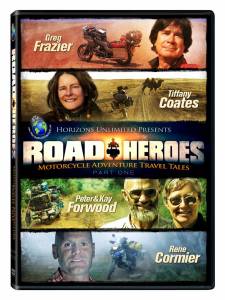 "Inspiring and hilarious!"
"I loved watching this DVD!"
"Lots of amazing stories and even more amazing photographs, it's great fun and very inspirational."
"Wonderful entertainment!"
Check it out at the HU Store! Remember to use Coupon Code 'HEROES' on your order when you checkout.

10th Annual HU Travellers Photo Contest is on now! This is an opportunity for YOU to show us your best photos and win prizes!
Books

All the best travel books and videos listed and often reviewed on HU's famous Books page. Check it out and get great travel books from all over the world.