Ian Lock - Around Australia, a father and son adventure (part 2)
Port Augusta is a remote industrial town & port, with not much going for it apart from essentially being the 'beginning' of the Outback. Temperatures had risen, & the bikes thermostatically controlled fan came on, as we pulled up to a stop at the Blue Fox backpackers hostel, owned by Kevin & Sharon, both bikers of the Harley persuasion, after touring around the town several times, looking for accommodation, in the 36 degree heat. Fergus & I both thought that the sound of the fan was an air conditioning unit on the side of the building, & having realised that it was the bike, were initially concerned that the bike might be overheating. As it turned out, the fan only came on twice more throughout the trip, despite 40+ deg. C temperatures. It was reassuring to know that it worked.
Kevin insisted that I lock the bike up in his shed, alongside the Harley, no mean feat to achieve this, as the entrance was blocked by a steel hoarding framework, laying on the ground, that Kevin was fabricating for someone. Lifting the bike over this structure was completed with relief on my part, given the likelihood of overbalancing resulting in expensive damage. The hostel consisted of two houses side by side, & was populated by predominantly Swiss & German twentysomethings travelling to Victoria, having just crossed the Nullarbor Plain, from Perth in Western Australia. Kevin had built a bar in another shed in the backyard, complete with a sign over the door saying "The Shed". Stories of the long Nullarbor crossings became longer as the level of empty cans rose in the rubbish bin.
The following morning, with my head slightly less clear than I would have preferred, we once again heaved the bike out of the shed, & set off for our first look at the outback proper.
Despite leaving at an early hour, the sun already had some real bite to it. I was sweltering in my leather jacket & kevlar reinforced jeans, as we stood refuelling at a petrol servo on the outskirts of town. However as soon as we were moving again, with the top of my jacket and the zippered sleeves undone, the breeze kept me fairly comfortable.
We passed the huge roadtrain station somehow without noticing it! These humungous trucks tow up to five trailers, carrying just about everything necessary for life in outback Australia, but are not allowed further south than Port Augusta. Here they remove the trailers, which are then transferred in ones & two to southbound trucks.
In a couple of moments our outlook had totally changed, we had moved abruptly from the man-made industrial/suburban comfort zone into raw nature. No longer were there the limitations that buildings impose on one's view of the world, instead a horizon limited only by the Earth's spherical shape. This thought struck me as pertinent as I considered the distance to Coober Pedy, where we planned to spend the next couple of nights. 553 kilometres. A reasonable days ride on a bike, given the heat, but with the added dimension of knowing that there were only two roadhouses in that distance & nothing else! The bitumen strip ahead of us became almost insignificant when seen in it's larger context. As we headed away from the coast, we began to feel the wind. As the road behind us got longer, the wind, although pleasantly cool, became stronger & gustier.
With nothing to slow the winds down, we were sitting ducks, bracing ourselves constantly to fight off the next angry gust, which threatened to blow us off the road. I worried, whenever another vehicle was driving toward us, that we might be blown into it's course, as several times, (thankfully when the road was empty), it had felt like the bike had been lifted up by an unseen force & then put down again several metres to our right. We stopped for breakfast at the Pimba Roadhouse where we were assured that whilst wind was common, that today it was particularly bad. Our informant was a Triumph owning truck driver, also stopping for brekkie, after the first leg of his 1000 kilometre day. His was the first roadtrain we had seen close-up & stationary. Only 3 long cement containers, but with large gaps between each one, making for a very long vehicle. "Watch out for the back end snaking around a bit, if you're overtaking me" he said smiling. We decided to leave before him, although this was mainly due to my concern about reaching Coober Pedy before we ran out of fuel. It felt reassuring to know that there was someone behind us, with whom we'd made contact, & who would stop if we were stranded by the roadside. In reality most people would stop in those circumstances, but it was good to know there was another Triumph rider behind us.
Fuel was a real concern. The final stretch between the Glendambo roadhouse & Coober Pedy was 253 kilometres. I had estimated that with a fuel tank capacity of 15 litres plus 5 litres in the jerry can that we should be able to travel about 300kms. However this had not taken into account the effect of the wind (which continued unabated all the way to Coober Pedy) upon our fuel consumption. I had expected the tank to run on to reserve at around the 200kms mark, & was dismayed when the bike spluttered & coughed at 164kms. We stopped, took a brief smoko/bumsaver, refuelled from the jerry whilst desperately trying to stop the various items that we'd had to unpack to access the jerry can, from being blown away in the wind. I began to seriously consider the possibility of running dry in the 'middle of nowhere'. I think Fergus observed my rising anxiety & valiantly tried to distract me by creating an argument about the 'actual' size of the 'gigantic' emus we had passed a little earlier. As we argued the Triumph owning truckie roared past & we stopped & waved him on, feeling it unreasonable to request assistance at this stage, but with a nagging feeling that our bravado may be foolish. Camping overnight by the side of the road had been something filled with romance, before we left home. Now in the howling wind, surrounded by thorny bluebush complete with the deadly spiders that live in it's branches, & nowhere to pull off the road, save through the bluebush, it seemed far less attractive. We rode slowly trying to eke out the remaining fuel. Thirty kilometres before Coober Pedy we saw the outer reaches of the opal gem fields, but even then I remained uncertain if we'd make it. We finally limped into town & stopped at the servo; behind a ute covered in more rust than paint, bearing a large red, handpainted, and sign saying 'EXPLOSIVES'. I put 14.7 litres into the 15 litre tank. We'd made it, just. I took this as a good omen & my mood lifted considerably, despite my tiredness from the effort of battling the wind all day.
We found accommodation at Radeka's backpacker hostel, one of four such hostels in town, all of which are built underground, as is the norm in Coober Pedy. Due to the combination of the hot, harsh climate, the lack of locally available building materials & the excavating skills that abound in this town famous for it's opal mining, most 'buildings' are underground. Above ground we could see only a small proportion of the town's accommodation, which looked conventional enough, but hid the network of holes & tunnels that the local population call home. Once underground it was obvious how well these man-made 'caves' protect from the heat & dust, with the ambient temperature being comfortable & significantly lower than on the surface above.
After a brief visit to the town's supermarket, where we bought the makings of our evening meal, chosen from a good selection of canned goods, & a poorer selection of limp 'fresh' vegetables we made a meal that was tasty, but as Fergus remarked, looked like canned dog food. After eating we spent the evening playing pool with a couple of German lads, who were travelling southwards by bus. It was here I discovered 'Two Dogs' lemonade, an alcoholic beverage of similar strength to beer, but much easier to drink than the ubiquitous 'Vic Bitter'. (Although I will drink the cold, fizzy, Aussie beer on occasions, generally I prefer a soft drink, in the absence of the 'Real Ale' that I was 'raised' on in the UK, a frequent topic for the good-hearted banter often found in Australian bars). Lemonade or beer, the fact remains that I'm a 'two pot screamer' & after several stubbies of 'Two Dogs' I was well ready for bed.
We had decided to spend a couple of nights in Coober Pedy. The following morning, we surfaced (literally) to find that the wind had gone, & at 9am the heat hit us like a furnace as we emerged from our hole in the ground. We sat in a little Greek café, enjoying an expresso & breakfast, whilst we watched life in the dusty main street. A small group of sad looking aboriginal men, surrounded by an equal number of equally sad looking dogs, loudly shared bottles of alcohol together. A variety of vehicles carrying strange unrecognisable mining machinery frequented the street. Loud calls of recognition & greeting rang up & down the street between locals. Later Ferg & I wandered & explored the town individually, after booking an afternoon tour with Radeka's. I spent the morning visiting the many opal shops, trying to learn as much as I could, with the intention of buying an opal for Julie. I had agreed not to return home without one. I must admit that I felt very vulnerable in the hands of the various opal dealers, all of who will charge whatever they think your wallet will bear, with apparently little relationship to the actual value of the stone. However after trudging around every outlet, & taking a myriad of conflicting advice, I eventually felt I had a little more useful knowledge than I had arrived with. Nevertheless I ended choosing not to buy a stone in Coober Pedy, where the majority of stones mined are of the pale & white variety. Julie wanted a dark opal, so I decided that Lightning Ridge, in New South Wales, where predominantly dark opals are mined, would have to become a destination on the southbound leg of our trip. I met up with Fergus, in an opal shop, where he had interested a seller by asking to examine a stone with a price of several thousand dollars. He was holding the stone in his hand, which he then accidentally dropped & an anxious couple of minutes were spent looking for it on the floor. Suprisingly the dealer took this in his stride, & bid us a friendly "good day " as we left empty handed.
A group of 15 or so people had collected around the mini bus that was to take us on the afternoon's 'Desert Breakaways' tour. After several warnings from the lady tour guide/driver, about the need to be carrying plenty of water, we drove off in air conditioned luxury. Before heading out to the desert & the gem fields, we were taken around the 'sights' of the town. These included the town cemetery, an underground Serbian Orthodox church & a couple of lookouts which gave good views of the town & the surrounding desert. We were told, amongst other things, how underground 'houses' were made, & that prior to the current town water reticulation system being introduced just seven years earlier, no trees had existed & that children had grown up never having seen grass. It was with some pride that we were shown the small grassed footy oval, which has clearly been a constant labour of love to establish & maintain. On top of one 'lookout' was the town's first 'tree', constructed from a variety of worn out machinery parts, welded together by a father who had felt it important that his son should have a tree to climb in his childhood years! The town's golf course was unique, with no grass, but instead, the teeing off areas & those surrounding each hole, were mounds of red earth mixed with sump oil!
We left the town, & were driven out to the gem fields, over tracks that made me glad that we'd decided to go by bus rather than on the bike. Above the loud ringing sounds of rocks being flung against the underside of the bus, our driver warned us about needing to stay within a confined area, once we alighted, to try our hands at noodling, on one of the old waste dumps that stretched as far as we could see. These days it is illegal to fill in the myriad of exploration holes dug by the miners. It has been deemed more hazardous to backfill the holes, than it is to leave them open, due to the backfill remaining loose & unstable. I wasn't sure which would be worse.....falling down an empty disused shaft or being sucked under in what were essentially deep holes filled with a dry equivalent of quicksand. Some miners had done the 'right thing', covering their holes with old car hoods etc. Many had not. Our noodling was fun, but did not make us rich, & it was with some relief that we climbed back into the coolness of the bus. We passed an area of black soil, which looked to all intents & purposes as though it had been a site for the disposal of all the town's broken glassware. In fact it was a unique display of a natural form of silica. Finally we arrived at Crocodile Harry's. Harry, now well into his seventies, has been a miner for many years, & is a central part of the town's folklore. Before arriving at his home, carved by hand & explosives over many years, the women on the bus were warned that Harry was an alcoholic, & that when he'd had a drink he tended toward being rather sleazy, & was likely to grope them!
His home is his mine, a warren of tunnels decorated throughout with memorabilia from his life. Much of this is in the form of various lady's underwear, each left as a memento of past visits, inspired by the first pair of knickers donated by Tina Turner, left as a gift during filming of the Mad Max movie, 'Beyond the Thunderdome'. I thought that were it not for the chance use of his home as a film location, that this sad old drunk, may well be in a nursing home or dead. He no longer mines, but instead lives on the constant flow of $2 admissions that tourists happily pay to invade his home on a daily basis.
Early the following morning we rode out of Coober Pedy. At 7am, the air was still cool and crisp, with no wind. The sight of thousands of conical white tailings piles, of varying sizes, stretching for 30 kms or so along both sides of the highway, bathed in the early morning light, made for a surreal view against the constant backdrop of the never ending horizon, under the clear blue sky. The description 'moonscape' came to mind, although I'm sure that the moon doesn't really look like Coober Pedy.
We spent the day on the road, reaching Erldunda in the late afternoon. Erldunda is basically a roadhouse with accommodation, at the turn off to Ayers Rock, shortly after crossing from South Australia into the Northern Territory. I smiled as we crossed the state border, thinking to myself that Territorians must have a bent sense of humour. Within a few metres of the border a large sign had been erected on the left of the road. It had a picture of a burning frill necked lizard and bore the legend "We like our lizards frilled not grilled"! A sign warning of the need for care not to start bushfires! On the right hand side of the road was a huge metal sculpture, fabricated out of black painted 44-gallon drums in the vague shape of a cow. Painted along its side in large white letters the words "DON'T SHOOT ME"! The road became wider, and everything seemed to be redder.
Fergus' journal entry for the day states "Today is the sixth day of our adventure and I am completely loving it. I was glad when we stopped at Marla for a bum saver, I really needed it, as I was almost falling asleep on the back of the bike. We have seen loads of eagles, but no kangaroos, except for those in an enclosure at Erldunda, although I did have a very nice 'roo shaped' icy pole when we stopped at Kulgera".
He also complained about having to remove his protective riding gear, due to the heat, whenever we stopped. In fact much of the time he chose not to do so, which was later to prove a mistake on his part. At Erldunda our accommodation was in an air conditioned 'Donga', the Territorian name for a relocatable building (as are seen commonly on building sites everywhere). We ate and played pool with a Swiss couple, Monica and Euli, whom we had met previously in Coober Pedy. Later we enjoyed the spectacle of a night time lightning storm, whilst relaxing in a swimming pool by ourselves, and rounded off a relaxed evening by watching the occasional road train with their many lights manoeuvre their loads in the darkness. We thought they looked like huge, noisy Christmas trees and could see them long after the sound of their powerful motors had disappeared into the distant black night.
Early next morning we set off to Ayers rock. We rode through the red sand dunes, which were covered with a green carpet made possible by recent rains. 'Clouds' of what I initially thought were butterflies or some type of large insects, ducked and weaved around us, often zooming under the bike with seeming impunity. These tiny daredevils turned out to be birds, some type of finches I believe. A variety of larger parrots kept them company, regulating our speed. The Northern territory has no speed limits outside of towns, but the thought of wearing a parrot in my face kept my throttle hand under control, despite the temptation the empty undulating road laid before us. Nevertheless there were still several occasions when I had to duck quickly. We stopped for fuel and brekkie at Mount Ebeneezer roadhouse and conversed with a large aboriginal lady, sitting in the shade as she waited for a lift. The antiquated fuel bowser was a temperamental machine but she had the right knack to get it to spew the unleaded petrol into our tank. She lived on an aboriginal settlement nearby, but seemed reluctant to reveal much about herself preferring to try to persuade us to purchase some artefacts and paintings, despite it being obvious that it would be impossible to fit such things onto our already fully laden bike. I did feel a little disappointed to be related to as purely a means of income rather than as one human being to another, but silently rebuked myself for what felt like rather arrogant thoughts.
We overtook Monica and Euli and stopped at Curtin Springs station, where the owners are gradually transferring their attention from raising cattle to now raising camels. Apparently their camels are in demand for export to various Arab countries, where the population on indigenous camels have become in-bred. Talk about 'carrying coals to Newcastle'! After a cool drink, and taking a photo of Ferg with a cute 6-week-old camel calf, which he fed, we continued toward 'the rock'.
A number of dead cattle in varying states of decay were dotted along the roadside. Whilst on a bike the rider is in far more contact with his/her surroundings than any car/bus bound traveller is ever likely to be. During the brief moments, as the stench of rotting cow permeated our nostrils, it was tempting to imagine the 'pleasure' of seeing the landscape through the 'TV like' windows of a car. I can tell you that cows smell worse than any other roadkill! We rounded a corner (a relatively uncommon occurrence in the outback!) and into view came 'the rock'. At least that's what we thought. Both of us were gesticulating to each other, having already made a sportsman's wager with each other as to who would see the rock first. As we passed this rock, we realised that it was not Ayers Rock at all, but in fact (as we learned later) was another monolith, darker and more foreboding than Ayers rock, named (I think) Mount Connor. We laughed at our mistake, and at the thought of the many thousands who no doubt have previously made the same mistake as us.
Ayers Rock suddenly sprang into sight, which considering our anticipation of the event, still managed to take us by surprise. Over the years both of us, like the rest of the world's population, have seen plenty of pictures of the rock. This history had informed our expectations and I, at least, was ready for disappointment. Many years ago I had visited Stonehenge in the west of England. I had grown up, with an image, formed by the many photos I'd seen, of the druid built structure being huge and impressive. Whilst I cannot deny that Stonehenge is impressive, I had been disappointed by it's size, meagre in comparison to what I had developed in my mind. As we approached the rock, I was in awe of this dramatic red monolith, which surpassed my previously held expectations. It seemed to dominate the landscape with a powerful 'in your face' persona that is just not possible to experience from even the best photograph.
The Yulara 'resort' is situated a few kilometres from the rock, and is the only accommodation available. Most of this accommodation is extremely expensive and available only to those who have the foresight and the bank balance to book ahead. The tourists who arrive daily in buses and planes, as part of their whistlestop tours fill most of the 6000 beds each night. Thankfully there is also a pleasant campground, complete with shaded swimming pool and cooking facilities, which requires no prior booking. Within the resort are a small supermarket, restaurants and fast food outlets, a post office and several pricey souvenir shops. After pitching our tent, we decided to ride to the Olgas, with the intention of walking through the 'Valley of the winds'. We rode without our usual protective gear, which we knew would be too uncomfortable to walk in, given the heat. As we got close to the Olgas the heavens opened and it poured with rain! The huge drops felt chilly and stung as they hit our exposed bodies. Within seconds we were cold and wet, and soon decided to turn back. I felt disappointed and angry, and for a few brief kilometres, once the rain had eased, acted irrationally. At 190 kph I regained my composure, considering our speed, wet road and lack of protective gear was not a good combination and slowed down, despite Ferg's encouragement to do the opposite! A few kilometres from the resort, we were flagged down by two aboriginal men, who were standing next to their car, with it's hood raised. I assumed that they had broken down, and were in need of assistance. As we pulled up beside them, they failed to refer to their car problems, but instead pawed over the bike, saying what a great looking machine it was. Being still damp and wet, I wasn't in the mood for this, and asked what I could do to help. I was puzzled by their reticence in answering my question. After 5 or 10 minutes of trying to fathom out the reason we had been flagged down, one of the men withdrew a $20 note from his pocket, but still failed to say why, despite handing it to me. I felt sure that his intention, when pulling me over, had not been an act of largesse. It then became apparent that he hoped that I would ride back to the resort, buy them a 6-pack of beer, whilst they waited for me to return. I felt caught in a quandary. Here I was, being asked politely, in what now seemed a pleading manner, to run an errand, that he was unable to do, due to the policy of the resort not to sell alcohol to aboriginals, in line with the larger aboriginal community's wishes. If the men had been drunk, my decision not to comply with their request might have been simpler to make, but as it was, I reminded them that I was not allowed to buy alcohol for them, and left feeling guilty. Their handshakes and good wishes compounded this as we parted. It seemed that the parting would have been more appropriate, if indeed we had already fetched their beer.
Back at the tent, we discovered a new 'neighbour' in the process of erecting his tent. Alongside his tent, Greg was pulling his gear from his motorcycle. What surprised us was that this was really not the sort of motorcycle that one would expect to see here in the middle of the continent. Greg, it turned out, had left Sydney just five weeks earlier and had ridden the complete circumference of Australia and was now heading south down the 'guts' of the country. His steed was a tiny 110cc Honda ex-postal service bike, complete with 'highway pegs' fabricated from an old broom handle, and a backrest comprising of a rubber mounted back off of an office chair! He had been riding for up to 16 hours per day with a maximum speed of 70kph. His stories of being overtaken by road trains simply added to the respect I felt for his endeavours. Fergus was inspired by Greg's stories of his travels and the means by which he was able to do so on a budget far less than ours. Ferg determined that "one day when I'm older I'm going to travel around like Greg". I told him I hoped he would.
Greg took Ferg under his wing for a couple of hours, giving me an opportunity to mellow out a little on my own. Later we cooked and ate together, swapping travel anecdotes and passing on tips on places to stay. As the evening wore on, Fergus began complaining of a worsening headache and nausea. I was worried initially that this may have been a reaction to my earlier 'tantrum' and then that he might be sick enough to warrant medical attention. This would have been a BIG deal, given that it could well have involved having to be airlifted out to medical services which I had no doubt would cost an arm and a leg. His headache worsened and he became increasingly tearful and distressed. I hovered on the edge of deciding to seek medical attention for a couple of hours, during which his discomfort seemed to lessen a little, until he fell asleep. He awoke the next morning, bright as a button, to my relief. After consulting with Greg, I decided that Fergus had experienced heat stroke, due most likely to his choosing not to remove his helmet and riding gear whenever we stopped. From then on, Ferg always took his gear off whenever possible, often 'reminding' me to do the same.
The campground at Ayers Rock is not a place where one can expect to have a lay-in' in the mornings. Everyone gets up before dawn, in order to travel out to the rock to view it at sunrise. An alarm clock is unnecessary here, as the sound of cars being started suffices! We rode out to the rock, amongst all the other camera happy lemmings, and stood and watched as the sun rose. We, as everyone else, took photos of the rock at several minute intervals, trying to catch it's changing colour. Around us, despite the remoteness of our location, were hundreds of other tourists, mostly foreign, mainly Japanese. They flowed out of huge tour buses, took their photos for the folks back home, ate their tour company coffee and croissants breakfast, climbed back into their air-con transport and disappeared. A few of the more adventurous amongst them approached Fergus and myself, requesting to have their photos taken alongside the bike, with the rock in the background. As they all drove off, apparently to go and climb the rock, Fergus and I rode back to the campground for breakfast, returning to the base of the rock, just as the last bus stragglers climbed down and back to their bus.
Our timing could not have been better. I had been a little unsure about climbing the rock. Partly because I was uncertain if I would be up to it physically, but mainly due to the seemingly contradictory 'message' publicised by the traditional owners of the rock and it's surrounds. "We prefer people not to climb the rock, but if you do................."
Consensus in the campground was "If they don't want people to climb, then climbing should be banned. Then it would be clear". Ferg wanted to climb, and I with some misgivings decided to 'go with the flow'. I don't know if I did the 'right' thing, but I have no regrets. After the initial impact that the rock has on one's visual senses, looking at it quickly becomes not dissimilar to looking at it on a postcard, just bigger. However climbing it, touching it with your hands, being surrounded by it's immensity and it's history, brings it alive. I struggled to reach the top, often on the verge of giving up, only to be persuaded to go further by Fergus. I eventually made it, passing a few rock pools containing bizarre life-forms that I'd guess are unique to the rock, and looked around to magnificent views of the Olgas and the surrounding desert. We remained on the top for an hour or two, it being a very special and peaceful place to be. In contrast to the hundreds of earlier climbers, we had the rock virtually to ourselves, with no more than half a dozen climbers up there at any time. We sat and chatted with George, a young Irish traveller, whom we shared some sandwiches with, for a while, before undertaking the climb back down. Whilst we ate Fergus explored many of the caves, pools and crevices. Once back down we walked (after my knees had stopped feeling like jelly), partially around the base of the rock, exploring more caves and overhangs, many of which contained aboriginal rock paintings.
On the ride back to the campground, the sense of privilege we had experienced on top of the rock, was further enhanced, as we were lucky enough to observe two wild dingoes crossing the road, one with it's feathered lunch still struggling in it's jaws.
We rose early, again assisted by the noisy departure of the sunrise observers. Having bid our farewell to Greg, and promising to keep a lookout for his planned article about his travels in 'Two Wheels' magazine, we set off for Stuart's Well, a roadhouse about 90kms south of Alice Springs. As well as the roadhouse, Stuart's well is home to Noel Fullerton's camel farm. Noel is famous throughout Australia (and perhaps further afield) as one of the outback's true 'characters' and as a cameleer. Fergus was keen to take a camel trek and I was keen to meet this larger than life character, whose reputation for loudness and speaking plainly, I had read about years earlier.
Around 40kms before Stuart's Well, I was feeling tired, my eyelids were drooping, and knew I needed a break. We pulled over into a pleasantly shaded rest area, alongside a creek bed that, unlike most, had some water in it. It wasn't until we had stopped that I realised that there were other people here too. Under a small shelter were five others, four with dreadlocks and one without. The one without turned out to be an Austrian guy, named Tilmann, who was travelling by bicycle. He had spent the past 20+ years travelling the world by bicycle. The other four were travelling in a Volkswagon 'Kombi'. Nothing inherently unusual about that, except that this particular Kombi had no motor fitted. Instead five camels to pull them along provided power! They had been travelling like this for a little over 18 months, covering an average of 20 kms per day, when moving. I gathered however that this figure belied their progress as they frequently stopped for a week or two at a time, whenever the fancy took them. They had been camped at this rest area for 10 days already. They happily shared their camp with us, providing welcome cups of strongly brewed billy tea. It was an interlude that lasted for a couple of hours, and I wished we'd stayed longer, but the road was calling. Fergus told me later that one of the group had told him of how fast they could go when they wanted to. He had commented that on one occasion they had got up such a speed, that the needle on the kombi's speedo had moved! It's a pity I didn't take a photo of them. The Kombi, with it's canvas awning on top of the roof where the camel driver sat, together with another driver at the vehicle's steering wheel, surrounded by the flower-power decoration of the van, would have made a most interesting composition. The camels themselves were most well behaved. The group, of course, knew Noel Fullerton, and to my dismay, informed me that he had recently moved south from Stuart's Well, leaving the camel farm in the hands of his daughter and son-in-law. I gained an impression that there is a strongly connected but small 'cult' of cameleers in the outback, and all tell stories of each other.
Eagles continued to try to disguise themselves as we rode on, now with me able to keep my eyes open! Often ahead of us, surrounding roadkill by the side of the road, would be a small group of several large black crows. They would fly up together at the sound of our approaching Triumph, well before we reached them. By now though, I had learned, from experience, that in most of these groups of crows there would also be a Wedge-tailed eagle. These large golden brown birds were slow and cumbersome to take off, usually in an unpredictable direction, just as we drew level with them. On several occasions I had felt their large wings flap a little too close for comfort! Now whenever I saw a group of birds ahead on the roadside, I would slow, approaching them with my thumb on the horn button. This seemed to be generally the most effective means of avoiding them. The road was long and very straight, most of the time disappearing into a shimmering mirage-like heat haze in the distance. Occasionally another vehicle would approach us, appearing ghost-like in the haze, gradually taking on a more solid shape as it came closer. I amused myself by trying to guess what sort of vehicle was approaching. "Is it a bird, is it a plane, No it's a bus, no it's a ute, no it's a roadtrain!" I was also becoming quite expert at estimating the distance from where we were to a point on the horizon ahead. Commonly this was somewhere between 6 and 10 kilometres. Fergus amused himself by counting things (eagles, roadkill, road signs etc) as well as inventing the sport of 'How many other drivers can I get to wave back to me today?' (This was limited, as throughout the trip we probably averaged seeing another vehicle approximately only once or twice per hour and sometimes less). Other bikes on the road were even more of a rarity, probably reflecting the advice I'd been given before our departure, that we were travelling at the worst time of the year for heat and humidity. Of the very few that we did see, it irritated me that most of them failed to acknowledge our waves. Whatever happened to the camaraderie amongst bikers? It wasn't as though they had a lot else going on to distract their attention from us. One guy on a big Honda made up for this however, his waving of both arms and legs, being so enthusiastic almost causing him to lose control of his machine!
We rolled into Stuart's Well in the late afternoon. Here in the middle of nowhere was Jim's campground/eatery/servo, Noel Fullerton's camel farm, and suprisingly an irrigated lucerne farm. Seeing the large irrigation boom sprays covering paddocks of rich green lucerne surrounded by the dry brown desert country seemed an odd contradiction. As we pulled up alongside the shadecloth covered petrol bowser, we were greeted by a lady I assumed to be Jim's wife. Jim appeared shortly after, only to be ordered about like a little schoolboy by his wife. He showed us where we could camp, and fetched us a block of wood to prevent the bikes sidestand from sinking into the sandy ground. Once away from his wife he became an adult again. It surprised me later, when reading the newspaper cuttings that adorned several of the eatery's walls, that Jim and his father were well known pioneering territorians, responsible for establishing the first road and basic accommodation at Kings Canyon. They had, with great effort, carved the original road through hundreds of kilometres of virgin scrub, by towing a metal blade behind a large old vintage truck (a Dodge I think). The rusted skeleton of the truck remained parked close to petrol bowsers, complete with a weathered information plaque, that had long since become bleached and unreadable.
We attached our hootchie to a fence, providing our shelter for the night, having determined that mosquitoes were unlikely to cause problems. Fergus found yet another swimming pool, this time with a separate spa, which he managed to spend several hours in, before emerging soggy and wrinkled. I wandered next door, to book a camel trek for the next day. It was indeed true that Noel was no longer living there, although does still return for occasional visits. Their tours ranged from brief rides around the paddock to treks to Rainbow Valley, lasting several days. Whilst trekking to the beautiful Rainbow Valley (we saw photos of it on Jim's walls) was tempting, our purse would not allow it. I settled for a half-day trek and booked it for the following morning.
Returning to Jim's, I found Tilmann sitting next to the pool, his pushbike leaning on railings. We sat and ate with him, later joined by a Kiwi mother with her young adult son, Josh, whom I guessed, based upon his odd social skills, was autistic. They were travelling for three weeks in a hired car. They had also stopped and met the kombi/camel travellers, and had paid them to repair some minimal damage they had sustained to their car. They had also paid them for the right to take some photos of the group with kombi and camels!
Tilmann was a short hairy little man, who explained his life and travels in detail. Over the past 20 years he has cycled to most parts of the world, covering more than 375,000 kms. He has around a dozen sponsors, one of whom pays him a retainer of US$40,000 per year, just to use their specialist luggage, which he helped them design. He was at pains to explain the heavy burden of responsibility he had toward his sponsors. His wife, who also occasionally accompanies him on his travels, was currently working as a nurse somewhere in Africa, tending to the needs of A.I.D.S sufferers. Tilmann was a disappointed man. He had spent much time planning an unaccompanied ride up the Canning Stock route, (one of the most remote long distance tracks in Australia, usually only taken by convoys of experienced 4 wheel drivers). He had already covered the route in a 4wd, 'planting' supplies at various strategic spots along the way, in preparation for his ride. Unfortunately, since then, a bushfire had swept across the area, destroying all of his supplies. He was now heading up to 'Alice', to catch a plane back to his homeland. He told many stories of Noel Fullerton, whom he had befriended, on a number of previous occasions. For more info on Tilmann and his exploits check out his web page at http://www.tilmann.com.
---
Member login
Announcements!
Are you an Overland Adventure Traveller?
Does the smell of spices wafting through the air make you think of Zanzibar, a cacophony of honking horns is Cairo, or a swirl of brilliantly patterned clothing Guatemala? Then this is the site for you!
Hosted by Grant and Susan Johnson, RTW 1987-1998
Next HU Events
NEW!

Aus NSW: Oct 31-Nov 2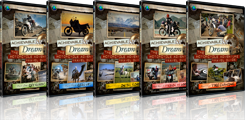 Cooped up indoors in crap weather? Binge watch over 20 hours of inspiring, informative and entertaining stories and tips from 150 travellers! Check it out at the HU Store! Remember to order them both and use Coupon Code 'BoxSet+' on your order when you checkout.

10th Annual HU Travellers Photo Contest is on now! This is an opportunity for YOU to show us your best photos and win prizes!
Books

All the best travel books and videos listed and often reviewed on HU's famous Books page. Check it out and get great travel books from all over the world.