Ian Lock - Around Australia, a father and son adventure (part 1)
Riding My Thunderbird
This is an account of a motorcycle journey. It is the story of the fulfilment of a dream. It is also the story of a father and son's adventure together.
Where to begin? To put this story into context, a brief history may assist. In 1998, at the age of 41, I decided that I had had a 'gutful' of the economic rationalist imposed cuts and conditions in my work as a Child and Family therapist, in the public health sector. When the service was privatised, I took the opportunity to obtain a redundancy package, which allowed us to pay off the mortgage on our small farm, and to buy myself a new motorcycle. For the past two years I have been more than contented to spend my days on the farm with our cattle, sheep, pigs and chooks. In our quest to become increasingly self-sufficient I have enjoyed learning many skills of the land, my cooking has improved, and it works well for us as a family.
Julie is my wife, who currently still works full time as a community psychiatric nurse. Fergus is our 15-year-old son. I've always enjoyed travelling, finding the journey itself and the people I meet more interesting than destinations. When Fergus did poorly at school and a decision was made for him to repeat year 9, an opportunity arose. Julie and I felt it would be a good idea that Fergus had a 'break' from school, a different experience, that could see him return next year ready to start afresh. How could this best be achieved? It wasn't difficult to consider a motorcycle trip as a possibility. Julie thought that the schoolwork-dominated father/son relationship might be assisted by just such an experience (as did I). Fergus thought the idea was sweet* (*sick/cool/great/brilliant). Our decision to 'go' was made just two months before our planned departure date. We looked at maps and began to realise how big Australia was. I wanted to travel in the outback, Fergus wanted to see Uluru (Ayers Rock) so after a little bit of research (Lonely Planet Guide to Australia) we decided that we would head up through the centre of Australia, travelling to Darwin and Kakadu National Park. We worked out that we would cover somewhere between 10,000 and 15,000 kilometres and would take around 6 weeks, leaving early November and returning home in time for Christmas.
The Bike
I've ridden motorcycles since I got my learners licence at 16. Over the years I've owned many bikes, but my passion has mainly been for old British bikes that I've spent as much time tinkering with/rebuilding as I have done riding. The Triumph Thunderbird is my first (and only) brand new bike. Whilst it is sold as a 'retro' (styled to be reminiscent of the older Triumph twins), it is widely acknowledged amongst Triumph owners as being an excellent 'all-round' bike in this age of specialist niche markets, as well as being a stunning looking machine. To me it's still a novelty having a bike that I can ride without having to fix something first! Unlike the earlier 650cc and 750cc aircooled Triumph twins that the Thunderbird emulates, it is a watercooled 900cc triple, which although significantly heavier than the twins, has almost double their power output. This power is delivered in such a way to make it very easy and relaxing to ride with good pulling power across the whole rev range. Don't get me wrong though, with a good twist of the wrist it pulls like the proverbial steam train, and makes touring speeds of 110kph to 130kph comfortable, given a top speed of 200+kph. After a year of owning the bike, I still have a grin on my face after every ride, and still consider that out of all the bikes I could have bought, that I did indeed buy the 'right' one for me and indeed one that I hoped would be suitable for our trip.
The Route
We decided that whilst our precise route would be determined on a day to day basis, that basically we would travel from our home in the Gippsland hills, across to Port Augusta in South Australia, and then up through the Red Centre to Darwin on 'the Track' (the Stuart Highway). 'The Track, has, in recent years been fully sealed, providing a bitumen surface from the top to the bottom of the country. However we still expected that some of our 'side excursions' would see us on unmade desert roads, complete with corrugations, potholes full of bulldust and road trains. None of which we'd experienced before on a fully laden road bike. At the time of leaving we hadn't decided whether to return by the same route or to cut eastwards across to Queensland and back down the coast. The latter would be significantly longer and we're not sure if we'd feel like doing the 'extra' riding. Our decision would be determined by the weather conditions in the tropics, and by how sore our bums were! In this vast land, these are really the only two possible routes, unless travelling by four-wheel drive or trail bike.
Climatic Conditions
As I sit and write this, two weeks before our planned departure, our fire is lit in the living room, outside it is drizzling with rain, this morning there was frost on the ground and two weeks ago we had a light snowfall. It's hard to believe that in a few weeks time we will be riding in the searing, dry desert heat where temperatures can easily rise above 40deg.C and shortly after that will be heading into the tropical 'Top End' where the Wet (Monsoon season) may have begun. From what I've been told, I hope that it has begun, as by al accounts the rain, and slightly lower temperatures are more comfortable than the extremely sticky and humid 'Build-Up' season (also known as the 'Silly season' due to the higher incidence of short fuses and suicide at this time of the year in the north) that precedes the Wet. Dust storms and plague locusts are also likely events along the way. The latter I've experienced previously on a bike, and radio reports suggest that the locusts are heavier and more widespread this year than in the past ten. I've no idea what it's like to be out in a dust storm.
Previous Touring Experience
Although I've ridden bikes for the past 27 years, my touring experience is limited. Prior to moving to this 'Great Brown Land' in 1987, we lived in southern England, where distances have a different meaning altogether. I recall getting a 'Longest Distance travelled' award at a motorcycle rally, after travelling just 220 miles to get there. Recently I got a similar award at a South Australian rally, but travelled 2500kms to get it. This was my longest trip to date, with a little under 5000kms covered on the journey there and back. I took a leisurely 3 weeks to cover that distance on my own. Travelling with a pillion passenger (Julie) the furthest I've ridden is about 1500kms over a long weekend.
Packing Up
Two people, camping gear, spare clothing and 'off-bike' footwear, cooking equipment, food, first-aid kit, washing gear, tools, extra water, 5 litres of extra fuel and a host of other miscellaneous items all needing to fit on one motorcycle. (See appendix for luggage list). Luckily we already had most of what we needed, it was simply (!) a matter of working out how to fit it all on to the bike, bearing in mind the need for even weight distribution in order not to compromise the bike's handling any more than necessary. I already had a reasonable sized tankbag that would accommodate a 5 litre jerrycan, two sets of waterproof gear, camera and a few tools. I purchased a Ventura rear luggage rack and large bag, which took the bulkier but lighter items (2 Sleeping bags and towels and a 'hootchie'). A hootchie is a small lightweight bivouac/tarpaulin, which we planned on using as a groundsheet when not wanting to put up the tent or for additional shade when needed. One of the camp mattresses strapped to the underside of the rack, above the tail-light. This left the pair of my trusty Gearsack throwover soft panniers (saddlebags) into which everything else had to be fitted. Providing a 'backrest' for Fergus was half of our small dome tent, with the other half of it strapped onto the top of one of the panniers (forming an armrest for him) with a second camp mattress doing the same on the opposite side of the bike. The tent poles rolled up inside the rear camp mattress. Suprisingly we were able to accommodate everything on our list, albeit making the bike feel pretty heavy to my 5'9" /55kg frame.
The Departure
After weeks of anticipation the day finally arrived. Despite looking forward to this moment, I awoke with that feeling that always accompanies the start of a trip. I want to get going, but at the same time I don't want to leave. I know that this will be the longest I've been away from Julie in our 18 year relationship, and wish that she were coming too. I force myself out of bed, savouring what are the last moments of familiar comfort, knowing that a sleeping bag and half-inch mattress are to be my bed for the next 6 or 7 weeks. I notice all the familiar objects around our house, which makes it our home. My stomach tells me that I'm anxious, but I know that within a kilometre or two the anxiety will have been replaced with the excitement of the open road and our adventure ahead. I think Ferg is feeling a similar ambivalence but his teenage hormones would never let him admit it. Finally, with everything checked for the final time, hugs, kisses, (and a couple of tears) dispensed with, the bike warmed up and purring quietly at a nice steady tickover, we climb aboard and pull away with Julie waving and calling out for us to be careful, and bidding us to have a great time.
On The Road
Despite my initial desire to travel as far from home as we could manage on the first day (driven by my half belief that the trip wouldn't really have begun, until we were on unfamiliar roads) we decided that a 'short' day would help us to accustom ourselves to our mode of travel. As luck would have it, our departure coincided nicely with a folk music festival at Maldon, a quaint and historic town approximately 300 kms from home. Fergus, although not a folk music aficionado (give him Metallica any day) was keen to stop at Maldon, stating that it would be easier to 'break-in' his bum if we began with a shorter distance. We stopped for lunch with some old friends, about an hour before Maldon.
By then my bum was telling me in no uncertain terms that Fergus was right. The Thunderbird's seat was only slightly more comfortable than a plank of wood. I did my best to ignore the depressive little voice in the back of my head that repeatedly asked "How the hell are you going to travel around Australia, when you're so uncomfortable after 220+kms?" Others had told me that your bum gets 'hardened' after the first few days, I desperately clung onto this belief.
We pitched our tent at Maldon Folk Festival, after the expected but frustrating chore of unpacking the bike. (Over the weeks ahead this would become far less of a chore, as we became accustomed to where everything fitted). A pleasant evening of music and social interaction followed. I met several people I knew, feeling a degree of pride in telling them about how we were on the first night of our 'Big trip', but at the same time feeling a bit of a fraud passing myself off as a seasoned traveller, before we were.
Whilst sitting and listening to Texicali Rose I met Bryan, a rather sad and elderly gentleman, who insisted on telling me about his trip to Russia, to procure himself a wife. It was a long story, aided by several pots of Guiness. His efforts had been unsuccessful, and I believe he had been conned out of significant amounts of cash by 'wife-procuring agencies'. However he remained confident that were he able to raise enough money he would once again try his luck in Russia. I wanted to tell him that perhaps his hopes were unrealistic, but couldn't bring myself to shatter his world. It had been two years since he was in Russia, and his dream was, I believe, all that kept him going. It would have been easy to remain at Maldon for a couple more days as the festival ran it's course, but I hadn't yet 'found my pace' on the road, and felt the need to move on. We left the next morning, riding northwards through the Mallee. (This is the region in N.W. Victoria, where much of the state's grain is grown, and where the soils become redder, giving us a taste of what lay ahead).
As we approached Mildura, on the Murray River (which forms the state boundary between Victoria and New South Wales) orange groves and vineyards replaced the huge wheatfields and their giant irrigation boom sprays. We turned left and followed the Murray eastwards into South Australia, intending to spend the night at Renmark, an unremarkable town, but the first main population centre in S.A. The one caravan park in the town seemed uncomfortable about providing accommodation to bikers, so we didn't stop. At the time I wondered if this was an attitude that we might find regularly, but thankfully it was the only place during the trip that was thus.
The next town, Berri, famous only for it's fruit juice packaging plant was far more accommodating. The caravan park had cheap overnight cabins that were so small it was easy to imagine what a sardine in a can must feel like! However the shared kitchen facility was a friendly people meeting venue. As we would find time and again, the Thunderbird was an attraction to many, who would variously strike up a conversation with "Nice bike Mate / Didn't know they still made Triumphs / I used to ride one of those back in 19**". It turned out that Barry had ridden Triumphs twenty years ago, before he emigrated to Australia from the UK, and subsequently got divorced from his wife, leaving him in the position of being a 'permanent' caravan park resident. (Unlike many others who only live in the caravan parks during the fruit-picking season). He had been living in his tent in Berri for the past 10 months, and rated it highly due to the reasonable nature of the Park Manager and the park's proximity to the dole office! It turned out that Barry had once worked in the same factory as I, in the town I'd grown up in southern England.
We spent a good part of the evening reminiscing about our shared earlier experiences, whilst Fergus enjoyed the rather pleasant swimming pool. Later Ferg and I wandered through the town, small and quiet, with the ever present Murray flowing alongside, giving the town an attractiveness that it wouldn't have had without it. As we approached the only bright lights in the town, we realised that their source was the local hotel. A bizarre structure in it's context. The front of the hotel was dominated by a glass-fronted lift, of the type that one might expect to see going up the side of New York skyscraper! It's modernness, extended just three stories, and seemed so surreal in this small town, that Ferg and I both began laughing and making jokes at the expense of the architect, whom we suspected must have been kidnapped and plied with local grape products, before finally conceiving his plans for this 'sore thumb'.
The following morning we bid farewell to Barry, and rode off past the Berri Hotel, which raised yet another smile and a conspiratorial glance between Ferg and I, and headed across South Australia toward Port Augusta.
In my mind I still envisaged Port Augusta as being the beginning of our trip, as it would be there that I would first encounter roads on which I hadn't previously travelled. The country changed from riverlands (with it's majestic stands of River Redgums alongside the vast muddy brown waters of the Murray), to more wheat country, and finally as we approached Port Augusta to arid scrublands dominated by short sparse trees and bluebush. We wound our way through small and picturesque towns where we found locals to be particularly gregarious, not being at all daunted by our crash helmets and leathers. It wasn't at all uncommon for little old ladies, out for their morning's shopping, in the timber floored and shelved shops of yesteryear (that seem particularly well preserved in rural S.A.), to approach us, making full eye contact and enquire if we'd had a good ride, where we were from and going to etc. It was like these towns were caught in a partial timewarp that had enabled them to utilise the best of the modern world, whilst preserving all that was worth preserving from a bygone era.
On the recommendation of one little old lady we stopped for lunch at a local café. I wish I could recall the name of the town, so's I too could pass on a recommendation. I had a garfish roll, which had to have been the best piece of fish I've ever encountered in a bread roll. I'd never eaten garfish before, but take it from me, it won't be the last.
---
Member login
Are you an Overland Adventure Traveller?
Does the smell of spices wafting through the air make you think of Zanzibar, a cacophony of honking horns is Cairo, or a swirl of brilliantly patterned clothing Guatemala? Then this is the site for you!
Hosted by Grant and Susan Johnson, RTW 1987-1998
NEW! HU 2015 Motorcycle Adventure Travel Calendar is now available! Get your copy now for some terrific travel inspiration!
HUGE, 11.5 x 16.5 inches, beautifully printed in Germany on top quality stock! Photos are the winning images from over 600 entries in the 9th Annual HU Photo Contest!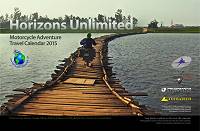 "The calendar is magnificent!"
"I just wanted to say how much I'm loving the new, larger calendar!"
We share the profit with the winning photographers. YOU could be in the HU Calendar too - enter here!
Next HU Events
Germany: May 14-17
Canada Ontario: Jun 18-21
Ireland: June 26-28
Colorado: July 17-19 TBC
Canada West: Aug 20-23
USA California: Sep 24-27
Aus Queensland: Sep 24-27
USA North Carolina: Oct 8-11
Aus Perth: Oct 9-11
Germany: Oct 22-25

10th Annual HU Travellers Photo Contest is on now! This is an opportunity for YOU to show us your best photos and win prizes!
Books

All the best travel books and videos listed and often reviewed on HU's famous Books page. Check it out and get great travel books from all over the world.