Pierre & Elisa Sousa Lima - Trip to Slovenia and Croatia
After having travelled many thousand miles, in a motorcycle, over "old Europe", this year, and taking the advice of an illustrious friend, we chose Slovenia and Croatia as our destiny, the first, already a member of the new Europe of the 25 and, the second, a candidate to the next expansion. We couldn't have done a better choice. It was, without a shadow of a doubt, our best trip since our incursion into Norwegian lands, which took place in 2003.
The journey, initiated on June 7th, lasted for 14 days, 7 of which on the road, on our powerful motorcycles, crossing seven countries and covering an approximate total of 4660 miles (7.500 Km). For our final destination we have, as always, chosen an island, this time the heavenly isle of Brac, one of the most beautiful and sought after destinations in Croatia, where we enjoyed an unforgettable and relaxing week at the beach. Our trip also included, among others, visits to the Slovene city of Piran, a magnificent medieval city by the Adriatic Sea, and to the Croat city of Dubrovnik, which forced us to a troubled incursion into Bosnia-Herzegovina.
1st day – June 7th 2005 – 372 mi (598 Km)
The adventure effectively begun with picking up the motorcycles at the transporting company in Lisbon, on the morning of June 7th. Yet, since on that day Portugal was under a heat wave, we decided not to initiate our trip until later in the afternoon. Even then, we suffered temperatures of nearly 108º F (42º C) while travelling through Santarém, which forced us to an unscheduled stop at a service area to freshen up and drink some water.
In spite of the intense heat, we were soon back on the road, towards Guarda and Vilar Formoso, through A23, crossing the Spanish border around 20:30, after what we followed to Salamanca, where we had dinner. Since we needed to make up for the time lost with our belated departure from Lisbon, we travelled another 50 mi (80 km) to Valladolid, where we arrived around 01:00 in the morning. We stayed at the Hotel NH Ciudad de Valladolid (which was expensive considering the quality of the service offered), having thus travelled the first 372 mi (598 Km).
2nd day – June 8th – 800 mi (1.288 Km)
We left Valladolid around 8:30, heading for France, attempting to reach Menton that same day, thus keeping with our initial schedule. And so it was. We went past Burgos, beginning the descent towards San Sebastian through a winding motorway that followed a stream and crossed beautiful landscapes. Around 12:30, we crossed the French border, past Irun, only stopping for lunch near Lourdes, at an excellent roadside restaurant, with a view of the Pyrenees, which were especially beautiful that day, still having some snow on the highest peaks.
At our first stop for refuelling, already in French territory, we were amazed at the price of gasoline – 1,27 € per litre!
Back to the excellent but expensive French motorways (on that day we crossed an excess of 15 tollgates, paying approximately 100 € in the whole), we went past Narbonne, Montpellier, Marseille and, towards the end of the day, Cannes, Nice and Monaco, with the sunset lending a golden hue to the hills that surround these beautiful cities in the French Riviera, or Côte D'Azur, as it is better known.
At around 21:00, we arrived at Menton, the last city in the South of France before the Italian border, where we had enjoyed staying during our trip to Sardinia, the previous year. We had an invigorating shower at the Hotel Princess & Richmond, which we already knew, trying to recover from the 800 mi (1.288 Km) we travelled that day, at good speed, and had dinner at one of the many seaside restaurants, facing the tranquil and mirror-like Mediterranean Sea.
We were tired but pleased to have made up for the time lost on our journey 's first day.
3rd day – June 9th – 473 mi (762 Km)
After a quiet and restful night at Menton, we were ready to begin one of the most anticipated stages of our journey: a visit to Slovenia, followed by Croatia.
We didn't leave the hotel at Menton until around 10:00, crossing the Italian border 15 minutes later, at Vintemiglia. We followed the always beautiful but winding motorway that borders the Italian Riviera, with sumptuous views over San Remo, Savona and Genoa. If it weren't for pollution we faced while crossing the many tunnels of this mountain road, I'd say it was one of the most challenging roads in Italy in terms of driving. Nevertheless, it was precisely on this road I had the first scare of the trip. An Italian driver nearly pushed me off the road by changing lanes, at a rather high speed, without signalling. It took the efficient performance of the ABS of my FJR to prevent the worst.
Unfortunately, as we were nearing Genoa, the blue sky that had accompanied us since morning became rapidly clouded and we even got some rain, with the temperature dropping substantially all the way to Venice. We had lunch on the way, at a restaurant near Cremona belonging to the Auto-Grill chain, we were already familiar with. Afterwards we stopped by the Lago di Garda to rest for a while and enjoy the grandeur of the scenery.
Between Verona and Venice the traffic was intense, which forced us to zigzag between the long rows of cars and trucks that sometimes slowed down to a standstill. We managed to make up for the lost time, though, on the motorway that connects Venice to Trieste, near the Slovene border, which we crossed around 17:00.
Unfortunately, my GPS wasn't equipped with updated maps of old Eastern Europe. Therefore, just after crossing the border, we got lost in one of the many new motorways of Slovenia. It took the help of a border guard for us to find the right way to Piran. A small medieval town in the Slovene coast, where we stayed at the Hotel Piran, a very well-situated hotel, facing the Adriatic Sea, which had very affordable prices. If we were already impressed with the excellent roads of Slovenia, we were even more taken with them once we started descending towards the picturesque city of Piran, where we arrived around 18:00, after travelling another 473 mi (762 Km).
We just took the time to put away the motorcycles and our bags and to take an invigorating shower, before we started touring this little town, a veritable museum, with its narrow medieval alleys, crowned by the imposing St. George Cathedral and, behind it, a large castle. Fortunately, the sun was shinning again, which allowed us to watch, at dinnertime, a radiant sunset from the esplanade of a seaside restaurant.
4th day – June 10th – 303 mi (487 Km)
On the following day, we got up early to continue our tour of Piran, climbing up to the cathedral, that has a superb view over the town and the interior of which we had the privilege of visiting thanks to a pleasant old lady, in charge of cleaning it. We also walked through the main square and the well-equipped marina, before going back to the hotel and resuming our journey towards Croatia (originally called Hrvatskaal), more precisely the city of Split, around 10:30 in the morning.
On our way to Croatia, we went past Portoroz, another well-known Slovene Summer resort, touristier, but very pleasant, full of wide flowery gardens.
We crossed the border between Slovenia and Croatia around 11:20, heading towards Rijeka, to take the beautiful but winding secondary road A8, which borders the Adriatic Sea up to the city of Split, where we took a ferry to the isle of Brac, final destination of our journey.
It was delightful to go through most of the Croat coast, only a few feet away from the sea and at a moderate speed, to better enjoy the rare beauty of the landscapes, composed by many bays cut into the coast and by the hundreds of islands we could see (from the 1.185 islands of the Croat coast, also known, for this reason as the Caribbean of the Adriatic), making us feel as if we were in an archipelago.
On that day, we had lunch at Senj, in a roomy restaurant by the road, with a veranda overlooking the sea, where we begun to grasp the tranquillity of the Croat way of life. The roar of the many motorcycles that crossed our path that day, especially belonging to German and Dutch fellow bikers, only occasionally interrupted the sound of the sea stroking the rocks.
In the afternoon, we continued our journey through the seaside, up to Split, even though the sky was suddenly cloudy and the temperature went down to 63º F (17º C). In fact, unstable weather, blue skies and almost unbearable heat alternating with dark, almost rainy weather marked most of our journey there.
Before we arrived at Split, we went past the coastal cities of Zadar and Trogir, the latter being qualified by UNESCO as World Patrimony. Unfortunately, we had no time to visit it because it was getting late to catch the last ferry from Jadrolinija headed to the isle of Brac. This we did at 21:00, after having travelled over another 303 mi (487 Km).
After a 50 minute voyage, we arrived at Supetar, on the isle of Brac, immediately following to the Hotel Pastura, in the quiet fishing village of Postira, where we were wonderfully set up for the invigorating week at the beach we enjoyed in Brac, interrupted only for a day for an unforgettable visit to the city of Dubrovnik, better known as "Pearl of the Adriatic".
5th and 6th days – June 11th and 12th
After we had checked in to the Hotel Pastura, where we were wonderfully treated – thank you Toni Buljevic, Michael, Adriana and all the staff, who were so welcoming and made our stay in Brac even more pleasant – we spent all our first day in the beautiful beach of Zlatni Rat, an landmark of Croatia, an enormous triangular expanse of sand on the Adriatic. We needed to recover the energy expended over the previous four days of travelling, during which we had gone over 1948 mi (3.135 Km).
Although, in the following days, we had nearly always stayed in this beautiful beach, we took advantage of the afternoons to explore the beautiful isle of Brac. With an area of merely 154 mi2 (398 Km2), the island is replete of picturesque nooks and magnificent bays, surrounded by many villages and towns, with their white houses and, invariably, a lovely old church at their centre, which made them look like primly arranged nativity scenes. In fact, the white stone of Brac is famous. From it were built many monuments in Europe and the United States, such as the White House, in Washington.
Aside from the beauty and the stillness of the island, the hospitality, kindness and culture of the people, who nearly always spoke either French or English, was also a very positive point.
7th and 8th days – June 13th and 14th
After another morning at the beach, we got once again into our biker gear to catch the 18:00 ferry to Split, from where we headed to the city of Dubrovnik, for a one-day visit.
From Split, we travelled some 124 mi (200 Km) south, always on the coastal road, with high stony mountain on one side and the still Adriatic Sea on the other. At 20:30, after a beautiful sunset, the sun disappeared, plunging abruptly into the island-strewn sea and emphasizing the contrasting outline of the continental mountains.
Unlike we had anticipated, it was already dark when we reached the Bosnia-Herzegovina border. There, the second unpleasant episode of this trip took place. While crossing the scarce 7 mi (12 Km) through Bosnian territory and after going though a very degraded and nasty looking town, I ran into a group of sullen policemen that made me stop because I had allegedly speeded through town. After a useless conversation (the Bosnians spoke little English), the three policemen, threateningly surrounded our motorcycle, asked for my papers and made us go to the police car, where they showed us an ancient speedometer, indicating 39 mph (62 Km/h). Since the motorcycle belonging to the Paz Ferreira couple was right behind us, as were other vehicles that weren't "bothered†, I asked for a snapshot of my motorcycle, which they obviously didn't have, and they ended up mocking my request.
I wasn't enjoying the "game†and then they asked me how much and what kind of money I had. Obviously, I didn't answer, so, after some glaring and much to my surprise, they "merely†asked for 25 €. Since I had no euros, I paid the equivalent in Croat currency (200 kunas). Realizing this was robbery plain and simple, perpetrated by a "gang of armed policemen†, I quickly gave them the money and asked for a receipt, as a "souvenir†, which I was obviously denied. The money was truly for drinks as I confirmed later at the hotel in Brac. It was a common operation to extort money from tourists. And I was lucky to pay solely 25€, certainly because I had little money in my wallet.
In spite of this regrettable episode, the trip to Dubrovnik was truly worth it. We had the opportunity, as we arrived, to visit the center of the old city, at night. The following day, we visited the whole city and the imposing wall that surrounds its beautiful cathedrals, convents and monasteries, as well as a well-preserved synagogue and the oldest pharmacy in Europe (founded in 1318 by the Franciscan monks), which we also visited. Undoubtedly, Dubrovnik is, indeed the "pearl of the Adriatic", a mandatory place for those visiting Croatia.
On our way back from Dubrovnik, on the afternoon of June 14th, and so we wouldn't be "harassed†once again, we went through Bosnian territory at 25 mph (40 km/h). Even during the day, those few miles looked terrible, and the pavement was in a dreadful condition. I felt some disquiet when we went past road signs marking the way to Sarajevo and Mostar, war scenarios in recent years.
A few miler afterwards, already in Croatia, we rode past a series of beautiful and tranquil lakes, tow of which, curiously, reminded us of miniature versions of Lagoa das Sete Cidades, but with no eutrophy.
To shorten the ride back, we chose to catch a ferry at Makarska, headed for Sumartin, in the eastern end of the isle of Brac. This allowed us to arrive at dinnertime, to which followed the usual quiet evening, spent in the bar of the hotel, facing the sea, with the small harbour of Postira as a background. Every now and then, we'd hear a few nightingales, which, along with swallows and butterflies, are abundant in the pine and olive groves of Brac.
9th to 11th days – June 15th to 17th
As in the previous days, we continued to stroll through the isle of Brac, either going to the beach, either bathing in the many coves of the island, which is remarkably similar to the island of Pico. Except for the whiteness of the villages, the southern part of Brac, from which you can see the neighbouring island of Hvar, very narrow and long, reminded us a lot of the Pico – São Jorge channel.
12th day – June 18th – 755 mi (1.215 Km)
It was with sorrow that, at 06:30 in the morning, we again boarded the ferry to Split, thus ending our memorable stay at the isle, where we made about 497 mi (800 Km), many of them with no helmet, the use of which was optional on the island, plus the 229 mi (368 Km) of our visit to Dubrovnik.
In the ferry, a tourism billboard caught my attention. Over a beautiful photo, you could read: "Croatia: Natural stress relief". I couldn't have found a better definition for this country that is now awakening to tourism and will be, I'm sure, a very sought-out destiny in a few years. Let us hope that, there too, the hand of Man doesn't destroy the beauty Nature has created.
The route back to Slovenia and Italy was made inland, allowing us to see the wide development of Croatia, namely in terms of road infrastructures, with excellent motorways and long tunnels, recently constructed.
We arrived at the Slovene border around 13:00, crossing, a short time later, the Italian border, near Trieste.
Since the temperature was high (100º F – 38º C), we stopped for lunch and some rest at an "Auto-Grill†restaurant, on our way to Venice. We returned to the road, meaning to reach Menton, in the south of France. After crossing the whole of northern Italy, at a good speed, we reached the French Riviera around 21:00. On this day we made 755 mi (1.215 Km) across four countries (Croatia, Slovenia, Italy and France), driving for a total of 10 hours, being the last 93 mi (150 Km), between Genoa and Menton, extremely demanding through a mountain route full of bend and counter-curves and tunnels, which we crossed at a considerable speed in between a lot of traffic, forcing us to drive with special care and attention.
When we arrived, tired, at Menton, we didn't manage to fins a single hotel room available, certainly because it was Saturday. We went, desperately, from hotel to hotel, always getting the same answer: "complet". We were saved by a nice receptionist from one of the Menton hotels that managed to book us two rooms at another hotel, but in San Remo. Therefore, and after having dinner at Menton, we were back on the road to make the short but painfully 14 mi (22 Km) to San Remo, and back the way we had come earlier, to top it up. We finally arrived at the Grand-Hotel di Londra, that seemed to have stopped in time, more precisely in the 60´s, when it was already 01:00 in the morning, very tired but pleased. After all it had been a day full of emotions, as we so enjoy. We had breakfast in Croatia, lunch in Italy, dinner in France and were back in Italy to sleep. Nothing could be more international.
13th day – June 19th – 583 mi (938 Km)
After a well-earned rest, we left the beautiful bay of San-Remo, at around 10:00 in the morning, not without stopping to check up the motorcycle; namely, the oil level, the cooling fluid, the brakes and the tires pressure, taking the opportunity to refuel, for gasoline was slightly cheaper in Italy.
Unlike we had initially planned, we decided to head towards Biarritz instead of Irun, not only because it was somewhat closer, but also because we had stayed in this French city, in 2003, when we journeyed to Norway, and we had rather enjoyed this well-known seaside and surfing resort of south-western France.
We crossed the border once more, again going past Menton, Monaco, Nice, Marseille and, finally, Montpellier, where we stopped, at around 14:00, to have lunch at a service area restaurant, again under a bright sun and intense heat (99º F – 37º C)
We restarted our journey, towards Toulouse and then Biarritz, where we arrived at around 19:00, after having crossed another 583 mi (938 Km), on the final stage of our adventure.
Near Biarritz, and a little like it had happened on our trip to Norway, we witnessed a turbo exploding, this time one belonging to a car and, fortunately out in the open, on a motorway. Anyway, it was strange to suddenly come upon a huge ball of smoke, circulating at high speed ahead of us, without quite realizing what it was. We turned on our four blinkers and pulled to the left side of the road and, only after we had overtaken the vehicle (an old Renault Laguna model) did we understand what had happened.
Certainly because it was Sunday and the weather was magnificent, we crossed paths with many fellow bikers and even chatted a bit with some "fellow adventurers†on the service areas along the motorway.
After an invigorating shower and a good meal, we walked for a bit through the centre of town, along the seaside, up until around 23:00.
Since the weather was dark and cold in Biarritz, I checked the Internet for the weather forecast for the Biscay Gulf area, to see if, on the following day we could head to La Coruña and Santiago de Compostela, the last destinations of this trip, or if we should return directly to Lisbon. Having confirmed that bad weather was expected also in the north of Spain, we decided to return to Lisbon, much to the pleasure of our children, that thus had us back a day earlier.
14th day – June 20th – 625 mi (1.006 Km)
At around 08:30 in the morning, we left the Biarritz Ibis hotel (our favourite roadside hotels in terms of price/quality), heading straight for Lisbon. The weather was dark and a bit chilly (64º F – 18º C). There was even some light rain as we went past San Sebastian, in the north of Spain. We crossed the Spanish border around 09:00. As if the foul weather wasn't enough, the intense traffic in the roads of northern Spain, made our long way back to Lisbon even harder, even causing us to take the wrong road at. We lost some 30 minutes before the GPS got us back on track once again.
From Burgos onward, the sun started coming out and the temperature rose quickly to over 86º F (30ºC), and continued rising all the way to Portugal, where we faced 104º F (40º C) near Castelo Branco.
Since we greatly missed the Portuguese gastronomy, we chose to speed up, crossing our country's border, at Vilar Formoso, around 13:00 local time (14:00 in Spain) and stopping at Almeida, a beautiful town, surrounded by an imposing castle, through which I had gone a few weeks back, while participating in the "7º Portugal de Lés-a-Lés". After a tasty, typically northern lunch, we went on our way, with an unbearable heat, which our biker security did nothing to relieve, forcing us to stop more frequently to drink a lot of water, thus preventing dehydration to some level.
Near Castelo de Branco, we came upon a huge forest fire, the smoke of which covered the A23 motorway in which we were following. The smoke was so intense that, for moments, the sun disappeared and the motorway turned a brownish colour. It was a Dantesque scenario, with fire-fighting helicopters twirling over us.
We stopped for a final refuelling (gasoline and lots of water) near Portalegre, around 17:00, finally arriving at our children's apartments, in Olaias, at Lisbon, around 18:30.
As always, they were very pleased to see us and were unable to hide their usual relief to see us return from one of these long two-wheeled adventures.
So were spent the last 625 mi (1.006 Km) of our unforgettable trip to Croatia, in a total of 4646 mi (7.477 Km) made in only 14 days.
With this adventure, enjoyed in the always pleasant company of our good friends the Paz Ferreira couple (it was a pity my sister, Ani, and my brother-in-law, Manuel Carreiro, weren't able to accompany us this time) we now add up more than 31069 mi (50.000 Km) travelled through the whole of Europe, even if our goal is, our health allowing, of course, to reach 62137 mi (100000 Km).
Both Carlos's Honda Pan-European ST 1300 and my Yamaha FJR 1300/A registered no technical problems, thus confirming their quality, comfort and road aptitude. There are no doubts left that they are true "mile-eaters†.
Statistics:
The best: Our staying at the isle of Brac and the visit to Dubrovnik
The worst: The police incident in Bosnia
Total miles: 4.660 (about 7.500 km)
Total days: 14
Average consumption: 7,1 litres / 100 km. The best average was at Brac island: 6,2 lts. / 100 km.
Technical problems: None
Total cost: About 3.500 euros each couple including our staying at Brac Island.
Countries we visited: Portugal, Spain, France, Italy, Slovene, Croatia e Bosnia-Herzegovina
---
Member login
Are you an Overland Adventure Traveller?
Does the smell of spices wafting through the air make you think of Zanzibar, a cacophony of honking horns is Cairo, or a swirl of brilliantly patterned clothing Guatemala? Then this is the site for you!
Hosted by Grant and Susan Johnson, RTW 1987-1998
NEW! HU 2015 Motorcycle Adventure Travel Calendar is now available! Get your copy now for some terrific travel inspiration!
HUGE, 11.5 x 16.5 inches, beautifully printed in Germany on top quality stock! Photos are the winning images from over 600 entries in the 9th Annual HU Photo Contest!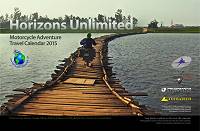 "The calendar is magnificent!"
"I just wanted to say how much I'm loving the new, larger calendar!"
We share the profit with the winning photographers. YOU could be in the HU Calendar too - enter here!
Next HU Events
Germany: May 14-17
Canada Ontario: Jun 18-21
Ireland: June 26-28
Colorado: July 17-19 TBC
Canada West: Aug 20-23
USA California: Sep 24-27
Aus Queensland: Sep 24-27
USA North Carolina: Oct 8-11
Aus Perth: Oct 9-11
Germany: Oct 22-25

10th Annual HU Travellers Photo Contest is on now! This is an opportunity for YOU to show us your best photos and win prizes!
Books