April 15, 2009 GMT
30. Chiquitano
.
.
Entering Bolivia – March 22/09 - by Puerto Suarez I was told by customs that Suzi's previous exit from the country we made on December 25/08 wasn't still registered on the system. It appeared as Suzi still was into the country surpassing the permit-time and putting me out of the rules. The functionary finally gave her entrance, with my compromise of having to go to a custom main office to fix the problem. I found this is a problem that would happen when you exit the country by a remote border as Laguna Verde where they haven't cyber-system. I went to customs main office in Santa Cruz, where I was told they couldn't close my exit –only at borders-, that it was my fault for leaving the country by a port with no customs (!¿!?) and that surely I would receive a fine at the next exiting border. I remember Laguna Verde migration port had a locked vehicular barrier. The strange issue is the migration officer at Laguna Verde received my Suzi's temporary permit saying nothing and allowing us to leave with no problem. I left that office very bored and asking myself if I would have the same problem when entering second time Ecuador as I had left by La Balsa, a remote no-system port in the jungle. The question will remain in my mind until Ecuador.
.


.
.
Amigo: ahora puedes leer la historia completa en mi libro "La Suramérica que recorrí". Ve a www.palibrio.com. Las fotos, míralas aquí.
.
.
Cuando entré a Bolivia – Marzo 22/09 – por Puerto Suárez fui informado en la aduana de que la previa salida del país de Suzi, en Diciembre 25/08, no había sido aún registrada en el sistema. Aparecía como si Suzi estuviera todavía en el país sobrepasando el tiempo de permanencia otorgado y poniéndome a mí contraviniendo las reglas. El funcionario finalmente me dio la entrada, con mi compromiso de ir a una gerencia de aduana a arreglar el problema, lo que hice en Santa Cruz donde me informaron que allí no podían registrar mi entrada, de que era mi culpa el haber salido por un puerto sin aduana (¡!??) y de que seguramente me aplicarían una multa. Yo recuerdo que en Laguna Verde, por donde salí, había barrera vehicular con candado. Lo extraño es que el funcionario de inmigración me recibió conforme el permiso temporal de la moto y me permitió salir sin problemas. Aprendí que este es un problema que puede suceder cuando se sale del país por un puerto remoto sin conexión al sistema. Salí muy aburrido de esa oficina preguntándome si lo mismo no iba a suceder en Ecuador pues había salido por La Balsa, puerto remoto y sin sistema en la selva cuyo centro era Chiclayo, a donde el funcionario de La Balsa debería enviar el documento en papel para ser registrado allí en el sistema. La pregunta permanecerá en mi mente hasta llegar a Ecuador.
.
.
-----------------------------------------
.
.
The 300 km plus road from Puerto Suarez to San Jose de Chiquitos is almost perfect concrete, built by Italian Astaldi. It is the best road I have traveled in my life; not even in USA or Canada, surface and joints are as smooth as they are in this road, you just don't feel them. A wonder in the middle of the jungle with traffic of one truck every 15 minutes.
.


.
La vía de más de 300 km desde Puerto Suárez a San José de Chiquitos es concreto casi perfecto, construída por la italiana Astaldi. Es la mejor carretera que he recorrido en mi vida, ni siquiera en USA o Canadá la superficie y las juntas son tan suaves como aquí, usted simplemente no las siente. Una maravilla en medio de la selva con tráfico de un camión cada 15 minutos.
.
.
-----------------------------------------
.
.
However the exits to small towns as Roboré are other story, as it is gassing up because the operator's nap-time.
.


.


.
Sin embargo las salidas a los pueblos pequeños como Roboré son otra historia, como es el tanquear allí debido a la siesta del operario de la bomba.
.
.
-----------------------------------------
.
.
Chochís has a beautiful temple, where Christian icons are mixed with native ones. Carving is a common activity in this area.
.


.


.


.


.
Chochís tiene un bello templo donde imágenes cristianas están mezcladas con nativas. La talla en madera es una actividad común en esta área.
.
.
-----------------------------------------
.
.
The main purpose for riding this country was to visit the ancient Jesuit missions, jewels of the XVIII century. The SAN JOSÉ group ( chapel, bell-tower, and mortuary ) is the only one in the area that is Baroque stone-made, currently under repairing.
.


.


.


.
El propósito principal para rodar por esta parte de Bolivia era visitar las antiguas misiones jesuitas, joyas del siglo XVIII. El grupo de SAN JOSÉ ( capilla, campanario y bóveda ) es el único en el área que es barroco en piedra, actualmente en reparación.
.
.
-----------------------------------------
.
.
SAN RAFAEL. All these towns were named after Saints Archangels. Remember you fellow reader that San Rafael is the travelers' patron and protector.
.


.


.


.


.


.
SAN RAFAEL. Todos estos pueblos fueron nombrados en honor de los santos arcángeles. Recuerde usted estimado lector que San Rafael es el patrono protector de los viajeros.
.
.
-----------------------------------------
.
.
SAN MIGUEL.
.


.
.
-----------------------------------------
.
.
Presently posts are not the size nor as straight lined as church columns.
.


.


.
Los postes actuales no son del tamaño ni la rectitud de las columnas de las iglesias.
.
.
-----------------------------------------
.
.
SAN IGNACIO. Beautiful carving all around.
.


.


.


.
SAN IGNACIO. Bellas tallas por todas partes.
.
.
-----------------------------------------
.
.
Around the plaza walkways are covered and indigenous themes are incorporated into construction.
.


.


.


.


.
Los andenes alrededor de la plaza son cubiertos por los aleros y temas indígenas son incorporados en la construcción.
.
.
-----------------------------------------
.
.
The road ahead of San José is earthed with easy riding conditions. However from San Ignacio to Concepción it had some surprises. Although most of the road was packed moody with no difficulties,…………………………
.


.
La carretera adelante de San José es en tierra pero de fácil manejo. Sin embargo llegando a Concepción ella tenía algunas sorpresas. Aunque la mayoría del camino era pantano ya compactado sin dificultades, …………………….
.
.
-----------------------------------------
.
.
…………………..there were four lengths of about 500 meters each of genuine soap, not deep but absolutely slippery.
.


.
…………………habían cuatro tramos de cerca de 500 metros cada uno de puro jabón, no profundos pero absolutamente lisos.
.
.
-----------------------------------------
.
.
I successfully made first and last, but tasted ground on the other two. When the driver of a pickup truck came to help me placing Suzi on her wheels, we hardly could be able to be on our feet. When I left the second length (the first I fall in), I checked out my mirrors just to see the Toyota traversed in the road and with their back wheels almost into the ditch. The driver had not still engaged the 4-wheel drive. What would I say with only 1-wheel ride ?
.


.
Pasé bien el primero y el último, pero probé tierra en los otros dos. Cuando el conductor de una camioneta paró a ayudarme a poner a Suzi sobre sus ruedas, nosotros difícilmente éramos capaces de mantenernos en pié. Cuando salí del segundo tramo (el primero en que caí), miré por los espejos sólo para ver la Toyota atravesada en la vía y con sus ruedas traseras casi en la cuneta. El conductor no había puesto aún las cuatro ruedas. Qué podría yo decir con sólo una ?
.
.
-----------------------------------------
.
.
CONCEPCIÓN.
.


.


.


.
.
-----------------------------------------
.
.
SAN JAVIER.
.


.


.
.
-----------------------------------------
.
.
I reached Santa Cruz de la Sierra late afternoon. Looking for hotel, I parked Suzi close of a KTM. Because it hadn't room in the hotels around the site, I was sit on the walkway thinking going sleeping to a fire-fighters station or similar. Suddenly a gentleman – Herman – came to chat about bikes, he was the KTMer. He offered me a place in their motor bike club campus – www.motoclubsantacruz.com - , a luxury place with pool and other facilities.
.


.
Llegué a Santa Cruz de la Sierra tarde. Buscando hotel, parqueé a Suzi cerca a una KTM. No había espacio en los hoteles alrededor del sitio y me encontraba sentado en el andén pensando irme a una estación de bomberos o a algún lugar similar. Vino entonces un caballero – Herman – a charlar acerca de motos, él era el de la KTM, y me ofreció un lugar en la sede de su club de motos – www.motoclubsantacruz.com - , un lujo con piscina y todo.
.
.
-----------------------------------------
.
.
Choosing the lockers room I had three nice sleeping nights.
.


.
Escogí los apartados en donde pasé tres buenas noches.
.
.
-----------------------------------------
.
.
Next day they had a meeting and I was introduced to many riders, what a friendly welcoming.
.


.


.
Al siguiente día ellos tuvieron una reunión en la cual fui presentado con varios motociclistas, qué amistosa bienvenida.
.
.

31. Chuquisaca
.
.
Leaving Santa Cruz I headed for Sucre, via Samaipata and Vallegrande.
El Fuerte de Samaipata ( Samaipata Fort ) is a structure that has channels, basins, and high-relief sculptures carved out of one big rock.
.


.


.
.
Amigo: ahora puedes leer la historia completa en mi libro "La Suramérica que recorrí". Ve a www.palibrio.com. Las fotos, míralas aquí.
.
.
Salí de Santa Cruz hacia Sucre via Samaipata y Vallegrande.
El Fuerte de Samaipata es una estructura en una gran roca que tiene canales, pozos, y esculpidos en alto relieve.
.
.
-----------------------------------------
.
.
Vallegrande Señor de Malta Hospital is the place where Bolivian Army exhibited the body of Che Guevara, October 10/67.
.


.
En el Hospital Señor de Malta de Vallegrande el ejército boliviano exibió el cuerpo del Ché Guevara, Octubre 10-67.
.
.
-----------------------------------------
.
.
As a dirty cloth, Che's body was placed on top of the laundry pair of sinks to be pictured out for international knowing. Many of you probably remember his icy-opened eyes.
.


.


.
Como un trapo sucio, el cuerpo del Ché fue puesto encima del par de lavaderos para que fuera fotografiado para la prensa internacional. Muchos de ustedes probablemente recuerden sus congelados ojos entreabiertos.
.
.
-----------------------------------------
.
.
Continuing behind Che's story, I rode to La Higuera, the place he was taken prisoner.
.


.


.
Continuando tras la historia del Ché, rodé hacia La Higuera, el lugar donde fue hecho prisionero.
.
.
-----------------------------------------
.
.
This is the school where he was in custody before being assassinated.
.


.
Esta es la escuela donde estuvo en custodia antes de ser asesinado.
.
.
-----------------------------------------
.
.
I was told in Santa Cruz the road toward Sucre was through a beautiful landscape and with good surface. It was almost true, except because many, many not friendly sections, streams crossing included.
.


.


.


.


.
Me dijeron en Santa Cruz que el camino hacia Sucre era a través de hermoso paisaje y con buen a superficie. Eso era casi cierto, excepto por las muchas, muchas partes no muy amigables con cruce de quebradas incluído.
.
.
-----------------------------------------
.
.
Three riding hours latter after passing La Higuera, I thought the absolutely lack of traffic was due that day was Sunday (March 29-09). But not even houses were close or beside the road, so the loneliness was total. At the first house I found, I was told that probably the river wouldn't allow me to continue due its high flow. I couldn't go back; I didn't like to ride that treacherous road again. So, I had to go to explore the river. It appeared to be shallow on the first half, but after a peasant waded it on his horse, I noticed it was almost a meter deep on the other 10 meter long half.
.


.


.
Tres horas después de salir de La Higuera pensé que la falta absoluta de tráfico era debido a que ese día era domingo (Marzo 29-09). Pero es que ni siquiera había casas al lado o cerca de la carretera por lo que la soledad era total. En la primera casa que encontré me dijeron que probablemente no podría cruzar " el río " debido a que estaba muy alto. No podía regresarme, no quería volver a pasar todos esos pasos difíciles de nuevo. Entonces tuve que seguir a explorar el río. Parecía ser bajo en la primera mitad, pero después de que un campesino lo pasó a caballo, vi que era como de casi un metro de profundidad en la otra mitad de 10 metros de largo.
.
.
-----------------------------------------
.
.
The peasant and his son came in underwear to help me passing Suzi to the other bank. I dismounted the bags and took the computer and cameras out from the bike. Andrés positioned him self in the deepest part of my track. I rode up to the middle of the stream through the shallow part with no problem. Here, I had to decide the moment of launch the crossing, the same way you nervously think and decide when to jump into the water from a very high trampoline. Not liking to delay that crucial moment, I release the clutch and went into the hole, only to dive into the water after a pair of meters. Luckily I felt to my right side, the side the stream was coming from. When I could get my head out of the water, Andrés already was pulling Suzi to put her vertical, water stream helping. At that very moment I noticed other peasant that had come to the bank for the show, was taking his pants off and coming to help. Now we four were able to push Suzi out of the water fighting against the stream force trying to turn her side down. I immediately pushed the start button and Suzi turned on, what a rest! I let her for minutes in idle, working perfectly in low but not allowing high. After 30 minutes I spent wading my dry belongings and drying the wet ones, I drained the carburetor ( just loosening a screw ) and instantly Suzi was ready to eat more rode. I had to drain the carburetor again two or three more times, it was all.
.


.


.
El campesino y su hijo volvieron en pantaloneta a ayudarme a pasar a Suzi al otro lado. Desmonté las maletas, las cámaras y el computador. Andrés se posicionó en la parte mas profunda de la ruta a través del río. Rodé por la parte bajita hasta el centro sin problemas. Aquí tenía que decidir el momento de lanzarme de la misma manera como usted piensa y decide lanzarse al agua desde una plataforma alta. No queriendo demorar ese crucial momento, aceleré, solté el clutch, y me tiré al charco sólo para estar buceando después de un par de metros, había caído demasiado rápido. Cuando saqué la cabeza del agua, Andrés ya estaba halando a Suzi para ponerla vertical con la ayuda de la corriente pues afortunadamente caí en contra de ella. En ese instante vi que otro campesino que había venido a la orilla a ver el show se estaba quitando los pantalones para venir a ayudar. Ahora nosotros cuatro fuimos capaces de empujar a Suzi hasta la orilla peleando contra la fuerza de la corriente que quería volcarla. Una vez afuera le di arranque y Suzi inmediatamente prendió, qué descanso! La dejé varios minutos en mínimo porque no aguantaba la alta. Después de 30 minutos vadeando las maletas secas y secando lo mojado, drené el carburador (sólo aflojar un tornillo) y Suzi quedó lista para comer mas carretera. Tuve que drenar de nuevo el carburador dos o tres veces más, pero eso fue todo.
-----------------------------------------
.
.
I got Villa Serrano late afternoon, where I learnt the river I dove is called El Bañadito (little bath-taken), meaning people have to take an obligated bath when crossing it. What a day, with beautiful landscape, riding a lonely road, taking improvised baths, etc. Only 200 km but 8 riding hours.
.


.
Llegué a Villa Serrano al final de la tarde. Allí supe que el río donde me sumergí es llamado El Bañadito, o sea que la gente tiene que tomar un baño obligado al cruzarlo. Qué día!, con bello paisaje, rodando por carretera solitaria, tomando improvisados baños, etc. Sólo 200 km pero 8 horas andando.
.
.
-----------------------------------------
.
.
Wonderful and smoothly 6 meter wide stone-paved road runs for two kilometres out of town.
.


.


.
Preciosa –por lo suave- vía empedrada de 6 metros de ancho que corre por sólo dos kilómetros fuera de Villa Serrano.
.
.
-----------------------------------------
.
.
But after the stone-paved, a common gravelled road is. Suzi protested with a front flat tire I fixed in one hour changing the inner pipe.
.


.
Pero después del empedrado viene una en grava normal. Suzi protestó con pinchazo que arreglé en una hora cambiando el neumático.
.
.
-----------------------------------------
.
.
From Tarabuco you can see Cal Orck'o, the quarry close to Sucre where more dinosaur footprints have been found in the world.
.


.
Desde Tarabuco se puede ver Cal Orck'o, la cantera cercas a Sucre donde mayor número de huellas de dinosaurio han sido encontradas en el mundo.
.
.
-----------------------------------------
.
.
Fancesa Cement has preserved this originally horizontal layer where four different types of dinosaurs walked 68 million years ago in between two consecutive low tides.
.


.


.


.
Cementos Fancesa ha preservado esta capa, originalmente horizontal, donde cuatro tipos de dinosaurio caminaron hace 68 millones de años durante dos mareas bajas consecutivas.
.
.
………………………………..
.
.
These footprints are about 70 cm diameter.
.
image
.
Estas huellas son de aproximadamente 70 cm de diametro.
.
.
-----------------------------------------
.
.
Sucre is Bolivia's official capital. Formerly Chuquisaca , this year it's celebrating the bicentennial of the independence, the first in South America.
.


.


.


.


.
Sucre es la capital oficial de Bolivia. Antiguamente Chuquisaca, está celebrando este año el bicentenario del grito de independencia, el primero en Suramérica.
.
.
-----------------------------------------
.
.
Potosí is on the flanks of Cerro Rico, the silver mountain that gave wealth to Spain for years. In its maximum with population 170.000, Potosí was the second largest city in the western world after Naples-Italy, before Paris, Madrid and London.
.


.
Potosí está en las faldas de Cerro rico, la montaña de plata que le dio riqueza a España por años. En su máximo con una población de 170.000 habitantes, Potosí fue la segunda ciudad del mundo occidental después de Nápoles-Italia y antes de París, Madrid y Londres.
.
.
-----------------------------------------
.
.
Colonial buildings and churches are all arround.
.


.


.


.


.


.


.
Edificios coloniales e iglesias alrededor de la plaza principal.
.
.
-----------------------------------------
.
.
The Casa de Moneda (mint) Museum has a wonderful collection of coins, mint industry, painting, silver artefacts, gems, mineralogy, melting industry, etc.
.


.


.


.
La Casa de Moneda tiene una estupenda colección de monedas, industria de acuñación, pinturas, artefactos de plata, mineralogía, metalurgia, etc.
.
.
-----------------------------------------
.
.
At this point of my trip, I was no comfortable. The most part of it had been done, but still I had too many kilometres to get home. Solitude, the coming border issues, and other personal factors had made their toll in my mind. I was tired, happy not longer, and not enjoying the coming attractions, I just liked to be back home. So, I checked out my schedule and found I had "only" 5.500 km between me and Cali-Colombia. Re-planning, I decided to ride as long as I could every day in order to get home before 10 days. Being in Potosí-Bolivia, I had to traverse the Andes to get the Pacific coast at Arica-Chile, ride along the Peruvian and Ecuadorian coastal, and finally ride the Andes up to Colombia. Many things would remain to be known in my next trip, but this one was almost over. I didn't feel guilty; I just was looking for finishing my trip ASAP. So, I left Potosí Thursday April 2nd at 5:30 am, heading for Arica-Chile, 830 km far away. What a cold morning, I had my electrical jacket connected until 10 am.
.


.
En este punto del viaje yo ya estaba incómodo. La mayor parte de él había sido ya ejecutada, pero aún tenía muchos kilómetros para llegar a casa. La soledad, los asuntos de frontera que vendrían, y otros factores personales habían hecho mella en mi mente. Estaba cansado, no disfrutaba las atracciones, sólo quería estar de nuevo en casa. Entonces revisé mi programa y encontré que habían "sólo" 5.500 km hasta Cali-Colombia. Replanteando, decidí rodar tan largo como pudiera cada día con tal de estar en casa antes de 10 días. Estando en Potosí-Bolivia, tenía que atravesar los Andes para llegar a la costa pacífica en Arica-Chile, rodar a lo largo de las costas peruanas y ecuatorianas, y finalmente trepar los Andes para llegar a Colombia. Muchas cosas quedarían pendientes para ser conocidas en el próximo viaje, éste estaba por terminar. No me sentí culpable, simplemente quería ya finalizar mi viaje tan pronto como fuera posible. Entonces salí de Potosí el jueves 2 de abril a las 5:30 am hacia Arica-Chile, a 850 km de distancia. Qué mañana tan fría, tuve mi chaqueta eléctrica conectada hasta las 10 am.
.
.
-----------------------------------------
.
.
Bolivian border was crossed with no fine, and Chilean one with no problem, so I rode down the Pacific in a kind of happiness because I already had resolved some of the problems. Leaving Potosí at 4.100 m the road climb to a puna at 4.700 m for one hour, next it descend to the Bolivian Altiplano at 3.600 m, to finally descend to the sea. What a differences in the same day!
.


.
La frontera boliviana fué cruzada sin multas, y la chilena sin problemas. Entonces bajè hacia el Pacífico en un trance de felicidad porque ya había resuelto algunos de los problemas. Saliendo de Potosí a 4.100 m se sube a una puna de 4.700 por cerca de una hora, luego se baja al altiplano boliviano a 3.600 m, para finalmente bajar a nivel del mar. Vaya diferencias en el mismo día!

32. Costa Pacìfica
.
.
It's a long ride down hill from the border to Arica. The road, just stupendous.
.


.
.
Amigo: ahora puedes leer la historia completa en mi libro "La Suramérica que recorrí". Ve a www.palibrio.com. Las fotos, míralas aquí.
.
.
Es una bajada larga por una carretera estupenda desde la frontera hasta Arica.
.
.

-----------------------------------------
.
.
The Morro (the height) is Arica distinctive, ………………
.


.


.
El Morro es el distintivo de Arica, ………………..
.
.
-----------------------------------------
.
.
……………… but I had a special personal interest in the olympic pool. My wife Marta was there in 1972 representing Colombia in the XXI South-American Swimming Championship. Being so long time without her company and support, I thought I would get some mind energy from the site, feeling she was there.
.


.
………………….. pero yo tenía un especial interés en la piscina olímpica. Mi esposa Marta estuvo compitiendo allí en representación de Colombia en el XXI Campeonato Suramericano de Natación. Habiendo estado largo tiempo sin su compañía y soporte, pensé que podría recuperar algo de energía mental pensando y sintiendo que ella estuvo allí.
.
.
-----------------------------------------
.
.
Getting permission was easy, so I chose going with Suzi up a ramp to the stands where I found a site to sleep.
I swam 1.000 m next day, they helped me to complete the energy I needed in body and spirit to ride almost 3.000 km Peruvian desert I had ahead.
.


.


.
Obtener el permiso fué fácil, entonces escogí subir con Suzi por una rampa hasta las tribunas donde encontré un sitio para dormir. Los 1.000 m que nadé al día siguiente me ayudaron a complementar la energía que necesitaba en cuerpo y espíritu para rodar por los casi 3.000 km de desierto peruano que venían adelante.
.
.
-----------------------------------------
.
.
Peruvian border formalities were the longest I had to deal with. I finally left Tacna at 11 am to ride long straights.
.


.


.
El papeleo en la frontera de Perú fue el mas largo de todo el viaje. Finalmente salí de Tacna a las 11 am a rodar por largas rectas.
.
.
-----------------------------------------
.
.
Green color is only seen along the few rivers that get to transport water from the Andes; flat oasis with plenty of food are on them.
.


.


.


.
Sólo se ve verde a lo largo de los pocos ríos que logran transportar agua desde los Andes; oasis planos con mucha comida hay en ellos.
.
.
-----------------------------------------
.
.
The desert already has owners. People have delimited lots, most of them with legal and registered titles. In some areas owners have built primitive and simple shelters to demonstrate possession of the land. When government build up water and irrigation systems, these people would come to make the country more productive.
.


.


.
El desierto ya tiene dueños. La gente ha delimitado lotes, la mayoría con títulos legales y registrados. En algunas áreas los dueños han construído pequeños cambuches para demostrar la posesión de la tierra. Cuando el gobierno construya sistemas de agua e irrigación esa gente hará más productivo el país.
.
.
-----------------------------------------
.
.
In some places as in Virú, government made reservoirs and aqueducts, and sold the improved land. Companies adapted the land and now there are huge extensions producing all kind of fruits. I rode along of this one, Vallesol, for more than 15 km. Over there I understood why the best mandarines I have eaten in Canada had the sticker " Product from Perú ".
.


.


.
En algunos lugares como Virú, el gobierno construyó represas y acueductos y vendió la tierra mejorada. Muchas compañías han adecuado la tierra y ahora hay inmensas extensiones produciendo toda clase de frutas. Rodé a lo largo de ésta, Vallesol, por mas de 15 km. Allí entendí porqué las mejores mandarinas que me he comido en Canada estaban marcadas "Product from Perú".
.
.
-----------------------------------------
.
.
But other parts of the desert could hardly be transformed: sand is carried permanently by winds, covering the road here, building dunes up over there.
.


.


.
Pero otras partes del desierto difícilmente podrían ser transformadas: arena es acarreada permanentemente por los vientos, cubriendo el camino aquí, formando dunas allá.
.
.
-----------------------------------------
.
.
Pacific coast has splendid places; the journey is just a nirvana I would like to ride very slowly. It will be a target in my next trip.
.


.


.


.
image
.
La costa pacífica tiene espléndidos lugares; la jornada es una fantasía que me hubiera gustado pasar muy lentamente. Será un objetivo para el próximo viaje.
.
-----------------------------------------
.
.
Nazca. The enigmatic lines welcome you from all directions of the desert.
.


.


.


.
Nasca. Las enigmáticas líneas dan la bienvenida desde todas partes del desierto.
.
.
-----------------------------------------
.
.
Most of them were drawn by putting apart the dark stones to reveal the lighter ground.
.


.
La mayoría fueron dibujadas separando las piedras que son oscuras para revelar el terreno que es mas claro.
.
.
-----------------------------------------
.
.
From a tower you can see The Hands and The Tree (carob tree).
.


.


.
Desde una torre puede verse Las Manos y El Arbol (un algarrobo)
.
.
-----------------------------------------
.
.
After a long ride from Lima to Piura (1.025 km), I met Victor Lema, wife Mimi and daughter Angela. Victor had invited me to visit them, so I was so happy being with them at home for two days. What a luxury welcoming I didn't expect at the end of my trip.
.


.
Después de una larga jornada desde Lima hasta Piura (1.025 km), me encontré con Víctor Lema, su esposa Mimi y su hija Angela. Victor me había invitado a visitarlos por lo que estuve feliz con ellos en su casa por dos días. Qué lujoso recibimiento al final de mi viaje, no me lo esperaba.
.
.
-----------------------------------------
.
.
Not happy having me at home, Víctor invited aunt Margot and cousin Julio with spouses to lunch with us.
.


.


.
No contento conmigo en casa, Víctor invitó a su tía Margot y a su primo Julio con sus consortes a almorzar con nosotros.
.
.
-----------------------------------------
.
.
And finally I got Ecuadorian border. My expectations since Bolivia issue were almost true, this time not with Suzi but with myself. Let me explain it. Ecuador is currently asking to Colombian citizens a Police Certificate I had not because it was not asked when I entered Ecuador leaving Colombia five months ago. Getting this certificate at any consulate would take about four months. At the border I opt for contracting a helper to get my visa. He came back saying I had a 200 dollars fine because my previous exit I made by a remote port in the jungle from Ecuador to Peru was not registered into the system. For a small bribe the problems were forgotten. Now Suzi: no problem!, The principal custom officer (biker) ordered my temporary permit indeed it was after hours, 6:30 pm. I left Huaquillas SO happy and rode that night up to Machala where I chose a motel. That night I was feeling that somebody was missing on that rounded bed, under and in front of mirrors, to celebrate.
.


.


.
Y finalmente llegué a la frontera con Ecuador. Mis expectativas desde el asunto en Bolivia resultaron casi ciertas, esta vez no con Suzi pero sí conmigo. Déjenme explicar. Ecuador está actualmente exigiendo a los ciudadanos colombianos un Certificado de Policía que yo no tenía porque no era solicitado cuando entré a Ecuador saliendo de Colombia cinco meses atrás. Obtener el certificado demoraba cuatro meses en cualquier consulado. Entonces contraté un gestor que me consiguiera la visa quien volvió con el cuento de que además de la falta del certificado, yo tenía 200 dólares de multa porque mi salida previa que hice por la selva de Ecuador hacia Perú no estaba registrada en el sistema. Con una " contribución " los problemas fueron olvidados. Ahora Suzi, ah…… sin problema. El oficial principal de aduana, que era motociclista, ordenó mi permiso temporal cuando supuestamente ya la aduana había cerrado ese día, 6:30 pm. Salí de Huaquillas MUY contento y rodé hasta Machala donde me entré a un motel. Esa noche yo sentía que alguien hacía falta en esa cama redonda, delante y debajo de espejos para celebrar.
.
.
-----------------------------------------
.
.
Two days latter I entered Cali and met my son Ricardo, Margarita y Salomé. The trip was over, I was in perfect conditions and happy to be back home.
.


.
Dos días después entrè a Cali a reunirme con mi hijo Ricardo, Margarita y Salomé. El viaje había finalizado, yo me encontraba en perfectas condiciones y feliz de regresar.
.
.
-----------------------------------------
.
.
During the last week I was in five countries and rode just 5.000 km:
Thursday 2. Potosí (Bolivia) to Arica (Chile), 847 km.
Friday 3, Arica to Atico (Peru), 650 km.
Saturday 4, Atico to Lima, 750 km.
Sunday 5, Lima to Piura, 1025 km.
Monday 6, Piura
Tuesday 7, Piura to Machala (Ecuador), 400 km.
Wednesday 8, Machala to Ibarra, 730 km.
Thursday 9, Ibarra to Cali (Colombia), 600 km.
Total trip distance : 38.000 km
Total trip time : 164 days.
.


.
Durante la semana pasada estuve en cinco países y rodé exactos 5.000 km.
Jueves 2. de Potosí (Bolivia) a Arica (Chile), 847 km.
Viernes3, de Arica a Atico (Peru), 650 km.
Sabado 4, de Atico a Lima, 750 km.
Domingo 5, de Lima a Piura, 1025 km.
Lunes 6, en Piura
Martes 7, de Piura a Machala (Ecuador), 400 km.
Miércoles 8, de Machala a Ibarra, 730 km.
Jueves 9, de Ibarra a Cali (Colombia), 600 km.

Distancia total recorrida : 38.000 km
Tiempo : 164 días.
.
.
-------------------------
.
.
Finally, I want to dedicate this trip to two relatives, both bikers, that are not longer with us, whom I thought almost every day while riding this continent:
-- My uncle FERNANDO LEMA who inspired and first-hand showed us the passion for motorcycles; and
-- My cousin TIBERIO -Tiby- JARAMILLO who always was a wonderful partner and advisor.
.
.
Finalmente, quiero dedicar este viaje a dos familiares motociclistas que no estàn ya con nosotros y en quienes pensè casi cada dìa durante el viaje por este continente:
-- Mi tìo FERNANDO LEMA quien nos inspirò y nos mostrò de primera mano la pasiòn por las motocicletas; y
-- Mi primo TIBERIO JARAMILLO quien fuè siempre un magnìfico compañero y consejero.

Enter your email address to receive updates to Santiago Lema's trip story!
Recent Entries
Archives:
Archives:
Monthly
Archives:
Category
Now that summer is here, get On the Road! Take 30% off the Achievable Dream - On the Road! 2-DVD set until August 31 only.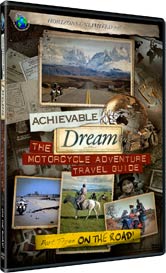 Our veteran travellers share their tips (and great stories) for staying healthy, happy and secure on your motorcycle adventure.
"A fantastic, informative and inspirational DVD."
"It's brilliant - thank you very much!"
Check it out at the HU Store! Remember to use Coupon Code 'ONTHEROAD' on your order when you checkout.
Next HU Events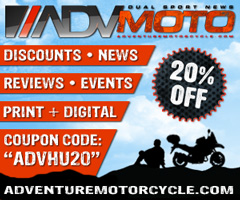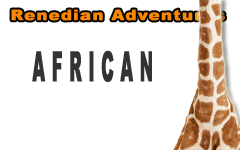 What others say about HU...
"I just wanted to say thanks for doing this and sharing so much with the rest of us." Dave, USA
"Your website is a mecca of valuable information and the DVD series is informative, entertaining, and inspiring! The new look of the website is very impressive, updated and catchy. Thank you so very much!" Jennifer, Canada
"...Great site. Keep up the good work." Murray and Carmen, Australia
"We just finished a 7 month 22,000+ mile scouting trip from Alaska to the bottom of Chile and I can't tell you how many times we referred to your site for help. From how to adjust your valves, to where to stay in the back country of Peru. Horizons Unlimited was a key player in our success. Motorcycle enthusiasts from around the world are in debt to your services." Alaska Riders

10th Annual HU Travellers Photo Contest is on now! This is an opportunity for YOU to show us your best photos and win prizes!
NEW! HU 2014 Adventure Travel T-shirts! are now available in several colors! Be the first kid on your block to have them! New lower prices on synths!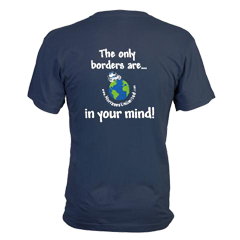 Check out the new Gildan Performance cotton-feel t-shirt - 100% poly, feels like soft cotton!

What turns you on to motorcycle travel?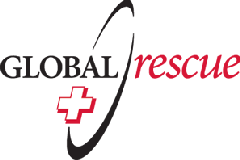 Global Rescue is the premier provider of medical, security and evacuation services worldwide and is the only company that will come to you, wherever you are, and evacuate you to your home hospital of choice. Additionally, Global Rescue places no restrictions on country of citizenship - all nationalities are eligible to sign-up!
New to Horizons Unlimited?
New to motorcycle travelling? New to the HU site? Confused? Too many options? It's really very simple - just 4 easy steps!
Horizons Unlimited was founded in 1997 by Grant and Susan Johnson following their journey around the world on a BMW R80 G/S motorcycle.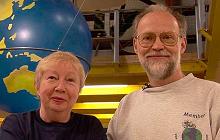 Read more about Grant & Susan's story
Membership - help keep us going!
Horizons Unlimited is not a big multi-national company, just two people who love motorcycle travel and have grown what started as a hobby in 1997 into a full time job (usually 8-10 hours per day and 7 days a week) and a labour of love. To keep it going and a roof over our heads, we run events (22 this year!); we sell inspirational and informative DVDs; we have a few selected advertisers; and we make a small amount from memberships.
You don't have to be a Member to come to an HU meeting, access the website, the HUBB or to receive the e-zine. What you get for your membership contribution is our sincere gratitude, good karma and knowing that you're helping to keep the motorcycle travel dream alive. Contributing Members and Gold Members do get additional features on the HUBB. Here's a list of all the Member benefits on the HUBB.
Books & DVDs

All the best travel books and videos listed and often reviewed on HU's famous Books page. Check it out and get great travel books from all over the world.

MC Air Shipping, (uncrated) USA / Canada / Europe and other areas. Be sure to say "Horizons Unlimited" to get your $25 discount on Shipping!
Insurance - see: For foreigners traveling in US and Canada and for Americans and Canadians traveling in other countries, then mail it to MC Express and get your HU $15 discount!
Story and photos copyright © All Rights Reserved.
Contact the author:
Editors note: We accept no responsibility for any of the above information in any way whatsoever. You are reminded to do your own research. Any commentary is strictly a personal opinion of the person supplying the information and is not to be construed as an endorsement of any kind.
Hosted by: Horizons Unlimited, the motorcycle travellers' website!
You can have your story here too - click for details!