Randy Kremlacek & Mary Finley - Croat-Slovene-Austria-Italia
Introduction:
On Saturday, May 14, 2005, we departed on our second European motorcycle tour in as many years. This time we began our trip in Vienna, Austria, arriving on Thursday evening and absorbed this old city until Saturday morning at which time we departed. Upon the return from the motorcycle portion of our trip on the following Wednesday evening, we resumed the remainder of our vacation, taking the train to Prague, meeting up with my brother and sister-in-law and parents. From there, we explored the Czech Republic, Germany, a corner of Poland and Northern Austria.
Now our trip begins…..
We showed up at 2RAD-BORSE , a sizable and extremely hub-bubby Vienna Motorcycle dealership that handled Honda, Yamaha, KTM and Aprilia. This was where we'd pick up our Honda TransAlp 650. Starting off on a bad note, when we arrived the first thing we noticed was that the bike was somewhat dirty. Oh shit, is this thing a run-down clunker of a bike? A quick look at the odometer and peering through the surface grime, the bike seemed to be fine, just that it hadn't been cleaned up since the last rental.
However there was a major problem as they had not communicated correctly with their U.S. rental agent and the bike was without side luggage that we had requested. Fortunately our contact guy, Alfred Schmidt tried to recover from this gaffe and we attempted several different solutions. We finally settled on the largest Givi rear case (E52 Maxia) and a large tank bag which would hold everything plus leave a bit of room for "expansion†as Mary would buy along the way. Lastly, I checked the tire pressure and they were at 20 lbs so I insisted on a mini-service before launching. This was not an auspicious start, but what to do? I was reasoning that they had a little communications mistake and that the bike had set for awhile. After all, the bike was almost brand new with less than 1,000 miles on it, right?
It was about 1 PM before we finally left the dealership and we had to slog through downtown Vienna traffic. I would describe downtown Vienna as the equal to San Francisco in complexity and confusion – just add in the foreign street and traffic signs and it's a solid first place.. It took us quite awhile before we found a highway heading south out of town. The GPS was of no help as the high buildings blocked satellite coverage. The freeway that we chose was a bad idea. Bumper-to bumper traffic for miles as the freeway was in the midst of a huge upgrade. This bike, with its high seat height, combined with a passenger and that huge fully-packed top case, made for a top heavy affair. Tippy-toeing in four lanes of traffic at zero to 2 mph with a gusty 40 mph cross wind wasn't a shitload of fun.
Life got much better as the freeway finally opened up, but it was now almost 3 PM and we had gotten to the first suburb south of Vienna. Lesson learned is to call the dealership directly in advance and show up as early as possible to get the most out of your first day. You must take control, plan and dictate or otherwise, you dick around and waste valuable sunlight.
Per chance, a bit down the open road, we took an exit to look at the map and Mary noticed a sign for a Gaushaus, indicating "Bikers Welcome†. We rode through rolling hills covered in a bizillion blooming dandelions and arrived at a wonderful Austrian hotel nestled in a grove.
We mis-translated ourselves through an excellent lunch. This repast combined with the pleasant ride the last few miles had made the outlook much better.
Back on the bike again, this was going to be our first "green road†, the color of the scenic routes on Michelin maps. We were headed south in the general direction of Graz and the Austria/Slovenia border. It was lovely countryside, dotted with small farms, smells of freshly mown alfalfa and fields of brightly yellow colored plants that I assumed to be rapeseed. As our trip progressed, the rapeseed was to be found throughout Austria, Slovenia and especially the Czech Republic – thousands and thousands of rolling hills covered with these oil-producing plants. I've since learned that it's the third most popular oil seed in the world. Enough agro-lesson for now.
The villages were made up of neat-as-a-pin homes, notably constructed with roofs to handle copious amounts of snow. Their "anti-avalanche†devices on the roofs were quite ingenious and varied – I'm guessing that over the years too many Austrians got killed or maimed from snow and ice falling from their roofs. It reminded me that May was the perfect time to be in Austria.
From this point on, we started seeing bikes everywhere. Seemed like more than half of the vehicles on the road were motorcycles. Strident Japanese crotch rockets, riders all looking quite serious in their full leather patch-clad leathers, two-up Touring Beemers (all looking brand new) and a large contingent of single and two-up sport adventure riders. We noted that businesses of all types were accommodative to motorcyclists. Our hotel that evening had a special rate for motorcyclists that was about half off the regular price. Plus, they let you park under the awning out front. You gotta love it! This was the first time I've seen riders so welcome. Cool to be given preferential treatment over the wheeled coffins!
As sporty as all that makes one feel, we're somewhat restrained with our top heavy luggage setup. Tip-in had a new meaning with this unique weight distribution, although the TransAlp handled fine otherwise.
In almost no time we reached the Slovenian border.
It was exciting entering such an exotic new country. After crossing the border and the mountain pass, we dropped down into an authentic Slovenian forest. The clouds were beginning to build after looking quite benign only a bit earlier. It was edging to darkness, we had no Tolars (Slovenian currency) and no real destination planned. After reading the tea leaves and noting a few big drops of rain, we decided to stay at Dravograd, although there wasn't much there drawing us other than common sense. At the junction of three forested valleys with the Drava river running through the middle of town, it could have been much more, but wasn't. However, as we negotiated a suitable hotel room and the sun fell, the little town gained personality.
Day 1: 3 Hours, 51 Minutes riding time, 172 miles, 45 mpg moving average
Sampling Slovene beer and wine, we tippled and swilled our way through a pub and a gostilna (roadside pub that serves food) before approaching dinner at the only restaurant in town. A curious, large place, served in its entirety by one Charlie Chaplinesque waiter. He must have had at least 40 diners he was attempting to serve including a celebratory party of 25 people. The menu was 30 pages long and we soon learned that they were out of nearly everything. Mary had a salty mushroom cream soup and I, summoning culinary bravery, had fried fresh sardines and a seafood pizza. This pizza came with little dead fishes, mussels, one desiccated shrimp still in the shell, including head, and Surimi (fake crab), strewn over the top. Underneath this delightful collection of sea mysteries was a Chef-Boy-R-Dee tomato sauce. The whole dining experience was exquisitely reminiscent of a Fellini movie.
As we had been mixing with the town's residents over the past couple of hours we began to notice a few things. The kids all seemed to be really hip in this town, angling to get served alcohol (unsuccessfully in the instances we observed), hanging out on the streets, playing music loudly. A club located in our hotel was rockin' when we went to bed. I awoke at 4:00 AM when the place really got hot. I heard a complete live recording of some Slovenian punk band. Understanding not a single word, they still clearly communicated passion, anger and natural musicality. The entire bar was signing every word of every song at the top of their lungs. Who was that band???
Kids really into their music and not afraid to show their anti-establishment ways, a huge new soccer stadium for this small town of 8,000 inhabitants and the strange restaurant made this stayover a winner –what a great intro to Slovenia.
SUNDAY: It's 5:30 AM as I write this, looking out the window as the day begins, mountain morning clouds with fingers of fog reaching up the mountain sides, this is the first it's been quiet since we arrived in this little town.
As I lay there, I consider that there's still most of Slovenia to take in. Will the attraction of the capital town of Ljubljana pull us, will we explore the mountain valleys and back roads and end up in the evening at a tourist farm (equivalent of a bed and breakfast on a working farm), an Alpine Inn or will we be pulled to the Adriatic Sea. A motorcycle vacation is tough work.
We were up and out early and started the by riding into the Savinje Alps in the Slovenej Gradic area with a mid-day destination of the Logar Valley. Working with a poor Michelin map, we tried going via unimproved dirt roads.
We were using the GPS, that stupid map and the little maps and descriptions in the guidebooks and we still couldn't get to where we wanted. We did explore a wonderful part of Slovnei, riding along a small stream headed up the mountains towards the Austrian border.
This little side adventure did get us to some amazingly wonderful spots including a dead-end at a high mountain top where a small church was situated.
The road was the equal of a blue trail, with rocks the size of bowling balls and the downside of the road a several hundred foot drop down the mountainside. We rode up as the local folks were headed into their Sunday services.
We passed on the opportunity but experienced some stunning Earth
As the day wore on, this adventure was becoming a bit trying - it was hot and we were stopping all the time looking at maps. We made one last choice and the road was amazing – race track wide and race track smooth. Unfortunately about 15 kilometers in, it all of a sudden turned to dirt. Looking at the gas gauge on empty on a Sunday afternoon out in the wilderness it didn't look like a good gamble. We turned around and econo-putted to an open gas station…. It turned out that was the road that we had been looking for all along, damnit.
After fueling up we decided to head towards Ljubljana but on the way, found a road coming up the other direction to the Logar Valley at the same time we came across a group of about six KTM riders so we decided to hook up with them. We started zipping up the valley together, buzzing through the little towns and whizzing by the cars like they were standing still. The sky began to darken and the weather quickly turned to rain. Regrettably we turned around and headed back. We rode by a motorcycle museum (Motorcycle Museum of Vransko http://www.muzej-motociklov.com/ ) that we wanted to go through but time wasn't on our side and we pressed on to the capital city.
As we rode into the city limits, the rain began. It was a short afternoon shower but enough to make us take cover under an awning for awhile until it passed. This rain thing was to be a common theme on this trip, although more in threat than in real precipitation until the very end. When we left Austria the weather forecast for all of central Europe was for three days of rain – every day we worked our rides around what we thought might be the best way to avoid or lessen the chance of getting rained upon.
Day 2: 5 Hours, 13 minutes, 178 miles, 34 mpg average
Ljubljana immediately grabbed our hearts. It's like a miniature Prague, owing that distinction to the river running through the middle of the city and much of the architecture from Josef Pleènik, the same Josef Pleenik responsible for the Prague Castle.
We had a great hotel at a decent price and we were anxious to get out and explore the town. Although it was a Sunday night, we still found plenty of activity in the Old Town area, a bohemian-feeling area. In fact, the entire town felt somewhat alternativey in nature.
I had been bugging Mary for days about it, and finally this evening I found Flicka on the menu. Medallions of pony in a red wine and juniper berry sauce. I jumped on the opportunity. The taste was even sweeter as I thought about what that horse did to Bickel awhile back. This was a wonderful restaurant and we sat outside for quite awhile enjoying the food, the Slovene wine and a fantastic ambiance. Bed time came too early.
MONDAY: I was a bit fidgety that night, anxious that rain might be imminent. We awoke to the threat of rain, but no wet yet. We took off and rode in earnest to Croatia for lunch.
That wasn't the plan, but it would have been had we known. Almost immediately after crossing the border we noticed that the trucks were now more prevalent and belching third-world smoke. The roadsides now were tangled weeds and the homes a little less neat. It was hot! However, once we saw sea, it was all forgotten. Opatija is located on a steep mountainside that tumbles down into the Adriatic Sea. Our ride down was a series of serious 180-270 degree switchbacks with a 16% plus grade. The town looks across to Rijeka, Croatia's largest shipping port.
It was a hot and sticky afternoon, so it was perfect that ended up in a beach town for lunch. Both of us had a great meal of freshly caught fish, Croatian beer and wine.
It was the day to make major progress so we pressured the last belch and saddled up, this time headed in the general direction of Trieste, Italy. We veered north as we neared Trieste and took a short jaunt on the freeway before descending down into the Vapava Valley, an area famous for its wines and the Brda wind, a monster wind that blows down the mountains towards the Adriatic Sea. Sounds like San Francisco, no? The wind is so fierce that they have regularly posted wind speed signs along the road and housing is constructed taking the wind into consideration. We were lucky and it was calm as we rode through the valley.
Now for the final leg of the day as we turned north at Nova Goricka, just five kilometers short of the Italian border and headed to Kobarid. This road was a "must ride†as it followed the gorgeous Soca river, a turquoise beauty. We arrived in Kobarid near nightfall after a stunning and curvy ride along the river. Kobarid seemed right even before we got there. Set in a perfect valley, high Alps surrounding the area, Italy just over the pass to the left, it couldn't be better.
Day 3: 4 Hours, 51 minutes, 197 miles, 41 mpg average
It turns out that Kobarid is a destination, with world class fishing for marbled trout, rock climbing, skiing, and most importantly is a major draw for motorcycle riders. The number of bikes we met, passed, and who passed us was amazing. Every petrol station was full of groups of riders. As we rode into town, a group of about half a dozen women dual sport riders were just leaving.
Kobarid has also established itself as a foodie destination much to our delight! Gostilna Breza was our final choice after doing a quick preview of every restaurant in town due to its promise of concentrating on local ingredients. We were served by the owner's daughter and she was great fun, a chatty informative person who seemed to really enjoy our presence. We talked a lot about the local food, history, wine and everything else Kobarid. I wanted bear but it was out of season so I settled for the venison. Somewhere between the wonderful plate of local cheeses and the entrée, I noticed a little furry creature walk across the path leading up to the terrace where we sat. Too big for a rat, not a cat, something that didn't look entirely familiar. Our waitress guessed that the fur was actually needles, and that it was a porcupine youngster we had seen.
Along with the fantastic house dessert, I ordered Juniper schnaps. Oh my Gawd! Juniper has many culinary and medicinal uses – Schnaps is not included in that list. To this day, I still taste it. Grappa tastes like water in comparison.
TUESDAY: Once again we awake to a forecast that includes an 80% chance of rain. Hearing this, we made the decision that we should make some major progress back towards Vienna so if in fact the rains came, we'd be closer. As we left town, we noticed major puddles of water along side of the road – in fact, all along the way, we'd seen signs of heavy rain.
At one point when we stopped along the highway it was raining around usin all four directions. Somehow we had managed to miss it so far by going the direction that was least threatening and being lucky. In fact, the weather for us had been outstanding, with highs in the mid 60's – perfect riding weather.
We left town and rode west towards the Nattisone Valleys in Italy . This series of valleys all go north towards the Italian and Austrian Alps. This area is also significant to Catholics for some reason. It was a beautiful and refreshing ride – we were riding after the rains had passed through and the air was fresh and crystal clear. This area was distinctly different than Slovenia with lots of small plots of grapevines and pastures full of young farm animals along the way. There were also many signs for horsemeat, obviously a Nattisone Valley favorite also. We stopped in Tarcento, walked the square bought candy and Mary chatted with the locals.
Back on the road, we noticed that the vineyards were made up of extremely old vines – would have been a great place to sample the local wines. The Italian roads were crap – the worst that we had ridden by far, easily besting even Croatia 's roads. We headed back East, up and over a minor pass back into Slovenia . We stopped in Bovec, a town known as a white water rafting and winter skiing destination. We ate quickly as we had a big hill in front of us – the road took us into the Triglav National Park and more importantly, the Triglav Pass. Triglav is the highest mountain in Slovenia – an old Slovenian saying is that every Slovenian has climbed this mountain although this is a bit of stretch considering it's about 8,800' tall.
We met and passed a big gaggle of riders on there way up, most all of them two up, with a couple of them on sport bikes. The general makeup of bikes on this trip was about 70% adventure tourers (GS's dominant), 15% sport bikes (with riders always in full leathers), and 15% large KTM's.
As we started climbing, the weather dramatically changed and it began to rain. We passed the eight bikes or so in that group and headed up a 14% grade in earnest, my trusty companion behind pushing me on. The Slovenian Road Department is so kind as to number the corners on mountain pass roads. In the apex of each turn there was a sign with the corner number posted. 25 switchbacks to the top, and 25 switchbacks down, no shit. That's really cool – you can stop after the run and talk about "I almost lost it in 17†or "24 is officially where I crapped my pants†. Quite convenient and helpful.
The road was extremely tight, the rain coming down harder all the time and the corner surfaces had turned to cobblestone. The straights were still asphalt but the corners were stone. Although on the first corner I did a major butt clinch, I locked up the rear a couple of times to test the co-efficient of friction and I'll be damned, those particular cobblestones had traction, even in the wet. This was really fun. You could do that famous 150 degree Eric Bostrom look-ahead move in every corner. Hell, you had to do that 150 degree Bostrom move or else you were looking at guardrail or the end of the mountain. Another excellent reason to crane your neck was to see if you were going to need to adjust your line as the cars would typically take up half of the opposing lane. It's not as if they were bad drivers, it's just that's as far over as they could get under full lock. Yeah baby!
One of the riders in the group that we had passed decided to wick it up and stuck his GS firmly in my rear view mirror. I still claim that he had a huge advantage in not having to shift while I had to row up a 14% grade. Okay, that's the story, alright? At the pass, we pulled off to admire the dense fog that we had been riding through.
We then headed back down to Kranjska Gore and counted down those corners, hoping those cobblestones remained sticky. I've got to hand it to the TransAlp – the bike handled impeccably considering the load and conditions. Other than the tendency to fall too far and too fast into a corner, it did us well. I was looking forward to more power than the BMW GS650 we rode last year, but frankly it didn't have a whole lot more beans, except some additional torque on the bottom and more top end HP – THAT was appreciated – much easier to go 150-160 km/hr down the freeway.
Once down the mountain, we headed north to the Austrian border and town of Klagenfurt . An unexpected surprise was the race track that they called a mountain road heading up and over the Karawanken Mountains . It was my first time riding hard on a four lane freeway with hairpins. There was a huge runoff apron on both sides of the road. I fully expected a checkered flag as we approached the border crossing! And, it was free! What a gas to ride.
Then, just as quickly, the ride began to suck big time – it took forever to get through Klagscum or whatever it's called. We then took a scenic route that was total shit – an endless road of traffic jam through Klagcrap's suburbs. I finally gave up and just rode in the opposing lane of traffic to get through it – mile after mile, we suffered this shit, shit, shit. And it was hot.
Finally, we changed roads and got out into the countryside and followed the river. I'll be damned if that wasn't a construction zone for 20 kilometers – about every three kilometers, we'd have to pull over and wait for opposing traffic to come through. Mary nearly jumped off the bike as a large earthmover bore down on us when we were in point position, waiting for the traffic control light to turn. He was just having fun.
Pushing on, we were finally rewarded with a decent river bottom road lined with lumber mills – although the sights were occasionally marred, the smells were intoxicating. It was getting dark as we neared our night's destination of Bruck. As we took the first freeway exit, it began raining like hell. We pulled into a gas station where we played "wave your arms and hands†and make "sleep-on-a-pillow†actions to get the attendant to point us in the direction of accommodations. This was not a night to putt around the city commons, learning the lay of the city. Mostly by accident we found the best hotel in town (out of the two available choices) and paid a premium price for the convenience but it was well worth the warm and comfie room.
Day 4: 7 hours, 262 miles, 37 mpg average
On the way into town I spotted what I thought might be a decent restaurant. We beat feet there and found a fantastic unique restaurant. Unoriginally called the K&K Restaurant, it was the dream theme restaurant of the owner, this night also in the role of bartender. Seems as though he has an infatuation with Kaiser Joseph Franz I, including his facial hair. This guy had basically physically become Kaiser Joseph – what a wild beard and mustache and what a congenial host. The restaurant was in an ancient building that included a working well and a beautiful wine cave that was open to all. It was a cozy place on a night that was wet and damp – the perfect respite.
WEDNESDAY: The rain continued to come down as we walked back to our hotel that evening. I spent the night mulling over the prospect of pussing out and taking the freeway 144 kilometers straight into Vienna , or doing the impractical going North on a "green†road. When we loaded the bike and left the parking lot, it was raining lightly, with a forecast of substantial rain. I got on the freeway and involuntarily, I took the next exit and we headed north. If I would have told Mary that we were going to do this, she would have likely vetoed the idea. However, I had the map and she didn't know where we were going….it was best that way. I just couldn't face the prospect of wasting our whole last day blasting down the freeway and turning the bike in early.
For the first while the rain was very light. It started to grow in intensity but we were fairly well equipped for rain. Mary's suit was waterproof, my boots were waterproof and I had a pair of rain pants on. The countryside was perfect for a wet weather ride – mostly 40 – 80 km stuff, not much shifting, flowing roads with good surfaces and great site lines.
Both of us later admitted to singing into our helmets. It was just that type of Zen situation. After an hour of riding, it was time to pull over and take a break and it happened that Mariazell was right there, the largest town along the way.
What started out as a 15 minute break, lasted nearly two hours, spending a lot of time in the amazingly ornate "Our Lady Of Mariazell†church, doing some souvenir shopping and enjoying some wonderful local pastries.
Back on the bike, we thought the last stretch would be easy. It wasn't to be. See, there was little mountain pass that didn't look like much on the map. Hardly a pass at all.
After the pass, we made a mistake and ended up on roads that were slow and the rain increased in intensity. It was so cold and wet; I didn't want to pull over… I should have. It took another 1 ½ hours to ride that last 50 kilometers. Then, of course, it was ugly finding the shop in the middle of Vienna in the rain but we finally ended the trip. Mary had some choice adjectives for her opinion of her body temperature as we got off the bike for the final time. This will make the second year in a row, where we got drenched on the last stretch of our ride. We ended by pouring water out of boots again!
Day 5: 3 hours, 48 minutes, 38 mpg
SUMMARY: Slovenia is a great country. It seems to have a very well developed sense of being and is confident of its position in the world. It's nowhere near third world but yet it's not overly developed. Almost everyone speaks at least some English and the people were all gracious and kind. The roads were top notch except for some rare exceptions – even the unimproved roads were good… well, except that one final road to nowhere…but that was fun to ride too.
There were lots and lots of riders and everybody waved, including the cruisers! Mary kept quite busy communicating via hand signal with fellow riders and the people along the road and everyone seemed happy to see us.
I think we'll both remember one special time on this trip where we took a wrong turn. We went down this narrow road up against a stream in the middle of town. Everyone had a garden along this stream and it seemed as though they were all out that spring day, planting and preparing. Each garden abutted another garden and the stream was the end of each lot. We smiled as we putted by and they smiled and waved back. Beautiful homes, painstakingly neat and handsome, and all these gardeners working in earnest in their backyards – one got the sense of an almost extreme sense of community and appreciation of natural beauty. The air was spring warm, the sun shone brightly, the birds were singing a little more in tune and we were about as close to heaven as it comes.
OVERALL: 953 miles, 24.4 hours, 38 mpg average, countless memories once again.
BIKE IMPRESSSIONS: The TransAlp comported itself well. Greater power would have been appreciated. The high seat height made for some butt pucks and challenges, even once causing a tip over. Sure would be nice to be able to touch the ground for a change. On the other hand, I can't imagine horsing around a bigger bike. I can't begin to count the number of times we ended up in dead ends where we had to dismount and either back the bike up or turn it around – no fun with this bike, I would think it nearly impossible on a GS1200.
The TransAlp was a good all-arounder but I was a somewhat limiting ride – it's old design and suspension bits made it adequate and pleasant but not ass-kicking by any stretch. I came away thinking Honda Hawk era performance.
The perfect bike would be the DL650 V-Strom…fortunately I've got one in my front yard!
TRIP NOTES: Packing a complete rainsuit sounds like a good idea. This trip should have easily been at least two days longer. We were hamped by the constant threat of rain and frankly, by the sheer number of choices. We could have gone anywhere in three directions and had great riding. We needed more riding days. As we discussed, it might be possible next time that we pretty much due our whole vacation on the bike, rather riding a few crammed days – nothing wrong with leaving the bike sit for a day while we enjoy where we are instead of always going somewhere.
We've got it down, from the planning, to the packing, to the execution. The challenge has been fun and the best rides easily still ahead of us. Mary is the perfect motorcycle travel partner – I'm so fortunate. If you've never heard Mar y sing, you'll appreciate that "singing in the helmet†thing!
---
Member login
Are you an Overland Adventure Traveller?
Does the smell of spices wafting through the air make you think of Zanzibar, a cacophony of honking horns is Cairo, or a swirl of brilliantly patterned clothing Guatemala? Then this is the site for you!
Hosted by Grant and Susan Johnson, RTW 1987-1998
NEW! HU 2015 Motorcycle Adventure Travel Calendar is now available! Get your copy now for some terrific travel inspiration!
HUGE, 11.5 x 16.5 inches, beautifully printed in Germany on top quality stock! Photos are the winning images from over 600 entries in the 9th Annual HU Photo Contest!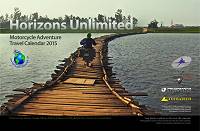 "The calendar is magnificent!"
"I just wanted to say how much I'm loving the new, larger calendar!"
We share the profit with the winning photographers. YOU could be in the HU Calendar too - enter here!
Next HU Events
Germany: May 14-17
Canada Ontario: Jun 18-21
Ireland: June 26-28
Colorado: July 17-19 TBC
Canada West: Aug 20-23
USA California: Sep 24-27
Aus Queensland: Sep 24-27
USA North Carolina: Oct 8-11
Aus Perth: Oct 9-11
Germany: Oct 22-25

10th Annual HU Travellers Photo Contest is on now! This is an opportunity for YOU to show us your best photos and win prizes!
Books

All the best travel books and videos listed and often reviewed on HU's famous Books page. Check it out and get great travel books from all over the world.