Australia
May 27, 2003 GMT
An entirely different continent
Itís six oíclock in the morning and the passengers cautiously inspect Darwin airportís arrival lounge for evidence of red backs, funnel webs and 8-metre long salt-water crocodiles. I decide to worry about box jelly fish, blue bottles, blue ringed octopus, great whites, killer whales and any of the other ambitiously dangerous Australian fauna after a decent breakfast of wichittty grubs and lemon ant tea. Before even considering the high probability of a lonely, agonising death by snake bite, why an octopus the size of a 50 pence piece should be inclined to send a fully grown male to a premature grave defeats me completely. I resolve to proceed with caution and to avoid bothering the wildlife as far as possible. After all, on the road all Iíve only got to worry about are wombats, wallabies, kangaroos, road trains and tattooed cycling transvestites in Chinese print dresses.

Fishing for salties
The thing is that Iíve arrived in Australia from Bali on the 16th February - which is two days earlier than my original schedule had predicted. Not too shabby after 5 months and some 16,000 miles chasing the autumn around the Northern Hemisphere. It was always going to be difficult dodging the rainy season in the Northern Territories and with a certain inevitability; the drought is broken when the rains arrive in Darwin less than 8 hours after I did. The developing cyclone was to cause no small problems for shipping, and the Arafura Endeavor, whose cargo included my precious bike, was to be delayed by a few days at least. No worries, all the more time to enjoy Darwinís principle touristic delight; feed the fish on the promenade. But this is it, the final leg of my journey and despite the feeling of achievement; somewhere in the recesses of my brain I know that Iím missing Asia already.
The Frogshollow hostel provides a pleasant surprise that first evening when I meet the two English cyclists last seen in Pakistanís Baluchistan Desert. To my complete and utter amazement, Ralph and Carol Hodgson had made it to Aus on more or less the same route as me by pedal power alone! Top chaps and an inspiration to us all. Their son Ross is also in town and we make appropriately vague arrangements to meet for beers on Bondi Beach in Sydney; where he makes a living taking photos of the rich and famous in compromising situations.

Sean and the Hodgsons
The Endeavor finally docks but it is two more days before I can get my sweaty palms on the bike. They tell me that when itís raining so heavily they have to keep closing the massive cargo bay doors and pump out the hold or else the boat might sink. The customs people finally show interest and inspect the containers for snails before unloading can start and then plenty of paper work and money flies around the place. The patient Nandra Turton at Perkins Shipping relieved me of A$524 for the shipping costs, the customs people A$94 for the two minute quarantine inspection and a final A$90 for vehicle registration and 3rd party insurance. I feel like Iím mugged and canít understand why I need to pay anything at all and havenít been given the key to the city for all my troubles actually getting to the place. That evening Andre from the hostel signs a bunch of us into the local working mens club for dinner and promptly wins a case of beer in the raffle. Steffi wins herself a big bottle of rum and everything goes first fuzzy then blank.

An Australian yesterday
Next morning I scoot over to the Motorcycle Wreckers at Coconut Grove where Curly sells me oil and provides tools and a drip tray. Sweating like Pete Cotes in a taxi, I change the engine, gearbox and diff oils and decide that the rear tyre should last at least until Adelaide. After being marooned for a whole week and with the effects of the humidity, Iím literally itching to be on my way. There are warnings that some of the roads might be washed out but I head off cheerfully down the Stuart Highway into a cloudburst of biblical proportions. Riding slowly to avoid aquaplaning I notice that water is collecting around the chin piece of my flip front helmet. I canít believe it when it fills up so much that Iím going to drown and when I lift my head to drain it, the cold water rushes straight down inside the front of my jacket. This happens so often that Iím forced to drill some drainage holes into the bottom of the helmet that are big enough to let the fish and tadpoles out.

View from the bridge
The roads are long, straight and deserted save the occasional powerful road train punching holes in the weather and as I ride further south, the scenery subtly changes. The trees thin out with the miles and the waterlogged grassland gives way to termite mounds and desert scrub. There are by now so many road kill kangaroos, that Iím careful to avoid driving at dusk. This is the time when the Ďroos feed at the roadside and Iím not keen on colliding with a 6ft big red whilst nodding off at 70mph. The fuel consumption on the BMW has gone through the roof and Priscilla (Queen of the Desert) now trips onto reserve after only 320 miles. The right hand cylinder head is rattling again and there is plenty of time to ponder the impending mechanical disaster that all this must surely imply. On one over night stop, I pull the rocker cover off to find that the end float is out of tolerance on the exhaust side. I suspect that one of the repaired studs has pulled out of the crankcases and an ominous crack is heard when I check the torque. Thereís no more I can do, so just push the earplugs in a bit harder and head on toward Alice Springs, last port of call before Ayers Rock. On the final run towards Alice, I run into Brian Tunks on his sweet running BMW R100 GS PD. Brian is a friend of the Duvals from Brisbane Ė regular contributors to this site who helped me early on when planning this little jaunt. Brian is left so overwhelmed by the experience of drinking with a wingeing pom that he is forced to spend an extra day in Alice recovering from his hangover. Sorry Brian. But before leaving, I make time to do some souvenir shopping and in amongst the didgeridoos and boomerangs I locate the perfect present for my elder brother; a rather delightful kangaroo scrotum pouch.

Roadtrain
Henbury meteorite craters are only 20km or so off the Stuart Highway south of Alice, so I decide to check them out and maybe have a look at the back roads route to Ayers Rock. This was actually my first time off the tarmac in Australia so I was feeling a bit twitchy about the prospect of lobbing the bike and having to wait days for an appointment with Skippy and the flying doctor. Iíve covered all sorts of ground on this trip but the conditions here just didnít work for me. If I rode fast enough to smooth out the vicious corrugations, itís hard to make the turns when the front wheel gets distracted by the gravel piled each side of the 4WD tyre tracks. After only a few kms I hit some very fine sand known locally as bull dust, the front wheel digs in and the bike starts a massive Ďtank slapperí. As the handlebars are violently wrenched from side against all instinct I force myself to yank open the throttle, lifting the front wheel out of the sand enough to restore some stability. This is the closest Iíve been to a messy accident since Adrianís bout of food poisoning and my confidence is dented further when Iím almost stuck in an almost dried out creek. Iím still cleaning the rock hard mud and sand off the bike as I write this over a month later. Itís an easy decision, thereís no way Iím going to take the time to do this route solo and in safety, so I have a quick look at the craters and double back to the Stuart Highway.

How appropriate
I reach Ayers Rock in plenty of time for sunset and find a good scenic viewpoint in and amongst the other fly blown tourists. Whilst the UK number plate is attracting some attention from a small group of large Italians I canít help but notice a KTM Adventure blasting noisily through the car park on itís back wheel. The rider obviously spots the number plate too Ďcos he hits the brakes and only when the front wheel is back on the ground and the back wheel is two feet in the air, does he yell across ĎOi! You English?í Dave and Sam certainly made an entrance, even if not all those present appreciated the quality of the stunting. Later, over a few beers and a disgusting chicken I find out that these two had set out from the UK at the end of September and were en route to NZ before tackling South America. They had ridden their two bikes to Ayers Rock all the way from Perth on the backroads; making me feel even more of a wimp for giving up after only 40kms.

Sam and Dave at Ayers Rock
It takes the three of us two days to reach the opal mining centre of Coober Pedy by which time my left hand push rod seals and right hand cylinder head gasket are leaking oil profusely. Iím starting to wonder seriously whether the legendary BMW reliability is as big a myth as bald men being virile. Anyway, Coober Pedy is definitely an interesting place for a really virile, bald bloke to visit and itís got a nice outback, frontier feel to it. Better keep a sharp eye out though as these people can sink a 40 foot deep mine shaft without breaking step. And there are so many of these holes littering the opal fields that falling into a hole and breaking your neck is a very real possibility. We stay a couple of nights in a hostel, which, like many of the local residences, is carved out of the rock so as to keep cool in the extreme summer heat. The French woman running the place has two pet bearded lizards and one of them clears the bar when it eats an astonishingly appropriately named Ďstinky beetleí. Next day, after a morning spent shopping for Tupperware (donít ask), Sam, Dave and I take a mini-bus tour around the area. Our guide shows us a collection of newspaper clippings that indicate a long history of local miners exploding not only themselves but just about anything that winds them up. I canít imagine a speed camera lasting 10 minutes in this place.

Dave at Coober Pedy
I leave Samantha and Dave to mutate at a nuclear test site whilst I head off to Adelaide; hoping to get some running repairs made to the bike at the local BMW dealer. Itís a two day ride and my heart is sinking as the desert slowly gives way to green farmland. Civilisation means the end of my journey and Iím not ready to stop yet. Inconsiderate of my emotional turmoil, Adelaide BMWís service department remain booked solid and short staffed following the effects of the bite of a white tailed spider on an unfortunate wrench. I am forced to find salvation in the unlikely shape of Ron Lienert. Ron is paralysed from the waist down but this doesnít stop the guy blasting around town on his Harley sidecar outfit and fixing BMWs for 25 years or more. Unlike the BMW dealer, Ron actually had suitable push rod seals and head gaskets in stock and at sensible prices too. He reckoned that the head stud was OK, but when we fire the bike up itís running really rough and rattling furiously. A few adjustments and a clean of the carburettor has the thing ticking like a fake Rolex. Iím so pleased to have the bike running right that I even put in a new exhaust gasket to replace the Coca Cola sponsored effort that Iíd been using. However, my happiness lasts about one day before the head stud pulls itself another gnatís whatsit out of the crankcase and the oh-so familiar BMW tappet death rattle returns with a vengeance. Earplugs are pushed in deeper still.
The ferry journey proves that Iíve crossed a continent and itís a bit cold and windy on Kangaroo Island. This place apparently has itís own special make of kangaroo (6 foot hopping mice according to Dave), virtually no predators and so is a haven for all manner of wildlife. You can even walk on a beach where all the sea lions can do is squabble with each other and not give a hoot about whether or not youíre standing there peering at them like some kind of fool in a hat. Almost any short stroll will be interrupted as a spiny anteater or some such snuffles across the path in front of you. The place must be positively crawling with animals or else it would be impossible to have such a huge volume of road kill on permanent exhibition. And thereís hardly any traffic to speak of so youíve got to wonder who is the half-crazed maniac thatís going around doing all the slaughtering of the poor, dumb animals in the middle of the night.

No contest
I catch up with Sam and Dave again in Mt. Gambier and we resolve to find a comfortable bar where we can watch the first Formula 1 race of the year that is taking place in torrential rain a little bit further up the coast in Melbourne. Samís 230cc Honda can only do about 60mph but itís scary to see how far she leans the thing over through the curves on itís completely grip free knobbly tyres. Weíre a little disappointed that we canít say in quaint Port Fairy as thereís a folk festival going on and the accommodation is completely full of morris men. We end up riding to a place called The Stuffed Backpacker at Warrnambool; too late for lunch but just in time for the race. I canít remember much about the ensuing 9 hour drinking session but Iím confident that I was at my most eloquent and erudite. Apparently Coulthard won the race despite the aerodynamic impediment otherwise known as his chin.
The views along the Great Ocean Road were truly beautiful; massive rock formations jutting out into the sea with names like London Bridge and The Twelve Apostles. The weather was cold, grey and blustery, but this only heightened the drama of the views along the way. From a bikerís perspective, the road itself is not so great. For some reason I was expecting a perfectly surfaced sinuous racetrack nailed to the side of the windswept cliffs, but instead itís uninspiring and dull for the most part. I think that all the locals in this region are terrified of speed traps and even chasing a Haybusa fails to provide any real excitement. From an overnight stay in Lorne we ride straight to Melbourne where Sam and Dave are to take the evening ferry to Tasmania. Just on the off chance, I pop into the BMW dealer and ask if thereís any way they can glue my cylinder head stud back in. Iím not at all surprised when it will be two weeks before they can find time to look at it and maybe BMW Sydney can help. Accommodation in Melbourne is scarce as there are still a lot of F1 fans filling the bars and hotels and I struggle to find anywhere with safe parking for the bike. Finally Iím mugged for A$50 and the most uncomfortable bed that Iíve encountered on the entire trip so far. But the bike looks all cosy tucked up in the foyer of the 7/11 supermarket downstairs.

Been there, done that
Before leaving Melbourne I fit a A$180 rear Michelin T66 and itís while the back wheel is out that I notice thereís a brand spanking new oil leak helping to protect the bike from corrosion. This time itís the oil pressure switch thatís faulty and weeping a suprisingly large amount of oil all over the nice clean floor of the tyre shop. What the heck, Iím just limping the thing home now and keep a wary eye on the oil level over the next three day ride to Sydney. This section is actually a belter of a road, the sun is shining, the tarmac perfect, green everywhere and tantalising glimpses of blue ocean to my right as a more tropical atmosphere develops. Iím even enjoying some of the twisty bits for a change. At the killer whale museum in Bairnsdale I learn about an orca know as Old Tom. It seems that in the 1930s, when whaling was on a terminal decline, Old Tom would regularly show up and lead a whaling boat from the bay to where his pack had cornered a right whale. His skeleton showed wear marks on the teeth as when, impatient and frustrated with the slow rowing of the whalers, he would take a line and drag the boat along. After the men had despatched the unfortunate right whale with harpoons, Old Tom and his chums were allowed to feast on the whaleís great tongue and lips before the whalers towed the remains of the carcass back to port.

The Apostles
A diesel spill in the rain is really nasty and one of the most dangerous hazards that face a motorcyclist. Usually thanks to over-filled lorry or taxi fuel tanks, touch any of the controls and thatís it mate, youíre off, next stop casualty. I think I was pretty lucky to smell the first signs of a major spillage in the pouring rain and so splashed cautiously through the next 10 or so slippery miles, dodging the rainbow coloured trace of oil through the curves. Finally I caught up with the imbecile who wasnít leaking oil from his tank but from a rusty old petrol station pump in the trailer weaving around behind him. Leaking oil onto the road is one thing, but to carry you own supply and pump it out?

View of a bridge
The weather brightened up so that I reached Sydney in glorious sunshine and headed over the Anzac Bridge for the obligatory end of journey photo in front of the Opera House. No way was the security guard going to stop me parking in front, so instead he took the photograph for me. And I guess thatís it, 14th March 2003, 26 weeks, 20418 miles, weíve made it, end of the line, fin, there is no more, cíest tout, rien de faire, for you the war is over and journeyís end. Iím ecstatic, inconsolable, proud and depressed in equal measure. I donít want to spend today on my own so head for Bondi Beach where I meet up with Ross in the excellent BBís Bar. We have a few beers and it feels good to be in friendly company on this of all days.
Iím very aware that this is a rather late, long entry and am grateful if people have stuck with me this far. And perhaps for the purposes of Grant and Susanís wonderful Horizons Unlimited web site, this is where I should sign off? With a big thank you to everyone, friends, family and strangers who have been kind enough to read, comment on and rip the p@*s out of these tales. But there is some more and I canít bear to pack up and go home without chalking up another few thousand milesÖ

Journeyís end
First, I take a well-earned break for the weekend on the beach at Bondi, topping up the tan with the other bronzed adonises, watching the girls, body surfing and of course meeting Ross and his friends at BBís for beers of an evening. Cousin Alison and her boyfriend Jamie come over on the Sunday night for a meal out and then itís Monday and back to the serious business of overlanding. Whilst Motohans BMW tighten my nuts and fix my leaks, they loan me an aging R65 that astonishes by being even slower than my R80. In the intense Sydney sun, the black vinyl seat quickly gets real hot and sticky and I realise for the first time just how effective Kylie (my sheepskin seat cover) has been at preventing the onset of nappy rash. Iím glad to get back on Priscilla who is now oil tight Ėhead gasket excepted, and running with marginally less clatter. I reckon good enough for a 500 mile run up the coast to Byron Bay for some scuba diving later in the week.
I had heard that Qantas Freight would fly the bike home Ė dead easy, just drop it off at the terminal, no crate required, pay by weight not volume. But when I checked the place out, they werenít willing to do this, suggesting that I needed both a crate and shipping agent. And the rate for freight had gone up because of the war that hadnít started yet and they couldnít even guarantee that they could even get it onto a plane at all because they were canceling flights already in anticipation. I tried Qantas a few times but the response was always the same. However, Jason at CT Freight is really helpful and has access to a few different airlines he can call on to send the bike home. And yes, a crate is probably necessary and the charge will be by weight or volume; whichever calculation yields the highest cost. A very angry man at Handy Case can make me a crate for A$200 which he will deliver to CT, but I will have to load the bike into the case myself and nail on one of the sides and lid to finish it off. The idea is to make the case just large enough (to keep the freight cost down) that the bike will fit with the front wheel, handlebars and luggage removed. It seems that Mr. H. Case has been stiffed by his estate agents Ė and who hasnít?

Alison, Jamie and Sean debate the merits of oysters
In and amongst all this running around and sweating there are good nights with Ross and the Bondi Brigade whilst cousin Alison gets me involved with a Heineken promotional photo shoot. Spend all day in a pub wearing a blue wig and a striped rugby shirt? No problem! Salsa dancing by an ex-exotic dancer and a French-Mexican juggling harpist helped pass the time. A couple of shots of the back of my pointy head incurred a fee of two cases of lager and a silly festival hat. Enough beer to have the BMW wobbling dangerously back to Bondi through the Sydney rush hour with some seriously envious glances from commuters all around. Alison and Jamie are house sitting in the south of the city close to the airport, and I stay with them after finalising arrangements for flying the bike home. And then itís a quick blast up the coast to Byron Bay.

All we need, oil and beer
Itís at Byron Bay that I find the invasion of Iraq has begun and itís obvious to wonder how things have changed for other visitors in the countries we had passed along the way. Despite these world shattering and historic events, the next two days are spent socialising and scuba diving off the Julian Rocks. Well worth the visit as you can swim amongst turtles, wobegong sharks, sting rays and lunatic heavy handed Canadians flying off in all directions crashing into everything and stirring up all manner of silt and trouble. Buddy diving system? I think not.

Pink goggles huh?
Back in Sydney I book the flight home and make arrangements for the next weekend as Sam, Dave and I have hatched a plot to watch our man Neil Hodgson win the World Superbike races at Philip Island, probably one of the best race tracks in the world. I reckon I can just about squeeze it all in before heading back to blighty on Monday 1st April. Or April fools day. Alison, Jamie and Sally the dog kindly put me up and look after me for the next few days whilst I run around the place getting organised. Jason at CT makes sure that the crating of the bike and all the associated paperwork goes smoothly. Unfortunately, Iíve screwed up some dimensions and the crate is a good deal taller than it needs to be. Itís going to cost at least an extra £100 to post home a load of fresh Australian air. Thereís no time left to cut the crate down, so just smile and dig a little deeper into the credit card for the extra cash. The plan is for Cathay Pacific to receive the bike on the Sunday so that I can pick it up first thing on Monday morning, break it out of the crate and ride home.

Carlo from CT Freight helps with the packing
A wonderful farewell dinner of Oysters Kilpatrick with Alison and Jamie then itís off on the plane to Melbourne. A Toyota people carrier is waiting at the other end with seats in the back that fold down flat so Iíve got some rather salubrious accommodation for the weekend. Philip Island itself is only 60 or 70 miles south and I arrive well stocked with food and beer in time for Friday afternoon practice. Sam and Dave turn up from Tasmania and itís a great weekend watching Hodgson clear off into the middle distance whilst the Petronas bikes impress with flames shooting from their exhausts. Dave suggests that Ďthey should probably get that fixedí.

Sean and rather lovely WSB TV presenter, Susie Perry
Feeling somewhat emotional, I leave Philip Island after the last race and drive back to Melbourne where thereís a flight back to Sydney in the morning that should connect with my flight back to Heathrow. On the way thereís a dead body in the road covered with a bloody blanket. Itís been run over and it makes me cry when I realise that someoneís last night is infinitely worse than my own.
The rest is really a bit of a jet-lagged blur culminating in a rather unpleasant few hours re-assembling the BMW in freezing cold sleet outside Cathay-Pacificís Heathrow offices. Canít quite believe it all came together and that the bike and I both arrived on schedule so that I could complete the journey and ride the 250 miles back home to my house. A house which I rode straight past when I didnít recognise it because Kev had painted the garage door a different colour.
And they say that nothing changes while youíre away.
Enter your email address to receive updates to Sean Kelly and Adrian Scott's trip story!
Recent Entries
Archives:
Archives:
Monthly
Archives:
Category
Next HU Events
NEW!

UK - Haggs Bank: Sept. 19-21

NEW!

South Africa: Nov 14-16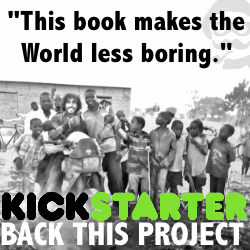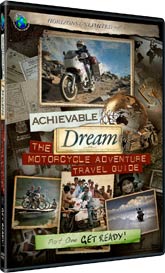 Northerners! The weather outside is frightful, so what better time to start planning your next adventure! To help you get started, for February we're taking 30% off the Get Ready! DVD in the HU Store! Remember to use Coupon Code 'GETREADY' on your order when you checkout.

10th Annual HU Travellers Photo Contest is on now! This is an opportunity for YOU to show us your best photos and win prizes!
NEW! HU 2014 Adventure Travel T-shirts! are now available in several colors! Be the first kid on your block to have them! New lower prices on synths!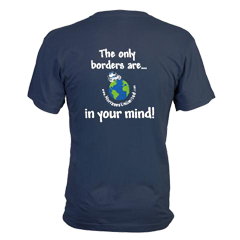 Check out the new Gildan Performance cotton-feel t-shirt - 100% poly, feels like soft cotton!

New to Horizons Unlimited?
New to motorcycle travelling? New to the HU site? Confused? Too many options? It's really very simple - just 4 easy steps!
Horizons Unlimited was founded in 1997 by Grant and Susan Johnson following their journey around the world on a BMW R80 G/S motorcycle.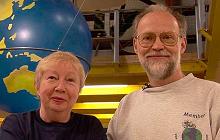 Read more about Grant & Susan's story
What turns you on to motorcycle travel?
Announcements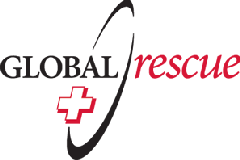 Global Rescue is the premier provider of medical, security and evacuation services worldwide and is the only company that will come to you, wherever you are, and evacuate you to your home hospital of choice. Additionally, Global Rescue places no restrictions on country of citizenship - all nationalities are eligible to sign-up!
Books & DVDs

All the best travel books and videos listed and often reviewed on HU's famous Books page. Check it out and get great travel books from all over the world.
Membership - Show you're proud to be a Horizons Unlimited Traveller!
Horizons Unlimited is not a big multi-national company, just two people who love motorcycle travel and have grown what started as a hobby in 1997 into a full time job (usually 8-10 hours per day and 7 days a week) and a labour of love. To keep it going and a roof over our heads, we run events such as this one (18 this year!); we sell inspirational and informative DVDs; we have a few selected advertisers; and we make a small amount from memberships.
You don't have to be a Member to come to an HU meeting, access the website, the HUBB or to receive the e-zine. What you get for your membership contribution is our sincere gratitude, good karma and knowing that you're helping to keep the motorcycle travel dream alive. Contributing Members and Gold Members do get additional features on the HUBB. Here's a list of all the Member benefits on the HUBB.

MC Air Shipping, (uncrated) USA / Canada / Europe and other areas. Be sure to say "Horizons Unlimited" to get your $25 discount on Shipping!
Insurance - see: For foreigners traveling in US and Canada and for Americans and Canadians traveling in other countries, then mail it to MC Express and get your HU $15 discount!
Story and photos copyright © All Rights Reserved.
Contact the author:
Editors note: We accept no responsibility for any of the above information in any way whatsoever. You are reminded to do your own research. Any commentary is strictly a personal opinion of the person supplying the information and is not to be construed as an endorsement of any kind.
Hosted by: Horizons Unlimited, the motorcycle travellers' website!
You can have your story here too - click for details!