Tony Kalm - Rome to Russia Around the Black Sea
Introduction
What inspires us to choose one journey over another? Living in Rome, last year I decided to head north, to the Arctic Circle. (I didn't know about the great Internet resources available, and didn't write a trip report.) This year, it seemed like a good idea to head east. One of my favorite pastimes is map-gazing, and the Black Sea beckoned, and seemed like a good challenge.
My first move after having decided to circumnavigate the Black Sea was to hit the Internet. I got in touch with Motoreast and One More Mile, and started reading about others' travels through the region. I learned that a group had made the same journey last year, and got in touch with some riders who shared their experiences.
Starting in Rome, I fired up the bike on a hot July day, and, Neal Acherson's "Black Sea†book with me, made for Bari, wearing full synthetics. It was hot! In the spirit of packing light, but needing to anticipate moody Black Sea weather, I was get up in heavy pants with knee and hip armor, and a heavy jacket to match. The gloves were vestiges from northern Norway. All this gear would serve me well later, but that day I was sweating. It didn't occur to me that I didn't need to wear all that, but I was a little rusty. It felt great to be starting the adventure.
After battling a little Rome traffic, I was relieved to hit the Rome ring highway, the Raccordo, and a fresh breeze. My reprieve was short-lived, for immediately I came upon a wall of traffic! Once on the A1, the main autostrada bound for Naples, things got considerably better, and I cruised along well. I sweat the entire way to Bari, with temperatures near 40 degrees, and I dressed for the artic circle. I got there with time to spare, so made a quick detour to Matera. This part of Italy, Puglia, has endless wheat fields, and I cruised on some nice roads and saw quite a few small-scale brush fires – it was so hot and dry. On the way back to Bari to wait for the ferry to Igoumenitsa, a gas station attendant asked me where I was going, and when I said Bari, he said the place is filled with bandits – but who are saints during the day. At the port, I was chatting with my father on the phone as the ferry (Ventouris Lines) arrived. After hearing a description of the boat, he offered that next year I could just stay home and he'd beat me with a stick – an equivalent experience, he surmised.
Given the price to have the bike taken and have a cabin to myself – 130 euros – I was impressed. I saw only one other biker on the boat – a friendly Greek returning from UK for his holiday. Arriving the next morning at Igoumenitsa, which is just mainland of Corfu, I was hoping to make Kavala by nightfall, leaving me with some 400 kilometers the following day to reach Istanbul. The roads that day were spectacular, particularly up to Ioaninna. Lots of twisty over mountains, banked turns, great road surface. The bike and I were happy. I made Kavala before sunset, and even had time for a swim. Kavala had a slew of motorcycle outfitters, and I was pleased to pick up a cheap pair of gloves for warmer weather. I even had time for a dip in the Mediterranean. To my amusement, my waterproof watch, newly purchased, became immediately filled with water and ceased to function. The next morning, I was on the road early, and made the Turkish border by 11am. Compared to the experiences to follow, I'd give the Turkish border police top marks for friendliness and efficiency. I didn't feel that way at the time. In all, more than 3 hours passed, and I counted 8 different steps I and the bike needed to take, each requiring a bigger smile, a small fee, and a special stamp. While the visa cost a mere $20, all in all I forked over $60 in order to "expedite†my crossing. When I emerged from the border in mid-afternoon, I was eager to twist the throttle and make up some time. Just as I was passing a truck as I came over the crest of a mountain, I was flagged down by the police for crossing a solid line. He was extremely polite and good-natured, and while he spoke no language I understood, he did turn his pad over and write "83,000,000†on the back – about $50. I smiled from ear to ear, began to gesticulate wildly, and spoke a little gibberish. He kept pointing to his pad, I kept flailing my arms, and he finally relented and waved me back on the road.
Riding into Istanbul, I was prepared for the worst that humans can do behind the wheel of a car. It was not so bad. I found Sultanahmet and my hotel, and the general manager kindly gave the bike front row parking in order to keep an eye on it for the few days I'd be there. A quick shower later, I was down to the harbor, where I hopped a ferry headed to the Asian side of the city, and a meeting with a friend who lives over there. There's no better way to see that amazing city than from the water. The next several days were quite memorable. Istanbul has it all – great mix of cultures and people, rich history, exotic bazaars, museums, and hamams (Turkish baths). I enjoyed my hamam experience very much. Cavernous and with a large marble slab on which to lie, hamams were an essential part of life when most homes lacked running water. While some hamams now cater especially to tourists, the one I chose did not. It was the real deal. After changing into a sarong in a small wooden change room, I was escorted into the main marble room. Finding that the light bulb in the sauna expired, the two men running the place proceeded to try every other discarded light bulb in the same socket, all the while letting their cigarette smoke fill the room and letting the heat escape. After sometime, I pleaded for use of their flashlight. I kept wondering whether they were lifting my goods while I sat on the giant marble slab in the tattered sarong. Finally, they found a bulb that worked. After sitting and mildly perspiring for several minutes, and fighting off the one fellow who would enter and attempt to raise the price, I was escorted back to the slab and instructed to lie face up. The man then proceeded to dump buckets of hot water on me, lather me like mad, massage me, crack all my joints and spine, pull everything squish everything, then he soaped more, pulled more cracked more, and then, after another dozen buckets of water, he led me to the faucet, did my hair and face, more buckets, and then sent me to the shower, padded me down to dry me, and put me back in the little change room to catch my breath. I then sat with the fellows and enjoyed a tea. I noticed a barber as I left, and walked in. After giving me a fine haircut, Ali took out his cigarette lighter and casually burned the hair from around my ears. I feigned nonchalance, as if I had just singed my own hair that morning. He then massaged my head and face, and sent me on my way. Later that day I met Mariana, a friend of a friend from Moldova, who fancied a motorcycle ride and came down to Istanbul to make the ride back to Chishinau with me. She and a friend met me at my hotel, and we spent a couple of days exploring the whole city. Istanbul! Incredible.
Several days later, we had the bike loaded and left from Sultanahment at 830am. Heading west-northwest to begin the circumnavigation, gas stations were few and far between, and we rode – very gratefully – on fumes into the gas station. The border crossing between Turkey and Bulgaria was amusing. The Turks were painless and quick, but as we approached the Bulgarians, the customs building appeared to be on fire. Huge clouds of smoke billowed from the building, and travelers from both directions were standing at a safe distance. It took some time to determine that the building was not actually on fire, it was just being thoroughly sprayed for insects. I thought we'd be hung up for a while, but they opened the office again, before the noxious gas had even cleared out. So, taking a deep breath, we took our place in the queue, and were off within the hour. Once through, we were treated to one of the most enjoyable roads of the trip. Lush forests of pine flanked a largely well-paved road, with rewarding vistas. We came all the way through to Romania, and spent the night in Constanta. By day's end, however, the good weather left us, and we withstood heavy rains and gusty winds. The riding was tiring.
The next day began another epic battle – against both weather and companion. Both the weather and Mariana won! She had good instincts. When we found ourselves going 80km/h into a flash flood, she wisely scrambled for the highest point on the motorcycle. It was late the next morning before we found our way out of the maze of Constanta, and made for Chishinau – a mere 300 kilometers away. By day's end, we were STILL making for Chishinau. Even my waterproof gear was soaked through. Through the wonders of the Internet, I had made a connection with a fellow biker in Odessa, who was keen to accompany me from Chishinau to Sochi, Russia. Vlad Litvinov, founder of the Strangers Bikers Association, made the ride to Chishinau on the day that we were supposed to arrive. He and his wife, Luda had their own perils to deal with, including weather to match ours, and mechanical difficulties that to a flooded carburetor. They rode all the way to Chishinau, enjoying the polite and friendly Ukraine, Transdneistra, and Moldovan border police (read: NOT polite and friendly), and, after waiting several hours for me, made the return trip to Odessa, where they encountered the trouble. In spite of the rain, I was able to notice and appreciate the vast fertile delta of the Danube.
Acknowledging that there was no way we'd make it all the way to Chishinau, we trudged through heavy rains and cars passing with too little room to spare, and bed down for the night in Galati, near the Moldovan border. The next morning, the rain continued! We put on our barely dry gear, and made for Moldova. It was a truly humbling day. Can somebody send a picture of Gorbachev to the Transdneistrans, or the Ukrainians? News of the collapse of the collapse of the Soviet Union, Perestroika, etc has clearly not reached them.
The day started well enough. We hit the road at 7:30am, and were through both border checkpoints by 9:30am. First was Romania to Moldova. The Moldovan roads were amazing. Giant craters in the roads, and when not, a totally slick surface worsened by the rain. It continued to pour on us when the wind wasn't whipping us. By miracle, we were in Chishinau by 11:30am. Seeing the roads in the capital, you'd think they'd been bombarded earlier that day. I would later think the same of the streets of Odessa. We made it to Mariana's house, and were nicely greeted by her niece, nephew, and her grandmother, who would go to the bathroom and stay there until someone remembered to move her. We were a little moist from the ride. I considered delaying for a day, but stubbornly decided to push on after some delicious herbal tea and wringing out my gear. Half an hour out of Chishinau and we were in Transdneistra, one of the areas that had spooked me a little, with the news of the lingering Soviet mentality, as well as wanton banditry in the region. Going in was easy enough, but arriving at the crossing into Ukraine where the fun (read: bleeding, shivering, and fear) began. The TD guard asked me for various documents, which I dutifully produced, much to his chagrin. I had them all. Finally, frustrated, he reached into his pocket, produced a tiny scrap of paper from his wallet, and asked me if I had that. What could I say! He had me, and this is where my small denominations came in handy. One more note. There were no road signs. None. Every turn option presented required asking directions from someone.
The Ukrainians were the meanest of all. They seemed to get the most satisfaction out of intimidation. One of the forms I was required to fill out asked exactly how much of every currency I had on me. Well, I considered this personal, and under-reported. The guard looked at the form, and gestured for me to produce it all on his desk in the little cabin. I told him it was in my tank bag, and went to get it. When I reached the bag, I quickly took a wad of bills out of the satchel, and left them in the bag. No good. He had been watching me, and told me angrily to bring the tank bag into the cabin. I did so, and he told me to dump the contents on his desk. First, though, he drew the curtains of the cabin. I didn't predict a good outcome to this. I saw the headlines in the paper, of the international incident I was about to cause. Steven Segal would have been better in this role, and I simply held my breath as he savored the long moments. Finally, I was waved on, and exhaled deeply. As an aside, one of the Ukrainian guards had asked me what I was doing, and when I told him I was going around the Black Sea, he shook his head, smiled, and said "Extreme Tourism!†I agreed. Finally free, Odessa was less than two hours away, and I rode with great relief, though I knew I was going only deeper into unknown territory.
Arriving at Odessa bus station, I bid farewell to Mariana, putting her in a car back to Chishinau, so she could get back to work. I found a hotel with hot water (not an easy task to accomplish that day) the Hotel Black Sea, and spoke with Vlad, arranging to meet the next morning. I was whipped. I found a little market near the hotel, and binged on everything I could eat.
Odessa is a marvelous city. Baroque. Simple. Understated. I'm sure much goes unseen, but the city made a wonderful impression on me. Funny, too, that MTV fashions seem to reach everywhere. I wonder if Eskimo teens wear belly shirts….but I digress! I met Vlad and Luda that morning, and we spent the day getting to know each other, and walking around the city. They were wonderful hosts. I moved in with them for the remainder of the Odessa stay. There, I learned more about Vlad's love of motorcycle touring, and of the camaraderie that exists between fellow bikers. Vlad founded the STRANGERS, symbolized by the white raven, a rare bird known for its wisdom. "Do unto others as you would do unto yourself†, is their creed. He'd invested a lot of time in this fellowship, and showed me articles, publications, and gave me a decal and t-shirt. Only days later, as I prepared to bid Vlad goodbye, would I get closer to the full meaning of this way of life, and Vlad's commitment to it.
The next day, Vlad packed up his Ural, I my BMW, and we set out across the great Ukrainian steppe, headed for Crimea. We slowed to a near crawl every time we approached a police checkpoint. Vlad had prepared me to be stopped by everyone, whether out of curiosity or to make their wallets fatter. We ran clean that day. We made frequent stops to buy fruit, have coffee, or (more often) to replenish the oil in Vlad's bike, which had a disconcerting leak. I discovered that Vlad's bike was most comfortable riding along at 70-80kms/h, and while this at first was impossible to believe, it ended up that I appreciated the landscape we crossed so much more, and had more relaxing rides. The one drawback of this is that every single car that came up behind us had to overtake us, and did so with quite an uncomfortable distance between us. We arrived late in the day at the biker rally near Sevastopol that we had hoped to reach. We were both tired, but that didn't stop us from getting the hell away from this rally, where people were getting up to all kinds of things we had no interest in. A few more clicks down the road, and we found families offering rooms in their dachas for the night. We chose one, negotiated a good rate for the night – about $8 for the two of us, and went to a little market on the beach to get some fixings for a simple dinner. The boardwalk feel there was great, people enjoying the long, warm days, strolling, playing. There was also the mandatory beachfront disco with giant spotlights circling the night sky. The next day was one of the best riding days. The roads through the center of the Crimean peninsula were fantastic, with fun turns, and great views. We took time to visit a monastery carved in the rock (Backshyshray) and to visit the old palace of the Khan, the once ruler of the Tatars. Most of the Tatars were run off Crimea, and some are trickling back under a kind of law of return. We passed through a busting Yalta, and stayed that night with a Tatar family and they told us their story.
The next morning we got an early start, intending to make Russia by day's end. We stopped a one of Vlad's favorite dive spots on the Black Sea, near Sudak, and then rode for Kerch, up the coast from Yalta.
Stopping at Feodosia, we visited the gallery of a famous artist Ayvazovsky as well as the town beach and boardwalk, which are bisected by one of the busier railyards I've seen. Watch your fingers and toes. Also startling to me was to see families with children wading in the sea adjacent to sewage drain pipe, but what do I know?
After this pit stop, we said goodbye to the spectacular Crimean mountains, and returned to the vast steppe in search of Kerch, and our ferry crossing. All went well up until that point. We found the ferry, got in line, got tickets for the short crossing to Russia, and the waiting began.
Getting past the Ukrainian customs was not simple. Our paperwork was incomplete, and they immediately threatened that we'd miss our ferry. Thus began the machinations, and this was one time where we were actually let through without paying any "fines†. The ferry ride lasted less than an hour, but nothing could prepare me for the decathlon that lay ahead. 4 hours later and much poorer, Vlad and I emerged from the Russian customs, dazed and weary. Unfortunately, we were surrounded by bandits and pirates, and fading light, so we decided to move quickly, particularly in case the Russians changed their mind about letting us through "easily†. Vlad was particularly concerned about the long straight road from the border to the nearest police checkpoint. People eyed us hungrily as we left the border, and we kept all eyes open. Thankfully, nothing happened, and we made the first village and began to look for a room. It was near dark now, and we came up empty. The police at another checkpoint told us our best bet for a room was Anapa - still another 60kms to go. We made it, though we were both uncomfortable about riding at night, and found an over-priced room in a dump.
The next day, we set out early in order to reach Sochi by nightfall, some 400kms away. It was hard riding; very sinewy roads, which would have been fun, were it not for the Russian drivers whose zeal to overtake surpassed all previous experience. Cars not known for their braking and handling abilities would come upon us from behind, swerve violently as if the driver were having a grand mal seizure, and we'd be left in their spitting gravel dust to ponder our fragile existence. We concluded that the Russian pastime must be to see how close they can pass the motorcyclist without killing him. What I can't determine is how they dispose of the bodies so quickly, but the tree canopy downside of the road must help. We both managed to keep our cool for the most part, and were thrilled when we pulled into a nice home to stay in for the night. My ferry for Trabzon, Turkey was, according to a riding group in Istanbul AND Lonely Planet, to leave the next day. Vlad was due to turn around there, and make his way slowly back to Odessa, where wife Luda and dog Barick were sorely missing him. We called the port on arrival only to learn that the Karden Line had not operated this route in 6 years, and that it was going to be a few days before the one line still making the route left, although the staffs were quick to point out that they never knew when the ferry would arrive or leave, since it was primarily for cargo, and they waited for the craft to fill before leaving. While viewing the change as an immediate set back in my schedule, I knew better than to be upset. I knew that something unexpected and marvelous would come out of this delay, and indeed it was getting to know my companion, Vlad, a little better. His bike now needed a valve job, and we had a new mission of finding or machining the needed parts in Sochi. All along the way, we talked and talked, he prepared great meals, and we just took it easy. In another room for rent in the house was a Georgian family returning home after 15 years on the run from the war.
Sochi was rife with palms, and the sun was shining, and the Black Sea beaches were busy. One ongoing irritation was the animal exploitation. Every other citizen had some monkey, alligator, peacock, ferret, boa, etc that they placed on the shoulders of passers-by, attempted to charge a small fee for a photo.
The supposed departure day of the ferry arrived, and we arrived at the port in plenty of time, and Vlad kept me company as I went through the various procedures. Saying goodbye to him was not easy, and I was surprised to feel the sudden emptiness when the boat sailed. I now insert Vlad's journal entry of his return trip to Odessa.
When you disappeared in the ferry hold, rolling your bike into there, and I walked out of the port, I felt suddenly some emptiness inside and thought: "I became alone in this city". Then I thought again: " I got used to being alone and riding alone, so what the f***?" I took a taxi bus and got to our temporary dwelling. Got the bike packed, fitted the "water cooling system" in view of two 2 litre bottles with water, tied to the engine protector, with the necks touching the cylinder heads, so I could adjust the dropping water by loosening the caps. The night was quiet but at 5:30pm I was awakened by a terrible noise outside the window. I looked out and saw the dark sky with thunderclouds all over the mountains, and strong rain with hailstones falling down on the roof next to our window. The storm was so strong with powerful winds that sometimes the streams of the water from the roof edge were directed into the sky! The storm didn't last long, but I understood that my early departure would be postponed.
I was able to fall asleep again and when got up, it was 7:30am. The sun appeared on the sky, but some large grey clouds were still there over the mountains. I had a good meal, said 'good bye' to Julia and rolled on the road. The surface was mostly dry, only on some wet sections with fallen leaves I had to reduce the speed to prevent sliding. If the storm had some consequences, they were eliminated off the road. I only saw some broken branches on the roadsides. Riding higher into the mountains I caught light rain showers and it accompanied me now and then for couple of hours. Fortunately, the stronger rains had been there an hour before and I only saw large puddles on the dirt. Making slow progress (my speed didn't exceed 80-85 kmph) I got to Anapa around 17:00. Either this "water cooling system†managed well or because I've been riding not fast, the petrol and especially oil consumption was reduced. Though I entered Anapa from another road, I could find the village where we spent night in this "pig house†, but I couldn't find the house (the purpose was to find and get back my forgotten things). I went to the spot where we met the owner, he was not there but a girl who said he and his wife (mafia family, you remember) are at home, probably sleeping, and they switched off their phones. I went there again, checking street by street but without success — I couldn't find the house. I was ready to leave this invention and go, but when I rolled once again to the girl, she said she was able to make a call to the guy and he is going to come here soon with all my belongings, which he was carrying in his rack for 3 days. This 'soon' lasted 40 min, and when he arrived and I got my stuff back, it was around 19:00. I had a little more than an hour of daylight riding, and even if I could get to the port Kavkaz at late evening, the chance that I could catch a ferry there was minimal. I rode until sunset and with only 30 kms left to the port, I rolled off the road few hundreds meters to the tree line and put my tent there. The night was quiet, and I was up together with the sun at the morning, got packed quickly and headed to the port. Probably it was the first sail and I bought tickets without problems, pulled my bike to the fenced territories and got prepared for the border crossing procedures. And here, as turned out, I got a problem. My "certificate of temporary vehicle exportation†was overdue, since I was supposed to leave Russia by the 23rd and then it was 24th. It seems a customs guy who found out about this situation was very happy. He said I must put my bike to the paid parking and wait here till Monday (and it was Saturday) until a special group of experts would arrive here to fulfill a protocol for this serious breaking of the laws. I caught the custom chief, a slimy guy as you would call him, and he said not to hurry since certainly I won't get to this ferry and he has to "clear up†with me, and now he is too busy and has no time. Well, I changed my leather trousers for jeans, sat down in the shadow near his cabin and watched him drinking water and smoking cigarettes. I was quiet since I knew that this was the beginning procedure of extracting money from me and was curious how he was going to do this. The customs chief was walking over the place, talking to his guys and laughing, glancing at me. Probably he expected that I would become nervous, falling to my knees and begging him to let me go for any cost. When the ferry left, he approached me and said that it's time to "clear up†with me. He asked what the reason for my overdue departure from Russia was. I told him that my bike was broken and I spent extra time repairing it. He nodded his head indifferently. We went to his cabinet. I took a chair, looked around and said "Well, here is this infamous place". He was indignant: "What don't you like in this place, or you consider that we act with you illegally?" He mentioned again about a chance to put my bike to the parking and wait here experts till Monday. I calmed down and said that this place had a bad reputation among international bike travelers because most of them had to pay bribes for permission to go. He was indignant again, saying that probably the foreigners were used to crossing the borders freely and they don't know and don't fulfill the laws and requirements of the Russian Federation, that's why sometimes they have to pay fines. And what about my case, I asked. As much as I know the term of the "temporary exportation†may be any, the girl who issued the paper could write in there any date, I asked her about 21st and she wrote 23rd, just for a case, and she could write 30th or any other date, so I think this is not a big crime if the paper was one day expired. The chief made a long speech about how important is this document, that getting it expired I broke few laws of the Russian Federation and he couldn't just "close eyes†or tear up the paper. He said that all the certificates were numbered and one of his custom guys even was fired when he lost one piece and this is incorrect to think that they put the money in their pocket. He spoke for a long time and when finished at last, took a deep breath and said: "Well, and what to do with you now, do you want to pay by maximum or minimum?†I only shrugged my shoulders, meaning "what the question†. "One and half thousand†he declared. I hemmed: "It's unreal†. "One thousand then†. I knew that to bargain with him might be risky, so I took off all the rubles from my belt bag, counted them and said: "Here is all the Russian money left after I bought the tickets, here are 690 rubles†(about 24$). He said: "Okay, put your signature here and here", and gave me a heap of unfulfilled papers, where I put my signatures. As much as I could see these were different protocols, but nowhere a sum of the fine was showed. "Pin the money here†he said. "All of them?†"Of course†"Maybe I take a hundred back for petrol?†I made innocent attempt. "You have one hundred yet†he said imperturbably meaning the declared $100. "You may go now†he said. "Thanks†I knew that the most of the money will move to his pocket. I have no idea what the legal fine is for an expired "temporary exportation†, and definitely he used this ignorance. Surprising to me was the fact that he wasn't afraid of anything, even when another customs guy entered the room he continued the procedure. Obviously this was a routine case for him and that money extracted from motorists is the base of his everyday income. And I am sure that he has lots of other tricks to use in different situations. Of course I was not much happy that I lost the money. I had 1300 rubles left hidden in my back pocket, and I could put there some money yet from my wallet, but what was done that is done. I waited for the next ferry to arrive; rolled there my bike in and at 13.00 was on Ukrainian side. Crossing the border was fast and easy and soon I was heading west. I was trying to find a petrol station with proper benzine during the route, but there was only high octane 95 and 98. I went via Kerch and Feodosia up to the point where I had to decide, either to go straight to the exit of Crimea or to think about some lodging for the night somewhere on the coast. I could go further and make the Crimea and to arrive at home about late night, though this would be a hard ride (I hate night riding) and I would make about 700 kms for the day. To make right decision the situation with petrol helped me. Last time I tanked it was in Novorosiysk and I made since then about 320 kms and had some remains of the petrol swashing on the bottom of my tank. All the last petrol station I passed along 100 kms either had no petrol at all, or only diesel and too expensive and unsuitable for my engine 98th. Just at the intersection with direction out of Crimea were two stations with diesel only. I asked some drivers who waited in the line on the station when any supply of proper gas would arrive, what may be situation on my direction. The answer was that there is no petrol next 60 kms, and that I could try finding my 76 or 80 near Sudak. So I headed to Sudak and in 3 kms rolled in not much busy station where got 5 liters of 92. There was a biker, young guy on customized Ural. He was patiently waiting for a miracle in view of supply of 76th benzene. I convinced him to take some 92th. I proposed him to ride together to Sudak, in my "secret bay†, and his proposal was to go to Koktebel (where you bought your brandy) where was a free auto campsite. I agreed, but when we arrived to the campsite I found it too crowded, and convinced the guy to go to the Sudak bay. On the road I made some shopping and when we arrived to the bay I shared some beer, salami and bread with the guy. He was from Simferopol, has been riding through all the Crimea for two years of his biking experience but never left the peninsula. I was yet in time to swim and dive in the sea and had a short conversation with the guy, when suddenly the disturbing grey clouds hanging over the mountains last hour turned to black and very strong rain fell down upon the bay. We could jump into our tents, which we put half an hour before and listened there to the storm. The rain was so strong with so heavy drops; you wouldn't believe me, that it was able to knock through my Belgium army tent and in view of tiny drops to cover everything inside with moisture, making a puddle on the floor. When the storm abated slightly, I put my head out of the tent and asked the guy in the ugly soviet denim tent how he is doing. He answered he is OK, the tent is dry, and only got some leaking on the bottom! The rain started again, but it was not so strong now and I fell asleep in the tent, wrapped into my sleeping bag, under its measured sound. When I awoke 40 min later, rain was over, and I felt terrible headache and also some burning upon my nose bridge. The first feeling was, I guess, because of very big difference of atmosphere pressure before and after the storm in the bay. And the pain and burning upon my nose bridge was caused, I believe, by the contact with these small jellyfishes during my diving in the bay. And I tried to convince you that these small bastards are harmless! A line of big blisters appeared on my nose bridge, even a special cream I put for the night didn't help much, and I had to put a plaster next morning that helped me to forget about the pain during long riding day. The grey evening turned fast into dark night, falling asleep I thought with worry if we will be able to get out of the bay by the soaked wet dirt road and ride through the mud. Fortunately, we could do this, even to overcome the slippery bumper hill near the closed barrier.
In Sudak, I filled my tank with 76 benzene and there we separated with the guy. He stayed there to see some sights around and I headed north to leave the Crimea. The entire ride that day was quiet and uneventful. I made these 540 kms for 11 hours and about 19:00 was in Odessa, where Luda and Barrik were waiting for me with impatience. The bike ran as if nothing bad ever happened to it so I don't need to do any repair so far. I think I need to change my final drive gears, which are suitable for a sidecar, for solo ones, because the normal speed I have now is 15 km/h or less. But this will happen when I'll find a good quality gears, and until I'll try to enjoy the rest of the summer riding, and wish you the same.
Tony's narrative continues now.
Given the rise in tensions between Georgia and the breakaway republic of Abkhazia, taking the ferry to Trabzon, Turkey was a good move, though my journal entry from the boat wouldn't reinforce that!! This will be my last journal entry, I wrote from the boat. Between the rickety craft, and the miscreants on this vessel, there's no way we'll arrive in one piece.
We did. Obviously. Though I never slept. The man in the bunk above me signaled our approach to Trabzon, and I was relieved to get off the boat, even if it was into the hands of the Turks, who were happy to help me settle my paperwork violations with small (!!) off the record payments. Looking back, I think I was too quick to leave Trabzon. Nestled in the rising mountains, it was shrouded in a morning mist, and looked quite inviting, but I was keen to cover some ground, which I did. I followed the coast road due west to Samson, and then rode south to Ankara, into an ominous storm cloud formation.
I knew that Turkey was famous for road fatalities, further that while aggressive drivers were partly to blame, what caused most of them were the poor road conditions. More specifically, the sudden changes in road conditions. It happened often that I'd be going along, a little faster than I'd care to admit, and the good asphalt would change without warning to killer pebbles, so-called because people have been killed when struck by those shot out by passing tires.
The first time I stopped for petrol west of Trabzon, the whole family running the station emerged and welcomed me for tea, and gave me gifts of lemonade drinks, biscuits, and an oil rag embossed with their logo and coordinates. The first time it happened, I was quite moved, and it would happen several more times. Storm clouds had loomed large as I turned left at Samson and turned south to Ankara. Instead of a storm, I was greeted with a blaze of sunshine, and a landscape of soaring green cypress and soaring golden wheat. And often, small villages with a single minaret climbing towards the sky. The last 100kms into Ankara were tough, right into the sun, sudden switchbacks. I put myself in a chain hotel because none of the smaller ones understood my concerns about the security of the bike. The Radisson had only been open a few days, and I felt like the only guest, the way that treated me. They let me bring my bike INSIDE the hotel.
The next day I made for Cappadocia, and made my first stop at Gunsehir, off the beaten path. I was treated to the Church of St. Jean, which I had all to myself. Carved into the volcanic rock unique to this region, it had brilliant frescoes more spectacular than anything I'd see in the busier village of Goreme, which I made later that day. I found a cheap and cheerful pension, unloaded the bike, and went exploring, hiking into several of the canyons, and working on my tan, which up to that point was limited to the strip of flesh between the end of my sleeve and the beginning of the bike gloves.
The next morning I awoke to the sounds of hot air balloons firing outside my window, because this is one the most magical landscapes for that kind of trip, and they start early. I packed the bike, had a delicious breakfast, and set out for the underground cities south of Nevsehir. Again, I chose one with fewer tourists, and had it all to myself. The guard happily opened it for me, and locked it up once I had left. Descending some seven stories below ground, I began to get a little claustrophobic, and was glad to breathe fresh air again.
Back on the road, I paused for tea with a group of young rabble-rousers, average age 80, and then saddled up again. Two things I loved about Turkey: always a sense of humor, and always music, music, music.
One of my next stops out of Nevsehir was Guylezuck, and the church on the rock. It was set apart from the village, out on a cliff hanging strip of road. Riding back from the visit, I was seized upon by a sheep dog (yes the guide books had warned me!), which was on me before I knew it. If the wild scream of surprise I let out didn't scare off this mongrel, then nothing in my arsenal was going to do the trick. I laid on the horn and throttle, and skidded my way narrowly out of there. Ravenous sheepdog—1, extreme tourist—0. I was to have my revenge later by running another one over. It lived to tell the tale, but its owner was nearby and was livid with me – thankfully, his 5 sons were all smiles, because I wasn't going to talk my way out of that one.
After some hiking at the Ilhara valley, I set out for Konya, to visit the shrine to Rumi, the sufist poet I adore. On the road approaching the city, which by the way is the ancient Silk Road, the road gave way once again to the killer pebbles, which allowed me to ride at a modest but still nerve-jittering 20kms/h. This did not stop the wild drivers behind me from their obsessive speeds, and I was hit by so many rocks that I was determined to confront the drivers, if only I could catch them! I'd like to add here that I believe ambulances Turkey cause far more accidents with their reckless driving than they assist. I stopped at several caravanserais, which have been operating for thousands of years, though today more as tourist attraction.
I had wanted to find a relatively quiet spot on the Aegean to spend a few days, and after talking to some fellow travelers, headed for Kas, near the southwest tip of the Turkey. It was gorgeous — turquoise waters, sleepy little village.
The ride from Antalya to Kas was one of the most magnificent I've ever ridden – primarily because I had the twisty, well-paved road nearly all to myself as I zipped over passes and slowed to savor small villages with happy children smiling and waving. There were waterfalls, stunning views of Mount Olympus, and lush forests. I dedicated myself to several days' worth of relaxation, and slept by the water, wrote, caught up on reading, and made friends.
Somewhere between Kas and Antyaka (Govinda) I caught a nasty little bug, and was way-laid in that town for a few days while I waited for the antibiotics to take effect. It's a good weight loss program. The Turkey Trots!! Once I felt better, I headed north, skipping Bodrum purposefully. I stopped in Selcuk for a few days, to tour Efes and local mountain villages. Thanks to a friend of a friend, I stayed in a backpacker's lodge just outside town called Atila's Getaway. After a sleepless night thanks to the rowdy college fest, I amused myself wondering what exactly I was getting away from. Quieter, better places not filled with drunks? Places in town within walking distance of everything? Places that don't have deafening sound systems?
After visiting all sites of note, it was time to head for Cesme, and the ferry to Chios. On the way, I found myself quite intolerant of aggressive Turkish car drivers, and after one nearly killed me, I was somewhat pleased to find myself approaching him, some kilometers later, stopped at a traffic light. I split the lane and stopped in front of him, killing the engine. I am glad that after I leaned into his window and delivered an eloquent invitation to do something stupid, that he simply offered me a cigarette, smiled, and said sorry. I loved Turkey, but it was time to find something wrong with another nation's automobile drivers.
I turned west at Izmir to head towards Cesme, and the ferry. I wonder if I'm going to hell based on the language I used to describe and curse at the wind I encountered – hopelessly strong gusts from several directions.
An overpriced ferry (about 85 USD for me and the bike) took me the slight one-hour journey to Chios, where I waited a couple more hours for the overnight to Piraeus. From there, I rode out to Lefkada, to visit old friends from an earlier journey, then ran up the coast to Igoumenitsa, and the overnight ferry to Bari leaving only the straight shot to Naples, and then Rome.
8,500kilometers. Italy, Greece, Turkey, Russia, Ukraine, Moldova, Romania, Bulgaria. New friends. Old friends. Slow food, fast food. Small spills, minor infections, small bribes, a decent tan, and a seriously flat ass. A solo (not really!) circumnavigation (not including Georgia!!) of the Black Sea. A great adventure and I'd happily share more or less information to fellow travelers, if it would be useful.
Keep riding, and keep smiling.
TIPS:
1. Always travel with small denominations of various currencies, and keep them in separate places.
2. Bring toilet paper.
3. Keep it dirty.
4. Embrace the unexpected, and know that when something seems not to go your way, it often turns out to bring a sweeter reward than your own plan would have.
5. Keep smiling!!
---
Member login
Are you an Overland Adventure Traveller?
Does the smell of spices wafting through the air make you think of Zanzibar, a cacophony of honking horns is Cairo, or a swirl of brilliantly patterned clothing Guatemala? Then this is the site for you!
Hosted by Grant and Susan Johnson, RTW 1987-1998
NEW! HU 2015 Motorcycle Adventure Travel Calendar is now available! Get your copy now for some terrific travel inspiration!
HUGE, 11.5 x 16.5 inches, beautifully printed in Germany on top quality stock! Photos are the winning images from over 600 entries in the 9th Annual HU Photo Contest!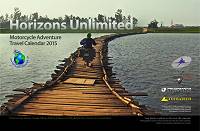 "The calendar is magnificent!"
"I just wanted to say how much I'm loving the new, larger calendar!"
We share the profit with the winning photographers. YOU could be in the HU Calendar too - enter here!
Next HU Events
Canada West: Aug 20-23, 2015
USA California: Sep 24-27, 2015
Aus Queensland: Sep 24-27, 2015
USA North Carolina: Oct 8-11, 2015
Aus Perth: Oct 9-11, 2015
Take 40% off Road Heroes Part 1 until October 31 only!
Road Heroes features tales of adventure, joy and sheer terror by veteran travellers Peter and Kay Forwood (193 countries two-up on a Harley); Dr. Greg Frazier (5 times RTW); Tiffany Coates (RTW solo female); and Rene Cormier (University of Gravel Roads).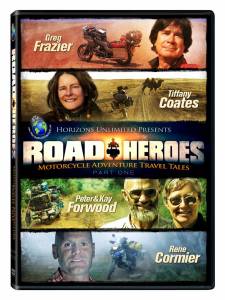 "Inspiring and hilarious!"
"I loved watching this DVD!"
"Lots of amazing stories and even more amazing photographs, it's great fun and very inspirational."
"Wonderful entertainment!"
Check it out at the HU Store! Remember to use Coupon Code 'HEROES' on your order when you checkout.

10th Annual HU Travellers Photo Contest is on now! This is an opportunity for YOU to show us your best photos and win prizes!
Books

All the best travel books and videos listed and often reviewed on HU's famous Books page. Check it out and get great travel books from all over the world.