September 11, 2008 GMT
Chile
Relieved to have got out the other side alive we head into Chile. After reading and researching online I was expecting Chile to be very different to Peru and the difference between them to be startling.

Yes Chile has shops and is 'civillised' but it's not that different at first. There are certainly less dogs here and they are less aggressive which is a good start.

We head into Arica and pull into the first Hotel we can find on the sea front. It is a beach type resort and not very cheap.

Today has lost us 2 hours in time due to crossing time zones so it is now about 8pm. After a speedy change and dinner, we unfortunately realise there is an ant problem in our room. Then we notice the yukky bathroom and the smell from the toilet is vile.

Checking out next morning I set about complaining in spanish to the Receptionist. Maybe I got some words wrong but she certainly was very embarrassed by what I said and offered us a discount straight away. This is the first complaint I have made so far concerning hotel rooms and I was so mad about the price and lack of quality that I made a point of telling the staff I have stayed in better hostals in Peru...

The next few days would see us ride through the infamous Atacama Desert, Em found this boring at times, but for me the place was wild.

Some of the sand dunes have to be seen to be believed as they tower above, many stories high. With some stretches It felt like we were riding through Mars not Chile, the wind was fierce - sometimes blowing us onto the other side of the road. You daren't open your visor even a crack out here due to the sand and the heat is searing.
Looking out into the dessert you could see whirlwinds pulling up great cones of sand, amazing to witness, but glad they werent too close.

The road on the whole is straight, at times stretching to the heat hazed horizon, the only thing breaking the monotony is the elaborate road side memorials to those who had not survived a particular incident on the road - a reminder to keep your concentration.

More worrying though is the lack of petrol stations. The first one we find we ask for extra fuel cans. They don't have any but recycle a couple of oil containers and fill with petrol for us. We strap these to the side of the back box and hope we have enough.

The riding starts to get very windy and it is hard going just holding yourself up.
The wind blows the sand around and worse it increases our fuel consumption.
Later that day we have to pull over and use the spare cans to fill the tank. With the wind effect and our additional cans we can do around 300miles, its only now I wish we had the Adventure fuel tank, but we manage fine. Luckily an hour later we reach a fuel station and brim the tank and containers.

After a long days riding we reach the town of Iquque. This place is nestled by the sea and has cool sea breezes.

We treat ourselves to a proper hotel with great views of the ocean, later after getting the sand out of all the cracks, we head down to the restaurant for a very good meal and our complimentary drink.

Later that evening we route plan for the next few days riding, using the laptops remaining battery as we don't yet have a Chilean power adaptor. One practical thing a day....

Setting out for more of the same wind, sand and boredom it is now that I am so grateful for my ipod.

We get to Antofagasta after another long day and find a hotel on the seafront.

Leaving Antofagasta early the next day we drive past "The Hand'.

This is a sand monument of a hand probably made by the Chileans to try and ease the boredom of the landscape. It doesn't work.

That evening we get to Bahia Ingles and decide to stop for the night. We have trouble finding a decent hotel and end up in a hostel, which is very pricey but has secure parking. There are loads of backpackers around as we wander into town in search of food. Finding nothing except a Mexican Bar we settle on Pina coladas and nachos for tea.

Knackered after the last couple of days we settle back into the hostal. At 11pm the underground club across the street from us kicks off with banging dance music until 5am, then the inevitable noise of drunk people leaving. We get no sleep at all it is so loud, I think the bed was shaking in time to the music. I must be getting old as I was very peeved by it all.

Next day is a little better as the scenery starts to green up abit and we get out of the dessert. Stopping at a fuel station just before lunch we meet up with a Chilean local on a BMW. Fernando asks us to join him for a coffee and we chat about the bike, where we have been, and in general. It is fascinating to hear about his life here, Fernando is a fruit farmer in La Serena, he has 7 children (6 girls 1 boy) which we have a good chat about.

After lunch we all head out together and Fernando leads the way to La Serena, pointing out landmarks and interesting things along the way. Once in La Serena he takes us to a lovely hotel, and bids us farewell.

That evening we meet up with a lovely couple from Scotland who are here visiting family. We have a fantastic evening with great food and company.

David and Ailsa- it was a pleasure meeting you, thanks for a fabulous evening!

After a great breakfast we head out the next day. Our first stop is a photo shoot outside the hotel courtesy of our new friends from last night!
The Pan am from here downwards starts to get better and Chile is starting to feel alot more civilised from here on in. Fuel stops aren't such an issue and you can buy water and snacks at them too which is a bonus after Peru.

There are many cake ladies along this stretch of road - locals who bake cakes and sell them on the roadside. They wave white hankerchiefs at you to get your attention.

Reaching Santiago, later that afternoon we drive around the capital looking for Hotels. There must be a Hotel district in Santiago and we definately didn't find it! We did find the banking district though and it was very hectic. After about an hour we manage to find a hotel and get us and the bike sorted.

That evening after dinner we set about doing some research. We need to find the BMW dealer in Santiago tomorrow to hopefully get some new tyres ready for off road later to come. After emailing the dealers twice about 3 weeks ago and no response we really don't know what to expect. They might have our tyres in stock?

Next day we head out armed with a tourist map and a route by me. We manage to get out of the centre and onto the right road after 10 mins or so. After half an hour we reach the BMW dealership, only to find out it is the wrong one. Luckily we meet Gonzalo there, another BMW rider on his bike and he offers to take us to the right place. We set off after him and he isn't hanging around! Gonzalo speaks perfect Queens English and sets about explaining to the staff in Spanish what we need. Then he translates it to us - they have the TKC's and can fit them by 5pm today. Perfect.

We decide to hang out in the showroom all day while the tyres get changed.

Gonzalo is concerned about us driving around Santiago as there is a tag/ toll system in place. We need to have a tag to drive on the ring roads and there is no way we can get out of the city without crossing a checkpoint and maybe getting fined or chased by the police. Think London congestion charge, but with bigger fines.

Darren heads off with Gonzalo on his BMW into town to the Motorway Office to find out how to get a tag etc. I am secretly thrilled by this as I am hoping Darren will realise what it is like to be a pillion for a change.

Ems comment made me smile, I actually don't normally like being pillion, as I have said many times I don't know how she does it – especially off road. But today I really enjoyed being pillion riding with Gonzalo around the city, first we went to his house to collect his tag, then onto the transport office.

It turns out that as we have foreign plates we don't need a tag and don't have to pay anything to drive around – one less thing to worry about. I suggest to Gonzalo that he should get himself some international plates for his bike – save a fortune. We offer to take Gonzalo over to a cafe to buy him lunch for all his help, he is not having any of it though and insists on paying for us instead. Whilst in the supermarket we pick up some bits and bobs we needed for the road and head back to BMW.

At BMW they wheel the bike out and I only just recognize it – they had cleaned it, Beamers first bath in months! The fitter also mentioned that although he managed to fit the tires ok, he was concerned about the rims as they were somewhat buckled…really? Cant think how that happened…

Gonzalo meets back up with us at 5pm to check everything is okay with the new tyres, then he leads the way out of town and waves us onto the right road.

Gonzalo, mucho gusto, !gracious por sus ayuthar con los pneumaticos!

We head out to Rancagua and reach it by about 6.30pm. Finding a Hotel proves very difficult and eventually we come across the most lovely place on the outskirts of town. It is beautiful here, very quiet, with loveley gardens and spotless rooms.

Breakfast is very nice the next morning and I ask Darren if he can just leave me here and do the last bit on his own, it is just too nice to leave. He tells me to stop day dreaming and get my kit on!!

I would have liked to stay longer, but what Em fails to mention is that this place is 3x our nightly budget! The stop was a good one and it was nice to get some luxury for once – and to see Em with a smile on her face.

We head out and back onto the Pan Am for a long and fairly uninteresting ride down to Los Angeles .The great thing about Chile now is the fuel stops- they have cafes attached to them with a nice area to sit down and have something to eat so we treat ourselves to lunch.

These roadside service areas remind me of riding through France, great service and very fresh produce – plus you have to pay to take a leak!

We reach Los Angeles and find a suitable motel. We need a good car park area so that I can do the long awaited oil change- we have been planning to do it since Panama.

Once checked in, I set about the bike, its seriously hot as I drop the belly pan ready for the oil change. Its then that I spot the reason why Beamer has not been on top form – theres a hole about the size of a five pence piece in the exhaust down pipe. On closer inspection I realize that on one of the offs in Peru, the now bent crash bars had hit the pipe, forcing the bars fixing bolt to go through the pipe. Ten minutes and some metal putty later and the repair is done.

After swapping the oil and filter I also replace the air filter and check the brakes and spoke tension, thankfully all is in order.

The next day is a very wet one and we get absolutely soaked travelling down to Osorno. We planned to stop here so that we can pick up the 215 road tomorrow across into Agentina. The town of Osorno is terrible, we couldn't find anywhere we would like to stay, so decide to head on in the rain to Puerto Montt.

The rain is now torrential, and we come across numerous accidents caused by the conditions, the worse by far is a double trailered tanker that has overturned after hitting a car – as we get closer I spot it's a fuel tanker and gas it to get away as quickly as possible!

We had been warned that Puerto Montt wasn't very scenic or pleasant- for me it was nicer than Osorno, it is a port town and rough around the edges is how I would describe it after staying there.

While Em checks us into the hotel I wait outside in the rain and its here that I am approached by a guy who had arrived in town yesterday. He too is on a bike trip and plans to ferry across to pick up the Carretera Austral. We are not the only riders he has met in town, apparently there are a few riders ready to go south – I wondered where they all were.

Once settled into the room we decide to give ourselves a day off to plan ahead for the border crossing and organise money. That evening we realise that we are seriously pushing the budget to get to Ushuaia as we had planned, ie by taking the famous Carreterra Austral and the infamous Ruta 40.

This route to Ushuaia would take us about 10 days- 10 days of money we didn't have. With all our options used up, we come to terms with the fact that we have to take the quickest route possible to Ushuaia. Then to 'haul ass' as a Texan would say, back up to Buenos Aires as quickly as possible to ship us and beamer home.

That evening we sit in the room not saying much, alone in our own thoughts about what we have to give up. I work out a route that still gives me a small taste of Ruta 40, but the reality is that the true Ruta 40 and the Carrettera Austral will evade us on this trip, maybe next time.

It is a disppointment for us both but our number one priority is to get to Ushuaia ASAP and finish the trip as we had planned from the top of the world to the bottom in one ride.

With the new routes planned, we leave Puerto Montt setting out early back up to Osorno then onto the 215 road heading East and into Argentina. Just outside town we pull up to a road block where the Police tell us that the Ruta 5 (PanAm) is shut so we have to follow a detour out of town. For some reason it is very smokey and we pull our neck buffs up to cover our mouths just to breath.

Once out of the backstreets and smog and finally on the 215 road the scenery opens up to parklands and trees reminding me of England. The weather has dried up and it is a lovely sunny day. We pass lots of tourist spots and cabanas for rent. It is really pretty out here. We stop by a field full of buttercups to have some biscuits and a drink.

As we approach the border, a BMW 650 Daker is coming the other way, we chat to the lady rider who is Australian and has traveled from Buenos Aires to Ushuaia and is now making her way north – alone. I have a great deal of respect for her as, to put it politly, she was mature in years and still living the dream. Em – I thought she was the coolest woman I had ever met and vow to take my bike licence as soon as I can. We both hope you have a fantastic trip.

Crossing the border from Chile into Argentina is the best crossing yet. There are clear signs telling you where to go and why, the staff are friendly and best of all it is quiet with no crowds or queues of people.

After checking out of Chile you have a 15mile ride through 'no mans land' which happens to be a National Park and is very pretty.
September 13, 2008 GMT
September 14, 2008 GMT
Enter your email address to receive updates to Darren & Emma Homer's trip story!
Recent Entries
Archives:
Archives:
Monthly
Archives:
Category
NEW! HU 2015 Motorcycle Adventure Travel Calendar is now available! Get your copy now for some terrific travel inspiration!
HUGE, 11.5 x 16.5 inches, beautifully printed in Germany on top quality stock! Photos are the winning images from over 600 entries in the 9th Annual HU Photo Contest!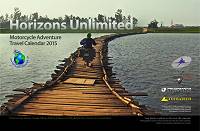 "The calendar is magnificent!"
"I just wanted to say how much I'm loving the new, larger calendar!"
We share the profit with the winning photographers. YOU could be in the HU Calendar too - enter here!
Next HU Events
Germany: May 14-17
Canada Ontario: Jun 18-21
Ireland: June 26-28
Colorado: July 17-19 TBC
Canada West: Aug 20-23
USA California: Sep 24-27
Aus Queensland: Sep 24-27
USA North Carolina: Oct 8-11
Aus Perth: Oct 9-11
Germany: Oct 22-25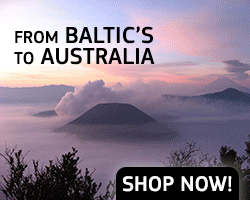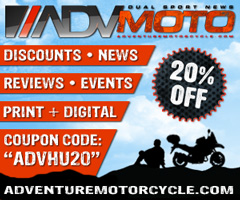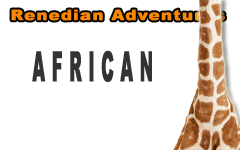 What others say about HU...
"I just wanted to say thanks for doing this and sharing so much with the rest of us." Dave, USA
"Your website is a mecca of valuable information and the DVD series is informative, entertaining, and inspiring! The new look of the website is very impressive, updated and catchy. Thank you so very much!" Jennifer, Canada
"...Great site. Keep up the good work." Murray and Carmen, Australia
"We just finished a 7 month 22,000+ mile scouting trip from Alaska to the bottom of Chile and I can't tell you how many times we referred to your site for help. From how to adjust your valves, to where to stay in the back country of Peru. Horizons Unlimited was a key player in our success. Motorcycle enthusiasts from around the world are in debt to your services." Alaska Riders

10th Annual HU Travellers Photo Contest is on now! This is an opportunity for YOU to show us your best photos and win prizes!
NEW! HU 2014 Adventure Travel T-shirts! are now available in several colors! Be the first kid on your block to have them! New lower prices on synths!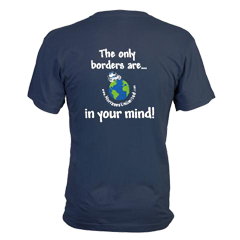 Check out the new Gildan Performance cotton-feel t-shirt - 100% poly, feels like soft cotton!

What turns you on to motorcycle travel?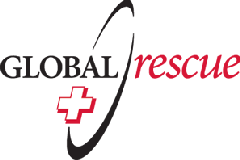 Global Rescue is the premier provider of medical, security and evacuation services worldwide and is the only company that will come to you, wherever you are, and evacuate you to your home hospital of choice. Additionally, Global Rescue places no restrictions on country of citizenship - all nationalities are eligible to sign-up!
New to Horizons Unlimited?
New to motorcycle travelling? New to the HU site? Confused? Too many options? It's really very simple - just 4 easy steps!
Horizons Unlimited was founded in 1997 by Grant and Susan Johnson following their journey around the world on a BMW R80 G/S motorcycle.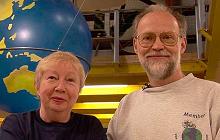 Read more about Grant & Susan's story
Membership - help keep us going!
Horizons Unlimited is not a big multi-national company, just two people who love motorcycle travel and have grown what started as a hobby in 1997 into a full time job (usually 8-10 hours per day and 7 days a week) and a labour of love. To keep it going and a roof over our heads, we run events (22 this year!); we sell inspirational and informative DVDs; we have a few selected advertisers; and we make a small amount from memberships.
You don't have to be a Member to come to an HU meeting, access the website, the HUBB or to receive the e-zine. What you get for your membership contribution is our sincere gratitude, good karma and knowing that you're helping to keep the motorcycle travel dream alive. Contributing Members and Gold Members do get additional features on the HUBB. Here's a list of all the Member benefits on the HUBB.
Books & DVDs

All the best travel books and videos listed and often reviewed on HU's famous Books page. Check it out and get great travel books from all over the world.

MC Air Shipping, (uncrated) USA / Canada / Europe and other areas. Be sure to say "Horizons Unlimited" to get your $25 discount on Shipping!
Insurance - see: For foreigners traveling in US and Canada and for Americans and Canadians traveling in other countries, then mail it to MC Express and get your HU $15 discount!
Story and photos copyright © All Rights Reserved.
Contact the author:
Editors note: We accept no responsibility for any of the above information in any way whatsoever. You are reminded to do your own research. Any commentary is strictly a personal opinion of the person supplying the information and is not to be construed as an endorsement of any kind.
Hosted by: Horizons Unlimited, the motorcycle travellers' website!
You can have your story here too - click for details!