May 24, 2008 GMT
Peru (Part 1)
First impressions of Peru are very poor, a very harsh life for the people here and rubbish everywhere. This is a shock as Equador is really clean in that respect.
As we continue along from the border people we pass are friendly enough and wave back.

Today is really windy and hard going with the straighest road through desert. The wind whips up the sand making it tougher still.

From a riders point of view the first thing I noticed after crossing into Peru was the lack of traffic, also the roads were much better than I had been expecting. One thing I wasnt expecting though was the wind - as Em mentioned, it was seriously windy and we had to get used to riding at a constant lean angle.

After riding through Sullana and Piura the PanAm opened up a bit and we made good progress and stopped for fuel and a drink - petrol prices are very low compared to what we would pay back home, which is just as well as the wind is robbing us of our usual fuel range.

By mid afternoon we reach the town of Chiclayo and roll up to the first Hotel we find. It is great and we get settled in with lots of help from the friendly staff.
Next day we head down the coast road (Panamerican Highway) to the town of Huacanchao and find the Huacanchao International Hotel on the sea front - a really good place similar to a B&B back home. At reception we spot the stickers from the adventure bike tours that had passed this way before.

The wind is strong again but not as bad as yesterday. There is alot of rubbish dumped at either ends of each town we pass through and combined with the open sewers the smell is overpowering. I don't quite know how I wasn't sick in my lid - lots of breathing through the mouth!

As we ride through the edge of one particular town the rubbish is really bad, what doesnt help is the wind whipping up all the litter with the dust. Its here that we notice that the open sewers have overflowed onto the road in front of us, nothing to do but select first gear, breath through your mouth and hope there are no potholes to make you put your foot down or worse...

However the mountain views are stunning and the occasional green oasis.

We pass miles of sand dunes with warning signs not to veer off the road due to land mines in the sand.

Once checked in at our seafront Hotel, we drop our luggage and head back to Trujillo to see the Ruins at Chan Chan. This is an ancient site of the Chimu civilisation and was buried over time in the sand. They have excavated a small part of it to see.

Everyone is very friendly and we decide to pay a guide for an hour. George is great as he speaks some English- he speaks to me in Spanish and Darren in English - it works really well.

There was alot of fascinating information that we learned about the symbols, buildings, how life would have been etc.. that we wouldn't have gained without a guide.

Unexpectedly we come across this huge well in the ruins in the middle of the dessert.

There is the strangest looking dog in the water, George tells me he is there everyday always in the water and a pure breed of peruvian dog.

After a fascinating afternoon we head back to the Hotel with a lovely view of the beach, friendly and helpful staff and a very peaceful nights sleep for once. We also get our first taste of Inca Kola which is really sweet and full of caffeine.

Next morning we set out after breakfast for an easy day heading down the Pan American coast road then into the Canyon del Pato via the 106 road which is a short road on the map leading to Huaraz.

We wind along the Pan American with no trouble and the scenery is all dessert, sand and mountains - it reminds me of Death Valley in the States - well apart from the rubbish!

The road is pretty straight, lots of cars and trucks overtaking in the other direction don't seem to care about bikes and just pull out expecting us to move over as far as possible. We have several near misses.

Heading off on the wrong road at Camas we stop to do a U turn and ask a Police Officer on a moto nearby. He takes us back down the road to the right turning and waves us on . This road is a stunning mountain range with the road running through the valley, very remote too with no one around.

We continue along climbing higher and reaching a small town all signs disappear. The road turns to mud and as we reach a junction we don't have a clue which way to turn. A local waves us to go straight over.

This road winds around the town and out down a track, clearly looking like a back street and not the right road.

It is pure slushy mud in the first section and we get whistled and cheered at by a group of guys working on this section. They clearly think it is fun to watch and see if we fall off or not. We ask two different locals passing by in taxis and they confirm that this is the road to Huaraz.

Its a this point Em and I stop for a chat and to double check we are on the right road, so after speaking to the locals we feel confident that all is well - afterall it was a copper who directed us....

Carrying on this road it runs along the valley floor by the river for a while, then it starts to climb higher, switchbacking up each mountain, passing small villages and people in bright clothes looking at us in awe. We have several near misses with dogs running out at us and chasing us as we try to negotiate the tight turns and farm track road.

After several river crossings in the valley the road starts leading up a mountain, we have a scary moment on the single track road with a bus coming the other way. We pull over to the outside of the track and skid on some loose gravel- far to close to the edge for my comfort.

We discuss my preferred option which is to turn around at this point. Although not wanting to run the gauntlet again past all the dogs and hazards etc. my biggest concern is that this is not the right road, my second concern is fuel.
Darren says he thinks we should continue and we should have enough fuel to get there. I agree to continue after saying 'ok I guess it can't get much worse ahead than it has been already'.

It must have been really scary for Em when I had to get close to the edge of the track, but there was no other choice as there was just about enough room for the bus - and he didnt seem to be slowing down.

The "road" to this point had been fairly challenging but we had battled on well and had even overcome the countless dogs that at one point were running in between the wheels. The views were jaw dropping and the locals very friendly.
To me, to turn around now would be a shame as we had both worked hard to get this far. I was fairly sure we were on the road to Huaraz, we had plenty of daylight and the GPS was telling us we had around 50miles to go with around 100miles in the tank. Just how wrong can you be..

Following the road on it winds round and round many valleys, up and down the mountains. We don't feel like we are getting anywhere or making any progress.

Then it starts to rain and the track starts to get really wet with low cloud. Visability is bad and Darren has started to stand up to get a better balance and view on the road. The Locals up here are very friendly and we are waving to everyone. There are cows, pigs and dogs everywhere as it is really rural.

I happen to be waving to a group of ladies when we have our first 'off' on the track. The right side pannier comes off completely and is lying on the other side of the track, the bike skids round as we hit the deck and is facing the wrong way. A group of farmers rush over and help lift the bike.

A helpful local then starts to give us advice about sticking to the ruts only and pointing out our skid mark on the 'wrong' part of the track. He tells us when I ask that it will take 3 hours to Huaraz. We can't believe it will take that long - the GPS is telling us that Huaraz is 15 miles away...

After 10 mins to compose ourselves we turn the bike around with difficulty on the steep farm track and head off.

The next 'off' happens about 5 mins later on the track and is faster. This one hurt as we skid off to the left and the pannier hits a rock causing us to spin off over onto the right side. The right pannier stays on this time and pinches my ankle pinning it under the weight of the bike as I land flat on my back bumping my head on the rocks in the road.

Lifting the bike off Ems ankle I am really concerned, we really are in the middle of nowhere and if either one of us were to be injured - well, it doesnt bear thinking about. The mud track is now very slippery and we have dual sport rubber on, I am doing my best but I realise that there are probably more 'offs' to come.

Again we have to hoist the bike up straight away as it is in the way of an oncoming local bus. We take 15 mins out to get ourselves together with me sat on the offending rock, then head off.

The next part of the road is awash with water and the mud is a thick and slippery mix of sand and clay, we have another 'off' in a foot deep puddle of it, both of us manage to step off somehow.

We decide I should walk this part and let Darren ride on his own. This is mainly because my extra weight makes it harder to control but also Darren really doesn't like to see me getting hurt and it puts extra pressure on him to keep us upright in very bad conditions. Also 9 times out of 10 he can step off the bike should it go over and its easier without me in the way. The mud is so thick here the wheels on the bike are completely clodded with it and just spinning and skiding with no grip at all. I try and scrape some of the mud off with a stick but it really doesn't help.

After a mile or so we reach higher ground where the rain has stopped and it is drier so I hop back on. We make progress for a good hour and a half, then it starts to really hammer down with rain, thunder and lightening. We stop to put on our jacket liners and heated vests as the temperature is dropping due to the altitude. A silver truck stops behind us and again we ask how far to Huaraz. They say 15 km and that they are headed that way so to follow them.

We follow them a while but soon they start to get further ahead and we lose them. The light is starting to fade, then finally I look down the valley and see the small town of Huaraz lit up at the bottom of the valley- thank god we are nearly there.

We round another bend and have several really long skids which Darren manages to hold - God knows how, the road is slippery and impossible to even steer on, we are just sliding. Rounding a bend we have another 'off'- again both managing to step off.

Darren sugests I walk for a bit again and as I set off he stops abruptly. Darren turns the engine a few times - nothing. We are out of fuel. Is this really happening to us?

We move the bike over onto a gravel patch on the very edge of the road and after a brief discussion decide we have no option but to abandon it and continue by walking to Huaraz.
It's getting dark and about 7pm, we are on the side of a mountain in the middle of nowhere in Peru, abandoning our only asset with the focus now on ourselves and getting to safety. The GPS is telling us it is 3 miles to Huaraz although we know that the road is so twisty this just isn't the case.
Prepared for a 6 mile walk at least we set off with a torch, the GPS and the big knife.

The road winds down and round and round the mountains, every so often we get a glimpse of Huaraz lit up at night. The road gets dark quickly - it is about 7.30pm by this time, we are cold and dripping wet still from the downpours.

As there are no street lights or electricity for the locals in this area we can't see where we are going easily and the mud is ridiculous- you can't even walk on it without sliding around.

This 'road' has to be the most treacherous and frankly frightening I have ever been on. I fight the fear and keep telling myself just focus on getting to the town.

We reach a small settlement of a few mud houses and several dogs start barking. Anyone who knows me will know that I am scared of dogs so this freaks me out a little in the dark. I try not to let it show.

As we pass the villagers are hanging around their doorways in the dark and say a wary 'hello'.
I explain about the abandoned moto, they nod back not really knowing what to say- don't think they get many bikers round here.

As we walk away the dogs continue to circle around us- it is pitch black by now and I guess there must be 6 or so all barking and growling. I am holding Darren's arm and terrifyed - this has to be my worst nightmare come true.

Darren says 'just keep walking'. Suddenly I am in pain as one of the dogs bites me on the calf through my bike trousers and I yelp in panic 'it bit me, it bit me! Darren is really angry and turns on the dogs shouting and managing to kick one as he scares them off.

We don't stop we just keep walking. I can feel wet blood in my boot and am having trouble getting my head round it all, is this really happening to us? Don't we deserve a little more luck?

After 30 mins or so we hear a car coming down the hill, we decide to flag it down and luckily they stop. It is a shared taxi and I ask how much to Huaraz? The driver says 5 soles, I get in the back with a Peruvian Lady and her 2 children while Darren climbs into the boot.
We bump down the hill for 45 mins finally getting into tiny side streets and then Huaraz. I ask the driver to take us to a good hotel and he does this after stopping for gas on the way.
There is much discussion amongst the passengers as to where we should be taken and they chatter the whole time.

The driver helps us out of the car and I again ask how much- he thinks for a moment then says 10 soles - we give him a 100 soles ($30) and can't thank him enough for picking us up and getting us to safety.

The hotel is a basic 3 star but with excellent service. I explain the situation to the Receptionist- she suggests we pay tomorrow and doesn't even blink at us caked in clay/ mud from head to toe.

Once in the room, I phone down and ask for a Doctor to see to my dog bite. It looks pretty bruised but not bleeding badly luckily. I am really concerned about Rabies, having had all my jabs before leaving England I know that you have about 1 day to get to a Hospital and Rabies is always fatal.

In 15 mins time a Doctor is at our Hotel room - we are stunned at such amazing service.
The Doctor tells me that there were no reported cases of Rabies in this area but it would be safe to have a jab. He checks with his clinic who unfortunately don't have the vaccination.
He suggests we get one in Lima if we can get there in 2-3 days time.

We are exhausted and get a hot shower using what soap we can find in the room. I have to admit that I didn't get much sleep that night, not from the pain of my bruises and bite but for worrying about our little beamer sat out on a mountain on her own...

I will also admit that I did not get much sleep either, not for worring about the bike, but today it really hit me how exposed we now are on this trip. I thanked the big man upstairs for Em being ok, its one thing having an adventure, but quite another to risk the health of your better half. I tell myself that if the bikes still there in the morning, then its gravel or tarmac from here on in.

My confidence has taken a knock too, not only did I make the wrong call today to carry on, but as a result we have had numerous offs - I like to think I am fairly handy on a bike, but I guess on this road, on this night I found my limitations.

I lay there and tell myself to stop beating myself up, all thats important is that we made it to the hotel, we will sought the rest out in the morning.

Next day we are up early and I get our complimentary breakfast sent to the room. We didn't eat anything yesterday really so manage to get some eggs and bread down.

I am not foaming at the mouth yet so think I got away lightly.


We take a taxi at 8am to go and get the bike. First it takes me half an hour to explain the situation to the driver and that it might take 3 hours, we don't know what road we came in on, we need to stop at a fuel station and get a container of fuel etc.

He says thats all fine and is cheerful about helping us out. First he drives us to the local Petrol Station where an attendant recycles an oil container and fills it with petrol.
Then we head off to the tourist office where a group of guys gather around us listening to my description of where we left the bike and trying to work out where it might be. We get some photocopied hiking maps from a helpful man and all agree which road it is. The road on the photocopy looks nothing like the road on our map...

Then we head back into the mountains and recognising certain landmarks like broken down buses etc. we know this is the right road. After 45 mins or so we see beamer. She is absolutely fine nothing missing or even tampered with- we are amazed.

Darren fills the tank with the petrol whilst the driver and I set about knocking the crusted mud off the tyres, brakes, engine filters etc. with sticks.

I get back in the cab with the driver and we head off first, keeping slow and Darren in view behind us.

With Em in the cab I thumb the starter and Beemer fires up, I look around and it hits me just where we are - the snow capped peaks of the Cordillera Blanca are off to my left (including Huascaran, Peru's highest mountain at 6768m), dead ahead are more mountains in the distance and below the shanty town of Huaraz, it really is a beautiful scene.

Thankfully the track is more gravel from here and has dried out a bit, I follow the taxi around the twists and turns down the mountain, we pass the mud huts from last night and I spot the pack of dogs - one with a serious limp (probably from a size 11 motorcross boot).

The driver takes us back to the hotel and we pay him 60 soles for his time and trouble.
It turns out it is actually his hotel anyway...

We relax for the rest of the day.

I would like to tell you about the Hotel we are staying at called The La Joya. It is a 3 star Hotel, the rooms are spotless, the staff in every department are friendly, fun and attentive.

The whole Hotel is run by people under 30. They have Wifi, Laundry, Room Service and a Restaurant, Security on the door etc.

The town of Huaraz is pretty poor and alot of the streets are mud/ dirt roads.

It does make you feel bad when the view from your hotel window is of children playing in the dirt streets, washing hung out on tiled roofs because they have no washing line and the general poverty everywhere.

And yet Peruvian people couldn't be more helpful, kind and attentive. They truly are very genuine people.

Deciding to take another day off after our trauma we get some laundry done and attempt to scrub our kit clean.

That evening we spot a map on the wall in the Restaurant. It shows the road we came in on and states it is 180k long, rises to an elevation of 4,500m (14,763 feet) and crosses the Cordillera Negra mountain range.
It also states that this road is impassable in wet weather and to check local information for advice.
It is also very very wiggly and nothing like the road on our map. I guess the moral to this story is do your homework.

Next day we very reluctantly head out. Gracias a todos a La Joya.

The road South from Huaraz winds down through the Cordillero Blanca Mountain Range and is truly stunning- a really beautiful place.

Its with relief that we discover the road out of town is tarmac and we are both happy to be on a firm road, the bike feels like its struggling a bit, I put it down to the altitude as the clutch feels effected as well. Huaraz itself is at an elevation of 3100m.

As we stop for pics I take a closer look at Beemer, she looks like a pro adventurer now with the mud almost hiding the fresh scratches and dings. Anyone looking at this bike could only imagine what its been through.

Once back on the Pan Am there are also many tolls to go through on the way.

The good news is that motorbikes are free, the bad news is that you have to drive through the 'bike lane'. The peruvian staff get highly agitated and bothered if you don't go through the right lane.

They won't allow you through the car lane and will actually insist that you turn the bike around and go in the bike lane. This wouldn't be such a problem but the bike lane is very narrow especially if you have panniers like us. It is usually an afterthought and not maintained with potholes and bumps.
We have an argument at one such toll where they insist we use the lane. We insist the bike is too big and we cannot. I say we will pay to go through the car gate. They insist that because we are a bike we shouldn't pay to go through. Fine I get the money out anyway. Finally realising they have no option we pay and they open the gate.

The day itself is a long one and we find ourselves in Lima by about 5pm. No hotels are obvious and the Panamerican Highway is closed for road works which doesn't help. This means we have to take a detour around the city - not much fun at the end of a long day. We end up way off track and in a rough part of town.

Deciding it was not safe to stop we head on in the dark. Eventually we see a turn off to Puerto Barcas - a seaside type resort with private security gates into the area- this looks abit more like it- we head down and I ask the security guide about a good hotel. He recommends Casa Barca and gives us the directions after letting us through the gate.

We find the place and it is anything but a good hotel. Nothing in the room works- bathroom lights, tv etc. there is no hot water and no food available. However we have a bed for the night and end up sleeping fully clothed on our sleep sacks.
May 26, 2008 GMT
Peru (Part 2)
Next day we are up early and on our way to Nasca.

This is a long day sticking to the Pan am but fairly successful. Along the road we can see the visable evidence of the earthquake that hit this area in 2007. There are miles and miles of rubble where houses used to be.

We pass through the wide open valley where the nasca lines are. It is a huge open space and no lines can be seen except from in the air.

Unfortunately budget dictates and we miss out on a flight seeing tour of the nasca lines. Reaching the town we find a good hotel straight away and get checked in. Later that evening we do some research on line regarding Machu picchu tours and have a meal.

Next day we start it the right way with breakfast. They have a spread of strange food laid out for breakfast. Deciding to stick with the toast I proceed to put a piece of half toasted cold bread through the toaster machine only to be told by the waitor that I cannot do this beacuse it is already toasted. I explain that it is cold and not toasted properly- he insists it is hot and that I cannot use the machine. Great - I'l just starve then beacuse of stupid pedantic peruvian rules.
Frustrated we check out and get on the road heading towards Cusco inland.

The road is another tough Mountain road which twists around with steep drop offs and no barriers. It is pretty slow going and sitting on the back, I am starting to feel the familiar sickness. It takes us a while to get anywhere and is pretty hard going. Although the road itself is tarmac it is in a terrible state on the first section with giant pot holes. However later on it improves, mainly beacuse it has to as Cusco is the main tourist spot in Peru.

We stop at every opportunity to top up with fuel, just in case we get caught out. Some stretches of the road are really desserted with nothing but views.

The views really are very special, I am having to work the gearbox hard on the twisty road that just climbs to the heavens, then all of a sudden the scene opens up and you honestly feel like your riding across the top of the world.

We pass small remote villages, small children in brightly coloured dress with red faces wave at us frantically and are beside themselves when we slow down and wave back.

The only vehicles we see are the odd truck, I usually exchange a nod with the driver - a kind of mutual respect thing - as we both understand the risks of being on this particular road.

Stopping at about 5.30pm in a small town for fuel we are beseiged by 15 or so young guys crowding around us just staring. Finally getting on our way we know that we have at least 3 hours yet to ride and there is nowhere to stop on the way. We make the difficult decision to keep heading towards Cusco knowing we would arrive in the dark- not a decision taken lightly but with not much option- as long as we have fuel. Oh god I can feel another Huaraz coming on...

Leaving the fuel stop I really get a wriggle on, trying to make the best of the remaining light, thankfuly the road is well surfaced but so, so twisty meaning progress is slow. As we switch back up the mountain side the sun is going down behind us - I know that once we get on the other side of the mountain we will lose the daylight and with no light pollution out here, when its dark its really dark.

We make really good progress but as expected the light slowly fades just as we hit slightly better roads. Its about an hour and a half to Cusco, but we are taking no chances - we keep our speed to the minimum and just pick our way through the blackness.

Riding at night in Peru is pretty terrifying as you have all the usual hazards like potholes and dogs you just can't see them properly. We manage to follow a truck for a while and use him as our sweeper. He turns out to be local and turns off the road after 15mins or so. We struggle on alone. Every truck we overtake I wave to just in case we need them to stop later on and help us.

It seems to take forever to get there and is truly terrifying, not something I ever want to repeat.

We get into town and inevitably get lost as it is even more confusing in the dark. Finally we find a Hotel, once again the local hospitality is heartwarming and very genuine. They have no parking for the bike but insist we put it in their boiler room adjacent to the restaurant, its now about 9.30pm.

Stumbling into our room, we order some food as we are both starving and a large hot drink marks the end to another hard day. 407 miles today in 15 hours of virtually non stop riding. And we thought Mexico was tough...
(What a road though...DH)

Next day we get up early and I finalise our tour plans. We had arranged to go on a City Tour of Cusco later today and Macchu Pichu tomorrow. As we were short on time and budget we decided to book the tour and enjoy being tourists for a change and let someone else have the stress of driving!

We get some sleep then wait in Reception for the tour bus collection at 2pm. The city tour turns out to be a good one and we first visit the Cathedral in town which is a Spanish Colonial Church built on Incan ruins.

The tour by a great guide is fun and enjoyable, interesting and more of a whistle stop tour of Cusco. As we are entering the Basillica Cathedral there is a guy taking pictures of everyone, I thought it was a toy camera and we don't pay him much attention. The Cathedral is beautiful inside and very ornate with some stunning paintings. It is now that I wish I had more time- I could have spent a day in here looking at all the fascinating altars and art.

Next we head for some ruins just out of town called Sacsayhuaman (pronounced sexy woman) which are really interesting. There is also a great view of Cusco from here.

Em and I have been lucky enough to visit Egypt, to me these ruins rival the great pyramids at Giza - try as you might you cannot get your head around the fact that these people transported, shaped and fitted together, all these massive multi angled rocks - perfectly, as in fag paper acurate. What makes it more interesting is that the multi angles on the rocks mean that the whole structure fits together like a giant jigsaw puzzle - making it earthquake proof. The question on everybodys lips was the same "how did they..."

On the way back to the bus we get accosted by ladies selling hats and gloves. We also find out we have been 'papped' by the photographer at the Cathedral and our picture made into a postcard! I had to buy it of course!!

Next up we head up to see an Incan built water stop on an Incan trail at Tambomachay. Then on to a cave with an altar stone.

On the way back into town we stop off for some shopping in an Alpaca Factory. We get taught the difference between different types of alpaca wools and get a free cup of Coca tea. (Coca tea from the cocaine plant - tastes slightly minty and gives you a bit of a buzz- illegal to import for obvious reasons).
think the tea went to my head...

We head back to our hotel and get an early night ready for an early start in the morning.

We are up at 4.30am and after breakfast we get collected at 5.30am by our tour guide. As we booked last minute it meant that we could only get seats on the Vistadome train service from Ollataytambo, so our tour company drops us there.

As we go to get on the train with our tickets the conductor demands to see our passports for ID. We explain that we don't have our passports and that no-one told us they were needed. Our passport numbers are on the tickets themselves, is that not good enough? Apparently they need ID to check the ticket is in your name- another stupid, pedantic peru rule. This place is starting to get really annoying!!

Finally we find an old AA card in Darren's 'muggers' wallet (wallet with expired cards which will look like a prize to a mugger) with my name on it and an old visa card with Darren's on- the guard accepts these and we are allowed on. As we wait for our train in the waiting room our driver from the tour company comes running in he had spoken to our hotel and got our passports faxed across to him from our Hotel in Cusco. (you have to give your passport for copies to the Hotel so as not to pay tax).

We get on the train and are made up to find that we have front seats and the best view of the stunning mountains. We get served sandwiches and cake and in an hour and a half are at the Bus station in Aguas Caliente.

It is here that we meet our guide for Machu Picchu and jump on the bus. It takes about 20 mins to get to the top.

I could not believe our luck with the seats, an American couple behind us are miffed because they booked months ago and didn't get the front seats - just to antagonise them I shout loudly to Em that these seats are great especially as we only booked 24hrs ago..

The bus ride to Machu Picchu was not as bad as I expected - I had read that it was fairly scary, but the reality is that after the roads we have rode on recently - this was no great shakes, the views were amazing however.
Road up the mountain

Its now around 10am as we pass through the turnstyles and get our first view of Machu Picchu, it doesn't disappoint. We had come prepared with jumpers, waterproofs etc. due to the fact we are visiting out of season, but we are blessed - the sun is out and there is not a cloud in the sky as we start the tour.

In fact, after about an hour I can feel myself getting burnt, our guide then looks up and spots a Condor. She starts shouting to all the other tour guides pointing the bird out to them, she then explains to us that this is really lucky. The Condor represents the heavens or afterlife in Incan culture and to spot one today over the ruins we are told is rare.

I think back to the front row train seats, the amazing weather, no crowds and give the giant bird a nod, thanks fella. We have just the one day to enjoy the site and had put a large part of our budget for South America aside for it - I was so glad that we were able to see it for what it is, without bad weather or crowds of people.

A very special day in a very special place.

With the time up with our tour guide, we stop for lunch in the restaurant and as we eat I notice the clouds rolling in. Within ten minutes the heavens open and I look out to the queue of people entering the site - how lucky were we..

After lunch we brave the odd shower to take one last look around and climb up the dilapidated stairs to the Watchmans Tower at the very top of the site. This is the famous picture everyone likes to get when visiting here.

We sit on a step for 15 mins and drink in the view, this place is awesome and really peaceful, you just don't want to leave.

The train journey on the way back to Cusco was very entertaining, not only were the views stunning but the cabin staff put on a show. First up was the guy in local costume carrying a toy Alpaca for people to stroke, then came the fashion show with the train ailse used as a runway for the modelling of garments made from Alpaca wool. The four hour trip flew by and eventually we came into Cusco, tired but with another box well and trully ticked.
Enter your email address to receive updates to Darren & Emma Homer's trip story!
Recent Entries
Archives:
Archives:
Monthly
Archives:
Category
NEW! HU 2015 Motorcycle Adventure Travel Calendar is now available! Get your copy now for some terrific travel inspiration!
HUGE, 11.5 x 16.5 inches, beautifully printed in Germany on top quality stock! Photos are the winning images from over 600 entries in the 9th Annual HU Photo Contest!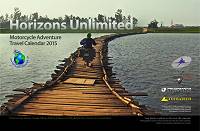 "The calendar is magnificent!"
"I just wanted to say how much I'm loving the new, larger calendar!"
We share the profit with the winning photographers. YOU could be in the HU Calendar too - enter here!
Next HU Events
NEW!

USA Virginia: Apr 9-12, 2015
Take 40% off Road Heroes Part 1 until October 31 only!
Road Heroes features tales of adventure, joy and sheer terror by veteran travellers Peter and Kay Forwood (193 countries two-up on a Harley); Dr. Greg Frazier (5 times RTW); Tiffany Coates (RTW solo female); and Rene Cormier (University of Gravel Roads).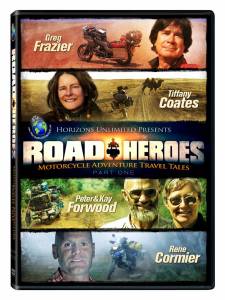 "Inspiring and hilarious!"
"I loved watching this DVD!"
"Lots of amazing stories and even more amazing photographs, it's great fun and very inspirational."
"Wonderful entertainment!"
Check it out at the HU Store! Remember to use Coupon Code 'HEROES' on your order when you checkout.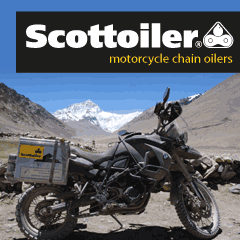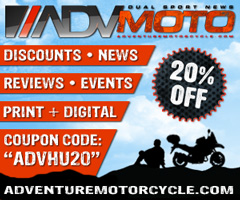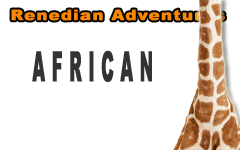 What others say about HU...
"I just wanted to say thanks for doing this and sharing so much with the rest of us." Dave, USA
"Your website is a mecca of valuable information and the DVD series is informative, entertaining, and inspiring! The new look of the website is very impressive, updated and catchy. Thank you so very much!" Jennifer, Canada
"...Great site. Keep up the good work." Murray and Carmen, Australia
"We just finished a 7 month 22,000+ mile scouting trip from Alaska to the bottom of Chile and I can't tell you how many times we referred to your site for help. From how to adjust your valves, to where to stay in the back country of Peru. Horizons Unlimited was a key player in our success. Motorcycle enthusiasts from around the world are in debt to your services." Alaska Riders

10th Annual HU Travellers Photo Contest is on now! This is an opportunity for YOU to show us your best photos and win prizes!
NEW! HU 2014 Adventure Travel T-shirts! are now available in several colors! Be the first kid on your block to have them! New lower prices on synths!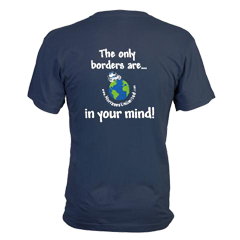 Check out the new Gildan Performance cotton-feel t-shirt - 100% poly, feels like soft cotton!

What turns you on to motorcycle travel?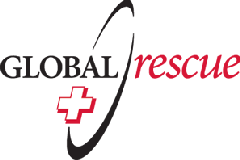 Global Rescue is the premier provider of medical, security and evacuation services worldwide and is the only company that will come to you, wherever you are, and evacuate you to your home hospital of choice. Additionally, Global Rescue places no restrictions on country of citizenship - all nationalities are eligible to sign-up!
New to Horizons Unlimited?
New to motorcycle travelling? New to the HU site? Confused? Too many options? It's really very simple - just 4 easy steps!
Horizons Unlimited was founded in 1997 by Grant and Susan Johnson following their journey around the world on a BMW R80 G/S motorcycle.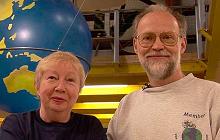 Read more about Grant & Susan's story
Membership - help keep us going!
Horizons Unlimited is not a big multi-national company, just two people who love motorcycle travel and have grown what started as a hobby in 1997 into a full time job (usually 8-10 hours per day and 7 days a week) and a labour of love. To keep it going and a roof over our heads, we run events (22 this year!); we sell inspirational and informative DVDs; we have a few selected advertisers; and we make a small amount from memberships.
You don't have to be a Member to come to an HU meeting, access the website, the HUBB or to receive the e-zine. What you get for your membership contribution is our sincere gratitude, good karma and knowing that you're helping to keep the motorcycle travel dream alive. Contributing Members and Gold Members do get additional features on the HUBB. Here's a list of all the Member benefits on the HUBB.
Books & DVDs

All the best travel books and videos listed and often reviewed on HU's famous Books page. Check it out and get great travel books from all over the world.

MC Air Shipping, (uncrated) USA / Canada / Europe and other areas. Be sure to say "Horizons Unlimited" to get your $25 discount on Shipping!
Insurance - see: For foreigners traveling in US and Canada and for Americans and Canadians traveling in other countries, then mail it to MC Express and get your HU $15 discount!
Story and photos copyright © All Rights Reserved.
Contact the author:
Editors note: We accept no responsibility for any of the above information in any way whatsoever. You are reminded to do your own research. Any commentary is strictly a personal opinion of the person supplying the information and is not to be construed as an endorsement of any kind.
Hosted by: Horizons Unlimited, the motorcycle travellers' website!
You can have your story here too - click for details!