January 26, 2008 GMT
Mexico (Part 1)
Christmas is very relaxed as we stay on South Padre Island and have Xmas lunch in a nice hotel before walking back along the beach to our motel. Relaxed apart from numerous emails and fraught phone calls back to the UK to our Letting Agents.

Basically, they were being slack, resulting in us having to meet mortgage and tax costs while the property laid empty during December, if we have to absorb January or even Februarys costs then the trip could be coming to a premature end, they need to pull their fingers out..
The prep work ready for Mexico had gone well, the GPS software arrived and loaded up ok, the new tires arrived and I fitted both with less aggrevation. We re-packed the bike with what we needed from here on and beefed up our security a bit - money stashed on bike / cards hidden on person and we put the "muggers wallet" together for daily use (basically my wallet with expired cards and cash only).

Its a good feeling knowing that you are organised, we had Mexico insurance, all our documentation and copies, we had money changed, the bike ready, we were ready...

Then bam.. news from home, the one thing not in our control, lets us down, its just as well that I am on the other side of the planet from the Letting Office, I cannot begin to explain here how let down we both feel.

We will have to meet Januarys' and potentially Februarys' mortgage payments which effectively robs us of 25% of our remaining trip budget. Thats it then, we cannot afford to complete the trip as originally planned.

As mentioned before our dream is Ushuaia, to get there now will mean longer days in the saddle with few days off and basic accommodation. From here on in its a budget of $100 a day (not easy) with a time frame of getting to Ushuaia then Buenos Aires by the end of March.

It also means that we cannot ride with our Texas buddys and their friends, breaking our news to these guys was really tough, especially after meeting everyone - as it was clear then that we would all get on and enjoy each others company.

Sorry guys, maybe next time.

After saying our sad farewells we get straight on the road towards the Mexican border as it is a Friday.

The crossing over seems fine and we go over a small bridge, pay the toll fee and continue down past a grey building and a set of green lights which we get waved through.

Continuing down the road and the scene starts deteriorating rapidly, shacks have replaced buildings, stray dogs everywhere and the signs are decidly spanish. Darren says ' do you think that grey building back there was the immigration and customs office?" We aren't sure so continue along for 5 miles - nothing official looking appears in this time.

We decide to head back to the grey building and 'just check' it's not customs etc...
Yes, you guessed right it was the immigration building and we had just driven illegally into Mexico...oops. Well no-one stopped us and there were no signs...

We get parked up and into the building, not knowing what to expect and from hearing lots of horror stories about border crossings being a nightmare. I have to say that it was extremley easy and took us about half an hour in all. We get our temporary import sticker for the bike, stop to change some dollars into Mexican pesos and are on our way again- this time legally.

The first two hours are painfully slow going as we go through Matomoros and other villages on the main road down to Cuidad Victoria. This is a real eye opener as it is really rough area with shacks and rubbish strewn everywhere.

We get pulled over at a Military checkpoint 2 hours later and have our paperwork checked again.

As the guard waves us down, I have visions of having to get everything unpacked for inspection, but thankfully he gives us the once over and asks for our import sticker (I had not stuck it on the screen in case it was nicked).

He then kicks my boot and looks at me!? What the ....? He stills looks at my boot which is covered by my BMW trousers, I look down and guess at his concern - the armour in my boots looks like I might be conceling a weapon, once his mind is put at rest we are free to go - I then put the sticker on the screen to make further checkpoints easier..hopefully.

(Incidently, if you are caught bringing in a weapon or even one round of ammunition into Mexico then the penalty is simple - jail time and lots of it).

Continuing down to Cuidad Victoria we spend 30 mins driving round the town finding a hotel by 6pm. After getting sorted and dinner nearby we are both exhausted by our eventful day.

Next day sees us head over to Tampico. This takes us all day and is slow going again with villages every 10 mins or so. The topes (speed bumps in the road) are really bad before and after every village. By far the worst are the metal bumps.

We stop for fuel and almost get ripped off by the petrol attendent who tries to keep our $10 change. Darren gives him a nod and we get the change back.

Eventually we get into Tampico which is a larger place than Victoria. After driving round it for nearly an hour we eventually find the hotel we had seen on the internet. It was really run down and we decide to head back into town. Finally we found a hotel and we get cleaned up then head out for some food. This goes badly as there is no where open (8pm). We head back to the hotel and raid the snack machine.

Next day we are up early and ready for breakfast. After home made waffles we head off to Pachuca. The night before we had debated the possible route for today with me compromising for Darren's route cross country and along a very wiggly looking road on the map. We agree on a bail out point at Tamazunchale as I feel it is too ambitious getting to Pachuca in one go.

As we head out onto the roads it takes us a good 2 hours to do 55 miles through village after village and tope after tope. Very tedious. I have to admit that as this point I was getting tired of it all.

The constant bumps and potholes, topes, lane changing, sudden stops and starts, lorries and trucks hammering past us with inches to spare. The stares from locals, the stray dogs running out and chasing us, the poverty everywhere you look, countless dead dogs on the road making me feel more and more queasy and the smells. Every second it seems different smells from rotten rubbish to burning rubber, burning food, dead animals, exhaust fumes, burning oil from knackered cars and trucks- the list is endless. I found it overpowering of my senses.

We soldier on and reach the wiggly road. This actually starts quite nicely and my spirits lift as we wind along down a quiet road lined with tropical palms and flowers. The villages are much smaller but still the topes.

Soon enough we get stuck behind countless trucks and lorries kicking out black smoke as they thrash their engines trying to negotiate the tight turns. We pick them off one by one and get a bit of a clear run for a while.

After what seems like hours and hours we see the sign for Tamazunchale and turn off. This turns out to be very confusing as there are two places called the same name (one with a CC in front and one without). The detour sends us off on a tiny road which soon deteriorates into mud and broken concrete, everywhere there are 4wd trucks with people hanging out of the back. A dog chases us for half the length of the road until we finally manage a U turn and get back on the main road. Phew.

Finally reaching Tamazunchale just before last light we roll up to the only hotel in the town and get checked in. It is basic but clean, we must be the only guests here as it is very quiet. Darren gets harrassed by a local begging as he unpacks the bike.

We get cleaned up ready for dinner only to find the Restaurant is closed. No supper now for two nights in a row - this is depressing.

Em did not give me too hard a time over my choice of road, I agree with her it was hard work, painfully slow and an eye-opener. But for me, thats what its all about, we got to see and interact with real people going about real life and the views were stunning. We were far off the beaten track and no longer heard the usual American accents, no tourists venture this way - I am glad we chose the road less travelled.

As a rider Mexico is demanding but not difficult, the roads in general are ok you just have to stay alert for potholes, damaged roads, the speed bumps (topes) that have to be experienced to be believed and of course there's the animals...

All manner of animal is tethered to the side of the road to graze on the fresh grass, at least you hope they are tethered as you aproach - its not guaranteed. But the big issue are the dogs - running out from everywhere, so many dogs that you lose count of how many you see each day, any one of them could bring you down - dead or alive.

You read a lot about Mexican drivers, on the whole I would say they are good but agressive wth it, everyone knows the width of their vehicle - as proved on numerous occasions by the inches that were to spare as they overtook us and they have a healthy respect for each other - flashing and beeping to make sure the other drivers aware that they are about to do a manouver.

By far my worse experience so far of riding in Mexico is the cities, its utter chaos with everyone vying for position and battling with the buses and taxis while searching for road signs that may lead you out of the nightmare - your eyes sting from the exhaust pollution and you tire quickly from the effort of stop starts, topes, lane switching and keeping alert to what the guy next to you is doing..did I mention the topes?

So far on this trip I have rode the big Beemer through many a city, Calgary, San Fran, Vegas, LA to name a few, all can't hold a candle to the Mexico experience.

From Tamazunchale the next day we set out early with no breakfast hoping to make it to Pachuca by lunchtime. The only way to describe this road is a nightmare. Really really twisty- 2nd gear switchbacks which make me feel sick, really high elevation the road climbs over several mountains and villages every 10mins or so with dogs running out and topes. The views are amazing however.

Well at least we can say we have seen the real Mexico.

It takes us 7 hours to complete the 120 miles and with very sore bottoms we reach Pachuca. As it is New Years Eve we get settled in to our hotel and have an early dinner at 4pm as we are both starving hungry. Then it is back to the room to relax after a really hard couple of days.

After a rest we head off to just outside of Mexico City to visit our first Mayan ruins at Teotihuacan. This day is supposed to be easy as after the nightmare couple we have just had we decide to stick to the toll roads as much as possible as they are quicker and smoother etc. Unfortunately this doesn't go to plan and we get lost completely for a while around the town of Ectapec. Mexican signs are such that if the road you want exits from the other side of the road they won't sign it on your side so you don't know it's there. After travelling along the same section of the road we get third time lucky and onto the right road to Teotihuacan.

Once there we get a great hotel nearby for a good deal and then head off to see the ruins.
Pyramid of the Sun

Once parked we head off to take a walk around the ruins, from the road in you can see two large pyramids so I was really looking forward to our day out. The main pyramid is the Sun Pyramid and I explain to Em that I really wanted to climb to the top, Em feels unsteady on her feet in her biker gear and does not want to climb, so I resolve myself to the fact that its not to be.

You see, the last time Em and I were at a pyramid we were in Giza, Egypt and had queued for ages to get into the main pyramid. On reaching the entrance, which was tiny, Em said she could not go in, in a split second I had to make a decision as the coach left in 20mins. Do I go back to the coach with Em or take a once in a lifetime look in one of the wonders of the World? I went in...a desicion that was to effect the rest of our holiday as it left Em at the mercy of the Egyptian touts for 20 mins until I came out. I wasnt going to make that mistake again..

We walk around the site, up the road of the dead to the Moon Pyramid which is as impressive as the sun pyramid just on a smaller scale.
Avenue of the Dead

After a good look around we head back toward the sun pyramid and seeing me gazing up at it Em tells me to climb and that she is happy to wait at the bottom. I was made up, but equally worried that she would be waiting on her own, Em reminded me that she had her 'shit kicker' boots on so should be fine.

Its worth mentioning at this point that these Mayan ruins are at altitude and even walking around had you breathing hard. It also meant that the temperature was on the chilly side with high winds stirring up the sand. I decided that I would take it easy climbing the Sun Pyramid, but suprisingly I reached the top in around 15minutes - I must be fitter than I thought.

The views from the top are worth the climb, you get a real sense of how these people had laid out the city and of how they must have lived.
Don't look down...

After climbing back down - which is actually harder to do because of the fear of falling - I rejoin Em and we take a look around the museum before we head back to the hotel. The museum was excellent, many great sculptures and works of art were on display alongside a model replica of the city.
Mexico (Part 2)
Next day our destination is Orizaba and again sticking to toll roads we have a fairly successful day. That is until the afternoon when we get on top of a mountain in freezing fog which ices on our jackets and gives Darren the constant shivers. We are so high up we are actually in the clouds and the fog is so severe we are doing 15mph. Once in the town of Orizaba we again get hassled by children begging. The hotel has a church next door and is very pretty.

Setting out by 9.30am next day we head off for an easy day along the Toll roads. This soon turns out to be the day from hell after a missed turning takes us off towards Veracruz. No probs we can hop on the 180 road which will take us back to the toll road.
Due to crap mexican signs and an even crapper map we manage to miss that turning too. The GPS is doing it's best but it doesn't even show the road we were supposed to be on in the first place! After a frustrating half an hour we manage to get back to where we should have been and follow the very slow, very long 180 road.
Again there are trucks and lorries to overtake, potholes, dogs (dead & alive) and topes everywhere. This has to be the worst road yet for massive potholes which we can't miss. With very sore backs and behinds we get to the toll road and wind it on at 70 mph trying to get back some wasted time. Once in Minitilan we get lost around the town for a while until we hit the main drag and finally the hotel Madrid.

Mexico is certainly a tough place to be riding in and we are both exhausted.

The following day it's up early and over to Palenque to stay in the town nearby and visit the ruins.

This day has to be the easiest one yet as we get every turn right and it is a nice scenic route. There is still alot of flooding in the Tabasco area and as we pass Villahermosa you can still see the devastation such as this landslide.

We reach the town of Palenque and relax for the rest of the day.

If I am honest, I think it has taken us until now to really get to grips with navigating in Mexico, it would seem you have to tune in a bit. As Em says the run to Palenque was easy after equal amounts of route planning and luck we managed to arrive in town early for once and have time to relax.

The next morning my routine of going out and preping the bike ready for the day ahead was made more interesting by what else was in the car park. On a trailer was a KTM 950, believe it or not this was only the second Adventure bike we had seen since crossing into Mexico.

As it happens, the owner of the KTM was watching me unlocking the GS while having his breakfast and came over for a chat. He was a local and I am ashamed to say that his English was far better than my Spanish - but at least we got to talk about bikes and trips and later that day met again at the ruins where we introduced each other to our wives.

Erwin & Gabriela it was a pleasure meeting you - (Erwin get planning that trip to South America - see you there maybe..)

We leave the hotel early to beat the crowds to the Palenque ruins. The trip takes us 10 mins down a lush tropical road. We park at the top of the hill and get great service from the guys running the car park and washing cars there. We agree on 10 pesos (50p) for him to keep his eye on the bike and keep it safe.

Palenque is a beautiful place in a clearing in the jungle, with tropical plants all around.

We wander around climbing the buildings and taking our time to look around. From every corner there is another stunning view of the ruins.

It is a really peaceful and tranquil place to be and we sit around under the trees for a while soaking it all in.

Eventually heading back to the bike everything is still there so we pay our man and head off back to the hotel.

From Palenque we head south to San Christobel de las Casas, a place where Darren really wanted to visit because of it's Spanish colonial feel. The road South is pretty with lovely mountain views.

30 miles down the road we realise we are going to need fuel, but there are no gas stations on this road. We have two choices, either turn round and do a 60 mile round trip back to Palenque or take our chances with the locals selling fuel. We opt for the locals and find a little place.

It costs us $7 to half fill the tank and Darren pours the fuel in while I hold the make shift metal funnel lined with muslin.

Once fueled up we take a small detour to look at the Agua Azul Cascadas (Blue water Falls).

First we get stopped at 100 yards from the turn off by a rope across the road and some enterprising guys who charge us 10 pesos for entrance to the falls.

800 yards down the road and a second rope stops us. The guys there tell us it is 20 pesos for parking.

The waterfall is really pretty and we wander around it.

As we leave back to the main road a group of 5 police trucks go past us to the falls. We think this is strange and speculate why, deciding that it is probably to do with drugs and that maybe people use the river to float drugs downstream.

Southern Mexico is certainly alot nicer than the North Eastern side. Unfortunately, my personal experience of the Mexican people in general has been unfriendly and unhelpful. This really doesn't help you much when you are having a tough time on the bike and roads too. Don't get me wrong we have met a couple of genuinely friendly people but on the whole they don't help you much when you are trying to speak their language. It may be they assume we are Americans as they seem to have a healthy resentment for the USA.

We reach San Christobel and drive round the town looking for accommodation. It is a complete rabbit warren of tiny cobbled streets all one way, so we just follow the flow of traffic and hope for the best.

Eventually we find a beautiful place to stay with a central courtyard garden and windows from the room which open out onto the courtyard. The parking is on the next block but secure.
San Christobel's Cathedral

We get cleaned up and then head out to explore. First we find a bank and manage to get our tourist card visas paid ready for our border crossing the next day.

Then we stop for a coffee and watch the world go by for an hour. We have a nice meal later and an early night as we plan to head for the border in the morning.

What Em fails to mention is that I dragged her around the entire town looking for Mexico stickers - all you bike travellers out there will now have a knowing smile on your face, for everyone else, well for every country that we travel in, I want the sticker on the pannier to remind ourselves in years to come just what we have acheived. Em thankfully found the stickers before we grabbed the coffee, I must have looked odd sitting there clutching my prize, but I didnt care - we had bloody earnt those stickers.

The town was really stunning, with great architecture and brightly painted buidings all decidedly Spanish. There was a real mixture of people on the streets, this place seemed to be a staging post for travellers, either heading south for adventure or north for work - still no adventure bikers though.

Next day we are up at 6am. For some reason crossing the border today does not seem right, I explain to Em that maybe we should stay another day to get organised before we cross. Basically I am worried, we both are, about the house situation and we did not want to get into Central America and lose email before things are sorted. So we spend the day making decisions and writing emails and decide to take the house back, it means financial help from home for which we are so grateful and finally it feels like we are in charge of our own destiny again.

Later that day we have some very bad personal news from home which needs us to stay put for a couple of days to get ourselves straight. After more difficult decisions we head straight for Guatemala next day.
Enter your email address to receive updates to Darren & Emma Homer's trip story!
Recent Entries
Archives:
Archives:
Monthly
Archives:
Category
Now that summer is here, get On the Road! Take 30% off the Achievable Dream - On the Road! 2-DVD set until August 31 only.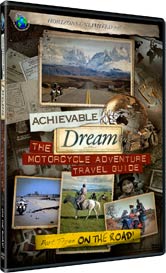 Our veteran travellers share their tips (and great stories) for staying healthy, happy and secure on your motorcycle adventure.
"A fantastic, informative and inspirational DVD."
"It's brilliant - thank you very much!"
Check it out at the HU Store! Remember to use Coupon Code 'ONTHEROAD' on your order when you checkout.
Next HU Events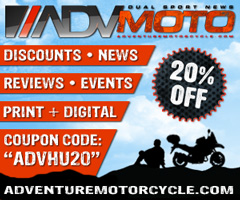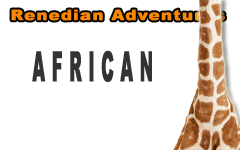 What others say about HU...
"I just wanted to say thanks for doing this and sharing so much with the rest of us." Dave, USA
"Your website is a mecca of valuable information and the DVD series is informative, entertaining, and inspiring! The new look of the website is very impressive, updated and catchy. Thank you so very much!" Jennifer, Canada
"...Great site. Keep up the good work." Murray and Carmen, Australia
"We just finished a 7 month 22,000+ mile scouting trip from Alaska to the bottom of Chile and I can't tell you how many times we referred to your site for help. From how to adjust your valves, to where to stay in the back country of Peru. Horizons Unlimited was a key player in our success. Motorcycle enthusiasts from around the world are in debt to your services." Alaska Riders

10th Annual HU Travellers Photo Contest is on now! This is an opportunity for YOU to show us your best photos and win prizes!
NEW! HU 2014 Adventure Travel T-shirts! are now available in several colors! Be the first kid on your block to have them! New lower prices on synths!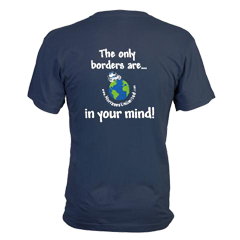 Check out the new Gildan Performance cotton-feel t-shirt - 100% poly, feels like soft cotton!

What turns you on to motorcycle travel?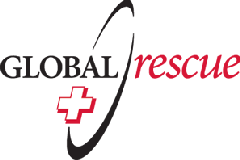 Global Rescue is the premier provider of medical, security and evacuation services worldwide and is the only company that will come to you, wherever you are, and evacuate you to your home hospital of choice. Additionally, Global Rescue places no restrictions on country of citizenship - all nationalities are eligible to sign-up!
New to Horizons Unlimited?
New to motorcycle travelling? New to the HU site? Confused? Too many options? It's really very simple - just 4 easy steps!
Horizons Unlimited was founded in 1997 by Grant and Susan Johnson following their journey around the world on a BMW R80 G/S motorcycle.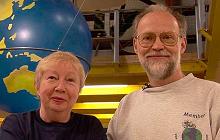 Read more about Grant & Susan's story
Membership - help keep us going!
Horizons Unlimited is not a big multi-national company, just two people who love motorcycle travel and have grown what started as a hobby in 1997 into a full time job (usually 8-10 hours per day and 7 days a week) and a labour of love. To keep it going and a roof over our heads, we run events (22 this year!); we sell inspirational and informative DVDs; we have a few selected advertisers; and we make a small amount from memberships.
You don't have to be a Member to come to an HU meeting, access the website, the HUBB or to receive the e-zine. What you get for your membership contribution is our sincere gratitude, good karma and knowing that you're helping to keep the motorcycle travel dream alive. Contributing Members and Gold Members do get additional features on the HUBB. Here's a list of all the Member benefits on the HUBB.
Books & DVDs

All the best travel books and videos listed and often reviewed on HU's famous Books page. Check it out and get great travel books from all over the world.

MC Air Shipping, (uncrated) USA / Canada / Europe and other areas. Be sure to say "Horizons Unlimited" to get your $25 discount on Shipping!
Insurance - see: For foreigners traveling in US and Canada and for Americans and Canadians traveling in other countries, then mail it to MC Express and get your HU $15 discount!
Story and photos copyright © All Rights Reserved.
Contact the author:
Editors note: We accept no responsibility for any of the above information in any way whatsoever. You are reminded to do your own research. Any commentary is strictly a personal opinion of the person supplying the information and is not to be construed as an endorsement of any kind.
Hosted by: Horizons Unlimited, the motorcycle travellers' website!
You can have your story here too - click for details!