Peru
January 26, 2008 GMT
Inca Kola

Peru's version of IrnBru

Looks like anti-freeze, tastes like IrnBru, Peru's national drink was so popular that Coca Cola couldn't beat it - so they bought it. As we were shortly to find out, it is sold everywhere....

We're getting there slowly (wherever 'there' is)


Loo at the Peruvian border

One of the first things we noticed about Peru was the desire of car drivers to drive on our side of the road. If they happened to be doing this, instead of getting out of the way, they'd flash their lights madly at you, as if to say, "Move!" It felt like we were back in Asia so it didn't take us long to get used to it. And they love 'horning', to use a Malaysian expression.

A very looooooong road on the way to Arequipa

The next thing we noticed was the amount of 'Chifas' - Chinese restaurants - excellent!
Apart from that first impressions of Peru were positive; friendly people, loads of amazing scenery and some great roads to explore.

Not forgetting new beer to try!


Twisty turns through the desert on the Desaguardero - Moquegua road


View of table top mountain near Torata on the way to Arequipa

Wildlife includes flamingoes, vicunas and of course, llamas, which are farmed extensively throughout Peru's highlands.

Long roads and llamas

Later, Hame found one to play with.

Hame and his new friend. Should I worry?

We dressed Bertha up a bit to get in the Christmas spirit.

Bertha and Santa


Frog gets festive

Upon arrival at Bob and Angie's in Arequipa, we met Angie's lovely and warm family, and were invited to Christmas Eve dinner.

Christmas dinner with Bob and Angie and Angie's wonderful and kind family

Peruvians celebrate Christmas the night before, on Christmas Eve, eating a sumptious dinner and opening presents late in the evening. Every member of Angie's family cooks, so there were amazing smells coming from every room, and a succession of cooks coming up to Bob and Angie's apartment to check on the progress of the pork.
After dinner there was mass present unwrapping - in which we were not forgotten!

Xmas pressies

At midnight we went up to the roof to watch the fireworks. Though illegal to buy them, it seemed that every house in Arequipa had a display and for almost an hour, all over the city, they were let off - it sounded a little like being in a war zone, but was very beautiful.
Paolo, Angie's brother, invited us up to his apartment on the third floor (the house was like a tardis) where we drank pisco and admired his ancient weapons collection. I'm not a huge fan of guns, but these were really interesting, especially one which had belonged to Will Child, a pirate sent by Francis Drake to sack Lima (I think that was the story, anyway) and was over 400 years old.

"Right, Rudolf!"

Hame was interested in an 1892 Winchester .40-40 and asked if it still worked. "Of course, want to see?" asked Paolo, picking up a couple of bullets from the table and heading off to the balcony. We followed, just in time to see him lean over the balcony, take aim at the garden and fire! Apparently this is fairly normal behaviour in Peru and the police take no notice. As well as being an gun collector, Paolo is also a well-known Peruvian artist (Paolo Cordano) who sells his work all over the world. Angie's other brother builds custom cars - they are an interesting family!

Hame and I with Bob and Angie


Arequipa is surrounded by mountains and volcanoes


Arequipa by night, Hame Bob and Angie near the main plaza.

We spent a week with Angie and Bob, watching loads of movies - something we rarely get to do - and exploring Arequipa. My favourite place was the Santa Catalina Convent in the town centre, founded in 1579 and closed to the world until 1978. It was fascinating to walk around this 'city within a city'.
Santa Catalina Convent
Hame and I decided to head to Colca Canyon for New Year, so we said our farewells and were escorted out of town by our fab hosts.

Angie and Bob seeing us off


The road to Cabanaconde

We took the alternative route (as ever) and turned off at Tambillo to head for the hills. A long ride on some interesting roads took us up through the clouds to Cabanaconde, where we arrived just as the heavens opened. We splashed out (scuse the pun) on a plush (for us) hotel and managed to get Bertha up four steep stairs into the lobby.

Bertha in another lobby

It was cold so that Hame and I parked ourselves by the fire and had a warming whisky. After our long ride we started to yawn, but were determined to wait for the party. The only problem was, with only two other (very quiet) guests in the hotel there wasn't much happening. It got to about 11pm and Cabanaconde lost its power. We sat by candlelight for a bit and then gave up, getting to bed before midnight on Hogmanay - has to be a first!
We woke to amazing views of the village and the edge of the canyon. We went for a walk to the viewpoint where you can stand on the edge of a steep drop off down into the canyon. It was quite incredible.

Great views for most of the day....


... and then in the afternoons, the town was swallowed by a cloud.

Every day at about 3pm a big cloud came and settled on Cabanconde, drenching the place and dropping visability to about ten metres. With this in mind we got a horribly early start the next day to walk down into the canyon.
Tip: if the views are at the top, and you are at the top, there's absolutely no need to walk to the bottom.

Down into the canyon....

Yes, I moaned. Lots. But I did resist the temptation of taking a ride, even though three men walked past with mules, offering me one each time. Hame was his usual goat-like self; I struggled. Down wasn't so bad except that it was pretty steep, but up was a killer, taking a full four hours to stumble upwards, with NO flat bits. "Never again," I said in a growly voice.

Getting Bertha out of the hotel in Cabanaconde, on our way again


Hambo!!!


Cabanaconde sign


Looking for condors


Hame in the clouds

It was the wrong time of the year to see the condors at the Mirador Cruz del Condor, but we took in a view great views on the way to Chivay, as well as an 'interesting' tunnel.

Water filled tunnel

Because of all the rain, we'd decided to be sensible (bah) and take the asphalt road towards Juliaca. It was way colder than we expected with a hailstorm to boot and we had to stop to pile on more layers in the village where we thought there was a hotel. As there wasn't one, we rode on two more hours thorugh interesting valleys to Juliaca where we found a hostel with friendly owners. The first thing they did was measure the bike, saying they were building a new door and wanted to make sure they could still fit bikes in. On the way there we saw a bike even more heavily loaded than ours...

And we thought WE were overloaded...!


Woohoo!!!! 100,000km

Juliaca was described as 'brash' by our guidebook and we saw no reason to disagree, though it wasn't unpleasant. After another day's ride, we arrived in Cusco and checked into Casa Grande - a hostel I'd seen a picture of in Chris Scott's Adventure Motorcycling Handbook while planning the trip - at the time I thought, "It looks sooo South American" - funny to be here at last.

Casa Grande


A random bit of Inca wall


Cusco's flag next to Peru's flag

We spent a few days exploring Cusco which is full of bits of Inca wall all over the place, street sellers who drive you nuts after a while, great eateries and Spanish colonial buildings. I liked it. There are some ruins in the hills above Cusco, Saqsaywaman, which we spent a day exploring on Hame's birthday.

Inca walls

The walls amazed us both - the stonework is just incredible, especially as the Inas used only stone tools. Many stones from the walls were taken by the Spanish invaders, and some collapsed in earthquakes so what is left is probably less than 20% of the original ruins- it is still amazing to see.
The Inca empire reached a peak after they invaded the territories of several other tribes, but it only stayed at this peak for about a century, before the Spanish came and conquered.

Hame under the bar

We caught the famous 'Norton Rat's Tavern' on its last night before Jeff moved around the corner. This was good as Hame had to 'help drink up the beer' (I'll be back in an hour, Em. Honest!). The next day we went back to help move stuff and again, helped empty the barrel of Old Speckled Hen - difficult job. The new Rat's will open in February.

Oh no, you mean there's MORE drinking up to be done?

We spent a few eveings with Jeff and Yahita and found them to be great company.

In the Irish bar with Richard, Jeff and Yahita

Cusco is gateway to Peru's (and maybe South America's) most famous site; certainly the most well-known. Machu Picchu was 'discovered' in 1911 by Harem Bingham, an American archaeologist. I use inverted commas because the locals already knew about the city but Bingham is credited with opening it up to the world (and 'borrowing' 45,000 artifacts from the site for 18 months which are still, to this day, in a museum at Yale University).

Meeting Brazilian Sergio in the Sacred Valley, on the way to Machu Picchu

We rode towards Machu Picchu through the Sacred Valley - a beautiful valley full of Inca ruins. On the way we hooked up with Jeff who runs balloon trips over the valley (unfortunately for us, we were a month too early as he's not doing business until February). Jeff's a friend of Val and Adam and it was good to meet him. He'd also acted as 'Marmite depot' for me after Val left me a jar (what a woman!). Despite Jeff's threats to use it as axle grease, he'd kept it for me.

My Marmite depot

On the way we stopped at Pisac and admired the Inca terracing - incredible land use.

Inca terracing at Pisac

We'd opted not to take the Inca trail to Machu Picchu for a variety of reasons and instead rode the bike to Ollaytaytambo where we found a cheap hostel to stash it in, spending a night there ourselves.

Street in Ollaytaytambo - people have been living here continuously since the thirteenth century

Ollaytaytambo itself had really breathtaking ruins to explore - the Incas were very clever at making the most of the steep hillsides, terracing the surrounding hills in the Sacred Valley to produce more than enough food for the neighbouring cities. Nobody went hungry in Inca times.

Granny in our hostel peeling spuds - cat helping itself

Ollaytaytambo had a good little museum about the Inca Empire and we learned all sorts, including how they built those massive walls.

Hame helping Inca builders


The walls unfinished - when finished the nodules were knocked off.

Guinea pigs have two roles in Peruvian life: as pets and as food. We've so far avoided having to eat it. In the mornings in Ollaytaytambo, we ate breakfast in the family kitchen and I was interested to notice this picture - hanging above the cooker...

Yum

Leaving Bertha in the safe hands of Fabio and his family, we caught the train to Aguas Calientes, or 'Machu Picchu town'. Aguas Calientes exists solely for the purpose of putting up tourists who visit the ruins, and therefore it's not a great town. It has thermal baths - hence the name - which smelt slightly of pee; we took a bath in the least smelly one.

Train running through town - literally

At three the next morning the alarm went off and we leapt enthusiastically out of bed (you know I'm lying) to be greeted by a dark and rainy morning.

Us up with the larks. Except the larks were still asleep.

We set off with a few other walkers for the one and a half hour trek up to the ruins. We arrived before it was officially open and stood waiting at the gates. At six o'clock sharp we were allowed in - it was pretty amazing being first there.

Machu Picchu

After all the pictures I've seen of Machu Picchu I was ready to be disappointed - rarely does the reality live up to the myth. This time, it did. We sat and watched the clouds part over the ruins and it was truly breathtaking. Because of the nasty weather we got to do this a few times; the clouds came and went for the whole day.

We were there!

As it was raining, there were fewer people there which was great, it wasn't busy at all. We spent all day there, almost twelve hours, and I loved every minute. It was absolutely fascinating and because of its breathtaking setting, perched between two hills, and high above everything around, it's one of the most incredible sites I've ever seen.

The Inca sun-dial - but where's the sun? (Still intact which is proof that the Spanish never found Machu Picchu)

Despite my 'never again' growls about hills, we hiked up Huayna Picchu, (the big pointy one you see behind the ruins in photos). It was a steep but reasonable climb and as the views are supposed to be incredible there's a lot of motivation.

Hame at the top - great views! Not.

Unfortunately the clouds only let us have a brief peek at the view but the ruins up the hill were worth walking up for. Goodness knows how they built them, because it is a very pointy hill and there were obviously a lot of people living up there, in buildings surrounded by steep, steep terracing.

Steep steps coming down Huayna Picchu

We slithered back down the hill and explored the rest of the ruins. The rain, as well as ensuring there were less people there, allowed us to see Inca water-engineering at work so we didn't mind too much. We did get absolutely soaked and back on the bus I met my rudest tourist yet (we've met a fair few of them) - a woman who told me to catch another bus instead of sitting next to her because I was so wet. At the same time the driver was telling me to sit down so I wasn't best pleased.
You can see some videos of the Inca sites we visited below:
Back in Nasty Calientes we ate and dried off before catching the train back to find our trusty steed. We rode back the next day via Moray, an old Inca farming site where people think the Incas experimented with different crops - on each level the temperature is different, therefore they could mimic different the temperatures found throughout the empire.

Moray


Modern farming

Maize is everywhere. In Inca times it was a scared crop and in modern times it's in just about everything. It's big, fat and tasty, and not at all like the wimpy yellow stuff we buy in the west.

Dried maize

In Cusco Hame and I moved back to Casa Grande and were lucky to get a room with a bit of Inca wall running through it.

The cathedral on the plaza

We stayed a bit longer to get some dentistry done for the first time since leaving; a well-recommended woman called Xiomara sorted us both out, for a fraction of the cost of the dentists in the UK. You'd actually be better off flying to Peru, staying in a hotel and having treatment than having stuff done in the UK - really! If you're interested let us know, we'll give you her name.
On the way to and from Cusco, as well as in it, we met lots of friendly Colombian bikers. All of them, without exception, invited us to stay in Colombia and have to be the friendliest bunch of people we've met yet.

Friendly Colombians at Casa Grande

We finally escaped Cusco after a good stay, and headed off towards the 'road of a thousand bends', towards Nazca, site of the famous Nazca lines and our next destination.
(Emma)

Us outside IncaBurger - no we didn't eat there!

Pic of the month:

You get more for your money in Peru!

February 23, 2008 GMT
Gringo! Gringa!
"Which way Em?"
We'd had a great time in and around Cusco, however it was time to go. The touts and package tourists were beginning to get to us, so we set off in search of tranquility.
Peru route - courtesy Peru Toursit Info and a red marker pen!
However, before reaching nirvana, we first opted to check out those Nazca lines. Astronomical calendars, or extraterrestrial landing strips, we thought we'd suss it out for ourselves.
Leaving Cusco we soon entered a bikers' fantasy. No, it didn't involve leather and handcuffs, only wonderful swooping bends. One after another, all the way to Nazca, some 600kms away.
Bikers' fantasy
Along the way we met yet more eccentric Frenchmen aboard aging BMW outfits; just as we had in Antofagasta, in North Chile. Em fancied the idea of three wheels.
Em takes the helm
Thinking a mere 18hp was insufficient to power them over those 4000m passes, we next met Dominic pedelling away with his tandem and trailer. "Aren't you missing someone?", I asked. As it turned out, he wasn't. His trip was all about taking different folks along for the ride. All the way from Alaska, he'd so far picked up around 190 passengers to help him pedal towards his Ushuaia destination. Hats off! Dominic's website: Take a Seat
Tandem Dominic
We continued to enjoy the bends as far as Puquio, where the mist descended into a right pea-souper. Slowing us to a crawl, we could barely see the cab of the articulated truck we followed into town. In fog worse than Victorian London, we stopped off for a kingsize pollo de milanesa (breaded chicken) reviving our dampened spirits, allowing us to continue on.
Pea-souper!
Fortunately the mist cleared as we neared the desert plains and Nazca town. Resembling Mr & Mrs Michelin sweltering in our rain gear, we waddled into a hostel and began to shed clothes, quite unaccustomed to the heat after Cusco.
Sunset over Nazca
It was here we met with both Lorraine and Jesus. Quite unrelated of course. We'd been in touch with Lorraine via e-mail, having met on the HUBB. She'd driven her old Chevy van down from the States together with her two dogs. It was good to finally meet and have a beer or two. Especially for Em, having a female to talk to and not another male biker. Lorraine's website: On a Mission from Dog
Lorraine and her travelling companions
And then we met Jesus and saw the light. Well, if not the light, then the lines, aquaducts and pre-inca tombs. Jesus drove a '76 Dodge and was our informative guide for the day. Recommended to us by Tandem Dominic, he sounded to good to refuse. Jesus doesn't disappoint.
Jesus
Holy transport
Jesus enlightens
We had a great day out, learning all about the famous Nasca lines, Marie Reiche and her life's work researching them; the intricate spiral irrigation systems still used today and the tombs of Chauchilla.
Em and an ancient spiral irrgation system
Chauchilla skulls
Chauchilla mummy
Before leaving Nazca we thought after all we'd learnt, we'd better see those lines from above, so took a plane ride to view them in their entirety. Lorraine joined us, along with two others in a little five seater Cessna for an entertaining (to say the least) flight. Suffice to say I was glad to reach terra firma, albeit sporting a hue Dulux would coin "Apple White".
Nazca flight
One of the many Nazca lines
Alien or funky chicken?
Bidding farewell to Lorraine, we headed North to Paracas after two Slovenian cyclists we'd met en route recommended the place as worth a visit. As a National Reserve it was full of aquatic wildlife; from greedy pelicans along the foreshore, to barking sealions on Isla Bellestas. Scoring a room with a sea view topped off the seaside experience.
Greedy pelicans
P.P.P.Pick up a Penguin!
Paracas peninsula candleabra
Paracas birds
Sealions off Isla Bellestas
Playing in the sand
Just to the North of Paracas was the town of Pisco, unfortunately affected by an earthquake some six months previously. The damaging effects were immediately obvious, the poorly constructed buildings wiped out, replaced by charity supplied tents. With no insurance and little or no government aid, we had to wonder what the future held for these unfortunate folks. For not the first time, we were reminded how fortunate we are.


Earthquake damage
Post-earthquake accomodation
It was in Paracas we met Colombian bikers Juan Estaban and Paula. They were having problems with the rear wheel of their 1200GS, having broken ten spokes. Quite how, nobody knew. I was carrying a couple of spares, so gave them to Juan Estaban and helped him to balance out the number of spokes on each side. With a promise to get together in Medillin, Colombia, we wished them luck and bid them farewell.
Broken spokes
For us it was back on the Pan-Am and North to Lima, capital of Peru and home to some eight million people. Not being city lovers, we weren't exactly looking forward to the experience, however it was blocking our path North. Furthermore, Bertha's fork seals had gone from weeping to leaking, so Lima seemed a good place to find suitable replacements.
Although 'Desert Sport Racing' in Miraflores didn't have any suitable seals, they pointed me in the right direction and allowed me to use their worshop to fit them. Top blokes. With no BMW dealer in town, I scored a pair of Yamaha DT175 seals which did the trick. And at £1 a pop, who's complaining?!
Monasterio de San Francisco
We even managed some sightseeing, taking in the Monasterio de San Francisco and seeing the thousands of skulls and bones stored within the underground catacombs. Not exactly my cup of tea, however Em lapped it up. What was of more interest I thought, was a colonial period painting of the Last Supper. If you looked closely, you could see Jesus and his disciples chowing down on Peru's National dish - guinea pig! As our guide pointed out, Jesus was obviously Peruvian.
Being the gentleman I am, I treated Em to our last supper in Lima and a flick whilst in the big smoke, before tackling the suburbs the following day.
Lima suburbs
Peruvian slums
After what seemed an age and education in slum dwellings, we managed to clear Lima and its swarms of little yellow taxis and continue North. Friends had told us of a large archaelogical site to the South of Barranca which we hoped to check out on our way to the mountains.
We weren't expecting it to take an hour to cover the 26kms to Caral, but that'll give you an idea as to the condition of the road!
The road to Caral
Only discovered some 13 years ago, Caral is a 5000 year old settlement, which makes it pre-Inca. It was interesting, however I have to say although Em remained ever enthusiastic, I was a little ruined out by now. Pre-Inca, post-Inca, it was all beginning to blur into one for me I'm afraid.
Caral
I was happy to get back to cooler climes and to the Cordillera Blanca, the so-called Switzerland of Peru. Not that there were many exclusive banks or wooden chalets mind you, must be them mountains! Being the wet season, we unfortunately didn't get to experience the breathtaking vistas you'd expect at other times of the year. However, the weather did stay dry, the clouds breaking from time to time to provide a view of some spectacular snow-capped peaks.
Nevado Huandoy - 6395m
We enjoyed a few days in the peaceful town of Caraz. Well, peaceful in between all the fireworks going off! The town was apparently celebrating the Santisima Virgen del Rosario Chiquinquira. Now I'm all for celebrating virgins, but not with fireworks at five in the morning! We found respite in the hills surrounding the village, enjoying some good walks and some great views.
Out for a walk
Santa valley
Em hitches a ride
Caraz by night
Mobile shop - Caraz
Peruvian re-bar transportation
Poor Em picked up some stomach bug and spent the remaing day in Caraz within the close vacinity of a toilet. Thinking we were safe to proceed, we set off the next day for the coast via the Canon del Pato and its copious number of rough hewn tunnels. All I'll say is Em left her mark in several places along the way, poor lass. Nonetheless, we enjoyed the ride, albeit a little loose in places (excuse the pun!).
Poor Em!
Tunnel Vision
Crossing the Rio Santa
Tunnel View
Taking in the view
Arriving back on the Pan-Am at Santa, we pulled into the nearest fuel station and met Eddie. Now we get a lot of folk admiring the bike, but Eddie was postively drooling! I took him for a couple of laps around the forecourt much to his glee.
Eddie and I go for a spin
Back dodging the oncoming Pan-Am traffic, we sped North towards Huanchaco, a beach town to the North of Trujillo. Was that a travelling cyclist ahead we asked each other? Pulling over to say hello, we met Grant, an Aussie cyclist looking for a place to camp for the night. We shot the breeze for while before leaving him with some informative news; "Is that a tack in your tyre?"
Grant
Huanchaco caballitos
Meeting up the following day in Huanchaco, we celebrated Grant's belated 30th birthday with sunset beers on the beach. It could've been worse...
Huanchaco sunset
Em wasn't impressed with our hostal's breakfast board, so took matters into her own hands.
Em and her sign
Em takes a breather
Next stop on up the Pan-Am was Chiclayo. We'd made contact with English bikers Scouse and Sara and had a plan to meet them there on their way South. Finding a cheap hostal was easy, we just followed the circling black vultures to the Royal Hotel. Situated right on the plaza, the vultures basked in its former glory. As did we for £5 a night!
Checking into the Royal
We hooked up with Grant once again, unfortunately he'd been robbed at gunpoint on his way North from Huanchaco. Fortunately he was okay, albeit with a lighter wallet. It was a stark reminder of what can happen on the road.
The following day Scouse and Sara turned up, necessitating a bit of a party. The five of us pulled out the Royal's aging furniture onto the balcony and soaked up the remains of the evening sun, as well as a few cold ones of course.
Balcony beers
As we were travelling in opposite directions, it was good to swap info, as well as meet a couple of like minded Brits. We tried to persuade them to join us on our trip to Chachapoyas, however it was out of their way and for them meant back-tracking. We said farewell and planned to meet up when both back in the UK. Grant however, we'd hopefully meet again somewhere further North.
Sara & Scouse, Me & Em
Once again I was glad to leave the heat of the desert coast as we headed East inland. Back in Cusco, Jeff (Norton Rat's) had told us he was in the process of building a house in the small village of San Pablo near Chachapoyas and said we should go and check the area out.
A little off the beaten track, it certainly appealed, and with the world's third largest waterfall on its doorstep, how could we refuse? The ride proved to be a good one. Once again, lots of bends making for some entertaining riding, with a variety of spectacular scenery along the way. Upon entering the Amazonas region we both felt as we'd returned to Asia; lush green padi fields, banana palms and red earth. Great stuff!
Into the Amazonas!
Just like Asia
Turning off the main road, we wound our way up a narrow dirt track to the picturesque pueblo of San Pablo. With majestic views of the surrounding hills under an ochre evening sky, we knew we'd found our tranquil nirvana.


San Pablo
Arriving in the plaza we were greeted by the local kids as they surrounded the bike shouting "gringo, gringa!" Locating the only house in the village with a telephone and electricity, we were warmly welcomed by Jeff's friends Luis and Filipa along with their two children, Luis and Hilda.
After a much needed early night, we set off the following morning towards the waterfall, together with Romelio, our guide and Pepe-Lucho, Em's stubborn mule. I felt they had a certain connection Em and Pepe-Lucho!
Romelio, Em and Pepe-Lucho
After a couple of hours climbing, we stood atop an outcrop and marvelled at the view; Gocta waterfall, at 771m, the world's third largest. And unbelievably, only officially discovered less than two years ago by a visiting German tourist.
Cataratas de Gocta - 771m
A rather wet Em
We pushed on for a closer look, the weather closing in as we stood under the first section of the 'fall, 200 or so metres of water powering down beside us. I took the opportunity to take a dip, Em declining, despite the pair of us being soaked through as a result of the rain.
Luis, Em and Hilda
San Pablo was so laid back it was tough to leave, so we stayed another day and hung out with Luis and Hilda before leaving for Chachapoyas at 5:30 the following morning - a record for us! Not out of choice I may add, the road was under re-construction and closed to traffic between 6am and 7pm, leaving us little choice.


Road to Chachapoyas - 6:30am
When in Chachapoyas we took a trip to Kuelap, a pre-inca fortress set atop a ridge with fantastic views of the surounding valleys. Yes, it was yet another ruin, but even I was impressed. With little restoration, the undergrowth covered the fort akin to the Lost City.
Kuelap
Kuelap view
Kuelap wall
Ecuador beckoned, so after another 5am start to beat the road works, we headed North. After a breakfast of fried egg butties in Pedro Ruiz we stumbled across a water powered saw-mill by the side of the road.
Breakfast
Water-powered saw-mill
Using a collection of truck wheels, shredded tyres and wooden blocks to transmit the power of piped water to the saw blades was an amazing sight. Then at night, the owner confirmed, the water was used to power a dynamo, providing electricity to his nearby house. A lesson in alternative energy if ever there was one.
Hola!
It wasn't much longer before the bitumen ran out North of Jaen, turning quickly to a pot-holed track all the way to our destination of San Ignacio, the last town of any size before the Ecuador border.
Setting off the following day under a dark grey sky, it wasn't long before the heavens opened. As they continued to do so at sporadic intervals throughout the day. Great fun on a slick muddy track! As a result, it took us two hours to cover the 50kms to the border check point at Namballe. An entertaining ride to say the least!
Road to Ecuador
Finally it was time to say adios to darkest Peru. We'd had a great time, but despite our efforts had failed to encounter Paddington Bear or his infamous marmalade sandwiches.
Next trip's transport?
Click here for this month's videos
(Hamish)
Em's pic's of the month:
Do you know the way to...?
Interesting bakery!
Enter your email address to receive updates to Hamish Oag and Emma Myatt's trip story!
Recent Entries
Archives:
Archives:
Monthly
Archives:
Category
Next HU Events
NEW!

UK - Haggs Bank: Sept. 19-21

NEW!

South Africa: Nov 14-16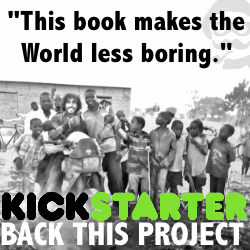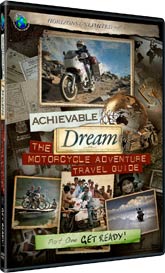 Northerners! The weather outside is frightful, so what better time to start planning your next adventure! To help you get started, for February we're taking 30% off the Get Ready! DVD in the HU Store! Remember to use Coupon Code 'GETREADY' on your order when you checkout.

10th Annual HU Travellers Photo Contest is on now! This is an opportunity for YOU to show us your best photos and win prizes!
NEW! HU 2014 Adventure Travel T-shirts! are now available in several colors! Be the first kid on your block to have them! New lower prices on synths!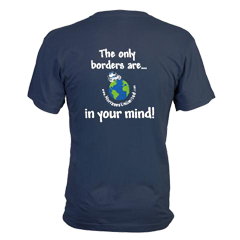 Check out the new Gildan Performance cotton-feel t-shirt - 100% poly, feels like soft cotton!

New to Horizons Unlimited?
New to motorcycle travelling? New to the HU site? Confused? Too many options? It's really very simple - just 4 easy steps!
Horizons Unlimited was founded in 1997 by Grant and Susan Johnson following their journey around the world on a BMW R80 G/S motorcycle.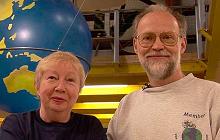 Read more about Grant & Susan's story
What turns you on to motorcycle travel?
Announcements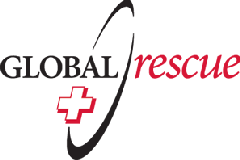 Global Rescue is the premier provider of medical, security and evacuation services worldwide and is the only company that will come to you, wherever you are, and evacuate you to your home hospital of choice. Additionally, Global Rescue places no restrictions on country of citizenship - all nationalities are eligible to sign-up!
Books & DVDs

All the best travel books and videos listed and often reviewed on HU's famous Books page. Check it out and get great travel books from all over the world.
Membership - Show you're proud to be a Horizons Unlimited Traveller!
Horizons Unlimited is not a big multi-national company, just two people who love motorcycle travel and have grown what started as a hobby in 1997 into a full time job (usually 8-10 hours per day and 7 days a week) and a labour of love. To keep it going and a roof over our heads, we run events such as this one (18 this year!); we sell inspirational and informative DVDs; we have a few selected advertisers; and we make a small amount from memberships.
You don't have to be a Member to come to an HU meeting, access the website, the HUBB or to receive the e-zine. What you get for your membership contribution is our sincere gratitude, good karma and knowing that you're helping to keep the motorcycle travel dream alive. Contributing Members and Gold Members do get additional features on the HUBB. Here's a list of all the Member benefits on the HUBB.

MC Air Shipping, (uncrated) USA / Canada / Europe and other areas. Be sure to say "Horizons Unlimited" to get your $25 discount on Shipping!
Insurance - see: For foreigners traveling in US and Canada and for Americans and Canadians traveling in other countries, then mail it to MC Express and get your HU $15 discount!
Story and photos copyright © All Rights Reserved.
Contact the author:
Editors note: We accept no responsibility for any of the above information in any way whatsoever. You are reminded to do your own research. Any commentary is strictly a personal opinion of the person supplying the information and is not to be construed as an endorsement of any kind.
Hosted by: Horizons Unlimited, the motorcycle travellers' website!
You can have your story here too - click for details!