September 13, 2008 GMT
Tacos and Topes
With our Houston deadline drawing ever closer, we were happy to have budgeted no less than a month for our ride through Mexico. Taking in spectacular colonial towns, exhilarating mountain roads, ancient Aztec sites and breathtaking coast lines, Mexico didn't disappoint. That's more than can be said for that final drive bearing!

Bienvenido a Mexico!

Arriving hot and sweaty at the Mexican border, it was the bikes that enjoyed a cold shower and not us. Mind you, at 5US$ a pop for a thirty second token fumigation, we thought it a tad steep.

$5 fumigation

As soon as we crossed the border, we noticed that Mexico seemed to be obsessed with sleeping policemen (or 'dead policemen', as my brother used to call them when he was little). They were everywhere. Every few hundred metres, there were these 'topes' as they are called in Mexico. Sometimes they were official ones, painted with warning stripes and with a handy sign announcing them; other times they had been homemade by the villagers and disguised as a bit of normal road, so the first thing we'd know about them was hitting them.

(Don't tell Dave but we sent him first, so we'd see him fly up in the air as he hit them unawares).

Sleeping policemen...or woman?

While in Nicaragua, we'd made the exciting discovery that we were carrying a third passenger! We were both very happy about this and it was perfect timing as by the time we got home I'd be about 14 weeks pregnant - over the nasty tired stage and into the full of energy stage. Or so the books say! Actually I'd been very lucky and not had any sickness, which would have been a complete nightmare on the bike. Because of this, Hame and I decided to take it a bit more easily than we had been, avoiding the dirt roads and extra vibrations. We also planned shorter days and splashed out a dollar or two more for a room, ensuring I could get a good night's sleep.
The three of us and Dave rode to San Cristobal de Las Casas, our first experience of a Mexican Spanish colonial town, of which we were to see many. With colourful colonial buildings and lots of churches and markets to wander around, it was a pleasant place to stop.

San Cristobal de Las Casas

After a couple of nights we took a great twisty road through Zapatista rebel territory to Palenque, a Mayan site which was inhabited from 100 BC to AD 740.

Territorio Zapatista!

Along the way, we stopped off for a refreshing swim in the waterfalls at Aqua Azul. Well, at least the boys did.

Aqua Azul waterfalls

"More ruins," said Hamish. "Great."

Palenque

These were pretty cool ruins though (unlike the weather, which was extremely hot and humid) and with Dave we had a great day exploring the old temples and buildings. Although the Spaniards knew of the ancient city, it was hidden in the jungle until 1837 when it was properly explored for the first time. Even today parts of it remain swallowed by trees. Howler monkeys roared in the distance like something from Star Trek, and toucans flew over our heads as we sat and took it all in.
Here we said farewell to Dave as he was on a mission to get to Canada for a date with some grizzly bears. We'd enjoyed riding with him and hoped to catch up in the UK, when we're all back in reality again.

Em takes a roadside breather

Hame and I returned to our old slow pace, enjoying the ride to a lovely village called San Augustinillo by the Pacific coast to chill by the beach for a few days.

San Augustinillo

We settled in at Casa Azul and hung out with DeNel and Brent, two Canadians who'd been there a few months.

Brent and DeNel

The beach was gorgeous, and the owner of Casa Azul had thoughfully built a small swimming pool which during the day was like lying in a warm bath, and was the only place to be as it was so hot.

See you soon...very soon!

It was very hard to leave but when we did tear ourselves away, we got ten kilometres down the road until we had to turn around and come right back again....
I thought I felt a vibration from the bike's back end as we rode into San Augustinillo, but as it had been a long day's ride and the fact the roads weren't the best, I ignored my instincts. To be honest, the last thing I wanted to do was replace the final drive bearing for a second time. After our fairly major rebuild in Medellin, Colombia, I'd hoped we'd make it home before conducting any more repairs. I should have known better!
So when we set off from San Augustinillo, my fears were confirmed. Even Em could feel a vibration through her foot-pegs, indicating a final drive bearing on its way out. However, unlike myself, Em wasn't too disappointed as it meant another day by the beach!
After our big farewell, it was hello once again to DeNel and Brent before I set to work, catching the local collectivo to town in search of a press to remove the failed bearing. Upon my return I used our trusty camping stove to heat the new bearing, before 'persuading' it into place.

Not again...


...yep...


...oh, well...


...there you go...


...voila!

Note: Although not recommended in the BMW handbook, better results are achieved when only wearing boxer shorts during unscheduled maintenance.

Crazy Canadian, Sylvia

The following day we really did leave, vibration-free this time. We rode along the coast to a small beach town called Playa Ventura. It had been really hot all the way so a swim was most welcome. Just before we jumped in, I saw dolphins swimming by, just metres from the shore.

Who needs a stand, just get it stuck in the sand!


Room with a view


Pacific sunset

We said farewell to the Pacific until who knows when, and headed inland to the very lovely Taxco, an old silver mining town which still sells silver in every other shop.

Taxco

Taxco's markets were built along its steep, narrow streets and covered with tarps - so it was easy to get lost. It was a wonderful place to explore.

More Beetles than a VW factory!

All the way through South America we'd been in touch with Eduardo and Margarita, friends of Jules and Grant. We'd met them when they visited Jules and Grant in San Rafael. They live in Mexico City and had asked us to call in on the way through.

You can't get your clothes wet if you don't wear any

As we left Taxco it started raining and the wet stayed with us all the way to Mexico City. We'd been running ahead of the rainy season but it felt like it'd caught us up. By the time we met Eduardo, we were very cold and wet, but he made us so welcome - food and hot showers were waiting for us so within minutes we were comfortable and grateful for the fantastic welcome into their beautiful home.
Mexico City is home to 23 million people. Hame and I are not great city people, so we found the traffic and general busyness quite draining, but the sights of the city were excellent.
Even the local Police were a sight, jetting around on their little electric buggies...

Hola, Hola

...but not a patch on the Traffic Cops in their cool V8 Dodge Chargers!

Mexican Mad Max

By coincidence, my stepbrother Adam and his wife Yvonne (who live in Houston) were on holiday in Mexico City the weekend we were there, so we met up and explored the city and surrounding area together.

One of Diego Rivera's fantastic murals depicting scenes from Aztec life


Aztec dancers in the Zocalo - Grand Plaza


Part of the Zocalo - one of the biggest plazas in the world

While teaching, I'd taught the kids about the Aztecs and Tenochtitlan, the beautiful ancient Aztec city which was ransacked by the Spanish in the sixteenth century. Reciting all sorts of nerdy facts, I bored poor Yvonne; Hamish and Adam finding it more interesting to talk to each other (about beer and engines).

The Aztec sunstone, discovered when excavating for a new building


Part of the main temple in Tenochtitlan, right in the middle of the city

Em was disappointed not have made it to Veracruz, on the Gulf Coast, to see the famous Voladores, therefore it was a bonus when we stumbled across a visiting troupe in down-town Mexico City.

Voladores

Attaching a length of rope to their ankles, the men 'float' down in circles from a high pole, to the sound of pipes played by one of the flyers - it was an amazing sight indeed.

Saying farewell to Eduardo and Margarita, our kind hosts.


With Adam and Yvonne on top of the Great Pyramid at Teotihuacan, ancient site North of the city.


The Great Pyramid at Teotihuacan


Roadside breakfast


Queretaro

We weren't sad to leave the big city and ride North to quieter areas. We stopped off in Guanajuato, a fantastic town which was once an important mining town. Many of the original tunnels are still there, now occupying the town's roads, thereby saving the town from congestion. The town itself seemed to be built on many levels, with tunnels giving way to high walls and houses perched on steep hills.

Guanajuato


Mariaches serenading a couple in the plaza

By night Guanjuato had a warm atmosphere, both in temperature and friendliness. We wandered around the streets where people of all ages sat and chilled in cafes, on steps and on benches in the plaza, enjoying the evening air. Musicians were everywhere, playing requests for passers by. In one hotel I even got the impression musicians were a kind of pest, as one of the instructions on the door said - "Do not introduce musicians to your room"!

Pests or players?!

As well as the mariaches, one evening we discovered a man playing bagpipes near our hostel. The man playing them had built them himself. Both Hamish the Scot and Hamish the engineer were intrigued.

Mexican Pipes!


Colourful buildings in Guanajuato


Guanajuato hostel

Again, Guanajuato was a place we could have stayed for far longer but after a couple of days we had to manouever Bertha out from her space by our room, and get back on the road.

Zacatecas Cathedral

Stopping off further north in Zacatecas, we took in the colonial architecture whilst wandering the streets in search of a clinic. Em had been pregnant for ten weeks now and was therefore due a scan, as we'd not be able to get one easily in the States and it would be a few more weeks before we were home. Stepping into what we would later learn to be the oldest hospital in Mexico, we were treated extremely well, both overjoyed to learn all was well with junior to be. (Although perhaps we'll have to play recordings of motorcycle engines to get him or her to sleep! - Em)
Leaving the Central Highlands behind us, we headed North-East towards Monterrey across the plains and some pretty straight roads!
As if to break the monotony, we found ourselves once again crossing the Tropic of Cancer - the last time being two years previously in Western Australia. Come to think of it, the roads weren't so different there!

Tropic of Cancer

However, soon enough we turned off and found a 28km stretch of cobbles, which led us to a 2km long tunnel, which in turn took us to Real de Catorce - a coming-to-life ghost town which was a busy, rich mining town 100 years ago. The town was used as a backdrop for the film "The Mexican" and it was like stepping back in time. We found an adobe house to stay in which looked like it hadn't changed in years.

28km of cobbles - I shudder to think how long it took to build!


And then a 2km tunnel


Home for the night


A place lost in time - Real de Catorce

Back through the tunnel, and soon we were back into the present day where we pointed Bertha to the North and headed off into the heat.
Not long before Monterrey, we suddenly came upon a traffic jam. Winding our way to the front and to the source of the bottle-neck, we found a damaged beer truck on its side, passers-by swarming around, helping themselves to the booty. If only the panniers weren't full...

Garcia

Wishing to avoid Monterrey, Mexico's third largest city, we instead sought out Villa de Garcia, a small village to the West of the city. It was famous for the nearby Grutas de Garcia, apparently the country's largest and most beautiful cave systems. We weren't disappointed. After a fashion (understatement), we found a wonderful hotel for the night, a former colonial mansion, complete with courtyards and fountains. Furthermore, we were the only guests! Result!
With our Houston departure a matter of weeks away, we headed for the border and the Land of Plenty. After after a fantastic 18 months, it was adios Latin America.

The Last Bit....

Hamish and Emma

A rather substantial tequila menu


Colourful ads

September 14, 2008 GMT
The Last Leg....
Before we knew it, we were leaving Latin America and heading to the States; the first time for both of us. We were expecting a time consuming border crossing but as we rode in under the star-spangled banner all went remarkably well. We were asked a few questions and then ... we were in. Mind you, it took me ages to fill in the immigration forms, being so used to Spanish I struggled for a while until I realised it was in English.
"Erm, where is customs then? For the bike temporary import ?" we asked. Both border officials gave us blank looks as we learned there is no temporary import stuff, as in every other country we've been in. It seemed very strange but we didn't argue!
Stars n Stripes
Interstate highways, service stations selling all manner of stuff, huge sandwiches and large four-wheel drives everywhere were our first impressions of the States.
We'd been in touch with Andy Tiegs from San Antonio. We'd met him briefly during a drunken dinner at Graciela's Hostel Argentina in Tierra Del Fuego, back in December 2006. Meeting again on the HU forum, Andy invited us to stay should we be passing.


Ranch Roads
San Antonio is an interesting city with a fascinating history. We learned that Texas had been an independent country once upon a time and after hearing about The Alamo for years, we finally found out what it was all about!
"Remember the Alamo!"
Andy took us for a night out to a local bike meet, where we met a load of local bikers whilst enjoying a pub dinner. I'd really missed good old stodgy western food, especially since I got pregnant, so I started eating. Lots!
With Andy
Texan Bikers
From San Antonio it should have been a quick hop to Houston, except I, in my pregnant state (it's like being extra blonde) took us on completely the wrong road. Somewhat later than planned, we turned up at our friends Mike and Phyllis's house.
With Mike and Phyl
Old friends from Malaysia, it was great to see them again and we spent a fab few days eating, sampling local beer (Hame, not me. I could only laugh at his hangover, courtesy of a lethal-looking brew called the 'Fancy Lawnmower'...
Lethal brew
...really, he should have known!) and visiting the local Indian restaurant. Indian food is something we've missed greatly since we left Malaysia.
A Change of Bike - Mike's Harley (think we'll stick with Bertha - sorry, Mike!)
We did the Texan thing with Mike and Phyl, taking in a ball game and a local Texan Ice House or two. Many times I felt as if I was in a movie, having only seen the States on screen.
Strike!
Arrival at Adam and Yvonne's, a long way from Ushuaia!
My stepbrother Adam and his wife Yvonne moved to Houston a couple of years ago so we spent the last two weeks of our time in the States with them. It was really great to be with family. Yvonne looked after us incredibly well, running us here, there and everywhere as we got the bike sorted, crated and sent off, and bought maternity clothes, jeans and new camping gear (the shopping was rather fabulous).
A Kid in a Candy Store!
We found time to play too, and hired kayaks out on Lake Conroy for the day.
Lake Conroy
What can I say, forgoing rugby for a book on pregnancy... surely not!
Back in the Crate....
All done....
For a few months I'd been gently 'reminding' Hame about the HU presentation we'd be giving in early July, at the UK meeting. No disrespect to Hame, but he is rather good at putting things like that off. This resulted in a bit of a last minute rush to get the presentation done, with us practising in front of Adam and Yvonne, who also taught us to use PowerPoint - thanks guys for all your help!
Malaysian Food
With another friend from Malaysia, Sandra, we went for a Malaysian meal which brought back good memories, especially the 'roti canai'.
Suddenly, it was time to go. I never get better at goodbyes, even after all this time....
The bike had arrived sooner than expected in Amsterdam, but luckily the nice bloke at the other end kindly agreed to waive the week's storage charges, as the early delivery wasn't our fault. It turned out he was a biker too. It's a bit like being a mason, being a biker!
We managed to blag a bit of an upgrade to Economy plus, on account of me being pregnant (same crappy food but more legroom) which made the journey slightly better. It was a relief to be out of the heat which had been getting a bit much during the last few weeks. Amsterdam was cool and fresh and we realised how much we love a more temperate climate, especially Hamish who tends to melt in the heat.
We caught a cab to the cargo warehouse to be reunited with Bertha, and Hame set about putting her back together. Again, the Dutch guys were extremely friendly and helpful, and let Hame work in the huge warehouse. I fell asleep in the main office, much to the amusement of everyone who came in.
With Jos, the helpful man at Menzies
Uncrating Bertha...for the last time
With directions in hand, we set off to find my oldest friend Matt, the very reason we'd come to Holland. A year ago, Matt asked me to be his best man (well, best woman) when he married the love of his life, Helen. Of course, I could not refuse.
Holland isn't very big, so before teatime, we arrived at the other end of the country. We stayed with Matt's family and had a great few days enjoying fab weather. The wedding went well, and once again we were bowled over by the friendliness of the Dutch.
Matt and Helen on their Big Day
The day after the wedding Hame rode off to Assen to hook up with Pete, (who we'd last seen back in Ushuaia during Christmas '06) for the Dutch TT races. By all accounts they had a great reunion - judging by the state of them the following day!
Hame in Bike Heaven again....
The following day they came back to pick me up, Pete escorting us to the coast. As usual, with no particular plan, we rode through Holland and Belgium, before ending up unexpectedly in Oostende.
Oostend Pier
Outside our Salubrious Hotel with Pete
Waiting for the Ferry
I felt quite strongly I wanted to get the ferry back - I'd all these romantic notions about seeing Dover appearing in the distance. Pete had already booked the Chunnel so we left him at Calais the following day and caught a ferry. I did get all tearful as England appeared on the horizon; it was quite a big moment for me.
There'll be Blue Birds Over.....
Pete was at the other end to meet us, riding together as far as London where he lives. Beeping and waving, we shot off around the M25 in a Derbyshire direction.
It was weird being back. In some ways it felt entirely normal, but I couldn't quite get my head around the fact we were really home. It was sunny, everything was green and it really did look beautiful.
I'd picked up a cold in Holland and by the time we'd ridden from Dover to Derbyshire, I was feeling awful. We arrived at our friends Ash and Lou's house in time for tea where I burst into tears, overcome by a million emotions and a head full of cold.
Fish and Chips with Ash, Lou and the Gang
India and Hamish; Lou and Ash's youngest two
Amazingly, we had great weather for all of the few days we stayed with our good friends. It was really lovely to be back and it was nice not to have to leave with big goodbyes, more 'see you soons' as we'd only be living up the road.
After a final practice of the presentation (causing much swearing from Hame), we set off for the HU meeting in Ripley.


At the Horizons Meet with Ashley
Our presentation went well (we think) with both of us somewhat emotional by the end of it.
The Presentation at the HU Meet
For us, the HU meeting was a great chance to meet up with friends - Pete once again, Andy and Maya who we'd met back at the '06 Viedma HU meet in Argentina, Phil, last seen in a whisky haze on Finca Santa Rita, our internet buddies Fritz and Bev, several people we'd written to or had heard of, and lots of new faces. All of us had one thing in common, the madness of motorcycle travel, so it was easy to get on with everyone and there's no need to explain why you want to spend two years on the back of a bike. The weather surprised everyone by being good, but then we were back in the familiar old rain (little did we know but it was the beginning of the end of the 'summer' and for most of the next two months it was to rain...).
I wasn't best pleased at being woken early on the Saturday morning after "a few drams" with Phil the previous night. Who was shouting my name at this time? I leapt out the tent in nothing but my boxers to find my old friend Ed, who'd ridden down from Scotland the previous night to surprise us.
Ed
Arriving in the dark, Ed assumed he'd be able to spot a BMW GS and a tent easily, not realising every other bike was a GS! After stumbling around various Bavarian contraptions, he gave up and headed for the bar, waiting to find us the following morning. It was great to see him and meant a lot to us that he'd come all the way to surprise us.
Sun - but not for long!

Hiding from the Rain, under Andy's tarp.

Packing the Bike with Phil's help!
Back on with those Waterproofs....
On the way back, we stopped off at Em's Aunty Pat's house in Kippax for lunch. It was great to see her and fab for Em to ride through Yorkshire, where she lived as a child. We both were really excited to be home.
With Aunt Pat
Despite riding through torrential rain, our spirits weren't dampened as we headed North towards Coldstream and the Scottish border. Here we were to meet with my brother, who'd arranged a somewhat different camping facility.
Back home for Em
Last border crossing and Home!
With no campsite available in Coldstream, Andrew had arranged for us to camp behind a local museum. At least there were toilet facilities. It was of course great to see Andrew, and later that night, Cal, who rode down to camp with us on what would be the last night of our trip.
The boys...
Our last night under canvas - for a while....
Mmmm, a Fish Supper in the Rain
After a couple of beers and a fish supper, things were getting a little soggy, so instead we sought refuge inside the museum. A rather bizzare place for a party, but dry nonetheless!
A Night in the Museum - the only dry place to be!
And finally, our last day's ride was upon us. After a wonderful cooked breakfast knocked up on our trusty old MSR stove, we set off home, Andrew escorting us in his pride and joy...another German boxer, just with four wheels instead of two.
Andrew, our escort!

The Forth Road Bridge - almost home!

Nearing my parents house, both Em and I became emotional as we reflected on the last two and half years; we couldn't quite believe we'd ridden home from Malaysia! The sights we'd seen, the people we'd met, the experiences we'd had, had been a dream come true - and more.
The very very last few metres....
A ribbon across the gate marked the end to our trip. And what a trip it'd been.
A Warm Scottish Welcome - with the Family
My Folks, my sister Nicki and my nephew Rory were all there to greet us, together with our two dogs from Malaysia, not long out of quarantine. It was indeed fantastic to be home and to be with the family again.
Champagne and our dogs - last seen in Malaysia....
We both felt it was the right time to come home - certainly Em wasn't able to fit into her bike pants any longer!
As we sat with our loved ones and sipped champagne, it felt not like the end of an adventure, but the beginning of a new one - life in Scotland, making our family three, and a whole new chapter stretching out ahead of us.
THE END.
Hamish and Emma
PS
Watch this space - we'll take to the road again one day, in a sidecar, or a camper van maybe!
Enter your email address to receive updates to Hamish Oag and Emma Myatt's trip story!
Recent Entries
Archives:
Archives:
Monthly
Archives:
Category
NEW! HU 2015 Motorcycle Adventure Travel Calendar is now available! Get your copy now for some terrific travel inspiration!
HUGE, 11.5 x 16.5 inches, beautifully printed in Germany on top quality stock! Photos are the winning images from over 600 entries in the 9th Annual HU Photo Contest!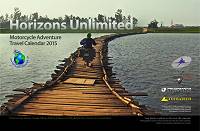 "The calendar is magnificent!"
"I just wanted to say how much I'm loving the new, larger calendar!"
We share the profit with the winning photographers. YOU could be in the HU Calendar too - enter here!
Next HU Events
Thailand: Jan 9-11, 2015
Germany: May 14-17
Canada Ontario: Jun 18-21
Ireland: June 26-28
Colorado: July 17-19 TBC
Canada West: Aug 20-23
USA California: Sep 24-27
Aus Queensland: Sep 24-27
USA North Carolina: Oct 8-11
Aus Perth: Oct 9-11
Germany: Oct 22-25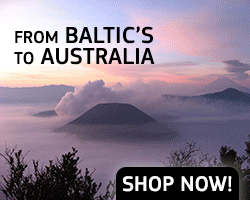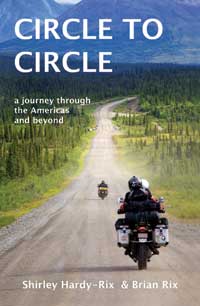 Circle to Circle - a journey through the Americas and beyond. by Shirley Hardy-Rix and Brian Rix
"Well written, funny and informative."
"Thoroughly entertaining!"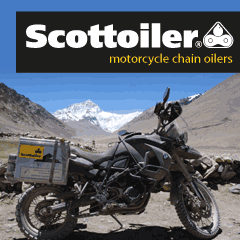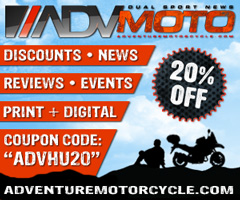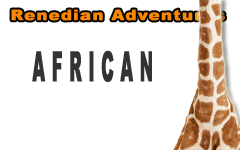 What others say about HU...
"I just wanted to say thanks for doing this and sharing so much with the rest of us." Dave, USA
"Your website is a mecca of valuable information and the DVD series is informative, entertaining, and inspiring! The new look of the website is very impressive, updated and catchy. Thank you so very much!" Jennifer, Canada
"...Great site. Keep up the good work." Murray and Carmen, Australia
"We just finished a 7 month 22,000+ mile scouting trip from Alaska to the bottom of Chile and I can't tell you how many times we referred to your site for help. From how to adjust your valves, to where to stay in the back country of Peru. Horizons Unlimited was a key player in our success. Motorcycle enthusiasts from around the world are in debt to your services." Alaska Riders

10th Annual HU Travellers Photo Contest is on now! This is an opportunity for YOU to show us your best photos and win prizes!
NEW! HU 2014 Adventure Travel T-shirts! are now available in several colors! Be the first kid on your block to have them! New lower prices on synths!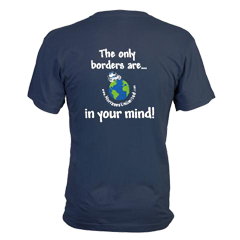 Check out the new Gildan Performance cotton-feel t-shirt - 100% poly, feels like soft cotton!

What turns you on to motorcycle travel?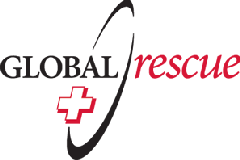 Global Rescue is the premier provider of medical, security and evacuation services worldwide and is the only company that will come to you, wherever you are, and evacuate you to your home hospital of choice. Additionally, Global Rescue places no restrictions on country of citizenship - all nationalities are eligible to sign-up!
New to Horizons Unlimited?
New to motorcycle travelling? New to the HU site? Confused? Too many options? It's really very simple - just 4 easy steps!
Horizons Unlimited was founded in 1997 by Grant and Susan Johnson following their journey around the world on a BMW R80 G/S motorcycle.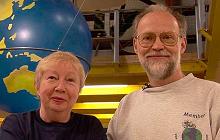 Read more about Grant & Susan's story
Membership - help keep us going!
Horizons Unlimited is not a big multi-national company, just two people who love motorcycle travel and have grown what started as a hobby in 1997 into a full time job (usually 8-10 hours per day and 7 days a week) and a labour of love. To keep it going and a roof over our heads, we run events (22 this year!); we sell inspirational and informative DVDs; we have a few selected advertisers; and we make a small amount from memberships.
You don't have to be a Member to come to an HU meeting, access the website, the HUBB or to receive the e-zine. What you get for your membership contribution is our sincere gratitude, good karma and knowing that you're helping to keep the motorcycle travel dream alive. Contributing Members and Gold Members do get additional features on the HUBB. Here's a list of all the Member benefits on the HUBB.
Books & DVDs

All the best travel books and videos listed and often reviewed on HU's famous Books page. Check it out and get great travel books from all over the world.

MC Air Shipping, (uncrated) USA / Canada / Europe and other areas. Be sure to say "Horizons Unlimited" to get your $25 discount on Shipping!
Insurance - see: For foreigners traveling in US and Canada and for Americans and Canadians traveling in other countries, then mail it to MC Express and get your HU $15 discount!
Story and photos copyright © All Rights Reserved.
Contact the author:
Editors note: We accept no responsibility for any of the above information in any way whatsoever. You are reminded to do your own research. Any commentary is strictly a personal opinion of the person supplying the information and is not to be construed as an endorsement of any kind.
Hosted by: Horizons Unlimited, the motorcycle travellers' website!
You can have your story here too - click for details!