December 01, 2006 GMT
On the Road Again
After an interlude to our travels, flying back to Scotland for a family wedding, we´re back on the road for part two of our adventure; South America. Having landed in Santiago, Chile and being successfully reunited with Bertha (our bike), we´re off to Argentina, hopefully in time for the HU meeting in Viedma.



Ready to go
Having missed all too many family gatherings as a result of living overseas the past ten or so years, we were not about to miss the wedding of my close cousin, Mairi. After all, the wedding reception was being held in a whisky distillery! How could we refuse? (Wedding pics to follow)
PICTURES FROM THE WEDDING OF MAIRI AND JON:
Catching up with family at home:

Halloween with Rory
Being back was great to catch up with family and friends, however after too many drams, pints (not nancy pots or schooners) and home cooking, it was time for teary goodbyes and to get back on the plane.

With Em´s brother in London
We took the opportunity of a stop-over in Dubai to catch up with good friends, Gabi and Max, who provided us with an insight into life in the UAE. Fortunately, not all of Dubai is sand and glitzy buildings; the mountains providing a cool respite to the desert heat.

Oasis
They also provided some good trails to ride, Max kindly providing me with his KTM to scoot around on, which proved to be a little more nimble without Em, panniers and camping equipment on board!

Where are the panniers?
When back in Melbourne, our main task was to crate Bertha for the journey to Santiago. BMW Melbourne kindly provided us with a crate, albeit minus the new 1200 Adventure it originally contained, bummer! Mindful of freighting the bike with an empty tank, we arrived at BMW with the fuel pump wheezing; saving us the job of emptying the tank of residual fuel. As with all the best travels, a case of good luck as opposed to strategic planning.
After braving a Melbourne hail storm (remember, it´s supposed to be summer here!), and a bit of juggling here and there, we squeezed the bike, panniers and spare tyres into the wood and cardboard box, strapped it down and said goodbye. All being well, we´d be reunited in Santiago in a couple of weeks time.
Fortunately, Melbourne wasn´t all work and no play. We caught up with relatives of Em, whilst Martin and Fiona were once again the perfect hosts. Martin taking me fishing out in the bay, my lack of skill landing a somewhat immature flat-head. I gave it a second chance at life and threw it back.

If you hold it close to the camera it looks bigger! (Em)
We wrapped up our Australia trip with a drive down the Great Ocean Road on our final day with Martin, in his extremely quick VW. It may not have been a bike, but bloody good fun nonetheless. Experiencing the waves crashing in on the South coast seemed a fitting end to our (almost) circumnavigation of this massive island.

Us and Martin (Urban Man)
Rather then fly directly to Santiago, we´d opted to stop-off in Tahiti for a couple of days and then Easter Island for a week. After all it was the same price as a direct flight, so why not? I should have realised if David Essex sang about somewhere, it was bound to be dubious! Ok, that´s a little unfair (on Tahiti, not DE), it wasn´t so bad, just expensive. Nonetheless, it did provide us with the chance to kick back after the previous month´s excesses. (Next time I´ll go to Tahiti and he can go to Skegness! - I liked it! - Em)

The view over my book

Em at least made it off the beach
Both keen to visit Easter Island, Isla de Pascua or Rapa Nui, depending on your language persuasion, we soaked up our week there exploring the island both above and below the surface. Other than its isolation, wonderful barren landscape and friendly folks, Easter Island´s draw card is of course the mystical Moai, the massive stone figures that dominate the horizon.
Hewn from a dormant volcano between 800AD and 1600AD, the Moai were then lowered down to the base of the volcano, final carving completed, before being transported to their respective Ahu or platform at various locations around the island. Sounds straightforward, however these statues can be up to 20m in height, weighing in excess of 100 tons...and no cranes, hoists or low-loaders to transport them the kilometers required back in them days! There are of course as many theories as there are possibilities, most employing wooden logs in some configuration or another. Hence the reason for the lack of trees, so it is believed.
Anyway, however they were produced, transported and erected is irrelevent when you sit and take them in; the sight is really quite something.

Spot the Hamish!
As a result of fighting between tribes over declining resources (some things never change), in this case, the Long Ears and the Short Ears (I kid you not), all Moais were knocked over and production abruptly ceased. Hence the volumes of Moai in various states of completion seen around the Moai birthplace, Rano Rakano.
In an attempt to restore order, someone dreamt up the Birdman philosophy. Instead of fighting for leadership, select members of each clan would tear down the slopes of a volcano, swim through treacherous waters to an uninhabited island to retrieve the first egg of the season from a particular sea bird. The winner would be the first to retrieve the egg via the reverse route. Not entirely different to the cult ´70´s TV programme, The Great Egg Race.
So when we weren´t learning about stone statues and birdmen, we took to the water to explore the crystal clear depths. Did I mention visability? 30m +! Diving to a depth of around 25m and looking up as if wearing aqua marine coloured sunglasses on a sunny day. Spectacular.

H & E get into rubber!

Change of transport 1

Change of transport 2
All too soon it was time to pack up the tent and hit the airport again. Fortunately this would be our last flight for a while, instead relying on our bike to carry us across borders, not planes. Em was on the ball and reserved window seats on the left side of the plane, providing us with our own live mountain documentary as we flew alongside the Andes approaching Santiago.
The following morning Jesus, our freight agent, collected us and drove us to the airport to be reunited with Bertha. Having taken almost two days to clear the bike upon arrival in Australia, we were expecting the process to take some time in Chile.
However, having the Saviour on our side helped no end. After a few hours of shuttling from desk to desk we had Bertha loaded onto the smallest truck in Chile and off to Jesus´s warehouse for unwrapping. Christmas came early.

(Jesus is the one on the left)
After a day or two in Santiago to re-organise our gear, realise how little Spanish we know and catch up on the blog (you know how long it takes to write this stuff?!), we´re off tomorrow across the border into Argentina. Already our plans have changed, we´re heading towards Viedma on the East coast for our first HU (Horizons Unlimited) meeting, where we hope to meet up with like minded vagabonds. It´s then South towards Tierra del Fuego for Christmas. Well that´s the plan at present....
(Hamish)
December 11, 2006 GMT
Mountains and Meetings
Thanks to the generosity of a friend of the family we had a place to stay in Santiago; we enjoyed spending a few days there in a comfortable flat getting ready for the Big Off Part II. We were both incredibly excited; new country, new continent, and not too many firm plans.
We'd loved Easter Island, and despite what Hamish said in the last blog Tahiti was lush and green and beautiful, and full of very gorgeous big brown men with long hair and interesting tattoos, singing and playing the Ukulele. (Although maybe that's why Hame wasn't so keen?!).
We were eager to get out of the city however, and head for the mountains and Argentina. We packed the bike, feeling proud of ourselves at the amount of stuff we'd managed to get rid of and condense, only to find that our stuff had grown immensly and would hardly fit on the bike. Horrors! Where does it all come from?
With poor Bertha groaning under the weight of whatever else it is we've managed to collect and the GPS telling us we were still in North Balwyn (Melbourne) we rode swiftly out of the city and up to a wonderfully exciting twisty mountain road, with snow-capped peaks all around us and hair pin bends with steep drops to the side.
The border crossing was easy enough, despite a few confusing moments over bits of paperwork we were supposed to have or had to fill in. The guards were very helpful even though there was a complete language barrier and we soon got through.
Hamish had picked up a dry cough in Santiago, and as we ascended it got worse. By the time we'd crossed the border into Argentina he was feeling quite rough and refusing food (so I knew he was really ill). We decided to book into a hotel in Puerta Del Inca, a tiny town just over the Argentinian border to wait until Hame felt better; he climbed straight into bed and didn't get up for the next 48 hours.
We weren't sure what was wrong, he had a fairly high fever and a cough which just seemed to get worse by the minute. I know that men get things far far worse than we women do, but he did seem quite poorly. With no doctor in town I donned my nurses uniform, fed him some vitamin C and stuck a thermometer in his mouth every few hours.

Not a bad place to be stuck for a couple of days...
I took some time to explore Puerta Del Inca, which took five minutes, although the town is famous for having a natural stone bridge and an old spa. I also chatted to groups of climbers slowly acclimatising and doing some warm up climbs, getting ready to tackle Aconcagua, South America's highest peak, close to the town.

Bertha next to the window of our room
We decided the altitude wasn't helping Hame so after a mixture of pills found in our first aid kit and getting Hamish started on a course of antibiotics, he was able to get up and ride. (It took a full week for him to recover but he's fine now).
We still planned to head South for the HU meeting in Viedma, about 1600km South East. As Hame wasn't 100% well we stuck to hotels and meals out - cheapish but we planned to camp again as soon as we could.
The ride was very colourful, the hills seemed to have been painted in a variety of shades of rock and soil; after a while I simply stopped taking pictures as every corner gave a new fantastic view.

The road is long...

With many a winding turn....

We had a slight wiring problem on the way, we lost the ignition switch, the lights, horn, intercom and indicators, so I became the starter motor (again) and indicators for a day or so until Hame got it sorted out. I had great fun trying to explain all this to the receptionist and asking her if there was an electrical mechanic in town, in Spanish.
Our Spanish is improving, slowly, but now I have the problem of not understanding a single word of the answers I receive. For example:
Me in Spanish: Where is the nearest petrol station?
Passer by, in Spanish: OK - you go around the corner take the third right and go straight ahead until you see the town square where there's a petrol station although it may not be open right now so if you head back up the street take the second right then the third left just next to the jewellers shop where my Auntie works there's another one which may be open failing that head back out of town on the road you just came in on and you might get petrol there. Understand?
Me: Er, Gracias.
We are getting better, slowly. Hame can order beer and steak easily so he's happy.
A couple of days of fairly tedious riding over very flat land brought us to Viedma for the Horizons Meeting. We found the campsite and were welcomed by the very friendly and hospitable Oscar, the organiser. We met up with Aasha and Mark, who we'd last seen in Brisbane, and Grant and Julie who've been e mail correspondents of us for some time (they also have a story on here).

Me and Jules

How many blokes does it take to change a tyre?!
Oscar had organised a ride into town to join up with a group of local bikers for a barbeque which was good fun. The following day we rode out to a cliff top from where we could view a huge colony of sea lions. Oscar then took us on a '20km or so' ride on gravel roads across farmland, after almost 50km we arrived at our destination, a sheep farm belonging to his friend.

A breather after a big dusty ride.
His friend had roasted lamb and beef , the ride had made everyone hungry so we tucked into the traditional Argentinian meal, huge delicious chunks of meat with bread, then flopped around in the shade to digest it ready for the ride home.

Post-roast

Everyone

Lew and Anita and their Big Luggage!

Bike fashion.... so sexy
It was good to meet other people who are mad enough to ride around this huge continent, share stories and compare notes about places to go, plus of course sample lots of local beer.

Hame getting into the Christmas spirit
One couple, Alexis and Greg, had driven from the UK via Australia in an old army ambulance, I loved it - (maybe one day when there are small Oags travelling with us?!)

Aasha and Mark demonstrate a new riding style
After another day or so at the campsite we said our goodbyes and headed South with Aasha and Mark to Peninsula Valdez, a national park and wildlife haven on the east coast. We found a great campsite one sand dune away from the beach and are spending a very relaxed few days here.
Yesterday we had what I can only describe as one of the most incredible experiences I've ever had, as cliched as it sounds. One of the reasons for coming here was to whale watch, but as we'd been told it was the end of the season and that most of them were on the way elsewhere we didn't expect too much. We booked ourselves on the sunset tour, cracked open a bottle of red and got ready to see a couple os whales.

Another fetching getup
After an hour or so we found a few, which became a few more, until we were surrounded by 18 whales, Southern Right Whales, all in pairs of mothers and calfs. The whales seemed as curious about us as we were about them because on a few occasions they came so close to the boat we could have touched them.



Close, but they came closer...
I was speechless (for once) and completely in awe of the size and grace of the whales as they swam up to the boat, put their heads out of the water to have a better look at us and then sank down, swan under the boat and reappeared the other side. I got a faceful of expired whale breath as I watched. Hame has all the close up pics on his camera, I'll put some on here later so you can see the sheer size of them. I wish I could put video on here, I've a couple of incredible clips of the whales within one metre of where I was standing.
From here we plan to head South to Ushuaia to celebrate our first Christmas in our tent. So far we are enjoying Argentina very very much, it is cheap (about US2 each to camp), with wonderful food, friendly people and stunning scenery - I think we shall be here for quite a while yet!
By the way, forget the fact that bike travel can at times be dangerous, look what can happen when you fall over in the shower...

(Almost worth it to see the look on the face of the poor lass I landed on, who was getting dressed outside my cubicle)
(Emma)
Sign of the week:
December 21, 2006 GMT
Great Weather For Yachts
(27th December)
After a couple of Asados (traditonal Argentinian grills) at our campsite on Peninsula Valdez, it was time to go.

Bruno demonstrating how to do Asado properly

Pete, Hame, Mark, beer
The weather changed a bit, which was a shame as I'd wanted to dive - apparently if you are lucky you can chare your dive with sea lions and dolphins...anyway it got windy and a litttle cooler and the dive boat stayed in. As we left Peninsula Valdez the wind came up more, and it stayed with us for most of the next week as we headed South.
With the bikes constantly leant at an angle against the wind, we rode South with Mark and Aasha, covering the 1800km to Ushuaia about a week.
(See www.markaasha.com for more pics of this week)
As we rode South it got colder... and then colder still. Some days we could feel the change over only a few hundred metres, and every day saw us donning more layers until we were all much bulkier - or that could have been because of all the fab food we'd been eating!

Aasha sporting the latest in 'bikewear'
On the way to Ushuaia we stayed in small 'cabañas' - self catering accommodation, or cheap hostels or hotels. Some had better beds than others!

Hame's banana bed
As we were on the move every day we didn't want to be packing up the tent every morning. Accommodation is generally quite cheap, we've been paying about $10 US a night (about five pounds), usually with breakfast, but our preference is still for camping.

Squeezing Bertha in behind a guesthouse
We met some great people and felt welcomed wherever we went. The best welcome of all was from Graciela in Rio Grande (Hotel Argentino) who handed us a glass or homemade cherry liquer as we arrived, freezing cold after a wet ride into Tierra Del Fuego.

Welcome to the Hotel Argentino

An early Happy Christmas with (L to R) Aasha, Val and Graciela,
After leaving Peninsula Valdez the wind was quite hard work so we only rode about 150km before stopping in Gaiman, a small village originally colonised by Welsh migrants in 1865. Nowadays Gaiman has several Welsh themed guesthouses and tea rooms; we sheltered from the wind and had a huge cream tea before bedding down for the night in the Dyffryn Gwyrrd hotel.

Hame found a fellow rugby bloke, the owner of our Welsh hotel

Cream tea house
The next morning the wind was more manageable so we hopped on the bikes and headed to Punta Tombo, site of the World's largest colony of Magellenic Penguins. 175,000 breeding pairs come here every year for the summer months, and they were everywhere!
We wandered around roped-off paths between burrows, sat and watched them launch themselves into the sea and watched as they waddled across in front of us. The penguins were utterly charming and not at all bothered by our presence. They even came to check out our bike!

A local checking out Bertha
Bertha had another visitor a little further down the road, a baby guanaco.
Guanacos are related to camels; they are very common in this part of Argentina and we passed several groups (anyone know the collective term?) of them grazing near the roadside.
We've seen flamingoes, hares, a fox, lots and lots of species of birds (Carol and Neil, we need you!) as well as domesticated animals on the many Estancias (big farms) we've passed.
We met a man who'd walked from Santiago, on the road 3000km from Santiago.
There are lots of other bikers heading South for Christmas and we've seen a fair few cyclists. I've thought lots of times of my good friend James who cycled from Alaska to Ushuaia a few years ago, and I now know for sure what I've suspected all along, he is barking mad! Some of the roads are sooooo long and featureless, the mountains are huge, you really would have to be quite mad to attempt it on anything without an engine. Jamie, we are amazed. You are a legend.
On the way we stopped to help Rick, who'd ridden form Alaska on a KLR and whose chain had snapped, almost sending him off the road. He stayed on, and left a 50m skid mark. Hame and Mark, the engineers, got straight in there and managed to unwrap the chain from the sprocket. Luckily for Rick he was near a service station and the story ended well when he got the bike on a truck to the nearest town.
The changing weather gave us a few good rainbows...

The end of my rainbow...
In Comodoro Rivadavia we were on the way to the shops when we passed a couple of policemen looking angry. On the way into town we'd seen several groups of young football supporters looking a bit like they wanted trouble. About two minutes later we heard shots, and looked back to see the policemen chasing and shooting at the football fans, who's turned out to be rioters. Four police cars followed, and all the young guys scattered. We went and hid in the supermarket and did our shopping until it was safe to go back up the road!

Bertha on the ferry to Tierra Del Fuego
We were really excited to get to Tierra Del Fuego. It's a place we'd heard about for years and since we left Malaysia back in April, Ushuaia was our destination for Christmas.
For most of the previous week the roads had taken us through very flat, very barren landscape. As we rode further South into Tierra Del Fuego, we were suddenly up in the snow-capped mountains, riding through sleet! It was magnificent scenery.

Brrr!

We had a great week with Aasha and Mark
We rode into Ushuaia, a little chilly but happy. Mark and Aasha weren't mad enough to stay in a tent so we left them at their guesthouse and rode out to the National Park, about 20km South of Ushuaia, almost at the end of the world...

Our camp at the end of the world (with tame bunnies)

It was cold, we were very glad we'd upgraded the sleeping bags in Australia to big fat down ones which kept us warm as toast. At night it has been about four degrees!
On the way to the park we'd bumped into Grant and Julie who we'd last seen in Viedma. At the park were about 20 other bikers of varying nationalities; Kiwi, English, German, Japanese, Swiss, American and ourselves. It was good to catch up with Jason and Pete who we'd met in Viedma too, and Californians Val and Adam. We decided to have a traditional Christmas dinner, cooked on the fire.
There was a bit of deliberation about how to cook the chickens - the boys had designed a spit roaster out of bits of metal and jubilee clips. We had a great laugh trying to make it work, everyone got involved with bits of string, screwdrivers and ideas. Being fuelled by beer and champagne didn't help, but it was fun. Eventually we gave up on the whole spit idea and with the help of a long spikey thing cooked the chickens straight on the fire, along with loads of vegetables wrapped in foil.
We were quite amazed when the meal turned out to be delicious, not burned to shreds as could easily have been the case! Here are a few pics taken throughout the day:

How to roast chooks


Grant keeping the smoke out

Cooking up a storm

At last it was ready

Gabi - I managed to find something to dance on!!!

Hope everyone had as much fun as we did. Hame and I had a quiet moment and raised our plastic cups to our families and friends in distant places....Happy Christmas.
There were a few sore heads the next day, but we managed to ride down to the sign which says you have reached the end of the road...
Here's the latest of my high-tech maps.


How we got from Aus to here

The last couple of weeks - 5400km or so
Bertha has been running well, the only issue being a slightly leaking front shock, despite the recent rebuild in Melbourne. Hame gave it a good clean and made a shock sock, and it seems to be holding up for now.
We plan to stay on in the national park for a few more days, celebrate the new year somewhere in Ushuaia, or just by the tent perhaps as it is such a beautiful spot. After that we have a few weeks before meeting my Mum and Stepdad a little further North, so we have decided to try and improve our Spanish by going back to school. We'll camp in Ushuaia and enrol in Spanish classes for a week - we need it! There are a few snow capped mountains to climb too, Hame is itching to get up there.
We're really enjoying moving more slowly for the time being; from here it's a slow ride North...
(Emma)
Hotel of the week!

Enter your email address to receive updates to Hamish Oag and Emma Myatt's trip story!
Recent Entries
Archives:
Archives:
Monthly
Archives:
Category
NEW! HU 2015 Motorcycle Adventure Travel Calendar is now available! Get your copy now for some terrific travel inspiration!
HUGE, 11.5 x 16.5 inches, beautifully printed in Germany on top quality stock! Photos are the winning images from over 600 entries in the 9th Annual HU Photo Contest!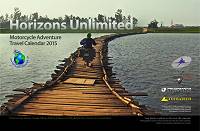 "The calendar is magnificent!"
"I just wanted to say how much I'm loving the new, larger calendar!"
We share the profit with the winning photographers. YOU could be in the HU Calendar too - enter here!
Next HU Events
Canada West: Aug 20-23, 2015
USA California: Sep 24-27, 2015
Aus Queensland: Sep 24-27, 2015
USA North Carolina: Oct 8-11, 2015
Aus Perth: Oct 9-11, 2015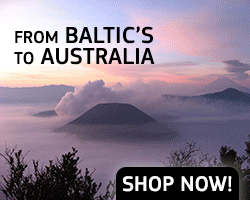 Take 40% off Road Heroes Part 1 until October 31 only!
Road Heroes features tales of adventure, joy and sheer terror by veteran travellers Peter and Kay Forwood (193 countries two-up on a Harley); Dr. Greg Frazier (5 times RTW); Tiffany Coates (RTW solo female); and Rene Cormier (University of Gravel Roads).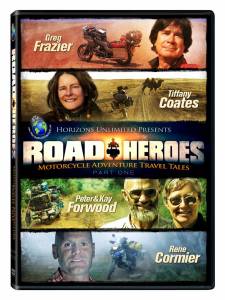 "Inspiring and hilarious!"
"I loved watching this DVD!"
"Lots of amazing stories and even more amazing photographs, it's great fun and very inspirational."
"Wonderful entertainment!"
Check it out at the HU Store! Remember to use Coupon Code 'HEROES' on your order when you checkout.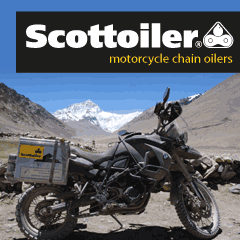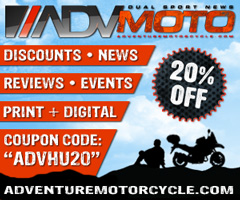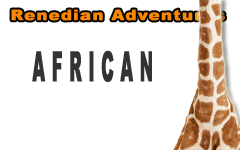 What others say about HU...
"I just wanted to say thanks for doing this and sharing so much with the rest of us." Dave, USA
"Your website is a mecca of valuable information and the DVD series is informative, entertaining, and inspiring! The new look of the website is very impressive, updated and catchy. Thank you so very much!" Jennifer, Canada
"...Great site. Keep up the good work." Murray and Carmen, Australia
"We just finished a 7 month 22,000+ mile scouting trip from Alaska to the bottom of Chile and I can't tell you how many times we referred to your site for help. From how to adjust your valves, to where to stay in the back country of Peru. Horizons Unlimited was a key player in our success. Motorcycle enthusiasts from around the world are in debt to your services." Alaska Riders

10th Annual HU Travellers Photo Contest is on now! This is an opportunity for YOU to show us your best photos and win prizes!
NEW! HU 2014 Adventure Travel T-shirts! are now available in several colors! Be the first kid on your block to have them! New lower prices on synths!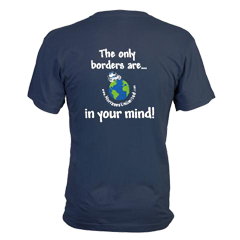 Check out the new Gildan Performance cotton-feel t-shirt - 100% poly, feels like soft cotton!

What turns you on to motorcycle travel?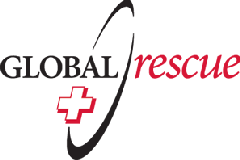 Global Rescue is the premier provider of medical, security and evacuation services worldwide and is the only company that will come to you, wherever you are, and evacuate you to your home hospital of choice. Additionally, Global Rescue places no restrictions on country of citizenship - all nationalities are eligible to sign-up!
New to Horizons Unlimited?
New to motorcycle travelling? New to the HU site? Confused? Too many options? It's really very simple - just 4 easy steps!
Horizons Unlimited was founded in 1997 by Grant and Susan Johnson following their journey around the world on a BMW R80 G/S motorcycle.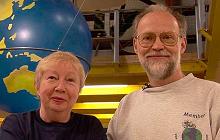 Read more about Grant & Susan's story
Membership - help keep us going!
Horizons Unlimited is not a big multi-national company, just two people who love motorcycle travel and have grown what started as a hobby in 1997 into a full time job (usually 8-10 hours per day and 7 days a week) and a labour of love. To keep it going and a roof over our heads, we run events (22 this year!); we sell inspirational and informative DVDs; we have a few selected advertisers; and we make a small amount from memberships.
You don't have to be a Member to come to an HU meeting, access the website, the HUBB or to receive the e-zine. What you get for your membership contribution is our sincere gratitude, good karma and knowing that you're helping to keep the motorcycle travel dream alive. Contributing Members and Gold Members do get additional features on the HUBB. Here's a list of all the Member benefits on the HUBB.
Books & DVDs

All the best travel books and videos listed and often reviewed on HU's famous Books page. Check it out and get great travel books from all over the world.

MC Air Shipping, (uncrated) USA / Canada / Europe and other areas. Be sure to say "Horizons Unlimited" to get your $25 discount on Shipping!
Insurance - see: For foreigners traveling in US and Canada and for Americans and Canadians traveling in other countries, then mail it to MC Express and get your HU $15 discount!
Story and photos copyright © All Rights Reserved.
Contact the author:
Editors note: We accept no responsibility for any of the above information in any way whatsoever. You are reminded to do your own research. Any commentary is strictly a personal opinion of the person supplying the information and is not to be construed as an endorsement of any kind.
Hosted by: Horizons Unlimited, the motorcycle travellers' website!
You can have your story here too - click for details!