September 13, 2006 GMT
Gold!
Not only did Riki and Jen welcome us into their home, but also their garage. Before leaving Malaysia I rebuilt the bike's top end as a result of stripped cylinder barrel studs, (yet another legacy of a former owner), and subsequently learnt I used gasket sealant that didn't seal. By that time we were in Australia. Originating from the base of the cylinder barrel, it was more a weep than a leak, however it was annoying and didn't appear to going away. It was time for remedial action.
As always (with me at least), such rebuilds never go quite to plan, therefore what I expected to take a day, maybe two to finish off, took several more. The first hinderance was when I realised I'd been supplied the wrong head gaskets from a later model, only after I'd smeared the cylinder base with lovely fresh gooey sealant. Sealant that was about to set without the heads being torqued down...barrel off again. Of course this was the weekend, so the bike shop's closed, so I can't get the right gaskets - great stuff. And into the bargain, I've hired a torque wrench for the occasion. At X bucks a day.
Monday morning I was back up to the bike shop, who I have to say were apologetic, throwing in a couple of small things I needed for nothing. The rest of the rebuild went ok, ok that was until I tried to fire her up. I assumed I'd jumped a tooth on the camchain and therefore thrown the timing, as it was turning ok, but wouldn't fire. Several adjustments, a flat battery and many expletives later, I gave up for the night and resorted to the contents of the beer fridge together with Riki.
New day, new outlook. I found the problem to be a worn locating lug on the right hand cam sprocket. All looked fine when put installed, however when tightened the sprocket rotated, throwing the timing. All good and well, but would I be able to source a replacement sprocket? After all, it's not exactly a servicable item. Fortunately the same said bike shop had a second hand one in stock (thankfully), so yet another excursion later and the bike was up and running again. Phew!
We eventually prised ourselves away from Riki, Jen and family, a difficult task as their hospitality was second to none, and set off for Hyden, location of Wave Rock. Yet another Australian geological phenomonen. Arriving just as the sun was going down, we had to wait until morning to check out the wave. Formed on the side of Hyden Rock as a result of water flow several millions of years ago, it was indeed an impressive sight begging for the imaginary surfing shot.
(Hamish)
Back in Longreach we'd picked up a book called "Digger" by Max Anderson (more about the book later). We both really enjoyed it and it had made us want to see the goldfields for ourselves. We left Wave Rock after a really chilly night (will have to buy warmer sleeping bags for South America!) and rode up to Kalgoorlie across dirt tracks. We saw some strange lizards on the way, 'bob-tailed skinks' -
- and a couple of snakes, as well as a strange place called 'Cockatoo Tanks', two large concrete pools right out in the middle of nowhere. The outback is full of hidden surprises, tracks lead off the main roads and you can find all sorts of quirky places if you have the time to look.
We'd intended spending only a day or so in Kalgoorlie but it proved to be a fascinating place, with loads to see and some beautiful old buildings.
I'd envisaged hiring a metal detector and going off into the bush to make my fortune but I had to be content with a little gold panning in a pretend pool in the Miners Hall of Fame museum. It gave me an idea of how hard it was. The museum was great, we were able to go down into the old mine which was a little claustrophobic but educational. Back in those days it was very very hard work...
After that we got to touch some real gold, watch pretend gold being poured and wander around the reconstructed miners' village. Hame is thinking of buying a new tent.
We went ot the SuperPit lookout, a HUGE mine right on the outskirts of town where gold is relentlessly being pulled from the earth 24 hours a day, with some very big buckets.
After all that activity it was time for a beer in a pub with a mine shaft in it. Kalgoorlie Boulder has history everywhere, under every street and on every corner.
While Hame was catching up on his journal and fiddling with the bike, I went to a brothel. Not because our funds are running low, but because Kalgoorlie is home to the oldest operating brothel in Australia and has three which are open to the public (during the day as well). Questa Casa was encased in pink corrugated iron and there was no bell to push, so together with a few other uncertain looking tourists I stood on the pavement outside and tried to look innocent. Hard, I know.
Eventually the madam opened to the door with apologies for being late for the 2pm tours - she explained she'd just had a couple of policemen round to check on things. Brothels are illegal but there seems to be an informal arrangement that as long as things are done properly and safely, the law turns a blind eye. As the police station was 200 m down the road it all seemed quite bizarre.
We were taken on a two hour tour which was illuminating, I learned loads about the world's oldest trade. Prostitution back in gold rush days sounded awful for a variety of reasons, these days the women seemed to make lots of money - over $200 an hour - and be reasonably safe. The madam had to explain to one man who paid for the tour by credit card that the brothel would come up in disguise on his bill as "Mobile Mechanics Inc".
We were heading to Kookynie, the place written about in 'Digger'. We had learned after reading the book that all the characters are real people the author met while living there and writing, and it was in the general direction we wanted to travel.
On the way we stopped at Lake Ballard, where sculptor Anthony Gormley (he also made the 'Angel of the North' in Newcastle) has placed images based on inhabitants of a nearby town. He used a holographic image of their body shape then reduced it, made 150 statues and placed them over a seven square kilometre area on the dried lake bed. It was called 'Inside Australia' and was stunning.
We arrived at Kookynie to find the campsite behind the pub full, we'd clashed with a caravan safari tour. Our only option was to take a room as we were both ready to get off the bike, but as the hotel was an interesting historical building filled with artifacts from the area that the owners had collected, this wasn't such a bad option. We dumped our stuff and wandered into the tiny bar. The safari tour operators finished up for the day and joined us for drinks, and we ended up having an impromtu party, dancing and singing the night away along with the owners of the hotel, Kevin and Marg. It was a great night and yet again we met good people, but my head hurt the next day...
I'd never met characters from a book before. Kevin and Marg Pusey were exactly as described and didn't mind sharing their experience of being part of a story with us. We'd enjoyed the book and it was good to hear the author had not exaggerated anything, he was still warmly thought of in the Grand Hotel, where much of the action takes place. It was also good to hear what may have happened to 'the nugget'... my lips are sealed! Aside from the fact it was fun visiting a place we'd read about Kevin and Marg were good company and we thoroughly enjoyed talking to them, especially about local history on which they were both experts.
We wandered around Kookynie which was absolutely fascinating, more so after all our visits to gold mining museums. Kookynie had its own gold rush in the early 20th century and was once a buzzing town of 3000+ inhabitants. Now it has a population of 17.
Everywhere we looked there were scatterings of times gone by; ancient rusting cars, old broken bottles, horseshoes, neglected mining equipment and piles of rubble that were once houses. Many of the buildings have gone though, dismantled to be used to build cattle stations when materials were hard to come by after the war. We walked out to the cemetery which had its ownstories to tell. As well as all the artifacts lying around there were many mine shafts open and uncovered, we both decided it wouldn't be a good place in which to stagger home from the pub at night!
We bid farewell after a couple of days and thanked Kevin and Marg for their great hospitality. We'd installed ourselves on the lawn in the beer garden for our second night, that's the kind of camping we like!
A few more good dirt roads took us North to Leonora, famous for the 'Sons of Gwalia' goldmine, named after some of the first miners in the area who were Welsh (Gwalia is the Welsh word for Wales). There was so much to look at in the museum we could hardly take it all in, it was well worth the visit.
Herbert Hoover ran the mine when he was just 23. Apparently the owners of the mine were looking for a 'mature' man of 35 or so to manage things, however Hoover impressed them all so much (and grew a moustache to look older) that he got the job and made the mine a success. He later went on to become 31st President of America - obviously back in those days you still had to have brains to become President of the US...
Some of the old miners' cottages - which were lived in until the 1960s - had been reconstructed and opened to visitors, they were basic indeed. The mine still runs today but on a huge 'superpit' kind of scale. Feeling like we couldn't take in any more history for now we left, heading for Laverton which was the start of the Great Central Road (which I was pretending to look forward to).
We'd both found the goldfields incredibly interesting but we had to leave before I caught gold fever, just as I'd nearly caught sapphire fever.
We also dropped in on a deserted nickel mine which Hame found incredibly interesting (?). He took some great 'deserted nickel mine' shots.
We checked into the campsite in Laverton and checked the road conditions in a book jotted in by travellers - varying descriptions from 'good' to 'atrocious' - although we'd long ago learned not to listen too hard to what people say about roads. Looking forward to an early night we snuggled down into our bags, and were kept awake by a birthday party in the club next door until the wee hours. We seem to be very good at camping next to parties. After the 3am drunken basketball game finished we finally got some sleep.
(Emma)
September 14, 2006 GMT
The Red Centre
Thanks to the nocturnal exploits next door at the Laverton Sports Club, we woke late and with little rest. Definitely not the plan to begin our cross-country adventure along the Great Central Road to Australia's iconic Uluru. I managed to prise Em from the tent with strong coffee and tender words, her enthusiasm waning at the thought of what lay ahead with so little sleep.
To be fair, after bouncing around on numerous dirt roads of varying conditions, Em had to be persuaded that the 1000 or so kilometre long Great Central Road was a good idea. A dirt highway stretching from Laverton in the North Goldfield region of Western Australia, to Yulara, adjacent to Uluru, the heart of the Red Centre.
After the habitual muesli and milk powder breakfast (and yet more coffee), we packed up the tent in a stiff breeze (always entertaining) and set off for fuel; our last fill of unleaded for a week or so. Due to the unfortunate practice of petrol sniffing within some of the communities along the way, unleaded petrol is not available along the Great Central Road, replaced instead with a specially formulated unsniffable fuel by the name of Opal. Fortunately, the bike ran with no ill effects.
Whilst filling up with fuel, the local policeman appeared. As we intended to report our journey across the desert, it saved a trip to the station, so Em approached him to inform him of our details. (He went by the very wonderful name of George Copson, obviously had a father called Bobby - Em)
By 11 o'clock we were finally on our way, full of excitement (me) and trepidation (Em). The dirt road was above average, mostly hard packed and well graded, allowing us to cruise along at a reasonable pace between the sandy, corrugated, 'interesting' sections.
It wasn't too long before wild camels were spotted, the first of many we'd come across along the way. Camels must be one of the few success stories of all the introduced species to Australia. Originally brought over from what is now Pakistan in the 1800's to transport supplies and produce, they now live wild, the Australian conditions well suited to the camel. So well in fact, that Australia is now the only place in the world where camels are found wild, resulting in exports to the Middle East no less. Talk about sending coal to Newcastle!
After rough camping by the side of the road the first night, we treated ourselves the second night to the luxuries of the Warburton Roadhouse and a hot shower. As per usual, Em rustled up a gastronomic extravaganza from what little food we had, whilst I talked to two local education inspectors in town for the night. We thought we were doing well, taking several days to reach Warburton; they'd left Kalgoorlie that morning, some 1000kms away!
Later on the next day we'd meet Danny, a road grader operator from near Geraldton, to the North of Perth, who'd been working on the Great Central for some two years, commuting the 2000 or so kms back home each month in his ute (pick-up truck).It was a good insight into life in these remote areas, working people travelling vast distances in order to do their job.
When in Warburton we paid a visit to the Tjulyuru Aboriginal art gallery and spent an intersting hour or so with the informative gallery manager, who not only explained the meaning behind many of the pieces, but provided us with an insight as to life in these remote Aboriginal communities. Of interest to me was the sheet glass artwork, whereby sheets of glass are formed around predefined moulds by literally melting the glass to create a fantastic transparent picture. Quite unique.
Warakurna, next town down the track, was home to the Giles Weather Station, Australia's most remote weather station. We'd read about the station conducting daily tours and were therefore keen to have a look. We rolled up on a typical outback day with wonderful clear blue skies and were met by David, the resident station caretaker. Along with three special needs teachers in town from Kalgoorlie, David provided us with the history behind Giles, being originally established in the '50s to provide weather conditions for the Woomera Blue Streak rocket tests.
Today however, Giles plays an integral part of international weather forecasting, with a weather balloon being released each morning at 11:15pm GMT (8:45pm local time), the same time a balloon is released simultaneously around the globe. Having been involved with the manufacture of toy balloons for the last eight years, I was somewhat interested in these large weather balloons. However, the interest soon waned, reminding me far too much of having to work!
After watching the balloon release and disapear into the big blue sky, it was time to get going again. Not before checking out the big yellow grader on site, however. After all, boys and their toys...The grader was the one used by Len Beadell's Gunbarrel Construction Company, responsible for the construction of the majority of the tracks in the area and the first traversable road through the centre to Western Australia. Another spin-off from the Woomera Blue Streak rocket project.
After an enjoyable couple of nights at a top camp spot near Docker River, just across the state border in the Northern Territory, our last day on the Great Central Road was to lead us to Uluru and bitumen roads.
All the way across the road, people had warned us of the deteriorating road conditions on the Northern Territory side of the border, we were not to be disappointed! We were therefore grateful to hit the bitumen upon reaching Kata Tjuta (The Olgas), an impressive cluster of red rock, accentuated by the late afternoon sun.
It was then a quick 50km blast to Uluru, like Sydney Opera House, a definite Aussie icon. We pulled up along with several others in the 'sunset' carpark to take the obligatory photograph -
- before disappearing to Yulara, (which must be Aboriginal for Tourist Town), to set up camp.
PS Despite Em's apprehension, she admitted to having a fantastic time on numerous occasions along the Great Central Road. With different scenery each day to enjoy and of course the camels, she even said she's do it again!
(Hamish)
Yes, I did enjoy it, very much. The roads were fine, apart from the last 200km which were just corrugations extraordinaire and SAND. Even then it was Hame, not me, who moaned a bit! I loved the solitude of the desert, the vast stretches of nothingness, the sheer space. Both Hame and I love the country more than the city, and we are much happier people out in the middle of nowhere. It was a bit of a shock to get to Yulara which seemed to be a vast machine to get money out of tourists. It has meant that all accommodation is contained away from the rock, but was expensive.
We baulked at the sight of the tourist buses disgorging heaps of camera clicking clean smelling people. We definitely weren't clean although we did have the cameras. We pitched our tents in the Yulara campsite, and were horrified as we were soon hemmed in by other tents, then bemused as the family next to us suddenly burst into song. We'd ended up next to the Von Trapps! We soon made friends with them however and discovered they were fantastic people, a family band touring from town to town. Their folk songs were pure and haunting, and we loved living next to them and chatting for a few days.
In all our time in Australia we've seen about three police cars. So it was a bit of a surprise when we got stopped for speeding in the tourist precinct. Oops! Luckily the nice man was very understanding as it would have been a bit of a shock to pay the $150 fine and not be able to slip him RM50 as you could in Malaysia or bargain down the cost of a speeding ticket as is common practice over there! Not that we ever did that of course.
After all our solitude (we'd seen more camels than people for the past week) it was strange to get back to reality. We spent three days exploring Kata Tjuta and Uluru but of course could have spent longer. All the pictures of Uluru show it to be huge, red and magnificent. In real life it is huge, red and magnificent.
We'd decided not to climb the rock - it seems to be the spiritual equivalent of sitting on the altar to eat lunch in a cathedral, or uncovering your hair in a mosque. There are signs in the Cultural Centre and next to the rock itself written by the Anangu people, the tribe who have lived in the area, saying "We don't like it if you climb the rock" or words to that effect, yet loads of people still do.
We walked around the base of the rock and were amazed by all the shapes in it, the Anangu have stories behind each one. Western scientists apparently have not come up with a good explanation as to why Uluru is still standing in such a flat area, why it hasn't eroded away as well. The Anangu have their stories behind it and after being there it's not hard to believe them.
Kata Tjuta, or the Olgas as the settlers called them, were just as breathtaking. Made of entirely different material, they stand out majestically on the flat plains around them. The stories behind Kata Tjuta are so secret that only very old Anangu know them, and cannot share them. We had a great walk throught the Valley of the Winds, winding our way through the rocks.
The Cultural Centre has been built by the National Park and the Anangu, and it was truly excellent. I found it all very moving. Here are a people who have known and understood the land in so many ways and for so long, that they could have lived as they were forever, without damaging the land, in harmony with seasons and wildlife. For 60,000 years (but probably longer) Aboriginal people have lived here under strict laws which safeguarded the land they depended on, and then in a mere 200 years it has all been taken away. And the people who are left are just so lost. And the 'solutions' to the 'problem' are not working, and the government will not admit responsibility by saying "Sorry". It would help a lot.
And our modern way of life, the one that has overtaken and destroyed so many indigenous and harmonious ways of life is so destructive and out of balance that we are in danger of ruining things so much that there is no way back. Perhaps we are already there.
We'd intended going to Alice Springs but time had crept up, and we went to bed on our last night at Uluru thinking we'd have to start heading South, with only a few weeks left...
(Emma)
Almost the Last Bit...
(Due to lack of inexpensive internet places along the way we've had to put the last three entries on in one go, this one should be read last)
It was hard to leave the Uluru/Kata Tjuta National Park but not hard to leave all the tourist madness. As well as being expensive it was just downright busy. At the sunset viewing spot for Uluru the people camping next to us said they'd counted 140 cars and 20 tour buses, and at the same time we saw three helicopters and 2 small planes. Madness! Fortunately we managed to find our own spot away from it all when we went to see Uluru at sunrise.
For all those who believe Uluru should still be called Ayers Rock it's worth noting it has been 'Uluru' for thousands of years by the people who have lived there for thousands of years, the Anangu; and 'Ayers Rock' only since 1930 when white men "discovered" it.
As usual our plans were loose, and right up until the morning we left we weren't sure whether to go right or left at the end of the road, North, or South... We chose South in the end as we're really beginning to run out of time and need to be in Sydney and Melbourne fairly soon. It was shame as I wanted to visit Alice Springs, but as we've been saying all along, we've got to save places to come back to!
On the way we passed Mount Conner, a huge and beautiful hill off in the distance. We felt somehow sorry for it, Uluru gets all the attention and we'd heard nothing about it. We stopped to look at it, at least.
The North South Highway was far quieter than we expected and we buzzed down it listening to music and pondering over the clash of clutures between indigenous people and western society. It's an incredibly complex situation but it's worth noting that the majority of people who'd told us horror stories about how we'd get robbed, murdered or begged from were those who'd never been to any of the communities or outback towns. All the positive viewpoints we'd heard were from those who'd been working in cmmunities for years, or who were educated or well travelled. Or had half a brain. We personally had no hassle, no negative events, we just met PEOPLE.
One World, One Race - The Human Race. It's really simple.
We arrived in Coober Pedy, main town on the opal fields, with the intention to stay one night, but of course found it interesting and ended up staying three. We found a leaflet for 'underground camping' and thought we'd check it out, so we are now camped in a cave.
In Coober Pedy most of the inhabitants live underground. This has many advantages; the temperature remains constant through cool winters and hot summers, the houses are very energy efficient, you can dig another room if you need to extend your home, and you might find opals as you dig.
It's an eccentric place with a frontier town atmosphere, full of eccentric people, none more so than Crocodile Harry.
Crocodile Harry is a Latvian who's lived here for years, many of them spent in a loin cloth chasing crocodiles and women. He lives in a 'dug out', the PC word for 'cave' in Coober Pedy and for years has opened his house as a living museum. He has a large collection of women's underwear stuck to the walls, I heard a rumour there are the signatures of 1000 virgins on his bedroom ceiling (of course I added mine) as well as t-shirts, thousands of signatures and bits of artwork done by visitors, and many of his own sculptures.
There isn't a bare bit of wall anywhere. Harry himself usually greets every visitor, but apparently he is quite ill and was in bed when we got there. I got a wave from the bed though but retreated fairly quickly before I was 'caught' - judging by the amount of underwear Harry still receives, even at 83 years of age he is still more than capable!
We visited the Old Timers' Opal Mine which I really liked and spent a couple of hours wandering around. I had a go at Noodling, which is another word for Fossicking, which is another word for getting really dirty and not finding much. But I got myself a few bits of 'colour' - precious opal. They are stunning, they catch the light and refract it into hundreds of colours.
We bid farewell to some new friends including Duncan, yet another Scottish descendant, before heading out East to join the Oodnadatta Track at William Creek. Although we would have liked to ride the whole track, time wasn't on our side and we had to start moving South.
On the way we crossed the Dog Fence, a 9600km fence which runs East to West across the country and prevents dingoes and feral dogs from the North (cattle country) from hunting in the South (sheep country) - now I know why Hame suddenly felt at home.
We also passed Anna Creek, the largest cattle station in the world - it's the size of Wales.
William Creek was one of the tiny outback towns we have come to love. Little more than a pub and a petrol station, it is nevertheless the centre of a geographically large community.
We found the Oodnadatta Track was a good road, despite being warned earlier in the trip it had "corrugations so big you can lie in 'em". Even though it runs through a very arid and barren land there was loads to see.
We rode parallel to the old Ghan railway which used to run from Port Augusta to Alice Springs and for 102 years, until 1980, was a vital link to the outside world for the settlers in the pastoral stations. Along the track were ruins of old railway buildings, remains of bridges and bits of the track itself.
We spent the night in the oasis of Coward Springs which was a beautiful campsite with its own spa, built around the natural springs. Unfortunately it was also an oasis for thousands of mosquitos, I got more bites than I've had for years.
We passed Lake Eyre; huge and white, a salty lake which hardly ever has enough water to fill it. Off in the distance on every horizon we saw dust devils, five or six at any one time, dancing their frantic journeys acorss the plains.
Hame just couldn't keep off the dirt roads and I'd grown to love them; so much more interesting with far fewer cars, so after a brief couple of hours on bitumen at the end of the track, we paused in Leigh Creek for the night before hitting the dirt again in the morning on our way to some hills, the Gammon and Flinders Ranges.
The campsite at Leigh Creek had the best camp kitchen we'd experienced (it had sofas and a telly - we don't need much to be content these days!) so as a change from spending the evening reading by torchlight in the tent with a wee dram or sitting around the fire with a wee dram, we parked ourselves on a sofa each for the night and switched on the ancient TV, amazed to find an entire evening of British television.
Back on the dirt in the morning we rode to Iga Warta, a small resort owned and run by the Adnyamathanha people, the indigenous folk from the area. We camped for a couple of days, enjoying the relaxed atmosphere and chatting to the guys that ran the place. Amazingly, even here we found some Scottish ancestory as the aboriginal owners are Coulthards... Clarence Coulthard told us he even had two Hamishes in his family, a nephew and a grandson.
On our first night we had just dropped off to sleep when we woke to a 'clip clop, THUD'. Hamish said "Was that you?", as if I always go clip clop in the night. He got out to investigate and discovered one of the semi-wild horses who lived at Iga Warta trying to eat the bike, and knocking a bag off the back.
It reminded me of a time a few weeks ago when we were rough camped next to the Gibb River. As we sat eating our dinner in the dark next to the fire we heard BIG rustling and crashing in the bushes behind us. I was convinced it was feral pigs - which I'd heard could be dangerous - so we slowly turned our torches on the bushes to have a look.
The torches were only bright enough to pick out pairs of glowing eyes and the crashing in the undergrowth continued. Fearing we were about to be charged Hame wheeled the bike around to use the headlight to see our would-be attacker. What we saw was terrifying indeed, a large head, huge horns, big body. "It's a big pig!" I said. "It's a big pig... with... with horns!" We stared further, in fear. Then I realised. "It's a cow". Oh.
Anyway back to the present. We woke on our second morning to strong winds and the ever present flies trying to crawl up our noses - the flies had been around for the last few days. It was a mission to pack the tent up in the wind, but not as much of a mission as riding in the wind was.
At first it was behind us, making us feel like we were in a vacuum, being sucked along. But as we changed direction we were battling with the wind, poor Hame having to lean all 400 and whatever kilograms of us into the wind. The wind picked up the dust, and soon we were riding through a huge dust storm, with even the sun being blocked out.
After a few hours we were through it and riding in magnificent scenery, the hills looking all the more stunning to us after all the flatness of the previous weeks in deserts.
We'd been moving mostly every day or so for the past few weeks so we decided to find a place to stay for a few days and explore the area. We chose Rawnsley Park, which had excellent bush camping with excellent views to match, a shop which sold beer and a lot of good walks around the area.
(Emma)
PS - The beer is taking its toll on Hamish's physique!
Enter your email address to receive updates to Hamish Oag and Emma Myatt's trip story!
Recent Entries
Archives:
Archives:
Monthly
Archives:
Category
NEW! HU 2015 Motorcycle Adventure Travel Calendar is now available! Get your copy now for some terrific travel inspiration!
HUGE, 11.5 x 16.5 inches, beautifully printed in Germany on top quality stock! Photos are the winning images from over 600 entries in the 9th Annual HU Photo Contest!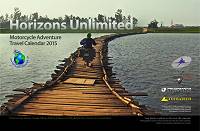 "The calendar is magnificent!"
"I just wanted to say how much I'm loving the new, larger calendar!"
We share the profit with the winning photographers. YOU could be in the HU Calendar too - enter here!
Next HU Events
NEW!

USA Virginia: Apr 9-12, 2015
Take 40% off Road Heroes Part 1 until October 31 only!
Road Heroes features tales of adventure, joy and sheer terror by veteran travellers Peter and Kay Forwood (193 countries two-up on a Harley); Dr. Greg Frazier (5 times RTW); Tiffany Coates (RTW solo female); and Rene Cormier (University of Gravel Roads).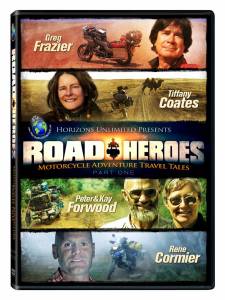 "Inspiring and hilarious!"
"I loved watching this DVD!"
"Lots of amazing stories and even more amazing photographs, it's great fun and very inspirational."
"Wonderful entertainment!"
Check it out at the HU Store! Remember to use Coupon Code 'HEROES' on your order when you checkout.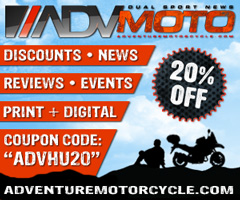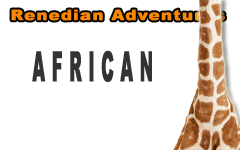 What others say about HU...
"I just wanted to say thanks for doing this and sharing so much with the rest of us." Dave, USA
"Your website is a mecca of valuable information and the DVD series is informative, entertaining, and inspiring! The new look of the website is very impressive, updated and catchy. Thank you so very much!" Jennifer, Canada
"...Great site. Keep up the good work." Murray and Carmen, Australia
"We just finished a 7 month 22,000+ mile scouting trip from Alaska to the bottom of Chile and I can't tell you how many times we referred to your site for help. From how to adjust your valves, to where to stay in the back country of Peru. Horizons Unlimited was a key player in our success. Motorcycle enthusiasts from around the world are in debt to your services." Alaska Riders

10th Annual HU Travellers Photo Contest is on now! This is an opportunity for YOU to show us your best photos and win prizes!
NEW! HU 2014 Adventure Travel T-shirts! are now available in several colors! Be the first kid on your block to have them! New lower prices on synths!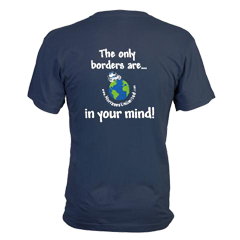 Check out the new Gildan Performance cotton-feel t-shirt - 100% poly, feels like soft cotton!

What turns you on to motorcycle travel?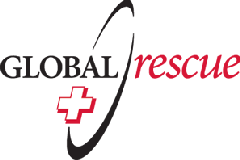 Global Rescue is the premier provider of medical, security and evacuation services worldwide and is the only company that will come to you, wherever you are, and evacuate you to your home hospital of choice. Additionally, Global Rescue places no restrictions on country of citizenship - all nationalities are eligible to sign-up!
New to Horizons Unlimited?
New to motorcycle travelling? New to the HU site? Confused? Too many options? It's really very simple - just 4 easy steps!
Horizons Unlimited was founded in 1997 by Grant and Susan Johnson following their journey around the world on a BMW R80 G/S motorcycle.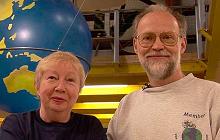 Read more about Grant & Susan's story
Membership - help keep us going!
Horizons Unlimited is not a big multi-national company, just two people who love motorcycle travel and have grown what started as a hobby in 1997 into a full time job (usually 8-10 hours per day and 7 days a week) and a labour of love. To keep it going and a roof over our heads, we run events (22 this year!); we sell inspirational and informative DVDs; we have a few selected advertisers; and we make a small amount from memberships.
You don't have to be a Member to come to an HU meeting, access the website, the HUBB or to receive the e-zine. What you get for your membership contribution is our sincere gratitude, good karma and knowing that you're helping to keep the motorcycle travel dream alive. Contributing Members and Gold Members do get additional features on the HUBB. Here's a list of all the Member benefits on the HUBB.
Books & DVDs

All the best travel books and videos listed and often reviewed on HU's famous Books page. Check it out and get great travel books from all over the world.

MC Air Shipping, (uncrated) USA / Canada / Europe and other areas. Be sure to say "Horizons Unlimited" to get your $25 discount on Shipping!
Insurance - see: For foreigners traveling in US and Canada and for Americans and Canadians traveling in other countries, then mail it to MC Express and get your HU $15 discount!
Story and photos copyright © All Rights Reserved.
Contact the author:
Editors note: We accept no responsibility for any of the above information in any way whatsoever. You are reminded to do your own research. Any commentary is strictly a personal opinion of the person supplying the information and is not to be construed as an endorsement of any kind.
Hosted by: Horizons Unlimited, the motorcycle travellers' website!
You can have your story here too - click for details!