Honduras
April 13, 2006 GMT
Bienvenidos a Honduras

A battered welcome sign greeted us
Arriving at the border station of Aguas Calliente we were greeted by many trabajadores and money changers. We headed to immigration where we had our passports examined and stamped, paid the $US3.00 each, and presto we had a 90 day visitors pass.
Then on to the Aduana (customs) window where they required 3 copies of Grants passport, vehicle title and registration. A surley looking lady took all the papers and passport and presently shut the office and proceded to serve lunch to all the workers in the office from a large cooking pot. Obviously it was Lunch Time!
An hour passed and it appeared the office was re-opening. Four people came out with an antiquated typewriter and began quibbling over how to fill in the vehicle permit. They asked us numerous questions regarding the bike including vin chassis number, colour, number of cylinders, make and model. All of this information is clearly stated on the documents we handed them earlier. We felt like they were just toying with us.

Macaw
After about 45 minutes they sent us to another window across the aisle where a young lady sat in front of a computer, there we had to pay approximately $7US.00 for the actual forms. We received our receipts and our papers and were then directed to pay the permit fees of $US30.00 at the bank. Again all paid and receipted. We returned to the surley lady at the first window where we had to make another set of copies of everything, she then sorted them neatly, stapeled them and requested an additonal fee of $US60.00.
We asked what it was for and she told us it was for the permit. We argued that we had paid customs and the permit at the bank already to which she again replied that it was for the permit. Asking for a receipt she stated that it was all clear in the documents. We knew this was not true.
Our vehicle permit and Grants passport was held hostage until the illegal fee was paid. We barely had the money and the bank only takes deposits (no withdrawals, changing of travellers cheques or cash machine). So what could we do, we had already spent over 4 hours at the border, we were hungry, tired and eager to get out of there. Both feeling furious at the situation and trying really hard to maintain a pleasant demenour we handed the money over. They took what we had and for the first time the surley lady smiled and handed us our documents.
Since then we have heard of other people having similar difficulties at this particular border crosssing. Feeling some what violated by the whole experience we continued. Stopping at a small restaurant 30kms on where we found the proprietors to be very helpful and friendly. This friendly nature has been endemic in all of Honduras so far, and we were not going to let the Customs experience taint our stay.
Our cheap hotel in Santa Rosa Copàn was full of surprises. One was cable tv showing funny Aussie movies, our bed had springs protruding through the cover so we had to sleep on a thick covering of towels. Also running water - not just in the shower but on the floor, under the bed, through the walls and out the door! Interestingly enough with all these soothing sounds of trickling water we slept better than we had for weeks. However it was boots on and tippy toes in the morning.

Miss Piggy in Santa Rosa de Copán
From Santa Rosa Copán we continued on through rural honduras greeted by outstanding mountain scenery and thick forrested areas. Whilst Julie was able to appreciate much of this Grant seemed somewhat preoccupied with keeping Miss Piggy upright, for the main highway before the turn off to Ruinas de Copán was littered with road repairs.
Large square sections of pavement many the size of a car and as deep as 15cms were cut straight out the of tarmac. It was like riding on a patchwork quilt with only some of the squares at all rideable. Grant wondered why they maintained the road in this manner. Was it some peverse way of minimising speeding traffic? Or had they some how mistaken the good sections for the bad? We did not know, perhaps we should have been thankful that there was an attempt to repair the roads.
Ruinas Copán is a pretty village, multi-coloured houses with terracotta roofs line the cobble stoned streets. We parked at Parqueo Central and Julie headed off to check out the accommodation options.

Jules - Copán
In the mean time Grant was kept amused by 'The One Eyed Man' who reeked of the local fire water. He would constantly asked very personal questions and continuously touch every thing on the bike and Grant's amusement soon faded when he tried to don Grant's helment. Apon Jules return 'The One Eyed Man' dragged her off to find a cheap hotel which we did not find suitable. Of course he wanted a propina (tip) for all the work he had done for us (guess it cut into his drinking time). We gave him a token ammount whilst he tried to touch Julies purse and look inside. 'No Tocar' (Dont Touch) Jules pronounced firmly and sent him on his way.
We met many friends whilst in Ruinas Copán. Fred and Anne and thier wee baby Isadore, a French familily living in Tegucegalpa. Helen a mad scientist from Sydney, living in New York for many years. Lana (again) who we had met in Xela, Guatemala.
Both Helen and Lana had dealings with 'The One Eyed Man'. Helen even pushed him in the chest and told him very firmly 'NO TOCAR'. Over drinks and dinner Helens story became more and more involved until she became the psuedo-heroine of the Parque 'Señorita NoTocarita' (Miss No Touch) and he evolved into 'Señor Solo Ojo' (Mr One Eye).

Jules, Grant, Helen and Lana
The ruins at Copán are marvellous and worth the $US10.00 per person entrance fee. The intricately carved stella are supurb and full of fine detail.

Stella - Copán
Definitely the best Maya carving we have seen. We had, yet again, a wonderful day wandering around the ancient site.

Ball Court - Copán

Scull carvings - Copán
On our walk back from the ruins Grant with his eagle eye spied a piece of light mesh on the side of the road. He instantly knew that (if it was the right size) it would be perfect as a radiator guard for the Suzuki. Later that day with a bit of fiddling and banging with his tools hey presto the old guard had been supersceded by the new and improved version!

Grand modifying radiator guard
The cobble stone streets of Ruinas Copán were always interesting on Miss Piggy and we expected many Honduran colonial towns to be similar. Though having said that, nothing could have prepared us for Gracias Lempira. The few cobble stone roads in the town seemed only navigable by 4 wheel drive Monster Trucks and the dirt roads (which comprised 90%of the town) were something akin to riding on a river bed. We were thankful (Gracias a Dios) that it was the dry season.

Our hotel street - Gracias
Gracias, once the capital of all Central America is now a sleepy town and a great place to hide from the festivities of Semana Santa (Easter Holy Week) with three impressive cathederals and a fully restored spanish fort perched on a hill over looking the town it was easy to spend a week going for rides in the country side and exploring the town.

Spanish Fort - Gracias

Taxis zooming
There are no cash machines or banks that will accept anything other than Honduran currency and as everything would be closed for the 4 days of Easter it was necessary to take the ride to Santa Rosa de Copán for ready cash. The return ride is very picturesque and an excellent ride on a bike, however we were stopped no less than 4 times at Policia check points to have our documents and identification inspected, a common occurance in Honduras, however, frequency stepped up for the long weekend.
To be fair, on one occasion a coursery glance was given and a discussion on our trip ensued and we bid fare well to the Captain and his crew with a hand shake. At another check point Grant was asked sincerely if he was at all tired or stressed and needed a rest!

Gracias 'Ass ´Street
April 17, 2006 GMT
Semana Santa

Semana Santa Procession - Gracias
The Good Friday procession in Gracias Lempira was a very solomn affair. A life sized Jesus bearing a cross was carried through the village streets on the shoulders of the local parishioners to the singing of the following congregation. Stations of the cross were set up through out the town where the procession would stop for a sermon and prayer. There was a strong political message asking the Lord for assistance in matters of Human Rights and Government policy.

Church in Gracias
From Gracias we wound our way through the hills to San Pedro Sula, the fastest growing city in Honduras before arriving on the North Coast and La Ceiba, the launch pad for the Bay Islands and diving.

Palm Oil Plantation
We rode into the hot and dusty town and whilst looking for accommodation ended up in the wharf area were we parked under a tree as we were becomming overheated in our heavy motorcycle jackets. Almost instantly we were accosted by drunks and drug addicts looking for hand outs in the guise of helping us find a hotel.
Grant headed across the street and was immediately tagged by a fellow with the story of how he lived on Roatan and had come over to visit the hospital (his scabby arm was waivered in front of Grant as evidence) and now had no money to return home. He insisted he was very sick yet reeked of stale alcohol. In the mean time Jules was beeing heckeled and cat called from men lying about in the near by park as a man approached her and explained we were in the most dangerous part of town and should get out as soon as possible. We suspected it was fine during the day, with hung over drunks to avoid, yet at night it could be quite intimidating or even dangerous.

Colours of Honduras
We found accommodation in the Zona Viva (much better part of town) on the beach at the Hotel Rotterdam where the proprietor let us park Miss Piggy at our door and cook in the garden. The mosquitos were ferocious in our room and we were thank full for aeroguard and to be taking our anti-malerials, even though Grant was having a bad reaction to them with bad headaches, aching muscles and nausea. Ironically similar to a mild case of maleria!!
La Cieba did not appeal to us at all so we moved on to Trujillo nestled on a beautiful bay, a stones throw away from 'La Mosquitia' - The Mosquito Coast.

Road to Trujillo
For two days we stayed in the small town prefering a slightly more up-market hotel with air conditioning before heading out of town to Casa Kiwi on the road to Puerto Castillo.

Spanish Fort - Trujillo
Casa Kiwi, (www.casakiwi.com) is owned by Chaz from New Zealand and is perched at the waters edge on an idillyic tranquill beach.

Casa Kiwi
We stayed for almost two weeks securing some work around the hotel in exchange for room and board. In between fighting fires (a common occurance during the dry season) and no-see-ums (midges) we constructed a new large clothes line, undertook odd jobs and helped out at the bar and in the kitchen. It was a good leveller after 11 months of travelling.
On most days we would work in the hot sun and finish the working day by watching the most spectucular sunsets we have ever seen from the warm waters of Caribean Sea. We would have stayed longer had our 'itchy feet' not beckoned us to move on.

Our 10th Anniversary together
Returning to San Pedro Sula we secured our cheap accommodation and slept peacefully. The following morning, 1st May - Labour Day - as we sat in the hotel court yard we could hear shouts and horns sounding from the main street, 2 blocks away. Guessing it was to do with Labour Day, and having not seen a parade in a while, we wandered up the street.
Watching and taking photos we mingle with the ensuing crowd whilst a small contingent of local police stand guard. For ten minutes we enjoy the seemingly passive and colourful parade of workers marching by. Julie notices some way up from where we stood the armed millitary personnel in full riot gear. Grant thinks this would be a good photo however we turned back to the crowd and the parade which is more or less turning into a rowdy protest.

May Day Parade
We look to where the parade was heading, Central Park. A large crowd is forming with a great deal of shouting and noise eminating whilst smoke from exploding fire crackers envelopes the banner waving crowd.
Right then two crackers explode on the ground next to us temporarily deafening us some what. Mean while a large athletic man wearing a baseball cap and carrying a basket of chips walks past and pronounces to us 'Fuera Gringos' ('Out Gringos'). 'Ok' we think, 'one mans opinion voiced, no big deal'. It was then that the calls from the demonstraters became clearer 'Fuera Gringos'. We look at each other and then up and down the crowded street. There is not another Gringo in sight: Euro, US or otherwise. Possibly this was not the ideal location for us at present. If the crowd became passionate enough we may be caught up in something more unsavoury.
There we stood lone blond haired, fair skinned Gringos feeling vulnerable in the middle of 'Hondo-Mania' down town San Pedro Sula. Briskly we left the crowd and returned to our hotel where we spent the rest of the morning listening to the emotional outpourings from the protests.
In some ways we felt sympathetic to their causes, bearing in mind that many large international corporations in all of Central America manipulate the rights and conditions of workers to suit their economic status, on the other hand, with out large foreign investment there would be even fewer jobs to be had.

Market Stalls - San Pedro Sula
May 15, 2006 GMT
Last weeks in Honduras

Reflections of Miss Piggy
And so we left San Pedro Sula to head further south. Our guide book had stated that San Pedro Sula is not a city that you would be inclined to stay in for long, yet after the isolation of the far north coast we found it pleasant and it seemed quite safe, as it has the dubious reputation as the third most dangerous city in all of Latin America.
We followed the road south towards Tegucigalpa, the Capital of Honduras. Grant began to feel fatigued and a little unwell, not helped by the condition of the road which, with kilometre after kilometre of heavy road works, was slow and un-inspiringly straight.
Passing by Lago Yojoa, with the picturesque lake in view, we feasted on the famous black bass, great value at a mere $3.50 for a whole fish and a great big plate of fried bananas.
The small town of Sigutepeque, some what half way from the coast and the capital, seemed a perfect stopping place. We secured excellent accommodation at Hotel International Gomez for $US8.00 and stayed for almost a week while Grant recovered from a bout of the "grippa" (flu).

Sacred Grotto - La Esperanza
Most days we relaxed, however, on two occasions we took a ride to the town of La Esperanza, approximately 150km round trip. The excellent motorcycle road wound its way up into the mountains, down across a hot low lying valley and then rising up into the mountains to the cool culturally rich town. La Esperanza reminded us of the Mexican town of Creel, on the edge of the Copper Canyon, with the strong scent of pine forrest, clean fresh air and numerous caves in the surrounding mountains.
We packed up Miss Piggy to ride the 40kms to Comayagua - hardly worth the effort really. The town, busy and noisy, has some of the most beautiful colonial buildings in all of Honduras, it is also home to the oldest working clock in the Americas, situated in the bell tower of the Cathederal in Parque Central.

View from the Bell Tower
Built by the Moors, over 800 years ago whilst they occupied southern Europe, it eventually found its way to Central America in 1582 as a gift from Spain. We were informed that it is normally kept hidden from the public eye, however we employed a guide to negotiate a visit. We approached the Cathederal with anticipation of a possible viewing of the clock. Our guide walked eagerly off to find the Care Taker of the bell tower. We waited for some ten minutes, at which he returned followed by a gnome like individual, who, with some what of a gruesome expression reminded Grant of Yoda from the Star Wars films. Happily, he appeared in a good mood on this day and as we loosely translated his Spanish he would permit us a visit of the clock, for a donation of course.

800 Year old Moorish Clock - Comayagua
He opened the gate to the bell tower revealing a set of narrow steep steps that spiraled upwards. We left Yoda and our guide ascending four flights of stairs and entered a large, open room. A rectangular box like structure (the clock) sat centered in the room, while a wirey elderly man approached us with a welcoming smile and explained that he was the carer of the clock or as he was fondly known "The Maestro".
For over an hour he explained the details of the mechanics, the clock has a weight (a large stone) hung by a long rope that by the power of gravity winds the crank which in turn powers the clocks mechanisms. After three days the stone is cranked back up to the clock and the process begins again.

Squatters Homes - Near Comayagua
The Honduran Government is working hard to market Comayagua as a tourist Mecca for the country, similar to Antigua in Guatemala, however though the town is nice and certainly the Cathederal Clock remarkable our biggest surprise and dissapointment was the number of slum or squatter abodes along the road to the entrance of the town.
We continued on to Tegucigalpa to stay with Fred, Ann and Isidore, a French family whom we had met in Ruinas Copán.

Fred, Isidore & Ann, Miss Piggy, Grant & Jules - Tegucigalpa
They graciously opened thier home to us for the week. We spent our time playing Aunty and Uncle to 6 month old Isidore, taking long walks and being invited on a ride in the country by Eric, a fellow compatriate, wandering the City Centre, visiting the Basillica Suyapa and also attending the combined birthday party for Fred and Serge, yet another frog. It was great fun! Though being immersed in French was confusing to us still struggling with Spanish!

Ride in the Mountains with Eric - Tegucigalpa

Cathederal - Tegucigalpa

Stained Glass - Basillica Suyapa
An easy ride through volcanic lava flows to Danli and the border with Nicaragua was the completion of our Honduran stay of almost two months.
Enter your email address to receive updates to Grant Guerin and Julie Rose's trip story!
Recent Entries
Archives:
Archives:
Monthly
Archives:
Category
NEW! HU 2015 Motorcycle Adventure Travel Calendar is now available! Get your copy now for some terrific travel inspiration!
HUGE, 11.5 x 16.5 inches, beautifully printed in Germany on top quality stock! Photos are the winning images from over 600 entries in the 9th Annual HU Photo Contest!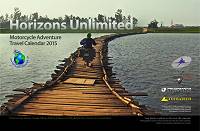 "The calendar is magnificent!"
"I just wanted to say how much I'm loving the new, larger calendar!"
We share the profit with the winning photographers. YOU could be in the HU Calendar too - enter here!
Next HU Events
NEW!

USA Virginia: Apr 9-12, 2015
Canada West: Aug 20-23, 2015
USA California: Sep 24-27, 2015
Aus Queensland: Sep 24-27, 2015
USA North Carolina: Oct 8-11, 2015
Aus Perth: Oct 9-11, 2015
Take 40% off Road Heroes Part 1 until October 31 only!
Road Heroes features tales of adventure, joy and sheer terror by veteran travellers Peter and Kay Forwood (193 countries two-up on a Harley); Dr. Greg Frazier (5 times RTW); Tiffany Coates (RTW solo female); and Rene Cormier (University of Gravel Roads).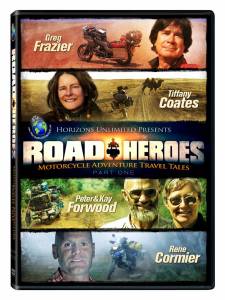 "Inspiring and hilarious!"
"I loved watching this DVD!"
"Lots of amazing stories and even more amazing photographs, it's great fun and very inspirational."
"Wonderful entertainment!"
Check it out at the HU Store! Remember to use Coupon Code 'HEROES' on your order when you checkout.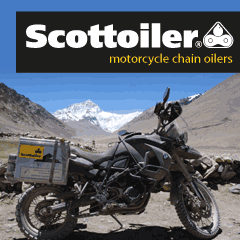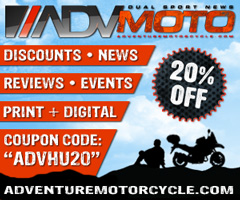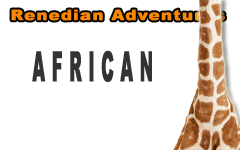 What others say about HU...
"I just wanted to say thanks for doing this and sharing so much with the rest of us." Dave, USA
"Your website is a mecca of valuable information and the DVD series is informative, entertaining, and inspiring! The new look of the website is very impressive, updated and catchy. Thank you so very much!" Jennifer, Canada
"...Great site. Keep up the good work." Murray and Carmen, Australia
"We just finished a 7 month 22,000+ mile scouting trip from Alaska to the bottom of Chile and I can't tell you how many times we referred to your site for help. From how to adjust your valves, to where to stay in the back country of Peru. Horizons Unlimited was a key player in our success. Motorcycle enthusiasts from around the world are in debt to your services." Alaska Riders

10th Annual HU Travellers Photo Contest is on now! This is an opportunity for YOU to show us your best photos and win prizes!
NEW! HU 2014 Adventure Travel T-shirts! are now available in several colors! Be the first kid on your block to have them! New lower prices on synths!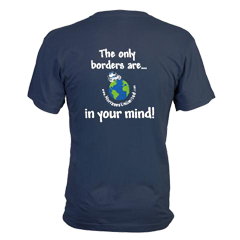 Check out the new Gildan Performance cotton-feel t-shirt - 100% poly, feels like soft cotton!

What turns you on to motorcycle travel?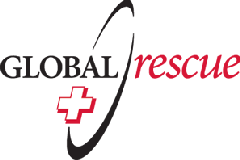 Global Rescue is the premier provider of medical, security and evacuation services worldwide and is the only company that will come to you, wherever you are, and evacuate you to your home hospital of choice. Additionally, Global Rescue places no restrictions on country of citizenship - all nationalities are eligible to sign-up!
New to Horizons Unlimited?
New to motorcycle travelling? New to the HU site? Confused? Too many options? It's really very simple - just 4 easy steps!
Horizons Unlimited was founded in 1997 by Grant and Susan Johnson following their journey around the world on a BMW R80 G/S motorcycle.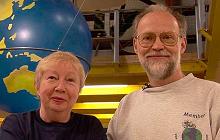 Read more about Grant & Susan's story
Membership - help keep us going!
Horizons Unlimited is not a big multi-national company, just two people who love motorcycle travel and have grown what started as a hobby in 1997 into a full time job (usually 8-10 hours per day and 7 days a week) and a labour of love. To keep it going and a roof over our heads, we run events (22 this year!); we sell inspirational and informative DVDs; we have a few selected advertisers; and we make a small amount from memberships.
You don't have to be a Member to come to an HU meeting, access the website, the HUBB or to receive the e-zine. What you get for your membership contribution is our sincere gratitude, good karma and knowing that you're helping to keep the motorcycle travel dream alive. Contributing Members and Gold Members do get additional features on the HUBB. Here's a list of all the Member benefits on the HUBB.
Books & DVDs

All the best travel books and videos listed and often reviewed on HU's famous Books page. Check it out and get great travel books from all over the world.

MC Air Shipping, (uncrated) USA / Canada / Europe and other areas. Be sure to say "Horizons Unlimited" to get your $25 discount on Shipping!
Insurance - see: For foreigners traveling in US and Canada and for Americans and Canadians traveling in other countries, then mail it to MC Express and get your HU $15 discount!
Story and photos copyright © All Rights Reserved.
Contact the author:
Editors note: We accept no responsibility for any of the above information in any way whatsoever. You are reminded to do your own research. Any commentary is strictly a personal opinion of the person supplying the information and is not to be construed as an endorsement of any kind.
Hosted by: Horizons Unlimited, the motorcycle travellers' website!
You can have your story here too - click for details!