July 08, 2008 GMT
The Road to Rack and Ruin

'So, where are the four lanes?'
According to our map the road, from Tarveta (border town with Tanzania) to Mombasa, was nothing short of a four lane super highway. Our map has been proven wrong in the past!
After completing all border formalities we were not greeted with a 'Welcome to Kenya' sign, just 109 kilometres of bumpy dirt road.

Repairing a sheared pannier bolt
Technically it was a great day to be traveling. Perfect weather, one sheared pannier bolt and no Kenyan cash. After arriving in Voi and cajoling the receptionist we parked Piggy in the foyer of the Voi Town Lodge where she slept soundly and safely underneath African scenery murals and bible quotations.

Piggy in Reception
Stifling hot, crowded, dusty, chaotic is really all we can comment on Mombasa, a fleeting visit. As if walking through molasses we found Fort Jesus a 15th Century Portuguese fort complete with port callas and cannons. It houses a museum as well as public spaces for locals and visitors alike to enjoy.

Fort Jesus - Mombasa

Loose Cannon!

Fort Jesus - Mombasa

Soccer Stars in the Making
Escaping the congested roads of Africas largest and busiest port we hit the main highway.

Mosque at Mackinnon Road
We had been warned that there was quite a lot of road works. Smooth tarmac turned to slippery mud. Wide open spaces turned into a muck of trucks in various stages of breakdown, slipping backwards and generally driving disorderly. It was Raffety's Rules, no one appeared to be directing traffic and frustrated drivers were doing there best to get through the mess, as were we.

'Go Right!'

'Go Left!'

'OH HELP!' - Piggy in the Middle
Our daily walk to the supermarket, in Nairobi, takes about twenty minutes each way. Thankfully the weather is sufficiently cool enough this time of the year for it not to be a burden. We leave Jungle Junctions compound and are bombarded by the high BO Index as we walk towards Kingara Road. The sausage seller, corn vendor and firewood stand emit their smells mixed with the diesel of the busses and matatus (Kenyan mini busses).

Crazy Pavement - Road into Nairobi
Kingara Road follows the line of two hills. Down the rocky track worn by the feet of thousands of people to the small valley between. An evil smelling creek runs under the road. Its stench permeates your nasal passages evoking images of human waste. Not to be looked at too closely.

Checking things over at Jungle Junction
The upward track is no better. Dodging broken clay storm water pipes, choking on the fumes of uncared for vehicles, terrified of the speeding cars and trucks attempting to gain as much velocity as possible to make their way up the other side.
Battling the crowds of fellow pedestrians you ponder the wisdom of some of the women in their high heeled shoes on what is little more than a hiking trail as you struggle in your sturdy Mexican work boots.
Finally you reach the fashionable and elegant shopping mall filled with shops and cafes only to turn around and do it all again in reverse.

'Give Me Money' - Africa's Catch Cry
Escaping the cold, damp weather and smog of Nairobi we head to Lake Magadi, the worlds largest soda lake.

Road to the Ngong Hills
The picturesque ride over the Ngong Hills down the escarpment and across the floor of the Rift Valley to Magadi, a government mining town.

Ant Hill Sentinal - Lake Magadi

Flamingos in the alkaline waters of Lake Magadi
The company owns all the buildings and accommodation is nigh on impossible unless you have made preparations for bush camping or have an invitation from management to stay at the 'Members Only Club'.

Soda Plant - Lake Magadi

Buildings - Lake Magadi
Not being prepared for either option we changed our plans,backtracking to Lake Naivasha.

1 Steep Hill, check!; 1 Broken Down Truck, check!; 1 Heard of Cows, check!
Camp Carnelleys, 17 kilometres from Naivasha town, is situated on the lake was a peaceful respite from the busy city.

Pelicans - Lake Naivasha
Visiting Hells Gate National Park provided a wonderful day out. Hiring push bikes we rode a 20 kilometre circuit to the gorge and back exciting zebras who seemed frightened by our squeaky wheels.

Fischers Tower - Hells Gate National Park

Grant terrorising Zebra

'I think I can.... I think I can....'

'The rock wall was thiiiiis biiiiiig'
Camp Carnelleys is a fabulous place to stay on the lake, brilliant hot water showers, shady trees and grass for camping, excellent meals at the bar and hippos calling out at night.

View of the Rift Valley from 8,000 feet - if you can see it through the haze!
As our passports were full from our last three years of travel it was necessary for us to organise new ones from the Australian High Commission. The staff were friendly and helpful. Two weeks later our shiny new documents arrived as did Mike and Bonny, our good friends, whom we hoped to travel north with.

A supberb Subperb Starling
Over some great meals we planned our route and picked out sights to see. They wished to Visit the Masai Mara and we felt a few more days at Naivasha was in order.

Masai Boy
Arriving back at the lake and relaxing into the afternoon Grant noticed a leak from Piggy's rear shock absorber.

Pelicans - Lake Naivasha
Shit a brick, re-conditioned shock had blown after only 17,000 kilometres (the original shocker lasted 120,000). The following morning we made a bee line back to Nairobi... not our favourite place.

Harsh Country - Rift Valley
The thing is, in life, there is always some one worse off than oneself. Quite a bit worse off.
Somberly we rode off the dirt track to bounce and weave over the broken tar that heads towards Nairobi. Presently we came upon a small village, people milled about on the road, more so it appeared than usual.
The road becomes more congested with the crowding mass. We slow gently brushing people and curious as to the reason.
Jules gasps, Grant glances quickly to the left.
A large tree stands by the village market stalls, people congregate about it. Only a frozen glance, it remains.
A man limply suspended, a rope twisted about a tall branch, his neck tightly wrapped.
We leave the crowds, the village quickly. Problems? We have none.

Bush Church

Watering Hole - Rift Valley

Watering Hole - Rift Valley
ON A LIGHTER NOTE
Menu items have been causing great amusement of late; funnily enough they all involve chicken. Here are a few of our favourites:
Crime of Chicken Soup – We only use stolen chickens
Sweat and Sour Chicken – Explains some of the smells around the place
Chicken Gordon Blue – Who is this Gordon and won't he be pissy if we eat his chicken?

Masai Farm
In response to our three years blog on the road our cheeky French friend Jean François made the following comment, we thought we would pass it on.
"3 years, 1096 days, 26280 hours and 120000kms that is just 4.56 kms/h
It's very slow
May be you could try to use your bike with the engine ...
It will go faster than to push it !!!"
Thanks for that!
July 15, 2008 GMT
Chaos & Confusion in Customs

Shocking!
The idea of corruption is to make as much money out of the muzungus (white foreigners) as possible. However, in our case it all backfired on the KRA (Kenyan Revenue Authority). Eventually, essentially, they disorganized their way out of money. We paid a maximum of $11.00 on 'special taxes' which started out as about $150.00.
We arrived back at JJ's feeling elated after talking to James from Suzuki South Cape Town (www.suzukisouth.co.za), about the second new shock absorber arriving in the new week only to find a telephone message suggesting that, indeed, the first shock (that had gone missing) was found and awaiting collection in customs at the cargo terminal of the Nairobi Airport.
With a rapidity verging on hysteria we hired a taxi, collected our relevant documents and headed for X-press Parcel service. There we were entertained by Yvonne with the required 'release' documents and the news that their office had unsuccessfully attempted to pry the shock from the clutches of the Customs Office.
We bolted to the Cargo Terminal and after several approaches at various office blocks which invariably shoveled us to other locations we found the Cargo Import section of Kenya Airways.

Happy birthday Jules
Esther, Jules & Jurgen
Leaving the taxi we were immediately surrounded by well dressed and often fully suited hawkers tempting, in typical African fashion, these muzungus with assistance.
We needed no help. Hell! How hard could it be as we confidently entered the building.
Facing a row of empty counters in an equally empty and spacious office, we quickly came to the conclusion that this is now where we needed to be.
A cry from one of the hawkers "No over here, there is nothing there". Promptly and with as much dignity as we could muster we changed direction, meeting a scruffy security guard at the gated compound. Entering and henceforth being directed to a small typically over furnished office where a young lady with a bureaucratic halo about her informed us that we needed to discuss our case with Mr Chacha in the big green building to our right.

Apparently the Toyota factory has trained Chimpanzees for this Job
Grant and Mike work on Duf
We went to the big green building and with due African efficiency we were directed to Mr Chacha's office.
Uncomfortably we stood awaiting our turn whilst the ever persistent hawkers (yes they had increased in number) helped us immensely by pointing at Mr Chacha's closed office door.
Meanwhile his receptionist in the waiting room, for we assume she was the receptionist, possibly mistress, flicked nonchalantly through the pages of a local non-gender specific women's magazine. She seemed otherwise to have no other particular purpose.
Eventually we approached Mr Chacha's door, knocking respectfully before entering. There stood a man of wide girth, astoundingly important and decked out in pinstripes.
We braced, maintained our presence, stepping in and sitting at his enormous imposing desk.
With charisma Mr Chacha moved towards his seat and sat. Yet another receptionist (or mistress) stepped in and thrust important looking documents upon his desk.
A jovial conversation ensued in Kiswahili, whilst we sat waiting patiently with angelic smiles.
Eventually Mr Chacha turned his attention to us and thereby we approached our subject presenting our 'less' important paperwork, including a craftily composed letter from James stating our parcel was a warranty claim, thereby exempt from duty.
"Warranty means nothing in Kenya " he espoused.
We insisted, stating clearly that the shock was of little commercial value, in fact we were unaware of the price ($900.00 as a matter of fact).
Mr Chacha insisted as he flicks through documents "What is this 50 written here"
"Must be 50 Rand," we reply "as the parcel is from South Africa ."
"How much is 50 Rand then?" he questioned
Quickly and politely we point to his calculator, which he pushes towards us. Fifty Rand calculated to US dollars then to Kenyan Shillings equated to about 450K/=.
He stares at the figure "This is a very small amount, however, in Kenya, you must pay duty unless you wish the process to be a long and tiresome affair, just a small amount, any amount is fine."
Suddenly all air of professionalism leaves the room and with that the KRA vision statement upon his wall comes into view with gracious words of transparency.

Poor Tent
With a flourish he waves his hand.
"Just a small amount, lets calculate the value of the shock absorber at 1000K/="
Mr Chacha makes his rapid fire calculations and informs us we should pay no more that 700K/= in duty. Ok, 11 bucks is not too bad to pay and have the shock in our hands today.
As he signs the papers, roughly scrawling the 1000K/= on the corner of the documents he details the procedure we need to follow. Back to the warehouse, then to the bank, back to the warehouse again, and that is that... no more.
Like caricatures of vultures the hawkers were waiting for us as we exited Mr Chachas office. Hounding us for their assistance. Miraculously, politely and firmly we managed to dissuade them.
Back to the cluttered bubble wrap filled package office. We were pushed from desk to desk until a disinterested middle aged woman came to our aid. It seemed rather a tiresome affair for her. And we pondered at her being in our place instead.

On the phone....... again
Reading Mr Chachas notes she dutifully calculates our required payment at 10,000K/=.
"Mr Chacha said it should not be more than 700K/=" we cried panic stricken.
"Oh, my mistake" she notes "I thought it read 100,000 not 1,000."
"Easy mistake" we placate, laughing nervously.
Recalculating, the figure came out to 550K/=, much better.
She orders a young man at a computer terminal to print out an invoice to be paid at the bank.
The young man asks to see our agent. "There is no agent" we state "The agent sent us". As happens the banks will not accept invoices without an agents stamp on them.
Great.... options to solve this problem were:
A) Go back to X-press package for agent stamp - 1/2 hour each way plus stopping time;
B) Find an agent at the warehouse who would stamp papers for fee of, possibly, 200- 1000K/=;
C) Pay 'John Doe', who appeared as if on cue, 500K/= for a stamp.
Choosing Option C) as the easiest and most convenient as the afternoon was racing away from us.
With all papers (stamped) in hand our driver takes us away from the cargo terminal to Arrivals, where the banks are. Stand in line and wait... perusing the invoice we were surprised that the amount to be paid was now 250K/=.
We looked at the invoice total, looked at each other and shrugged.
Back to the cargo office, receipt in hand and finally they hand over our shock absorber, no questions asked.

Shock in Hand
Interestingly not one person asked for proof of identification through out the whole process.
We sign out of security and our driver Mauro takes us back to JJ's within a respectable 1 hour even though it was peak hour traffic in Nairobi , we were expecting at least 2 hours. Well worth the money!
The following day, closer inspection of the reconditioned shocker proved that the non-standard heavy duty spring fitted in Cape Town, had distorted the shocker, thereby causing early failure. We decided to fit the original standard spring and shock, as was intended, on the bike.
After due work, completed by Grant, and packing we were out of Nairobi , for us a loathsome city and heading north to Isiolo and the infamous A2 - Isiolo to Moyale rough road.
We would like to thank James Bower and the team at Suzuki South, Cape Town, for their outstanding assistance and service. James organised for a shock absorber to be dismantled from a new show room bike and then when that shocker went missing, thanks to Kenyan Airlines, he fast tracked a factory shocker from Japan. Delivery took only 10 working days including the loss and recovery of the first shock absorber. Great stuff Suzuki!!

Piggy awaiting Surgery
Enter your email address to receive updates to Grant Guerin and Julie Rose's trip story!
Recent Entries
Archives:
Archives:
Monthly
Archives:
Category
NEW! HU 2015 Motorcycle Adventure Travel Calendar is now available! Get your copy now for some terrific travel inspiration!
HUGE, 11.5 x 16.5 inches, beautifully printed in Germany on top quality stock! Photos are the winning images from over 600 entries in the 9th Annual HU Photo Contest!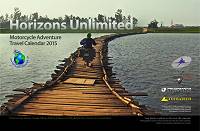 "The calendar is magnificent!"
"I just wanted to say how much I'm loving the new, larger calendar!"
We share the profit with the winning photographers. YOU could be in the HU Calendar too - enter here!
Next HU Events
NEW!

USA Virginia: Apr 9-12, 2015
Canada West: Aug 20-23, 2015
USA California: Sep 24-27, 2015
Aus Queensland: Sep 24-27, 2015
USA North Carolina: Oct 8-11, 2015
Aus Perth: Oct 9-11, 2015
Take 40% off Road Heroes Part 1 until October 31 only!
Road Heroes features tales of adventure, joy and sheer terror by veteran travellers Peter and Kay Forwood (193 countries two-up on a Harley); Dr. Greg Frazier (5 times RTW); Tiffany Coates (RTW solo female); and Rene Cormier (University of Gravel Roads).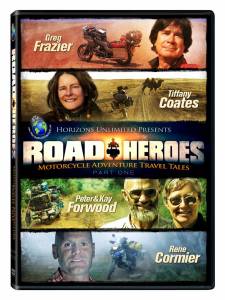 "Inspiring and hilarious!"
"I loved watching this DVD!"
"Lots of amazing stories and even more amazing photographs, it's great fun and very inspirational."
"Wonderful entertainment!"
Check it out at the HU Store! Remember to use Coupon Code 'HEROES' on your order when you checkout.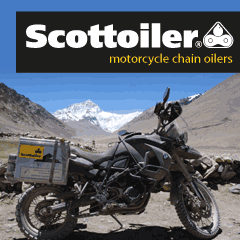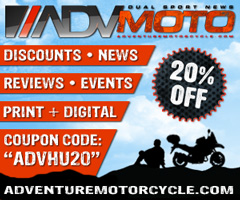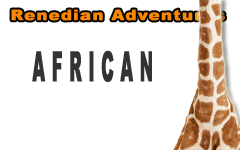 What others say about HU...
"I just wanted to say thanks for doing this and sharing so much with the rest of us." Dave, USA
"Your website is a mecca of valuable information and the DVD series is informative, entertaining, and inspiring! The new look of the website is very impressive, updated and catchy. Thank you so very much!" Jennifer, Canada
"...Great site. Keep up the good work." Murray and Carmen, Australia
"We just finished a 7 month 22,000+ mile scouting trip from Alaska to the bottom of Chile and I can't tell you how many times we referred to your site for help. From how to adjust your valves, to where to stay in the back country of Peru. Horizons Unlimited was a key player in our success. Motorcycle enthusiasts from around the world are in debt to your services." Alaska Riders

10th Annual HU Travellers Photo Contest is on now! This is an opportunity for YOU to show us your best photos and win prizes!
NEW! HU 2014 Adventure Travel T-shirts! are now available in several colors! Be the first kid on your block to have them! New lower prices on synths!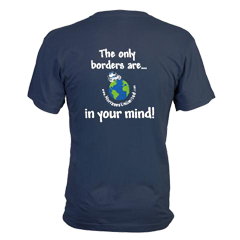 Check out the new Gildan Performance cotton-feel t-shirt - 100% poly, feels like soft cotton!

What turns you on to motorcycle travel?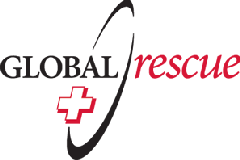 Global Rescue is the premier provider of medical, security and evacuation services worldwide and is the only company that will come to you, wherever you are, and evacuate you to your home hospital of choice. Additionally, Global Rescue places no restrictions on country of citizenship - all nationalities are eligible to sign-up!
New to Horizons Unlimited?
New to motorcycle travelling? New to the HU site? Confused? Too many options? It's really very simple - just 4 easy steps!
Horizons Unlimited was founded in 1997 by Grant and Susan Johnson following their journey around the world on a BMW R80 G/S motorcycle.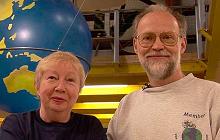 Read more about Grant & Susan's story
Membership - help keep us going!
Horizons Unlimited is not a big multi-national company, just two people who love motorcycle travel and have grown what started as a hobby in 1997 into a full time job (usually 8-10 hours per day and 7 days a week) and a labour of love. To keep it going and a roof over our heads, we run events (22 this year!); we sell inspirational and informative DVDs; we have a few selected advertisers; and we make a small amount from memberships.
You don't have to be a Member to come to an HU meeting, access the website, the HUBB or to receive the e-zine. What you get for your membership contribution is our sincere gratitude, good karma and knowing that you're helping to keep the motorcycle travel dream alive. Contributing Members and Gold Members do get additional features on the HUBB. Here's a list of all the Member benefits on the HUBB.
Books & DVDs

All the best travel books and videos listed and often reviewed on HU's famous Books page. Check it out and get great travel books from all over the world.

MC Air Shipping, (uncrated) USA / Canada / Europe and other areas. Be sure to say "Horizons Unlimited" to get your $25 discount on Shipping!
Insurance - see: For foreigners traveling in US and Canada and for Americans and Canadians traveling in other countries, then mail it to MC Express and get your HU $15 discount!
Story and photos copyright © All Rights Reserved.
Contact the author:
Editors note: We accept no responsibility for any of the above information in any way whatsoever. You are reminded to do your own research. Any commentary is strictly a personal opinion of the person supplying the information and is not to be construed as an endorsement of any kind.
Hosted by: Horizons Unlimited, the motorcycle travellers' website!
You can have your story here too - click for details!