March 28, 2008 GMT
ZamBot

Markets in Livingstone
ZAMBIA
The BOI (Body Odour Index) had been raised considerably since crossing the border... surpisingly it was not us and was to plague our olfactory sences for our entire stay.
Our desination in Zambia (formery Northern Rhodesia) was Livingstone and the Victoria Falls.

Building in Livingstone
We holled up in 'Jolly Boyz Backpakers'. Not as comfortable as our beloved Chameleons, but satisfactory. It was filled to the brim with self important, surley young backpackers who spend thier days sleeping off the previous nights session and sneer at you because only they are 'really' travelling in Africa. This made us feel somewhat uncomfortable and appreciate the seclusion and privacy of our wee tent.
That was until we met Carol, who travels extensively, especially in Nepal, where she volunteers with a Cranio-facial surgery unit, Claudio who volunteers in Tanzania with a dental group and Fabio, a motorcycle nut, who volunteers in an orphange dedicated to assisting children who are born to mothers with genital mutilation (female circumcision). These mothers often die from the labour and the orphaned/abandoned children need operations to have ther damaged legs mended so they can learn to walk.

Carol, Jules, Grant, Fabio, Claudio
Another great dinner and conversation
Livingstone, named after the great explorer (you guessed it "Doctor Livingstone I presume?") is a hotch potch of tourist-centric activity and ordinary people going about thier daily village life.

Cecil John Rhodes Bridge
Cecil envisaged a railway from Cape to Cairo.... he got a bit bogged in Congo
We were there, not, to bungee jump off the Cecil John Rhodes Bridge or sky-dive over the Zambezi River. We were there to see what Doctor Livingstone famously described in his journal '...on sights such as beautiful as this, angels in thier flight must have gazed.' The Mosi-oa-Tunya, The Smoke that Thunders.

Smoke that Thunders
Approaching the park entrance we pulled up along the Zambezi River where we caugh our first glimps of the Smoke that Thunders. The mist rising high from the surface and the roar of the water falling in the distance.
Parking Piggy in amoungst the shady trees and ververt monkeys we marched off into the rainforrest following the neat paths past an inevitable array of souvenier shops, monuments to Rhodesians and of course Doctor David.

Vic Falls
Heavy wet season rains in the north have been filling and flooding the rivers that converge and feed Vic Falls (notably the Chobe and Zambezi) pouring ten million litres of wate,r over the ledge into the great gorge, per second before the water continues to wind its way down the Zambezi and finally out to sea along the Mozambique Coast. The volume of water was immense and the spray from the falling water was like a heavy rainstorm soaking you in seconds.
A picnic to dry out was in order. Jules pulls out a loaf of bread. Grant opens the tin of tuna. Tomatoes and cucumbers were sliced and a Park Ranger walks past.
'Are you ready to cry?' he asks, laughing wih his collegues.
'Baboons and monkeys?' we quesion.
'Just keep everyinging close to you, they are very curious and LOVE plasic bags' he warned. We heeded.
Half a sandwich later and the baboons appeared.

Enjoying our lunch matey??
'Jules, behind you' Grant yells standing suddenly. She turns to see the creature scurry away.
'Geerrr orrf' screams Grant tossing his sambo at another baboon, who in turn grabs the bread and makes off with it. Our peacful picnic spot was inundated with a troupe of ugly sharp toothed baboons.
Hurridly we began packing up when suddenly, and for no apparent reason, the picnic crashers start to run away.
Another Ranger appeared carrying a sling shot. The baboons had recognised him and his weapon.
'Keep this close by, aim it at them when they approach. You won't even need a stone' he said 'Enjoy your lunch' smiling.

Shoot it! Shoot it!
We were grateful for the catapault, as soon as you lifted it the animals ran off, and eventually leaving us in peace.
BORDER CROSSING
Zambia/Botswana
Kazungula
Leaving Zambia
* Have passport stamped to exit Zambia
* Return Temporary Import Papers
* Pay US$4.00 (in foreign currency) for a ferry ticket for the bike, foot traffic is free
* Embark the ferry
* Ride the ferry across the Zambezi River to Botswana

And dont you forget it!
Enter Botswana
* Disembark ferry
* Customs and Immigration are approximately 2 kilometres down the road from the dock
* Immigration for Entrance stamp
* Have vehicle carnet stamped for temporary importation
* Pay Pula 50.00 (US$8.00) road tax
BOTSWANA

Trucks lined up for the Border/Ferry Crossing
Crossing the Zambezi into Botswana was a bit of an adventure. 150 - 200 semi-trailors were lined up, all waiting to bord the rickety ferry. Patient drivers cook a meal, take a nap under the trailor, play cards, generally keeping themselves amused to while away the hours of waiting.
'Just go around them' Jules insructs Grant 'Get up the front'. Just as well as the ferry takes only one truck a a time!

Embarking the Ferry
The ferry pulls up a few feet before the river banks and drops he hydraulic ramp with a thud and a splash. OK! Ineresting manouver we muse. Hoards of people file off the boat disorderly, next come the few cars and a semi. Grant is instucted to move the bike out of the way o allow the truck to manouver over the muddy river bank.

Cruising the Zambezi
The Chobi River Safari Lodge is high class accommodation at a high price, however their camp ground on the river bank had a pricetage more suited to our budget and we get to use the resort facilities.

Crocodile
It was from here that we organised a boat journey down the river to see hippos, and we were not dissapointed.

Hippos
The late afternoon river cruise lasted for three and a half hours and we were treated to scenes reminiscent of the classic film 'The African Queen'.

Snake Bird
Skirting the surprisingly lush Kalahari Desert we were off to Francis Town. Gateway to Zimbabwe. For weeks now Grant had been calculating, counting, plotting and planning a route through Zimbabwe, knowing the current fuel crisis (crisis? what crisis... there is just NO fuel) gripping the country and here in Francis Town we had to do the final numbers crunch, fuel cartage/re-packing plan and decide if we could actually manage a trip through Zim or would it all just be easier to go back to South Africa and skirt around the country.

Dead Elephant on the side of the road

Live Elephants on the side of the road
Great House of Stone

Filling Up
'There is a problem with petrol in Zimbabwe, do you think you have enough?' This from a Customs Officer as he perused our entry papers.
We had prepared an extra 38 litres of fuel. Was it enough? We did not know.
We turned Miss Piggy into a rolling Molitov Cocktail. The standard 22 litres in the tanks, two 5 litres one each in the tank saddle bags, a further 16 litres in the left pannier, a ten litre tank strapped on top of the right hand pannier and one and a half litres in a juice bottle over Jules shoulder.
It was all a little daunting as we bumbled into Bulawayo, our first stop.

Looks ominous
There are many things you can prepare for before entering Zim, petrol for instance, and the only sure way is to carry what you need, despite what may be said (for example: 'you can get petrol on the black market, you may just have to wait 2 or 3 days) don't bet on it, you may get lucky.

No Petrol Today
Lots of US$ or other foreign currency (ZARand) in the smallest denominations possible. Our mistake. No one has change for anything. Even the staff at the plushest of hotels will have to scratch about valiantly, unable to change US$100.00 for a US$75.00 room and to make matters worse credit card machines often do not, if ever, work. Don't for a minute think he locals want some Zim$.

JACKPOT - 240 Million Zim Dollars
Equivalent to about $16.00 at time of purchase, value dropping by the second
The complete lack of services between larger towns, which themselves only offer limited services, so with that little challenge it is necessary to carry most of your own food. This makes the whole process of traveling in Zim somewhat bothersome.

Cheapest Petrol in Town
Yee Haa! for Miss Piggy and thank goodness for our heavy duty suspension in Cape Town.
So, most things you can prepare for, however nothing prepares you as you enter a city of one million people, Bulawayo. It is something akin to travelling through a war torn country without the smouldering rubble heaps.
On rare occasions another vehicle may pass by, the populations mill about on the roads in groups on one side hoping to hitch a ride and then the other people walking to and from home, work, markets, wherever they need to go.

Down Town Buluwayao in peak-hour traffic
The industrial area is full of factories and warehouses, empty, closed up and though modern in appearance they stand, broken windowed, overgrown and dilapetated from lack of attention.

Down Town Buluayo
Obviously Zimbabwe has had better times but certainly not at this time. So the pictures seem rather bleak and depressing. One would ask, why bother going, and why indeed did we go?
Well to tell the truth for us Zim is our most enjoyed country in Souhern Africa so far! Part of the adventure was the difficulty in being therr and truly the Zimbabwean people are courteous and friendly far beyond thier current economic climate should dictate.

Millet shaped Structure in Great Enclosure
Another reason was to view the Great Zimbabwe Ruins. A truely beautiful, mysterious and grand ancient stone city. Built 1,500 years ago and estimated at its peak to have housed over 25,000 people it is the largest stone structure in the Africa's other than the Pyramids of Giza (Egypt) and of course with our obsession for ancient cities we had to see it!

Great Enclose Walls

Great Enclosure Perimiter Wall
At last it was time for us to leave Zimbabwe and we would have stayed longer, exploring it more thoroughly, if it had not been so difficult to travel there. With gorgeous scenerey on the raod from Mazvingo to Beitbridge our hearts wanted to stay.
Once angin we entered South Africa, with 5 litres of feule to spare!
BORDER CROSSINGS
Botswana/Zimbabwe
Plumtree
Leaving Botswana
* Immigration window for exit stamps
* Cusoms window for carnet stamps
Enter Zimbabwe
* Pay for visas (US$30.00 for Aussies, single entry, six months - You must pay in foreign currency and have the exact ammount as there is no change available. Officials will NOT accept Zim$ from foreigners nor give change in Zim$)
* Customs window for your carnet stamped
* Exit through the baggage inspection gate where they may open your luggage, and if you are lucky they will not question the ammount of gasoline you have in your bags!

Under the Boabab Tree
Zimbabwe/South Africa
Beitbridge
Leaving Zimbabwe
* Pay US$4.75 or ZAR35.00 toll for use of the bridge (you cannot pay in Zim$ you must pay in foreign currency, again no one has any change)
* Exit stamp from Immigration
* Exit stamp in Carnet from customs
* Police stamp on your gate pass
* Drive past customs window for inspection
* Drive over the Limpop River
Enter South Africa
* Normal Immigration and customs stamps

Bus near Masvingo

March 31, 2008 GMT
Round and Round we go

Crossing The Limpopo River from Zimbabwe to South Africa
Our return to South Africa was purely for business and to transit to the Mozambique coast.
Having said that we did meet up with Christo and Eloise, fellow V-Strommers we met in Luderitz, Namibia, several months past.

Braii with Christo & Eloise
We had a lovely time and as with all South Africans we have befriended the welcoming hospitality was heartening and generous.

Now thats a big tree!
Grant and Michael at the Boabab Bar

Beer in the Boabab Tree Bar
We spent several days in Louis Trichard, enjoying both Christo & Eloise and Michaels (Moto Friend) company before continuing on to Pretoria with the intention of acquiring new passports. Ours were almost full.

Lekker Brekkie with Eloisie and Christo
Before leaving Louis Trichardt Michael arranged for us to be interviewed by the local newspaper.
Now we have been on Mexican Radio, Colombian and Argentine television and South African news print…. If only all these interviews resulted in cold hard cash… we'd be laughin'.

Interview at the Mirror Offices
Arriving in Pretoria on a hot Wednesday afternoon, finding accommodation and after a pleasant sleep heading out to the internet.
It was here that our trip was to come to a sudden and possible terminal end with the news that our finances were not as sound as we had imagined. Our investment company was going through a stage of unflattering press and with the current world economic climate was causing many investors to pull out, thus putting pressure upon the company.
For a week we sat and waited in somewhat droll and wintery weather, thankfully, in our small timber cabin.
It was depressing and disheartening as we made numerous phone calls organising bike and our transport for the return to Australia, and yet again being thrown into our past lives, unable to continue our dream of riding our Miss Piggy back to Australia.

Yet another roadside picnic, this time near Nelspruit
We discussed our situation at length and in depth, around in circles, always coming to the conclusion that we were not ready to end our travel, even on a temporary basis. It was a shit of a time, but as they say in the classics 'Shit Happens'.
However, on the sixth day, some what sounding like the story of creation, we were to gain further information from home that was more confidence inspiring and gave us the impetus to continue, at least until Nairobi or for a further three months.
We will re-assess the situation at that point.

BORDER CROSSING
South Africa - Mozambique
Leaving South Africa
* Purchase Mozambique Third Party Vehicle Insurance
* Stamp for immigration
* Vehicle Carnet Stamped (People will try and tell you that you need to fill in a Vehicle Exit form, if you have a Carnet you will not need to fill this form in)
Enter Mozambique
* Pre-purchase visa in Pretoria or Nelspruit (you can purchase a visa at the border, however, the lines are very long, they often run out of stickers and often turn people away), prices vary for each country
* At the border Pay ZAR$37 (US$5.00) to immigration entrance fee
* Immigration will put a sticker and a stamp next to your visa
* Pay a further ZAR$47 (US$6.50) for entrance to Customs
* Have Carnet stamped
Enter your email address to receive updates to Grant Guerin and Julie Rose's trip story!
Recent Entries
Archives:
Archives:
Monthly
Archives:
Category
Next HU Events
NEW!

UK - Haggs Bank: Sept. 19-21

NEW!

South Africa: Nov 14-16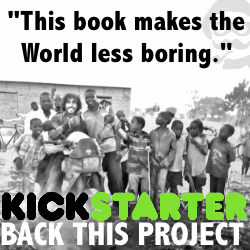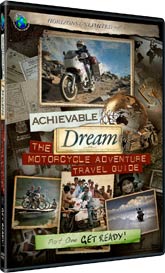 Northerners! The weather outside is frightful, so what better time to start planning your next adventure! To help you get started, for February we're taking 30% off the Get Ready! DVD in the HU Store! Remember to use Coupon Code 'GETREADY' on your order when you checkout.

10th Annual HU Travellers Photo Contest is on now! This is an opportunity for YOU to show us your best photos and win prizes!
NEW! HU 2014 Adventure Travel T-shirts! are now available in several colors! Be the first kid on your block to have them! New lower prices on synths!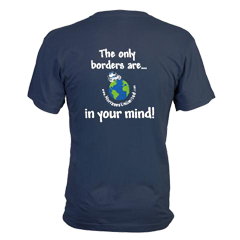 Check out the new Gildan Performance cotton-feel t-shirt - 100% poly, feels like soft cotton!

New to Horizons Unlimited?
New to motorcycle travelling? New to the HU site? Confused? Too many options? It's really very simple - just 4 easy steps!
Horizons Unlimited was founded in 1997 by Grant and Susan Johnson following their journey around the world on a BMW R80 G/S motorcycle.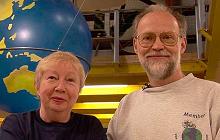 Read more about Grant & Susan's story
What turns you on to motorcycle travel?
Announcements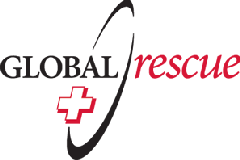 Global Rescue is the premier provider of medical, security and evacuation services worldwide and is the only company that will come to you, wherever you are, and evacuate you to your home hospital of choice. Additionally, Global Rescue places no restrictions on country of citizenship - all nationalities are eligible to sign-up!
Books & DVDs

All the best travel books and videos listed and often reviewed on HU's famous Books page. Check it out and get great travel books from all over the world.
Membership - Show you're proud to be a Horizons Unlimited Traveller!
Horizons Unlimited is not a big multi-national company, just two people who love motorcycle travel and have grown what started as a hobby in 1997 into a full time job (usually 8-10 hours per day and 7 days a week) and a labour of love. To keep it going and a roof over our heads, we run events such as this one (18 this year!); we sell inspirational and informative DVDs; we have a few selected advertisers; and we make a small amount from memberships.
You don't have to be a Member to come to an HU meeting, access the website, the HUBB or to receive the e-zine. What you get for your membership contribution is our sincere gratitude, good karma and knowing that you're helping to keep the motorcycle travel dream alive. Contributing Members and Gold Members do get additional features on the HUBB. Here's a list of all the Member benefits on the HUBB.

MC Air Shipping, (uncrated) USA / Canada / Europe and other areas. Be sure to say "Horizons Unlimited" to get your $25 discount on Shipping!
Insurance - see: For foreigners traveling in US and Canada and for Americans and Canadians traveling in other countries, then mail it to MC Express and get your HU $15 discount!
Story and photos copyright © All Rights Reserved.
Contact the author:
Editors note: We accept no responsibility for any of the above information in any way whatsoever. You are reminded to do your own research. Any commentary is strictly a personal opinion of the person supplying the information and is not to be construed as an endorsement of any kind.
Hosted by: Horizons Unlimited, the motorcycle travellers' website!
You can have your story here too - click for details!