November 07, 2006 GMT
Over the Andes by Pig!

Sacred Valley
Cheap hotels are always a source of amusement and wonder. After a long days ride from Arequipa into the Andes, we enter Juliaca (3,825 meters above sea level) to find a chaotic, messy yet vibrant town. As we ride in ever decreasing circles Jules suddenly spied a hostal down a side street.

We ride around the block and pull up out the front of Hostal El Mirador. Jules enters to find the rooms clean and comfortable, no tele but 24 hours hot water promised, parking for Piggy and the ever present religious painting of Jesus looking down solomenly upon the room and its occupants.
We settled into our room, and as happens in the evening... it gets dark. Excellent opportunity to catch up on some reading (we think) and the modern yet conventional lamps, looking surprisingly practical, sit perched on the bed side tables seducing you with the thought of curling up in a warm comfortable bed and a good book.

Markets - Juliaca
The image is a farce, after flicking the lamp switches several times, we discover they were not plugged into a power outlet and on further inspection were to find the only outlet available was on the other side of the room as far away as possible from the bedside tables!
Yes... cheapie hotels are always a source of amusement and wonder!

Descending La Raya Pass
The high Alto Plano left us gasping, we knew we were at high altitude when we became short of breath cleaning our teeth. Further north and even higher over the La Raya Pass (4,321 meters above sea level) and with snow falling in the higher mountains we descended into the famous Sacred Valley and on to Cusco.

Artesian Market - Cusco
We discovered that though the area is immensely beautiful and interesting, there is absolutely nothing sacred about the over inflated prices which have doubled since our three year old Travel Guide's printing.

Inca Gate - Piquillacta, Sacred Valley
Despite our disappointment in the greed of this tourist mecca we did enjoy wandering the streets of Cusco which reminded Grant of Rome with the cities ever present ancient stonework fused with the more modern construction of the Spanish Colonists.

Inca/Spanish Colonial Architecture - Cusco
Fourty five minutes ride from Puno is Sillustani, we packed Miss Piggy early and disappeared out of town to these remarkable funeria towers built by the Colla peoples in the 15th century. Their stone masonary and engineering is more intricate and exacting than the Incas. Today, Archeological scientists are unable to replicate these techniques.

Lago Titicaca and Puno
After almost an hour of riding in the rather isolated alto plano region around Lago Titicaca the site reveals itself. Perched on a tall hill over looking and immensely beautiful lake scene. From a distance the towers, already looking impressive, as we draw nearer circling the lake.

Lake at Sillustani
We enter the small village directly below the funerial hill, being still very early the town is quiet and devoid of people. The carpark looms, in the corner is a small trinket and snack stall where a lady is quietly prepairing for the days business and where Grant directs Miss Piggy.

Chulpa (Funeral Tower) - Sillustani
Rolling to a stop with the wonderfull sight of these remarkable sentinals of an ancient peoples spread above, Grant immediately eyes off something in the food stall.... "Oooh look a Kit-Kat!" he exclaims.... Grant really has a knack for prioritising!

Highest Point
We headed to Moquegua, close to the Chilean border before heading towards Desaguadero and the Bolivian border on the Carretera Binational. This pass (4,755 meters) is, by far, the most spectacular we have ridden in Peru. We can say that truthfully as we rode it three times!

Roadside Scene - Cerra Bául
On the first occasion at almost the highest point of the pass we stopped to partake in a delicious meal of 2 minute noodles on the side of the road, only to find that the water pump cover had developed a pin hole of corrosion and had begun to spray coolant all over the right hand side of the bike! Our first real problem in almost 90,000kms.

Hole in water pump housing
So.... a temporary fix was undertaken. Grant, in true Mexican fashion, wired (thank heavens for the scraps of wire we had been carrying around!) a rubber gasket and silicone using a 10 centavos piece as a wedge.

Roadside Repair
However, as the whole lot needed to set and dry we decided to (before starting the motor) roll the 60 kms down 2,000 meters to the small town of Torata before starting Miss Piggy and heading back to Moquegua to perform some serious checks.

Twisty Road to Torata
The next day we pulled the cover off finding the main corrosion was isolated to two areas and appears to be caused by a vortex of radiator fluid drilling from the action of the impellor. With the problem discovered and the temporary fix working beautifully the whole lot was put back together and fingers crossed.

Further Inspection
Once again we head up the Andes. The first 80 kms ancient pre-inca terraces, some still in use, are evident all around high up the valley walls. The amount of terracing is remarkable in such an inhospitible area.

Pre-Inca Terraces
Once over the high point many volcanoes can be seen from the alto plano, one in particular is quite active emitting steam and gasses frequently. A palet of colours paint the landscape and lakes abound where pelicans and flamingoes feed.

Palet of Colours - Caretera Binational
After 300 kilometers of spectacular scenery and relative isolation we arrive at Desaguadero on the southern banks of Lago Titicaca and the border of Bolivia.

Lake view - Caretea Binational
We contemplated staying overnight at Desaguadero until we arrived in the town and as we were not packing a shot gun decided to cross the border and head for La Paz. Such is the atmosphere of this ramshackle and frenetic frontier town filled with black market goods from Brasil, Bolivia and Chile. We later discovered that we had been delt several counterfeit notes at the Casa de Cambio in Desaguadero confirming our feelings for the town.

Desaguadero
At the end of our journey through Peru we discovered that this country cannot be categorised as only Machu Picchu and Cusco. It is a country of great diversity seen through its modern and old spanish colonial cities to its small impoverished towns. Deserts dry and desolate to valleys surrounded with sand but flourishing from the waters of the Amazon.

Saturday - Wash Day near Cusco
Peru is a fascinating country filled with some of the best riding we have encountered on our journey of 18 months.

Volcano - Caretera Binational
November 18, 2006 GMT
Bolivia Bolivia

Road to Cochabamba
What do you do when three giggling young girls hastily converge upon you in Plaza 25 de Mayo, Sucre? Gripped with terror and not knowing which way to turn, I gasped, finding the scene far too alien.

What do they want and why are they so happy ot see me? And why, with my dishevelled appearance of faded jeans and shabby hair-doo, do three attractive Latino girls pour over me with big brown fluttering eyes?
I was not going to complain, though the innocent truth was this over dose of attention was merely that I was the new subject of a tourism survey.

Police bike - Sucre
Do you like Bolivia? Do you like Sucre? What can be done to make it better for the tourist? A barrage of questions ensued and yet all in all, and though Grant loathes attention, it seems on that particular occasion not all that difficult for him to take.

Border - Peru
Desequadero is one town, bisected by the border of Peru and Bolivia. Neither the Peruvian or Bolivian side promise a comfortable time for the visitor. They do however enjoy a beautiful location on the southern banks of Lago Titicaca.
BORDER CROSSING
Peru
* Go to the Migration building and have passport stamped out of Peru;
* Cross the street to Aduana and return the Temporary Import Papers;
* Fight your way through an infinite number of pedestrians, tricycle taxis, farmers carrying bundles of potatoes, onions, etc etc etc and cross the bridge into Bolivia.
Bolivia
* Go to Aduana and clear customs for the bike and organise the temporary import - this must be done first;
* Go to Migration for entrance stamps;
* Find your way out of town navigating the narrow over crowded unpaved streets.

Border - Bolivia
Riding over the bumpy stretch of dirt towards, what appeared to be, a narrow strip of ashfalt and our destinaton of La Paz, Grant notes to Jules that the climate in Deseguadero is warmer than in Puno, due to the lower altitude. Both towns incidentally sit on the banks of Lago Titicaca.
We continue for perhaps a minute when Jules altitude weary brain catches up with her blonde hair, she raises her helmet visor to the buffeting winds and states "But if Puno is on Lago Titicaca and Deseguadero is too, wouldn't that make them......."

Mountains - Road to La Paz
Mother Nature obviously does not read the travel guide books, the wet season is supposed to start in December. Why then, in early November, were we being slowly drenched by the thunderous storm raging down from the snow capped mountains?

Jules in La Paz
We enjoyed our brief stay in La Paz in the high suburb of El Alto near the airport, finding cheap, clean and comfortable accommodation with 'lobby' parking for Miss Piggy.

La Paz
La Paz enjoys a stunning location with astounding views to the nearby mountains. It is, however, yet another over crowded and disorganised Latin American city that seems to function beyond logic!

Outside the hotel entrance - La Paz
Our journey to Potosi was a long and hard days ride. The high Alto Plano from La Paz to Orouro was uninteresting, straight and very cold. The odd shower did not help our mood.

River scene
Concerned about travelling on Bolivias 60% unpaved roads (with the term 'road' being often an exagerated description of what is on offer) we asked the locals about the condition of the careterra. 'Todos pista' 'All paved' they said, our map said different, not convinced we headed off.

Canyon
The fully paved road wound its way gently through some of the prettiest country. 'Canyons in the making', Jules described one scene. Stopping often to admire the view we eventually arrived in Potosi at 7:00pm.
Potosi is famous for being the highest city of its size in the world at almost 4,200 meters. It was also the largest city in the Americas for many years due to the enormous deposits of silver that were prominent in the area. The term 'Potosi' has been used for many years in Spain to describe anything of great wealth!

Grant and Piggy overlooking Potosi
Sucre, the official capital of Bolivia, relaxed, inviting, nice restaurants and a beautiful central park surrounded by traditional Spanish Colonial buildings all painted white with little balconies full of colourful potted geraniums.
The road leading into Sucre reminded us of the area around the Flinders Ranges, South Australia, so much that we both suffered a few pangs of home sickness.

Torata
In 11 days we came across one portion of dirt road. It was the main trunk from Sucre to Cochabamba. After three days of heavy rain we were reluctant to go. The locals warned us to take care but it should be ok. From Puente Arce the pavement ends and dirt begins. We stopped for a big bowl of soup and to steel our nerves for what lay ahead and accepted more warnings to take care before we headed out.

Main Trunk Road to Cochabamba
The road had dried out considerably since the rains, and evidence of the damage was clearly visible in parts with large wash outs turning the road to a crumbling mess made worse by heavy vehicles.

Rain Damage
The V-Strom is an excellent compromise bike. Each time we take Piggy onto a road of dubious condition she proves herself competently. However, the constant corregrations sheared a bold in the main strut of the pannier frame. Discovered early and repaired we had no more trouble.

Settlement
We took our time. The scenery was beautiful, dotted with small settlements and farms the road navigated a river and before we knew it we had traversed the 150km's of dirt with the road winding its way up through the mountians as finally cobblestone. We prefered the dirt! The round cobblestones were very slippery and the surface corregated, often old land slide damage would cover the width of the road so that it was kind of like riding over a dirty river bed. All in all 300 kilometers was covered and quite easily in a day.

Farm
Leaving Cochabamba in heavy fog and drizzle we descended the Andes for the low lands and the Amazonia region of Bolivia.

Fog
The wet road was steep and the many 'Curvas Peligrosas' signs were barely visible in the pea-souper. When the fog did clear, the most startling sight was the thick lush tropical vegetation covering the slopes of the mountains, this within 40kms from the pampas of the Alto Plano.
We were informed it would take five hours (mas ó menos) to reach Santa Cruz from Cochabamba. After an hour of riding in precarious conditions we came upon a long line of stopped vehicles. We filtered through the frustrated busses, trucks and cars hooting thier horns and waving their hands in dispair. After an hour we reached the front of the line and the cause of the hold up.... Road Works.
We became very apprehensive, waiting for 45 minutes while we were slowly shunted into an ever decreasing space by the larger vehicles.
For two hours we slowly rode over the slippery mud covered concrete, cobbletones and dirt while other travellers took great risks overtaking and speeding on the steep slippery road works.

Bog
Eventually, after four hours entangled in the road works, every thing finally cleared. We passed kilometers of vehicles parked waiting to go up in the other direction. Obviously this has been an ongoing situation as many local people had set up stalls selling snacks, drinks and even some selling meals, also there were permanent camps erected for the road workers.

Valley Scene
This has been one of the most dangerous situations we have encountered in our journey to date. By the time we hit the low lands we were hungry and tired, all we wanted to do was stop for the day. So we did, with still 5 hours journey to Santa Cruz.

The road where we are going...... bit steep!
The band palyed Cole Porters 'Night and Day' as we sipped our long cool gin and tonics in the trendy cafe overlooking the plaza.
Santa Cruz is so different to ther rest of Bolivia. It is a modern western style city filled with classy restaurants, cafes, bars and clubs. Designer clothes stores, perfumeries and jewelery shops line the streets. It is relaxed and the climate very warm.

Santa Cruz
The shady, cool Central Plaza is a hive of activity, children playing and laughing under the watchful eye of parents, juice sellers, doctors offering free diabetes checks, photographers co-ercing families into portraits with the cathederal as the back ground. Young people sell bags of corn to feed the pigeons. People come from mass while tourists visit the church. Couples stroll hand in hand or sit contentedly on a bench. It is such a great place to while away the day, people watch and relax after a few days hard ride.

Blue Cemetery - Near Santa Cruz
Bolivia is surprising. Whilst, as in Australia, you can find some seriously 'feo' roads, they are not your only option, in fact, you can travel most of Bolivia on tarmac, however some of the best country, no doubt, is accessible only by dirt. It all depends on your priorities.

Lake - Amazonia Bolivia
November 28, 2006 GMT
Tres Dias

High on Life - Up the Andes... again
What a culture shock... leaving Bolivia and entering Argentina.
Argentine servos (gas stations) have cafes that are a) open, b) stocked and c) clean! Along the highway you find pull outs with a shady tree and picnic table. Tourist information offices are open with friendly staff and information!! OMG! we felt like we had returned to civilization.

River Scene - Ruta 52
Our first stop was San Pedro de Jujuy where the hotel proprietor, Don Nacho, proudly informed us of the 'new road' over the Andes to Chile, how it was in excellent condition and was open '365 days of the year' with no tunnels unlike the passes further south.

Ruta 52
This road did not appear on our map and according to our 'trusty' guide book is a ripio (dirt) road in poor condition until you reach the Chilean border.
A day trip to the beautiful relaxed city of Salta and the Automovil Club Argentina for a new updated map clearly showing 'Ruta 52'. Again people informed us of the 'Best road in the Country', we decided to see what all the fuss was about.

Rock Formations - Ruta 52
BORDER CROSSING
Yacuiba - Bolivia
* Clear Immigration in Bolivia;
* Go to Argentina;
* Clear Bolivian Customs in Argentinan Customs building (window marked).
Pocitos - Argentina
* Go to Customs window and fill in bike paperwork;
* Go to the Vehicle window and have paperwork and bike checked;
* Return to Customs window for final checks;
* Take passports to the Gendamarie (Police) who check them quickly and send you to the Immigration window;
* Hand your passports over to the Immigration Officer and mill about outside for a while until the Gendame calls your name and returns your passport.

Valley - Ruta 52
Ruta 52 from San Salvador de Jujuy to Passo de Jama and Chile exceded our expectations.
Yet another climb into the Andes, with endless switch-backs reaching skywards from the small town of Purmamarca and the spectacular mountain of seven colours.

Mountain of Seven Colours
After two hours, (stopping to admire the view often) we finally reached the highest point of the careterra - Abra Potrerillos, 4,164 meteres - where a wide plain appeared below us and a familiar sight (for us Aussies) of several large salt pans where the road traversed at almost the mid section of Salinas Grandes.

Ruta 52 bi-secting Salinas Grandes
We descended towards the lakes for perhaps 1,000 meters and ventured across the dry, crusty salt pan on an oil sealed gravel surfaced road. It seemed to us a very civilised and comfortable approach to viewing a large salt lake complete with salt brick buildings, sculptures and working salt mines.

Salinas Grandes
We stayed overnight in the isolated pueblito of Susques, high in the Andean mountains surrounded by spectacular rock formations and colourful mineral tainted streams.

Leaving Susques
Typically, at over 4,000 meters, the morning air was cool and crisp as we left for Paso de Jama and the border with Chile promising to return soon to Argentina for a longer stay.

Delicious & Nutritious Roadside Lunch - Spaghetti with Tomatoes and Sardines!
Enter your email address to receive updates to Grant Guerin and Julie Rose's trip story!
Recent Entries
Archives:
Archives:
Monthly
Archives:
Category
NEW! HU 2015 Motorcycle Adventure Travel Calendar is now available! Get your copy now for some terrific travel inspiration!
HUGE, 11.5 x 16.5 inches, beautifully printed in Germany on top quality stock! Photos are the winning images from over 600 entries in the 9th Annual HU Photo Contest!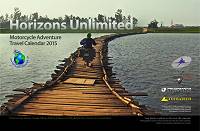 "The calendar is magnificent!"
"I just wanted to say how much I'm loving the new, larger calendar!"
We share the profit with the winning photographers. YOU could be in the HU Calendar too - enter here!
Next HU Events
NEW!

USA Virginia: Apr 9-12, 2015
Take 40% off Road Heroes Part 1 until October 31 only!
Road Heroes features tales of adventure, joy and sheer terror by veteran travellers Peter and Kay Forwood (193 countries two-up on a Harley); Dr. Greg Frazier (5 times RTW); Tiffany Coates (RTW solo female); and Rene Cormier (University of Gravel Roads).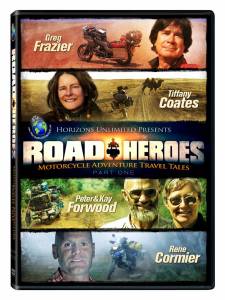 "Inspiring and hilarious!"
"I loved watching this DVD!"
"Lots of amazing stories and even more amazing photographs, it's great fun and very inspirational."
"Wonderful entertainment!"
Check it out at the HU Store! Remember to use Coupon Code 'HEROES' on your order when you checkout.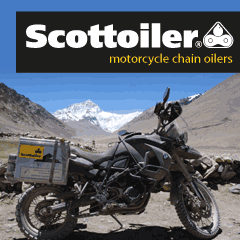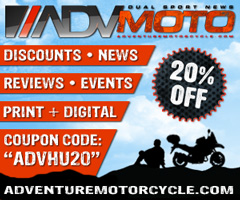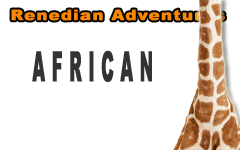 What others say about HU...
"I just wanted to say thanks for doing this and sharing so much with the rest of us." Dave, USA
"Your website is a mecca of valuable information and the DVD series is informative, entertaining, and inspiring! The new look of the website is very impressive, updated and catchy. Thank you so very much!" Jennifer, Canada
"...Great site. Keep up the good work." Murray and Carmen, Australia
"We just finished a 7 month 22,000+ mile scouting trip from Alaska to the bottom of Chile and I can't tell you how many times we referred to your site for help. From how to adjust your valves, to where to stay in the back country of Peru. Horizons Unlimited was a key player in our success. Motorcycle enthusiasts from around the world are in debt to your services." Alaska Riders

10th Annual HU Travellers Photo Contest is on now! This is an opportunity for YOU to show us your best photos and win prizes!
NEW! HU 2014 Adventure Travel T-shirts! are now available in several colors! Be the first kid on your block to have them! New lower prices on synths!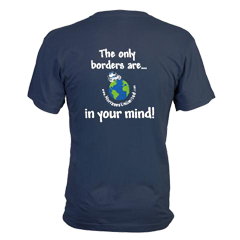 Check out the new Gildan Performance cotton-feel t-shirt - 100% poly, feels like soft cotton!

What turns you on to motorcycle travel?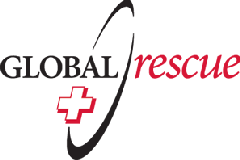 Global Rescue is the premier provider of medical, security and evacuation services worldwide and is the only company that will come to you, wherever you are, and evacuate you to your home hospital of choice. Additionally, Global Rescue places no restrictions on country of citizenship - all nationalities are eligible to sign-up!
New to Horizons Unlimited?
New to motorcycle travelling? New to the HU site? Confused? Too many options? It's really very simple - just 4 easy steps!
Horizons Unlimited was founded in 1997 by Grant and Susan Johnson following their journey around the world on a BMW R80 G/S motorcycle.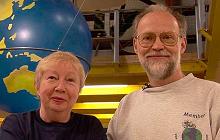 Read more about Grant & Susan's story
Membership - help keep us going!
Horizons Unlimited is not a big multi-national company, just two people who love motorcycle travel and have grown what started as a hobby in 1997 into a full time job (usually 8-10 hours per day and 7 days a week) and a labour of love. To keep it going and a roof over our heads, we run events (22 this year!); we sell inspirational and informative DVDs; we have a few selected advertisers; and we make a small amount from memberships.
You don't have to be a Member to come to an HU meeting, access the website, the HUBB or to receive the e-zine. What you get for your membership contribution is our sincere gratitude, good karma and knowing that you're helping to keep the motorcycle travel dream alive. Contributing Members and Gold Members do get additional features on the HUBB. Here's a list of all the Member benefits on the HUBB.
Books & DVDs

All the best travel books and videos listed and often reviewed on HU's famous Books page. Check it out and get great travel books from all over the world.

MC Air Shipping, (uncrated) USA / Canada / Europe and other areas. Be sure to say "Horizons Unlimited" to get your $25 discount on Shipping!
Insurance - see: For foreigners traveling in US and Canada and for Americans and Canadians traveling in other countries, then mail it to MC Express and get your HU $15 discount!
Story and photos copyright © All Rights Reserved.
Contact the author:
Editors note: We accept no responsibility for any of the above information in any way whatsoever. You are reminded to do your own research. Any commentary is strictly a personal opinion of the person supplying the information and is not to be construed as an endorsement of any kind.
Hosted by: Horizons Unlimited, the motorcycle travellers' website!
You can have your story here too - click for details!