August 02, 2006 GMT
Panama - Corozon del Universo

Puente de las Americas (off in the distance)
Approaching the Puente de las Americas, an oddly familiar coat hanger shaped bridge, we crossed the Panama Canal. It was very exciting reaching this milestone in our trip... Panama City.
Once across the bridge we consulted our map of Panama City and decided on our route to the hotel district. It was Sunday afternoon, traditionaly a quite time for traffic and we had no problems navigating the city. Basically, once over the bridge you head straight for Avenida Balboa (on the esplanade) and from there the hotel areas clearly run back from the sea to the city.

Storm Clouds over Panama City
With near perfect temperatures, a beautiful bay, antique colonial buildings and modern sky scrapers Panama City was a pleasure for us to spend three weeks checking out a few transportation to South America options and touring the sights.

Docks - Casco Antigua
Highlights were:
Casco Antigua: The old town, where we admired the architecture and relished in the tranqility of the old city. Being the original location of Panama City and raided by pirates on numerous occasions, many of the buildings have been left in disrepair, their former glory still apparent, while others have been lovingly restored and given new life as trendy appartments and offices. It was a treat to walk along the old docks and watch the merchants busy with their wares and particularly interesting was the 'Bird Cage Builders', who by using old fan cases were able to fashion a new saleable product - ie bird cages!

Recycle! - Making birdcages from old fan cases

The old city - view from Avenida Balboa
The 8th Modern Wonder of the world - Panama Canal: Mira Flores locks was an excellent place to watch the enormous ships pass through the canal, and observe the engineering feat of raising/lowering the enormous ships two steps of 26 feet each using only gravity to feed the water to fill the tanks. We enjoyed our stay of several hours.

Container ship in the Canal

Raising a tanker - Mira Flores Locks
Department of Darién: Running to the border of Colombia, where the Pan American Highway eventually stops at Yaviza. Darién is considered dangerous and inhospitable. It holds some of the worlds most pristine rainforrest and has the wettest climate in the world. It is an easy ride from Panama City through areas of thick tropical jungle, rice fields and very large cattle ranches to the welcome sign just outside of Aguas Frias. After we were signed into the Territory we were advised by the military police not to travel any further than Aguas Frias as our safety could not be guaranteed.

Riding in the Darién

Military Check Point - Signing in to the territory

'Welcome to Darién'
We met Cynthia who has been on the South American leg of her RTW trip. She had been in Panama City for about 6 weeks awaiting an organ transplant for her beloved 'Old Dear' BMW 800 Boxer. We spent several pleasant evenings with Cynthia talking about travel, motocylces and also celebrating Julie's Birthday - the second on the road.

Birthday Dinner with Cynth
'¡Aye! Muchas Agua': The catch phrase for all Panamanians when it rains..... The main streets, almost instantly, turn into rivers as people scurry for cover to avoid becoming drowned rats in the almost daily heavy tropical down pourings. We were glad that we were being taxied about.

Bus - Panama City

Transportation to Colombia: We spent a little time checking out some options to send Piggy to Colombia. One was a RoRo (Roll On/Roll Off Ferry) from Colón to Cartegena (Barwil - sails twice a month, takes 11 days, costs about $US400, no passengers). There are numerous freight and cargo agencies, they usually sail once a week and take a day and a half. Many are not interested in a one off Motorcycle shipment however AMT Cargo were keen. You may be able to hook up with a sail boat and sail through the Caribean with the bike on the deck - we did have this option after meeting a Captain of a 28 footer sail boat at Portobello, however it seemed all too difficult and actually more expensive than flying. All boats go to either Cartegena or Baranquilla.
The easiest, competitively priced, option is to fly directly to Bogota, in the end we used this option. Copa Cargo fly weekly and Girag daily. Girag, certainly, were the more knowledgeble about flying bikes. The bike costs $US350.00 plus $US100.00 for Dangersous Goods and $US25.00 Manajando.... dont know what that was but we have heard others have had to pay it on arrival in Panama too!
We took Piggy out to the airport (cargo terminal) on a Wednesday morning in the pouring rain. Looking like drowned rats we drained her tank, put her on the scales (weighing in at a paltry 304kgs fully loaded) and then removed mirrors, screen, disconnected battery and said goodbye until we were to see her again in Colombia.
Leaving the Girag office you need to stop by Customs, which is located in the old International Airport Terminal, and have your Panama temporary importation cancelled.
We spent our final evening in Panama in a little bayside restaurant with Cynthia enjoying dinner, good company and a beautiful Panamanian sunset over the bay.
So it was 'Goodbye', hopefully not forever, to Central America on the 3rd of August 2006.
August 19, 2006 GMT
Colombia

View over the Valley - North of Bogota
Miss Piggy and her mounts rolled gently to a stop only inches from the deep gully at the edge of the road yet another checkpoint, 'Routine' we thought after riding almost 2000km from Bogota to Cartegena and return we had become used to the constant military and police presence on the roads.

Friendly Colombian Soldiers
This time we were wrong! The young number 2 hair cut officer greeted us innocently enough, offering his hand and the customary 'Buenos'.
As we dismounted our Suzuki his tone began to change. '¡Documentos por favor!' he barked out. We handed him our documents, which had previously passed the scrutiny of numerous police and millitary personnel.
He flipped through the papers. '¿Donde esta seguro?' he questioned. Seguro? (third party insurance) we thought, what seguro? Nothing had been mentioned to us at customs and immigration or for that matter by anyone since! We both looked at him dumbfounded.
He went on to explain that it was necessary to purchase insurance in Colombia. Our guide book had vaguely mentioned third party insurance, however, from what we had read, we considered that it was not compulsory and we had put it out of our minds.
We both continued to act dumb. Grant with below average Spanish and Jules with her Spanish quickly deteriorating the Officer steadfastly held on to our documents while demanding we go to the nearest town, one hour away, to purchase insurance. We questioned him 'Can we buy insurance there?' To which he replied 'No lo se' (I dont know).... not very reassuring for a two hour return ride!

Sheltering from the rain after the police check
Asking if we could pay an 'on-the-spot fine' he looked at us quite daunted by the prospect of giving us a ticket, even though the fine book sat plainly on the bonnet of his vehicle.
All three of us stood about in the hot sun for about thirty minutes or so. He continuing his demands, we continuing to plead ignorance. Julie began to feign a fainting spell while Grant appeared more anxious. Eventually Grant asked, with as much politeness as he could muster, for the documents and to our surprise the officer handed them back.
We milled about for a few minutes while the officer answered his cell phone, half way through his phone conversation he looked over to us and dismissed us with a wave of his hand. We were on the bike and dissapearing down the road in record time.

Truck Crash - Caucasia
The Colombian temporary importation process is quite easy, however, very time consuming, taking us approximately 5 hours.
* Before leaving the airport go to the DIAN Office to declare the bike and complete their paperwork.
* Go to the Freight Agent (in this case we used Girag) for the necessary customs paperwork (make sure they give you all of it as Customs will send you back).
* Walk across to customs and fill in papers, make copies of title, rego, licence, passport etc etc etc.
* Return to Girag and wait for Customs Inspection.
* When Customs Inspector finally arrives check bike over to ensure clearance.
* Go back to Customs Office for more waiting and final signing of paperwork and make any additional copies they require.
* Return to Girag with all paperwork and wheel the bike out of the warehouse and down the steps.
NB: Customs may demand that you purchase a customised reflective vest (one for each passenger) with your number plate on it as per the locals. This is not necessary, just agree with them and once you have the papers in your hand... leave! We have never once been chastised for not having the vests as foreginers.

Fully loaded and down the steps - Girag Office, Bogota
Grant had been sick and running a high fever upon arriving in Bogota. Our run to Cartegena via Medellin consisted of short days on the road while he was running high fevers then he would sleep for the rest of the day while Jules unpacked the bike and shopped for food, juice, medicine etc. (You can buy almost anything over the counter of the Droguria including anti-biotics! - No prescription required.)

Medellin City
The scenery was spectacular decending the mountains to Medellin, the Flower Capital of Colombia, then through the hot and humid valleys to the coast.

Residence in the mountains
Grants fever had abated by the time we had reached Cartegena, however, his chest infection was not clearing and being asthmatic it was necessary to see a Doctor.

Furniture Stores - Cartegena
As a general rule, in Colombia, small clinics and private surgeries do not exist and most doctors (ie 65%) work in the main city hospitals and the rest work in rural areas. It was necessary for us to visit the emergency room at the Bocagrande Hospital, where we were attended to within 15 minutes of arrival, this is the norm for locals and gringos alike. The hospital was excellent and efficient. After seeing the Doctor Grant had chest x-rays, blood tests, was prescribed and given nebuliser treatment and anti-biotics. Thankfully his condition rapidly improved and we could continue our journey.

Traffic Jam - Cartegena
We stayed in Honda, a small pueblito in the Quindiro department, for a week. Having been warned that the main road bridge crossing the Rio Magdelena was under repair and impassable to all vehicles.

View of Honda from pedestrian bridge
We were concerned on how we would continue our journey without an inconvenient detour, however, for motorcycles it was still ok, as the foot bridge, the oldest bridge in Colombia, was still open.
Grant rode Piggy down the steep rocky decline to the bridge. Here it was necessary to push the motorcycle across and we were advised, because of the size and weight of our machine, to stay directly over the main central bearer.

Waiting our turn
We rode from Honda the 50 kilometers to visit the ghost town of Armero. Several years ago we had watched a documentary on volcanoes which had detailed the story of Armero that in 1985 was devastated by the eruption of Volcán Nevado del Ruiz. The hot molten lava, from the eruption, defrosted approximatley 10% of the ice cap on the volcano. This caused a massive mud slide that travelled some 85 kilometers to the valley and over the Pueblo of Armero.

Tiles & alter of the Church - only remains of the town centre
On the evening of 13th of November, 1985, 23,000 people perished in less than one hour and a further 2,000 people were to die in the ensuing days including 12 year old Olmira Sanchez.

Remains of buildings (outside of the town centre)
The niña (girl) became the face of the natural disaster. Pictures of her trapped in the mud were broadcast around the world. As the muddy waters rose and her rescue became more frantic, her smiling face was a beacon of bravery that three days laters was to end tragically with the rescue failing and Olmira drowning.
The area, for many square kilometres, is scattered with the memorials of the thousands of people now buried deep below the surface where they had died.

Memorials dedicated to the victims of the Armero disaster
It was a somber yet memorable time for us as we found it difficult to comprehend this tragedy of 21 years ago in what seemed a peaceful and secure valley. With the new main road now passing through the remaining half buried buildings of the town.

Former hospital of Armero - note the height of the new road
'Colombia is the second most friendly country in the world!'
'What is the first?' we asked the young man
'I don't know, some island somewhere'

Cartegena
We cannot comment on the mysterious 'island', however, Colombia, we have found, has the friendliest of people to a degree it can become overwhelming. Almost without exception where ever we pull up a crowd would gather. After a while Julie would begin to sing 'Je suis une Rock Star' (French 'I am a rock star').

Je suis une Rock Star!
August 26, 2006 GMT
¿Que tal Colombia?
The second most frequently asked question by Colombians (after 'Where are you from?') is 'How do you find Colombia?'. Colombians are very proud of thier country and conscious of the publicity foreginers receive about thier home.

¡Hola!
'¡Aye, muy lindo!' (Very beautiful), we reply as they smile and chat amoungst themselves.
On occasion after Piggy is put away and we are wandering the streets of a small town we overhear funny little conversations.
Old Man 1: 'Who are they?'
Old Man 2: 'Oh I don't know, they arrived a few days ago on a motorcycle?'
Old Man 1: 'Oh'
We ponder... 'How do they know?'

Early morning in the country side
We left Honda and journeyed through the long valley passing Armero and Ibagué, before steadily climbing to an altitude of approximately 3,500 metres over the high Quindiro Pass to La Leña, then almost instantly descending to a fertile valley and Armenia.

Quindiro Pass - Colombia
It was a quiet relaxed Sunday. Julie does her hotel search, while Grant immediately becomes surrounded by, yet another, curious crowd. A few minutes pass and Grant began to realise that most of the crowd were not so curious after all, with many of them seeing the opportunity to make a little money by showing us to a hotel, whether it was what we were looking for seemed to be an after thought!
After trying to converse with many people, all haggling for our attention at once, we called a taxi over and organised him to take us to a suitable hotel, which he did. Our relaxed Sunday had all but dissappeared and we were almost immediately dissapointed with Armenia, until we met a lovely couple from Cali at our hotel and shared coffee and conversation to finish the day pleasantly.

Coffee! Coffee! Coffee!
Zona Cafeteria is exactly that, the Coffe Zone. Litterally, every available inch of land is devoted to the growing and production of the delicious bean.... Jules was in heaven.
The town of Salento, in the heart of the zone, is a popular weekend getaway for Colombians searching for all number of coffee flavoured treats and enormous plates of locally caught trout.

Coffee toffee - Salento
We arrived on a Monday, hoping to have avoided the crowds, only to find that it was a national holiday and the place was absolutely buzzing. Fortunately we met some fellow motorcyclists (without thier bikes) who were vacating a room at one of the hotels - we were lucky! The proprietor allowed us to park Piggy in the courtyard garden, although it was a tight fit, getting her up the steps and through the front door.
Climbing the 250 steps of the lomo (hill) at the end of Calle 6 and passing the 14 stations of the cross Grant helped an elderly gentleman launch his rainbow kite in the strong breezes, a favorite past-time for locals, tourists, young and old.

250 Steps, 14 Stations of the Cross - Salento
Near the aguas termales of Santa Rosa del Cabal we decided on an evening of camping in the country side, our first since Guatemala. It was not as enjoyable as we anticipated. In the middle of the night a small, stinky, flea bitten puppy decided to use our tent as a trampoline until he was 'dog-tired' and the cosy vestible of our tent seemed a nice place to fall asleep.

Country Road - Aguas Termales, Santa Rosa
Santa Rosa is firmly established on the local Colombian tourist trail. A small colonial city, bustling and vibrant, the main plaza is iced with a grand gothic cathederal. Horse and carts race through the narrow streets, battling with trucks, buses, scooters and the quintessential Colombian Renault.
While camping we met Marta and her German friend Carlos, shared a few drinks and were invited to Martas house at Andalucia. Visiting Martas friendly family proved to be an entertaining and enjoyable event culminating in a fabulous ride through the country in a horse and cart to pick manderines and guavas.

Picking fruit
Nanna fell in love with Grant as his curly blonde hair, blue eyes and fair skin reminded her of her late husband. Marta was a gracious and generous host while Rosalina kindly found space for us in her home to bed down for the night and Oscar allowed us to put Piggy away safely in his shed.

Piggy safely tucked away for the evening
Some-how-or-rather Grant was talked into taking all the little children (about 10 in total) for a joy ride around town on Piggy, the biggest moto they had ever seen. Squeals of delight and fright could be heard as Grant revved the engine and took off down the street to Parque Central.

Grant with Michelle and Raquelle
We met up with Randy, a fellow V-Strom owner (650 V-Strom) and, to Grants delight, a hang-glider pilot, outside of Cali and were escorted through the heavy traffic to his home for the evening, promising to return to Cali in a few days we visited Popoyan (approximatley 130km south) a beautifuly restored colonial town close to Volcàn Puracè.

Teatro Municipal - Popoyan
Heading out on the road towards Nieva and San Augustine, as far as the town of Coconuco, we became a little aprehensive with the isolation, lack of other traffic and no military presence along this route. Many locals at Coconuco had suggested the road further east towards Nieva could be dangerous due to guerilla and narco traffic occupation, we chose to return to Popoyan dissapointed as we were looking foward to seeing the archeological site at San Augustine.

On the way to Volcán Puracé
Returning to Cali we performed some much needed maintenance on Piggy including washing and inspecting the chain and sprockets, replacing the fluids in the clutch and rear brake.
At Randy's suggestion we chose to ride the 500km's from Cali to Ipiales and the border of Ecuador together.

Grant and Randy
From Pasto the mountains become part of the Andes chain climbing higher in altitude as the road twists and turns on itself, snaking its way to Ipiales.
The change in scenery was spectacular and surprising from the green fields of sugar and coffee to the dry and dusty landscapes of the higher altitudes. The two bikes wound their way through mountain tunnels, alongside deep ravines and over many kilometres of rough road works. On several occasions we were signaled by road workers to continue through only to find half way along the narrow detour a truck bearing down apon us from the opposite direction. All in a days ride!
The beautiful gothic Sanctuary of the Virgen of Las Lajas situated over the Rio Guáitara, near Ipiales, is said to have produced almost as many miracles as Lourdes in France. Once a year a great pilgrimage to the sanctuary occurs from both Colombia and Ecuador.
Ipiales, the city of three volcanoes. We only saw two! However, the morning view was both spectacular and exciting as the full moon sat above the cone of Volcán Cumbal, while plumes of white smoke vented from the crater of Volcán Chile.

Volcàn Cumbal - Ipiales, Colombia - photo courtesy of Randy

Volcàn Chile - Ipiales, Colombia - photo courtesy of Randy
**************************************
So, for five weeks and perhaps 4,000 kms we travelled in Colombia.
Is Colombia a safe country to travel? Well, we had no problems! Yet we know there is still a very real risk to the traveller, if not, why then are the main roads so extensively patrolled by the military?
The present Government has, and is continuing to make very real progress in securing many of the 'hot spots' of Colombia and this action is felt in the people, who after all, have the greatest to gain.
For the most part we only travelled the Pan-American and other main toll roads (free for motorcycles!). When we did wander, it was only after extensive discussion with millitary police and many of the locals. Often we were warned of a section of road where stopping was considered unwise or of a certain town that was known as a safe haven for many of the less desirable citizens of Colombia. In every case we heeded to these warnings.
In the end, the decision to travel in Colombia was, for us, entirely personal.

Colombias famous Chiva

Enter your email address to receive updates to Grant Guerin and Julie Rose's trip story!
Recent Entries
Archives:
Archives:
Monthly
Archives:
Category
NEW! HU 2015 Motorcycle Adventure Travel Calendar is now available! Get your copy now for some terrific travel inspiration!
HUGE, 11.5 x 16.5 inches, beautifully printed in Germany on top quality stock! Photos are the winning images from over 600 entries in the 9th Annual HU Photo Contest!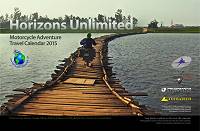 "The calendar is magnificent!"
"I just wanted to say how much I'm loving the new, larger calendar!"
We share the profit with the winning photographers. YOU could be in the HU Calendar too - enter here!
Next HU Events
NEW!

USA Virginia: Apr 9-12, 2015
Take 40% off Road Heroes Part 1 until October 31 only!
Road Heroes features tales of adventure, joy and sheer terror by veteran travellers Peter and Kay Forwood (193 countries two-up on a Harley); Dr. Greg Frazier (5 times RTW); Tiffany Coates (RTW solo female); and Rene Cormier (University of Gravel Roads).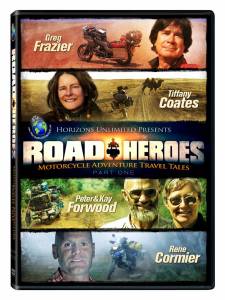 "Inspiring and hilarious!"
"I loved watching this DVD!"
"Lots of amazing stories and even more amazing photographs, it's great fun and very inspirational."
"Wonderful entertainment!"
Check it out at the HU Store! Remember to use Coupon Code 'HEROES' on your order when you checkout.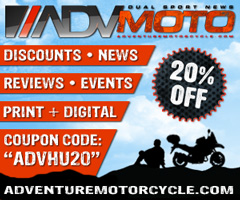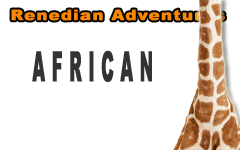 What others say about HU...
"I just wanted to say thanks for doing this and sharing so much with the rest of us." Dave, USA
"Your website is a mecca of valuable information and the DVD series is informative, entertaining, and inspiring! The new look of the website is very impressive, updated and catchy. Thank you so very much!" Jennifer, Canada
"...Great site. Keep up the good work." Murray and Carmen, Australia
"We just finished a 7 month 22,000+ mile scouting trip from Alaska to the bottom of Chile and I can't tell you how many times we referred to your site for help. From how to adjust your valves, to where to stay in the back country of Peru. Horizons Unlimited was a key player in our success. Motorcycle enthusiasts from around the world are in debt to your services." Alaska Riders

10th Annual HU Travellers Photo Contest is on now! This is an opportunity for YOU to show us your best photos and win prizes!
NEW! HU 2014 Adventure Travel T-shirts! are now available in several colors! Be the first kid on your block to have them! New lower prices on synths!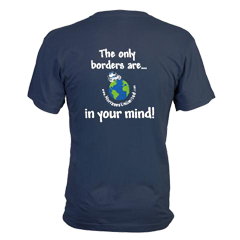 Check out the new Gildan Performance cotton-feel t-shirt - 100% poly, feels like soft cotton!

What turns you on to motorcycle travel?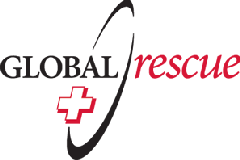 Global Rescue is the premier provider of medical, security and evacuation services worldwide and is the only company that will come to you, wherever you are, and evacuate you to your home hospital of choice. Additionally, Global Rescue places no restrictions on country of citizenship - all nationalities are eligible to sign-up!
New to Horizons Unlimited?
New to motorcycle travelling? New to the HU site? Confused? Too many options? It's really very simple - just 4 easy steps!
Horizons Unlimited was founded in 1997 by Grant and Susan Johnson following their journey around the world on a BMW R80 G/S motorcycle.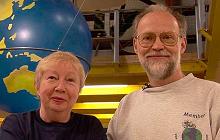 Read more about Grant & Susan's story
Membership - help keep us going!
Horizons Unlimited is not a big multi-national company, just two people who love motorcycle travel and have grown what started as a hobby in 1997 into a full time job (usually 8-10 hours per day and 7 days a week) and a labour of love. To keep it going and a roof over our heads, we run events (22 this year!); we sell inspirational and informative DVDs; we have a few selected advertisers; and we make a small amount from memberships.
You don't have to be a Member to come to an HU meeting, access the website, the HUBB or to receive the e-zine. What you get for your membership contribution is our sincere gratitude, good karma and knowing that you're helping to keep the motorcycle travel dream alive. Contributing Members and Gold Members do get additional features on the HUBB. Here's a list of all the Member benefits on the HUBB.
Books & DVDs

All the best travel books and videos listed and often reviewed on HU's famous Books page. Check it out and get great travel books from all over the world.

MC Air Shipping, (uncrated) USA / Canada / Europe and other areas. Be sure to say "Horizons Unlimited" to get your $25 discount on Shipping!
Insurance - see: For foreigners traveling in US and Canada and for Americans and Canadians traveling in other countries, then mail it to MC Express and get your HU $15 discount!
Story and photos copyright © All Rights Reserved.
Contact the author:
Editors note: We accept no responsibility for any of the above information in any way whatsoever. You are reminded to do your own research. Any commentary is strictly a personal opinion of the person supplying the information and is not to be construed as an endorsement of any kind.
Hosted by: Horizons Unlimited, the motorcycle travellers' website!
You can have your story here too - click for details!