Hans-Ove Görtz - Riding across America
Introduction
My story is an ordinary one, as an ordinary man try to do uncomplicated and not so adventurous things - and get a whole lot back meeting ordinary people and sharing their lives for a short time. One of the best things by doing that I found out that riding together with local people on their best roads and share the riding experience...
I started my planning seriously by the end of year 1999. Since many years I have had a dream to travel from coast to coast in US and during the autumn 1999 I had been thinking of the possibility to achieve it during the year 2000. I also had in mind that I wanted my wife Ulrika to accompany me so I gave her a US travel - to sit on the back of a bike -as a Christmas present. Not a bad idea considering the possibility to ride with a Kawasaki GTR 1000 from 1994.
The dice was now thrown and I had to make a plan to fulfill my commitment. I immediately mailed my registration form to Phil Tarman that I wanted to participate in the COG Y2KN Continental drift. I used the COG-list (thank You all for your support - no names mentioned and no one forgotten) and different websites to gain information and booked motel and a car in Los Angeles. I estimated the trip to be 5 000 miles and the budget was 25 000 SEK for one person and with my wife I added another 10 000 SEK (my estimate of travel and budget was quite close to the result and You will find more facts about that further down).
Decisions, decisons - Rent, buy or bring my own
One big issue was to decide about the bike - rent, buy or bring my own. Renting a bike in US for three weeks one way (100 USD/day = 2 100 USD + 350 USD to get it back) - well, I did not seriously consider that option very long. To buy a bike, without bringing it to Sweden, was a risky business. There was no problem with funding or find a used Concours. The problem was to find a buyer in advance that would like to make a commitment of buying a Concours at a fixed price after the Y2KN. Well, I did not seriously consider that option very long either.
That made me consider the last option - to bring my GTR over to US. There are several options - have it crated and hand it over to the shipping company, not crate it and put it on a RO-RO ship or an airplane (Lufthansa was the only way). I found out that the shipping cost would be almost identical either way so I had to consider handling and other things. I decided to not to crate it and put it on the RO-RO ship and the reasoning behind that were as follows. I dislike crating and uncrating in a foreign environment. I did not want to take additional risks by travel to Hamburg (Germany) to put it on the airplane so close to my own travel. I liked the idea that the shipping company that specialize in shipping new cars will have people working that are very careful with all cargo, they will probably not be less careful with my GTR!
Early in the morning of the 26th of May I drove my GTR to Skandia harbor in Gothenburg. In the harbor I went to the shipping company Wallenius willhelmsen and after some paperwork and payment I went down to the ship M/S Isolde. I was asked to ride it onboard myself and at the 6th level they showed me a parking spot.
The ship takes only cars - no other cargo - that's why I had a parking spot. After that I left Gothenburg on the back of my travel companion on his BMW K 1200 LT.
Now the waiting started.
Los Angeles
Six weeks later, the 2nd of July, my wife and I departed in the morning from Stockholm and arrived in Los Angeles in the afternoon and went to our motel in Glendale. Early next morning we went to the harbor in Oxnard (50 miles north of Los Angeles) to get my bike. After some paperwork at the US customs everything was ready and I went to collect the bike. The bike was standing outside of the storage building, protected by red warning tape. I found only a minor damage on the GIVI topbox. The engine started on the first push of the button and I was soon on the road.
I rode the nice route no 1 back to L.A. and the not so funny highway from Santa Monica up to Glendale.
Las Vegas, Nevada
After a couple of days resting to get rid of the nine hours time difference we left early in the morning 7th of July on the Interstate to Las Vegas. Oh that was hot! And when we arrived at lunchtime I had 109F on my thermometer so we decided to take the strip since we would not go out again during the day. You bet it was hot under the helmet and the riding suit (Gore-Tex). I was wearing long jeans with a Gore-Tex jacket, leather boots and gloves, helmet hood and a scarf.
Even in high temperatures on the interstates I felt quite comfortable with all my riding gear - the wind blowing and all that - and I followed the advice to prevent from the dehydration and to be sunburnt.
Even if you have sun protection oil on the wind will take some of the protection off. So I kept the gear on and paid the price when we came in to the cities and the slow traffic - phui, what a heat. I got a little dizzy inside my helmet. As we took the Strip in Las Vegas, slowly between the traffic lights, we watched all funny buildings pass by. The Pyramid made of glass, the small Eiffel tower, the tiny mountain village and the big Harley Davidson mounted on a house, hotels, hotels and casinos everywhere - well that's Las Vegas in a nutshell.
Arriving at the hotel with a shower, drinking water and some peanuts we were refreshed and we went to the Casino. After 5 USD and 10 minutes and only losses we became tired of it and went to the pool instead.
Grand Canyon and Hoover Dam
Next morning we left Las Vegas early so we could pass over the desert before the heat, we had 90F when we started, and ride to Brian Head. We arrived in the afternoon, and the bike felt the high altitude - loss of power, high revs and low gear - with a heavy load (two grown ups - not as the security squad! and three full bags and a tank bag filled with our gear). At this place we felt the altitude - 9,400 ft and had headaches, laborious breathing and difficulty sleeping. In the evening we meet John and Debbie. We liked them instantly and we decided to visit Grand Canyon the next day.
The day after we left the nice area early with 55 F in the morning, shortly behind another group, to go down to the desolated area towards the North Rim. After 10 minutes we caught up with the first group. One of the members had an accident, got over on the wrong side of the road and hit a small van, and with pure luck got away with it only with a broken wrist -so after that we had a very cautious ride down in the nice weather. We rode a bit on interstate 15 - had some small drizzle and got into some nice sunshine and comfortable 85-90F. The road through Kaibab national forest was very nice - a lot of trees, animals and police cars beside the road, and it was quite comfortable ride in the plateau down to the North Rim. It started to rain when we were there and the scenery was awesome with thunderstorms throwing away lightning on their way passing the Canyon. Great experience and a memory for life. What a place - it's so wide that you believe that you are looking from one mountaintop towards another and yet it's a canyon, some people call it the world's biggest ditch.
After that we headed back to Natural Bridge for late dinner. Next day we went to Zion National Park and had some marvellous pictures taken - what a place! Nature is really wonderful - and went back and arrived just in time for the group photo. This evening we got together with Phil Tarman and put our plans together for the trip to Arkansas. After some rum and coke and a lot of talking we went to bed late. Early on the 11th of July we pointed the bikes towards Las Vegas - on the nice interstate 15.
Back on the road - alone
It was time for my wife to leave for home (the garden and our small children are more interesting than sitting on the back for more than 3000 mi!). It was still very hot in the desert and we passed quickly to the airport and the cool air-conditioning - hugs and kisses and tears in our eyes.
The bike was parked outside on the towing zone and a paper slip was waiting for me when I came back - pay now USD 10 or USD 20 later it said! I kept it for one hour and then threw it away. Some paper souvenirs are not worth keeping!
I left the airport together with my friends (Phil - minister on his purple 98, John - shop owner on his silver 86 and his lovely Debbie - librarian on her pearl white Honda PC).
We went straight down to Hoover dam, congested road (bumper to bumper) and 114 Fahrenheit. You bet we liked getting off the bikes to make the dam tour and cool off. After that, when it was still very hot, we went down to Kingman and found a real route 66 restaurant - and inside all was pink/mint green plastic and a Rock-Ola was playing Elvis. We stayed for two hours! Gaffed with the bitchy waitress, had nice food with heavy gravy in the cool air-conditioning.
At five we started to ride on the last remaining part of Route 66 to Ash Fork - really nice evening ride, with the sun on our backs, passing obsolete motels and gas stations and almost no other traffic.
Arizona and Texas
Next day we continued our trip into Arizona (do you have the map in front of You?) passing the town Williams and visited the famous Route 66 museum (disguised as a memorabilia shop!) and Flagstaff heading north through Indian reservations. We made a short stop at the Four corners for a photo session, passed some remnants of old and very big volcanoes (you have probably seen them in some Cowboy movies) and went by Mesa Verde, Cortez and Durango and finally made the day at Pagosa Springs.
This was a smelly place! After dinner we found ourselves a nice motel and went directly to bed. The next morning we went over the high southern Colorado Mountains. Ahh, this is the place to stay and make a living and we passed Alamosa and hit into Interstate 25 at Walsenburg. We quickly passed Trinidad and went in to New Mexico avoiding a thunderstorm at the same time as we passed Raton and turned into highway 64/87 going down to Amarillo in Texas.
Amarillo is well known for the Cadillac Ranch (half buried into the ground) and their big 72 oz T-bone steaks. We didn't have the time for any of these - we were a little behind our time schedule so at 1900 we went out onto the Interstate 40, and as we rode we enjoyed a nice sunset. We rode through the flat landscape with long straight lanes and passed into Oklahoma in the darkness and stopped at Elk City. This became the longest travelling day on the entire trip - 594 miles! You bet that the bed was comfortable.
After a good night's rest we continued on I 40 and rode through the flat landscape with long straight lanes. Passed Oklahoma City and took the first tollroad (Turner tpk) up to Tulsa where we made a right turn into highway 412 towards Springdale in Arkansas. We continued on this road, passing the nice looking landscape until we arrived in the beautiful Mountain Home area.
The heat was on and the humidity was high so upon arrival I opted for the pool at once. About 90 persons attended this rally site. I spent the entire rally at the pool area, doing my laundry, cleaning my GTR, talking and kicking tires. Oh, I almost forgot, I had some beer as well. At the banquet I was offered some nice Kentucky bourbon.
Ozark National Forest
We left the rally and we went down to Ozark National forest and the twisty and famous road with orgasmic curves. Well, I had no such things happening to me and instead we had to bid the minister farewell. The heat was pressing so we travelled at a really slow speed, with a lot of stops, towards Memphis, Tennessee. This part of the trip was the most exhausting with high humidity, strong sunshine and over 90 F. So we had many stops at gas stations for drinks and to cool off in the air-conditioning.
Memphis, Tennessee and Graceland
At Memphis we went to the home of Elvis Presley's 'Graceland and we arrived just after closing time - tough luck!
We were looking at his home from the sidewalk and watched the closed entryway. The closed entryways to the car and airplane museums were also visible. Ah, well it was probably not so nice to see anyway. So we went into the souvenir shop and I got myself a pair of sunglasses properly labelled Elvis Presley.
After this revenge we continued our trip and went into Mississippi and stopped at Corinth. This trip of 323 miles had been warm and long - 12 hours inclusive - two hours stop for the souvenir shop and a very tasty Mexican dinner.
Alabama, Arkansas, Virginia, and the Jack Daniels distillery
Next morning we continued into Alabama (the map remember!) and turned north on Natchez Trace parkway, and what a relief, no trucks and a beautiful laid out parkway with a lot of trees shadowing the lane.
Back in Tennessee we turned into route 64 and had some 100 miles of a very scenic landscape and at Fayetteville we put the bikes on route 50 to Lynchburg. We stopped to visit Jack Daniels whisky distillery.
Sorry, no tasting. The whole county is dry. Very nice guide and informative tour. If you have the time go visit the place, it's worth the trouble. After the tour we were offered Jack Daniels lemon soda - very refreshing, and then we went to the city centre to buy some memorabilia. The centre was as I expected - a small plaza with a courthouse in front and beside it a civil war memorial stone was standing.
Appalachian Mountains
Thereafter we rode on Interstate 24 and 75 downhill to the Tennessee River and passing Chattanooga and uphill to Athens and the long sought after nice roads of the Appalachian Mountains. After a good night's rest in Athens we went the shortest route: (143) The Cherohala Scenic skyway into North Carolina (are you still with me on the map?) and connected with route 129 'The Dragon'. Ah - the famous dragon, with 311 curves in 15 miles km up and down. Of course we paid homage to Deals Gap and the memorabilia shop. After a short rest we rode The Dragon and after a nice twisty trip we were back in Tennessee and turned right on Foothills parkway. We were heading towards Gatlinburg and a famous pizza place at Elk plaza - yum, yum. After the pizza we all felt like Security squad prospects. Now we were on the start position of route 441 to go into the 'Smoky Mountain'.
Blue Ridge Parkway and the best riding in the USA
Soon we were back in North Carolina and headed for the nicest of all bike roads - the 'Blue Ridge Parkway'. Blue Ridge Parkway starts or ends at Smoky Mountains and is laid out on the Appalachian crests - up and down through Virginia to Waynesboro where it changes name to Skyline Drive and then continues almost to Washington DC.
Blue Ridge Parkway extends 469 miles and consists only - yes only, of marvelous sweeping curves - uphill and downhill, through tunnels, over and under bridges, going through beautiful valleys and up to the crests again. All in all in comfortable 80F at 35-55 mph in very little traffic, man - nothing will beat that (a cold beer might?). I would be happy to ride this road back and forth for a week without getting enough.
This kind of road was the first time experience for me for such a long distance. Together with the roads from Athens - the Cherohala Scenic Skyway, route 129 'The Dragon' and route 441 'Smoky Mountain' - this was the best ride in US.
Rallying in the rain!
The third rally site at Natural Bridge, close to the Blue Ridge, was situated at the big hotel. I went to my place at KOA and I shared the cabin with two other guys (Boomer from UK and Elvis Rivera). Now we had some nasty weather - rain, first for the whole trip! At the camp I enjoyed the friendship of the other rally members, big steaks and lot of beers late in the nights.
The rally assembled 270+ attendees and was ended with a banquet and very nice door prizes from the sponsors. Sorry to say, but the US airport customs wanted my leather care door prize so I had to leave US without it!
After the rally I went to stay with John and Debi at their house in Goshen. I must say that I achieved a lot, but nothing compared to them. They did twice the distance, first go to Utah and then back again!
Shipping out
Shortly after that I went with Boomer on the four hour drive down to Norfolk and the harbor to ship my bike back to Sweden. After some paperwork at the shipping agent I went to Customs. At Customs they was very zealous and said that the frame number was not correct - a zero was missing in the paper (ZGT00A(0)35188)!!! They asked me if it was the correct bike. YES I said and then we checked the engine number and after a short discussion they said it was OK to ship it or as they put it: 'it's a foreign bike anyway - get the shit out of here'.
Both the Swedish and the California customs had not seen it. Think about the mess it could have created if I had to leave it behind. On the airplane back to Sweden I was saying to myself I hope that the Swedish customs do not notice this and make a fuss about it.
Well, at the Skandia harbor everything went very smoothly. First to pay the shipping, then to Customs to have the papers formally sealed, and at last to the storage - all in one and a half hours. Before I left I checked the bike thoroughly to see if it had some new scratches. Yes, I found one small dent, the size of a dime, on the silencer.
Happily I left Gothenburg on route 40 and highway E4 and passed a beautiful summer landscape with some sunshine and comfortable 75F. What a nice end of the Y2KN on the evening 17th of august 2000!
Facts: one person 6th of July to 25th of July 20 days.
Driving distance approx. 5,200 miles (coast to coast 3,800, 600 in Sweden and the rest is extra in US).
Cost for one person 30,000 SEK (USD approx. $3,200) includes:
- Airline ticket (KLM, Stockholm - Amsterdam - Los Angeles, Washington - Amsterdam - Stockholm 560 USD)
- Shipping of bike (Wallenius willhelmsen 1 300 USD)
- Insurance shipping (Atlantica 100 USD)
- Insurance in US (Green light insurance 180 USD)
- Gas (450 litre approx. 200 USD)
- Motel (average cost, sharing room 20 USD:-/night, 420 USD)
- Registration Y2KN 70 USD
- Fast food on the road 90 USD
- Train and taxi in Sweden 100 USD.
If you are considering shipping by boat remember that you have to leave it in the harbor five days prior to ships departure at the customs. The voyage will take approx. 17 days from the east coast to Sweden and approx. six weeks from the west coast.
---
Member login
Are you an Overland Adventure Traveller?
Does the smell of spices wafting through the air make you think of Zanzibar, a cacophony of honking horns is Cairo, or a swirl of brilliantly patterned clothing Guatemala? Then this is the site for you!
Hosted by Grant and Susan Johnson, RTW 1987-1998
NEW! HU 2015 Motorcycle Adventure Travel Calendar is now available! Get your copy now for some terrific travel inspiration!
HUGE, 11.5 x 16.5 inches, beautifully printed in Germany on top quality stock! Photos are the winning images from over 600 entries in the 9th Annual HU Photo Contest!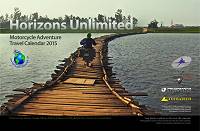 "The calendar is magnificent!"
"I just wanted to say how much I'm loving the new, larger calendar!"
We share the profit with the winning photographers. YOU could be in the HU Calendar too - enter here!
Next HU Events