Archives
November 27, 2006 GMT - JOURNEY'S END
FRIDAY, OCTOBER 19 I share the bunkroom (four bunks) with an absent Japanese. I unload the bike and ride out of town to the Honda agency. The owner of the restaurant where I stopped for lunch has called to announce...
November 27, 2006 GMT - HOSTAL CRUZ DEL SUR
FRIDAY, OCTOBER 19 I cross the final mountain pass to Ushuaia. A few specks of snow sting my cheeks. Snow turns to rain as I dip into town. Ahead lies the Beagle channel. I book into the Hostal Cruz del...
November 27, 2006 GMT - BEAVERS
FRIDAY, OCTOBER 19 Honda and I are on the final climb of our journey. Snow closes in. Sun-lit peaks shimmer. I stop for lunch at a restaurant on the right of the road. The owner quizzes me. Where do I...
November 27, 2006 GMT - GRIM DEVASTATION
FRIDAY, OCTOBER 19 I have gained a day. I had a Friday yesterday. Now I discover that today is Friday. One day in six months is no big deal. I ride out of Rio Grande with regret. The Hotel Argentina...
November 27, 2006 GMT - GRACIELA, THANK YOU
FRIDAY, OCTOBER 19 I eat an excellent grill and stroll back passed the Liverpool Pub. The cops remain in occupation. The kitchen at the Hotel Argentina is welcoming. The coven and the students slope off to watch a couple of...
November 27, 2006 GMT - GREAT FOOD IN RIO GRANDE
FRIDAY, OCTOBER 19 Rincon de Julio in Rio Grande is across the highway from the gas station. Julio is where the locals eat, those serious about food. Donít try the smart restaurant attached to the expensive hotel. Julioís is the...
November 27, 2006 GMT - GRACIELA
FRIDAY, OCTOBER 20 I fill with gas, take a right at The Liverpool Pub, an immediate left and a second right on the main avenue. Hotel Argentina is the low, single-floor tin building on the right. You canít miss it....
November 27, 2006 GMT - RIO GRANDE
FRIDAY, OCTOBER 20 There is a lot of water on the approach to Rio Grande. Early evening and mist smokes off the lakes and ponds and streams. Cold closes in. Visibility drops and my spectacles fog over. The fuel gauge...
October 26, 2006 GMT - SHEEP MAY EAT THEM
FRIDAY, OCTOBER 20 I am half an hour at the Argentine border. I fly home at the end of the month and will return in February to ride north. I intend storing the Honda with the Honda agent in Ushuaia....
October 26, 2006 GMT - EXPERT ON DIRT
FRIDAY, OCTOBER 20 Paperwork at the Chilean border takes half an hour. I have 180 Ks to cross before reaching the next frontier. The first 30 Ks are concrete; the rest is gravel. Gravel would have defeated me at the...
October 26, 2006 GMT - TIERRA DEL FUEGO
FRIDAY, OCTOBER 20 There are no gas stations between Santa Cruz and the border. Fill up in town. Wind as usual. The landscape has more shape; scrub has given way to vast grass paddocks. The grass is thin and tufty....
October 26, 2006 GMT - FOUR FRONTIERS
FRIDAY, OCTOBER 20 I have four borders to cross: out of Argentina, into Chile; out of Chile, into Argentina. A young Argentine cop at the first border discusses the Malvinas war. He was a child, too young to remember much...
October 26, 2006 GMT - TIERRA DEL FUEGO
FRIDAY, OCTOBER 20 There are no gas stations between Santa Cruz and the border. Fill up in town. Wind as usual. The landscape has more shape; scrub has given way to vast grass paddocks. The grass is thin and tufty....
October 26, 2006 GMT - STICK WITH BEEF
THURSDAY, OCTOBER 19 Santa Cruz is the Provincial capital. It is packed with visiting officials and people needing to speak with officials. And it has the Provinceís main hospital. I try six hotels before finding a bed. The shortage puts...
October 26, 2006 GMT - TOO FAR BY FAR
THURSDAY, OCTOBER 19 I face another day of wind and cold and vast distances. I am accustomed now to the dress code for springtime in Patagonia. On the bottom half I wear underwear and long underwear, two pairs of pyjama...
October 26, 2006 GMT - VICTIMS
THURSDAY, OCTOBER 19 Early morning and I am forced to tack into a fierce wind as I circle San Julianís monument to the Argentine airman killed in the war. The plane seems so small, little more than a toy. The...
October 26, 2006 GMT - BELGRANO
WEDNESDAY, OCTOBER 18 I am in a fishing port. I want to eat fish. The best restaurant has been taken over by elderly couples form Buenos Aires on a bus tour of Patagonia. A table will be available at 10.30....
October 26, 2006 GMT - SAN JULIAN, PATAGONIA
WEDNESDAY, OCTOBER 18 Most towns on the Patagonian plain seem built by the three little piggies. Along comes a wolf and heíll blow them away. Porto San Julian is different. It possesses solidity and permanence. I donít know why -...
October 26, 2006 GMT - DEAD STRAIGHT FOR EVER
WEDNEDAY, OCTOBER 18 The land between Caleta Olivia and Porto San Julian began as a plateau. God got bored and chopped the plateau with the side of his hand every fifty miles or so. Rivers run through the valleys. Which...
October 26, 2006 GMT - SADNESS
MONDAY, OCTOBER 16 I sit with the owner of the Hotel Andalucia at the front table beneath the TV. In his mid-sixties, he is a short man, thickset, square hands. He wears a flat cap with a worn peak, blue...
October 26, 2006 GMT - SOVIET ART
MONDAY, OCTOBER 16 The political history of Argentina is tawdry in the extreme. The politicians have a need for heroes with whom to associate themselves. Statues memorialise great men in even the smallest village. Sa Callete memorialises the oil field...
October 26, 2006 GMT - CALETA OLIVIA
MONDAY, OCTOBER 16 Caleta Olivia is an oil town. Here, too, the wind is in command. I stop at a small hotel near the plaza. The owners emigrated from Andalucia so let me call it the Hotel Andalucia. The wife...
October 26, 2006 GMT - MOTHERīS DAY
MONDAY, OCTOBER 16 Wind buffets the Honda and I crouch low on the ride to Comodoro RIivadavia. Ahead lies the South Atlantic. I intended servicing the bike at the Honda agency. Comodoro Rivadavia appears deserted. Wind commands the streets. Dust...
October 26, 2006 GMT - BIKER PARADISE OR DUMP
SUNDAY, OCTOBER 14 I ask Mrs Hotel Colon if there is a restaurant open nearby. She asks whether a steak and fries would satisfy. A steak and fries would be just dandy. I drink a second beer and nod intelligently...
October 26, 2006 GMT - I AM AN EMBARRASSMENT
SUNDAY, OCTOBER 14 The Hotel Colon in Sarmiento is the type of dump any respectable biker hankers after. The bar is the right length. Six people and it doesnít feel empty; twelve and it doesnít feel overcrowded. Sarmiento is a...
October 26, 2006 GMT - THEY ALLOW HORSES
SUNDAY, OCTOBER 14 The nearest pollution must be hundreds of Ks to the north. I am struck by the clarity of light and the extraordinary depth of blue in the sky. The blue is reflected in the lake on the...
October 26, 2006 GMT - GALES IN PATAGONIA
SUNDAY, OCTOBER 14 I ride out of Teka into a full gale. A momentís inattention and I would be slammed off the road. I consider turning back. A great restaurant Ė maybe there is a great bed. However Patagonia is...
October 26, 2006 GMT - GREAT GNOCCI
SUNDAY, OCTOBER 14 A true restaurateur is a miracle you luck on in the strangest places. Evidence starts with the greeting. Tecka, the owner has been waiting all his life for my arrival. Will the plat de jour suffice? A...
October 26, 2006 GMT - TEKA
SUNDAY, OCTOBER 14 Esquel was a hippie haven in the seventies. Now it is a fashionable resort - bright hippies tracked the change and shop with Platinum-grade credit cards. The road from Bolson crosses a stretch of altiplano. I pass...
October 26, 2006 GMT - BOLSON
SATURDAY, OCTOBER 13 Bolson is cute tourist town. Prices are high. So are the mountains. The tourist office found me a room ($15). Face the square and turn left up main street. Three blocks and Hospedaje is on the left....
October 26, 2006 GMT - BIKER TEST
FRIDAY, OCTOBER 12 Bariloche. I wonder at the name. Was it born as Barryís loch? Pines edge the lakeshore. Above shine the ski slopes. Lift cables bisect the pistes. The road swings south towards Bolson. I follow a second lake....
October 26, 2006 GMT - SINUOUS & SENSUAL
FRIDAY, OOCTOBER 12 Argentina excels in road signs. SINUADO is my favourite. SENSUADO would be extra. Any biker knows the meaning: sweeping curves, smooth dips, curving climbs, perfect camber, views to die for. The road to Bariloche passes through a...
October 26, 2006 GMT - RIP-OFF
FRIDAY, OCTOBER 13 Route 237 crosses the river only once. The gas station the far side of the bridge has the appearance of a restaurant but isnít. Ride a few miles further and there is a restaurant on your left...
October 26, 2006 GMT - YOUNG BULLOCK
FRIDAY, OCTOBER 13 Another great day. I ride route 327 from Villa el Chocon to San Carlos del Bariloche, then take route 40 to Bolson. Lakes and mountains and dark, forbidding moors are the menu. I recognise a face on...
October 26, 2006 GMT - MACHO MANIAC
THURSDAY, OCTOBER 12 Villa el Chocon down by the lake is a tourist resort. The cops at the cop station warned me of the prices and suggested a hostal in the roadside village. Hostal El Alamo is a find. Any...
October 26, 2006 GMT - VILLA EL CHOCON
THURSDAY, OCTOBER 12 What began as a bad day has been a great day. I stopped for lunch at a shack in the middle of nowhere. A bunch of trucks and pickups were parked outside, a good sign. The drivers...
October 26, 2006 GMT - OLD FOR A LEARNER
THURSDAY, OCTOBER 12 Any biker riding through Cochico, please stop and pay the old man my respects and give him my thanks. He pulled me out of black depression. His contentment did it. And human contact. I got back on...
October 26, 2006 GMT - A REAL MESS
THURSDAY, OCTOBER 12 Cochico is eight shacks and a police barrier. A young cop tells me to pull off the road below a dead pickup. The shack behind the pickup serves coffee. I look for a sign. Nothing. Only a...
October 26, 2006 GMT - BIKER DEPRESSION
THURSDAY, OCTOBER 12 7 a.m. and the road leads dead straight across scrub desert. A cold fierce head wind plays smoky patterns of fine sand across the tar. I bend forward over the fuel tank and edge the speedometer up...
October 26, 2006 GMT - COWARDLY BRIT
WEDNESDAY, OCTOBER 11 General Alvear is a small modern town with a large tree-shaded plaza. Why this need to memorialise the military? What did General Alvear do? I find a hotel room, hot water, $7. I check the Internet and...
October 26, 2006 GMT - GLOBAL ECONOMY
WEDNESDAY, OCTOBER 11 I am due to meet with the regional President of the journalistsí union in San Juan. His cell phone is permanently busy. The road south traverses flat fields. The mountains are vertical flats and equally boring. San...
October 26, 2006 GMT - MENDOZA
MONDAY/TUESDAY, OCTOBER 9-10 Mendoza is a clean safe modern city of shaded streets and watered parks and squares cooled by fountains. Plaza San Martin is the centre. I check half a dozen hotels before taking a $13 room on the...
October 26, 2006 GMT - TO MENDOZA
MONDAY, OCTOBER 9 Modern machinery and concrete sew the desert with water channels. From the sand sprout vineyards and citrus orchards and serial crops. This is Argentina: the scale is vast, the fields are flat. Close-by soar the snow-capped Andes....
October 11, 2006 GMT - TO MENDOZA
Was Evita Peron a late riser?

October 11, 2006 GMT - TO CHEPES
Present a Texan with a slice of this land and he would refer to it as his ranch. Normal people recognise desert.
October 11, 2006 GMT - TAFI DEL VALLE
One elderly man in a thick fawn coat and wool hat sweeps refuse back into a bin dogs have riffled. No one else stirs.
October 11, 2006 GMT - DYNAMITE CAMELS
Honda and I share an antipathy for dirt.
October 11, 2006 GMT - EL RIO DE LAS CONCHAS
The gorge of El Rio de las Conchas on the road from Salta to Cafayate is a must for a biker.
October 11, 2006 GMT - VILLAGES ARE BEST
The altiplano is beautiful to the traveller. He passes by. He doesnít stop. There is nowhere to stop. In Argentina, village after village tempts.
October 11, 2006 GMT - BEING OLD ISN'T FUN
I donít want to ride.
I have been riding for months.
Tierra del Fuego is a further 5000 Ks.
October 11, 2006 GMT - AM I A RACIST?
I relax. I am robbed. Hah!

October 11, 2006 GMT - ARGENTINA
I am in Salta.
October 11, 2006 GMT - INTO ARGENTINA
Crossing the border was routine...
October 04, 2006 GMT - TAIL WIND
Iíll need Argentine pesos tomorrow.
October 04, 2006 GMT - GOODBYE COCHABAMBA
Villa Turani has been a centre for the US DEA
September 30, 2006 GMT - INTRODUCING ME
I am in my mid-seventies and riding from Cortes first house in Santa Cruz, Mexico, to Tierra del Fuego.
Return to
Enter your email address to receive updates to Simon Gandolfi's trip story!
NEW! HU 2015 Motorcycle Adventure Travel Calendar is now available! Get your copy now for some terrific travel inspiration!
HUGE, 11.5 x 16.5 inches, beautifully printed in Germany on top quality stock! Photos are the winning images from over 600 entries in the 9th Annual HU Photo Contest!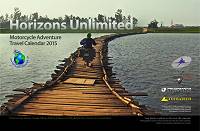 "The calendar is magnificent!"
"I just wanted to say how much I'm loving the new, larger calendar!"
We share the profit with the winning photographers. YOU could be in the HU Calendar too - enter here!
Next HU Events
NEW!

USA Virginia: Apr 9-12, 2015
Canada West: Aug 20-23, 2015
USA California: Sep 24-27, 2015
Aus Queensland: Sep 24-27, 2015
USA North Carolina: Oct 8-11, 2015
Aus Perth: Oct 9-11, 2015
Take 40% off Road Heroes Part 1 until October 31 only!
Road Heroes features tales of adventure, joy and sheer terror by veteran travellers Peter and Kay Forwood (193 countries two-up on a Harley); Dr. Greg Frazier (5 times RTW); Tiffany Coates (RTW solo female); and Rene Cormier (University of Gravel Roads).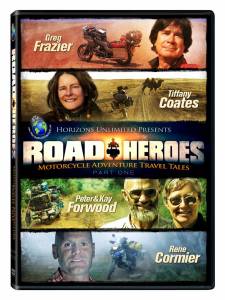 "Inspiring and hilarious!"
"I loved watching this DVD!"
"Lots of amazing stories and even more amazing photographs, it's great fun and very inspirational."
"Wonderful entertainment!"
Check it out at the HU Store! Remember to use Coupon Code 'HEROES' on your order when you checkout.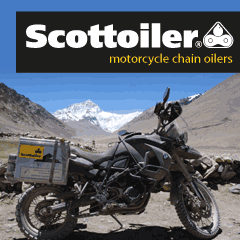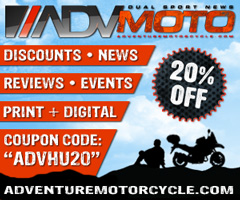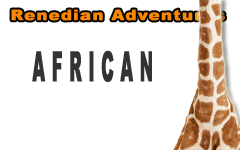 What others say about HU...
"I just wanted to say thanks for doing this and sharing so much with the rest of us." Dave, USA
"Your website is a mecca of valuable information and the DVD series is informative, entertaining, and inspiring! The new look of the website is very impressive, updated and catchy. Thank you so very much!" Jennifer, Canada
"...Great site. Keep up the good work." Murray and Carmen, Australia
"We just finished a 7 month 22,000+ mile scouting trip from Alaska to the bottom of Chile and I can't tell you how many times we referred to your site for help. From how to adjust your valves, to where to stay in the back country of Peru. Horizons Unlimited was a key player in our success. Motorcycle enthusiasts from around the world are in debt to your services." Alaska Riders

10th Annual HU Travellers Photo Contest is on now! This is an opportunity for YOU to show us your best photos and win prizes!
NEW! HU 2014 Adventure Travel T-shirts! are now available in several colors! Be the first kid on your block to have them! New lower prices on synths!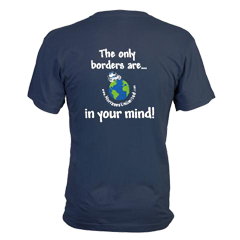 Check out the new Gildan Performance cotton-feel t-shirt - 100% poly, feels like soft cotton!

What turns you on to motorcycle travel?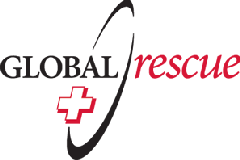 Global Rescue is the premier provider of medical, security and evacuation services worldwide and is the only company that will come to you, wherever you are, and evacuate you to your home hospital of choice. Additionally, Global Rescue places no restrictions on country of citizenship - all nationalities are eligible to sign-up!
New to Horizons Unlimited?
New to motorcycle travelling? New to the HU site? Confused? Too many options? It's really very simple - just 4 easy steps!
Horizons Unlimited was founded in 1997 by Grant and Susan Johnson following their journey around the world on a BMW R80 G/S motorcycle.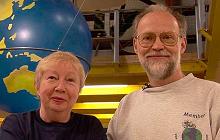 Read more about Grant & Susan's story
Membership - help keep us going!
Horizons Unlimited is not a big multi-national company, just two people who love motorcycle travel and have grown what started as a hobby in 1997 into a full time job (usually 8-10 hours per day and 7 days a week) and a labour of love. To keep it going and a roof over our heads, we run events (22 this year!); we sell inspirational and informative DVDs; we have a few selected advertisers; and we make a small amount from memberships.
You don't have to be a Member to come to an HU meeting, access the website, the HUBB or to receive the e-zine. What you get for your membership contribution is our sincere gratitude, good karma and knowing that you're helping to keep the motorcycle travel dream alive. Contributing Members and Gold Members do get additional features on the HUBB. Here's a list of all the Member benefits on the HUBB.
Books & DVDs

All the best travel books and videos listed and often reviewed on HU's famous Books page. Check it out and get great travel books from all over the world.

MC Air Shipping, (uncrated) USA / Canada / Europe and other areas. Be sure to say "Horizons Unlimited" to get your $25 discount on Shipping!
Insurance - see: For foreigners traveling in US and Canada and for Americans and Canadians traveling in other countries, then mail it to MC Express and get your HU $15 discount!
Story and photos copyright © All Rights Reserved.
Contact the author:
Editors note: We accept no responsibility for any of the above information in any way whatsoever. You are reminded to do your own research. Any commentary is strictly a personal opinion of the person supplying the information and is not to be construed as an endorsement of any kind.
Hosted by: Horizons Unlimited, the motorcycle travellers' website!
You can have your story here too - click for details!