March 07, 2005 GMT
22-02-05 -INDONESIA - SUMATRA

Yesterday I put Doris on the SS MITRA UTAMA, a 60ft timber hulled tramp steamer that ply's its trade between Penang in Malaysia to Belawan in Sumatra, Indonesia.
The forwarding agent in Penang was recommended by my fellow traveling companion from Laos, Simon, who is now in America with Suzy, his wife who are about to complete their around the world ride.
If you are ever in this part of the world get in touch with CAKRA FORWARDING AGENCY in Penang. 187 2nd Floor,Lebuh Pantai 10300. Ph. 2618419.

Getting back to Doris, it took about half an hour to get her cleared through customs and checked into the warehouse on the dock, the whole process on the Malaysian end was very painless for a total cost of $85Aust and about $3Aust for the wharfies, who looked after Doris, attaching the appropriate rope slings to her and hoisted her effortlessly onto the little tramp steamer that will get her to Indonesia, which should take about 19 hours.
Unfortunately, I can't get on the little boat, I have to use the fast ferry from Penang, which takes around 6 hours, so it's only the second time in nearly 12 months that I have traveled separately from my bike.
Penang is a funny place to stay, I have been here for 4 days and have had enough time to ride around the Island, go to a couple of beaches and have a look at the night life. My conclusion is, that unless you come here on a package deal, you know, luxury hotels, pools etc, and are oblivious how the island works, you will think you had a good relaxing holiday in a tropical paradise.
If you do it on a budget, and stay in a guest house, in the middle of China Town, you then understand the amount of influence the Chinese community has on Penang, they are like the worker ants in a giant nest, working and living on top of each other, with a constant din that goes on for 24 hours a day. Were the Indians are the money lenders and the Muslims, seem to blend in and are not as conspicuous, other than the noisy wailing from the mosques and of course, the veiled women.
I won't be disappointed in leaving Penang, the place is so oppressively hot, much the same as Melaka, were I stayed on my way up. Although saying that, it must have been a hell of a place 100 years ago.
22-02-05
Well, you can't say I wasn't warned about the corruption on the docks in Indonesia, I caught the 9.30am Hydro Ferry to Belawan, Indonesia as planned, the ferry was chock a block full of Indo's going back after a few days of shopping. The boat flew over the 270 odd k's in 5 and half hours and got into Belawan at 1.30pm (Indo time).
The immigration is as chaotic as any Asian port, with all the Europeans singled out and made to pay the $25US for a 4 week visa. Total confusion arose, when 3 young American backpackers, 3 hippy Germans complete with a 5 year old daughter and myself were herded off to a little kiosk to be processed and given our clearances, the trouble was the yanks only had travelers cheques and the Germans only had loose change in a number of currencies and also refused to pay for their daughter, being the only seemingly normal person amongst this motley lot, I promptly paid the visa cost and was on my way.
Well, so I thought, as soon as you leave the comparative safety of the terminal, you are immediately confronted with a myriad of taxi and bus drivers, really in your face, touting their services, combined with the afternoon heat, it's all you need when all I wanted was to find Doris and get on my way.
I was fronted by a young guy called SALOMO, he spoke excellent English and noticed that I was carrying a motorcycle helmet, and enquired if I needed some help in getting my bike, as he had helped Simon and Susie a few months before. These blokes are pretty sharp.
So I engaged him to find Doris, and then get me to the Freight Forwarders, this he did, in his beat up old mini bus, I paid the small sum of $3Aust to the Freight Forwarder, who happened to go to school with SALOMO, then it was off to the wharf to get Doris.
So far so good, then the inevitable shit happened, the foreman demanded close to $30Aust to release my bike, I first laughed at him, and told him he can do better than that! (After all, the Malaysian wharfies only asked for $3Aust) After a deliberation with his wharf mates, he came back with his counter offer, exactly the same as the first! This time I have an audience of about 10 hardened little Indo buggers, so I give in and paid him.
As soon as I kicked over Doris, a shit load of water spewed out of the exhaust, shit I have blown a head gasket, then I looked at the dash, my $2 compass that has survived since leaving Oz, was broken. That's it I thought, I turned off Doris, dismounted and approached the ogling throng in a way only a half crazed Irishman can do! Were is the foreman? I demanded, he turned around in the crowd just as I screamed insults at him, and thrust the broken compass in to his hand, immediately demanding compensation!
It did the trick, he new he ripped me off, so giving me back $5Aust making him look good in front of his men.
This little altercation over, I asked SALOMO to find me a hotel and decided to have a good nights sleep and leave the morning for Lake Tobo. Hopefully someone was having a little joke with Doris, and put water down the exhaust, she is running ok at the moment.
You can contact SALOMO on 08126052651, Port Belawan, good bloke, and only charged me $10Aust for the whole afternoons work.
Next morning, I crossed my fingers, checked Doris's oil and fired her up, no signs of water, no condensation. Great let's get out of here!
Straight out onto the 4 lane highway, and towards MEDAN, until I got to the toll gates! Were I was ordered to turn around and told in uncertain terms by a policeman, "no motorcycles allowed on toll way". I then suffered the undignified process of joining the great unwashed crowd of Indonesian back road traffic on a road from hell that on the toll way would have taken 20 minutes; I was subjected to an hour and a half of the worst road and traffic conditions so far on my travels.
Finally I fought my way on to highway 25, the mighty Trans Sumatra, no more than a 2 lane bitumen country road, I filled up with fuel and I was off on a reasonable ride to Lake Toba.
What a great tourist destination, the 2nd largest fresh water lake in the world, nestled a 1000m in the mountains. There is an island in the middle called SAMOSIR ISLAND, you get there on a vehicle ferry and takes an hour. I stayed in a great guest house on a peninsula called TUK TUK. I spent 2 days here, circumnavigating the island and just checking out the natural sites it had to offer. Thougherly recommended.
Alas, I have to keep going south, so I caught the 10am ferry to the mainland at a small resort town called PRAPAT, which has a bank with an ATM, but no money!
Bugger!
Straight down the goat track they call a highway for about 200k's at a moving average of 30k/h, not much fun, considering the vagaries of Indo traffic, lots of mini vans in dilapidated condition going very slow and stopping anywhere they wished, and even slower Vespa's with sidecars, used as taxi's, combine this with the heavy, smelly diesel trucks on some of the worst roads in Asia, and you have the recipe for a very uncomfortable ride indeed.
I arrived in a small dirty backwater town called PADANGSIDIMPUAN around 4 in the afternoon, and looked for a decent hotel, this would have to be up there with the dirtiest towns I have stayed at in all of Asia so far, and the accommodation was no better. But I needed a room and a shower, at around $12A it was a total rip off, there was a thunderstorm approaching so I really needed to get Doris undercover before the downpour.
The bathroom consisted of a squat toilet, a leaky concrete water container with a bucket that you used for a multitude of uses, including your shower, cleaning your teeth and flushing the toilet. Typical backpacker crap, but at $12A? At least the bed was clean.
An early morning start and I set a course for BUKITTINGI, about 290k south. The road winds through the mountain range and presents a beautiful landscape, sometimes rivaling North Thailand, only diminished by the lack of rules that constitute driving in Indo. Therefore your concentration level is way up there; especially through the villages which are dotted along the road, basically they look all the same and are just dirty, smelly road blocks with the inevitable market centrally located with gridlock consequences. Good for playing chicken with the slow moving trucks.
You also have to watch the pedestrians, as the road is only 6m wide and the houses are around 6m away from the edge, you occasionally get a local who is not really concentrating on what he is doing, and walks straight on to the road, unfortunately the guy I encountered had a 6m piece of bamboo balanced on his shoulder, with 3m sticking out across my lane of road, fortunately the other lane was empty.
I even rode across the Equator without realizing it, about 50k north of BUKITTINGI.
I made good time on the twisty road and arrived in BUKITTINGI in around 5 hours; this town has a real lay back feel to it. I stopped off at a café in the centre of town, ordered a coffee and immediately started up a conversation with a Dutch guy who comes here twice a year and stays at a lovely little lake called MANINJAU. John recommended a hotel close to town for $10A a night, what a difference to the previous night! Total security for Doris, I locked her up in the hotels foyer, and really friendly staff too.
Because most of Indonesia is Muslim, I thought I was ready for the usual morning and afternoon indoctrination that this faith loves to indulge in, Oh no; I was totally off by about 100% the noisy barrage of intruding noise begins at 4am, lasts for 2 hours and is totally intrusive to these sometime Christian ears! It begins again at 6.00pm with the most monotonous drone I have ever endured; at least I could find a bar for a bit of reprieve. I personally don't know how anybody gets things done in this environment, perhaps they don't, the guys just sit around, drinking tea or whatever and the women seem to do most of the little work that appears to happen. With this observation, I don't think the West has anything to worry about, especially productivity!
The next day John invited me along to have a look at his Chinese mates bikes, so off we went for a short ride to Johan's place, (funny name for a china man) anyhow Johan lives in the typical 2 story buildings you see all around Asia, the ones with a shop with a roller door down stairs and a flat above. Arriving at the said abode, Johan greets us with a huge grin from ear to ear and opens his garage door.
To anyone who is into bikes it was Aladdin's cave! Sitting along one wall was 3, 250cc BMW's ranging from 1953 to 1958, with the later dressed with a home made sidecar, moving further along you come across a 1938 500cc NORTON, then a 1933 MATCHLESS. Christ! They are all in mint condition.
Johan was going for his usual Sunday ride, and of course he asked us along. The big surprise was he asked us to take all the BMW's for a ride because they haven't been used for a while! Of course we said yes, so off we went, following Johan in the BMW outfit on a cook's tour of BUKITTINGGI.
The next morning I a woke to the usual drone from the mosque, it was raining lightly, so I packed up Doris, put on the wet weather gear for the first time in 4 months, and headed for PADANG on the west coast.
The 90k ride goes through some great mountain scenery and often crosses a defunct railway that the Dutch build in the colonial days. PADANG is a sea port and quite busy, as Indonesia is devoid of Road signs, I had to rely on my GPS to find the coastal road that will eventually get me to Southern Sumatra.
The road is only a secondary road, about 6 metres wide but good bitumen. Even a cruiser could manage this road. It hugs the coastline for about 50k then heads inland through the mountains, its twisty and pretty challenging, with the usual obstacles you expect in Asia, except with the worst drivers on the Planet!
This road rivals some of the scenic routes I have taken in Northern Thailand and Laos, however I could only manage a moving average of around 50k/h. so the 400k run to a little village called MUKO MUKO took me 8 hours.
I found a little hotel called the WISMA TERATAI, its run by a family of very nice people, who asked me to have dinner with them and generally made me feel at home. They were totally fascinated with my digital camera, they never seen one before!
Ask for Ian, he's the father of the clan and a great host.
I was planning to head south to BENGKULU, an old British colonial fort, about 250k's south and spend a few days there, Ian reckons I would be better going past there and staying overnight at MANA, which is on a new coastal road just finished in the last 2 years, which doesn't show up on my map, so we will see what eventuates tomorrow.
1-03-05
I awoke at around 5.30am not to the screams of Islam but Mother Nature's answer to whatever man can muster, the loudest thunder clap I have ever heard, it must be something to do with the tropics because it literally got me out of a very tempestuous dream, and I had ear plugs in! Anyway, Ian offered breakfast, so not wanting to offend mine host, I sat down to a fried egg and some rice washed down with strong black tea, Ian ate with his right hand fingers and I with good old spoon and fork. They use there left hand to wipe their bottoms you know.
I followed the storm south for the next 410k, on a road that you could only describe as having as many curves as a Bangkok Bar Girl. It makes the Mai Hong Son Loop seem like a ride to the corner shop. The only thing good about this road is that an Aussy construction company, called Transfield built all the new bridges across the rivers. It's obvious the Indo's built the approaches, because they are totally stuffed, and usually have a dirty big pothole waiting for you as you exit the bridge.
So far I have done over 800k of twisty, sometimes diabolical coastal country road, without a single straight more than a kilometre long and I have still about 400k to go.
I eventually got to a little town called MANNA, found a guest house in the centre of town for $7A, complete with the usual Indo bathroom, and right now I am trying to dry all my riding gear out, because I got pissed on for the last 120k, at an average speed of only 50k/h its bloody hard work.
So far the road kill stands at 2 chickens that I decapitated with my front wheel, a small parrot that tee boned my helmet, one small goat that I run over with my rear tyre and a large pig, that someone else hit, thank Christ it wasn't me.
The next morning I am about 420k to my last destination, a called BANDAR LAMPUNG, it is the gateway to Sumatra, if you are coming from Java with an airport and cargo port, you get the vehicle ferries from BAKAUHEN, about 90k's south.
The road hugs the India Ocean for most of its 320k south, then heads inland through a mountainous national park.
With longer straights and fewer villages, you can average a much higher average speed, sometimes the road meanders inland to avoid mountains etc, and again the scenery is awesome.
I was really enjoying this section of the ride, only about 160k to go; it's only 11.30am and as a bonus, very little traffic. I was at that time glad I took Ian's advice.
You know the feeling, when you turn a corner on a great ride and all you can see is gridlock traffic. You come to an abrupt stop, then wait a moment, get your senses in order, then consider your options, turn around or deal with the problem at hand and try and forge ahead.
Well I had the same problem, except in front of me, wandering up a mountain at the beginning of a nation park is the most disgusting quagmire of brown oozing mud that I have ever seen, churned up by the bogged trucks and slow wading motorcycles. The mud was about 12" deep, with trucks in both directions trying vainly to navigate the sticky slush, this horrible cake mix was about 100m long, with the only vehicles getting through were the little Asian motorcycles, these little buggers will go anywhere.
It was now midday and the sun was overhead and the temperature was rapidly on the increase.
What to do? I thought, just then a local bloke waded over to me and beckoned me through a recent trough gouged out by a 4WD.
Stuff it, I gunned DORIS, through the ruts, she was up to the task, until the ruts got too deep on each side and my bloody aluminum boxes were dragging through the mud, acting like great bloody brakes! I come to an immediate stop, about 20m from the end of crap. I just slung my leg off the bike and left DORIS wedged in the goo.
A couple of Indo truckies came to the rescue and gave me a push for the last 20m.
You beauty, out of the shit and on my way again, still climbing on a rutted out gravel road, I turned another corner about 1k from the last, and in front of me was an even bigger mud hole than the last, and this time only pedestrians and small bikes were getting through.
I decided to strip Doris down, and wade her through, and then walk back through the foot thick mud to get my gear, this plan worked, just keeping DORIS in first and using her good amount of torque from the big 650cc single, she just plowed her way through.
Then I walked back the 200m or so to get my luggage, this took 2 trips and I was totally stuffed when I finally loaded up Doris, and continued heading southeast.
Disaster again hit as I navigated this road I dubbed SATINS DUNNY, I come to yet another quagmire, the third so far, I was so tired, I just gave DORIS a gut full in first and hoped for the best. Half way though, the back tyre lost traction, and with the weight of my boxes, gravity took over and DORIS, doing her best imitation of a water buffalo having a mud bath, fell on her side.
I was total stuffed, it takes 2 people to pick up this bike fully loaded, so I just sat there, covered from head to foot in shitty Sumatran mud, waiting for an Indo bike rider to give me a hand. Then suddenly there was a thunder clap and the heavens opened up with buckets of tropical rain rapidly filling all the ruts in the sticky mud, then turning into little streams running rapidly down the mountain.
At this point I thought I could be sleeping in the jungle for the night. Throwing the bike cover over DORIS, I just sat under a nearby tree, waiting for the rain to stop and hoping the Cavalry arrives before dark. I decided to walk back down the road to see if I could fetch some help, I passed a sign with a picture of a tiger on it and something written in Indonesian, I later found out it said "do not stop on road at night, tigers about".
The Cavalry eventually arrived in the form of 2 young Indo's on bikes, they gave me a hand to get DORIS upright and soon I was on my way, covered in all sorts of crap towards BANDAR LAMPUNG.
Doris's management system was handing the situation a lot better than mine, I was totally exhausted, I arrived at the first shit hole at 11.30am and it was now 3.30pm, a full 4 hours to go 30k, and I had another 130k or so to my destination, on a bike that was now on reserve and seriously needing a hose down before hitting any bitumen at speed.
Ah ha! A river crossing with kids washing their bikes, there must have been about 40 of them lining the shallow pebbly shoreline.
I did a youie and headed under the bridge to the now screaming and astonished teenagers, most of them totally naked, washing their little Asian bikes in the river.
I just rode DORIS, straight into the river until the water was about a foot deep, put the side stand down and jumped straight into the water, I just laid there, fully dressed in all my riding gear, helmet, jacket, boots everything was soaked, but I didn't care, I just lay there watching the mud gradually dissolve and depart from my very tired body.
I was then confronted by about 20 young teenagers, many naked, offering to wash my bike… for a price.
A half an hour passed and I was still laying in the water, however I did manage to get my helmet and jacket off, and the kids were well on the way to getting the heavy mud off DORIS. I exchanged about $2A with the kids and took off toward my destination for the night, a very soggy 130k run, I eventually had to refuel at the typical corner shop establishments that are dotted along the road, as there are very few petrol stations.
I booked into an excellent hotel for $22A a night, put a cover over the bike, had a shower, and hit the sheets totally exhausted. Without a doubt, SUMATRA's roads are the worst I have encountered so far, if the Aussies hadn't built the bridges over the many rivers that this coastal road traverses, it would take you weeks to get down the coast.
I have decided to spend 2 days of recovery in BANDAR LAMPUNG and give DORIS a thorough going over before catching the ferry over to JAVA.
I have done a total of 2630k's in SUMATRA, at a moving average of 55k/h.
VERDICT: Real potential for experienced adventure motorcycle riding, on REAL trail bikes only! A minimum of local language advised, the people are usually friendly, but reserved and shy, the food is so so (not close to Thai food). And everything is cheep. Shit I wish I was 20 years younger!
March 28, 2005 GMT
4-03-05 - JAVA to EAST TIMOR

After giving Doris a thorough check over after the horror ride of a few days before, it was a high speed run from my hotel room in BADAR LAMPUNG to the vehicle ferry terminal at BAKAUHENI on the southern tip of SUMATRA.
The guide book I have with me describes the road as a scenic drive through the countryside; I think someone has been eating magic mushrooms! Hey, you can't see anything for the bloody diesel fumes, the whole place is so polluted, you are screaming for oxygen every time you manage to get clear of the ponderous lorry convoys and the kamikaze bus drivers.
I managed to do the 90 odd k's in an hour and a half, just making the 9.00am ferry that would take me to MERAK in EAST JAVA. At the speed I was traveling I knew I was taking a considerable risk, due to the traffic conditions, but no one at the hotel knew about the current ferry timetable, the only info I had was it leaves every 2 hours, is that a 9.00am or a 10.00am departing time? No one new, so I gambled for 9.00am, shit it's the first time I've won anything since my kids went to primary school.
The one accident I saw on the road was a fully loaded bus, just off the ferry, head butting a house on the left side of the road, the front of the house was destroyed, and there appeared to be the remains of a smaller bus upside down on the other side of the road, no ambulances, no police, so it must of just happened.
The ferry crossing took exactly 2 hours as advertised, and so far I was pretty impressed with the transport system in Java, especially at a grand cost of $5A. That was about to change! I could even see Krakatoa on my starboard side, I was really impressed!
We disembarked at 11.00am and I was now on JAVA soil after over a week in SUMATRA, I wonder what the differences will be?
Almost immediately the traffic was moving a bit faster, great! There is more traffic, not great! And there is another bloody toll road, no bikes! Shit I have to flow along with the great unwashed again on roads that the Indonesian government deem roadworthy. It began almost immediately, the sight of little green and sometimes blue, minibuses all over the place, just stopping at will, with no indicators, just nothing, not even brake lights, holding the whole of Indo's highway system to ransom for a R1000.00 fare, (about 10c US) when they stop to pick up customers, the whole highway system stops.
This was the driving conditions I was faced with, sure the road conditions were better, but JAVA has at least 4 times the traffic of SUMATRA. I had my first night penciled in at a place called BOGOR, which the guide books describe as a sleepy mountain town. It's obvious who ever wrote this, traveled by train and not road, the town itself is a dirty little country town, with the only redeeming factor of being famous for its botanical garden. I did however find a great little guest house run by 2 crazy sisters who are half Arab and speak very excitable English, they even put Doris in their garage for safety and arranged a massage from a little Indo lady who resembled an EWOK! Give the WISMA GUEST HOUSE a look, good value.
Saturday morning, 8.30 am, and it was off East to my next designation on the south coast of JAVA to a surf spot called PANGANDARAN, it was a good days ride of around 350k, I estimated about an 8 hour ride. I really underestimated the average road speed I could maintain, the traffic congestion is the worst I have ever experienced, the ultimate gridlock, nowhere to go, and all because of those little green and blue bloody taxi buses. I was very concerned at the wear on DORIS's clutch by the time I had traveled 85k's I had been in the saddle for 4 hours, there was no way I was going to get to my destination at this speed.
Just as I was getting used to navigating my way around the taxi buses, I become gradually aware of another menace on the road, the local ROSSI look alike imitators, on anything from a clapped out Vespa to a piped 125cc Super Racer, these guys will buzz you at a very close range, on 1 occasion, I kicked a guy over to my left and behind a truck that I was about to pass (he tried to pass between me and the truck).
Another rider then come out on my left, braked and run into my left Pannier, then pissed off, I caught up with him, pulled along side and give him a thick ear for his trouble, the last incident occurred when I was in such a shit fight of a traffic jam, that I seen a gap and gunned it, some guy coming from the opposite direction, tried to cut across me, he braked, and my right pannier ripped off his front mud guard. I just kept going. Then as I was negotiating the same traffic jam, I miss judged the gap size that I could fit through, and took out a green minibus's left taillight with my pannier, revenge is sweet!
Some guy approached me at a service station, while I was filling up, he spoke good English, and we kicked off a conversation, you know the type, were are you from, what's your name, how much does the bike cost, were are you going, I am bloody fed up with this shit, especially in Indo, they are not as polite as the Thais. Then he come up with the ultimate question, what do you think of Indonesia, well, sometimes I am not known for my tact, I give him the usual response, friendly people, good tourist potential, and the worst fu…ng drivers in all of Asia, driving on the worst managed fu…ng road system in the world!
His response was calm and swift, "you should come here on Ramadan, its quiet then! No way am I going to organize my holidays around some religion. Bloody Muslims!
By 4.00pm I had only reached a town called TASIKMALAYA, about 130k short of my initial destination, it began to rain heavily, so I gave in, found a hotel and decided to leave for the ocean tomorrow. I can't even relax with a couple of whiskies! Bloody Muslims!
This is the worst fuel consumption I have achieved since leaving Australia almost a year ago, and the second worst moving average, only bettered by CAMBODIA.
The hotel was surprisingly comfortable, and doesn't get a rate in the travel guide, so the buggers haven't stopped everywhere! Because Java is such a large Island and the few tourist spots of interest are few and far between, I had to average nearly 400k a day on the shit road they call highway 25, next stop was YOGYAKARTA, funny name for a town, I thought. Well, it's within reach, so at a blistering average of about 60k/hr, I got to YOGY at around 4.00pm, you guessed it, afternoon rain again, I found the local railway station, and using it as a landmark, I tried to get myself orientated, and find myself some lodgings, GPS compass set, map out, I was totally involved in the science of navigation, when a young bloke on a bike turns up and says, "you need a hotel?" I said "yep", well follow me!
Off I went following a little 80cc Yammy through peak hour traffic, give me a break! We eventually got to a little hotel, right in the middle of the arty part of town, (YOGY is the rough equivalent to CHIANG MAI..Indo style) the young bloke done me a favour, the management spoke English, and the place even had a pool, all for $10US a night, including breakfast, what was the catch? It was next to a bloody Mosque, 4.00am screaming again! Except for the early morning human rooster calls, I could spend a bit of time in YOGY, unfortunately I could only afford 2 days, because of the restrictive 30 day visa, so once again it was off down the mighty Highway 25 to a recommended stop over on the way to BALI, called MT. BRONO, an active volcano approximately 3000m up in sky. Shit there is a lot of activity under the ground in Indo! I made the turnoff in around 6.5hrs, with a surprisingly decent ride, except for the usual Carbon monoxide poisoning from the pollution belching out of the trucks and busses, I only got run off the road twice.
The road up the mountain was absolutely fabulous, is this Java? Or am I in some 18th century European country, this would have to be the most scenic part of Indo I have seen so far, its right up there with Lake Toba in SUMATRA. You just keep climbing, 3000m in around 18k, small European type villages are placed delicately along this beautiful little road, the whole landscape is totally rural, with most of the villagers working the land, much the same way that they have done for centuries.
They have a different look about them too, they are short and stocky, much the same as the Moungs in LAOS, except the young woman have the most beautiful complexion and faces I have seen so far in Indo.
Then you start to smell the Sulphur, it begins to get stronger as I ride even higher into the clouds, even Doris sounds different, gasping for more oxygen as we rise. Then you see it, you are confronted with a scene straight out of the PLANET OF THE APES, a huge open plain, about 500m deep with an active volcano right in the middle, letting off a ominous plume of white steam. Boy, this looks bloody dangerous! It was now 4.30pm, so I settled into a great lodge, built right on the shear cliff overlooking MT BRONO.
The next morning I wanted to get to BALI, about 180k away, so up at 6.00am, with an outside temperature of 12 degrees C , was off down the track on Doris to confront this huge beast of nature. You can actually ride along the black sandy base, most tourists take a package ride in a 4wd bus, but my bike will do nicely, good for a few photos too.
You have to park in a designated area, where all the hawkers converge on you selling the usual tee shirts and crap. Its about a kilometre walk to the summit, or you can hire a horse, what the heck, I hate horses, they are one animal on the planet that I have a healthy mistrust for. Anyway I'm short on time, if I want to make the ferry to BALI, so up I go into the saddle, and "Thomas of Java" is immediately created! The young horse handler walks in front of you guiding his trusty sure footed stead up the narrow path, leading to the summit, sore on the bum, but saves the legs. He waits for you to come down, and then gets me back to Doris in no time, I was even starting to enjoy my little equestrian adventure, when my little horse started to pig root another of his kind, just as I was dismounting. Give me a motor bike anytime!
Saying goodbye to the Mountain, it was off on the final section of highway in Java, thank God! The same usual shit confronts you as you make the Easterly turn onto highway 25. I was making good time, then around 25k from the ferry wharf at Ketapang, the heavens opened up and I got totally drenched in buckets, right through the last bit of tropical rain forest in East Java, the foliage was so dense, that the GPS couldn't get satellite cover. No sooner had it began, it stopped, the sun came out, the ferry was about to depart, and I could see BALI beckoning, about 1 hour across the narrow straight.
Total kilometers traveled: 1600k at an average moving speed of 46k/hr. with a top speed of 116k/h.
BALI, THE FABLED ISLAND OF AUSSY PARTY ANIMALS.
The road down to DENPASAR has the best surface, so far in Indo, its about 120k's to the beach resort towns of KUTA and LEGIAN, so I settled back and decided to cruise into town at a very leisurely pace and enjoy the scenery. The first thing I found in BALI, the motorcycle riders are even more ferocious than in Java, if you sit on a leisurely pace, your space is immediately invaded with every description of little bike you can imagine, even the young girls were giving me a bad time! Stuff this, back to highway mode, knock back a cog, GIVE ME WARP SPEED SCOTTY! Leaving the poor little buggers in Doris's exhaust note, I had to ride offensively all the way to Legion Beach, which, meant reasonably hard riding, with your finger constantly on the horn. Consequently by the time I got a cheap hotel on the beach at Legion, poor Doris had blown a fuse!
I can really pick the time of year to travel, BALI is now celebrating its Hindu New Year, and you would think that would be a time for a good party, especially here in Party Animal Town. Not the Balinese, they close the whole Island down and lock all the tourists in their hotels for 24 hours! Give me Thailand any day, and I complained about Thailand's 1.00am Bar Curfew! Shit I haven't had a whiskey and soda since arriving in this godforsaken country!
KUTA and LEGION are really just a cheap holiday for Aussies and Euros, it reminds me of a rundown Surfers Paradise, it's obviously not the real BALI, but I can't really comment on that matter, because I'm locked up in my bloody Hotel!
Since getting out of BALI, INDONESIA has revealed a few surprises to say the least, first of all, I thought riding for a 100k's or so through the BALI landscape would reveal some of her hidden charms, not so, maybe I was on the wrong side of the island, who knows, anyway Bali just wasn't my cup of tea. So it was off to the ferry wharf at Padangbai, to catch the 10.30am ferry to LOMBOK.
You should never assume things will go your way in Asia, I rode for 2 hours on the congested roads to Padangbai, through the usual kamikaze bike riders, that I have become used to in Indo, only to be confronted by a crowd of around 100 bike riders milling around the ticket box trying to get their tickets to Lombok, it was only 9.45am, plenty of time to get a ticket in a civilized way. No, not in Indo, push, shove, elbows flying in every direction, I thought to myself, "I'll just be patient and wait for the crowd to die down."
That worked fine, at precisely 10.15am I paid my money to the uniformed ticket man. "One motorcycle and one person to Lombok please", he replied "24,000R", with my ticket between my teeth, I ride over the short distance to the embarkation ramp, to join the hundreds of other bikes and pedestrians with an assortment of farm animals, chickens hanging by their tied legs, piglets in string bags, perched over some old ladies shoulder, you know, the usual sights that you become accustomed in Asia, plus the most tenacious hawkers this side of Vietnam, selling anything from cigarettes to DVD's.
We waited patiently for the ferry to disembark all of its cargo, then waited and waited….
Then a little guy comes up to me and says "one hour late!" So we waited and waited…then finally it was time to leave, you beauty, I rode up to the armed guard who was checking the tickets and he immediately asks, "Motorcycle bigger than 100cc? You must pay double," pointing to the ticket box, so back to the ticket box I ride, the one I visited 2 hours earlier. If you think I was getting pissed off by this time you weren't wrong.
We finally got on our way to Lombok, with smooth seas and some interesting scenery, except there was no were to sit, the ferry was chock a block full, people were sleeping in the walkways on makeshift ground sheets of newspapers, curled up with children, farm animals and numerous domestic pets, It was a long 4 hours.
The ferry arrived in Lombok amidst a heavy tropical storm, great, it's 4.00pm and I have to find a bloody guest house on some god forsaken island that I have never been too.
Oh well, let's get on with it, following my GPS in the general direction were I knew Senggigi Beach was, I finally passed a few resorts, then I recognized the sign, "Batu Bolong Guest House", this establishment was recommended by an Aussy bloke from Darwin who I had met previously a few nights before in Bali, he reckoned his mate owned it, and would look after me.
I did a youy, drove through the entry,( remember it was raining and I was soaked to the skin), I asked to see a room, and before you know it, I was sitting on the first floor balcony of my own waterfront bungalow, overlooking the ocean for $20A. I was a little puzzled with the info that my drinking buddy from Darwin gave me, so I asked the reception who owned the Guest House, it was definitely not an Aussy, but she did inform me of an Aussy bar next door.
Ah ha! That night as I watched the ever increasing lights of the fishing boats gather on the horizon, loud music accosted my ears from next door at the Aussy Bar, it was INXS! Shit I haven't heard them since that Michael fellow docked himself. "I have to go an investigate this," I said to myself, there is life in Lombok after all. Bloody oath there was, I approached the entry to the bar with a little trepidation, but once I turned the corner I was confronted by a brightly lit bar, decorated in a way only an Aussy could do. Sitting around it were about 10 of the roughest and course bastards you would want to meet, all speaking a language I could understand.
The first greeting was one that's universal down under, "how ya goin ya ol bastard", I was in friendly territory for the first time in 6 weeks. The night just got noisier and noisier, everyone passing on insults after insults and consuming as much alcahol as my mates back home. In the group was the owner, an Aussy bloke in his late fifties, who has been married more times than you can count, and has had countless businesses in Asia, from Trucks in East Timor to bars in Thailand. His offsider, Mick, was a big Yank from New Gearsy, whose father was an Irish seaman and his mother was a Scot, he run away from the draft in 1969, joined a biker gang and eventually ended up in the South Seas. The rest of the motley crew consisted of construction workers from Perth and fishermen from Darwin, including my new found mate from Darwin, Beachy, who had just arrived that afternoon.
It was the first time since Thailand, 6 weeks previous, that I had had a big night, so what a bunch of Aussy piss heads to get mixed up with.
The booze was running freely and as the night progressed, someone mentioned that the local disco was raging, so off we went, we were the oldest there, but it didn't matter, the local women just wanted to dance and play pool with us, against a backdrop of loud Indo rock and roll, dim lights and gyrating bodies. The place closed at 2.00am, and since my bungalow was next door to the bar, I called in for a night cap, to my surprise, so did most of the crew, just listing to louder and louder music and drinking more booze, except the owner had gathered about 6 young local girls, I didn't ask, I just paid my bar bill and politely said good night, after all it was an 8.00am start for SUMBAWA, the same morning.
16-03-05
It was 6.30am, and feeling a bit seedy, I ate a quick breakfast, packed up Doris and headed for the ferry terminal that would take me to SUMBAWA. I arrived there just in time for the 10.00am ferry and got to Poto Tano, 2 hours later. I think I will return to LOMBOK, next time with my 8ft surfboard!
I had a full tank of juice, so following my map; I headed down the mighty Trans Sumbawa highway. The road meanders around the coast, hugging the extinct volcano's and mountain peaks that make up this comparatively dry island. It's almost 400k from west to east, were you end up at a little fishing village called Sape. This is where you catch the ferry to FLORES. I didn't expect to do it in one shot, considering my previous experiences with Indo's roads and traffic, but surprise, surprise, the western road was in good order and made good time, then through the centre of the island, were you ascend into the mountains through twisty roads and endless villages, with the road gradually deteriating as you descend through the mountains towards the east coast.
It was 3.00pm and I had 180k to go, "bugger it", I thought, lets give it ago, I found myself gradually rising into the mountains, with some spectacular scenery, with the road getting ever increasing steeper and twistier, shades of the roads in North Thailand! It began to rain lightly, and with fading light I rode into Sape, and by 7.00pm in complete darkness I arrived at the ferry wharf, only to find out that the ferry to FLORES doesn't leave till 4.00pm the next day and takes 8 hours! I found a Losmen next to the wharf, for $8A and rested, let's see what tomorrow brings.

17/03/05 – Saint Patrick's Day
I find myself writing this Diary update at 7.00am in an Indonesian Restaurant, having a breakfast of fried eggs, rice, orange juice and black tea. I am waiting for the ferry to the island of Flores, in a little fishing village on the Island of SUMBAWA, called Sape.
What a place to spend this holy of holier days! Miles away from anywhere, and I am the only white bloke within 500k's. The guy that owns the Losmen, were I am staying, suggested that I wile away the time while waiting for the ferry on a deserted island. He arranged a boat to drop me off and later pick me up, so supplied with enough water, off I sailed in an old noisy timber boat. Promising to pick me up before 2.00pm, so here I am accompanied by a flock of goats and some very inquisitive monkeys, which are eyeing me off suspiciously from a distance, preferring the shade of the rocks and trees, I wonder if they will knock off my gear if I go for a swim!
It's going to be a long day, the ferry doesn't leave to 4.00pm then it's an 8 hour voyage to Labuhanbajo on the west coast of FLORES. At 3.00pm I waited patiently at the ferry ticket office to purchase my ticket, no surprises, Doris is over 100cc, I have to pay double, then the surprise, the ferry is delayed, its having some repairs done.
A walk out to the wharf reveals the familiar shower of sparks and brilliant light from an oxy welder, they are patching up the front access ramp. Meanwhile all the pedestrian traffic embark, so presumably they get the best seats, the rest of us finally get aboard at 9.30pm, only 5 and a half hours late!
18-03-05
The ferry finally docked after a horrendous 8 hour voyage to Labuanbajo, on the west coast of FLORES, it was a night voyage, so I missed seeing the fabled Islands of Komodo, oh well next time.
With some sleep degradation and an empty stomach, I jumped on Doris and headed for the east coast, quite aware that my 30 day via was running out and it was still a long way to go to Dili in East Timor. I had to get to ENDE, a port on the South side of the island and where the ferry leaves for KUPANG in TIMOR, and its about 300k non stop.
Within about 10k of my journey, I was fully aware of my average traveling speed, the road was rapidly rising and twisting through magnificent rain forests and towering volcano's, that's all very well if you have the time, but I haven't, bloody visa.
I was averaging 40k an hour, so I elected to stay the night in a mountain town called Bajawa, 15OO metres up in the cool air. Nice place to stop off, cheap hotel, except you get an early morning wake up call from that human Moslem rooster again, shit don't those buggers sleep!
I made my way through the mountains the next morning, and arriving at ENDE, (an appropriate name for a town) I again try and locate the ferry wharf. I finally find the place, why do the Indo's make all their roads in towns, one way! To confuse foreigners, that's why. Anyway, after a number of conflicting stories about ferry times, different towns, you name it, these Indo's will tell you anything, they are just bloody annoying sticky beaks, volunteering all types of bullshit, perhaps just to make them feel good, I don't know. Anyway I found a shipping company and the guy, who spoke good English, informed me the ferry leaves on Monday at 10.00am. Shit a 3 day wait in downtown Ende!
21-03-05
It's funny how you meet some characters on your travels, I was having diner at the "SAFARI HOTEL", (a reasonable standard by Indo standards, at $8A a night, I wasn't complaining,) when a immaculately clean 1150cc BMW GS adventurer turned up with a spotlessly clothed rider aboard, I immediately thought he must be a rich local, with the obvious omission of any luggage. The guy was talking to the hotel owner in Indo, he eventually approached me, while I was in the restaurant having diner, after spotting my bike.
It turns out he is a rich Indo from JAKARTA, who is on 14 day "ADVENTURE RIDE" from JAKARTA to FLORES, with 6 of his also rich mates, all on $20,000A bikes, now don't get me wrong, anybody who does that ride and back in 14 days needs a medal, until he informs me, he has also a full backup team of 2 pickup trucks, one with a qualified mechanic and heaps of spares and also the forward vehicle, which contains all their luggage and runs in front of the group with flashing lights and police type sirens! After comparing me and a fully loaded DORIS, the guy looked at me in a very puzzled way, I think he and his mates wanted to impress me, I said goodbye and headed for the ferry to TIMOR. Rich Asians have a very peculiar idea on what riding motorcycles are all about.
As there is no vehicle ramp to access the ferry at ENDE, your bike needs to be manhandled over the gang plank and through a narrow opening in the side of the ship. You have to pay the wharfies an exorbitant amount on top of your ferry ticket for the privilege. Just as I was sorting out DORIS, and bolting on my panniers, (she wouldn't fit through the hole fully loaded) 2 more trail bikes arrived, get carried through the ships side opening with relative ease, and end up beside me, and at once complaining to me about the cost of the wharfies, as I set the precedent, little did I know that I paid double the going price of 50,000R,
The 2 guys are French, and have lived in BALI for the past 12 years or so, they make a living traveling through Indonesia on their 125cc trail bikes, buying and selling artifacts to dealers in France. They have even been to BURMA, dealing in precious stones, and around 2 years ago they bumped into my old mate David Unkovich on a trip to Northern LAOS. Both their bikes had a lot of functional, but primitive homemade improvisions, designed to ride as lightly loaded as possible, it made DORIS look like a bloody pack mule. As they say each to their own. True adventures, they were off to the East TIMOR border in the search for some primitive tribal artifacts. Talk about a contrast with the group I met earlier. Their age, 40 and 54, beats a mortgage and an office job.
The voyage to KUPANG in TIMOR took 15 hours, the ferry arrived in the right time, but we left 3 hours late, at 3.30am we disembarked and I immediately headed for the Indonesian Border, as my 30 day visa was on its last day. DILI was 430k away, with no sleep on the ferry, (I lay beside my bike, on the steel vehicle deck and using the bike cover as a ground sheet) it was going to be hard long 9 hour ride, with about 3 hours in the black jungle night. I arrived at the INDONESIAN/EAST TIMOR border around 11.00am, a quick stop for immigration and Carnet stamping then I was almost ready for my final ride to DILI, when at the EAST TIMOR customs shack (and that's all it is) a friendly armed soldier asks to inspect ALL your luggage, so another half hour goes by, while 2 armed guards go through every bit of clothing and equipment that I carried on DORIS. Always asking the same bloody questions that are universal in this part of the world, "what is this?" "How much?" "Where from?" Shit you get fed up with this crap.
It is the first time I have had my entire luggage searched in all the border crossings I have crossed in 12 months of riding, and ironically into one of the poorest, they also sting you for $30US entry visa, one of the most expensive in Asia.
EAST TIMOR is one of the poorest countries I have visited so far, yet everything is in US Dollars, courtesy of the good old UN and the dozens of NGO's, that are attracted through necessity or otherwise to these "emerging countries". Just look at CAMBODIA and the consequences of over charging and exorbitant costs after the UN had gone.
Luckily for me I had sent an email to SDV Logistics in East Timor, about shipping DORIS to DARWIN, I knew that a ship was to leave on the 24/03/05. They are the shipping agent for PERKINS SHIPPING and are very helpful. So DORIS is now in a container ready for a 36 hour ship cruise to DARWIN. I am sitting at DILI Airport waiting for my flight to DARWIN.
BEWARE, EAST TIMOR IS EXPENSIVE!
Cost of shipping motorcycle from DILI to DARWIN: $260US, in comparison, from DARWIN to SINGAPORE: $180A.
Cost of a plane ticket, one way from DILI to DARWIN: $313US, in comparison, SYDNEY to BRISBANE: $120A
Cost of one shitty hotel room, with a clunky AC and no ventilation: $15US
Cost of a can of coke: $1.50US.
Fact: It has cost me more to get me and my motorcycle from DILI to DARWIN than from CHIANG MAI to DILI, including fuel, accommodation, ferry tickets and food!
Total kilometers covered from leaving EAST JAVA to DILI (not including ferry crossings, 5 in total, with an accumulated time of 30 hours.): 1619 km's at a moving average of 51km/hr. with a top speed of 106k/h.
Enter your email address to receive updates to Tom Forde's trip story!
Recent Entries
Archives:
Archives:
Monthly
Archives:
Category
NEW! HU 2015 Motorcycle Adventure Travel Calendar is now available! Get your copy now for some terrific travel inspiration!
HUGE, 11.5 x 16.5 inches, beautifully printed in Germany on top quality stock! Photos are the winning images from over 600 entries in the 9th Annual HU Photo Contest!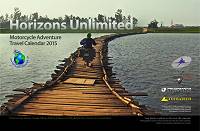 "The calendar is magnificent!"
"I just wanted to say how much I'm loving the new, larger calendar!"
We share the profit with the winning photographers. YOU could be in the HU Calendar too - enter here!
Next HU Events
NEW!

USA Virginia: Apr 9-12, 2015
Take 40% off Road Heroes Part 1 until October 31 only!
Road Heroes features tales of adventure, joy and sheer terror by veteran travellers Peter and Kay Forwood (193 countries two-up on a Harley); Dr. Greg Frazier (5 times RTW); Tiffany Coates (RTW solo female); and Rene Cormier (University of Gravel Roads).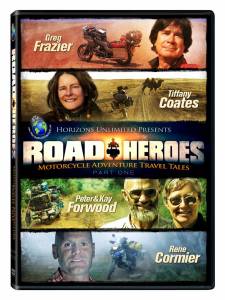 "Inspiring and hilarious!"
"I loved watching this DVD!"
"Lots of amazing stories and even more amazing photographs, it's great fun and very inspirational."
"Wonderful entertainment!"
Check it out at the HU Store! Remember to use Coupon Code 'HEROES' on your order when you checkout.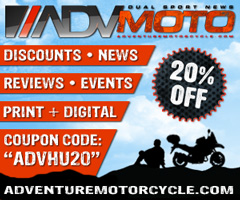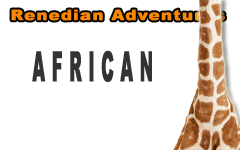 What others say about HU...
"I just wanted to say thanks for doing this and sharing so much with the rest of us." Dave, USA
"Your website is a mecca of valuable information and the DVD series is informative, entertaining, and inspiring! The new look of the website is very impressive, updated and catchy. Thank you so very much!" Jennifer, Canada
"...Great site. Keep up the good work." Murray and Carmen, Australia
"We just finished a 7 month 22,000+ mile scouting trip from Alaska to the bottom of Chile and I can't tell you how many times we referred to your site for help. From how to adjust your valves, to where to stay in the back country of Peru. Horizons Unlimited was a key player in our success. Motorcycle enthusiasts from around the world are in debt to your services." Alaska Riders

10th Annual HU Travellers Photo Contest is on now! This is an opportunity for YOU to show us your best photos and win prizes!
NEW! HU 2014 Adventure Travel T-shirts! are now available in several colors! Be the first kid on your block to have them! New lower prices on synths!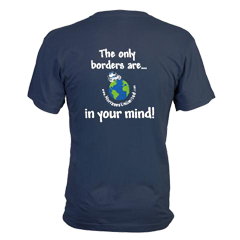 Check out the new Gildan Performance cotton-feel t-shirt - 100% poly, feels like soft cotton!

What turns you on to motorcycle travel?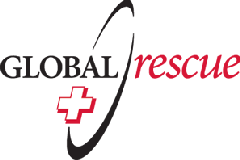 Global Rescue is the premier provider of medical, security and evacuation services worldwide and is the only company that will come to you, wherever you are, and evacuate you to your home hospital of choice. Additionally, Global Rescue places no restrictions on country of citizenship - all nationalities are eligible to sign-up!
New to Horizons Unlimited?
New to motorcycle travelling? New to the HU site? Confused? Too many options? It's really very simple - just 4 easy steps!
Horizons Unlimited was founded in 1997 by Grant and Susan Johnson following their journey around the world on a BMW R80 G/S motorcycle.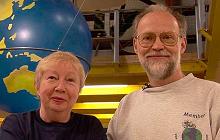 Read more about Grant & Susan's story
Membership - help keep us going!
Horizons Unlimited is not a big multi-national company, just two people who love motorcycle travel and have grown what started as a hobby in 1997 into a full time job (usually 8-10 hours per day and 7 days a week) and a labour of love. To keep it going and a roof over our heads, we run events (22 this year!); we sell inspirational and informative DVDs; we have a few selected advertisers; and we make a small amount from memberships.
You don't have to be a Member to come to an HU meeting, access the website, the HUBB or to receive the e-zine. What you get for your membership contribution is our sincere gratitude, good karma and knowing that you're helping to keep the motorcycle travel dream alive. Contributing Members and Gold Members do get additional features on the HUBB. Here's a list of all the Member benefits on the HUBB.
Books & DVDs

All the best travel books and videos listed and often reviewed on HU's famous Books page. Check it out and get great travel books from all over the world.

MC Air Shipping, (uncrated) USA / Canada / Europe and other areas. Be sure to say "Horizons Unlimited" to get your $25 discount on Shipping!
Insurance - see: For foreigners traveling in US and Canada and for Americans and Canadians traveling in other countries, then mail it to MC Express and get your HU $15 discount!
Story and photos copyright © All Rights Reserved.
Contact the author:
Editors note: We accept no responsibility for any of the above information in any way whatsoever. You are reminded to do your own research. Any commentary is strictly a personal opinion of the person supplying the information and is not to be construed as an endorsement of any kind.
Hosted by: Horizons Unlimited, the motorcycle travellers' website!
You can have your story here too - click for details!