September 01, 2004 GMT
26-08-04 COMPLETION OF STAGE 3 THE LAOS BORDER

Since the last entry of my travels in North Thailand, things have moved at a very slow pace. I rode up to the LAOS border with Simon and Suzy, the English couple who I had mentioned earlier (the only people to travel across Burma by motorcycle since the military Junta took over), that was last week, so I have cooled my heels till now.
My lease is up on the apartment I have been in for a month, god that's gone quick.
The trouble with Thailand, it's just too easy and layback, before you know it, you are in a comfortable rut, so out I go.
I meet the intrepid duo of Dave1 and Dave2, who I have spoken of earlier, and this time they are accompanied by Robert (R1) and Joe(J2) as there is already a Joe who rides in Chiang Mai, both ride BMW GS1150's and both are Yanks, so D1 and I are really out numbered.
Although Doris is overloaded and underpowered in comparison with my riding companions, we were to take the main highway to Chiang Khong on the LAOS border, for a visa run and see me off on the vehicular ferry to Huay Xai, in LAOS an easy ride of about 350k's. Sounds simple, doesn't it, read on!
RI, who stands at around 6'6" and makes the GS look like a step thru, has just got his bike back together after a major smash, and was looking forward to a shake down ride, and because his bike was off the road for 6 months, it had over stayed its visa. J2 was also doing the ride for his visa responsibilities. About 60k out of Chiang Mai, J2 disappears from our rear view mirrors, we soon get a call on R1's mobile that he has a puncture.
Around we go and back track to find R1 and J2 in a Thai motorcycle shop, madly trying to fix the rear tyre on J2's GS, apparently R1 had taken it for a ride during the week, got the puncture, and put a plug in it, obviously it hadn't taken, so with a few dry Aussy remarks and jokes D1, D2 and I left the 2 intrepid Americans and arranged to meet them further up the Highway at a well known eatery, famous for its bakery and fabulous views.
Now R1 has lived in North Thailand for a very long time, so everyone assumed that he new were the pie shop was, nope, as D1 and D2 slowed down to make a right turn into this particular establishment, R1 goes roaring by at a great rate of knots, just enjoying the ride. J2 and I turned up and immediately we all made ourselves comfortable and enjoyed the great coffee and cakes. A half hour went past, no sign of R1, in a typical Aussy way D1 sends him a text message, "help, flat tyre", R1 by now had realized he his missing his riding mates and back tracks, even further than the Pie Shop. Meanwhile we have decided to continue on our way, but not on to Chiang Khong as planned, but a small deviation to the Golden Triangle, Mae Sai to be exact, so J2 could expedite his visa, (remember he lost time with the flat tyre) and D1 took the opportunity to buy cheap DVD copies in Burma.
Now by this time we all expected to hear or see R1, so D1 sends him another text message, something on the lines of "were the f***k are you", the immediate reply was, "you f***kin Aussy's always f***k things up etc etc etc", bloody yanks, got no sense of humour.
Anyway, RI finally arrived at Mae Sae, after doing around an extra 200k's, it was too late to get a visa check, so it was decided to ride to Chiang Khong before night fall.
This stretch of road become the road from hell, it began raining immediately we left Mae Sai, the back road to Chiang Khong is a not all that good in the dry, but add road works, mud, cattle shit and pot holes, it is just plain dangerous on a bike. Everyone complained about front wheel wash out, so our level of concentration was at our highest, D1 nearly had a head on with a van he thought was going in the same direction, in fact it was overtaking another car coming toward him, R1 was nearly totaled when he went wide on a slippy corner and had to run into the grass verge to miss an on coming bus, D2 went down the biggest pot hole of the day and narrowly missed two dogs coupled in a moment of ecstasy.
By the time we all arrived at our guest house for the night, R1 was really shitty, now as we all know some Yanks are great targets for Aussy jokes at a time like this, and tonight was no exception.
After cleaning up we all went down to a little Mexican restaurant, run by a hippy Thai, he runs the place on his own time table, if he thinks there is enough people he simply shuts the place, and then tells all his customers that there will be a long wait for food, because he is tired or something, great food though, and followed by J1's 20 year old Canadian Whiskey the night was sure to hot up.
D1 knew of the local Disco, called Country Mamas or something, another typical bizarre Thai interpretation of a western Bar, it's run by a Transvestite or Katoy, who used to work for D1 in a former life, he or she is quite a bit of work with a great personality and the biggest boob job I have seen for a while, some of the boys back home would pay a lot of money for a girl/boy like that!
Not to be out done on the class of whiskey we were drinking, D1, D2 and I put in 100b each and bought a bottle of cheap scotch, no one new the difference after the first glass. R1 finally mellowed out and it was off to bed for any early start.

The next day R1 and J1 decided to leave for Mae Sae to sort out their visas etc, so the remaining 3 of us made our way down to the ferry landing to find out what time they left for LAOS, one o'clock and 3 o'clock we were told, giving us plenty of time to clear immigration and customs, as my bike was the only one going to LAOS.
On arrival at the ferry landing, we were promptly told by the head ferry person, a big Thai woman, commanding a lot of respect, that there was no vehicular ferry at 3 o'clock, so I had only one choice, wait till tomorrow, or take an open boat, the size of an Aussy surf boat across the swollen Mekong River, with Doris, my bike on board, for 500b.
By now D1 and D2 were in fits of laughter as they watched me and 4 Thai men lift Doris sideways into this tiny boat, we were up to our knees in water, but we finally got Doris on board, lashed down and safely with a young Thai guy sitting on Doris for stability.
It was a surprisingly safe trip and Doris and I made it to LAOS in one peace.
After finally going through yet another customs post in the small town of Huay Xai, I made my way down to immigration to get my 15 day visa, D1 and D2 were already there, catching a small boat directly from Thailand, as we all filled out the necessary paperwork, the young LAO official, who spoke excellent English, chatted away to us, which at the time kept us amused until he asked us for the1500b visa fee, plus 50b for overtime, he gets that for working after 4.00pm, it was now 4 minutes past, the little bugger conned us into yapping with him until 4.00pm. Bloody commo's!
We booked into yet again a clean guest house, recommended by D1, had a good feed at a restaurant overlooking the Mekong and Thailand, and settled in to see what the morning will bring.
Because we didn't finalize our visa's till after 4.00pm the previous day, D1 went back to Immigration to pick up our passports, meanwhile I took Doris down to were the ferry's land to get here on the boat which we had previously negotiated to take her and I down river to PAK BENG, the price was a bit rich, but all the excuses from the skipper, basically held me to ransom if I want to leave today, as his was the only boat going big enough for Doris, the price was for the entire boat. A big surprise came when about 20 young LAO students turned up and joined me for the trip down to PAK BENG.
After leaving D1 and D2 yet again laughing their heads off, we sailed off south down the mighty Mekong for about 6 hours to PAK BENG. The landing area is no more than a mud flat at the end of a decrepit concrete road, leading to a tiny village, after all the students disembarked, it was Doris's turn, first of all, I had to negotiate with the equivalent to an Aussy painter and docker, after an agreed sum, 6 little Lao guys manhandled Doris out of the boat and over the mud, leaving me to ride her, motocross style across the remaining rocks to what resembled a road. Just as I was putting all my gear back on, a group of concerned, not quite angry Lao guys fronted me, with one of them holding out his hand with a fingernail missing, he apparently tore it off while manhandling my bike. An agreed sum was negotiated, and of he went to the local doctor for treatment.
PAK BENG is one of those small towns you just want to get out of in a hurry, however as it was around 4.00pm and another 3 hour ride to Udom Xai, I decided to stay in yet another guest house recommended by D1, a bunch of friendly young blokes greeted me as I arrived, and after a cold shower, (no hot water here folks) and a feed and massage, it was off to bed. The people who own the guesthouse even let me put Doris in the foyer overnight. That night it fairly pissed down in buckets, not thinking of the consequences of so much rain, I woke up the next morning standing in 2 inches of water, now keep in mind, this is a brand new building, upon investigation, I find there is a 20 meter high excavation behind the building and it basically got washed down with the deluge the night before, a shade of things to come.
After loading up Doris and finishing breakfast of rice and eggs, I headed up a dirt road for about 13k's through small farming villages, full of naked little kids, yelling and screaming at me as I went past. I finally hit the tarred road and thought to myself this should be an easy ride through to Ubom Xai, wrong! Total disaster struck, washout after washout for about 50k's until the final icing on the cake (or so I thought) the bridge over the Muang River was washed out just after Muang Beng, about half way to Ubom Xai, I had no option to return to Pak Beng and stay another night. Disaster struck about 10k later in the form of a rear tyre puncture, just as I was negotiating a route between 2
straying buffalo; luckily I missed both of them and started to go through the old routine of unloading Doris and replacing tubes etc. Just as I was about to swear and generally wish I was somewhere else, a car pulled up with a friendly guy driving who spoke English, he directed me to the local mechanic, who promptly changed my tube, in his down stairs kitchen, with a mud floor and all the village kids as an audience.
I was back on the road within the hour, when yet again I was faced with another washout, the side of a hill had come down, completely blocking off my escape route back to Pak Beng! The mud across the road was about 2ft deep and full of large rocks and tree branches, each side of the avalanche the traffic was at a standstill, only one thing to do if I didn't want to spend the night sleeping on the mud floor of a Muang village hut, give Doris all she had in first gear and hope to god she didn't let me down and crash down the 30m embankment to the swirling river below. Blasting rocks and debris from her back wheel and with both feet furiously paddling, we bounced our way across, to the amazement of the villagers and myself included.
I finally returned to Pak Beng around 3.00pm and after booking back into the guest house, this time with a first floor room, I will wait till tomorrow and pray for no more rain.
30-08-04
The people around here go to bed late and get up early, after a power failure for around 3 hours and the whole village walking around with candles ( I have my trusty head mounted torch) it was off to bed. Awakened at 6.00am with loud LAO music and screaming kids, I had my cold shower, and ventured off for breakfast, the usual eggs and rice, this place is a stop over for "adventurous backpackers" who use the Lonely Planet as their holy grail, lucky they weren't with me yesterday. They stay overnight and catch the next boat down the Mekong to Luang Prabang, most are in their early twenties and are off to see the world before they stuff their lives up with careers, marriage, kids and the inevitable divorce.
By 10.00am Doris is loaded and ready to go; the nice young chap at the Guest House made a phone call and assured me the river crossing was clear, so off I go. No surprises, YET! Everything was cruising along nicely when just out of UBIN XAI; Doris gets the wobbles, another bloody flat rear tyre. I was near a village called Ban Na Houang, were a nice young bloke called Sisavat, give me directions to the local fix it all person, Sisavat spent 3 years as a Buddhist Monk were he learnt English, just a nice guy. After about an hour of being the entertainment for the whole village, it was off again to UBIN XAI, the trouble with radial tyres is you have to make sure that they are sitting evenly on the rim, or they shake the hell out of your bike, at 80k an hour, Doris was self destructing. I finally got to UBIN XAI and booked into the Linda Guest House, I even got the local tyre shop to balance my back wheel. Doris is now parked in the tiled foyer of the guest house, waiting for the inevitable dramas to come on our way to LUANG PRABANG.
31-08-04
The main road to Luang Prabang proved how wrong you can be, just under 200k's of undulating hills, plenty of small villages, with naked kids, ducks, pigs and every other type of farmyard animal you can think of, playing on the road. So needless to say my average speed was way down compared with Thailand, the only annoying thing was the way ever second vehicle coming towards me blinked their headlights, its illegal to have your headlights on during the day in LAOS, I guess I'll have to paint my headlight guard black or something.
Made LP in about 4 hours, no dramas at all, except for the idiot trail bike rider who run up the back of me on the bridge approaching LP, he kamikazied my left pannier and fell off.
I then booked into a comfy guest house and have settled in for a few days R & R until the next part of the journey through LAOS.
September 14, 2004 GMT
1-09-O4 - STAGE 4 - THROUGH LAOS
LUANG PRABANG.
This heritage town is a must to see on any trip to LAOS, as a European it wreaks of history, especially the French architecture and the magnificent Wats, scattered around the town.
I emailed Simon and Susie, and soon caught up with them at a nice coffee lounge selling great croissants and Laos coffee. They had been there for 2 days and were ready to move on, were I needed a day for laundry etc, and just rest after the last few days of dramas, I'm not getting any younger you know!
We decided to stay an extra day, so off we went on a bike ride out to the Kuang-Si Waterfalls, we weren't disappointed, because it was the wet season, the falls were filled to capacity, and not many tourists, even the 30 odd k ride in on a dirt road was a great change from the perilous rides through the villages we have done since arriving in Laos.
PHONSAVAN AND THE PLAIN OF JARS
It was an early start the next day, and after the usual bacon and eggs for breakfast, the 3 of us headed down highway 13 towards our next destination, the plain of jars, about 240k of good road, or so we thought!
The "highway" during the wet season is nothing more than a bitumen goat track, meandering though countless villages, we all rode at a very steady pace, only averaging around 60k/h, after about an hour and a half we come to the intersection of PHOU KHOUN, were we turned left.
So far we have avoided the rain that has dogged us on the previous 4 days, and as we were now well and truly into the mountains, the deserted, twisty roads began to mesmerize us, and lull us into a false sense of security, I was the first to succumb, looking down through a series of 90 degree turns, I could see for about 2k's with one blind corner in front, as I cut the corner to straighten out the road, all I could see was the whites of a little LAO drivers eyes and the silver pickup truck on a head on collision, I immediately kicked away with my left foot and missed him by inches. Funny how I wasn't even shaken, I just kept riding until the next piss stop, wonder how I'd felt if I would have hit him!
The mountains are breathtakingly beautiful on this road, we are up at around 1500m and the limestone escarpments have a mystic of their own, especially shrouded in mist.
We arrive at PHONSAVAN in the afternoon, with no other dramas, book into yet another cheap guest room and have an early night, ready for the ride out to the plane of jars and our continued journey.
During breakfast, I noticed a sign next to the restaurant, MAG, which stands for MINES ADVISORY GROUP, they are a humanitarian organization, consisting of ex military personnel who dedicate there time to ridding the world of land mines and unexploded ordinances (UXO's), the manager there was an Aussy called Stewart, great bloke, and did he open our eyes to the American Secret War in LAOS during the late sixties and early seventies.
Basically they dropped over 3 million tons of bombs on a country the size of England, up to 30% failed to explode, and remain in the ground, the result is the poor buggers can't farm their own land and the whole country remains impoverished because of it. This is not including the tons of defoliant the Americans dropped over the Ho Chi Min trail, (which runs through LAOS). One of the reasons the yanks won't clean up their own shit, is, that it was a secret war which they won't admit too, therefore no responsibility.
Oh ye, they are happy to supply their services to private enterprise in Laos, to clean up the land ….. for a fee.
THE PLAIN OF JARS
Or as we think an American General misinterpreted "The Jar of Planes" Jar in Vietnamese meaning "squadron" (a very loose Aussy interpretation) this would definitely answer the stupid question why the yanks decided to carpet bomb this world heritage site.
It is still worth a visit for all ancient history buffs, it would have been a great deal more pristine before the B52's wreaked havoc.
On the road again, and as we sat at the little restaurant at the Plain of Jars, we noticed a big rain front looming towards us from the north, we decided to sit it out and see if it passed.
There again mother nature works in mysterious ways, the luck of the draw really, the day before we got totally clear, perfect riding weather, today, as we approached the same mountain roads as we navigated the day before, the heavens opened up.
Quote from a Lao Tourist Brochure.
"You should not attract the DEVIL, avoid for instance to leave behind any object or non secured bag in the front baggage holder of a two wheel-machine. An attempt at pocket picking (fortunately rare) could provoque you falling. And here as well be protected! Wear a helmet, even if the weather is hot."
About road safety:
"Driving in Laos is risky, mainly in urban areas. Lao people are driving by inspiration and with the assistance of Bouddha…. The road code is existing, but not really respected by the Lao people. So be careful and especially with motorbikes. The insurance civil responsibility is a necessity in Laos."
VANG VIENG
The road between PHOU KHOUN and VANG VIENG was the worst we encountered as far as the usual village obstacles occurred, you know, chickens, pigs cows, kids… Simon was negotiating a left hand corner, with Suzie and me following about 100 m behind. As usual he goes wide into a corner, has a look, then peals off tight under acceleration, he seen the first pickup but failed to see the next vehicle, which was on his side of the road, on a collision course, It was luck again that played its cards, he managed to squeeze between the two approaching cars, pannier boxes and all.
As soon as I arrived on the scene, (about 3 seconds) Simon had already turned and accelerated after the culprit, knowing that was a bloody stupid thing to do, I also gave chase. Remember this is the same road that two tourist bicycle riders were shot a while back, and has been known for the odd bus robbery by bandits brandishing AK47"s.
I turned a corner and found Simon giving this Lao driver all type of insults in perfect oxford English, like "if you drive like that, us tourists won't come to your country and spend our money and you won't be able to pay for your car!" Meanwhile as I arrive, turning in front of the pickup and becoming highly visible, the little Lao guy by know was feeling quite vulnerable, so he started to pray to Buddha, thank god he wasn't carrying a gun. I motioned to Simon to get out of there, before any of his mates turned up. The Poms have a funny way of telling people off!
We proceeded towards Vang Vieng at a very subdued rate, keeping an eye on poor Simon.
It rained all day as we approached the town, nestled on a river in a beautiful picturesque valley, surrounded by walls of limestone outcrops, we booked into bungalows by the river, bought a bottle of Johnny Walker and got totally wasted!
We stayed there for 2 days, allowing our gear to dry out, and give us time to have a look around, a great little place to chill out.
VIENTIANE.
After 2 days in Vang Vieng, it was time to move on; the rain had pissed down all night, but fortunately had stopped by breakfast, so it was off along the mighty highway 13 to Vientiane.
It is only about a 160k ride, so we were taking it easy at around 50k/h through a village, when all of a sudden, a young toddler of about 3 run out in front of a girl, riding a moped, one handed and holding an umbrella with the other, just in front of us, she tried to avoid him, hit the brakes, and fell on top of the poor little bugger. Simon and I immediately stopped and run over to give assistance, getting the bike off the baby and making sure the girl was ok. She was in shock, but no signs of serious injury, the baby had a few scratches but seemed ok.
The trouble is, in these situations, especially in 3rd world countries, foreigners can be used as cash cows, better to get out of there ASAP! So Beware!
We arrived in Vientiane around 3.00pm totally exhausted, found a hotel to stay and relax a little before having a look around.
8-09-04 THREE DAYS LATER, AND I'M STILL HERE!
We all arrived safely in Vientiane, the rain had stopped and we found a little hotel called "The Dragon Guest House" in the centre of the town, Simon and Susie were anxious to get to an internet café to check if there friend was arriving from London, so I just cruised around looking at the great French architecture that has gone to wrack and ruin since the communist takeover.
It was the night of the Motorcycle GP, so I looked around for a pub that had it on Satellite TV, sure enough, I found a Pommy pub, disco and 2 large tellies, no sign of my English mates, so I settled in for the night. Great race and after bumping in to a couple of young poms I met on the road, we celebrated the DOCTORS win a few excellent BEER LAO'S.
Unfortunately I didn't get out of bed early enough to catch up with Simon and Susie, as they left early for the Cambodian border.
I wanted to have a look around Vientiane, because of the history etc, so I decided to stay an extra day and catch up with the others later. Unfortunately it pissed down in buckets for a day and a half, just clearing enough for the National Lao Soccer team to play the Qatar National team in a World Cup qualifying match. Got a ticket for 10,000kip (roughly 1 US Dollar) and got a seat in the stands with the near capacity crowd of 3500.
The trouble with the people in this part of the world is they are rather short and petite; they play very skillful football, but in the end went down 5-1 to a much bigger and disciplined Qatar team, good to watch and filled in the night.
The next morning it was on the road to Savannakhet an old French border town about 460k south.
The road south out of Vientiane is 2 lanes each way, for the first 13k, then it turns into the typical Lao highway, 2 lanes of bitumen, meandering through endless villages, at this time of year the whole road is used for various uses, including cattle, pig, duck and chicken grazing, this is because the rivers have broken their banks, and all the grazing land is flooded.
Even though it didn't stop raining for the whole trip, I was becoming quite complacent, sitting on 100k/h most of the way, and then about 50 k out from my destination, Doris gets the wobbles, another flat tyre!
Cursing the bloody roads in Laos, that's 3 flats in 10 days, I proceeded to unload Doris and fix the puncture. I was near a bridge, traversing a reasonable sized river; each side was the mandatory army post that is dotted all around Laos. After about 10 minutes a young soldier walked the 100m to were Doris and I were, he didn't speak English, but immediately seen the problem and gave me a hand to replace the tube, I was back on the road within half an hour, thanks to my little mate, I gave him a couple of dollars for a beer, made his day.
I arrived in Savannakhet at around 5.30pm totally soaked to the skin, found the first hotel and booked in for the night.
The next morning it was off to find immigration and customs and arrange the Carnet for Doris, and my departure documents. The difference in prosperity between Laos and Thailand is quite amazing; the Lao customs is housed in what would pass as a farm house in Aust. With a leaky roof and chickens running everywhere, I got my documents passed in record time, and then it was off to find the vehicular ferry.
Driving down the flooded road parallel to the Mekong River, I come across a line of trucks, finishing down a concrete ramp on the edge of the river, beside the ramp lay a barge with a kind of little tug attached.
This was the ferry to take us to Thailand. Thank God the Mekong is fresh water, because you have to traverse across 1 metre deep water for about 10m to get on the barge.
The cost is 200b and you are across the river in no time, No dramas at all, until you get to the other side and another barge is blocking the Thai side ramp because of a truck breakdown.
We waited for about half an hour while they tried to fix the truck, as we had a few pedestrian passengers, the skipper of the tug boat pushing our barge, decided to run her up the steep embankment along the shore to allow the blokes on foot to disembark. This created more dramas, as there was about a 3 foot drop into the water and about the same of fresh air between the barge and the land. You guessed it, everyone made it except one poor bugger who slipped and ended up in the river up to his chest in water, brief case and all. He got out ok. Just his pride a bit bruised.
We finally got into the ramp to disembark, with another 3ft of water to ride through to get onto Thailand soil. It was still raining and all I wanted to do was get something to eat and have a hot shower, but first it was immigration and customs. The buildings on this side of the river are air-conditioned and modern, a sharp contrast with poor old Laos. About half an hour later I was on my way. It is only a short ride into town and I find a good hotel with undercover parking for 350b a night.

Enter your email address to receive updates to Tom Forde's trip story!
Recent Entries
Archives:
Archives:
Monthly
Archives:
Category
NEW! HU 2015 Motorcycle Adventure Travel Calendar is now available! Get your copy now for some terrific travel inspiration!
HUGE, 11.5 x 16.5 inches, beautifully printed in Germany on top quality stock! Photos are the winning images from over 600 entries in the 9th Annual HU Photo Contest!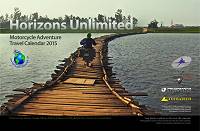 "The calendar is magnificent!"
"I just wanted to say how much I'm loving the new, larger calendar!"
We share the profit with the winning photographers. YOU could be in the HU Calendar too - enter here!
Next HU Events
NEW!

USA Virginia: Apr 9-12, 2015
Take 40% off Road Heroes Part 1 until October 31 only!
Road Heroes features tales of adventure, joy and sheer terror by veteran travellers Peter and Kay Forwood (193 countries two-up on a Harley); Dr. Greg Frazier (5 times RTW); Tiffany Coates (RTW solo female); and Rene Cormier (University of Gravel Roads).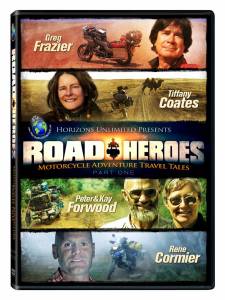 "Inspiring and hilarious!"
"I loved watching this DVD!"
"Lots of amazing stories and even more amazing photographs, it's great fun and very inspirational."
"Wonderful entertainment!"
Check it out at the HU Store! Remember to use Coupon Code 'HEROES' on your order when you checkout.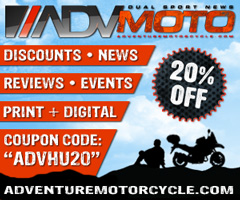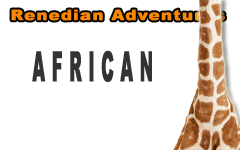 What others say about HU...
"I just wanted to say thanks for doing this and sharing so much with the rest of us." Dave, USA
"Your website is a mecca of valuable information and the DVD series is informative, entertaining, and inspiring! The new look of the website is very impressive, updated and catchy. Thank you so very much!" Jennifer, Canada
"...Great site. Keep up the good work." Murray and Carmen, Australia
"We just finished a 7 month 22,000+ mile scouting trip from Alaska to the bottom of Chile and I can't tell you how many times we referred to your site for help. From how to adjust your valves, to where to stay in the back country of Peru. Horizons Unlimited was a key player in our success. Motorcycle enthusiasts from around the world are in debt to your services." Alaska Riders

10th Annual HU Travellers Photo Contest is on now! This is an opportunity for YOU to show us your best photos and win prizes!
NEW! HU 2014 Adventure Travel T-shirts! are now available in several colors! Be the first kid on your block to have them! New lower prices on synths!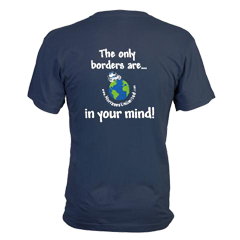 Check out the new Gildan Performance cotton-feel t-shirt - 100% poly, feels like soft cotton!

What turns you on to motorcycle travel?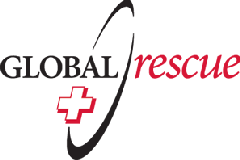 Global Rescue is the premier provider of medical, security and evacuation services worldwide and is the only company that will come to you, wherever you are, and evacuate you to your home hospital of choice. Additionally, Global Rescue places no restrictions on country of citizenship - all nationalities are eligible to sign-up!
New to Horizons Unlimited?
New to motorcycle travelling? New to the HU site? Confused? Too many options? It's really very simple - just 4 easy steps!
Horizons Unlimited was founded in 1997 by Grant and Susan Johnson following their journey around the world on a BMW R80 G/S motorcycle.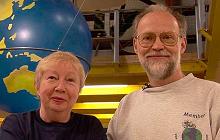 Read more about Grant & Susan's story
Membership - help keep us going!
Horizons Unlimited is not a big multi-national company, just two people who love motorcycle travel and have grown what started as a hobby in 1997 into a full time job (usually 8-10 hours per day and 7 days a week) and a labour of love. To keep it going and a roof over our heads, we run events (22 this year!); we sell inspirational and informative DVDs; we have a few selected advertisers; and we make a small amount from memberships.
You don't have to be a Member to come to an HU meeting, access the website, the HUBB or to receive the e-zine. What you get for your membership contribution is our sincere gratitude, good karma and knowing that you're helping to keep the motorcycle travel dream alive. Contributing Members and Gold Members do get additional features on the HUBB. Here's a list of all the Member benefits on the HUBB.
Books & DVDs

All the best travel books and videos listed and often reviewed on HU's famous Books page. Check it out and get great travel books from all over the world.

MC Air Shipping, (uncrated) USA / Canada / Europe and other areas. Be sure to say "Horizons Unlimited" to get your $25 discount on Shipping!
Insurance - see: For foreigners traveling in US and Canada and for Americans and Canadians traveling in other countries, then mail it to MC Express and get your HU $15 discount!
Story and photos copyright © All Rights Reserved.
Contact the author:
Editors note: We accept no responsibility for any of the above information in any way whatsoever. You are reminded to do your own research. Any commentary is strictly a personal opinion of the person supplying the information and is not to be construed as an endorsement of any kind.
Hosted by: Horizons Unlimited, the motorcycle travellers' website!
You can have your story here too - click for details!