October 05, 2007 GMT
On the Road Again, maybe.
As I lay in the treatment room at Baddeck I once more faced the fact that my trip could be over, at least by motorcycle. Dr Chang and the A& E nurse put me in a halter (my cupless bra) to hold my shoulder in place while it knitted back together.
ĎHow long before this comes off?í I asked.
ĎAt least three weeks.í He replied.
The nurse rang a local motel and came back smiling.
ĎThe owner of the Telegraph House Hotel will come and pick you up, he has a motel room he can set aside for a long stay guest,í she informed me.
Thatís when I first met Shawn Dunlop, whose family had owned the hotel since it was originally built. Indeed they had been instrumental in installing telegraph communication to Nova Scotia and were, and remain, personal friends of Alexander Graham Bell then, and his modern day family now.
The Telegraph House Hotel, Baddeck

In my 3 weeks at The Telegraph House Hotel and Motel was a time to heal and think about my situation. My bike was in the next town, there was no taxi service and the bus did not stop in the town. The staff were very kind to me but I could not help wondering what to do next. At least I had my laptop sent over, well that is until I spilt fruit juice into the keyboard!! That all but killed it, as the acid in the fruit juice attacked and shorted out more and more keys. I rinsed it under a tap, tried to isolate the damaged area and eventually levered up the housing to insert bits of cellophane wrapper between the layers of key tracks, but each day the keyboard got worse. In the end I had only half the top and middle row of keys, and had to be very creative in order to get even the most primitive of messages out. Even the password for my email account had to be copied and pasted, letter by letter, out of unrelated letters from saved documents.
Baddeck is a pretty, small town on a lovely lake that saw Osprey floating over it, and yachts scudding to and fro, but time was slipping away, and I knew that any hope of travelling up The Dempster Highway to Inuvik was gone. Indeed I would soon loose the chance of reaching the Rocky Mountains before snow started closing the higher passes.
My bike was sent on from the Ford dealership that had picked it up, to a local motorcycle workshop. Fortunately I had the spare sprockets on board, and the chain was a standard pitch that they had in stock. Another lucky break came as Shawn had to deliver his daughter to the ferry for Prince Edward Islands at about the time my bike would be ready, and offered to take me with them in order to drop me off on the way back. The family car, being looked after by his brother, was a large, comfortable saloon, but had a noisy exhaust, so we stopped on the way back for a new part to be fitted while we had lunch.
At the motorcycle workshop they had not yet started my repairs, but give them due, they pulled out all the stops and fixed it there and then. While they did so, I chose a new crash helmet; mine had a crack in it, and sorted out my gear. The first thing to go would be my off-road spare tyre. There was no way that I would be strong enough to get off-road with a broken collar bone, even if I could reach Dawson City in time, so it was just extra weight. Also the tank bag went, but not the map pocket, and a couple of coats, after all I would be heading away from the cold, they just took up room, and I wanted to get the weight as low as possible. I decided to keep the camping gear as although it would be difficult for me to erect, it gave me an emergency back up if I could find no shelter elsewhere. My camera was missing, the only time I clipped it to the side of the bike and it goes awol!! Probably laying in a ditch at the side of the road.
The bike had been left in the open for three weeks and the Magellan GPS was wet through, so I had no option but to proceed without any way knowing my exact speed. I developed the tactic of following the vehicle in front, or going at a speed so that vehicles behind slowly caught up and overtook. You must remember that traffic on country roads in Canada is very sparse; indeed sometimes it would be over an hour before a vehicle appeared in my rear mirrors. It did not take long before I could judge my speed just by the sound of the engine and the gear I was in.
I said a fond farewell to my host, Shawn Dunlop, and headed off down the road.
Fortunately it was late in the afternoon, so my first ride was only for about an hour, and I called into a motel in Port Hawksbury where I had the most delicious liver and onions, not that the food was bad at the Telegraph Hotel, in fact just the opposite, but liver, onions, mashed potatoes and green beans was just the counterpoint I needed for the delicate tastes of the sea food that predominated at The Telegraph House.
From then on I travelled over 250 miles a day across Nova Scotia to New Brunswick, then into Quebec. I thought to myself that there must be a ferry across the St. Lawrence Seaway, that would allow me to avoid Quebec City, and more or less let me follow my original route across Canada. There was, at Matane, according to my newly purchased Michelin Atlas of North America. A drawback of my Trackmaker computer maps is that they donít show all of the minor ferry routes. I decided to take to a minor but shorter route to Matane along Highway 190. Oh what a road! It winds through small villages, through pretty countryside but was so broken up that I could look nowhere but 40ft or so in front of me. Then it ended, they had ground away the surface for repairs and left a series of grooves in the road that acted like tramlines, leading me on a slow diagonal towards the deep gravel that littered the verges, causing me to take drastic course changes every hundred yards or so. After about 4 miles of this the road returned to its normal pot holed self. ĎThank God thatís over,í I though, nothing could be worse than that!í
I spoke too soon, around the next bend they had removed the surface totally and I spent a nervous few miles on loose gravel that had not even been rolled down yet, and not a workman in sight!
Leaving the Atlantic Provinces behind.


With a sigh of relief I pulled into the ferry terminal at Matane, to be told once more that without a firm booking I might not get on the ferry, but once again the motorcycles managed to be fitted in somewhere. After a few hours I was on land at the point that I would have reached if I had managed to get to Labrador City, Baie-Comeau. The days I had lost with the two accidents and detour, were more than the time I had allowed for the Labrador Highway, but provided that my shoulder did not ache too much, I might at least get to Dawson and be able to follow the Rocky Mountain Route south, but it would be tight.
The next day I travelled along Highway 172, a beautiful road that wound through Quebec mountain valleys to Lac St.Jean along the Saguenay Fjord.
The Saguenay Fjord

Taking a wrong turn at a diversion; Quebec signs are all in French, unlike the dual signs elsewhere in Canada, and by the time I translated ĎThe Road Ahead is Blockedí, I was past the sign and not sure which branch to take for Alma. A very pretty 70km later I stopped checked the map at Mont Apica and turned back the way I had come.
By Mont Apica


Travelling to Val díOr required that I first headed north 240km to Chibougamau then back south another 240km, but I did avoid Quebec City and saw Cache Lake, the lake that inspired my boyhood fascination with the Canadian backwoods.
I was well into reserve by the time I refuelled and breathed a big sigh of relief when I sighted the petrol station just outside of Val díOr, but noticed a slight wobble on the front wheel as I drove through the town searching for a motel. I was tired and my shoulder hurt so that would have to wait for the morning

In the morning I checked the front wheel and could find nothing wrong with it, but a few miles up the road the wobble was back so I drew into a industrial units driveway to check the tyre pressure on the front wheel. The tyre pressure was low and as I pulled out my pump to put a bit more air in the owner drew up on his way to lunch and told me to go into the workshop and get one of the mechanics to get the airline out for me, I did, and was soon on my way again, but the wobble was still there, but only at low speed. I stopped again at a picnic area and checked again. The front wheel was fine, but the rear bearings were shot!!
What was happening was the weight of my gear was holding the rear wheel rigid, and the front of the bike was floating around it. It had not felt like the back was wobbling at all! I had no option but to keep my fingers crossed and keep going. At a petrol station there was a guy on a Honda Gold Wing refuelling on the other side to the pump, we exchanged pleasantries and I told him that my rear wheel axle seemed to be breaking up. He advised me that there was a good motorcycle dealer in Timmings, where he lived, and that there was a good motel just across the street. Unfortunately he was on a mission of his own but would check back that I was ok. I headed off with a lot of hope but little faith, especially as there are long distances between towns and I didnít want to be stuck on the hard shoulder miles away from anywhere. I never made it to Timmings but was sure glad that I had made the aquantence of Rick, and later his family.
Sad sight, by the road with no back wheel!!


Posted by Derek Fairless at
05:08 AM
GMT
October 22, 2007 GMT
Diamonds in a gold mine
Having crashed in Newfoundland, and again in Nova Scotia, I now stood in South Porcupine, Ontario; beside my bike looking at the wrecked rear wheel axle that undoubtedly is the result of these two previous accidents. I am talking to the owner of the motel, and waiting for Rick to pass by. He said he would check that I was ok at the Bon Aire Motel in Timmins, but like I said, I never made it that far. While we talk Rick passes by but by the time I see him he is dead opposite and my yell and wave go unheard and unseen.

That evening I remove the rear wheel and survey the wreckage that was once spacer, shield and bearing. The rear tyre is also badly worn due to the scrubbing it took. I phone a local motorcycle shop the next morning and find that they can pick up the wheel and fix it, then Rick calls, he is checking around to find me, and advises me to go to the dealers in Timmins. He says he will call in to see me, but he and his wife, Jana, are going on a veterans rally over the immanent weekend.
Danni, the motel owner and her husband are gong in to Timmins that morning and offer to drop me and my wheel off at the motorcycle dealers, J&B Cycle and Marine. I also take my laptop with the parts catalogue on, and Tim and I sort out which parts are required. Unfortunately the weekend will hold up the work, but will give time for some of the parts to arrive.
I walk back through Timmins across the park and catch the bus back to the motel.
Since I will be here for a few days I take the opportunity to do a few jobs that I have not had time to do. The most important is to check out the fuel cap lock which has been getting more difficult to open over the past few weeks. After a clean up and greasing it works just fine. The other important task is to do some washing!!

Later that evening Dan, the mechanic from J&B, stopped by, he was off to fix someoneís hot tub, I have no idea how that fits into their mix of motorcycles, quad bikes, snowmobiles, and speedboats, but it does somewhere.
After a lazy, wet weekend, I call the workshop to find that the tyre has not arrived but everything else is; apart from the bearing shield which we knew we couldnít get in time. Not such a problem except that my room is already reserved and there are no more available. Timmins is the worlds largest goldmine Iím told. There are many hundreds of kilometres of roads beneath us serving the gold mine. The amount of gold to rock is such that when the price of gold falls below a certain level, work stops and people are made redundant. Currently gold prices are high and miners, mechanics, service companies and health and safety experts (who were the ones who booked my room due to a recent mine death!!), this means that during the week many of the hotels and motels are full.
Rick phones and learns of my problem, then offers to pick me up in his van and take me to the Bel Aire. Danni and her husband say itís fine to leave the bike outside my room until the wheel is ready, I really donít know what I would have done if they hadnít said that.

We check with J&B and they are certain that everything will be ready tomorrow, Tuesday. Rick drives me across the road to the Bel Aire and I check at the desk for a room, yes one is available. Returning to tell Rick that I can get one, he looks at me and says that he would like to offer me a room at his house, I am embarrassed at his generosity, and accept; it will be good to get to know a Canadian family.
We drive to his house and I meet Jana, his wife, who has just returned home after working in a bakery since early morning, his crazy cat and gentle 3 legged dog who lost an augument with a snow plough.


Canadian houses mostly have basements, an excellent design feature in my opinion, and Rick has converted his basement into a bedroom for his son, an extra bathroom and a lounge. Later I meet his daughter and friends, they are curious about England and I wish I could whisk them home to show them around.
Jana and Rick prepare a chicken dinner for me and I sit happily talking with them through the evening. We then retire to Rickís garage to down a few beers and have a smoke. Jana goes to bed early as she has to be up at 3.00am.

Rick tells me something of his childhood in Newfoundland, and all I can says is I was appalled at the treatment he received from his father. How he has managed to rise above his early life and raise such a normal and pleasant family is a tribute to him, his strength of character and his wife, and I regard it as a privilege to have been accepted into his circle of friends.
The next day we pick up the wheel and return to the motel at South Porcupine. It is raining. Normally it takes only minutes to refit the rear wheel, but for some reasons I find it difficult to get it into place. Maybe itís the weakness still in my shoulder from my recent crash. Rick pitches in to help despite the fact that he too suffers pains in his body due to a serious crash many years ago. Eventually everything goes into place and I follow Rick back to his house. Another lovely meal and then we retire to the garage to remount my panniers and luggage. Jana patches my front fairing with red tape, which makes it look far better, and Rick donates some hose clamps to hold my panniers on more securely. Rick and I talk long into the night, and after another comfortable nights sleep I breakfast and mount up to continue my journey. Rick is my guide out of town and we bid each other farewell several miles up the road. I feel privileged to have been allowed to have spent time with this man and his family and wish them well for the future, but now I have to see how quickly I can cross the prairie, because autumn is on its way, and I already know that I cannot get to Dawson City and back through the Rocky Mountains before the snow starts closing the mountain passes.
Posted by Derek Fairless at
04:38 AM
GMT
October 23, 2007 GMT
Across the prairie
West to The Rocky Mountains

Leaving Timmins I returned to the main highway and headed west once more in fine weather. Stopping first at Vermillion then Lake Nippingon on Lake Superior
Sunset from a prairie motel
I eventually left the mountains and hills behind when I entered Manitoba east of Winnipeg. I skirted the city and finally called into a motel in Portage la Prairie where I decided to stay over the weekend. Michael and Kim made me most welcome and we had very interesting conversations. Michael has travelled the world as an employee of a cruise line and had visited Europe many times.
Michael and Kim
During the afternoon I walked around the town with itís man made lake to get a better feel for a Canadian prairie town. The lake had a very pleasant footpath walk around it and is a favourite with the locals.

Lake Portage la Prairie
The other thing I find regretful is the need to sling wires everywhere, but when the ground is frozen and covered in feet of snow every winter, it would be silly to bury them as we do in Britain.
Town Hall, Portage la Prairie
Michael spends quality time with his son Aaron on a Sunday afternoon, while Kim remains to tend the motel, and he invited me to join them for a tour of Winnipeg. I jumped at the opportunity and the three of us set out to see the sites that tourists donít usually get to see. First we went to the rich area and saw the multimillion dollar houses of the rich before seeing the opposite end of the housing in some of the poorer areas, the places where the taxis will not go. I was very disappointed to see that many of the poor were First Nation peoples and could not see why they would give up their free land and housing on their reservations for the grime of the city. I know which location I would choose, and it would not be the city. After a chilli-dog at their favourite street venue, we returned to Portage la Prairie. Michael suggested that a good way to get into the Rockies would be through Saskatoon and Edmonton along Highway 16.
The following morning I set of in gusty conditions across this prairie road. Riding in gusty condition is a pig, but somehow I avoided the thunderstorms that were roaming across this flat landscape. The towns in this part of Canada are usually off to one side of the main highway and reached by a service road, most of which were gravel. Gusty winds and gravel, not good, still I only needed one fuel stop and found a town that the highway went through without the gravel service road. Now I am quite interested in agriculture, having worked in the industry for many years, but even for me the scenery lost itís appeal after two days riding.
Entering Saskatoon I was faced with diversions and soon got hopelessly lost. I had just decided to travel on when I caught sight of the blue and red logo of the Motel 6 that I had been searching for. I found to my dismay that my main credit card failed and paid cash, deciding on a 3 day stay so that I could find out why. The next day I took a taxi into the main shopping area and made my way to the main bank that dealt with my card. There they confirmed that the card was not allowing any credit, so I changed some of the US dollars I had on me for Canadian dollars. After a walk around the classy shops in the mall and the downtown area, I returned to the motel and purchased a couple of phone cards. During the evening I checked my emails, and lo and behold an email from the credit card company trying to contact me. Next morning I got through to them and it seems that all my bills for medical expenses and motorcycle repairs had been presented at the same time!! I guessed that those concerned had waited until the end of the month before presenting them. A swift call to my son and some fund transfers would fix the problem.
After consulting my map, I decided that I could swing south of Edmonton and then west so avoiding the city. After reaching the Alberta borderline in fine weather, I was pleased to see the scenery start to change and get hilly, also I began to see the odd nodding donkey pumping oil from the ground. The farms also began to change with livestock beginning to take precedence. This was the start of cowboy country. As I headed for my days destination, Drayton Valley, the fir trees slowly began to once more become apparent.
The next day dawned with clear skies and it wasnít too long before I got my first view of the distant mountains as I headed for Jasper. I cannot help it, but mountains make my heart beat faster, and this wall of mountains stretched both north and south across my route. I had intended to stay in Jasper, but it looked too expensive for me, and after a snack break I headed south looking for a campsite, my first since Nova Scotia! This late in the season many of the smaller sites are closed, and before I knew it I was at the junction I needed to take towards Red Deer where I had an offer of accommodation. Pulling in for fuel, I decided that the motel here, whatever the price, was in such a beautiful location, that I would stay here regardless. I was right, it was more expensive than average, and the food was also a couple of dollars more than elsewhere, but everything was well worth the extra few dollars.
With my back to the mountains I came out of the mountains along one of the most beautiful roads I have travelled with turquoise lakes outlined by the dark green tree line against the white rock faces. I only wished that I had a working camera with me, as by now all were either lost, broken or uncharged.
Red Deer was a shock, all that traffic and those junctions, I had not imagined it as being so big. I had an address but no idea where it was. Eventually I bought a map and with incredible luck met my host Stephen as he got out of his car outside his house, while I vainly asked those locals on the street if they knew where the address was. Even those a hundred yards down the street didnít know, but seeing me make my way hesitantly down the street he waved and called to me and there I was in an oasis of calm and normality. Oh joy!
Sitting with a beer in Stephens garden.
Posted by Derek Fairless at
06:31 PM
GMT
Enter your email address to receive updates to Derek Fairless's trip story!
Recent Entries
Archives:
Archives:
Monthly
Archives:
Category
NEW! HU 2015 Motorcycle Adventure Travel Calendar is now available! Get your copy now for some terrific travel inspiration!
HUGE, 11.5 x 16.5 inches, beautifully printed in Germany on top quality stock! Photos are the winning images from over 600 entries in the 9th Annual HU Photo Contest!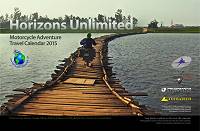 "The calendar is magnificent!"
"I just wanted to say how much I'm loving the new, larger calendar!"
We share the profit with the winning photographers. YOU could be in the HU Calendar too - enter here!
Next HU Events
NEW!

USA Virginia: Apr 9-12, 2015
Canada West: Aug 20-23, 2015
USA California: Sep 24-27, 2015
Aus Queensland: Sep 24-27, 2015
USA North Carolina: Oct 8-11, 2015
Aus Perth: Oct 9-11, 2015
Take 40% off Road Heroes Part 1 until October 31 only!
Road Heroes features tales of adventure, joy and sheer terror by veteran travellers Peter and Kay Forwood (193 countries two-up on a Harley); Dr. Greg Frazier (5 times RTW); Tiffany Coates (RTW solo female); and Rene Cormier (University of Gravel Roads).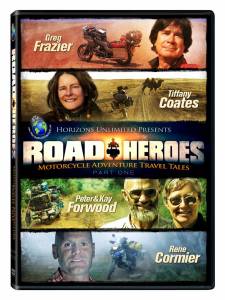 "Inspiring and hilarious!"
"I loved watching this DVD!"
"Lots of amazing stories and even more amazing photographs, it's great fun and very inspirational."
"Wonderful entertainment!"
Check it out at the HU Store! Remember to use Coupon Code 'HEROES' on your order when you checkout.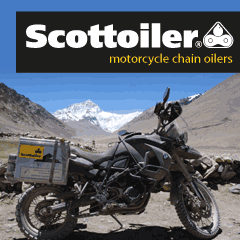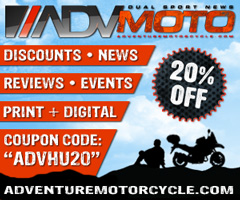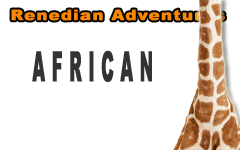 What others say about HU...
"I just wanted to say thanks for doing this and sharing so much with the rest of us." Dave, USA
"Your website is a mecca of valuable information and the DVD series is informative, entertaining, and inspiring! The new look of the website is very impressive, updated and catchy. Thank you so very much!" Jennifer, Canada
"...Great site. Keep up the good work." Murray and Carmen, Australia
"We just finished a 7 month 22,000+ mile scouting trip from Alaska to the bottom of Chile and I can't tell you how many times we referred to your site for help. From how to adjust your valves, to where to stay in the back country of Peru. Horizons Unlimited was a key player in our success. Motorcycle enthusiasts from around the world are in debt to your services." Alaska Riders

10th Annual HU Travellers Photo Contest is on now! This is an opportunity for YOU to show us your best photos and win prizes!
NEW! HU 2014 Adventure Travel T-shirts! are now available in several colors! Be the first kid on your block to have them! New lower prices on synths!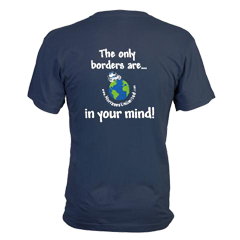 Check out the new Gildan Performance cotton-feel t-shirt - 100% poly, feels like soft cotton!

What turns you on to motorcycle travel?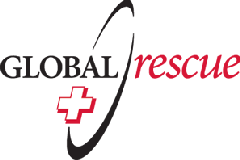 Global Rescue is the premier provider of medical, security and evacuation services worldwide and is the only company that will come to you, wherever you are, and evacuate you to your home hospital of choice. Additionally, Global Rescue places no restrictions on country of citizenship - all nationalities are eligible to sign-up!
New to Horizons Unlimited?
New to motorcycle travelling? New to the HU site? Confused? Too many options? It's really very simple - just 4 easy steps!
Horizons Unlimited was founded in 1997 by Grant and Susan Johnson following their journey around the world on a BMW R80 G/S motorcycle.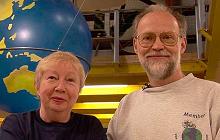 Read more about Grant & Susan's story
Membership - help keep us going!
Horizons Unlimited is not a big multi-national company, just two people who love motorcycle travel and have grown what started as a hobby in 1997 into a full time job (usually 8-10 hours per day and 7 days a week) and a labour of love. To keep it going and a roof over our heads, we run events (22 this year!); we sell inspirational and informative DVDs; we have a few selected advertisers; and we make a small amount from memberships.
You don't have to be a Member to come to an HU meeting, access the website, the HUBB or to receive the e-zine. What you get for your membership contribution is our sincere gratitude, good karma and knowing that you're helping to keep the motorcycle travel dream alive. Contributing Members and Gold Members do get additional features on the HUBB. Here's a list of all the Member benefits on the HUBB.
Books & DVDs

All the best travel books and videos listed and often reviewed on HU's famous Books page. Check it out and get great travel books from all over the world.

MC Air Shipping, (uncrated) USA / Canada / Europe and other areas. Be sure to say "Horizons Unlimited" to get your $25 discount on Shipping!
Insurance - see: For foreigners traveling in US and Canada and for Americans and Canadians traveling in other countries, then mail it to MC Express and get your HU $15 discount!
Story and photos copyright © All Rights Reserved.
Contact the author:
Editors note: We accept no responsibility for any of the above information in any way whatsoever. You are reminded to do your own research. Any commentary is strictly a personal opinion of the person supplying the information and is not to be construed as an endorsement of any kind.
Hosted by: Horizons Unlimited, the motorcycle travellers' website!
You can have your story here too - click for details!