May 14, 2007 GMT
Trip to Germany
Thursday 4th May 2007
Well today I have been getting ready for my trip to Germany and the meeting of Los Amigos
I still had to sort out my power take off points in order to provide power for the GPS and the computer. I would like to add a couple of extra ones too because I am always thinking of other devices I can hook up, just wonder if the generator will have enough power to run all of these devices! Having connected everything up, they don't work. I am not surprised because there are 3 tags on each socket and it was a foregone conclusion I would choose the wrong 2. So it was, that at the garage I bought some batteries instead. Back to the flat, pack the panniers and 'did I forget anything' ?


Route: 635 miles (1016km)
Hunstanton - King's Lynn; - Newmarket; M11;M25-Dartford Crossing; M25-M20; M20-Folkston – Channel Tunnel; Channel Tunnel-Calais; E40- Dunkirk – Ostend –Ghent – Brussels – R0 Ring Road – E40-Leuven – E314-Aachen – A4 – Cologne – E31- Bonn – Mainz – Worms – Mannheim – E50 – Weinheim – K11 – Neder Leibersbach – Ober Leibersbach
On the road at 2-30pm, about 1½ hours later than I had intended, but enough time to catch the shuttle. The run down to Folkestone was uneventful, and the weather was beautiful, if a little colder than of late. Due to the lateness I did not stop at the petrol station at the terminal but went straight to check in. I needn't have worried, still 1½ hrs to wait, time for the lunch I missed and relaxed cigar in the sun out of the wind.
This time I was not stopped at immigration, just waved, or waived, straight through, no sniffer check either. The other change was that instead of holding all the bikes back, as happened last time I travelled on the shuttle, I just followed the cars. Once shut up in the tin box with everyone else, I needed to put in my padding for the motorcycle trousers. I was wearing long johns, but I think it was still a surprise to the other occupants to see me struggling out of my trousers in the carriage. Job completed I struck up a conversation with a pleasant Dutchman by the name of Martin Roets, (sorry Martin if I got your surname wrong) and a pleasant young English couple from Cookham whose name I omitted to get, (sorry). All showed great interest in my proposed journey and said they would check out my blog, so if you did, Hi, nice meeting you.
So petrol in Calais and now I know what happened to Adam last year, I too exited on the back road to City Europe, however I, like him, had wandered these roads searching and knew now what I was looking for.
The E40 sped by with me recalling the past journey on this road and this time I had no problem with the R0, Brussels ring road. I forked off at Leuven, just as Adam had done last summer by mistake, and at about 2.00am I stopped just short of Aachen to see if I could get 40winks at a picnic table. I grabbed about an hour, but woke with a stiff neck. There was car parked close by and the driver was wandering about killing time, so, seeing his interest in the bike I struck up a conversation with him. He was of Italian extraction, his father emigrating for the mine work offered in this part of Europe. He himself had just finished his shift making brake pipes for VW, but not wanting to wake his family at this early hour, was killing time in this picnic area. After an interesting conversation regarding my plans for a world trip, he left, but reversed up to me and gave me a cake, 'For your breakfast.' What a nice man.
I got lost around Cologne (Koln) as I could not merge into a cross-flow junction that materialised in front of me. After an impressive detour in the rush hour traffic I was once more on my planned route. I had the GPS on, but you can't read it in the dark or when it is facing away from you in the tank bag!!!!! Anyway what does 'getting lost' mean? Getting lost is directly proportional to time, in my opinion. If you have little time available and are at an unknown location, then you are badly lost, even if you are just a few hundred metres from your target point. On the other hand you can be hundreds of miles away from where you planned to be, but with no time limit, 'being lost' loses it's meaning, you are just 'somewhere else for the time being'.


Reaching Mannheim I only had sketchy directions, but remembered it was Ober- Leiber something or other. The Luck of the Seven Blind Bastards was with me (Sam says I have inbuilt radar) and almost by magic I rode down the track to the campsite and the group of people sitting casually on the patio drinking beer or coffee. Introductions were made by our hosts Jens and his partner Christina, and I discovered that this was very much a German party, with me as the only Englishman present. To be fair there was a Argentinean, whose name I found to be unpronounceable, several Dutch people and a notable Austrian.. I found a good place for my tent and before all else made a nice hot cup of coffee.


Then I had the pleasure of meeting Luna, a young Austrian lady who has travelled extensively in the Americas, she later gave an interesting presentation of her travels, with several asides in English for my benefit. http://www.travelluna.blogspot.com/ A tall rangy German named Michael took me under his wing to help me understand what was happening during the presentations although both Jens, with his video about a Treasure Hunt by motorcycle in Rumania, and Luna, made sure I was included overall. It is easier to make connections in your head than it is to vocalise them, so despite my lack of German, I got most of the information coming through. The local jokes at each others expense were the only thing that left me puzzled, but such a small part as to be of no account. I later asked questions of those present and learned a few tips. Those I talked to were very interested in my plans and I had an enjoyable evening, albeit still feeling slightly like a fish out of water. This feeling evaporated as we continued our conversations during the interval between the presentations and I could feel myself slowly being absorbed into the group. As in Widooie talking took the edge off of my tiredness and I found myself making my bed at gone 11.00pm, 41 hours with only 1 hours sleep!!

Saturday 6th May
I had a really good nights sleep, the airbed makes a real difference to my comfort. A breakfast, of bread rolls, cheese and ham, with lots of coffee found me talking with Wolfgang < www.mr-wooli.de > who spent some time in Goose Bay, Labrador, and warned me of the black fly (which I knew about) and the 'Bulldozers, flesh eating beetles (which I didn't). Having paid the in the E30 charge for the 2 nights camping and breakfasts, I needed to get some more money out of the ATM. So while the main group went of for a ride-out,
I went to explore the local town of Birknau to find an ATM. The town is set in a valley cut through by a little river, and although the day was hot and humid, I had a pleasant walk through it. One thing struck me; the little amount of graffiti was all fresh! It looks either to be a new phenomenon, or one that is pounced on by the good burghers of Birknau and extinguished immediately. This in my opinion is the only way to deal with these selfish displays of identity crisis, that and erecting a hoarding expressly for the purposes of graffiti decoration. Otherwise the town was a balanced mix of old and new, with clean streets and that fresh, well cared for look that one expects from small German towns. There was an impressive town hall, large town park and a little railway station. To my surprise, coming from the 24/7 culture of England, all of the shops were closed, except for the Aldi (Dutch) supermarket. Walking back down the main street I practiced the German sentence in my head to ask someone for the ATM. 'Shoelenzee bitter, mein Deutcher sprakken ist kinderliech, happer diese dorf ein ATM?' I have found the phrase 'mein Deutcher sprakken ist kinderliech' (My German speaking is childlike') to bring a smile to peoples faces, and that is the first thing you want, a friendly response. I like to give the impression that although I am ignorant of their language, I am at least trying, and not relying on the ubiquitous English tongue. But I am shy, and pass several opportunities by when a man pushes out a motor scooter from his driveway and I skirt around him. A perfect opportunity, after all we share two wheeled transport, and although there is a gulf between the two modes, it is a positive link. I turn around, but he has disappeared, leaving his scooter parked squarely across the pavement! Such an inconsiderate man I will not ask, I will ask another, this at least puts the problem of actually accosting someone back by a few minutes. Further up the street two cyclists catch my eye, as one holds his companions bike while the other presses a button in a doorway and disappears into its glassy interior. Above, in pale blue letters 'VolksBank' Of course, most ATMs are set inside a separate lobby, not outside as in the UK. With a better behaved population, they can do that. What is more, when my turn comes to use the ATM I get a choice of 5 languages to do the transaction in. It is often like this in continental Europe, Why are we not as courteous in Britain?
With my money secured, I walk back through the park, past the school, up the little cobbled streets and back to the train station where my bike is parked. A curious thing, in the station car park is a row of kennels, obviously for the use of those parking there. Do they leave their dogs there while they nip into Mannheim on the train? This is surely much better than leaving them shut up in a car for a few hours, but wouldn't they be better off in their own kennel in their own back garden? The answer has to be yes, but how many people who have dogs are considerate enough to give them a kennel in the garden? Not many.
Back at the campsite I threw together a quick, thick, pancake and drizzle on the caramel syrup bought at the supermarket. No sign of real maple syrup but this 'treacle' is a good substitute.

Later I wander up to the hotel for the evening's slide shows, nodding and returning the greetings from those with whom I have previously spoken. Obtaining my pils, I venture once more out onto the patio and hear an unmistakably English voice. Making my way towards the speaker as casually as I can, without making it too obvious that I have homed in like a guided missile for those familiar tones and inflections, I introduce myself, and make friends with Andy and Miranda, who are to give a presentation of their trip from Singapore to Holland, where they now live.
Andy is nervous, never having given a presentation before, vowing that this is a one off for his friend Jens. We settle into our chairs and I find myself next to Rene and his son from Holland. We are soon all firm friends, in the matter of minutes it seems, just that magic thing that happens between people sometimes. Andy starts his slide show and I am amazed both at the fact that he and Miranda did this epic journey on Suzuki 125cc bikes - for gods sake, - and the incredible scenery of Nepal, Northern India and Kashmir. Most amusing were the accounts of a singular argument between Andy and Miranda that consisted almost solely of one expletive bandied back and forth. This argument was thus constructed due to the high altitude and lack of breath Andy and Miranda had to express more than these explosive invectives, and ended with 'Well give us a fag then.' The other memorable amusing moment was when Andy presented a slide of……well I'll save that one, just in case Andy changes his mind and gives another presentation some time. During the interval while we waited for the next presentation, and replenished our glasses, I managed to congratulate Andy, he is a natural. The slides were impressive, his narration concise and amusing and conveyed some of the feeling that they both felt for the ride. No one but he seemed to have noticed that his 40 minute presentation had overrun to 2 hours, so immersed were we in his account of this truly great journey. Another two friends to add to my growing list.
Following Andy there was a slick slide show, using real slides and a sound system, but perhaps it was that it was totally in German or perhaps it was due to a less emotional input and more factual presentation of places visited, but beautiful as it was it did not have the verve of the Englishman's story.
Sunday 7th May
Time to pack up and get on the road, I have the longest distance to travel and must get on the road as soon as I can. Funny thing, I am almost the last to finish packing and leave the camping field. Talking, my star ability has seen to it that I wave farewell to my new found friends at midday, not 10am as I thought it would be!
Another wrong turn and I find myself riding through the centre of Mannheim! What a beautiful city. The sky is clear, the sun shines brightly, I know I will intersect the North/South Autobahn if I continue in this westerly direction, so relax and look around. The University is magnificent, but the traffic lights change before my phone can activate the camera. Ah well there will be a picture somewhere on the web. Finding the Autobahn I head north, stopping to take pictures of the Mosel at an eating place, but no petrol.

A few kilometres up the road I see signs that I interpret as 'Service Area' and pull over only to find myself on small country roads and reluctant to head too far from the Autobahn searching for a spot for P& T. Ignoring a sign that seems to say 'Works Traffic Only', I snack in a wooded area that is obviously being logged with complete distain for my trespass.

The journey back is uneventful with the exception that near the coast of Belgium a strong wind springs up and the rain starts. I exchange a few words with another couple of UK riders who are about to depart a lay-bye as I arrive. 'I feel like an 'effing' baboon, my arse is red and my arms are 6 inches longer!!'
The last miles through England are cold, wet and boring, and I trudge up the stairs thankful to be home, but really pleased that I have found such friends as all of those people in Ober Liebersbach. Los Amigos indeed, Thanks all, see you on the road sometime.

One afterword, as I stopped to open my garage door, a blue acrid smoke arose from under the front somewhere. A strap touching the exhaust, or perhaps my incomplete rewiring is about to catch fire!!!
Posted by Derek Fairless at
12:13 PM
GMT
Enter your email address to receive updates to Derek Fairless's trip story!
Recent Entries
Archives:
Archives:
Monthly
Archives:
Category
NEW! HU 2015 Motorcycle Adventure Travel Calendar is now available! Get your copy now for some terrific travel inspiration!
HUGE, 11.5 x 16.5 inches, beautifully printed in Germany on top quality stock! Photos are the winning images from over 600 entries in the 9th Annual HU Photo Contest!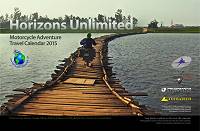 "The calendar is magnificent!"
"I just wanted to say how much I'm loving the new, larger calendar!"
We share the profit with the winning photographers. YOU could be in the HU Calendar too - enter here!
Next HU Events
NEW!

USA Virginia: Apr 9-12, 2015
Canada West: Aug 20-23, 2015
USA California: Sep 24-27, 2015
Aus Queensland: Sep 24-27, 2015
USA North Carolina: Oct 8-11, 2015
Aus Perth: Oct 9-11, 2015
Take 40% off Road Heroes Part 1 until October 31 only!
Road Heroes features tales of adventure, joy and sheer terror by veteran travellers Peter and Kay Forwood (193 countries two-up on a Harley); Dr. Greg Frazier (5 times RTW); Tiffany Coates (RTW solo female); and Rene Cormier (University of Gravel Roads).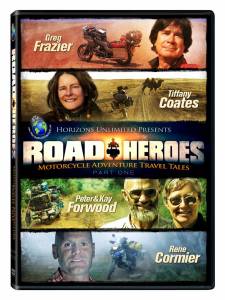 "Inspiring and hilarious!"
"I loved watching this DVD!"
"Lots of amazing stories and even more amazing photographs, it's great fun and very inspirational."
"Wonderful entertainment!"
Check it out at the HU Store! Remember to use Coupon Code 'HEROES' on your order when you checkout.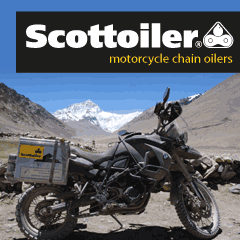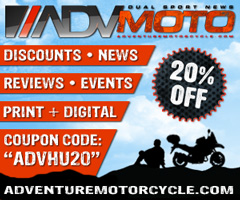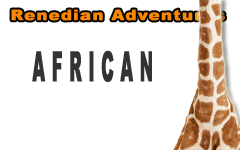 What others say about HU...
"I just wanted to say thanks for doing this and sharing so much with the rest of us." Dave, USA
"Your website is a mecca of valuable information and the DVD series is informative, entertaining, and inspiring! The new look of the website is very impressive, updated and catchy. Thank you so very much!" Jennifer, Canada
"...Great site. Keep up the good work." Murray and Carmen, Australia
"We just finished a 7 month 22,000+ mile scouting trip from Alaska to the bottom of Chile and I can't tell you how many times we referred to your site for help. From how to adjust your valves, to where to stay in the back country of Peru. Horizons Unlimited was a key player in our success. Motorcycle enthusiasts from around the world are in debt to your services." Alaska Riders

10th Annual HU Travellers Photo Contest is on now! This is an opportunity for YOU to show us your best photos and win prizes!
NEW! HU 2014 Adventure Travel T-shirts! are now available in several colors! Be the first kid on your block to have them! New lower prices on synths!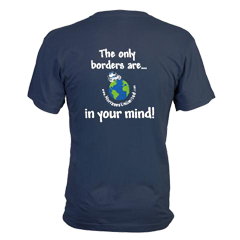 Check out the new Gildan Performance cotton-feel t-shirt - 100% poly, feels like soft cotton!

What turns you on to motorcycle travel?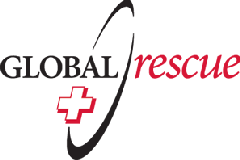 Global Rescue is the premier provider of medical, security and evacuation services worldwide and is the only company that will come to you, wherever you are, and evacuate you to your home hospital of choice. Additionally, Global Rescue places no restrictions on country of citizenship - all nationalities are eligible to sign-up!
New to Horizons Unlimited?
New to motorcycle travelling? New to the HU site? Confused? Too many options? It's really very simple - just 4 easy steps!
Horizons Unlimited was founded in 1997 by Grant and Susan Johnson following their journey around the world on a BMW R80 G/S motorcycle.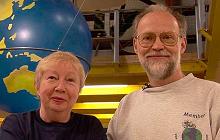 Read more about Grant & Susan's story
Membership - help keep us going!
Horizons Unlimited is not a big multi-national company, just two people who love motorcycle travel and have grown what started as a hobby in 1997 into a full time job (usually 8-10 hours per day and 7 days a week) and a labour of love. To keep it going and a roof over our heads, we run events (22 this year!); we sell inspirational and informative DVDs; we have a few selected advertisers; and we make a small amount from memberships.
You don't have to be a Member to come to an HU meeting, access the website, the HUBB or to receive the e-zine. What you get for your membership contribution is our sincere gratitude, good karma and knowing that you're helping to keep the motorcycle travel dream alive. Contributing Members and Gold Members do get additional features on the HUBB. Here's a list of all the Member benefits on the HUBB.
Books & DVDs

All the best travel books and videos listed and often reviewed on HU's famous Books page. Check it out and get great travel books from all over the world.

MC Air Shipping, (uncrated) USA / Canada / Europe and other areas. Be sure to say "Horizons Unlimited" to get your $25 discount on Shipping!
Insurance - see: For foreigners traveling in US and Canada and for Americans and Canadians traveling in other countries, then mail it to MC Express and get your HU $15 discount!
Story and photos copyright © All Rights Reserved.
Contact the author:
Editors note: We accept no responsibility for any of the above information in any way whatsoever. You are reminded to do your own research. Any commentary is strictly a personal opinion of the person supplying the information and is not to be construed as an endorsement of any kind.
Hosted by: Horizons Unlimited, the motorcycle travellers' website!
You can have your story here too - click for details!