February 02, 2008 GMT
South of the Border down Mexico way.
The border crossing at San Luis was more chaotic than the others I had crossed, but in retrospect not too bad at all. I first had to give in my green card to the American Immigration desk, by stopping at the side of the road and hopping over a fence to get there, they don't seem to worry about who is leaving, only about who's coming in. Next I rode the 50 or so meters to a small booth where a guy looked at my passport and pointed to a building that I should report to. This was to get my temporary import papers for the bike, and after queuing for half an hour I was told that first I needed papers from the Immigration desk. Luckily there was no queue, but the lady was out having coffee somewhere. After she returned and I got my papers I returned to queue up again and when my turn came we found that the computer would not accept my VIN number. The guy behind me spoke perfect English and suggested that I check it myself. I did so and everything matched, possibly she thought the 'S' was a '5' I said and we tried again. Again the computer refused to accept the number and the lady behind the counter returned my Registration Document with a flourish telling me that it was wrong and the bike did not exist. Lucky for me the English speaking dude was still there and suggested she rang her main office, which she did reluctantly. After another 20 minutes her phone rang, she gave a look of comprehension and pushing aside the paperwork she had in front of her, typed in my particulars, I think she had been trying to put them in the wrong field!! I left the office with my paperwork and a sticker to put on my windshield to say I had been processed, I think it costs about $30. For Americans there is a $3 fee if you only want to go a little way into the country.
Leaving the office I think I must have completely ignored customs and just driven past them, but anyway I followed a couple of 4x4s into the main street and the chaos. After a few hundred meters the one way street stopped at a junction and I just followed these 4x4s straight across. At the next junction one turned right and the other kept on down this wide shop lined street, so I followed. Soon he pulled over so I kept going and the shops ended, reasonable housing lined the street and it still looked clean and tidy. Then a crossroads came up, left looked like a commercial district, straight on turned into sand and shanty town, right looked busy with the blue smoke of roadside food vendors curling up through the air, shouts and whistles back and forth across the streets, cars and trucks belching grey acrid smoke passing, none of which would have looked out of place in a scrap yard, and kids in smart white shirts streaming out of school for lunch. So I turned that way and rode along this road with its straggle of kerbside businesses and local life going about its normal day to day business. The next crossroads was a bit of a disappointment, left into shanty and sand, I was aware of that as I had ridden up this street, straight on was also into sand, but thicker, and right was a rough surface of rocks and gravel, but a hundred meters up it looked ok. The only trouble was that I was now headed back the way I came. 'Oh well,' I thought perhaps I should get back to the border post and try again.' I therefore took another right and was headed back towards the centre of town. When I got to the junction that crossed the road I started out on, I caught sight of a 40foot lorry heading east in the distance. That was the way I wanted to go, and the speed he was travelling at made me think that he was on a main road. I therefore carried straight on and ended up in a deserted car park, but, and it was a good but, the main road was just the other side of a low concrete wall. Over in the far corner they had left a space for pedestrians, so as you can imaging it took no time at all for me to ride up the kerb, across the grass and, at last, Hwy2, east across to Sonoyta and then south down to Santa Anna.

Typical road in northern Mexico
The land is mostly desert and scrub as it follows the 5 meter high border fence across this dry wasteland. The occasional border patrol helicopter passes overhead on the far side of the fence, but this side there are only the odd shacks and ever present container lorries rushing by. I carried on into the afternoon completing about 220 miles, and pulled into a secure looking motel in Santa Anna where I stayed the night.
The next morning I refilled with petrol at the Pemex service station, not that there is any choice since the Mexican government nationalized the oil industry and fixed the fuel price. However I must say all of the Pemex stations were clean and efficient, often they were the newest building in town, and their red, white and green painted buildings were often greeted by a sigh of relief as I could fill both the bike and myself up with liquid. Back on the road I was heading south along the toll road that comes down from Nogales through dry scrubby countryside, but with more trees and agriculture than had been apparent the day before. Reaching Hermosillo I knew I needed to head east once more into the mountains, and although this was only a couple of hours away from Santa Anna, having got lost in the busy town centre for an hour, I found an hotel and treated myself to a shower followed by a McDonalds chicken dinner, yesterday I only ate some cinnamon bread and a milky way, plus a few crisps. This due to the fact that I have no idea what to ask for, and figure that provided I get to eat something, I can watch and learn as I go.
Only one false road out of Hermosillo and I'm heading for the mountains. Soon the traffic drops away with only the odd car, pickup or truck overtaking me. I pass a blighted area that looks like everything is covered in black dust and see some sort of mining operation that looks like it is drilling coal dust out of the ground!

Arriving at a large T junction with ambiguous signage I take a left figuring that even if I am wrong, it is probably the old road and will join back up to the new road further up. I am not reassured by having to negotiate a washed out road down at the river, but at least the river is only a trickle. A peon on his donkey gives me an odd look as I pass and I get the distinct feeling that this is the rod to nowhere. I was wrong, it went somewhere, Suaqui is where, but then the locals told me the road finished. Back to Tecoripa then and pick up the main highway again, yep back over that washed out river, but this time a beat up truck had stopped along the best line and I had a few curses for it as I was forced to take to the looser gravel. I hate gravel. Did I mention that elsewhere?

The mountains look really great around Tonichi, hardly any traffic but difficult to pull over due to the 6 inch drop off the side of the black stuff. I was just about to overtake a slow moving pickup when there was a bang and my back wheel locked up. 'Oh not again!' I groaned. I put the kick stand down got off the bike and tried to move it backwards towards a small area of grass I had just passed. It wouldn't move! I quickly walked around to the other side of the bike and took a look. The front chain sprocket was totally missing!!! Gone, nothing!! I walked back down the road 20 or 30 feet and there it was laying in the road!! I looked a bit harder further along for the spring clip but it was nowhere in sight. Returning to the bike I saw the problem with the back brake, the pedal was jammed down hard where the chain had hit it coming off, and the brake was jammed on. I quickly got out my spanners, all the time being aware that I am stationery in the middle of the road between two blind bends. I released the brake nipple, letting out the pressure, and some fluid, and was able to release the pedal lever and wheel the bike back to the grassy area that was to one side. As I did so a pick up flew round the corner and screeched to a halt, no not tyres burning up the road, just noisy brakes. Ernesto got out and with his little bit of English established why I was bending over my bike. We managed to get the sprocket and chain back on and I put a ty-wrap around the shaft to stop it coming off. Ernesto accompanied me into Tonichi and checked at the garage to see if they had any circlips, they had one, but it broke as he tried to fit it. Only other stuff they had looked like a spring retaining wire for lorry brake callipers, but we took that and I managed to bend it into a round shape that approximated a circlip. I gave Ernesto a few pesos for his trouble and put the front chain guard into my elastic net, I wnted to be able to keep an eye on that circlip. How had it come off? The last time it was off was when the sprocket was changed in Dallas, Hmm, either it did not get put back or it was damaged in the process.


Ernesto


My front sprocket and home made circlip

Later I found a motel in Yepachic that was nearly finished, it was finished enough to stay in and I brewed up some coffee in the unfinished fire grate.


The next day I carried on slowly through the mountains and noticed a single headlight weaving through the mountains behind me and was pleased to see a GS1200 riding shotgun. We stopped and exchanged pleasantries just outside of La Junta, and while I took the road towards Creel, Scott took the road to Chihuahua.
It was further than I thought, and driving through the mountains as it got darker, with a mechanical problem that slowed me and with no back brake, was quite a stressful I can tell you, but eventually I got into the little town of Creel, found an hotel next to the train station and thankfully stopped for a couple of nights. The next morning I checked the bike and went looking for supplies. Nothing of much use came to hand, so I did what I could and went for a walk.


Creel, the hotel is at the bottom of the drive with the railway station beyond.

The hotel was on quite a steep slope and it had a cobblestone driveway, hmm not so good for me. I got up there some how or other and continued on through the mountains. I regret not having taken a tour of Copper canyon, but was a bit preoccupied with my bike problems. The mountains were beautiful however and I did enjoy them even if I only had one brake, it looked to me as though the pivot shaft was bent and I would need a larger town with better facilities to fix it. I rode into Guachochic and I saw a nice looking hotel though and stopped for the night.


Near Creel, Mexico
The town I had been aiming for was Hidalgo del Parrel, and I passed through that the next morning. The road to Durango is quite good, but a little boring as it crosses a flat plain. The night was drawing in when I got to Rodeo, and a quick trip from one end of the town to the other showed me that there was only one hotel in town. I think they were closed for the season, but I got a back room with no curtains at the windows and a really basic bathroom, still it was secure and clean, if somewhat basic. I looked out across the back yard and into the lean-to housing for some of the family, and enjoyed seeing the children laughing and playing with a half deflated red balloon the next morning before moving off.


Luxury lean-to in Rodeo.
Thankfully Durango has a by-pass so that was soon behind me and into some of the most beautiful mountains in Mexico. The only trouble is that the road is also one of the busiest for heavy goods vehicles and the spectacular views come with blind corners, steep grades, collapsing road verges and potholes.


West of Durango
The HGVs tend to end up bunched together which promotes reckless overtaking coming up to blind bends by both cars and lorries. I just hang back a bit and make a charge past them when all the other cars have gone, knowing that I now have this moving road block between me and the next bunch of cars that will eventually dog my tail unless I get a move on. Spending all day breathing in black thick diesel fumes from some antiquated truck hauling a 40ft trailer loaded with bags of cement in crawler gear one moment then the acrid stink of asbestos as his brakes heat the drums to glowing red for the downhill grade is not much fun. It was with some relief that I eventually reached Villa Union just outside of Mazatlan and slowly rode past the dozens lorries parked up for the night. The roadside had several small cafes and many more casual braziers heating up kettles and cooking truckers fare. It is busy here because this is where one of the main East-West routes meets the Pan-American Highway.
The next day I took the free route south ignoring the toll road. The road is quite good, but is not as direct as the new toll road. I had not wanted to see the world from a motorway anyway, plus I was determined to dip my toe in the Pacific Ocean.

At Tepic the road branches and I took the route that closely follows the sea shore. The tantalizing glimpse of blue ocean through banana plantations and palm groves was frustrating as there did not seem to be any campsites or hotels along this stretch. A lot of travellers just camp on the beach, but I was looking for a little more infrastructure so I could strip down my brakes.
This coast is very pretty though and I eventually pulled into a small sea side town, pausing for a moment at the sight of those dreaded cobbles and sand. A shout to my left made me turn and a rather handsome latino asked me if I was ok. I told him I was looking for a hotel and he pointed out one opposite that was owned by a friend of his. We sat and talked a good deal that evening, and although the hotel was basic, a bit like a prison cell, the company was convivial. It appears that the town was hit by a bad earthquake in the mid 1990s and many people had rebuilt using reinforced concrete. Unfortunately they still think that the more rigid the structure the stronger it is. With earthquakes this is not so, they need to flex, I pity anyone sleeping in the same bed I did if an earthquake hits; the reinforced slab of concrete that makes up the roof will flatten them, but I did not pass on my fears as I knew there was nothing they could do about it anyway. Just up the street there was the shell of a huge hotel that had been damaged by the earthquake. It had employed many people in the town, but when it became apparent that it would not be rebuilt and none of the jobs would come back, the locals sacked it and the air-conditioning units, doors, fridges etc ended up in private houses all over town.

Further up the coast, past more of that sickly sweet and fetid smell you get from jungle, banana and sugar cane, I rode past unspoiled white beaches fringed with palms and caressed by the azure breakers of the Pacific. Most of these towns are used by Mexican families for their holidays and little (no) English is spoken, but I managed with my few Spanish phrases.


Interesting plumbing
In one of the towns there was strip development going on with two or three American resorts open along the beach. I took a hotel in the middle of town and although the town was only a few hundred yards from the resort I saw no 'tourists' in town at all. Oh sure, several backpackers but no 'fly in, sit on the beach, fly out' tourists, perhaps the real world frightens them?
Next day I was in totally different surroundings, Acapulco, what a load of crap!! Over the road was a new Woolworths, complete with latest fashions, air conditioning, Christmas decorations and Gift ideas, dead dog in the gutter, rotten banana peels on the pavement, drunk, (or dead) tramp in the alley. Come on Woolworths give something back, as the largest retailer in that street how much would it cost to employ a guy to sweep up that street? On the way out I missed a turn, again, and ended up at the airport. Past multi-storeyed glass and steel towers for rich tourists on a road that hat to be one of the worst I had been on in Mexico, huge potholes and gravel spread in from the side made riding it a pain.
The next evening at Puerto Escondido I met a young German Couple, Matthias and Manuela, who were riding a couple of KLR650s, they had travelled through the USA and Mexico and were on their way to spend some time with friends in Cancun. (www.outdoorbiker.com). We spent the whole evening chatting. I learned that there was a campsite just beside the Maya ruins at Palenque and changed my plans in an instant to detour east and visit this area.

Next: Mountains, Maya and the Winter Solstice.

Posted by Derek Fairless at February 02, 2008 04:26 AM GMT

Enter your email address to receive updates to Derek Fairless's trip story!
Recent Entries
Archives:
Archives:
Monthly
Archives:
Category
Now that summer is here, get On the Road! Take 30% off the Achievable Dream - On the Road! 2-DVD set until August 31 only.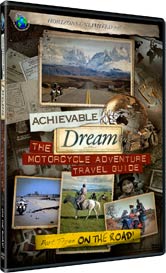 Our veteran travellers share their tips (and great stories) for staying healthy, happy and secure on your motorcycle adventure.
"A fantastic, informative and inspirational DVD."
"It's brilliant - thank you very much!"
Check it out at the HU Store! Remember to use Coupon Code 'ONTHEROAD' on your order when you checkout.
Next HU Events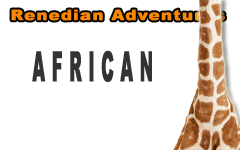 What others say about HU...
"I just wanted to say thanks for doing this and sharing so much with the rest of us." Dave, USA
"Your website is a mecca of valuable information and the DVD series is informative, entertaining, and inspiring! The new look of the website is very impressive, updated and catchy. Thank you so very much!" Jennifer, Canada
"...Great site. Keep up the good work." Murray and Carmen, Australia
"We just finished a 7 month 22,000+ mile scouting trip from Alaska to the bottom of Chile and I can't tell you how many times we referred to your site for help. From how to adjust your valves, to where to stay in the back country of Peru. Horizons Unlimited was a key player in our success. Motorcycle enthusiasts from around the world are in debt to your services." Alaska Riders

10th Annual HU Travellers Photo Contest is on now! This is an opportunity for YOU to show us your best photos and win prizes!
NEW! HU 2014 Adventure Travel T-shirts! are now available in several colors! Be the first kid on your block to have them! New lower prices on synths!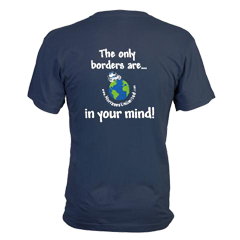 Check out the new Gildan Performance cotton-feel t-shirt - 100% poly, feels like soft cotton!

What turns you on to motorcycle travel?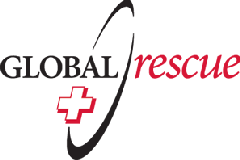 Global Rescue is the premier provider of medical, security and evacuation services worldwide and is the only company that will come to you, wherever you are, and evacuate you to your home hospital of choice. Additionally, Global Rescue places no restrictions on country of citizenship - all nationalities are eligible to sign-up!
New to Horizons Unlimited?
New to motorcycle travelling? New to the HU site? Confused? Too many options? It's really very simple - just 4 easy steps!
Horizons Unlimited was founded in 1997 by Grant and Susan Johnson following their journey around the world on a BMW R80 G/S motorcycle.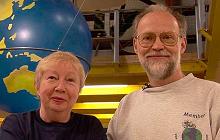 Read more about Grant & Susan's story
Membership - help keep us going!
Horizons Unlimited is not a big multi-national company, just two people who love motorcycle travel and have grown what started as a hobby in 1997 into a full time job (usually 8-10 hours per day and 7 days a week) and a labour of love. To keep it going and a roof over our heads, we run events (22 this year!); we sell inspirational and informative DVDs; we have a few selected advertisers; and we make a small amount from memberships.
You don't have to be a Member to come to an HU meeting, access the website, the HUBB or to receive the e-zine. What you get for your membership contribution is our sincere gratitude, good karma and knowing that you're helping to keep the motorcycle travel dream alive. Contributing Members and Gold Members do get additional features on the HUBB. Here's a list of all the Member benefits on the HUBB.
Books & DVDs

All the best travel books and videos listed and often reviewed on HU's famous Books page. Check it out and get great travel books from all over the world.

MC Air Shipping, (uncrated) USA / Canada / Europe and other areas. Be sure to say "Horizons Unlimited" to get your $25 discount on Shipping!
Insurance - see: For foreigners traveling in US and Canada and for Americans and Canadians traveling in other countries, then mail it to MC Express and get your HU $15 discount!
Story and photos copyright © All Rights Reserved.
Contact the author:
Editors note: We accept no responsibility for any of the above information in any way whatsoever. You are reminded to do your own research. Any commentary is strictly a personal opinion of the person supplying the information and is not to be construed as an endorsement of any kind.
Hosted by: Horizons Unlimited, the motorcycle travellers' website!
You can have your story here too - click for details!