Carl Ohto-Everett - Singapore to Cambodia via Malaysia and Chiang Mai
Singapore to Cambodia via Malaysia and Chiang Mai- BMW F650
Dirt roads, mountain passes, beaches, river crossings and snakes… and the best bit of tarmac in Asia.
Route: Departed Singapore mid January and covered 12,500km around Malaysia, Thailand and Cambodia. I've tried to include those details which might be useful to other riders planning a similar trip such as border crossings, exciting roads and bike-friendly hotels plus some of the mistakes I made so they can be avoided.
The Bike: Like a lot of people, I've consumed many beers whilst debating the 'best' bike for an overland trip but in the end it came down to what I could get my hands on. After much hunting around I found a nice F650 Funduro for sale in Singapore with 35,000 km on the clock. There were very few carb'd F's imported, in fact I've only ever seen one other. As this and other websites confirm, its hard to decide which bike to buy when you're planning extended overland trips, but my recommendation would be to seriously look at what kind of roads you'll be on, then go for reliability, comfort, availability of parts and how easy it is to work on. You've got to like the bike too. Having said all that, there's a severely limited choice of bikes in Singapore and I didn't want to bring anything over from the UK. There are, however, lots of Africa Twins here which were high on my list. The AT is a great 'Round the World bike', a little top heavy for the tight twisty mountain roads I was planning for and that skinny front tyre would be scary in hard corners, but in any case, the F650 came in at half the price including luggage, and that sealed it.
I spent a couple of weeks working on the bike and found all kinds of things that were worn or terminally ill... wheel and cush drive bearings, voltage regulator, steering head bearings, brake light switch, several rotted oil hoses, rotting brake hoses (argh!), intake manifold, water pump impellor and several seals. Whilst you might get away with commuting around town on the bike, I wanted to try and eliminate as many roadside repairs as possible so I hoped investing the time now would pay off later. Despite these efforts, I still found myself sleeping in a mid-jungle bus shelter on the side of the road in some no-name backwater village in Malaysia. This mishap was a year ago on the first day of the bikes' first big tour (6500km) and it taught me a good lesson in preparation. The problem, after much head scratching, turned out to be electrical and was cured with new plug caps (something I'd thought about changing before I set off but foolishly decided not to). In addition to the mechanical stuff and service items, I also made some small, useful mods to the bike, including: drilling the levers so they'd break off at the outer end in a spill, fitting the loudest goat-scarer (horn) I could find, wiring a fan over-ride switch, re-routing the breather hose from the alternator cover to by-pass the airbox to aid with cooling (not very legal but I did include a collection pot), hard wired the sump plug, etc. Things I wished I'd done....engine crash bars, more lights, taller screen.
Singapore to Southern Thailand
A quick ride to the Malaysian border on Singapore's excellent, clean and traffic free roads, passing through 'Woodlands' immigration in minutes. I'd chosen to start the trip on a Monday as getting through immigration on a Saturday and Sunday can be a huge nightmare fighting with 1000's of Malaysian workers on their bikes. As the Funduro is Singapore registered and with my UK passport I was straight through, not even having to get off the bike (fill in the immigration form at home before you leave and don't bother fueling up as gas is 50% cheaper in Malaysia). The Southern part of Malaysia is the least interesting so I chose to cover the first 200km on the expressway (no charge for bikes). Its a good, fast road albeit dull. Then the fun really starts. I turn off onto route 9 for 100km of brilliant, fast sweeping bends, all 3rd and 4th gear stuff through nice jungle scenery with little traffic. There's a bit of loose gravel on some of the corners but otherwise it's a fast, exciting ride. At Raub, I take the fantastic climb up Frazer Hill. This is 30kms of back-to-back hairpins climbing steeply up the mountainside, 2nd and 3rd gear all the way up flicking from one side to the other… definitely one of my favorite roads. Over the top, the ride down the other side is cracking... nice, long sweeping curves, great road surface, wonderful views, maybe another 60 or 70 km like this. Biking in Malaysia is seriously under-rated. Finally, I join up with an expressway to take me into Ipoh, the stopping point for the night. This is a dump of a town with no good reason to visit. I should have diverted to the Cameron Highlands or Penang. There's also a concern with security in this town so I parked right outside the front doors to the hotel and chained it front and back to a massive, permanent drain cover. Even though its an old bike, people in this part of the world recognise the BMW logo and think "oh, big money". I should carry a cover.
Thankfully, in the morning the bike's still there. I take route 76 which is a lovely road, quiet and bendy and really compliments your riding. A great 150km morning ride along to the Thai border at Betong, (this is a much smaller and quieter border post than those further West and a much more interesting ride). Getting the bike into Thailand takes just 3 minutes. This is a stroke of luck. I had passed through this border last Summer (after the plug caps fiasco) and all the bikes' details are still held on the computer. The officer prints out a customs form, sign it and I'm off, 30 days, thank you very much. Even if the bike hadn't been in the computer, its still an easy process as long as you have your registration documents (ownership papers). You'll have to sign a form saying that you are going to take the bike out of the country again within 30 days or pay a fine. The next 150km on route 410 are excellent. Fast, sweeping curves through hilly green countryside and lakeland scenery with little traffic. You need to plan your route around here carefully though. This is close to Pattani were there in currently a lot of insurgency and last week there were 3 shootings in Narawit, Pattani and Yala. My route heads towards Yala but turns off about 50km short and makes for Yaha instead (get your spelling right here). The troubles are highlighted by the number of road blocks and police checks. Last year on this route I was stopped twice, today, 7 times and more of them are army check points. They usually ask to see a driving licence but to be honest they're more interested in looking at the bike. At one check point, I gave the guy my expired bike licence from Raratonga and the Cook Islands (another story) to see what would happen. I might as well have given him my library card. He just asked questions about how big is the bike, how far did I ride?...the usual friendly stuff.
Taking a longer detour I join up with route 43 so I can have lunch on the beach around Hat Sakom. One of my favorite parts of long distance biking is the lunch stops. I always make a point of finding somewhere off the beaten track, somewhere the tourists and backpackers never get to, where you get a true local experience. This is the freedom the bike gives you.

I finish the day with the short final leg into Hat Yai, Thailands' city in the South. Its a bit built up but a convenient place to stop with cheap hotels and lots of eateries. I use the Yong Dee hotel as it has a covered secure car park where you can give the bike a check-over in relative peace.
If you need help with the bike in Hat Yai, try 0742 33484 *Note: since writing this piece, there has been a bombing in Hat Yai which may or may not turnout to be an isolated incident. Although I have personally always found Hat yai to be a convenient stop and very friendly to Westerners, you may wish to consider moving the stop-over to Songkhla, further North.
Hat Yai to Chiang Mai
Depending on your route and timescale, there are lots of interesting stops in Southern Thailand, not least Phuket and Koh Samui. The route from Hat Yai to Phuket is a pleasant easy day-ride, finding a nice beach around Krabi or Ao Nang for a long lunch stop. On this trip however, I need to crack on to Chiang Mai to meet up with a fellow biker who's flying up from Singapore, so I'll save Phuket for the way back down if time allows.
Hat Yai going North is a long, hard day on dual carriageways so I hit the gas and just go. The problem with jungle countries is that if there are no mountains, they can build the roads dead straight. And that's just what they've done on this section. Its a bit of an arse-ache but at least the road surface is good and fast. I was aiming for Chumphon, but when I passed through at about 4pm, it looked dull and uninviting so I cracked on to Hua Hin...a much better prospect for an overnight stop. More of a beach resort with nice hotels and restaurants, some fun bars and a good atmosphere.
Hua Hin to Bangkok is an easy, short ride until you hit the Bangkok traffic. This comes in two phases...firstly there's the manic high speed race on the outer approach roads with outrageous driving and that 'lucky to survive' feeling. Its a lot like trying to thread a needle with gloves on while someone throws cars at you. Make sure you've got your route well planned in advance. The second stage is when you get to the inner city and its a painfully slow grind through clogged traffic with a roasting heat and few road signs (invest in a street map before you get here or you'll be screwed). The F650 is behaving well. In the stop-start traffic the fan is doing its job and only once, in a slow, crawling, clutch-slipping jam trying to weave between lanes of stationary cars does the temp gauge read a bit high but never into the red. Also watch out for bike-banning. Motorbikes are not allowed on toll-ways (easy to spot) and they are not allowed on certain flyovers and tunnels in the city (not easy to spot). There are signs but they are often obscured by an overtaking bus or truck so be alert or have your story ready for the oppers who hang around these flyovers.
Surviving the madness, I find a city centre hotel with a secure, shaded car park which gives me the opportunity to have a good look at the bike. I check all the fluids, tyre pressures, brake bits, have a feel around in the airbox, count the wheels etc..usual long-haul stuff ready for the next leg.
Bangkok to Chiang Mai takes two days. The route out of Bangkok is infuriating with one way systems seemingly taking you anywhere except North. If you miss your turning, expect to crawl around a one-way system for half an hour until you can unravel the error. This is where I had the incident with the map...I use an excellent Tourtech crossbar mounted map case (a bit expensive for what it is but it does work and that's what counts) and I always draw out my routes for the day prior to setting off. On this occasion though I'd tried to squash in a full size, shiny new, large scale street map of Bangkok but it was too big and the case wouldn't seal properly. Sure enough, when I got onto the first bit of fast road, the map flew out, unfolded a bit, stuck itself onto my visor rendering me blind just long enough to get a big speed wobble going and then it flew away presumably to blind the driver of the speeding truck behind me. Bad on any road but a real wake up call in Bangkok's furious traffic.
Next there's the manic bit as the traffic speeds up and everyone is weaving in and out at high speed, then finally it quiets down as you get further out of town and on to the dual carriageway towards Ayuattha. After this there are a number of choices depending on how fast you want to go or how much you want to see. I head for Sukothai, the former Capital of Bangkok with its excellent old ruins. There are plenty of nice, clean cheap Guest houses in 'New' Sukothai with safe parking (I used the TR guest house, or is it the TP, on the slip road to the river? About 300baht). In the morning I ride over to the ruins (12km) and (although I'm a "church's from the outside, bars from the inside†sort of guy) am suitably impressed. 40 baht entry plus 20 for the bike. The site is huge and I use the bike to ride around the different temples. At one particularly nice ruin a group of Germans arrive and some of the guys gather around the bike. The Beemer is loaded up with the luggage and they're keen to know about the trip asking where I've come from and how is the bike performing? In Bangkok I'd covered up the BMW logos with VW stickers which fit exactly into the roundals, so this causes all kinds of head-scratching amongst the Germans. While the ladies are ooo-ing and ah-ing at the temples, the guys are taking pictures of the bike and arguing about Volkswagen's history as a bike manufacturer.
Wanting to stay off the dual carriageways, I head cross country to Chiang Mai taking a fantastic mountain route on road 106. If this is the first indication of what is to come in the North, I'm in for some very good riding. The road surface is smooth and the hairpins are beautifully spaced out so you can get a nice rhythm going. There's a long un-made section which is just packed red sand/dirt which I imagine would be gnarly in the rains but today its dry and dusty and just great for the F650.
Pulling into Chiang Mai, the traffic is nothing like Bangkok. Its easy to navigate around thanks to the moat and good road signs and there are hundreds of cheap hotels. Very few hotels seem to have covered parking here, (desirable if you don't want to service the bike in the direct sun) but they are around if you look - try Thapea Place hotel - 650 baht, Night Bazaar Inn - 700 baht, Royal Lanna - 1200 Baht depending on your style and budget.
I arrive in time to meet Andy (another Brit) and his girlfriend, Pan, who have just flown up from Singapore. We go to hunt him down a hire bike which is not as easy as it might first appear. There are plenty of places with 250cc dirt bikes (AX-1's, XR's, Baja's etc) although most of them are currently hired out and a few places with bigger CB's although there's been a recent law change and they are reluctant to hire out unregistered bikes. In the end, Andy takes a chance on a nice (but riskily unregistered) CB750. With his girlfriend on the back this should do for the twisty mountain asphalt and we'll have to wait until another time for the dirt stuff.
Tomorrow we hit the mountains.
For rentals - there are half a dozen places on the Southern ends of Moon Muang road and Kotchasarin Road
For bike help - try Goodwill/Joes 26/1 soi 2, Chiang Mai Road tel: 053251186
Around Chiang Mai
I'd heard and read all kinds of stories praising the biking around Northern Thailand and I'm happy to confirm that it more than lives up to its reputation. Anyone with even half an idea to come here and sample the roads should book their flight now!
Our plan for the day had been to ride to Pai on route 1095 (also known as 'the road of a thousand curves'), have lunch and then ride back to Chiang Mai for the evening. However, when we arrive at Pai, Andy is bouncing up and down with enthusiasm. The road has been so fantastic that he suggests we carry straight on to Mae Hong Song and make it an overnight trip and happily, Andy's girlfriend is on for it too. So despite leaving all our tools, spare parts, clothes and credit cards in Chiang Mai, we check the cash in our pockets and head out West. And we are so glad that we did. The roads out here are just marvelous including a short stretch of what can only be described as scalextric track. There are plenty of web debates about the best road in Thailand and many say the Mae Hong Son loop is the best (and it really is a brilliant ride), but my vote for the very best comes later. Mae Hong Song is a lovely little town with several hotels (we used Moutainview Inn- nice) and guest houses and plenty of eateries to suit all budgets. We buy toothpaste and underwear but otherwise we live for the night in the bike gear.
The next morning has one of those 'great to be alive' feelings. The bikes jump eagerly to life, the roads are twisty, empty and fast, and the weather is perfect...sunny with that cool mountain air feel, and we know we have a great day's riding ahead. At KhunYuam we take the option to go the B route 1263, 1192 and 1009 taking in Doi Inthanon National Park with the highest point in Thailand and several waterfalls (aka.. ice cream stops). A truly awesome ride. In two days we covered 600km - of this only 90km was dual carriageway (in and out of Chiang Mai) and all of the remaining 510km was twisty mountain roads. Lots of variety, some fast sweepers, some steep hairpin sections, altogether a great 2-day loop arriving back in Chiang Mai late afternoon.
On the third day, (Andy's last day up here), we take it a bit easier. We ride up to Wat Doi Suthep. As I said before, I'm not much for temples and stuff but this is quite impressive with a commanding view over the city of Chiang Mai and the road up is brilliant, like a race track on a 30 degree hillside. Full to bursting with culture, we head off on the 121, turn up the 1269 for a nice easy ride to Samoeng for a noodle soup lunch stop, coming back on the 1096 to make a pleasant 100km loop. We finish off Andy's visit at the excellent BBQ on the roof of the Porn Ping tower, (another must try is the Riverside Restaurant by the Narawat bridge).
I did two other big one-day rides from Chiang Mai which are worth mentioning. The first is the Doi Ang Khang loop which includes some seriously steep sections on 1249. You could easily spend a few hours just enjoying the B roads around Doi Ang khang and Wiang Haeng (1322, 1178, 1340, 1249), with Thailand on your right and Myanmar on your left, the scenery is wonderful. I used the 107 to get there and the 1150, 1001 to get back but you'll be riding into the sun in the afternoon so maybe include this ride as part of a trip to Chiang Rai.
The second was a bit of a mix and I learned a little lesson here. I rode the 108 to Mae La Noi. for the first 50km this road is busy and uninteresting. As you branch off at Hott, the road becomes much more fun, quieter and shoulders a twisty riverbed climbing slowly. This is a great section of road with a convenient lunch stop at Mae Sariang (turn off at the big 90 degree bend and head into the village about 500m to a good cafe on the left). At Mae La Noi I turned off on the 1266 B road planning to make my way cross country to Mae Chaem and then Mae Wang and back to Chinag Mai. However, this B road quickly becomes a dirt track, which is fine by me, except there are lots of un-signposted turnings and eventually its hard to identify the right way. What you should do beforehand is buy the GT-Rider Mae Hong Son map which has much greater detail of the back roads in the area and would have been a great asset to the whole trip (a definite purchase for next time). After 30 dusty km I was getting a bit concerned about the route and, as fate would have it, the bike started a death rattle. This was just after a 'map stop' and was almost certainly a lack of oil around the pump, confirmed when the rattle disappeared as soon as I faced the bike downhill. In any case, I decided to bail at this point and return the way I had come and save the cross country section for another day (with a better map). As a side note, the biking in this whole region is excellent and yet we were really only experiencing the tarmac sections plus a few dirt trails. But there's miles and miles and miles of dirt tracks to explore up here. Everywhere you go there are inviting dusty trails just heading off into the hills and we'll certainly be returning with suitable off-road machinery in the future. I must make a big thank you here to the guys at www.gt-rider.com and their website which has tons of really useful info.
The 4 day Loop - North-NE Thailand - and the BEST ROAD IN THAILAND
I pack up and leave Chiang Mai for a 4-day loop to the North and North Eastern borders. Here's the route I took with the high points (including the best road in Thailand) and the mistakes so hopefully you can plan around those.
Day one of the loop:
Roads 1001, 1150 and 118 towards Mae Chan, which is all interesting riding but then I turn off on the 1130 and it suddenly goes from good to really good! Small roads, no traffic, tiny villages. After riding up a long, steep and twisty incline I find myself on a stunning ridge-top road that follows the tops of the mountains. With Thailand in the valley to my right and Burma in the valley to my left, this is just wonderful. I ride all the way to Ban Thoet Thai which is where the road abruptly ends, so the locals are pretty surprised to see a white man on a big bike. I pull out my map and the locals gather around it, fascinated to see how their village fits into the rest of Thailand. Turning back, just on the outskirts of the village, there's a turn-off with an old, worn-out signpost saying that 'somewhere unreadable' is 27km to the left. As it seems to be the right direction I take the turning. At first its a small, narrow lane, definitely backwater country. Then after a left turn at a junction it becomes a very narrow bike track that winds up and down hillsides with dozens of acute, first gear hairpins. Most of the time the track is no wider that 3 or 4 feet and shrouded in jungle and dense undergrowth . Clearly it used to be a footpath which the villagers would use to take their produce to market. At some point, with the advent and popularity of the Honda Dream, its been covered in a narrow strip of tarmac to make lives a little easier. I doubt this track will be on many maps but if you want to see what Thailand is like behind the scenes, this is it. I stopped occasionally to ask a local where the track was heading but I might as well have landed on Jupiter. Finally, with fading light, the jungle clears and I spill out onto a proper road. A bit lost and disorientated I find my way to Chiang Rai. Smaller than Chiang Mai but just as nice, Chiang Rai has lots of hotels and guest houses and restaurants and bars, so I make this the stop for the night.

Day 2 of the loop:
Instead of heading straight for Mae Sai, I take the 1149 backwater route and its a stunning start to the day. More high ridges and fantastic scenery and almost no traffic, even when passing through numerous tiny villages. I'm required to stop at a security checkpoint in the middle of nowhere, dense jungle either side, made to show my passport, explain myself, sign a book and then allowed to pass. Worried that I might have just ridden into Myanmar, I'm relieved to arrive at Mae Sai 20 minutes later. This is the Northernmost city in Thailand and the border post with Myanmar (Burma). Its possible to cross here but not with the bike so after a good look around I head off to the 'Golden Triangle' for lunch. (The Golden Triangle often refers to the area at the confluence of the Sop Ruak River and the Mekong river, a name appropriated by the Thai tourist industry to describe the nearby junction of Thailand, Laos, and Myanmar).
Trying to stay off main routes, I take the 1155 South, 75km full of fast, empty bends, one after the other and its just fantastic. Or at least it would have been if it hadn't been for my bad planning. By now I'm riding straight into the sun and its hard to judge some of the corners. Even so its a wonderful afternoon ride and I cant believe my luck at how quiet the roads are.
After the 1155 I start to wind down thinking the best of the day's riding is over. Then I come out of Chiang Kham onto 110km of DESERTED RACETRACK (or at least that's my description). Perfect wide smooth tarmac, no traffic, fast open bends, steady inclines. Never have I seen roads like this. I've got mates at home who pay hundreds of pounds to go on track days and I've got this all to myself for free. In 110km I doubt I saw 5 vehicles. This has to be the best road I've ever been on (but little did I know what I would find tomorrow).
I pull into Pua for the night, enthused but exhausted from such a great day on the bike. With little choice I stay at the Papua Bhuka hotel. 400-600 baht - good beds, sad food.
Day 3 of the loop:
I start the day with the Doi Phuka loop (1169, 1081, 1256). Well bugger me, its even better than yesterday! I'm about to run out of superlatives here so it would be easier if you just came and rode this for yourself. The Doi Phuka loop is about 100km of mixed mountain roads and includes a wonderful new section South of Bo Klua towards Sanfisuk that just belies belief. Its similar to yesterdays 'racetrack' section but more mountainous and with tighter curves. New smooth tarmac, wide and fast and just no traffic at all. I'm even beginning to wonder if I'm on a road that isn't open yet? This really is the spiritual home of Scalextric and this really is the best road in Thailand!

The loop brings me conveniently back into Pua for lunch (narrowly missing a big black 6 foot snake slithering across the road, mid corner, just outside of town). The afternoon is a real mixed bag... I head off on the 1080 towards the Laos border. Its a good road to start with, becoming heavily potholed later but the scenery is worth the effort (I even found a pothole here so big it had a dog sleeping in it). You can see Laos much of the time from the hilltop roads and there's a turning to an interesting and remote border post (6km) which has a border market on Saturdays. Out of curiosity, I head to the border post where the locals turn out to be incredibly friendly. They sit me down and give me Pepsi and something that once looked like food. In return I show them a couple of old magic tricks and suddenly I'm Gandalf. Before long the border police are sitting on the bike and talking excitedly. When I make to leave, everyone shakes my hand and gives a little bow. Back on the main road I find an inviting looking turning on the 1307 so I take it and it turns out to be a 17km easy forest trail to a small village. There's no other way out of the village so you'll have to come back along the same track but its worth the detour. We're way beyond backpacker country here and the beauty of bike travel is in the freedom. Back on the tarmac, doing the afternoon route clockwise, I conveniently get to repeat the best 30km stretch of the Doi Phuka loop from this morning making it a perfect end to another great, great days' riding.
I stay the night in Nan which is a fair bit bigger than Pua and with more choice. I used the Grand Mansion hotel - 350baht - which has a local restaurant in its grounds near the roadside where you cook your own buffet dinner on the hot coals provided.
Day 4 of the loop:
With better planning, this 4th day could be improved upon. Heading from Nan to Phayao the first 60km on the 1091 is very good and a really promising start. My mistake was to stay on the 1091 when it might have been better to turn of onto the 1251 North of Ciang Muan. However, Phayoa is a good stop for lunch with lots of cafes along the lakeside (look out for the Thai chicken BBQ place). I then took the 120 and the 118 back to Chiang Mai and it was all a bit unexciting (in comparison) except for the section of 120 from Wang Nua to the juction with the 118. I'd recommend trying another route back to Chiang Mai (and watch out for that blinding afternoon sun in your eyes when your making your plan).
Altogether a brilliant 4 day loop which I would highly recommend.
Thailand to Cambodia - Phnom Pehn
Leaving Northern Thailand and surviving a (very) near miss with a pick-up mid hairpin on the otherwise excellent 106, it's a two day ride to Trat near the Cambodian border. (I broke the journey at Kamphaeng Phet using the mediocre Phet Inn). Trat to the border at Hat Lek is only 65km. I'd tried this route a previous year, but stupidly in the rainy season and got completely drenched for 3 solid days everywhere West of Chanthaburi. Don't bother. Wait for the dry season - December to April. (Even if you persisted in the rains, you'd then have to deal with Cambodia's dirt roads in extremely slippery conditions). In todays February sunshine, the conditions are perfect so I head for the border.
Passing out through Thai immigration was a fairly straightforward although there was a bit of messing around with the bike paperwork. Its a much more basic set up here than in the South and the customs guy was a bit, er, challenged but we got things straight in the end. Over at the Cambodian side, first you need to call in at the 'health inspectors' office. You have to sign form to say you don't have anything unpleasant living in your underwear and show them your immunization record. If you don't have one they might ask you for 50baht (the baht is heavily used in this part of Cambodia) but just refuse to pay as its a scam for whisky money. If you have any other Cambodia visas in your passport they won't even try it on because they figure you're not so green. Then you need to visit the visa office (next to immigration) Fill in the forms, hand over a photo (of you - obviously - duh) and cough up 1000 baht. Not more. They might ask for 1100 or 1200 but just give them 1000 and be polite. With the visa in your passport you can then go to the immigration window and get stamped into the country. As for the bike, they couldn't care less. No paperwork at all and no-one asked for a carnet (which I don't have anyway). I could have arrived on a space hopper and they wouldn't have blinked, so just ride off after your passport is complete but remember to ride on the right hand side here! This border point is much quieter than the one at Poipet/Aranyaprathat and there are considerably less touts, scammers and little fingers poking around your panniers, but I would still recommend locking away anything on the bike as you'll be out of view occasionally.
From here, you'll ride over the new bridge (11baht) and into the one-horse town of Koh Kong. It was already about 2pm
(I'd started late) so I spent the night here. Good food at Otto's and JC's. I'd heard that the next stretch included plenty of dirt roads and I had this confirmed by talking to expats at the bar. The only way out of town is a 140km dirt road and 4 river crossings (or there is the sea ferry to Sihanoukville but only for foot passengers). The nearest tarmac is at the end of this dirt road so there's no avoiding it and you might want to consider this if you're coming on an R1. Its actually a graded track, quite wide, very dusty, and sadly, extremely 'washboarded' but I suppose that depends on when it was last graded. I made very slow progress on this track mainly due to the washboard surface fearing damage to the bike and my dental work. Because the track is so wide there's no shade from the sun so expect to get hot and carry lots of water. The river crossings are evenly spaced out so you get a welcome break every 35-40km. The first river has a reasonably solid looking old car ferry carrying maybe 6 cars in total. At the other 3 rivers there' s less to offer and I used a guy with a couple of canoes tied together with some rotting old planks on the top. You just drive up onto the old timber hoping for the best, pay the guy 3000 Riel and he starts up the longtail motor and putt' putts you and your bike across to the other side. These 'rafts' are really built to take little 100 Honda Dreams so the planks tend to creak a bit under the weight of a bigger bike and at one point I had to insist on some extra planking to avoid the whole bike crashing through the 'jetty'. It took me an exciting but tiring 5 hours to get to the tarmac. There's a gas station just as you come off the dirt (in fact there's little kiosks at each river crossing selling coke bottles full of gas but I hesitate to use these) so I filled up here and then blasted down the best bit of blacktop in Cambodia to Sihanoukville, about 90km of beautifully laid, European standard tarmac.
Snooky (as they call it) is Cambodias' premier beach resort. Its not a bad beach and there are some fairly nice hotels along the beach road. Further back, the town is a bit less salubrious but has some fun bars if you care to look. After the long slog from Chiang Mai and the back breaking dirt roads, I elected to spend 2 relaxing days on the beach, eating fresh pineapple and seafood and giving the bike a once-over to make sure nothing had been shaken loose. Sitting on the beach you'll find yourself targeted by limbless beggars, presumably land mine victims. Its hard not to feel sympathy for them as they shuffle along the beach on their backsides asking tourists for a few Riel. During the 'war', 8 million mines were laid in their country by the retreating Khmers. So far between 40-50,000 victims have lost life or limb to the mines and there are another 350 victims every year. You will see the limbless sufferers all over Cambodia but the beach at Sihanoukville seems to have more than its fair share, no doubt because of the tourist dollar. I follow the recommendation of the guide books which is to give a little to those you feel need it but don't give too much to just one individual, better to spread it amongst the many needy.
The breakdown:
After 2 days rest I decide to move on. Up early with the bike loaded and ready to go, it comes as a blow to find the bugger won't start. The Funduro has been fearlessly reliable, starting at the slightest touch of the button and never missing a beat throughout this trip and the 6500km trip last year (in fact nothing since the plug-cap fiasco). I checked for spark and fuel supply and checked that the fuel was clean and all seemed well. It felt like the engine had good compression. Bearing in mind the rough journey over the dusty washboard dirt roads, I had to put this failure down to either dirt in the carbs or something shaken loose. After checking that everything was well screwed down it was out with the carbs for a clean-up (easier said than done on the Funduro as you have to dismantle a lot of parts to get good access) and cleaned the filter and airbox at the same time. Still no joy. I couldn't believe the fuel was bad because I'd filled up just as I hit the tarmac stretch and the bike had run brilliantly for the remaining 90km down to Snooky. But that was when the engine was hot. And that was when the new fuel was mixing up with the Thai fuel. Hmmm, maybe its low quality gas? Especially if its settled over the last 2 days and all the watery stuff is at the bottom. I sent a local kid off to the (branded) gas station whilst I removed the tank and drained it. I thoroughly flushed out the tank and carbs with nice new 95RON Caltex , reassembled all the bits and the bike jumped back to life. So here's the lesson, there are many 'unbranded' gas stations in Cambodia selling poor quality Vietnamese fuel which are best avoided unless you're on a tolerant 50cc. From here on I stuck to genuine Caltex and Shell and never had another problem but watch out as these known-brand stations are far and few between.
The Madness of Phnom Penh:
Having lost several hours to the breakdown, I elected to spend another afternoon on the beach rather than risking arriving in Phnom Penh after dark. So I hit the road again the following morning early enough to avoid the Sunday afternoon masses returning to Phnom Penh from Sihanoukville. This is a very good road but the drivers are suicidal, particularly anyone in a shiny new Land Cruiser and Sunday afternoon is reputed as the worst time to be on this stretch. Sure enough, I was run off the road twice. In a corrupt country where the vast majority of families have no more than a bull cart or a 50cc bike, anyone with a big new 4x4 has to be in government or extremely wealthy (and probably corrupt) and therefore above the law (what law?) so its best to ride very defensively and not play chicken. Arriving in Phnom Penh is bike madness. There are just thousands and thousands of Honda 'Waves' and their equivalents and they're coming at you from all directions. Nobody stops, there are no road signs and virtually no rules. Accidents are everywhere. If you do come across a set of traffic lights, you'll be joined by probably 150 or 200 other bikes and a handful of cars. When the lights turn green its just bonkers-on-fire. The only saving grace is that the speeds are quite slow due to the pure volume of bikes. But the city is much smaller than Bangkok, with fewer cars (more bikes) and the city is laid out in a logical grid system so if you've made a plan of where you're going and you keep your sensible head on, its not that hard. There's plenty of hotels and I decide to use the Scandic hotel on St 282 as the owner is a biker and there's secure parking (the small pool is bonus too). Expect to pay $20-25. Otherwise, try the Walkabout hotel (bar open 24 hrs and always plenty of bikes parked outside). Resting up for a couple of days gives me the chance to see the sights of the city and anyone with a remote interest in the conflict of the 70's should visit the museum at the interrogation centre (521 Toul Sleng – time your visit to take in the free movie documentary) and take a ride out to the 'killing fields'. There's also an excellent munitions camp where you can shoot off all kinds of weaponry from M16's and AK47's to hand grenades and bazookas – probably best to go in a taxi to ensure entry.
Eating is easy – Capitol Guest house and the food hall at the Soriya centre are both cheap, Riverside bar and Sharkeys both have good western nosh.
Need a mechanic? Flying bikes St 108/110, The Bike Shop St 352, or Phnom Penh Bikes St 302 (Bernard).
Siem Reap to Singapore via Phuket
Leaving Phnom Pehn for Siem Reap is a fairly straightforward journey with only one wrong turn possible (bear in mind there's only about 2 signposts in the entire country but then there's only a handful of tarmac roads to choose from anyway) . The problem is that if you miss the turning its hard to confirm which road you're on and its unlikely you'll have any choice other than retracing your steps. But Siem Reap is an easy ride and a much smaller town than Phnom Penh, easy to find your way around with lots of tourist hotels and restaurants.
After a comfortable night in town, I get up early and ride out to the temples at Angkor only to be turned back at the entrance. You are not allowed in with your own bike, you (annoyingly) have to pay for a certified taxi bike or tour bus to take you around. I park my bike back at the hotel and take a bike taxi for the day at $6 plus the $20 entry fee. This only covers what they call the 'inner temples', which is actually enough for one day. If you want to see more, expect to pay the bike a higher day rate.
Angkor Wat and the surrounding temples are amazing even by my uneducated standards of historical boredom. You have to marvel at the scale of the site and the dedication of the tribesmen who built it, but expect a hot tiring day and take lots of water unless you want to pay 3 times the going rate. Sadly, despite being Cambodia's only big chance to attract the tourist dollar, very little of the $20 entry fee goes back to the Cambodian public. Much of it is kept by the company appointed to take care of the site (no doubt run by those Land Cruiser drivers) and its another example of the few getting rich at the expense of the masses. Nevertheless, an impressive site.
After a couple of nights in Siem Reap its time to head for the Thai border at Poipet. The road is about 40km of potholed tarmac and 90km of graded dirt road. Although it's a very dusty section, the dirt road is very flat and quite fast with little washboarding, so progress is surprisingly good. There's a few bridges along the way and some are a bit rickety where heavy trucks have caused damage and expect to wait your turn if something is coming the other way. The main issue is the dust and if the wind is blowing across the road you can expect visibility to reduce to zero when you pass anything.
By the time I got to the border I was orange. Me, the bike, the helmet vents, every crease in my clothing was crammed with orange dust. The girl next to me in the passport queue burst out laughing when I took my helmet off. My cheeks, eye-lashes, lips, everything coated orange dust and she kindly gave me a tissue to wipe down my face. Even the passport official had a smirk. This is a busy border point with lots of trucks and taxis and full of scammers trying to make a few bucks from unwary tourists. Fortunately, their main targets are the incoming visitors so exiting the country here isn't such a problem. Assuming I had a choice I'd prefer not to enter here though, Had Lek in the South was much more relaxed.
Getting back through Thai immigration was a bit of a fart. Hot, sweaty and covered in dust I had to sit in a roasting office filling in conveyance forms for the bike and paying 20baht for the photocopying and then when I got to the customs checkpoint, the guy decided these were the wrong forms and started to fill in another one. Sadly no computers here but luckily (and this is a good tip), I'd photocopied the customs form I was given in Betong (which I'd had to surrender when I left Thailand). I gave this photocopy to the customs guy and he was thrilled as he could just re-copy all the info from it and this saved us both half an hour.
Back in Thailand (and riding on the left!), the roads are amazing by comparison and it really shows the difference in wealth between the two countries. Blasting down excellent dual carriageways for a few hours brings me to Jomtien for a couple of days of beach life. This is a good place to unwind and to give the bike a good check over. There are a few big bike shops around in case you need parts and there's plenty of beer on tap to wash away all that Cambodian dust.
My route South to Singapore takes me back through Hua Hin for a night and then I do an odd thing. Bored with the dead straight dual carriageway on the east coast, I debate taking the West route and maybe stopping overnight in Phuket. After 300km of debating, trying to make up my mind, I still haven't decided and now I'm approaching the junction where I have to choose my route. The lights are at red and I impulsively head into the right hand lane to go West. Then I decide that Phuket would be a bad choice as the recent Tsunami disaster will have rendered it void of tourism for a few months so I swerve into the East lane towards Hat Yai. Just as the lights change I realise that I'm being a lazy sod and that I should at least try the Western route as I've never been on that section of road before and I already know the Eastern route is dull, so I change my mind again and swing wildly to the right. Anyone behind me would have thought I was on drugs. A mile down the road a sign says that I've just committed myself to a 420km ride to Phuket (making it a 720km day) but luckily it's an excellent decision for two reasons.
First, the Western route 4 is a much more interesting road. For the initial part its got plenty of open sweeping bends, eventually becoming more urbanised further South but in any case, much more interesting than the East coast. Secondly, Phuket turns out to be a good result. Saddened though I am by the tsunami disaster 2 months earlier, and sympathetic to its victims, the event has scared away many of the tourist crowds and the islands' character is a whole lot better for it. I accept that this is a disaster for the local economy and therefore must be addressed but it really showed how beautiful Phuket must have been before it succumbed to mass tourism. On this visit, Phuket was beautifully quiet. Not empty but maybe running at just 35% occupancy. You could walk around the streets and the beach without having to squash thru maddening crowds. Hotels were half price and there was no shortage of sun loungers round the pool. The atmosphere everywhere was relaxed rather than hectic and I doubt it will ever be as peaceful again. As for the locals, I can understand their opportunism to sell photos of Phuket's flooded streets after the disaster, but I was horrified to be offered photos showing rows of floating corpses and dead babies. Sick.
With such a good hotel at a bargain price, beautiful weather and abundant cold beer I found it hard to leave Phuket but I
was starting to run out of time. The tax and inspection on the bike was due to expire in a few days time and that meant I had to be back in Singapore to get everything renewed (they're sticklers for paperwork being in order). So after 4 days in the sun, I sobered up and headed South. The journey back was via Hat Yai, the simple border crossing at Betong and then overnight at the Cameron Highlands. This is a good stopping point with an excellent 52km mountain road up to the town. The road is surrounded by jungle and tea plantations with a bit of a drop on one side for most of the journey. I was lucky enough to be there just after a storm so there was a thick mist hanging in the trees. At the top I carried on to Brinchang and stayed in the Iris hotel (75 Ringget) . Nice rooms and if you ask they'll open up the basement so you can hide your bike from the rain and naughty fingers. Riding back down in the early morning is another treat and its easy to reach Singapore from here by late afternoon even with an excellent detour up Frazer Hill or the wacky Genting Highlands.
Back in Singapore, I looked at the bike. 12,250km of mixed roads including some really hard riding in the twisty mountains, huge motorways stretches, massive days on rutted dirt roads and jungle tracks and hundreds of miles of potholes. It was certainly filthy but a quick hose down to wash the wildlife off the plastic (and out of the front fender – oops) and it was as good as new. Not a bike to set your heart racing but certainly a competent machine for one up touring on mixed surfaces.
Kit and preparation:
The Bike:
BMW F650 Funduro, 1996 model, registered 1997 in Japan, imported Singapore 2000. Mileage at start of tour, 42,000km
Preparation at 42,000km:
Oil service, brake fluid, new tyers front and back (Metzeler Tourance), new spark plugs, intake manifold, choke cable, chain and sprockets, cush drive bearing and seal. Duplicated throttle and clutch cables. Hard wired sump plug.
Repairs en-route:
I was lucky. Other than the poor fuel incident in Sihanoukville, the only mechanical problems were a lost chain clip and the welding failed on the luggage rack (overloading). I changed the oil after 6000km and it needed oil and battery top ups every 2000km. The steering head was a bit loose at the end of the trip.
Previous work I'd done at 35,000km:
Water pump impellor, 3 oil hoses, steel brake hoses, brake light switch, wheel bearings, steering head bearings, voltage regulator, battery, 110db horn, inner tubes, plug caps, coolant, various seals, drilled levers, fan over-ride switch (a definite benefit).
Spares carried:
Inner tubes and valves, spark plugs, fuses, electrical wire and spade connectors, chain plus extra links and clips, cable ties, duct tape, electrical insulation tape, extra ignition key, various nuts & bolts
Tools:
6 point socket set 6mm to 14mm 17mm, 6 point socket with milled-flush face for oil sump plug
Ring spanners 8mm, 10mm, 11mm, 12mm, 13mm, 14mm, 16mm, 19mm, 24mm
6 screwdrivers - v.small/med/large in Philips and flat head
Allen key set plus 3mm & 4mm T-handled
Spark plug spanner
Small pliers
Mole grips
Mulitmeter
Tyre levers – 2 medium, 1 large
G clamp modified as bead breaker
Foot pump
Tyre pressure gauge
Slime or similar
Hammer
Emery paper
Knife
Head torch
Rags
Other bike items:
Clymer repair manual
Maps/guide books
Bike paperwork/ownership documents
International driving licence
Chain lube (ATF in dispenser)
2 connecting bike locks
Touratech crossbar map-case
---
Member login
Are you an Overland Adventure Traveller?
Does the smell of spices wafting through the air make you think of Zanzibar, a cacophony of honking horns is Cairo, or a swirl of brilliantly patterned clothing Guatemala? Then this is the site for you!
Hosted by Grant and Susan Johnson, RTW 1987-1998
NEW! HU 2015 Motorcycle Adventure Travel Calendar is now available! Get your copy now for some terrific travel inspiration!
HUGE, 11.5 x 16.5 inches, beautifully printed in Germany on top quality stock! Photos are the winning images from over 600 entries in the 9th Annual HU Photo Contest!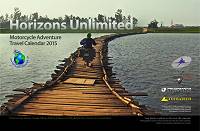 "The calendar is magnificent!"
"I just wanted to say how much I'm loving the new, larger calendar!"
We share the profit with the winning photographers. YOU could be in the HU Calendar too - enter here!
Next HU Events
Canada West: Aug 20-23, 2015
USA California: Sep 24-27, 2015
Aus Queensland: Sep 24-27, 2015
USA North Carolina: Oct 8-11, 2015
Aus Perth: Oct 9-11, 2015
Take 40% off Road Heroes Part 1 until October 31 only!
Road Heroes features tales of adventure, joy and sheer terror by veteran travellers Peter and Kay Forwood (193 countries two-up on a Harley); Dr. Greg Frazier (5 times RTW); Tiffany Coates (RTW solo female); and Rene Cormier (University of Gravel Roads).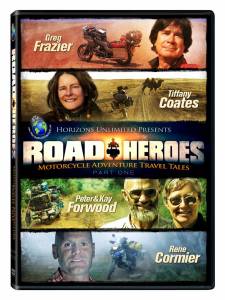 "Inspiring and hilarious!"
"I loved watching this DVD!"
"Lots of amazing stories and even more amazing photographs, it's great fun and very inspirational."
"Wonderful entertainment!"
Check it out at the HU Store! Remember to use Coupon Code 'HEROES' on your order when you checkout.

10th Annual HU Travellers Photo Contest is on now! This is an opportunity for YOU to show us your best photos and win prizes!