Peru
October 31, 2009 GMT
Puffing in Peru
October 2009 Update Peru
We had been chasing a solution to our misfire for three days now with the consensus being a failing ignition coil. Assistance came from several sources including the BMW site on Horizons Unlimited, friends in Australia, the Mitsubishi dealer in Cajamarca and lastly the mechanic of our English contacts David and Peter owners of Adventure Peru Motorcycling whose office is in Cajamarca. I will give these guys a plug as we had never met them (introduced as friends of friends) but spent a lot of time and effort trying to get our problem sorted. They also offer help and information to all travelers in the area should it be needed.

On arrival, Ochos, the mechanic quickly retraced our previous efforts on the electrical items but turned to the right carburetor after a few minutes indicating this was the problem. Removing the left carburetor, a comparison of the piston and needle revealed the needle on the right was 2 to 3 mm shorter. Although it was positioned on the correct notch, the less than secure clip had moved up into the piston. New needles were fitted in Brazil (May 2009) however at sea level the slight misfire and poor fuel consumption was attributed to the alcohol fuel sold there, but once we reached the mountainous regions of Peru combined with the alcohol free fuel, the right carb was running far too rich. The previous day at the Mitsubishi dealer, we hoped to do a compression test thinking maybe it was a mechanical problem but their tester did not fit so we removed the right cylinder and head for cleaning. The piston and combustion chamber were choked with thick carbon deposits. The problem diagnosed, was swiftly fixed. We vacuum balanced the carbs and all returned to normal again. Such a simple solution and it took so long.

Local woman spinning wool in Cajamarca

View to Santa Apolonia Hill in Cajamarca

The last Inca King Atahualpa indicating where he would fill the room with gold and silver

The Cuarto de Rescate where Atahualpa was held prisoner
Despite spending several days in Cajamarca we decided to stay a few more to take in the sights other than bike shops and workshops. It was here that the last Incan King (Atahualpa) was executed by the Spanish invaders just after he complied with the filling of his prison room (to the height of his upwardly stretched arm) 'twice with silver and once with gold' to gain freedom for he and his family. The building is still preserved as a museum but full restoration is work in progress. Walking the streets was safe however we enjoyed the luxury of a Mototaxi to get to the land mark cross (Santa Apolonia Natural Lookout) overlooking the city then slowly climbed down the stairs back to Plaza de Armas in the centre of town.

Our hotel in Cajamarca

View of Cajamarca from Santa Apolonia Hill

The steep stairs to the top of the hill, we took the easy way in a mototaxi
Departing Cajamarca we needed our tried and tested SAG navigational system (Stop Ask Go) as the signs were a little obscure. We covered just over 450kms for the day arriving at the coastal town of Santa around dusk however our journey was interrupted several times by road blocks due to long stretches of road works. Learning quickly from local motorcyclists we rode to the front of the queued cars, buses and trucks where we were promptly ushered through the mounds of graded soil, rocks and broken pavement dodging trucks, graders and rollers as we went. One section was so ploughed up Carol volunteered to walk!!!

Road works ahead

Dunes both sides of the road

Irrigation turns dunes to crops
With traffic queued at both ends of the repairs the road ahead was all but vehicle free to the Pan Americana highway. Here we had a taste of the huge coastal sand dunes that follow the highway down into Chile to the famous Atacarma Desert. Efforts to grow crops in this desolate region are evident and to see the green fields thriving in the rolling dunes was quite impressive. Reaching Santa our first impression was a quiet little village but on walking to the centre square around 9.00pm the place had erupted into life. Street venders selling all manner of goods, young people charging around on unmuffled scooters and restaurateurs trying to usher customers into their premises. This is typical of many South American towns however we are still surprised by the spectacle after the quietness around dusk. Standard fare in numerous restaurants is chicken and chips or chicken and rice with a possible mixed salad consisting of lettuce, tomato and onion which was our meal for that night……again!!!!

Maize being sun-dried by the side of the road

An early tunnel

The track to the Canyon
Dark rain clouds threatened in the morning or so we thought but it was just sea mist that slowly lifted as the road took us inland towards our destination city Huaraz. The guys from Adventure Peru Motorcycling recommended the Canon del Pato route although we had heard varying reports of the difficulty. Good asphalt through fertile farmland began the day and the sight of artichokes being harvested plus maize being sun-dried, colored the sandy banks of the shallow fast flowing Rio Santa. At Chuquicara, the route into the narrow river valley deteorated to a rough stony track and our idea that the altitude would bring cold was unfounded. It was hot!!! Stopping to remove a few layers, a small Ford Escape 4x4 stopped to ask directions. Italians heading in the same direction in a hire car. Suffice to say the track was really quite adventurous for a 2 up, overloaded R80 G/S. A small 250 to 400cc dirt bike with no luggage would be better to navigate the mounded two wheeled track through thirty-five one-laned tunnels carved into the side of the cliffs. We met the Italians a couple of times who were obviously stopping to take as many photos as the bikers who were dogging them.

Coal seams

This was a short tunnel, some were much longer

The scenery was spectacular

Another tunnel
Coal seams were being tapped along the route but mostly the country was very arid with the odd village showing some prosperity in the isolated green patches nearer the river. Stopping only for a drink, we were concerned at our slow pace but made the distance in plenty of time reaching Caraz shortly before 3.00pm. Over a great coffee and sandwich we guessed the dark clouds in the direction of Huaraz would meet us on the road. Twenty kms from Huaraz we donned our full wet gear.

Huaraz

The snow capped mountains around Huaraz were stunning and it was here we were to meet Joe, a friend of a friend and keen bicycle rider from the USA. Joe was kind enough to bring down a few oil filters for the BMW from the States. At a 'lubricantes' (oil vender) the following day we serviced the bike.

Oil change
During one of our stays at the farm of John and Annette's in San Rafael, Carol read the book 'Touching the Void' and in Huaraz we were fortunate enough to see the movie. Quite an event for us as we rarely do this type of thing when traveling and after seeing the movie we are convinced world motorcycle travel is a walk in the park compared to mountain climbing.

Joe before heading towards the Canon del Plato
Joe departed the day before us heading in the direction of Canon del Pato. We met another bicycle rider on this track and he indicated it was a tough road. We bid Joe 'good luck'.

The scenery on the road south of Huaraz

Terracing on the way to Pachapaqui

The road had a little bit of everything
The road to Huanuco was a variety of rough dirt tracks to magnificent paved roads through grand mountains, tight gorges plus crazy traffic challenges we have never experienced. First, the road south to Conococha was paved but was very weather affected and snow capped peaks dictated a very cool wind across our bow. The plateau was dry and almost treeless with the Rio Santa carrying melt water to the farmers that dotted the high plains. Climbing a little higher we sighted farms clinging to mountainsides and the bike struggled a little in the altitude but not as much as us. Descending, the asphalt continued through high valleys where the winds channeled between the many peaks. After Pachapaqui we reached 4720 metres at a pass (Abra Yanashalla). Plenty of sun but very cool. The BMW labored more in the altitude as did the numerous trucks we overtook and often we had to make conscious efforts to 'breath'. Near Pachas we were waved through a stop/go sign at road works and after traveling a few kms on new 'hot mix asphalt' the smooth surface stopped turning into a tight dirt road. This abruptly ended when the asphalt laying machine greeted us on a bend. We could go no further as the fresh black tarmac was too soft to ride!!! Thirty minutes of waiting then a worker waved us on but it was still way too soft as we left an imprint on the new surface. Our journey took us through many small Peruvian villages with spectacular scenery and no other tourists were sighted. The fresh tarmac did not last and soon we were on familiar loose dirt and sand with choking dust plus many moving obstacles including animals and people. Reaching Huanuco just on dark we were exhausted and found the city wanting when we had much difficulty in finding accommodation with suitable off street parking. A very small family Hospedaje we had ridden past twice came to the rescue. Parking was in their 3 table restaurant.

New paved road

But it didn't last for long

We had to wait for the fresh asphalt to dry

Livestock is always a problem on the road
Departing Huanuco the indicated paved road on our map was a debacle of potholes, gravel and loose dirt. Traffic speed was reduced to a crawl in some areas as we followed cars and trucks weaving to avoid the deepest holes. We tagged behind a local biker on a 150cc obviously loaded with local knowledge and not much else, he kept a steady pace avoiding most of the jarring holes and broken asphalt. Reaching Chichrin the surface improved but we were caught behind a slow vehicle (25kph) and, as built up areas in Peru allowed 35kph, we indicated and proceeded to overtake. Unfortunately the slower vehicle decided to take evasive action at a slight indent in the road surface and swerved hard into the side of the BMW hitting the crash bar and right pannier pushing us a metre sideways. Carol screamed as the green Toyota Corolla Wagon collided and we proceeded to the side of the road with the culprit joining us for an inspection of the damage. We indicated we needed to get the Police as we were looking for some compensation for our damage. Despite our efforts he declined our requests and promptly sped off. We spent over an hour patching the pannier and also trying to fix a damaged swing arm. He hit us harder than we thought. During this time the Police passed by and we reported the collision at the station at their request. We gave them the number plate of the vehicle but advised they could do little as we were uncontactable travelers however they would send the driver an infringement notice.

Carol's damaged pannier

Little visitors while fixing the swing arm on the bike

Damage to the crash bar

The indent in the road
La Oroya was as far as we could ride after the dramas, and it was a cold hard ride though a high desolate pass, (Cerro de Pasco 4330 metres) with a sprinkling of rain to add to our misery. La Oroya (3755mtrs) is a mining town, busy and polluted but our Hotel El Eden, was just what we needed. Clean, quiet and a good sleep.

Alpacas, Parque Nacional de Juin south of Cerro de Pasco

The sky was getting darker

Celebration
We finished off yesterdays intended ride today and reached Huancayo shortly after lunch. Still a bit upset about the collision we did very little sight seeing, with most of the time spent patching the pannier with silicone and tape. All seemed to be working OK with the superb Givi locks still holding after the big hit. Damage appears to be only to the lid and with the temporary repairs one can hardly see the problem although it is very fragile. Because the Givi cases are plastic they must have absorbed the impact like a plastic bumper does on a car.

La Oroya

On the way to Huancayo

A little traditional and a little modern
We discussed the accident at length over the intercom the next day as we road to Ayacucho. Seventy kms of winding pavement to Izcuchaca. Hay stacks dotted the many stone fenced farms and traditional clothing was worn by most of the women tramping along the highway. Then an entertaining dirt road containing small water crossings and a few bull dust holes followed the Rio Mantaro to Hunta. Numerous farms surrounded the small villages covered in dust from trundling delivery trucks. The last 50 kms to Ayacucho was pavement. After the routine search of a few city blocks for a bed and suitable parking and we booked into Hostal Tres Mascaras an old colonial building close to the city centre.

Great roads

Great scenery

Small creek crossing

Drink stop under a shady tree

On the way to Ayacucho
The dirt road out of Ayacucho rose steeply as we competed for road space with many trucks and mini vans (people movers). The volume of traffic chewed the rough surface and the bike ploughed into plenty of bull dust patches as the road descended to a fertile valley between Chincheros and Uripa. The pace was slow and the scenery spectacular as the road plummeted down one pass and climbed into another. The conditions dictated our speed and we reached Andahuaylas with less than 300 kms on the clock at the end of the day. Hotel Sol de Oro was recently renovated however the restaurant had not yet opened so the owners allowed us to park the dusty BMW on their new ceramic tiled floor.

Our hotel in Ayacucho

Outside of Ayacucho

Bridge work and a people mover

Locals swimming in the river

Another great ride

A cold drink on a hot dusty day

It was a long day….

Dusty but a good day
There is no shortage of mountains to climb in Peru as the road to Abancay wound steadily into the hills preceding the pass. While filling at a petrol station advice from a local man said the main route to Abancay could be blocked with road works until 1.00pm and recommended an alternate track that would bring us back onto the 'highway' after the road works. Before the track got 'serious' we took a wrong turn and stumbled across "Sondor" Inca ruins. Most were in the clouds however, and we resumed our journey along a track that was to say the least, more like a farm trail used mostly by cattle and sheep than wheeled vehicles. Over an hour of rock bouncing and wallowing though irrigation channels we called it a day and returned to the main road hoping normal courtesies would apply to the motorbike again and we would be waved through if the 'Stop' sign was being applied at the road construction.

Sondor ruins

The good part of the goat track

No problems at the roadwork's

The road took us up into the clouds
As we drifted upwards into the clouds evidence of road works could be seen but no stop/go sign was employed on the entire section. Our little 70 km detour that morning cost us over two hours but this did not deter us from enjoying the great ride ahead. We ascended and descended so many times on a road that was checkered with stones, sand, bull dust, land slides and vehicles ranging through bicycles, motorbikes, 3 wheeled taxis, cars, 4x4's, mini buses, large buses and trucks. Most were courteous but the people movers (mini buses) were on a mission…or a very tight schedule. Descending the pass was slow due to the deep bull dust piled high on most bends. The mini buses passed on the climb now overtook us at more than three times our speed. We rejoined the main highway from Nasca to Cusco about twenty kms from Abancay and what a welcome bit of pavement it was!!!! Nestled in a valley we could see the city for over an hour as we made our way down the dusty track from the mountains. Oh how we relished that warm shower in the evening.

Bull dust on many of the corners

The valley below

That's Abancay in the far distance but it took a long time to wind our way down the mountain
Cusco was now only 200 kms away and it was all easy pavement but the day looked a bit overcast and as the road climbed up to the first pass the drizzle began. Three passes today and fortunately the rain did not last but the cloud made visibility poor near the top of the first one. Compared to the past week or so the ride was easy and we were getting used to the Peruvian traffic. Rule number one…. to avoid contact… use your horn for everything.

Our Hotel in Abancay had plenty of parking

Between Abancay and Cusco

Going up the 2nd pass for the day

Nice lean angles for a two up tourer

Coming into Cusco
Our Hostel of choice La Estrellita was located with not too many problems considering the size of Cusco. We enjoyed 4-5 days in this vibrant city including a couple of visits to see Jeff and Yahira at the Norton Rats Tavern. We shared a few road stories with Jeff and he dusted down the Norton to show us a few sights (ruins) around Cusco.

Out for a ride with Jeff and Yahira in Cusco

Norton Rats Tavern on the Plaza de Armas

Also on the Plaza is La Compania de Jesus Church

A ride out in the valley with Jeff and Yahira

Back to Cusco past the Sacsayhuaman Ruins

Along the cobble stone streets
After all the rough dirt roads I decided to recheck the swing arm damage (accident) again and Jeff was able to direct us to his mechanic. Unfortunately the business had relocated and the directions we received had us do the work at a different bike shop. Something lost in the translation!!! We had some valuable assistance from Chris (KLR650) a young traveler from Canada we had met at the Tavern. The swing arm bearings needed replacing but none were available in Peru so the old ones were repacked with grease and reinstalled. The thread on the frame/locating boss was also damaged but some fine valve grinding paste cleaned the area and all was looking good again.



The Moto Mechanic who helped us out

Inca walls




Inca alley way

History Museum
Back at the Norton Rats Tavern we met up with Mike Ferris from Ferris Wheel Motorcycle Tours who was entertaining some bikers on the dusty tracks of Peru.
Kevin and Julie Saunders from Globebusters were also there enjoying some R & R before heading south to Ushuaia on another big tour.

Ceramic bulls are popular on roof tops

Local woman in traditional dress in Chinchero

Local family

Alpaca knitwear

Chinchero Inca Ruins

A church was built on part of the Inca Ruins in Chinchero

Local women selling craft
After purchasing our entry and train tickets in Cusco it was our turn to head to Machu Picchu. The ride to Ollantaytambo, the jumping off point to Maccu Picchu, was punctuated with several visits to ruins dotted along the highway. Chinchero where a lot of the Inca buildings were destroyed by the invading Spanish with European type structures built on the remaining foundations. The hole in the ground at Moray was impressive where circular farm terraces were cut into the earth and used as a type of nursery. We were told that each level had its own climate and much restoration was still being done. We spent so much time in these two areas the other sites would have to be done on our return.

Local Woman

Woman with child in backpack

Moray circular terracing

Woman weaving
Reaching Ollantaytambo we were confronted with major road works around the square but we still found a small Hospedaje only 150 metres from the train station. Very convenient as it was dark when we caught the train for Aguas Calientes the next morning. The chaos at this little town was frantic as the train crowd surged to board the buses climbing to the entrance of Machu Picchu. Despite seeing a thousand pictures and numerous videos nothing compares to seeing this magnificent site in the flesh. We spent 6 hours walking the ruins, taking photos, meeting friendly llamas and dodging thousands of people doing the same things as us!!!! Get there early and take your own food and drink if you are on a budget is all we can say.

The train station in Aguas Calientes

Machu Picchu coming out of the clouds

Ken and his new woolly friend

Large steps between terracing

We were finally at Machu Picchu

Housing

Steep stairs

Did we say how steep it was
The ruins at Ollantaytambo also deserve a mention and we stayed another day to climb the stones and stairs and marvel at these ancient peoples skill. The brilliant colored clothing worn by the locals combined with the patterned cloth at the small market stalls was so tempting but alas the space for carrying such souvenirs is limited on a motorcycle. The lack of crowds also made these ruins most enjoyable and the evening culminated in a visit to a small festival close to the city plaza.

Craft in Ollantaytambo

Ollantaytambo

Walking to the top of the ruins in Ollantaytambo

Inca wall

Amazing walls

More terracing

Big slab

Ken and a new friend

Local children in traditional clothing
Returning to Cusco we stopped off at the small village of Pisac. Markets at this centre attracted bus loads of tourists and we walked for hours enjoying the atmosphere and being tempted by the beautiful materials and jewelry. A cruel thing for motorcyclists. To buy and post home was beyond our budget as postage costs in Peru are over the top. However Carol did buy a small pair of silver and colored stone earrings depicting humming birds. Took ages for her to make a decision…. The colors had to be perfect.!!! All this took so long we returned to Cusco without looking at the ruins nearby.

Fancy hat at the festival in Ollantaytambo

Bright colours

Another hat

A little dancing at the festival

Colourful markets, Pisac

Markets Pisac

Markets Pisac

Markets Pisac

Markets Pisac

Roasted Cuy (Guinea pig)

More R & R at Cusco and it was here we met up with Crawford, a biker from Chicago riding a KLR650 with his daughter. Anastasia was only joining him for a short time and was flying back to the USA from La Paz, Bolivia in a week or so. We joined them in tramping the Sacsayhuaman Ruins just outside Cusco. This site has extraordinary rock construction with both concave and convex precision stone mating that is difficult to believe possible with such large stones and the technology and tools available at that time. Crawford was a furniture maker and emphasized the work involved in mating two pieces of wood perfectly. Mating stone this size is beyond the realms of skills we know. We spent a lot of time asking how, and listening to tour guides to see if they had a plausible answer. They didn't!!!!!!!! Just cutting the stones which could weigh up to 130 tons and leaving such a smooth surface in the remaining slab then moving them to the wall and into position. Another unanswered question. After visiting a few more ruins in the area we returned to Cusco having accumulated more questions than answers.




Ken having his boots polished in Cusco

Flag ceiling in Norton Rats Tavern

Norton Rats Tavern

Night shot

A view of Cusco and the Plaza de Armas

Inca stone walls at the Sacsayhuaman Ruins on the outskirts of Cusco

Some of the stones weigh up to 130 tons

We kept asking how the Incas did it.

Where the rocks were cut out was very smooth

How did they do it??

Ken trying out a stone slippery slide

Even the locals were impressed
Crawford and Anastasia left for Machu Picchu about an hour before we left for Puno the following day. We hoped to meet up again in Bolivia and kept in email contact to ensure a rendezvous down the road. Cold and windy dictated the day along the Altiplano. Juliaca was a mess of road works and combined with a lack of signage we applied a lot of Stop Ask Go's to get out of town. At 4338 mtr the pass at La Raya was cold, obviously a bleak place in winter and we marveled at the resilience of the farming families and their meager dwellings on the treeless plains.

The famous 12 sided Inca rock in Cusco

It was time to say good bye to Jeff and Yahira

Crawford and Anastasia leaving for Machu Picchu

Into thin air at La Raya Pass 4338 m on the way to Puno

Between Cusco and Puno

Our first glimpse of Lake Titicaca

Puno
Puno's Hotel Arequipa was quite central and had secure parking. We organized our tour of Lake Titicaca and at the last minute decided to do an overnight island stay with a local indigenous family. People say the reed islands (The Uros) are over-commercialized and very touristy but we really enjoyed the open hospitality. Invited into their simple huts and given a brief history of their lives and how it all works was fun. The open fire cooking concerned me, the fear of setting the island alight would be ever present. Reaching Amantani, our home stay island, we climbed the steep path and stairs following our host to her humble home. Marline provided a light lunch after we had settled in our room overlooking the bay. To say we were suffering from the altitude as we followed Marline up the narrow path to the football field would be an understatement. Not only did we have trouble keeping up but she was carrying her 6 month old baby in a shawl sling on her back. The baby went everywhere in this fashion including the dance or 'Indigenous Disco' that all home stayers ventured to that night.

The Uros reed islands

Reed houses

Inside one of the houses

Bidding us farewell in song

Ploughing by hand

Our host Marline cooking lunch with the baby happily sitting in a cardboard box

A neighbor holding Marline's baby

The steep path on the island took our breath away

All dressed up for the dance

The young band members
We all dressed up in local regalia and had a fun time but proceedings did not venture too late as farmers rise early as in all countries. Meals were cooked on simple open wood fire and the baby was placed in a cardboard carton to watch proceedings. Food was simple, vegetable soup, rice and vegetables washed down with coca tea. The island appeared very dry despite being surrounded by Lake Titicaca with the only substantial trees being Australian eucalypts. Marline's husband Wilbur was a potato farmer and disappeared early in the morning returning at dusk. Our neighbors gave us a demonstration on their farm skills with the ploughing and planting of a small plot near their house. People powered ploughs!!!!

Marline cooking breakfast

Marline and baby in a shawl sling

142

Saying goodbye to Wilbur and Marline
Our departure the next day was exciting as a strong wind had developed and the lake had become quite rough. Our third island was Taquile and at altitude climbing several kilometres of steep well made stone pathways took its toll on us and several other people in our group. We were very hot on reaching a small village where we enjoyed fresh trout and a cold drink for lunch. Refreshed, our party then tramped back down another pathway and stairs to the waiting boat. This effort over the past few days deserved a rest day before we rode on to Bolivia.

Local men in traditional dress on Taquile Island

Our trout lunch

View from the top

The island gate

The walk down was much easier
Enter your email address to receive updates to Ken and Carol Duval's trip story!
Recent Entries
Archives:
Archives:
Monthly
Archives:
Category
NEW! HU 2015 Motorcycle Adventure Travel Calendar is now available! Get your copy now for some terrific travel inspiration!
HUGE, 11.5 x 16.5 inches, beautifully printed in Germany on top quality stock! Photos are the winning images from over 600 entries in the 9th Annual HU Photo Contest!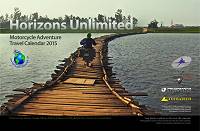 "The calendar is magnificent!"
"I just wanted to say how much I'm loving the new, larger calendar!"
We share the profit with the winning photographers. YOU could be in the HU Calendar too - enter here!
Next HU Events
NEW!

USA Virginia: Apr 9-12, 2015
Take 40% off Road Heroes Part 1 until October 31 only!
Road Heroes features tales of adventure, joy and sheer terror by veteran travellers Peter and Kay Forwood (193 countries two-up on a Harley); Dr. Greg Frazier (5 times RTW); Tiffany Coates (RTW solo female); and Rene Cormier (University of Gravel Roads).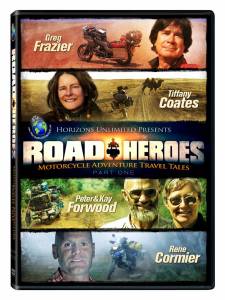 "Inspiring and hilarious!"
"I loved watching this DVD!"
"Lots of amazing stories and even more amazing photographs, it's great fun and very inspirational."
"Wonderful entertainment!"
Check it out at the HU Store! Remember to use Coupon Code 'HEROES' on your order when you checkout.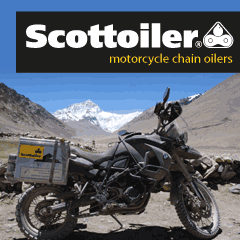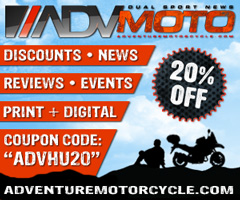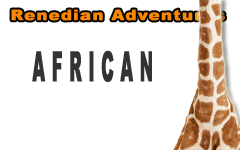 What others say about HU...
"I just wanted to say thanks for doing this and sharing so much with the rest of us." Dave, USA
"Your website is a mecca of valuable information and the DVD series is informative, entertaining, and inspiring! The new look of the website is very impressive, updated and catchy. Thank you so very much!" Jennifer, Canada
"...Great site. Keep up the good work." Murray and Carmen, Australia
"We just finished a 7 month 22,000+ mile scouting trip from Alaska to the bottom of Chile and I can't tell you how many times we referred to your site for help. From how to adjust your valves, to where to stay in the back country of Peru. Horizons Unlimited was a key player in our success. Motorcycle enthusiasts from around the world are in debt to your services." Alaska Riders

10th Annual HU Travellers Photo Contest is on now! This is an opportunity for YOU to show us your best photos and win prizes!
NEW! HU 2014 Adventure Travel T-shirts! are now available in several colors! Be the first kid on your block to have them! New lower prices on synths!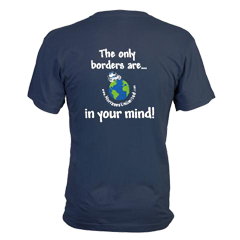 Check out the new Gildan Performance cotton-feel t-shirt - 100% poly, feels like soft cotton!

What turns you on to motorcycle travel?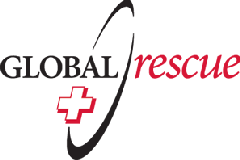 Global Rescue is the premier provider of medical, security and evacuation services worldwide and is the only company that will come to you, wherever you are, and evacuate you to your home hospital of choice. Additionally, Global Rescue places no restrictions on country of citizenship - all nationalities are eligible to sign-up!
New to Horizons Unlimited?
New to motorcycle travelling? New to the HU site? Confused? Too many options? It's really very simple - just 4 easy steps!
Horizons Unlimited was founded in 1997 by Grant and Susan Johnson following their journey around the world on a BMW R80 G/S motorcycle.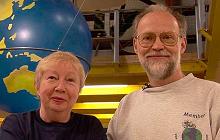 Read more about Grant & Susan's story
Membership - help keep us going!
Horizons Unlimited is not a big multi-national company, just two people who love motorcycle travel and have grown what started as a hobby in 1997 into a full time job (usually 8-10 hours per day and 7 days a week) and a labour of love. To keep it going and a roof over our heads, we run events (22 this year!); we sell inspirational and informative DVDs; we have a few selected advertisers; and we make a small amount from memberships.
You don't have to be a Member to come to an HU meeting, access the website, the HUBB or to receive the e-zine. What you get for your membership contribution is our sincere gratitude, good karma and knowing that you're helping to keep the motorcycle travel dream alive. Contributing Members and Gold Members do get additional features on the HUBB. Here's a list of all the Member benefits on the HUBB.
Books & DVDs

All the best travel books and videos listed and often reviewed on HU's famous Books page. Check it out and get great travel books from all over the world.

MC Air Shipping, (uncrated) USA / Canada / Europe and other areas. Be sure to say "Horizons Unlimited" to get your $25 discount on Shipping!
Insurance - see: For foreigners traveling in US and Canada and for Americans and Canadians traveling in other countries, then mail it to MC Express and get your HU $15 discount!
Story and photos copyright © All Rights Reserved.
Contact the author:
Editors note: We accept no responsibility for any of the above information in any way whatsoever. You are reminded to do your own research. Any commentary is strictly a personal opinion of the person supplying the information and is not to be construed as an endorsement of any kind.
Hosted by: Horizons Unlimited, the motorcycle travellers' website!
You can have your story here too - click for details!