Pakistan
November 28, 2000 GMT
The Karakoram... What more can be said
Departing Islamabad (and the pollution) with Connor (XT600 Tenere) we make Besham on the KKH late on the first day. The mountain passes were choked with horn blasting mini buses and diesel belching trucks but this is all part of the fun and challenge. Our 700 rupee room was over-priced but the hot shower and good food compensated.
The "meat" of the KKH started today as the rough paved road cast its spell over us. Carved into the cliff face high above the Indus River, signs acknowledged the military companies that had built and now maintain that particular section. We stopped numerous times enjoying the view, taking photos and acknowledging the musical truck horns as they laboured past. To stop on the edge of the road, boil the billy and eat warm roti and jam under a bright blue sky, snow capped mountains in the distance... bliss.
The Indus River and the KKH
This road is no sports bike road. It is "rough", there is the occasional landslide being repaired and the odd rock or two tumbles down the cliff face onto the road in front of you. In addition to these obstacles Pakistani drivers tend to take the corners on the wrong side of the road. Amazingly there were few accidents seen.
Arriving in Gilgit just on dusk, it had taken us over eight hours to cover 350 kms. The hustle and bustle of this northern provincial town caught us unawares after the solace of the KKH. Busy people crossed in front dodging the meandering livestock that were looking for food scraps. Madina Guest House caught our fancy and the good food, relaxed atmosphere and hot showers justified the recommendations passed onto us by previous travellers.

Near Passu on the KKH

Ken and Connor
After enjoying a quiet day discussing future excursions we tackled the section north to Sost. The autumn colours dappled amongst the terraced farms made dramatic scenery. Some were perched above us and some below. Our camera shutters were working overtime. Meanwhile the Hunza River flowed relentlessly south creating white sand beaches from the grey glacial rocks and soil. We paused for a coke at the glistening Ghilmet Glacier but we were too late to photograph the splendour of Passu Glacier. The temperature at Sost was much cooler and our resolve for an early departure to Khunjerab Pass saw us ride through the "landslide" area with little difficulty.

Carol at Khunjerab Pass
Khunjerab Pass
After paying and signing into Khunjerab National Park the vegetation ceased as we climbed past the 3,000 metre level. The last 13 kms to Khunjerab climbed steeply and the flowing creek, slowed with lumps of ice, became a solid mass at the top. The Pakistani border guard informed us it was -7 degrees under a bright blue sky. Photographs with a group of Chinese soldiers topped a great ride.

Frozen River near Khunjerab Pass
Chinese Army and Pakistan Guards at Khunjerab Pass
The return journey was interrupted by severe problems at the "landslide" area where the road was blocked with another pile of rubble. This slide was less than 20 kms from Sost. The brave bulldozer driver charged relentlessly at the rocks and soil pushing them into the fast flowing Khunjerab River while dodging missiles the size of footballs. With the path finally cleared (1 hour) a passenger bus tackled the road first as small rocks and soil continued to roll down. We were next and on the signal of the whistle blowing boss man we dashed across the 80 metres as rocks danced passed us. We were fortunate enough not to get hit. Back in Gilgit we related our experiences and heard similar tales, one from a Belgium couple whose transit van had dents from rocks bouncing into the side at the same landslide area.

Landside closing the road north of Sost

Karakorum Highway
Our late departure from Gilgit the following day (too much talking to fellow travellers) caused us to arrive in Skardu after dark. A flat tyre enroute slowed us down and although the road is still paved, the curves are tighter, the surface rougher and there were a few livestock problems (blocking the road). It was at the Indus Motel we hoped to make contact with a local tour operator (friends of friends), however we were three days too late as he had gone to Rawalpindi. Fresh trout and chips at Satpara Lake highlighted our trip and when our English/Irish friends arrived the next day we had no hesitation in sending them out the rough gravel track to savour the delicacy.
The road from Skardu to Gilgit
The return journey to Gilgit saw the "team", Mark, Claire, Connor and ourselves back together again. Madina Guest House was cramped with bikes that night as we collected another overlander (Mike a lanky German riding a Motor-Guzzi street bike) on the way through town. Another two German riders turned up that evening on a DR800 Suzuki so motorcycles dominated our conversation for quite a few hours.
Our team was broken up once again as Mark and Claire attempted the Khunjerab Pass for the third time. Mike followed on the Guzzi a short time later and Connor after much deliberation decided to tackle the Shandur Pass to Chitral. Our placid pace allowed another rest day in Gilgit.
Lowari Pass was our next challenge. We planned to meet up with Connor in Chitral and lie about which was the toughest route. We made Dassu on the first night, crossing the Shangla Pass from Besham the next day to reach Dir just on dusk. The weather that night closed in and storms greeted us the following morning. We mulled over our greasy omelette at breakfast as our host at the Abshar Hotel assured us the weather would clear.

The road from Dir to Chitral
Leaving Dir around 10am the paved road indicated on our map turned to damp, hard packed dirt. Progress was slow as numerous trucks blocked the narrow track. We must say however that Pakistani truck drivers were extremely courteous and generally responded quickly to our horn blowing when we wish to overtake. A couple of shallow creek crossings with a slowly deteriorating track (mud) had us wondering about the top. Closing in on the top the mud turned to a slurry of ice and snow churned up by the slow moving trucks. The top was a skating ring with the slurry refreezing.

Lowari Pass looked bad from here

Then it got worse!!
The downside (northern) was unrideable for the first 50 metres as the tyres slid with my feet as skids just holding the bike upright. Sliding to a stop, Carol abandoned ship and hitched a ride on a recently overtaken truck. I proceeded down slowly for almost a kilometre to just past the snow line with Carol rejoining the bike after thanking her lift profusely. We don't think they were really unhappy about having a western woman aboard though.

Icy Lowari Pass from Dir to Chitral
Negotiating the remainder of the 40 hairpins was slow and we wondered whether we had made the correct decision to press on. Arriving at Chitral we met the Danish couple (Poul and Pia met at Gilgit) who had crossed Shandur Pass in their Pajero 4WD arriving the same day as us after four days of travelling. Our enquiring "Have you seen Connor?" was met with a negative response and we assumed that Connor had turned back due to the difficulty of the track.
Our first attempt to get back over Lowari Pass
Inter-netting the next day, we met Conner. He had made the Shandur crossing in two days. But all was not well as rain had set in and the mountains surrounded Chitral were blanketed with snow. Lowari Pass was now closed!! We sat the whole day huddled around a bowl of burning coals drinking sweet milk tea saying "what next?" Our hopes were raised the following day as we were greeted with sun and a blue sky. We determined that Lowari would be tackled the next day.
The road after Drosh was severely affected by the rain with many washouts, stones and loose gravel forced down from the mountains. We reached the first hairpin and contemplated our next move. Reports that the pass was still closed with 60cm of snow concerned us. Mini vans and 4wd's slid pass us heading upwards. We stopped a pick-up full of Pakistanis coming down and asked about the road. They shock their heads glumly saying "not open". The last kilometre over the top was blocked by snow and people were walking this distance taking some 2 to 3 hours. We headed back to Chitral.
Contemplating our dilemma over some chai (tea) at the Al-Farooq Hotel we heard the rumble of a large bike outside. Staggering up the stairs came MGM - Motor-Guzzi Mike. He had just completed the Shandur Pass through 20cm of snow crashing (touch downs) some eight times. Shandur would be closed for sure. Mikes' smiles on greeting us changed when we told him Lowari Pass was closed. He was unaware there was even a pass to be negotiated.
Being stuck in Chitral was not all that unpleasant. Our host at the hotel was very helpful, the tea was hot and sweet and the chicken karai was great......what more did we need? But we had to escape the winter. We crossed to the other side of the river in Chitral and negotiated with a truck driver a price and planned our escape. Two days to allow the pass to be bulldozed clear, three bikes, four people....3,000 rupees, a bargain. The truck was an over decorated Bedford. While paying the deposit the next day we were informed that another truck would be used and more bad weather was anticipated. We must leave ASAP. 5.30pm that day we departed Chitral. Mike and Connor in the back with the bikes resting on 200kg of river sand (ballast) and Carol and I up front. Our escort would be an open tray truck carrying sand and rocks (the traction truck).
Long cold night trying to cross Lowari Pass with Connor & Mike
Trucked over Lowari Pass
At 1am the next morning we were stopped at a police barrier. The pass was closed until 6am. Sleeping upright in the front of the truck with temperatures around 0 degrees is not fun. Sleeping in the back of an open truck on a wet bed of sand is even worse. Between 5 and 6 am all hell broke loose as the trucks around us burst into life and the co-drivers screamed directions. We were on the move. By the fourth or fifth hairpin the snow was 30cm deep and the track as slippery as a greased pig. Progress was slow with many stoppages with the narrow track being blocked by bogged or broken vehicles.

Ken and local guy from the 'traction truck'
Our driver was quite impressive and we deduced he was no run of the mill truckie. Each congested stop he left the truck and started organising a remedy for the chaos. Where other trucks were using large chains on the wheels to negotiate the frozen, slippery conditions, he was still relying on naked tyres, skill and sand from the traction truck. The track finally beat him and the rear wheels were wrapped in a 12mm steel cable. There was no stopping him now. When other chained trucks got stuck he would fly through using momentum, deft gear changes and engine torque. We were impressed. Near the top the track was pure ice, snow fell at erratic intervals and the traffic congestion increased. Bouncing off the snow walls on the road we breached the peak of the pass with a cheer and proceeded to slide down the decent. It was all but over.

Snowy hairpins on the pass
After 25 hours we reached Dir and unloaded our bikes. Our stressed and exhausted disposition did not take kindly to the dirty bed sheets that confronted us in the best looking hotel in town. They were promptly changed. After a tasty meal of chicken karai it was sleep at last.
Recovered, we made Peshawar the next day. This city was really pumping.
Perhaps we had been in the country too long. We walked the bazaars for hours as Mike was on a mission. Quality hand made leather saddle bags for the Guzzi. Success was achieved late in the day so our departure back to Islamabad the next day was assured.

All lined up for the beer and steak at the old Australian Embassy in Islamabad
The Islamabad Tourist Campground has a feeling similar to Uphill Campground in Nairobi, Kenya. A pleasant relaxing atmosphere with plenty of overland motorcyclists, 4WD's, backpackers and the odd truck. Meetings around the campfire discussing past adventures and future travels, mechanical help and advice and the ever present dormant traveller waiting on a parcel of spares, documents or a visa approval. It's a happening place.
THE BIKE: Serious breakages occurred during this section with the Koni shock spring breaking outside Chitral. While repairing (welding) it, cracks in the main frame were found under the seat. Back in Islamabad the shock mount on the swing arm cracked again. The stresses of our journey are telling now as we approach 200,000 kms. The spring feels much softer, hope it gets us home. While servicing, an oil filter bolt came out with the thread still attached. A longer bolt appears to have done the trick. If not Connor on the XT is now carrying a Heli-coil kit. Stick around Connor.

Fun on a local taxi in Lahore. Oli, Angela, Connor and Ken.
Our stay in Pakistan is drawing to a close. Motor-Guzzi Mike has met up with his lady Rose and has headed off to India. Mark and Claire are already playing with the Delhi traffic. Connor's bike is all but repaired after completing a heli-coil repair on an oil filter bolt and a complete respoke of his front wheel (rusty spokes kept breaking). India is next but our aim is CHRISTMAS IN KATHMANDU. We have a few overlanders joining us but the more the merrier.

The crowd gathers as we leave Lahore for India
October 23, 2000 GMT
Playing with Trucks in Pakistan
Leaving Iran was a pleasant experience as we enjoyed some cakes with some very pleasant officials. Pakistan was just as friendly telling the girls they can disgard their hot garb. Met a young English chap taking an Enfield back to England, Tough ask. Back to left hand drive and enjoy the entertaining trucks and buses. What decorations and those horns!!!! Stop and talk to a German couple on an old XT500..full of enthusiasm and lust for those never ending roads.The road on this leg was quite good. Arriving at Dalbandin around 6.30pm saw us dock the bikes in a lockup garage under the Hotel. Our first curry of lamb with rice and nan bread. We survived.
We bought black market Iranian fuel at half the price of the local brew as the road east to Quetta slowly deteriorated.
click for larger image
Iranian petrol sells on the black market in Pakistan

There were areas where the desert sand had encroached onto the roads. Attempting to ride through some at too slow a speed saw us stall and fall. No damage, just embarrassed. Numerous road blocks for passport checks has us riding over frayed steel cables. One too many saw the rear tyre collect one of these traps so it was out with the repair kit to fix only our second puncture of the trip. The numerous passport checks combined with the flat tyre caused us to arrive in Quetta after dark. Slowing to avoid traffic congestion I locked the front brake on the glass like road and hit the deck harder than I would like. I am sporting a very blue ankle at the moment. Not a good day for us.
K & C on the road to Quetta, Pakistan.
We spent the night at the Muslim Hotel. Not recommended..very dirty. Moved to the Bloom Star the next day and met up with Luke and Niki travelling on a R100GSPD (See www.HorizonsUnlimited.com E-zine) Good to hear that Aus accent again and great company to boot. We caught one of those overdecorated three wheelers into town the next day and found a shop that did money exchange, internet and sold western food . A little gold mine. All of us suffering a little from the dreaded tummy rumbles at the moment.
The next day we balance Lukes' bikes carbs with my vacuum guages . All the bikes are packed and we depart in different directions. We loose an hour trying to find the right road to Loralai. Finding the correct junction Carol is hit by a stone throwing kid as a parting jesture. At a Police check point we take a short cut road that turns into a dust bowl with roadworks that have been in progress for years it appears. The road was rough but paved in most other sections and we were making good time until we had another flat tyre. The rear again. This time the heavy duty tube had split along a mould line under the patch. Any explanations would be welcome. The original hole repaired was all but a pin prick and the split ran either side of this small hole. I have used the glue and patches on another punture with no problems and actually am still using the front tube carrying one of these patches. Plenty of helpers doing this repair as half a village turned up to view our antics. Replaced both the tyre and tube this time. All this occurred 12 kms outside our destination.
D G Kahn was our destination today but heavy truck trafice made the going slow. Mark had a fall today in the gravel avoiding oncoming traffic on a one lane road. A broken indicator lens and a dent in the tank was the only damage. Claire, not to be outdone dropped hers on top on a mountain while stopping to look at the view. Damage... a broken mirror. We spent the night at Fort Munro Family Inn and can thoroughly reccommend this oasis. Absolutely spotless and plenty of hot water. Great hospitality.

Petrol stop at Loralai
Heading to D G Kahn playing with the trucks on the mountain passes seems easier when your fresh and we make short work of the difficult overtaking manouvres. Everyone even had time to stop and take photos. Past D G Kahn and onto Muzaffagarh (!!!) we stop for a coke. A guru type entertains the crowd that gathers. A lot of laughing, probably at us... what a mottly crew . 30 kms from town (Mianwali) I have to find a toilet fast. Must get this sorted before we go much further. Welcome to Pakistan!!!
Departing Mianwali we travel through groves of trees, mostly eucalyptus, which break up the hot highway . The surface is good although a little rough at times. Our tents are pitched at the Islamabad Tourist Camp by 3.00pm that day as our minds begin to list the chores we have to attend before the Karakoram Highway. Three Germans on BMW's are camped here and they sing the praises of the KKH so much so that they have decided to go back and have another look.
We also meet Daniel on a KLR650 travelling the world. All the way from the USA. We had quite a party at the Australia Club on Thursday night for beers and a BBQ. Our chores include an extension on our visa for another 30days.
THE BIKE.
Carrying two tyres on our top box (since Turkey) has taken its toll. The vertical bolt holding the subframe to the main frame has broken the welded thread from the frame. All is welded and repaired now and the stearing head bearings have been replaced. The right rocker cover centre bolt has stripped out of the head. A temporary repair has been done. The new tyres have been fitted. We are ready for the KKH. News is that there is snow close to the Chinese border so we will not make it all the way up.
click for larger image
Very loaded up bike in Baluchistan, Pakistan.

Enter your email address to receive updates to Ken and Carol Duval's trip story!
Recent Entries
Archives:
Archives:
Monthly
Archives:
Category
NEW! HU 2015 Motorcycle Adventure Travel Calendar is now available! Get your copy now for some terrific travel inspiration!
HUGE, 11.5 x 16.5 inches, beautifully printed in Germany on top quality stock! Photos are the winning images from over 600 entries in the 9th Annual HU Photo Contest!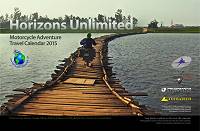 "The calendar is magnificent!"
"I just wanted to say how much I'm loving the new, larger calendar!"
We share the profit with the winning photographers. YOU could be in the HU Calendar too - enter here!
Next HU Events
NEW!

USA Virginia: Apr 9-12, 2015
Take 40% off Road Heroes Part 1 until October 31 only!
Road Heroes features tales of adventure, joy and sheer terror by veteran travellers Peter and Kay Forwood (193 countries two-up on a Harley); Dr. Greg Frazier (5 times RTW); Tiffany Coates (RTW solo female); and Rene Cormier (University of Gravel Roads).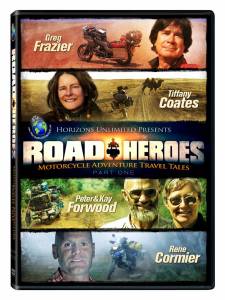 "Inspiring and hilarious!"
"I loved watching this DVD!"
"Lots of amazing stories and even more amazing photographs, it's great fun and very inspirational."
"Wonderful entertainment!"
Check it out at the HU Store! Remember to use Coupon Code 'HEROES' on your order when you checkout.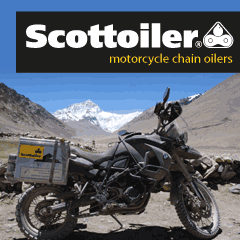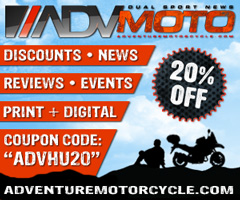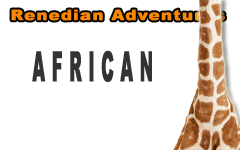 What others say about HU...
"I just wanted to say thanks for doing this and sharing so much with the rest of us." Dave, USA
"Your website is a mecca of valuable information and the DVD series is informative, entertaining, and inspiring! The new look of the website is very impressive, updated and catchy. Thank you so very much!" Jennifer, Canada
"...Great site. Keep up the good work." Murray and Carmen, Australia
"We just finished a 7 month 22,000+ mile scouting trip from Alaska to the bottom of Chile and I can't tell you how many times we referred to your site for help. From how to adjust your valves, to where to stay in the back country of Peru. Horizons Unlimited was a key player in our success. Motorcycle enthusiasts from around the world are in debt to your services." Alaska Riders

10th Annual HU Travellers Photo Contest is on now! This is an opportunity for YOU to show us your best photos and win prizes!
NEW! HU 2014 Adventure Travel T-shirts! are now available in several colors! Be the first kid on your block to have them! New lower prices on synths!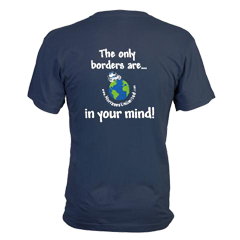 Check out the new Gildan Performance cotton-feel t-shirt - 100% poly, feels like soft cotton!

What turns you on to motorcycle travel?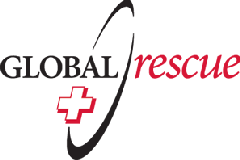 Global Rescue is the premier provider of medical, security and evacuation services worldwide and is the only company that will come to you, wherever you are, and evacuate you to your home hospital of choice. Additionally, Global Rescue places no restrictions on country of citizenship - all nationalities are eligible to sign-up!
New to Horizons Unlimited?
New to motorcycle travelling? New to the HU site? Confused? Too many options? It's really very simple - just 4 easy steps!
Horizons Unlimited was founded in 1997 by Grant and Susan Johnson following their journey around the world on a BMW R80 G/S motorcycle.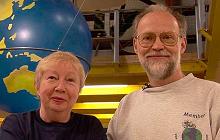 Read more about Grant & Susan's story
Membership - help keep us going!
Horizons Unlimited is not a big multi-national company, just two people who love motorcycle travel and have grown what started as a hobby in 1997 into a full time job (usually 8-10 hours per day and 7 days a week) and a labour of love. To keep it going and a roof over our heads, we run events (22 this year!); we sell inspirational and informative DVDs; we have a few selected advertisers; and we make a small amount from memberships.
You don't have to be a Member to come to an HU meeting, access the website, the HUBB or to receive the e-zine. What you get for your membership contribution is our sincere gratitude, good karma and knowing that you're helping to keep the motorcycle travel dream alive. Contributing Members and Gold Members do get additional features on the HUBB. Here's a list of all the Member benefits on the HUBB.
Books & DVDs

All the best travel books and videos listed and often reviewed on HU's famous Books page. Check it out and get great travel books from all over the world.

MC Air Shipping, (uncrated) USA / Canada / Europe and other areas. Be sure to say "Horizons Unlimited" to get your $25 discount on Shipping!
Insurance - see: For foreigners traveling in US and Canada and for Americans and Canadians traveling in other countries, then mail it to MC Express and get your HU $15 discount!
Story and photos copyright © All Rights Reserved.
Contact the author:
Editors note: We accept no responsibility for any of the above information in any way whatsoever. You are reminded to do your own research. Any commentary is strictly a personal opinion of the person supplying the information and is not to be construed as an endorsement of any kind.
Hosted by: Horizons Unlimited, the motorcycle travellers' website!
You can have your story here too - click for details!