Argentina 4
February 04, 2008 GMT
Leaving Ushuaia
On the fifth of January it snowed which was to be our day of finally leaving Ushuaia, not that we wanted to leave. Despite the crazy weather we loved this place so we delayed our departure another day, finally leaving around 1.00pm on the sixth of January and headed to Rio Grande. The weather was sunny in Ushuaia but once in the mountains the skies closed in and around 70 kms from Rio Grande the rain started drizzling. In a fine patch of sky we stopped to check out a beaver dam that we spotted heading south a few weeks before. Alas the dam had been destroyed, possibly by the farmer as a lot of water had banked up behind it. Carol took this opportunity to have a wee stop….It was a very hurried one as the path beside the road was used by the local dirt bikers and she was buzzed by three bikers just as she was walking up the embankment!!

Carol appearing from a wee stop just as a dirt bike rider approaches, that was close!

Graciela, Ricardo and Vanessa outside Hostel Argentino, Rio Grande
Graciela at Hostel Argentino was her usual amicable self. What a great place to stay, being very relaxed with plenty of travelers to chat to. We had a great night talking to an Argentinean couple, Ricardo and Vanessa on an Africa Twin who were heading south. We did not get to bed until 2.30am so we did not envy them as they packed their bike ready to head to Ushuaia in very wet and windy weather. Their pack was extraordinary. Huge duffle bags wrapped in plastic and so many layers of clothing they could hardly move. It took ages for them to get going, probably hoping the weather would improve. Reminded us of ourselves!!! We were told of a local printer who we used to make more business cards/stickers. The price was right so we took a photo of Graciela's "Hostel Argentino" sign and had some stickers made for her. The Hostel was pretty full tonight as Ushi (DR 350), Denny and Silvia (R1200GS & 650GS) from Germany along with several bicycle riders and back packers swelled the international traveling numbers.

Leaving Graciela's Hostel Rio Grande
Our departure for Porvenir then Punta Arenas was delayed as Ushi advised us of pending strong winds in the area. She was right… So we hunkered down for a day doing domestic stuff like washing, internet and diaries. We also enjoyed a conversation on Skype with our BMW club president in Australia. Nice one Tony.

Pink Flamingos on the road to Porvenir

Wind assistance, the road to Porvenir

Brazilian girl with the flat tyre
The ride out of Rio Grande was windy…again…but not the 90kmh of the day before. Being fine it was a pleasant ride to the border crossing which took a little extra time due to a couple of buses clogging up the system. The ripio was quite good after San Sebastian with little traffic. Flamingoes on a small lake added to the highlights of this ride and when the road swung down to the edge Bahia Inlet, it became even better. Around 40 kms from Porvenir we came across a young Brazilian girl riding a 250 Yamaha. She had a flat tyre and no tools or patches to repair it. She appeared to be quite overloaded and after a brief conversation discovered that her father had crashed on his bike that morning and was in Porvenir Hospital. Her father's bike was at an Estancia nearby and after collecting some of his luggage was on her way to Porvenir when she had the flat tyre and crashed. A little sore but otherwise OK. We fixed the flat just as Denny and Silvia arrived. We had crossed the border with them earlier and the four of us eventually ended up riding into Porvenir together with the Brazilian girl. There was no ferry to Punta Arenas today so we booked onto the 8.00am service the following day.

Bikes aboard the ferry to Punta Arenas
Porvenir to Punta Arenas. Six bikes were bundled onto the ferry along with numerous vehicles. Glad we got there early as a few people missed out. The boat was packed with vehicles as well as many walk on passengers. The crossing was smooth…just as well as no vehicles were tied down for the 2.5 hour journey.

Andrew and Emily and another two Aussies!
Punta Arenas looked smaller than the 120,000 people advised by our guide book but we headed to our Hostel as recommended by a fellow traveller and promptly bumped into Alistair and Maria, motorcyclists who were at Ushuaia for Christmas. They were here to retrieve a tyre ordered through a local bike shop and being road freighted down from Santiago. We were also in dire need of a rear tyre and were hoping that something would be available in this major town. No such luck so we played the routine and ordered one from Santiago through the local bike shop. First attempt at this was on the Friday however there was a big motocross meeting on that weekend so nothing could be done until Monday. This exercise was to be a marathon with the final outcome being us leaving Punta Arenas without a tyre. Our request was to have the tyre air freighted down. The effort by the bike shop is to be applauded but the system, be it the freighters or the tyre wholesaler is appalling. We spent a total of 11 days in Punta Arenas!!! Our time here was shared with many travelers including Peter and Carol (R80RT), Ushi (DR350), Alistair and Maria (650 GS's), Andy and Emily (Aussies on an R1100GS), Denny and Silvia (R1200GS & 650GS). Also at the hostel we met Phil and Deb from Spring Hill in Brisbane who were doing some hiking trails in Patagonia. It was good to hear a familiar accent again.
On a quiet day Peter, Carol, Alistair and Maria along with us rode to Seno Otway to have another close encounter with a colony of Magellanic Penguins. These breeding birds had chicks that were far more mature than what we had seen before and some had lost almost all of their down and were trying a few swimming lessons. While there we met Denny and Silvia who dropped in for a quick look enroute to Puerto Natales.

Magellanic Penguins at Seno Otway

Penguins at Seno Otway

Loads of bikes with loads

Road to Torres del Paine National Park

Torres del Paine National Park
Leaving Monday after being told by the bike shop that the tyres (note plural one air & one road!!) would be there definitely tomorrow!! This line had been sold to us for the past week. We were given our refund and left hoping our balding tread would hold. Our plan was to ring the following day from Puerto Natales to see if the tyre had arrived and the bike shop would bus it to us. Somehow we had lost faith in the system. We tried to ring from Torres del Paine but our phone could get no reception. Our decision then was to contact Dakarmotos in Buenos Aires and have the tyre bus freighted to El Calafate in Argentina as this procedure had proven successful with other bikers we had been in contact with.

View from our campsite at Camping Pehoe
Our ride of around 250 kms to Puerto Natales would have to be in the top two windiest rides we have done. We passed a motorcyclist on a KLR 650 who had stopped for some respite from the wind and four bikes heading to Punta Arenas were leaned at an extreme angle to combat the force of the gale. Fortunately the road was paved.

Campsite Pehoe

Narrow bridge near Laguna Amarga

Metal on metal, did not sound good!
Camping in Torres del Paine National Park at Camping Pehoe under the shadow of Cerro Castillo was picturesque to say the least and the warm sunny weather was more than welcome. Facilities in this expensive park for the independent traveler are limited but with a little preplanning we brought with us from Punta Arenas a couple of home cooked frozen meals to see us through. We ventured out on the ripio doing a 100 km loop checking out the various sights including Salte Grande (waterfall), Laguna Amarga (narrow bridge), Las Torres (part of the "W" for hikers), Lagos Nordenskjold (foxes) and Cascada Paine (waterfall).

Guanacos near Cascada Paine

Car drivers hand feeding foxes

Salto Grande waterfall
Grey Glacier, after riding a really rough road was a bit of a let down after seeing so many spectacular pieces of blue ice in Antarctica. Walking some distance in hot bike gear to see a glacier over ten kilometers away was not fun. Perhaps Glacier Moreno will be better. On returning to the camp site we thought an ice cream would be a nice treat in view of the heat. Sorry no helados (ice cream). Now there's an opening for some entrepreneur. The store did not even have its fridge on to cool the soft drinks. We were directed to the restaurant where we paid exorbitant prices for a couple of cold drinks!! We camped for three nights and enjoyed great weather. Summer is here at last!!!

Road beside Lago Toro

Grey Glacier… A long way away
Returning to Puerto Natales we were greeted with the news that our tyre had been sent from B A (Friday) and would be in El Calafate on Tuesday… So Saturday we hit the road to tackle yet another border crossing back to Argentina…. Would it not be all great if the world was like Europe now. Border crossings, a thing of the past, just a sign welcoming you to a new country, new cultures, new foods and new people. It sounds so good and so easy. Maybe one day!!!!
The border frontier with Chile was a breeze, but we were greeted with a bus load of tourists at the Argentinean side so we waited patiently for our turn but something was lost in the translation and the aduanes (customs) sent us to the 'exit' sign instead of the 'entry' sign. Our protests were ignored when we said Si (yes) El Calafate, sin (no) Puerto Natales. The aduane officer assumed we were traveling with another group of motorcyclists heading the opposite way. Eventually it got sorted but by this time everyone else had left even if they had arrived after us!! They were very apologetic about the stuff up and were impressed by our adventure on such an old bike. Some how we were always able to convey our anticipated journey in our very poor "Spanglish".
The paved road appeared shortly after the border crossing but was not listed on our map so when the sign to turn towards El Calafate had us back on ripio (Ruta 40) we looked enviously at the paved road (Ruta 7) heading to Esperenza. Our dilemma was how long did it last? We took the Ruta 40 route of 70 kms of ripio and found out later that the paved road albeit longer went all the way to El Calafate!!!

El Calafate, What a contrast to Puerto Natales. The place was really active. Travelers everywhere with numerous sidewalk cafes, souvenir shops, assorted accommodation, in other words touristy. Some people don't like this but we enjoy both the quiet places as well as the active places. Puerto Natales, a very quiet town was the entry to the famous Torres del Paine National Park. El Calafate was really busy and the entry to Glacier Moreno. Strange they could be so different. The weather was fantastic so we opted for a garden camp at Hospedeja Jorgito with cherry, plum and apricot trees to pitch under. The first night there were 18 tents in the back yard. Fantastic. This sight greeted us after we returned from a buffet asado in town. Lamb done the asado way does not get better.
I turned 55 today…. I can officially retire!!! It was a relaxing day cruising the streets of El Calafate, empanadas for lunch, a little internet with a couple of conversations on Skype to Australia. Aaarrgghh technology isn't it great. Bought a cooked chook (chicken) and a nice bottle of red for dinner and all was good in the land of Argentina.

Glacier Perito Moreno very big and very close

Before

Going once

Going twice

Gone
Time for more ice and we mean serious blue ice here. Glacier Moreno is WOW!!!. This is impressive stuff. We have seen this lump of blue on TV before, but somehow I always imagined the shots they had were exclusive. Like, some special access was given to the reporters and camera man, but what you see on television is what you get as 'joe' public. From the viewing paths we spent close to five hours staring at this wonder, watched the tour boat motor across the face as lumps the size of transit vans crack and splash into the milky blue waters. We contemplated doing the boat ride but when the lumps started falling off in front of us there was no point. People cheered as large chunks cracked and fell with a huge boom and tidal surge. Sometimes I was saddened, as this could be the death of a glacier until we were told that this one is actually still growing. If this is true that's good news. We found it hard to leave, anticipating there would be another chunk to fall at any moment and we would miss it. The strange ones were the pieces that broke off under the water. You could hear the crack of the break and strange phishing noises and then a blue lump the size of a car would bob up amongst the carpet of broken ice pieces directly in front of us. We could easily return to this wonder.

Blue is beautiful

Big and blue is better
Returning to El Calafate in the evening (6.00pm) we called into the bus station to see what time our 'bus with tyre' would arrive the following day. The day just got even better. The tyre was already there, a day early. We parted with the necessary pesos for the freight and I am sure the staff at the depot had no idea why I was grinning so much.
Muchas Gracias, Javier at Dakarmotos. On the way back to our camp site we passed a gomeria (tyre shop) so we made a hasty return and paid the few pesos and had the tyre changed. We could leave a day earlier. As we rode into the campsite we were greeted by Mick the Englishman who had spent New Year with the over landing motorcyclists in Ushuaia. He had bought an Antarctic trip ticket in that fair city and after enjoying its wonders headed north. Our delays waiting for the rear tyre in Punta Arenas had allowed him to catch up. It is a shame we had received our tyre early as we could have enjoyed some time with him. Our ease at getting the tyre however, had inspired him to tackle the same problem in an identical fashion. So the next day we headed to the internet café to thank Javier for his help as Mick ordered his tyre!!!

Camping with Mick at Hospedaje Jorgito El Calafate

Wind warning signs, we see plenty of these

Dippy road to El Chalten
Mick had been to El Chalten four years earlier and advised us that it was a very small place unaffected by tourism. His fear that now the road was paved it would turn into a Mecca for tourists and remove its original charm… Such is progress. The road to El Chalten was punctuated with 40 kms of ripio which was a little unexpected but not out of the ordinary. Some 65kms from El Chalten two Argentineans in a small Citroen diesel van had broken down. We stopped to give assistance but because of our lack of Spanish we were unable to help. Carol being quick said, write a message, and we will deliver it to the appropriate people in El Chalten. They were all smiles. About 10 kms from town road works commenced and these were prevalent throughout the town. Progress was on its way big time in El Chalten. Delivering our message to the tourist office we were assured that all would be taken care of. The free camp grounds on both sides of town were dust bowls so we opted for a hostel. We may be getting a bit soft but the facilities appeared a little stretched with the volume of campers. At the first campground on the south side we saw our Swiss friends in the Pajero from Ushuaia so the next day we dropped in to say hello. They had heard about our tyre problems from the motorcycling community and we enjoyed a coffee with the exchange of travel woes and pleasantries. That afternoon we rode out to the end of the road …ripio all the way…. to Lago Desierto. A great ride with noisy rapids and waterfalls. Taller trees had clumped to become forests, a pleasant change after the barren plains of the past few days. Bicycle riders, travelers and hikers cross the border here after a short boat ride and a hike/ride through some rough terrain. We were greeted by the Argentinean border control who advised "NO Motos" indicating we could not proceed any further.

Road to Lago Del Desierto and Fitzroy Range

Road to Lago Del Desierto along Rio De Las Vueltas

Waterfall on the Rio De Las Vueltas
We made a major decision the night before … to tackle a large chunk of Ruta 40 in one hit. Departing El Chalten we waved good bye to our Swiss friends who had not left the day before as they advised. Our trip was made difficult by the knowledge that there may not be fuel on this route and some changes could be necessary. I had calculated that we could do the distance of around 450kms providing the winds were not too strong and there was fuel at either Gdor. Gregores or Bajo Caracoles. We could not find the fuel station at Tres Lagos and did not push too hard looking as we had heard that a lot of these remote places were running out of fuel due to a truckers strike.

Road to El Chalten and the Fitzroy Range

La Siberia on Ruta 40 and the Beta Bike Tour

Crash and repair team Ruta 40

Fibreglass repairer wanted
The Ripio was bad but we had ridden worse. The wind was the most annoying part however we seemed to be doing it easy and maybe I had gotten a little too confident after we had picked up extra fuel at La Siberia, a restaurant campsite near Lago Cardiel, in the middle of nowhere. A really pleasant surprise was meeting a group of dirt bike riders (Beta bikes) from Spain there. It was around the 300 km mark that we got into a bit of a tank slap in some deep gravel and every correction I made a gust of wind blew me in the opposite direction finally biting the dust in a very soft bit of soil and stones on the edge of the road. The damage to the bike was mainly to the plastic bits so we stood the bike up removed the screen, turned my flip up helmet into an open face and took off. This took around 1.5 hours and only two motor cyclists offered assistance…no four wheelers which was a little disappointing. We made it to Bajo Caracoles after clocking 508kms for the journey. Our map kms added up to 448kms!!! Maps and road signs here are not good. Our fuel consumption was such that we did not need the 10 litres purchased at La Siberia. Feeling a little jaded we filled with fuel and booked into a Hostel for the night and slept really well.

Hostel at Bajo Caracoles

Please don't rain on us, Ruta 40

Ripio on Ruta 40 north of Bajo Caracoles

Colours like Australia

And the ripio goes on and on, Ruta 40
Looking at the damage the next day we decided to head to Perito Moreno as Bajo Caracoles was not much bigger than an Estancia and we needed a few bits and pieces to stitch the bike back together. I was concerned about my helmet that had received a fair knock and was feeling very spongy around the hole. Not much protection left there!!
Arriving at Perito Moreno around siesta time we headed to garage for a bite to eat where Carol suggested I pinch a few bits off her helmet to make mine a little more effective. My life inside the helmet improved dramatically and it is just as well. What a head wind we road into as we headed to Los Antiguos. We decided on this route after talking to a couple at the garage who had a holiday home there. Sonia and Carlos were from Comodoro Rivadavia on a summer holiday. We rode around town looking for suitable accommodation then headed to our new friends place for coffee and pastries…yum.
Carlos rode a very smart dark blue Honda 100. Ours looked as clean as his bike when we started this ride but it looked very sad now. Sonia spoke excellent English and offered any assistance we may need. We did, and thanks to them we were able to source several items and help to patch up the bike. Took a few days but repairs were done including a little welding on the rear sub-frame near the seat lock. It was time for a major service to the bike and we combined this with our repair schedule. Los Antiguos is renowned for its cherries and they have a cherry festival every year in January. Sadly we had missed it… maybe another trip.

What kind of wind puts surf on a still water lake (Lago Buenos Aires)

Carlos, Sonia and family Los Antiguos

Fixing the screen

Repaired screen
Pleased with the results of the repairs we decided to tackle Ruta 41 south, a road recommended to us by several people, and cross the border back into Chile at Paso Roballos. We were to tackle this track on our way north but due to the spill decided on an easier route direct to a place where repairs could be done.



Repaired head light protector

Inside of screen

Bogged fairing
More ripio…here we come!!!
Enter your email address to receive updates to Ken and Carol Duval's trip story!
Recent Entries
Archives:
Archives:
Monthly
Archives:
Category
Now that summer is here, get On the Road! Take 30% off the Achievable Dream - On the Road! 2-DVD set until August 31 only.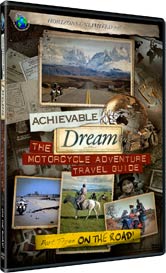 Our veteran travellers share their tips (and great stories) for staying healthy, happy and secure on your motorcycle adventure.
"A fantastic, informative and inspirational DVD."
"It's brilliant - thank you very much!"
Check it out at the HU Store! Remember to use Coupon Code 'ONTHEROAD' on your order when you checkout.
Next HU Events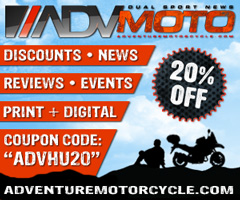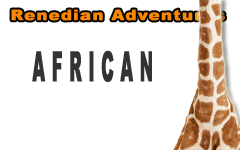 What others say about HU...
"I just wanted to say thanks for doing this and sharing so much with the rest of us." Dave, USA
"Your website is a mecca of valuable information and the DVD series is informative, entertaining, and inspiring! The new look of the website is very impressive, updated and catchy. Thank you so very much!" Jennifer, Canada
"...Great site. Keep up the good work." Murray and Carmen, Australia
"We just finished a 7 month 22,000+ mile scouting trip from Alaska to the bottom of Chile and I can't tell you how many times we referred to your site for help. From how to adjust your valves, to where to stay in the back country of Peru. Horizons Unlimited was a key player in our success. Motorcycle enthusiasts from around the world are in debt to your services." Alaska Riders

10th Annual HU Travellers Photo Contest is on now! This is an opportunity for YOU to show us your best photos and win prizes!
NEW! HU 2014 Adventure Travel T-shirts! are now available in several colors! Be the first kid on your block to have them! New lower prices on synths!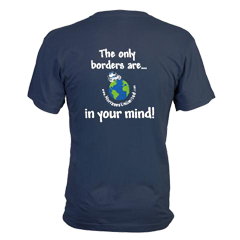 Check out the new Gildan Performance cotton-feel t-shirt - 100% poly, feels like soft cotton!

What turns you on to motorcycle travel?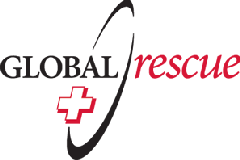 Global Rescue is the premier provider of medical, security and evacuation services worldwide and is the only company that will come to you, wherever you are, and evacuate you to your home hospital of choice. Additionally, Global Rescue places no restrictions on country of citizenship - all nationalities are eligible to sign-up!
New to Horizons Unlimited?
New to motorcycle travelling? New to the HU site? Confused? Too many options? It's really very simple - just 4 easy steps!
Horizons Unlimited was founded in 1997 by Grant and Susan Johnson following their journey around the world on a BMW R80 G/S motorcycle.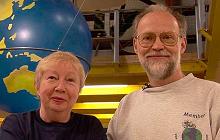 Read more about Grant & Susan's story
Membership - help keep us going!
Horizons Unlimited is not a big multi-national company, just two people who love motorcycle travel and have grown what started as a hobby in 1997 into a full time job (usually 8-10 hours per day and 7 days a week) and a labour of love. To keep it going and a roof over our heads, we run events (22 this year!); we sell inspirational and informative DVDs; we have a few selected advertisers; and we make a small amount from memberships.
You don't have to be a Member to come to an HU meeting, access the website, the HUBB or to receive the e-zine. What you get for your membership contribution is our sincere gratitude, good karma and knowing that you're helping to keep the motorcycle travel dream alive. Contributing Members and Gold Members do get additional features on the HUBB. Here's a list of all the Member benefits on the HUBB.
Books & DVDs

All the best travel books and videos listed and often reviewed on HU's famous Books page. Check it out and get great travel books from all over the world.

MC Air Shipping, (uncrated) USA / Canada / Europe and other areas. Be sure to say "Horizons Unlimited" to get your $25 discount on Shipping!
Insurance - see: For foreigners traveling in US and Canada and for Americans and Canadians traveling in other countries, then mail it to MC Express and get your HU $15 discount!
Story and photos copyright © All Rights Reserved.
Contact the author:
Editors note: We accept no responsibility for any of the above information in any way whatsoever. You are reminded to do your own research. Any commentary is strictly a personal opinion of the person supplying the information and is not to be construed as an endorsement of any kind.
Hosted by: Horizons Unlimited, the motorcycle travellers' website!
You can have your story here too - click for details!